It is quickly becoming summertime, and for me that means lots of backyard parties. Some are planned (like Sean's upcoming 30th!) but more often than not we run into some friends and decide we all want to hang in the back yard. Hosting guests, even just a few, with only an hour's notice could be really stressful. Here are my 7 favorite tips to make last minute entertaining fun and not stressful!
Pick a go-to food and keep it on hand – For me, it is cheese and crackers. I buy boxes of crackers in bulk at Costco (filled with individual sleeves so they don't go stale) as well as blocks of wrapped cheeses that stay fresh for a long time when unopened. I can whip together a cheese plate with cheese + crackers + jelly + pickles + olives + bagged nuts and fresh fruit if I'm feeling extra deluxe in under 10 minutes. Pick something simple like this and stock it up!
Presentation matters more than what it is – We actually met a guy last weekend who claims to serve KFC to first dates, but serves it on nice plates at his house. He said that almost no one questions that he made it and that they all say it's delicious! Take out food, dished into pretty ceramic bowls, can look like a gourmet meal. If it's last minute, don't worry about the what so much. Just getting rid of packaging can be enough!
Stick to matching serve ware – When everything matches, you can do no wrong. The easiest thing to do is buy only white serving pieces. Let the food be the star, and don't stress about grabbing mismatching pieces. Plus, white plates go with every theme!
Music -> instant party – When in doubt, just cut on some tunes. From beach music in the yard to dance music after dark, it creates a party mood for $0 and in ten seconds.
Keep your bar stocked – Keep beer and wine and liquor on hand. A mixer or two (like tiny bottles of tonic water or club soda) is a bonus. It's always great to offer guests a drink and can be awkward if you have only 1 beer left (if your group is drinkers).
Perfect the 5 minute clean routine – You don't need to deep clean for guests. Clear all the surfaces – counters, tables, and chairs – for the quickest clean ever. I love this 30 minute cleaning routine from my friend Amanda at Love & Renovations!
Never apologize – No matter what, people are at your house, eating your food, and enjoying your company. Probably by their own free will! Don't apologize for what you perceive as short comings – act like it is awesome and low stress and your guests will act the same way!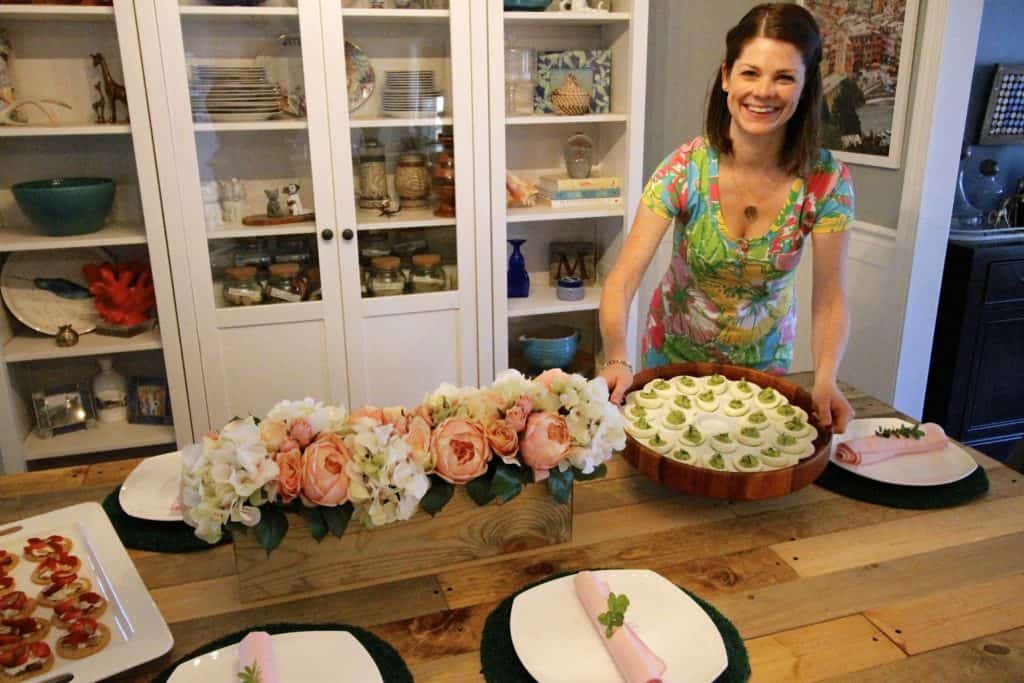 What are your best last minute entertaining tips?