On Sunday April 12, the day after our wedding, we left Charleston around 11:30 for Charlotte. We spent the morning at a farewell breakfast with our out of town guests and then stopped by our condo to grab our suitcases and throw together our toiletries. Then we hit the road towards Charlotte. We decided to fly out of Charlotte because we were able to fly directly to Rome. Sean grew up in Charlotte, and his parents still live there. So, we were able to leave his car and the dog at his dad's house. We hate having to board her, so it was worth it to drive the 3 hours just to let her stay in a friendly, familiar house.
The drive is normally 3 hours, but took over 5 hours due to some major traffic jams on the highway. We were a little bit stressed, but luckily had plenty of time before our 6:30 flight.
We arrived on our plane and laughed when we saw that we were one of four honeymooning couples literally in a row on the plane. We weren't so special any more. We still got some perks from my dorky Mr & Mrs t shirts (bought via Groop Dealz). The flight attendant brought us all champagne before we took off! The flight was really empty, so people were able to spread out. It was really nice. We watched a movie, ate dinner, and then slept rather restlessly until we were pretty much there.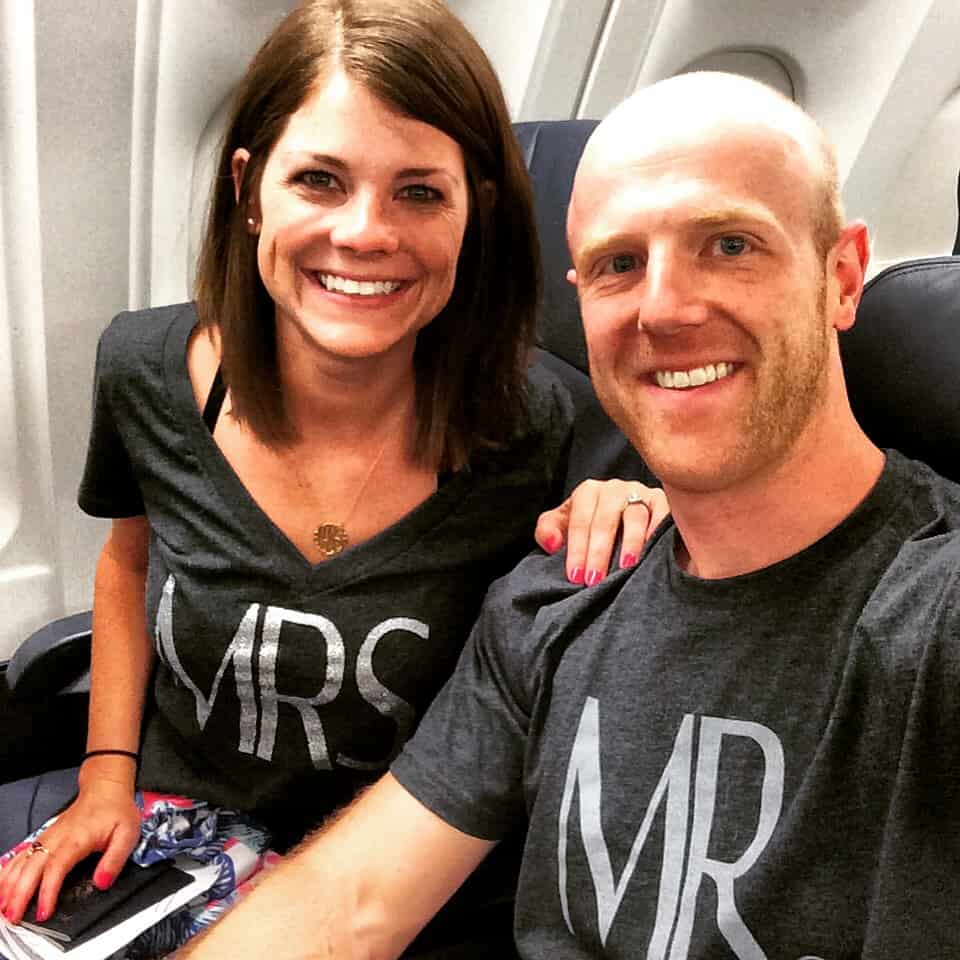 We arrived in Rome at 9:35am local time. While we flew directly to Rome, we didn't plan to start our trip there. We caught a local train from the airport to Rome Termini, the main Rome train hub. We had pre-booked these train tickets (they were the only tickets we pre-booked for the whole trip). Retrospectively, we didn't need to pre-book them and could have gotten on an earlier train if we bought the tickets that day. It was okay though. We were tired and sat in a small cafe and had our first Italian meal – pizza of course! I had margherita and Sean had fungi (mushroom).
By then it was time to catch our train to Venice. It was a 4.5 hour train, and I passed out right away. We were surrounded by people speaking Italian and it was really exciting – we knew that we weren't in the states anymore!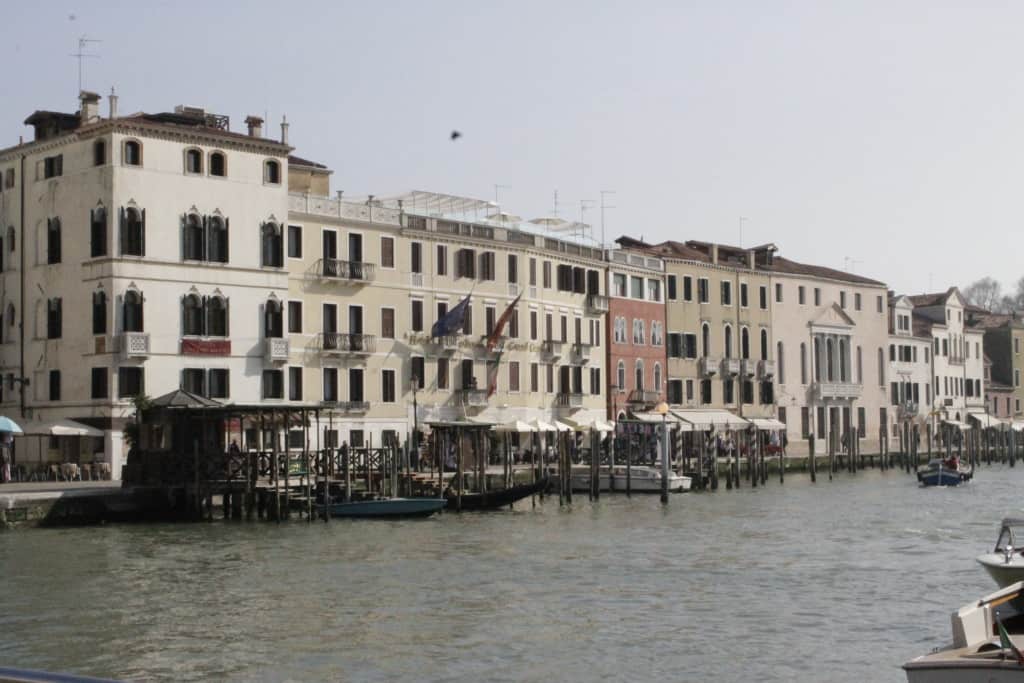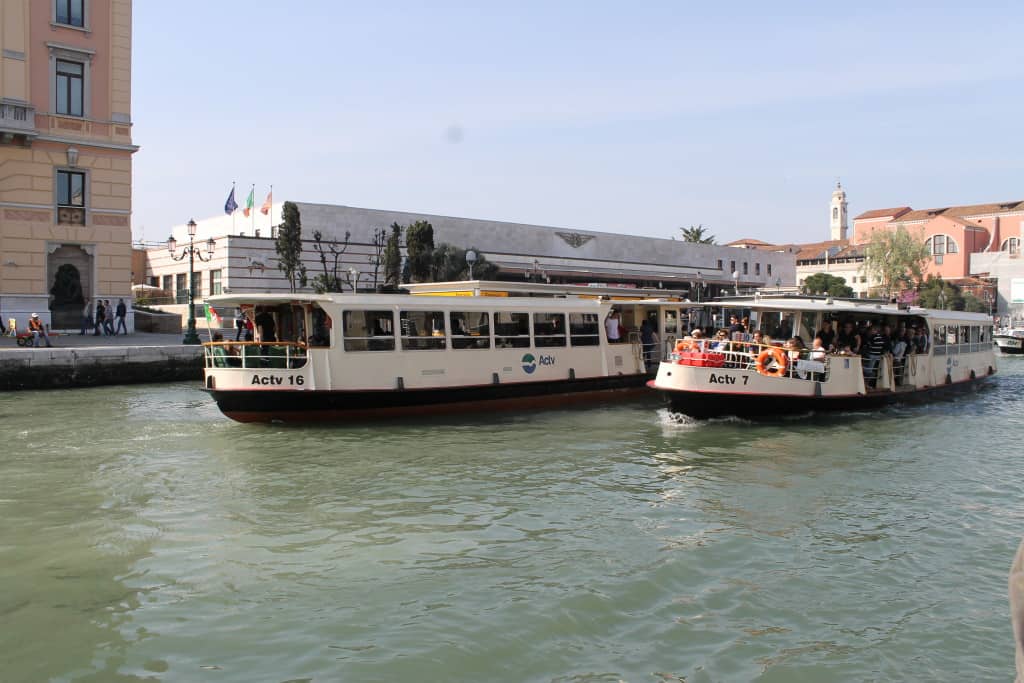 We arrived in Venice and were immediately impressed by the sites. The station is located right on the canal – we were instantly struck by the beauty of the city and it's true uniqueness. We had directions to our Air BnB apartment that said to start by taking the BOAT and we bought tickets but somehow got going in the wrong direction. The boat operator was a bit rude about it, but I guess he is constantly harassed by lost english speaking tourists. We got it figured out, but when we got off the boat at our stop, we went the wrong way! We tried to use Google Maps to find our apartment, but it said address not found. We later figured out that since Venice has no cars, driving directions do not work, you have to change your maps to walking! Seems obvious, but we totally didn't think of it at the time.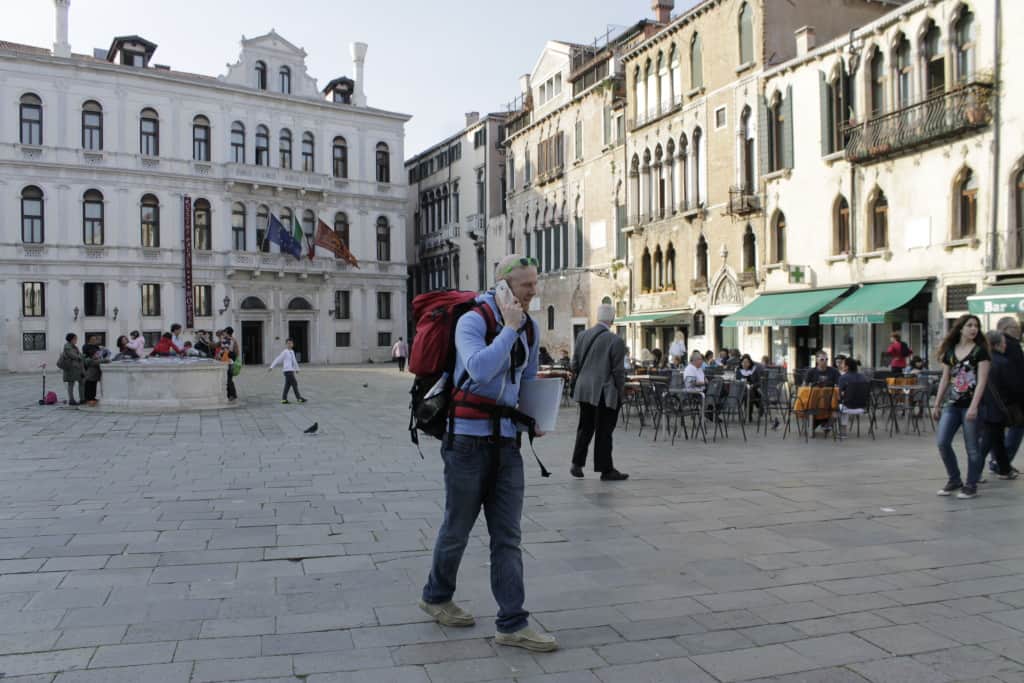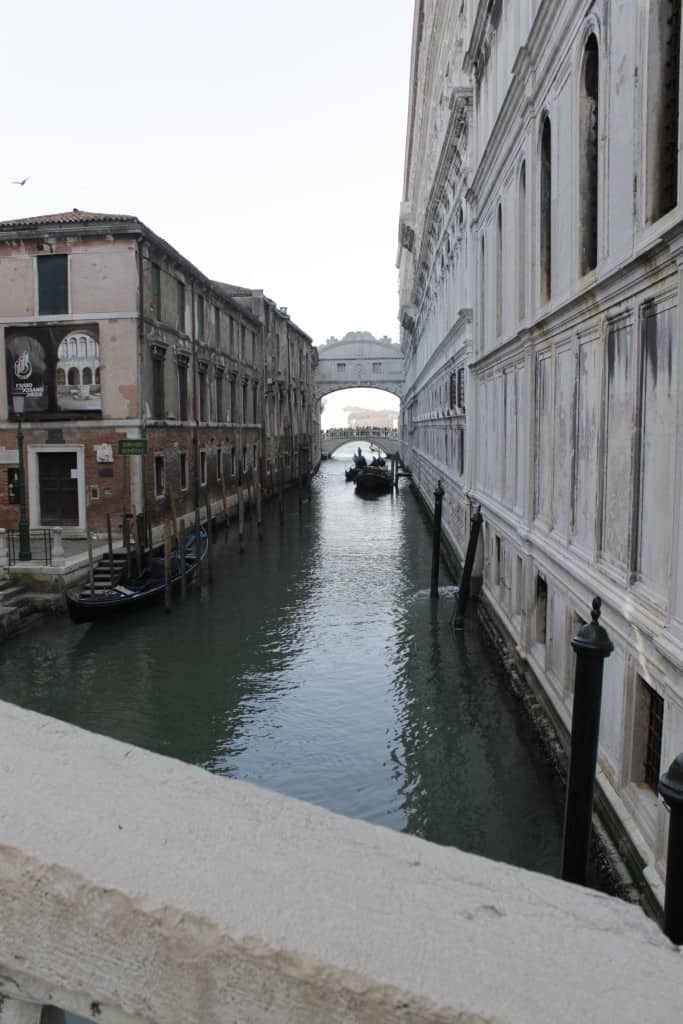 We arrived at our apartment and were so excited to drop our backpacks. Our apartment was small but very clean and had a huge rooftop patio with great views of the rooftops. Our host had strawberries and champagne waiting for us and we sat on the roof and enjoyed the view!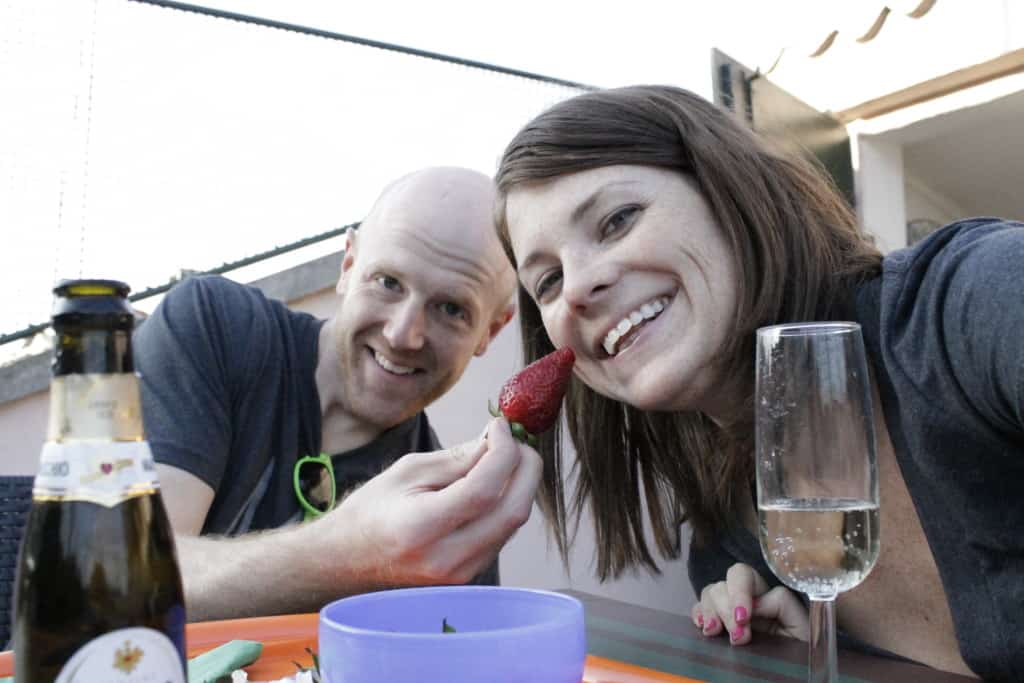 We looked at Trip Advisor and decided to try Del Moro's Fresh Pasta To Go. It was really close to our apartment and was just a tiny hole in the wall. However, there was a line going out the door! We got up to the counter and ordered three pastas – quatro fromaggio (4 cheese), pesto, and bolognese di pollo (red sauce with chicken sausage). It came in chinese take out containers. The man at the check out didn't want to let us order 3 pastas – he said "two people, two pasta. One person, one pasta." but we really wanted to try three different sauces! We carried it back to our apartment (it was only a 5 minute walk) and ate it on the rooftop with a bottle of white wine (our host had a wine fridge where you could purchase bottles of wine for only 5 Euros!) And we ate all the pasta.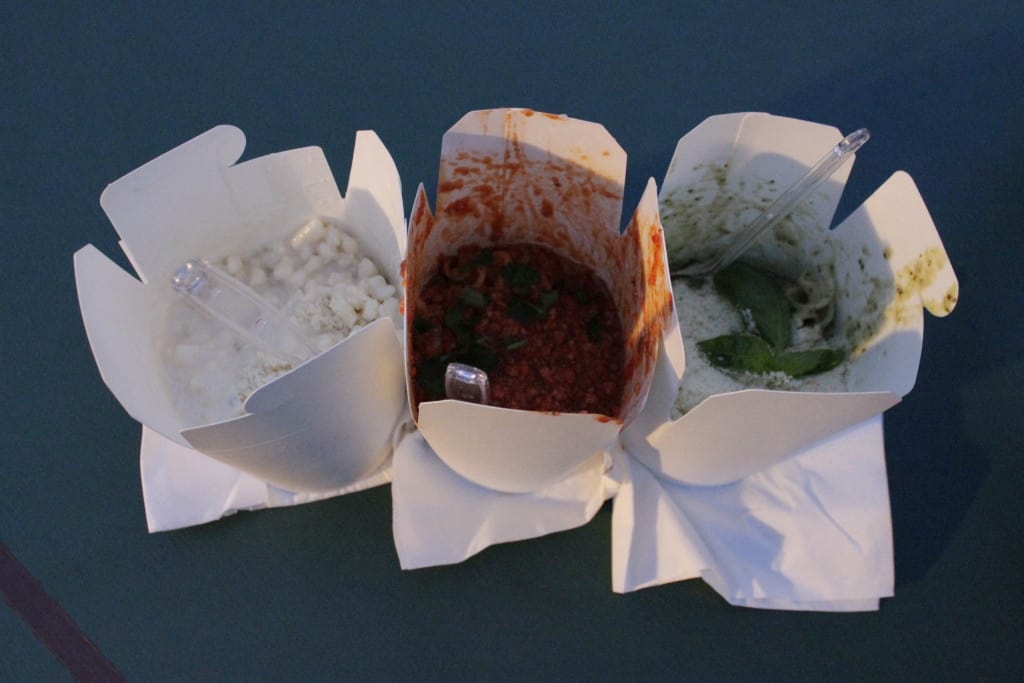 After eating that big meal, we decided to go on a nighttime walk. We walked down to the river and around the grand canal. We didn't really know where we were going, but we walked for about one hour. Venice is such a beautiful place to wander!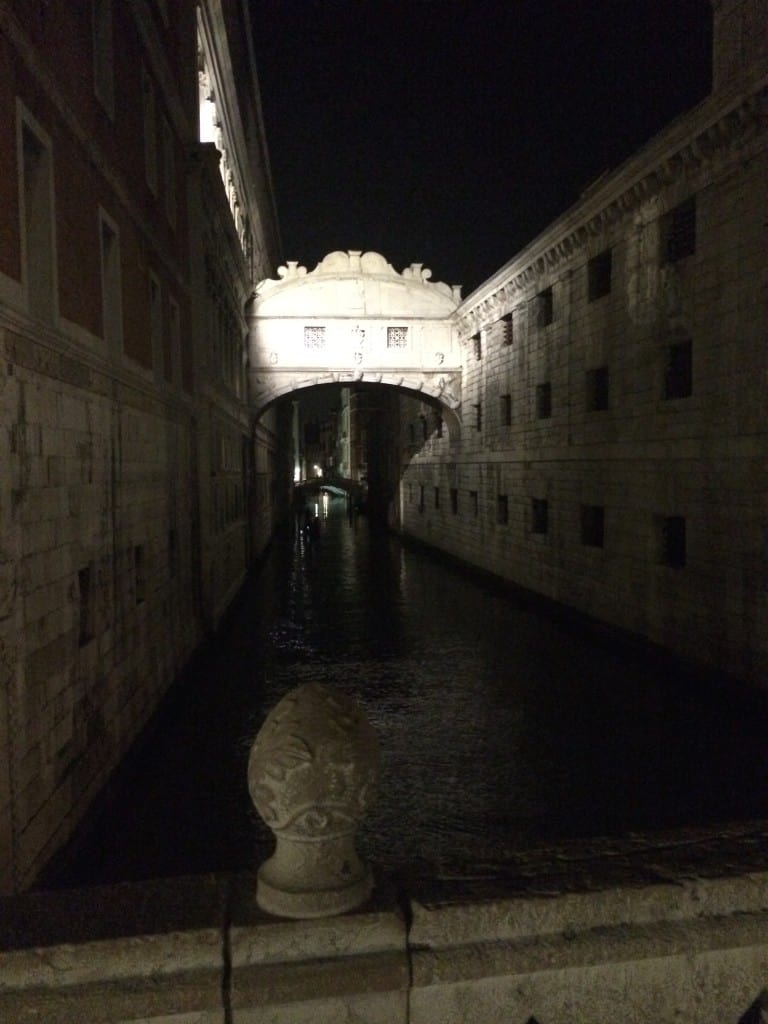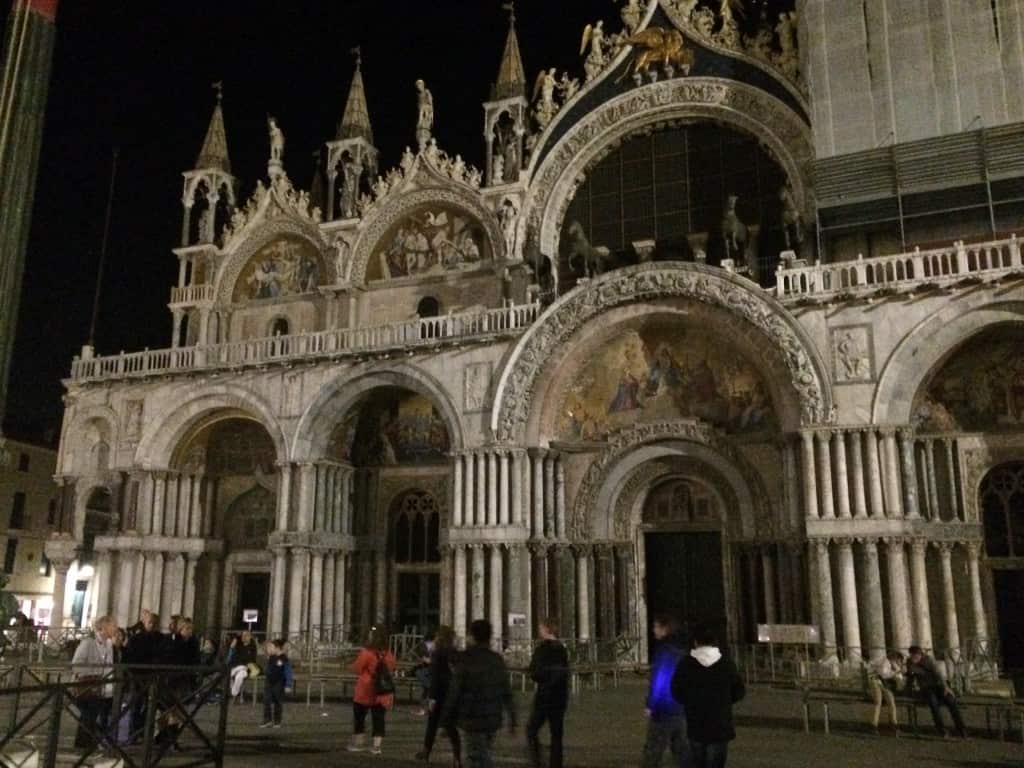 Needless to say, our heads hit the pillows pretty hard that night. Check in tomorrow to see what we did on Tuesday, our full day in Venice!