Need to store toys in your living room? Here are some of my best tips for getting toys organized in the hardest working room in your home!
There's something about toys that just completely take over your home.
We are super lucky – we have TWO play rooms, and two kid's bedrooms. And still, our living room is always COVERED in books, toys, stuffed animals, and a mess.
I have found that having toys laying around, especially at the end of the night, makes me twitchy. So, I really try to limit the number of toys in our living room.
But, if you don't have the luxury of multiple play spaces, you might have to keep all of your kids' toys in your living room. That's what we did in our old house!
I have plenty of experience organizing a small home, and I tried to transfer the things that I learned to keeping our new home neat, too.
Here is my best advice for organizing + storing toys in a small living room!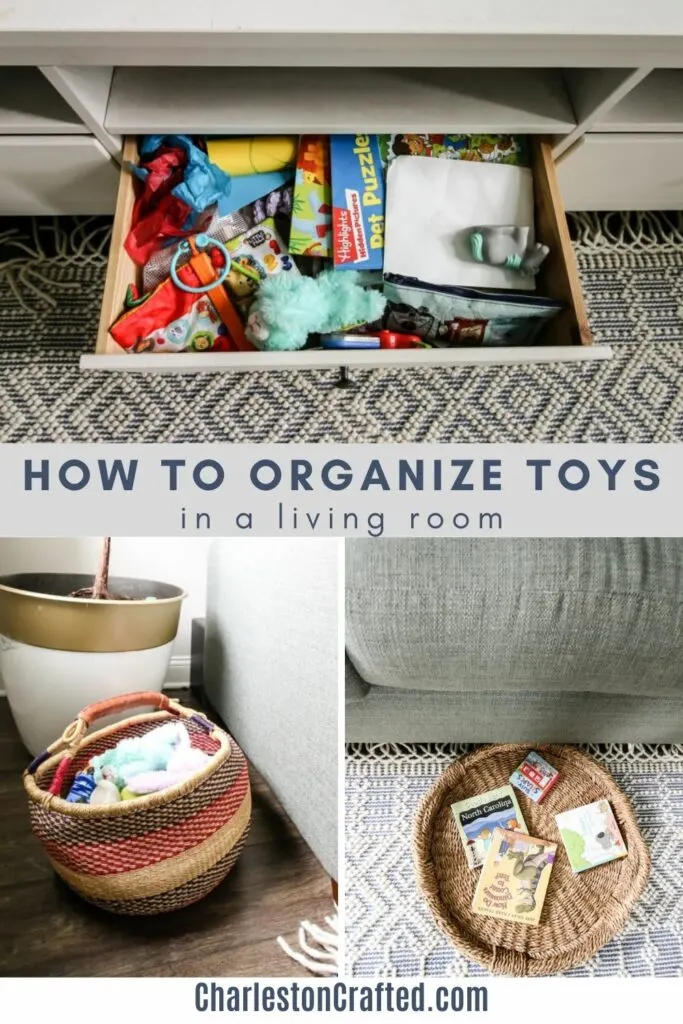 How to organize toys in your living room
Purge
The first thing to do if you have a small space to keep your kids toys is to minimize the number of toys that you have.
You don't need to get rid of all of your toys – I'm no minimalist – but you should go through the toys all at once.
I suggest following Marie Kondo's method and pulling all the toys out of all bins or baskets and putting them in a pile. Instead of deciding what to get rid of, decide on what to keep.
Trash or recycle anything damaged or broken. Donate or sell anything that your kids have outgrown or no longer use.
Here are my tips on deciding what to trash, recycle, or donate.
Set up a toy rotation
If you have a lot of toys that you want to keep, consider setting up a toy rotation. We have a big plastic bin in an upstairs closet full of out of rotation toys.
Cycling toys in and out honestly makes them feel new and exciting. It's really fun for kids!
Group like items together
However you choose to store your toys – try to group like items together. I have found that this leads to less dumping of all the bins to find the matching sets.
For example, have one basket just of books, one drawer for action figures, or a set shelf for books. It really helps to cut down on messes and makes it easier to put things away.
Clean up every night
This isn't super fun – and I get it, at the end of the day I just want a hot shower and a cold beer – but picking up every night makes me feel so much more in control.
I try to get our kids to put everything away before bath time, but that doesn't always happen. We still try to pick things up once they are in bed so we start each day with a clean slate.
Creative ways to store toys in a living room
Here are my best family room toy storage ideas!
Baskets
Baskets are a great way to store kid's toys. Baskets can come with or without lids. They are usually pretty stylish and therefore don't look weird in a living room.
A big benefit of baskets is that it's super easy to put toys away. A negative is that they can become a big jumbled mess. Purge regularly!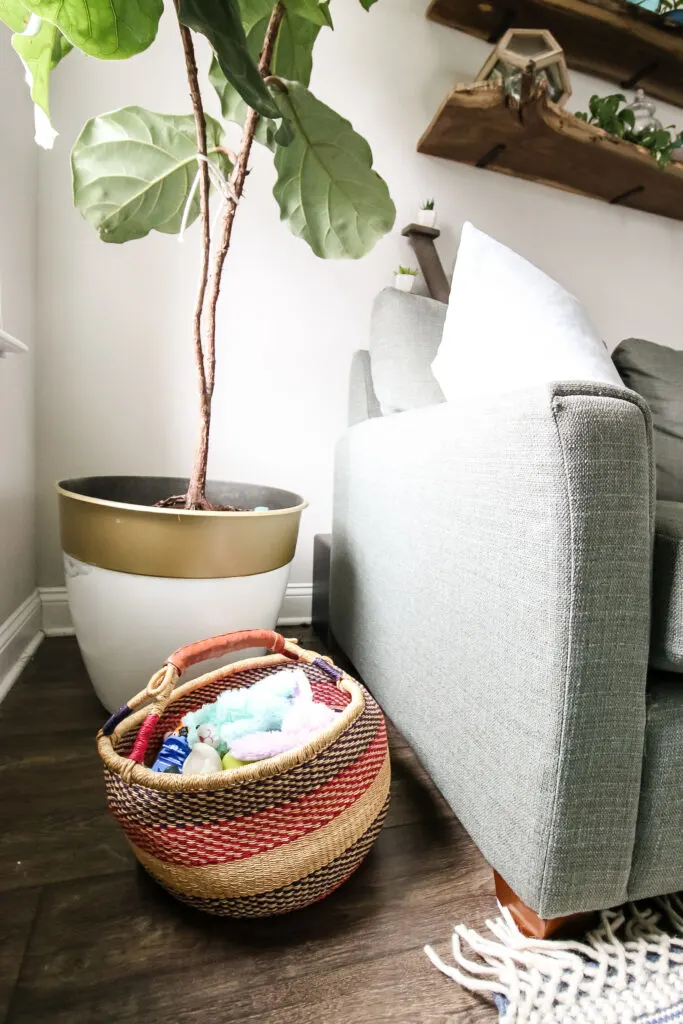 Drawers
We store toys in the center drawer of our entertainment center. This is great because it tucks away into a piece of furniture but is easy for the kids to pull out and put things away, too.
If you don't have an entertainment center, consider side tables or a coffee table with drawers for bonus storage!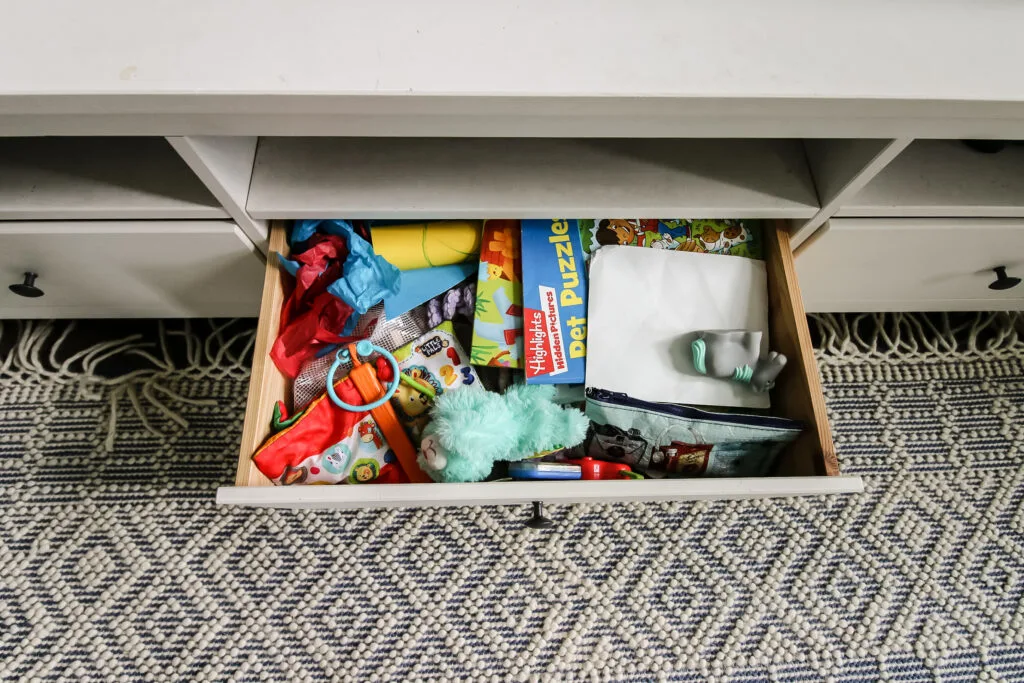 Multi-purpose furniture
In our old house we had these two white benches that the seat lifted up and held tons of storage. We used them for blankets at the time, but if we still had them, they'd be perfect for toys.
Storage benches can also be used as an ottoman with a chair or couch, making them triple purpose. You can't beat that for a storage solution!
Behind the sofa
If your sofa is "floating" – aka not up against a wall – consider adding a console table behind it. You can place baskets or bins on the lower shelf and use them to corral toys of any size!
This is a great place to hide toys without a big storage space.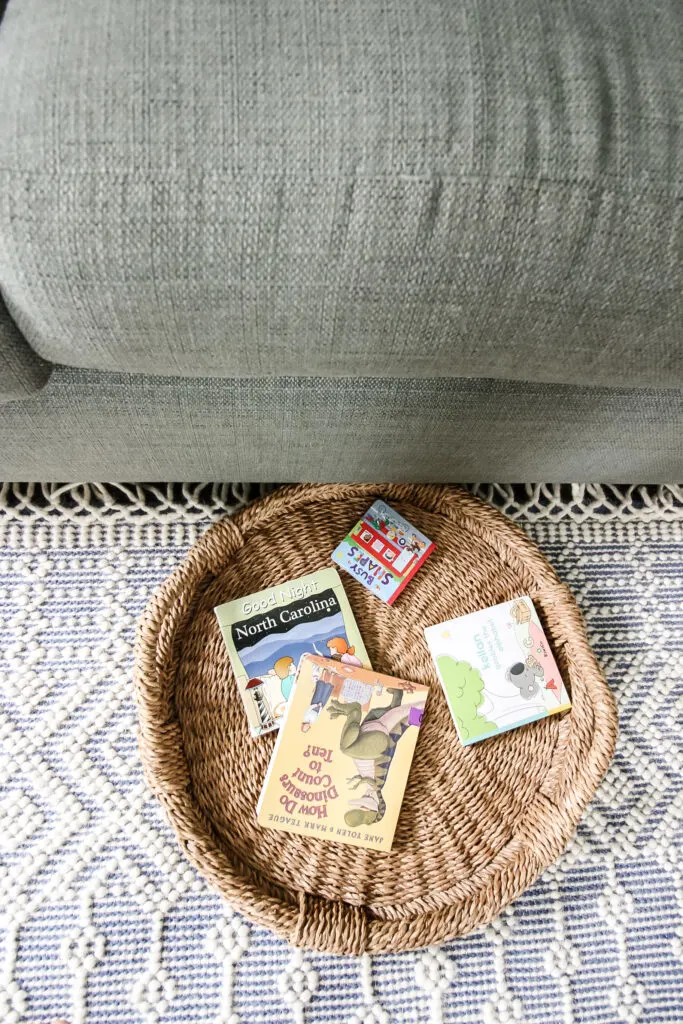 Under the couch
If you are looking for hidden toy storage ideas, what about UNDER the couch?! If your couch is raised just a few inches, consider picking up some trays with a 1 to 2 inch lip.
These are perfect for holding books, board games, or puzzles. Slide them under when not in use for super smart toy storage in your living room!
Bins on a bookshelf
If you have a bookshelf in your living room, store toys on there in bins or baskets. I suggest something non-fragile, because kids pulling bins off of shelves often involves a lot of clanging around.
Pairing storage bins with built in storage shelves can be super chic and is a way to keep everything hidden while still in plain sight.
Any other toy storage ideas for the living room?
Need to get your playroom organized?
I get it – it is SO HARD to keep play spaces clean and tidy! In my FREE 6 Day Playroom Organization Challenge, I walk you through exactly how to purge and clean up your playroom!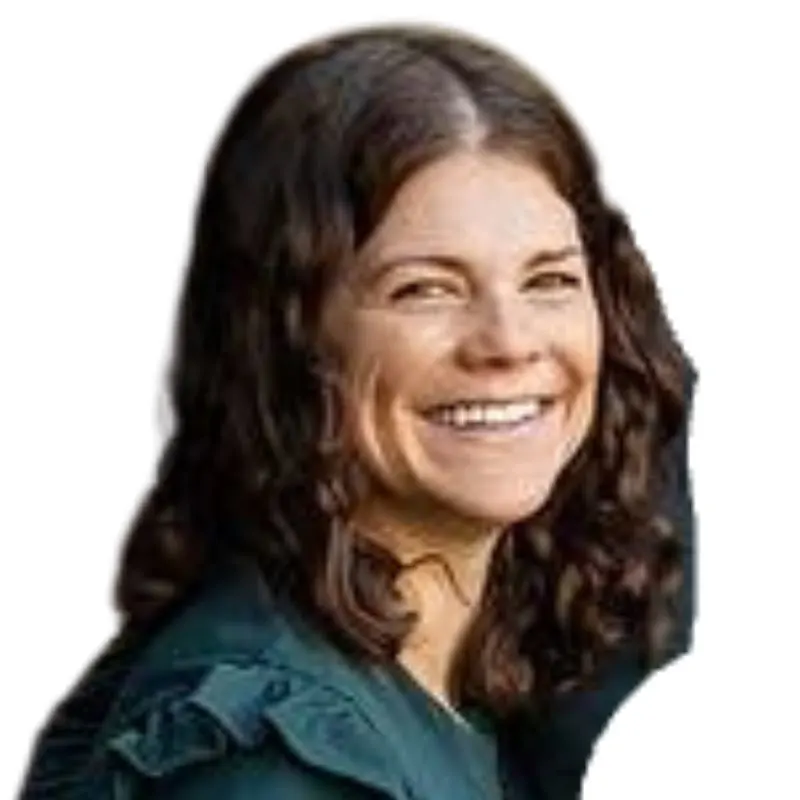 Hello, I'm Morgan, half of the creative force behind CharlestonCrafted.com! With a passion for DIY that dates back to 2012, I've transformed three homes and now I'm dedicated to helping others craft their dream spaces. Let's turn your house into a home together!