Baby clothes are adorable and if you are pregnant you are likely to get tons as gifts and hand-me-downs. But, knowing how to organize baby clothes can be super overwhelming and intimidating.
Have no fear! I have perfected a system for keeping my baby's clothes super organized and my husband and I both know exactly where things are at all times.
Having a system for your baby's clothes will transform your life. When the baby is screaming, the last thing that you want to be doing is digging through clothes that are too big or too small!
We have both a dresser and a closet in our nursery. You'll see why, but we find this to be super helpful in this process.
How to organize baby clothes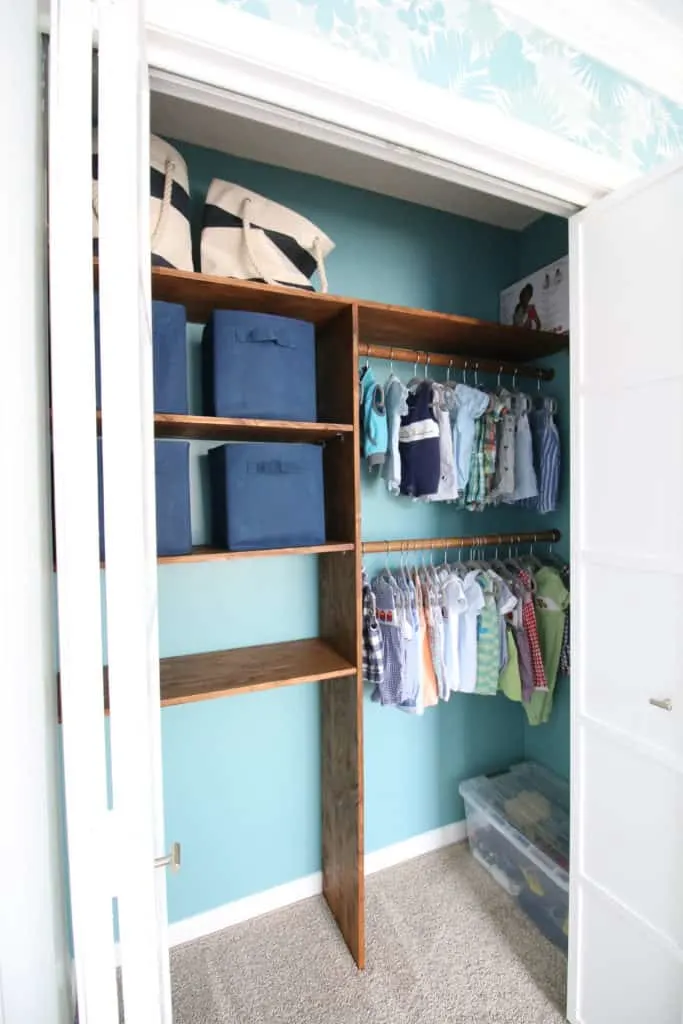 How to organize baby clothes in a closet
If you have just a closet, consider investing in some drawers for the space. This could be a dresser in the closet or even inexpensive bins that you set on a shelf in the closet to hold smaller items.
Be sure to pick up some baby hangers for any more formal clothes that you would prefer to hang. I prefer these velvet baby hangers for Luke's nicer Jon Jons.
Here are my general tips for organizing baby clothes in a closet:
Hang everything by size. Our closet has 2 rods. Before Luke was born, I had 0-6 months on the top rod and 6-12 months on the bottom rod, small to large from left to right.
Add bins under the hanging storage. We use large rubbermaid bins – one sitting on the floor with the lid on full of clothes that are size 12 months and up (or, 2-3 sizes too big and up) and one bin stacked on top of that one without a lid where I drop clothes as they become too small. This system has worked great for us! If you pull something out of the drawer and it's too small, you can easily just toss it in the bin.
Add shelving if you can. We added shelving to the left half of Luke's closet and use that space to store extra muslin blankets, wipes, sheets for the crib, and other items.
Add a shelf really high up. This is perfect for rarely used items. We have some large toys stored up there as well as big tote style bins with bulky winter clothing items.
Don't forget the hidden spots – the inside of the doors and the side walls of the closet are a great place to add additional hanging storage. We added a hat rack to the side of Luke's closet!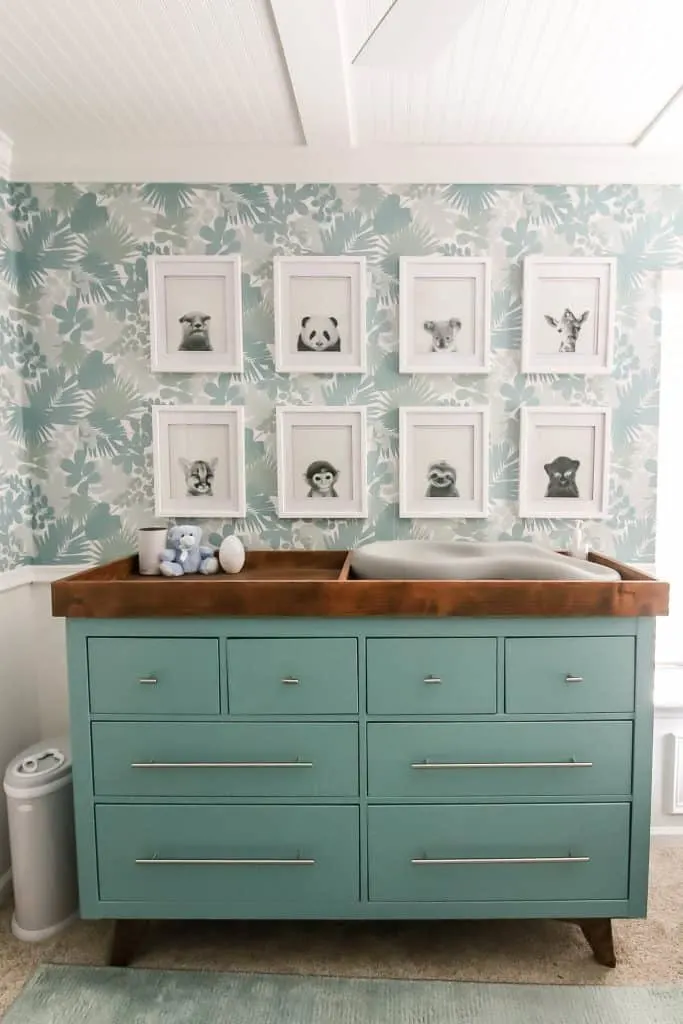 How to organize baby clothes in a dresser
If you have just a dresser, that will work great, too. You just will fold everything. You might also need an extra space in your home to store other items such as boxes of diapers or too big or too small clothes. Ours go on the floor of the closet.
Here are my general tips for organizing baby clothes in a dresser:
Have several drawers devoted to different sizes. Have the most accessible drawer be for current clothes. Below or beside that, have current pajamas. Then the drawers below should be the next size and so on. This way, when you need to move clothes up, you can literally just move them up.
Keep small items like socks and gloves in bins within drawers to keep them corralled.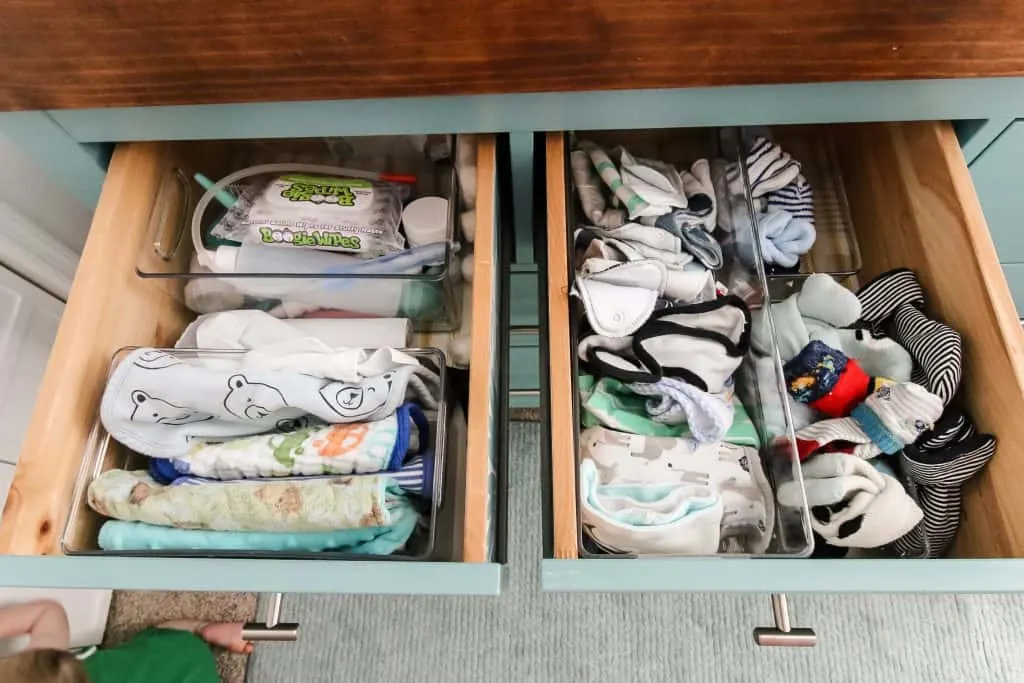 Purge anything you don't want or won't use. You might feel bad, especially if it was a gift, but if it's out of season when your baby is that size, or just something you won't put your baby in, it's better off being sold or donated than taking up space in your drawer.
How to fold baby clothes
We use a Marie Kondo type folding style for all onesies. This allows us to line them up so that we can see them. We keep short sleeved things and long sleeved things separate and keep bottoms separate from that.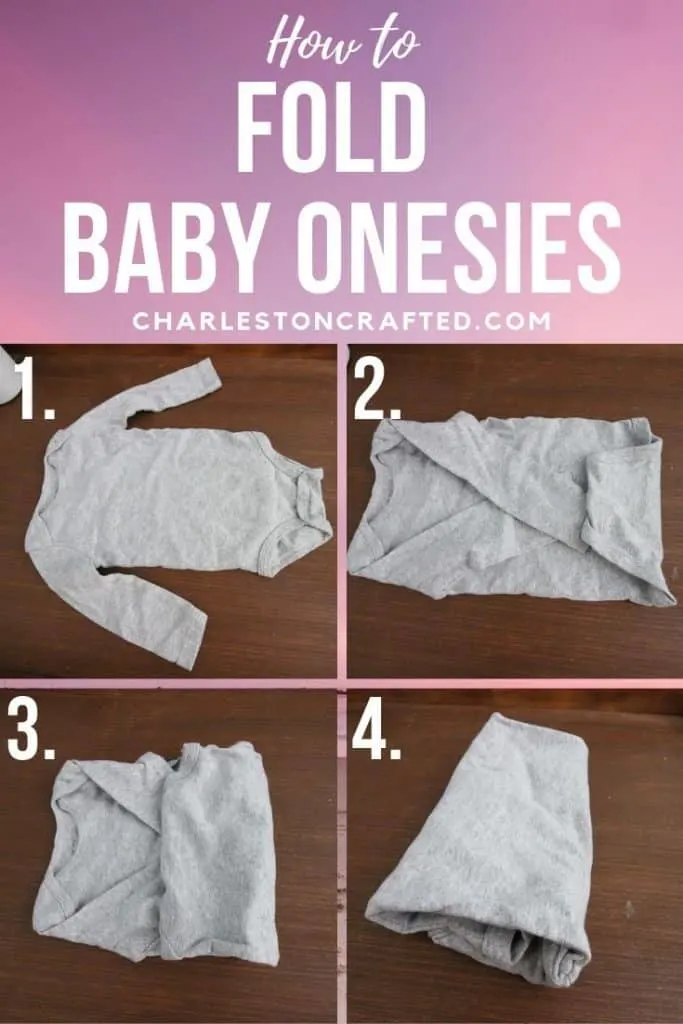 To fold a onesie or sleeper, first fold it into a rectangle. This involves folding in any sleeves, legs, or snap crotches.
Then, fold the rectangle into thirds.
Place this, crease side up, in your drawer. It should stand on it's own.
Don't stack any clothes on top of each other – everything should be visible when you open the drawer.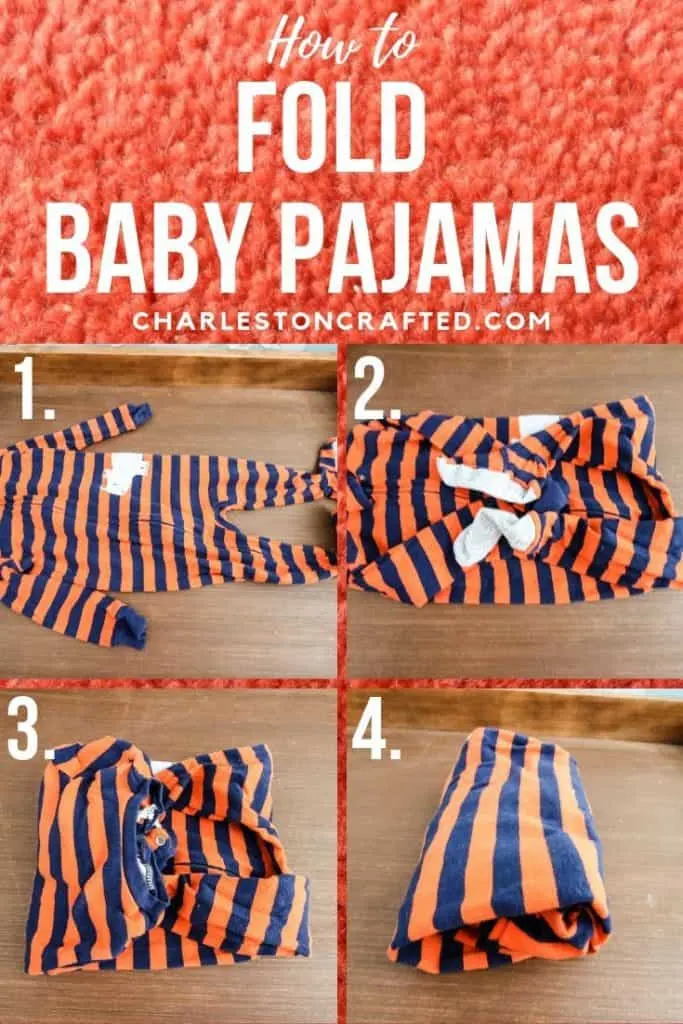 On top of the dresser
Don't forget to utilize the top of the dresser! We added a changing pad to that spot and also keep hand sanitizer, a night light, and an Alexa there.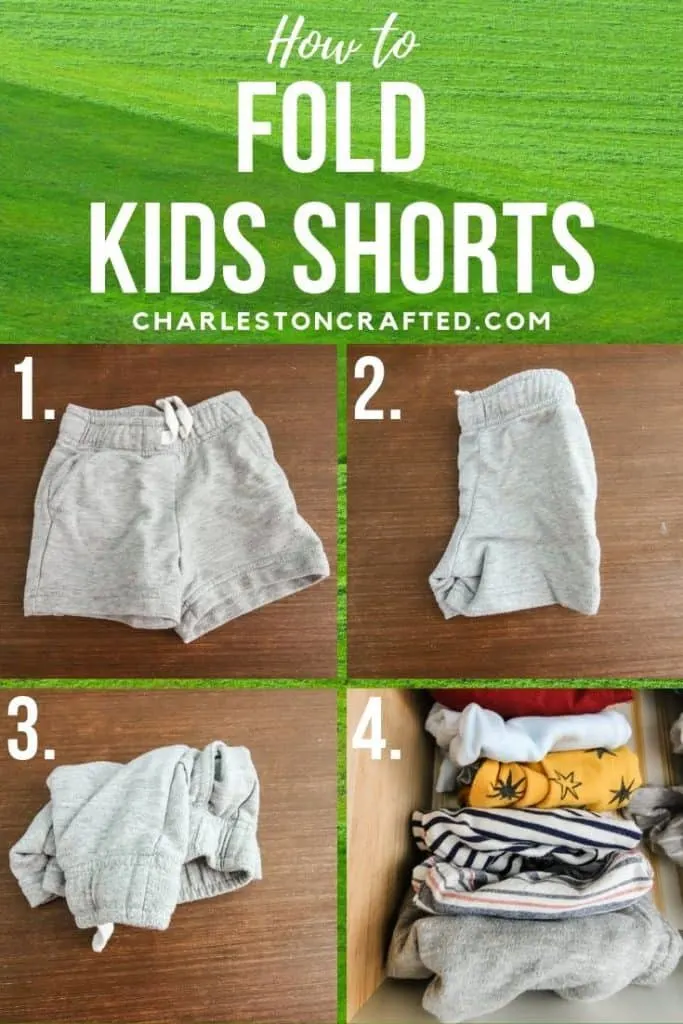 Think beyond clothes
A baby's nursery is an amazing storage spot. It can actually hold so much more than just clothes. Here are some items that you might want to store in your baby's closet or dresser, too.
Diapers + wipes
We have a whole drawer of diapers. We keep them 2 rows deep, laying horizontal. This works great for us! Once Luke started sleeping through the night, we started keeping a few overnight diapers in the back of the drawer, too.
We keep wipes in a reusable dispenser in another drawer.
Creams and lotions
We store creams and lotions in a bin in the wipes drawer. These need to be easily accessible, especially if you need butt paste.
Burp rags and cloths
If your baby is anything like Luke, you are going to go through a lot of burp cloths! We keep ours in a bin in the top drawer of his dresser, which makes them easy to grab. Stack them horizontally so you can see all of the different choices!
Here's how I sewed DIY burp rags for the baby!
Blankets
We keep extra blankets folded and stored in a bin in the closet. They could also go in the top of the closet or in a bottom drawer. You want to be sure to keep muslin blankets handy and easy to grab when you have a newborn!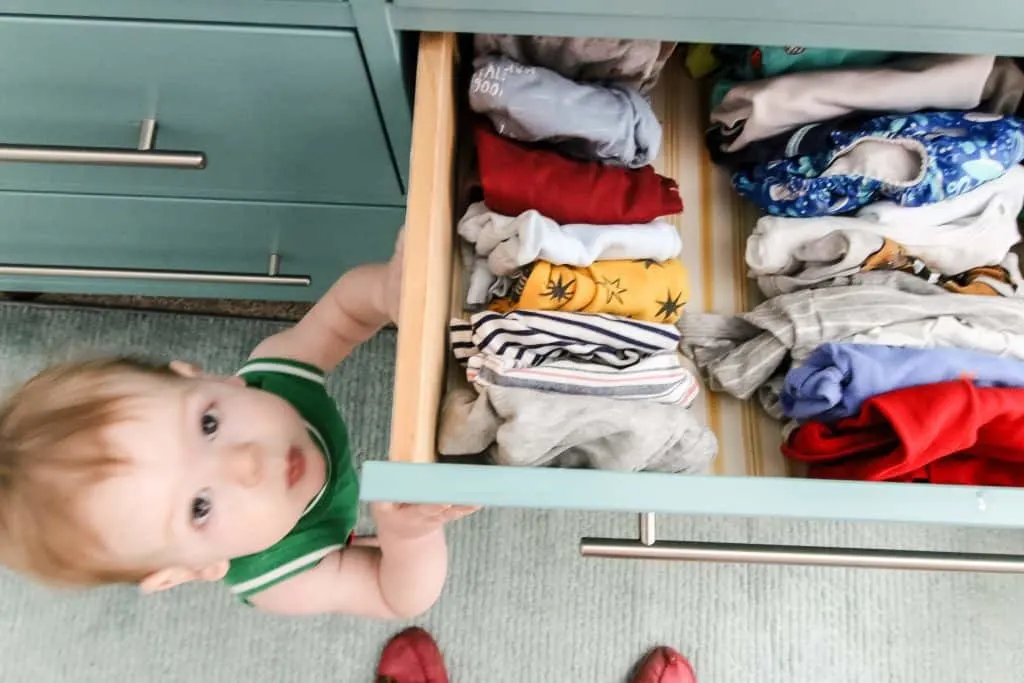 Too small/too big clothes
We are lucky to have such a large dresser for Luke. We use the top 2 main drawers for clothes that currently fit him and the bottom two drawers for clothes that are 1-2 sizes too big. Be sure to determine this based on laying out the clothes and looking at the actual size of the item. The size on the tag can be very misleading as different brands (and even items within the same brand) can be cut very differently.
We try to go through our lower drawers once a month and pull up anything that looks like it would fit him now or soon. It's a major bummer when you realize that your baby outgrew something without ever wearing it, so be vigilant about this!
We also use large bins in the bottom of the closet to store too large and too small clothes. Have a bin or bag ready and open to drop too small clothes in. I find that if it's too much trouble, you are less likely to do it.
It can be really frustrating to have to dig through too small clothes in the drawer when the abby is crying and balanced on the changing pad, so set up a system now!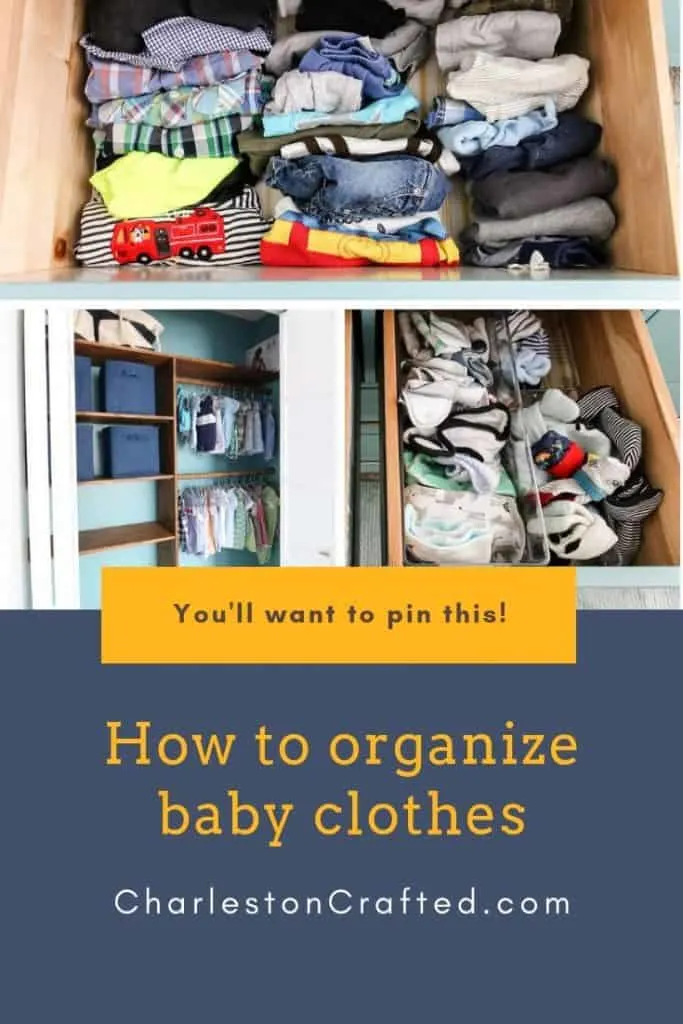 Do you have any other tips for organizing baby clothes?