Want to make a Bob Ross costume for the whole family? This could work for a group or a couple, too! Keep reading if you want to make a Bob Ross, canvas, and Happy Little Tree costume set this Halloween!
Is there anyone chiller than Bob Ross? This dude was so easy to watch and so iconic, he has to be immortalized in a Halloween costume.
Sean and I have each been Bob Ross for Halloween several times, but this year we decided to turn him into a group/family costume.
If you are a couple, you can easily dress up as Bob Ross + a canvas painting.
Since we have Luke, we decided to dress him up as a Happy Little Tree, Bob Ross' signature! Better than his "happy little accidents" 😀
This costume would work with a baby, toddler, kid, or pet, too!
This is a super simple group costume and would honestly be pretty easy to pull together last minute – all you REALLY need to buy is the wig – though with the right hair you might could fake it!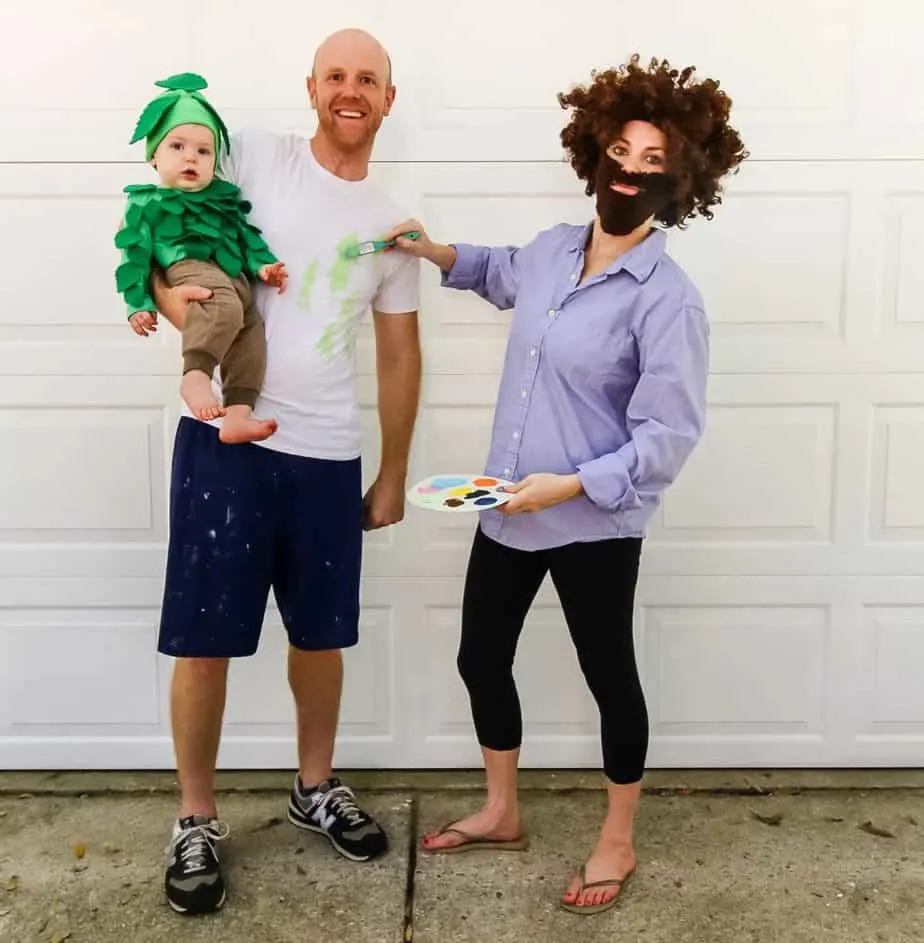 How to Make a Family Bob Ross Costume
Bob Ross Costume
Bob Ross is actually a REALLY easy costume to make.
What you need for a Bob Ross costume?
The main thing that you need is the wig and the beard. They are what gives Bob Ross his very distinct look.
I purchased this wig off of Amazon.
Note: one or the other of us has been Bob Ross at work for four years running now, so the wig has seen better days. It kind of makes it funnier to me! Because it is curly you really can't brush it without it getting frizzy, so keep that in mind.
You can buy a brown beard on Amazon, too.
However, I made my beard! Of course! I actually used a cheap brown washcloth and cut out a beard shape. I didn't hem it or anything at all and it has lasted 4 years of Halloweens!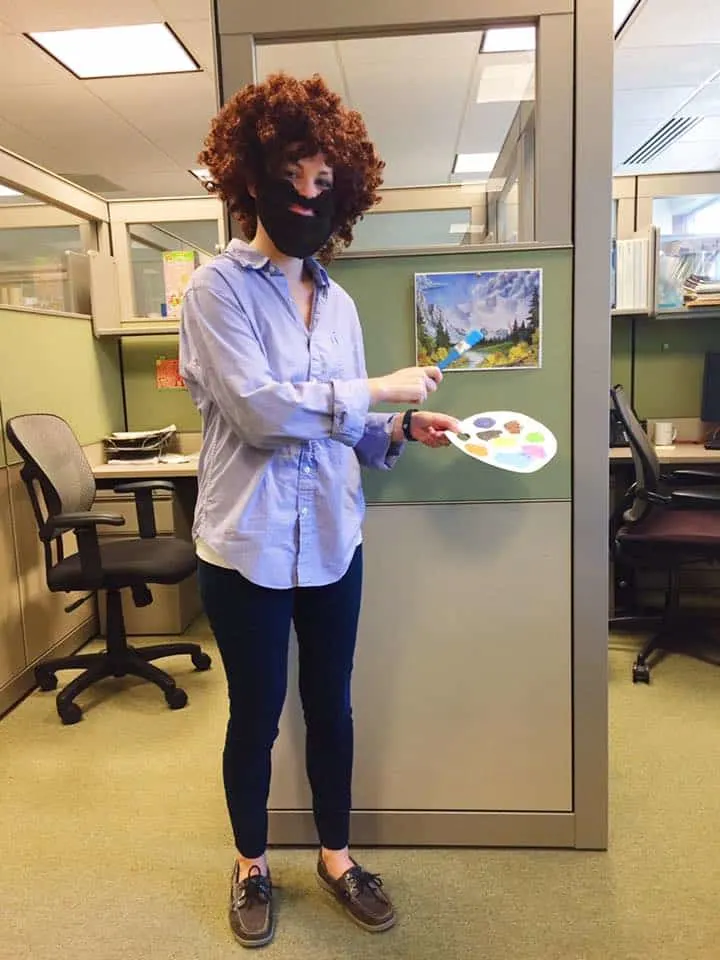 I used a piece of elastic string to make the face strap. I did sew that on but it was literally one stitch on each side. You can do that with a free little sewing kit from a hotel room 🙂
Or, you can use brown makeup (mascara, eyeliner, facepaint, etc) to draw on a beard.
What does Bob Ross usually wear?
Bob Ross usually wore a blue button down shirt and jeans.
Bob Ross's outfit was always really simple. You will also need a button down shirt – light blue or white is best.
Pair it with black pants or jeans. You can wear any neutral shoes. I wore black sperries when I wore this to work but just wore flip flops around the neighborhood.
Additionally, you will want to carry a painting pallet and a paint brush. You can buy a wooden paint pallet, or if you are cheap like me, cut the shape out of cardboard. Maybe from the Amazon box the wig came in? Add blobs of paint and allow to dry (or not! see below!).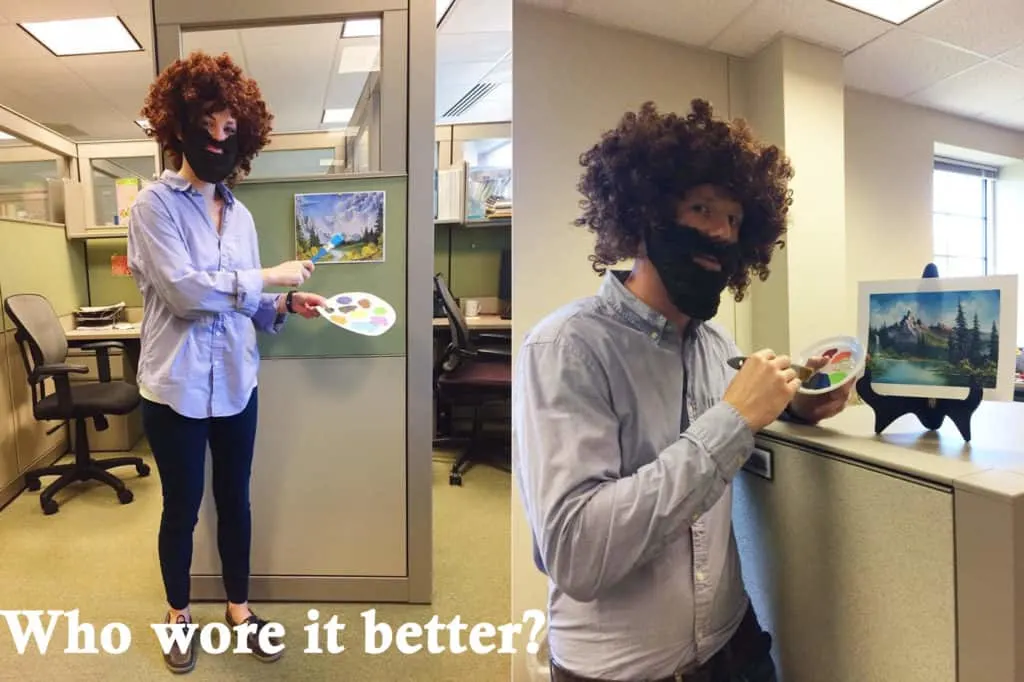 Canvas Painting Costume
Who is Bob Ross without his canvas? This was a really funny and SUPER simple costume to make, and it would be so fun for parties.
Just wear a white undershirt and pants you don't mind dripping paint on. Sean wore his painting shorts!
Bob should carry a pallet with ACTUAL PAINT on it! Use your brush to paint the canvas all night, and invite others to join in!
I have seen other people have the "canvas" wear a poncho that looks like a nature scene, but I think that this interactive costume is WAY more fun.
Happy Little Tree Costume
Of course, Luke had to be our Happy Little Tree!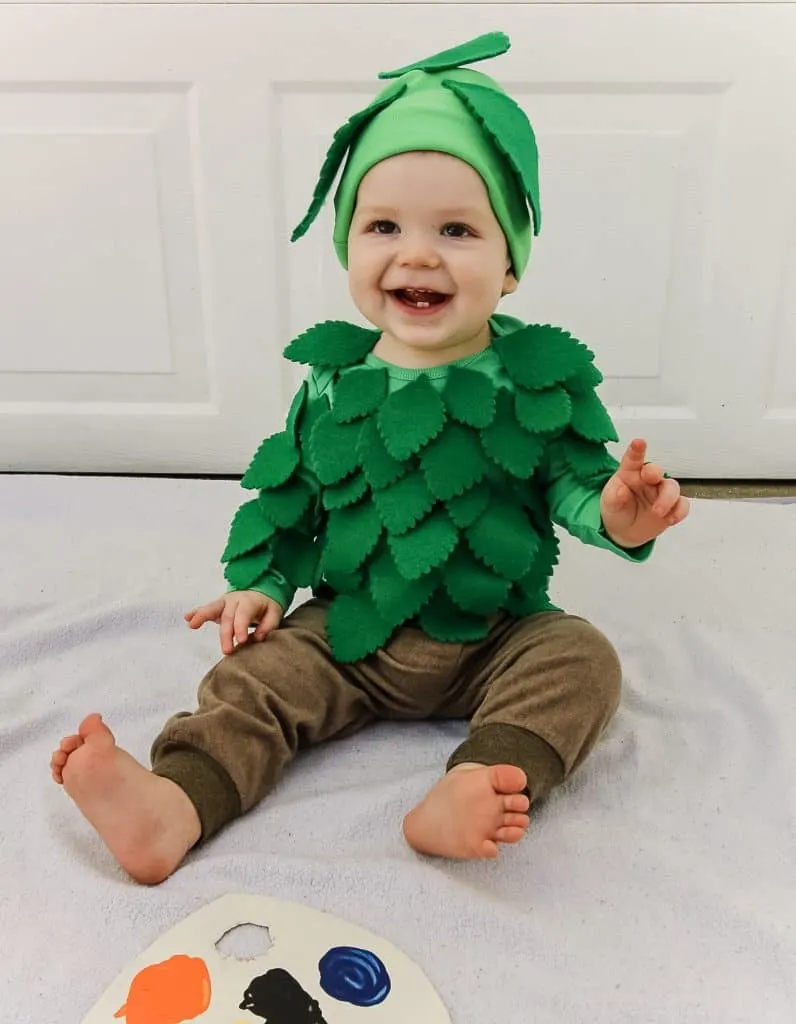 If you don't have a baby or child, you could use a dog, cat, or just a short friend as your Happy Little Tree.
This costume was made using a onesie, but you could also use a long sleeved green sweatshirt, or a t shirt for a pet.
For a dog, I would cut extra leaves that you can use by attaching them to their collar.
Click here for the full Tree Halloween Costume tutorial, including a template for the leaves.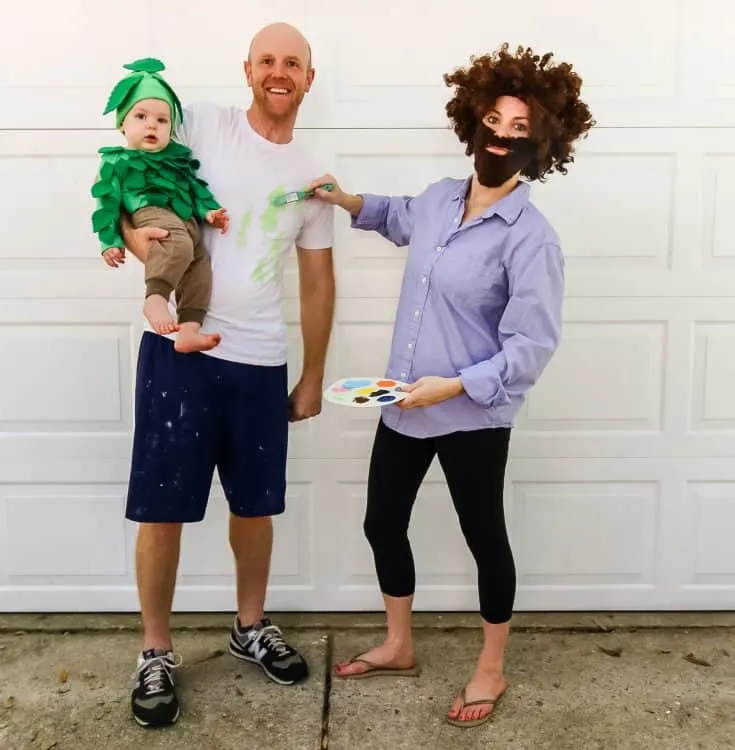 Yield:

1 costume
How to make a Bob Ross costume
Feeling quite chill this Halloween? Dress up like the chillest dude ever, Bob Ross. Bonus points if you dress the whole family up!
Materials
Afro wig
Beard
Button Down Shirt
Black pants
Paint pallet
Paint
Instructions
Prep the paint pallet - you can buy one or make one from cardboard. Add paint and let it dry for solid blobs or keep a stash of paint with you for an interactive costume.
Put on the button down and black pants.
Put on the beard and wig.
Think happy little thoughts!
Recommended Products
As an Amazon Associate and member of other affiliate programs, I earn from qualifying purchases.
I hope that you enjoy this Bob Ross costume! It was so fun to make and gets the BEST reactions!
This would really be an easy last minute costume or for a famous couples date night party!
If you dress up as Bob Ross for Halloween, please share it below or tag us on Instagram or Facebook @CharlestonCrafted!
Love Halloween? Be sure to download our FREE printable Halloween greeting cards!
Pregnant this Halloween? Check out my 4 DIY maternity Halloween costume ideas! Also check out my favorite DIY Couples Halloween costumes!