Want to create a beautiful wooden silhouette to frame and hang on the wall? They make great gifts! Here is how to create and cut a wooden silhouette with a Cricut Maker.
For our fifth wedding anniversary, I had to come up with a wooden gift to give Sean. This is harder than it sounds – he is a woodworker! I can't compete with that.
I contemplated buying him a woodworking tool, but we usually go for something more sentimental for anniversary gifts.
I was trying to think of a project that I could do that he couldn't (or really, wouldn't) do, and I decided to try cutting wood with my Cricut!
Read all about how to cut wood with a Cricut Maker and how to cut wood with a Cricut Explore Air 2 machine!
I was inspired by this project that my friend Anika made to try to layer two types of wood for a 3D look.
In the spirit of our wedding anniversary, I decided to take one of my favorite wedding photos and turn it into a wooden silhouette.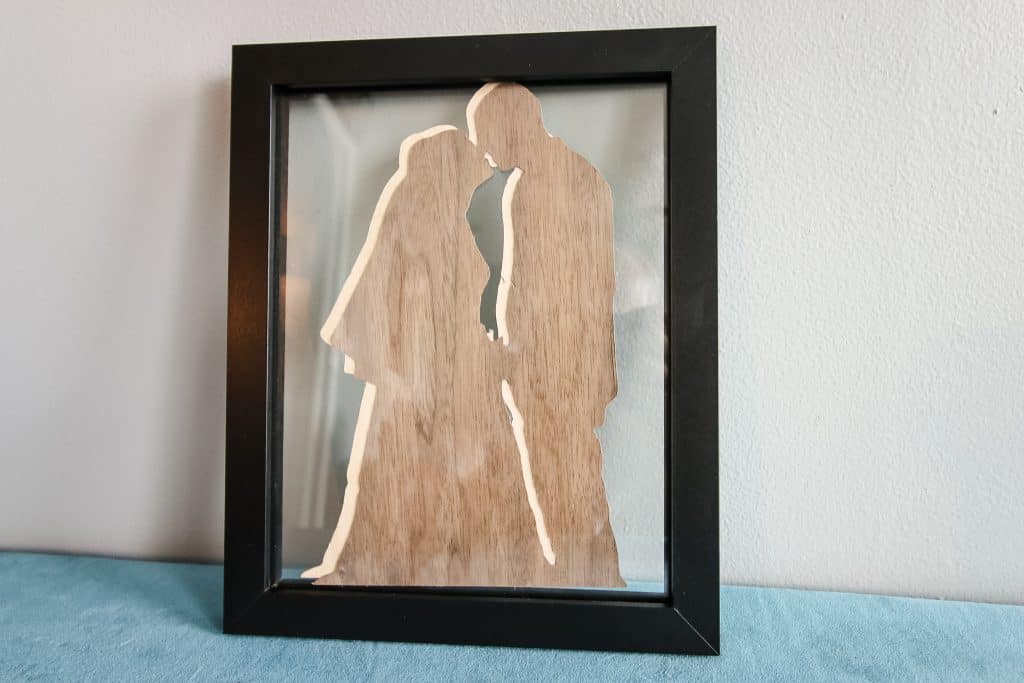 How to make a photo into a silhouette
First, you need to pick the right photo. It needs to have a clear outline with the least- busy background as possible.
Upload your photo into Canva. Create a canvas the size of your choice and add your image to the canvas.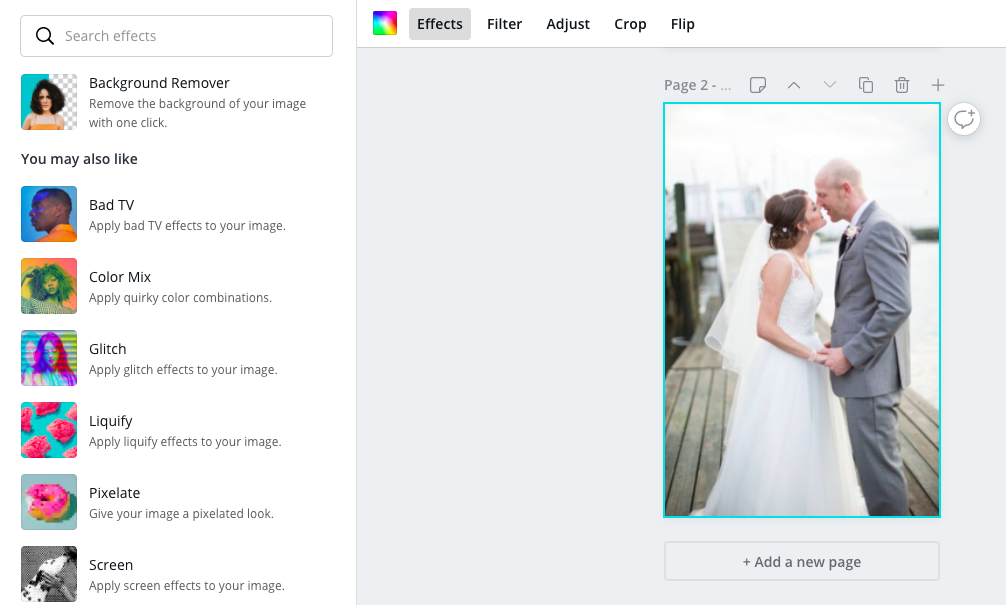 Select the image and hit EFFECTS. Choose "Background Remover".
This should remove the background instantly!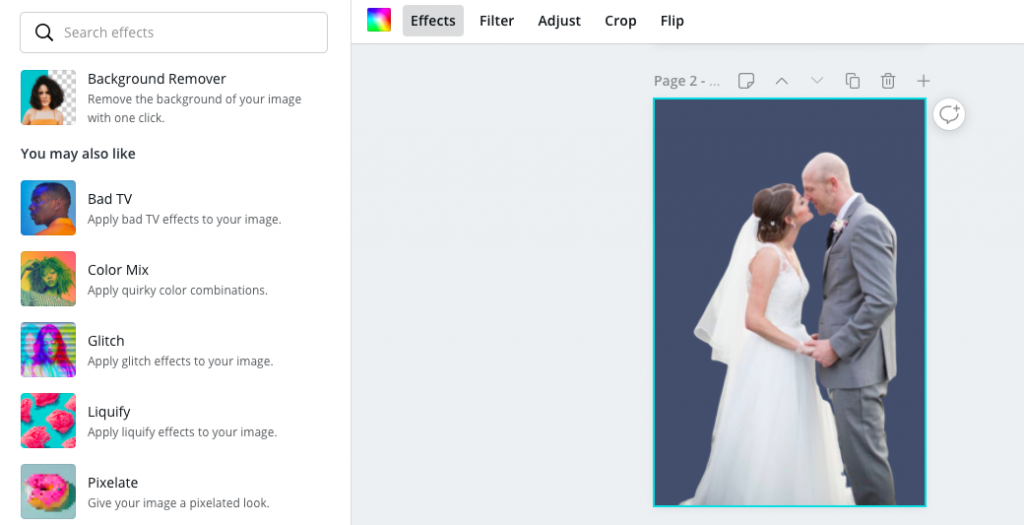 Note: because my photos contained a lot of white, I changed the canvas background to a color that doesn't appear in your photo. This will make it easier to upload into Design Space!
Export your file as a JPG and let's get it into design space.
How to upload your design as a silhouette into Design Space
Create a new project in Design Space.
Select UPLOAD and upload your Canva JPG file as an IMAGE.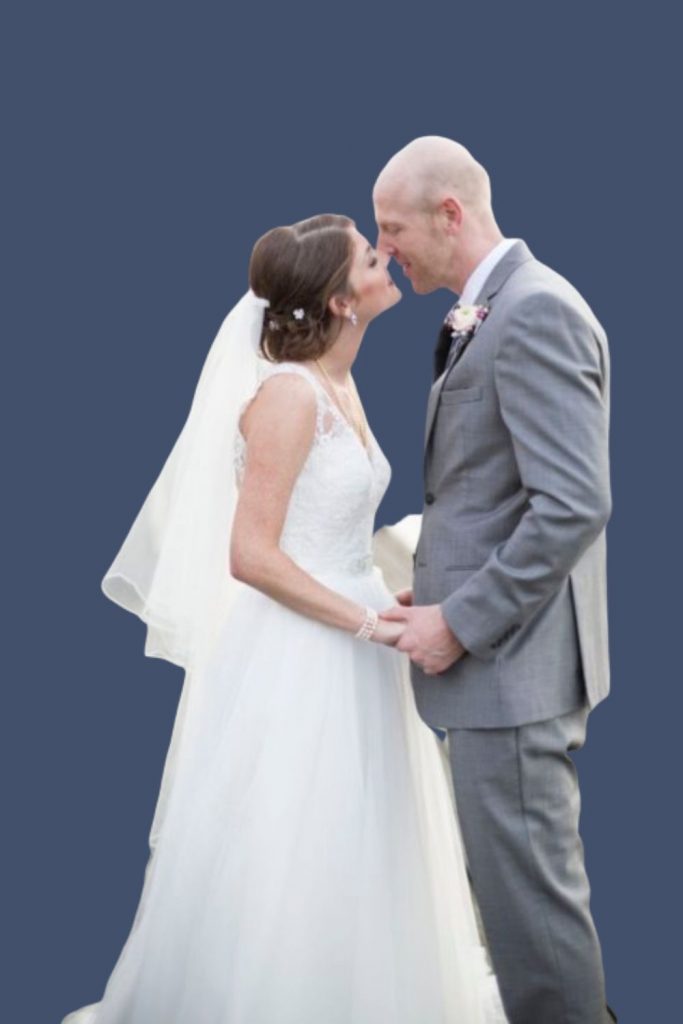 Select SIMPLE and then de-select your background. This is when it comes in handy to have made your background a color other than white!
Save as a CUT IMAGE. You are ready to save, insert into your project, and cut on the material of your choice!
Making the wooden silhouette on my Cricut Maker
I wrote all about cutting wood with my Maker in this post. But, use a Strong Grip mat and tape the material down on all 4 sides.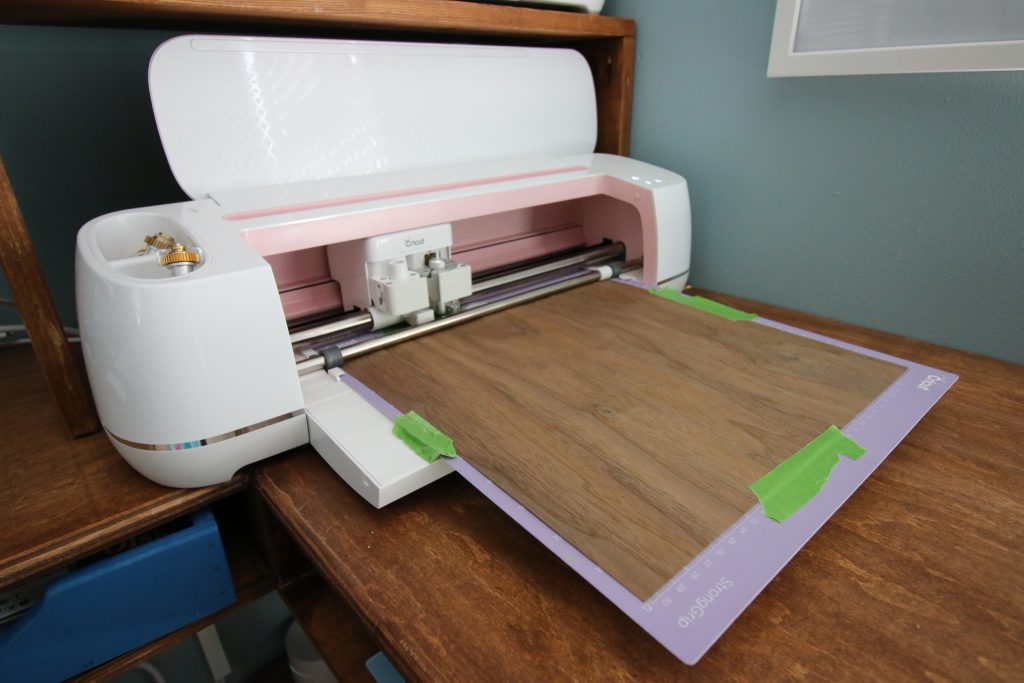 To make this design, I used 2 types of wood for a layered, 3D look.
The darker wood is a Walnut veneer.
Note: I cut 2 of the exact same shape out, one of each wood, and sort of offset one over the other. Retrospectively, you could make one about 1/2 an inch bigger than the other, if you want to see the back layer all the way around the top layer.
Be prepared that it will take a LOT of passes – I like to watch one pass to make sure it's staying in line and nothing weird is happening, and then walk away!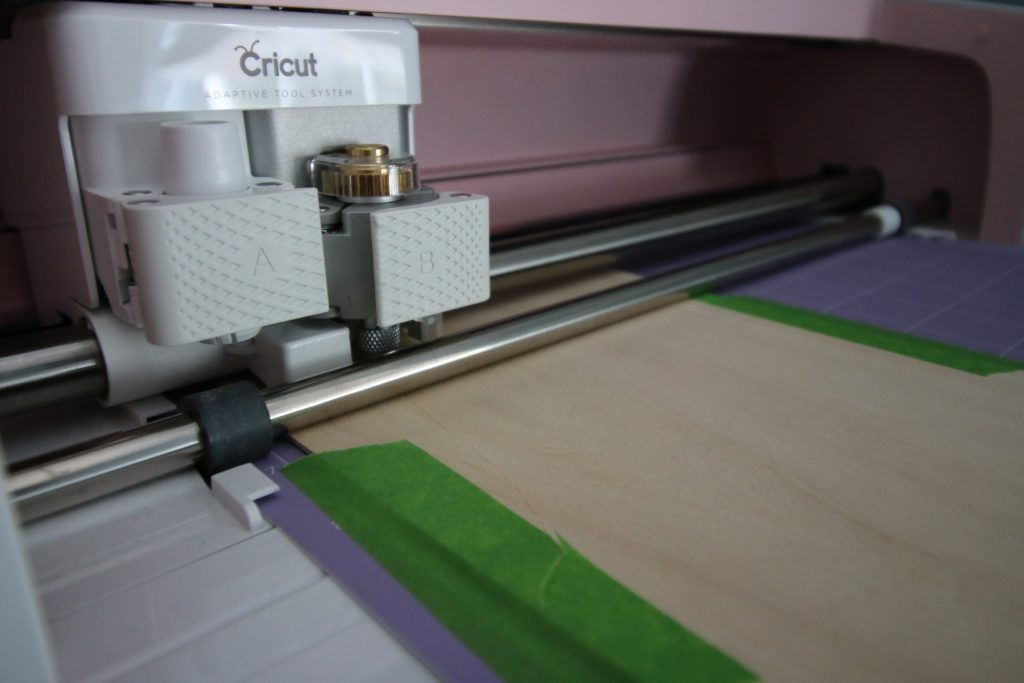 I used double sided tape to attach my wood cut outs to each other and to attach them to the back of the frame. This is a floating style frame so it's 2 pieces of acrylic instead of a traditional cardboard backer.
This gift was a big hit! It is simple but special, and incorporated that wood gift idea!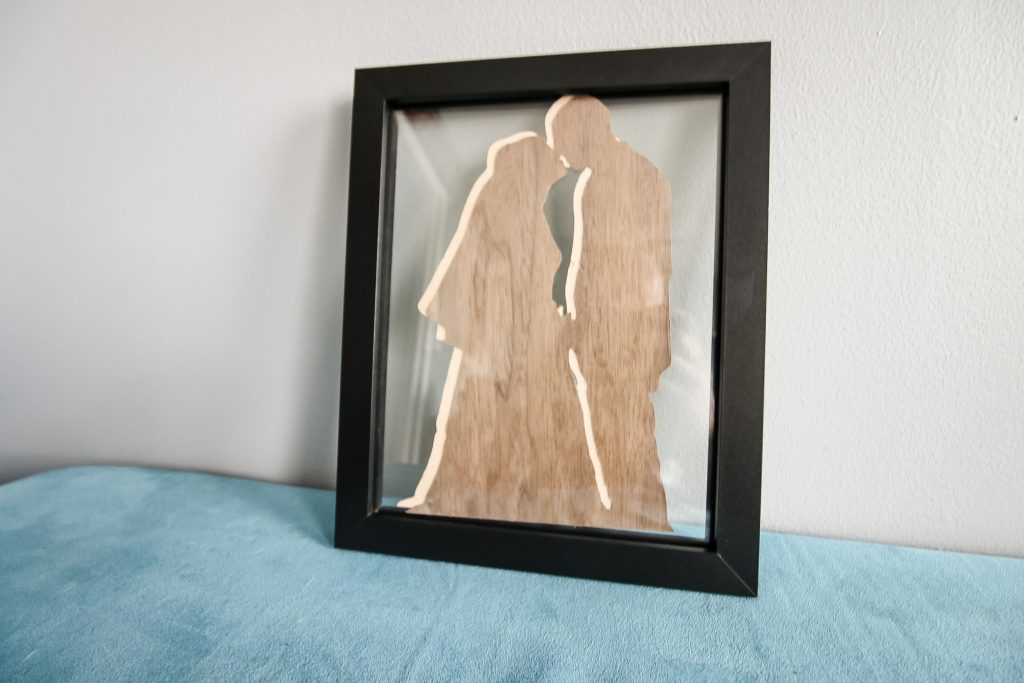 Any questions about this project?
Facebook | Instagram | Pinterest | Twitter | YouTube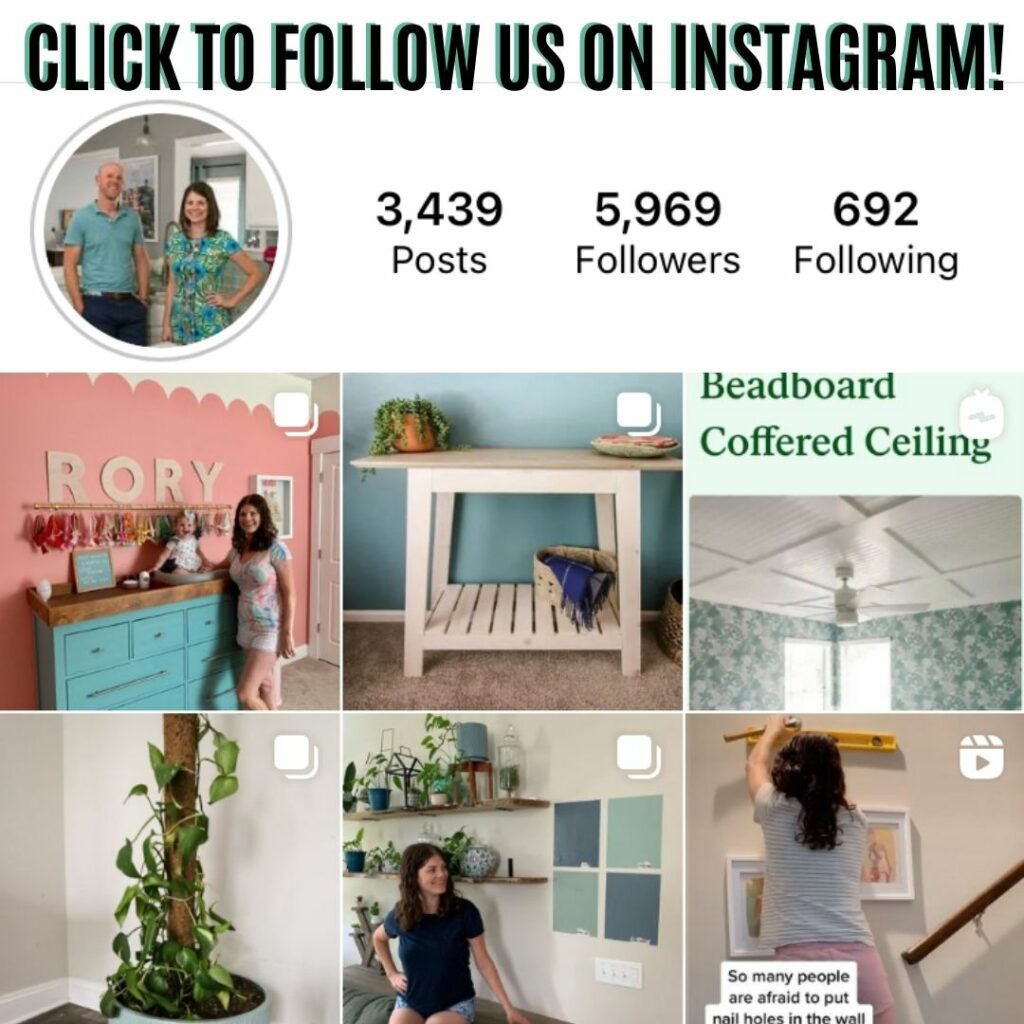 ---
Can we send you our newsletter?
Another great way to keep up with out latest projects is by joining our weekly newsletter! Get alerts of our latest projects and special peeks behind the scenes!
Follow along on Instagram
Join our online community where we share real time behind the scenes looks at our DIY projects and peeks inside our home + family!
---