Curious about the Cricut Joy cutting machine? Here is everything that you need to know about the machine, how it works, and the kind of projects that it can do!
This is a sponsored post written by me on behalf of Cricut. All opinions are 100% mine.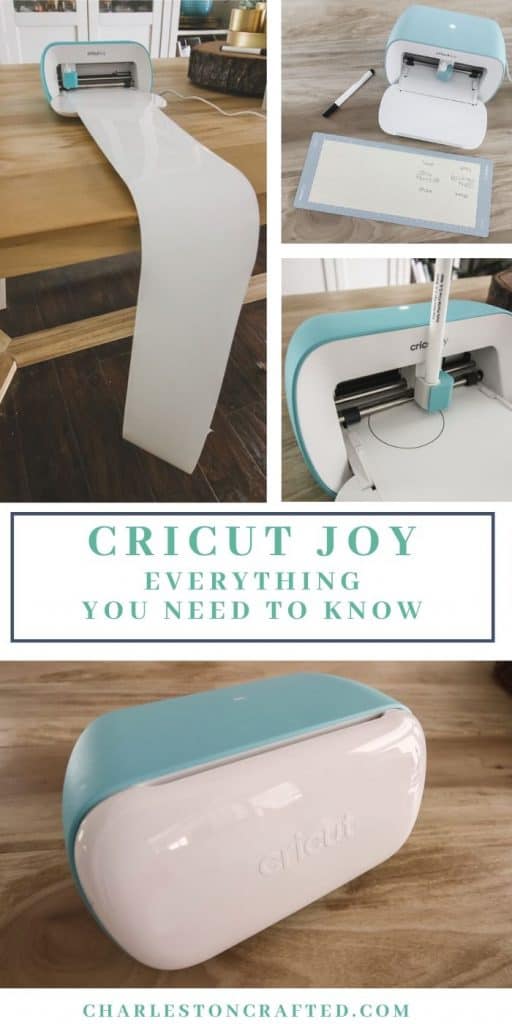 Cricuts are machines that look almost like printers – but instead of printing, they cut, write and engrave!
The Cricut Joy is the latest – and smallest – Cricut to date. It is designed to work well on its own or as a companion to a Cricut Explore or Maker.
Best of all, the Cricut Joy is simply designed, without a single button or anything to "mess up". It is really user-friendly and not intimidating to new users.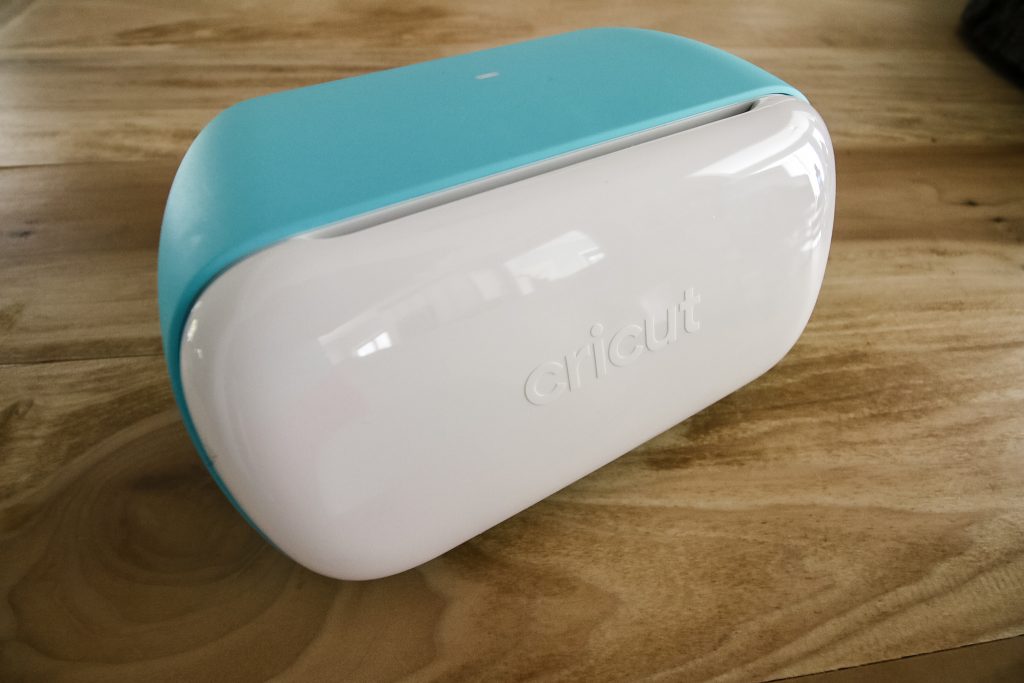 What is the Cricut Joy?
Cricut Joy is a compact Cricut cutting machine. It is less than half the size of the Explore Air 2 or Maker machines! It weighs under 4 pounds and measures 5″ x 8″ when closed.
The small size makes the Cricut Joy perfect for:
Using on the kitchen table
Transporting to cut labels or designs on the go (like at a craft fair)
Storing in a drawer or cabinet when not in use
The Cricut Joy has a single tool holder – so it can hold one pen or blade at a time. This is in contrast to the Maker and Air which can hold both a pen and blade at once.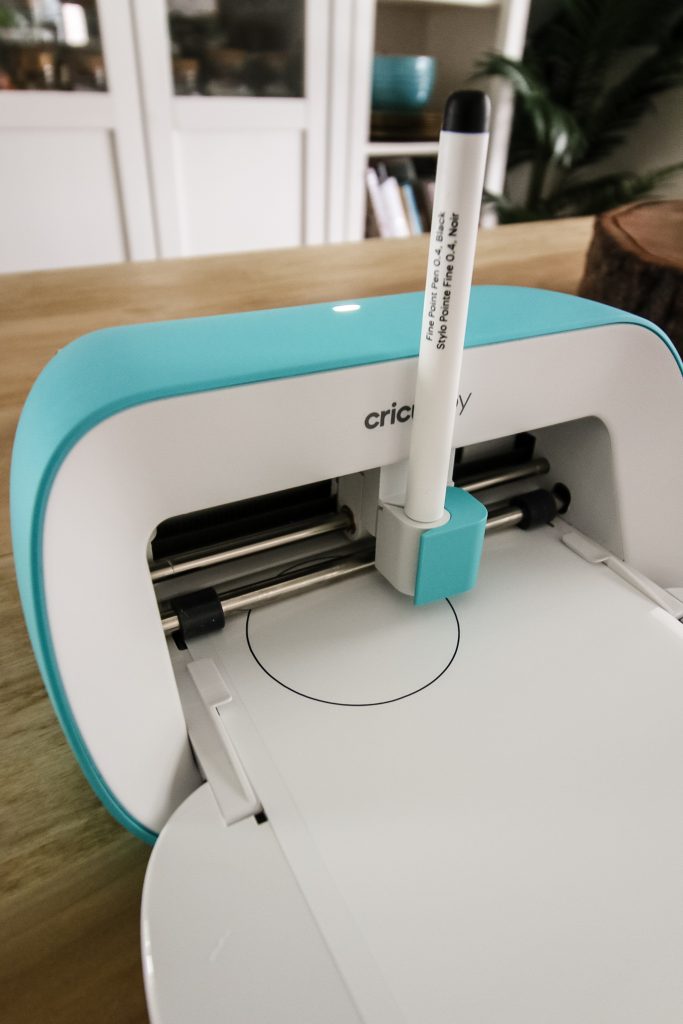 Cricut Joy is designed to be a companion machine to the Cricut you already own
If you are like me and store your Cricut + supplies upstairs in a craft room (my "craft room" is a nook in our bedroom), you can keep the Joy downstairs for quick projects.
If you do a lot of events or Cricut-ing for other, keep the Cricut Joy in a tote in your car or ready to go!
The Cricut Joy is also a great way to try out the Cricut machine for the first time!
With it's small size, simple design, and slightly-lower price point, the Cricut Joy is a great option for new crafters, too!
If you are nervous about being able to figure out a Cricut, this machine has been designed with simplicity in mind.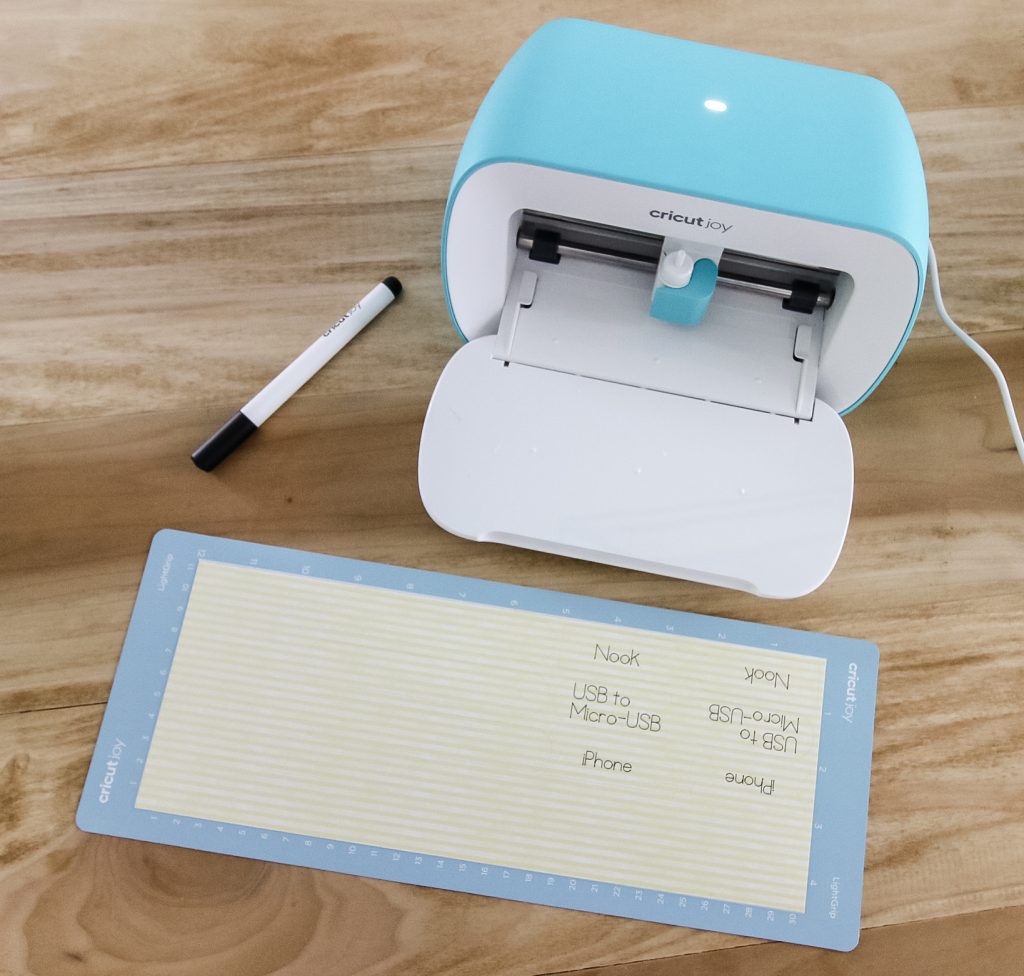 How is Cricut Joy different than Cricut Explore Air 2 and Cricut Maker?
The most obvious difference is the size – the Cricut Joy is a much smaller and simpler machine.
The Cricut Joy can cut long materials, straightens and measures materials, cuts without a mat, can be completely controlled by an app, and has a different set of blades and pens.
The Cricut Joy has both some benefits and well as some limitations compared to the other Cricut machines.
Benefits of the Cricut Joy
Simple interface – no buttons, ready to go on plug in
Cricut Joy Card Mat – makes it incredibly easy to make greeting cards
Mat-less cutting for adhesive Smart Vinyl and Smart Iron On
Single cuts can be super long – up to 4′ long, for up to 20′ of vinyl in a single go
Limits of the Cricut Joy
Maximum cut width is 4.5″ wide, compared to 11.5″ on the Explore/Maker
Uses a single blade—a fine point blade. No scoring, engraving, etc.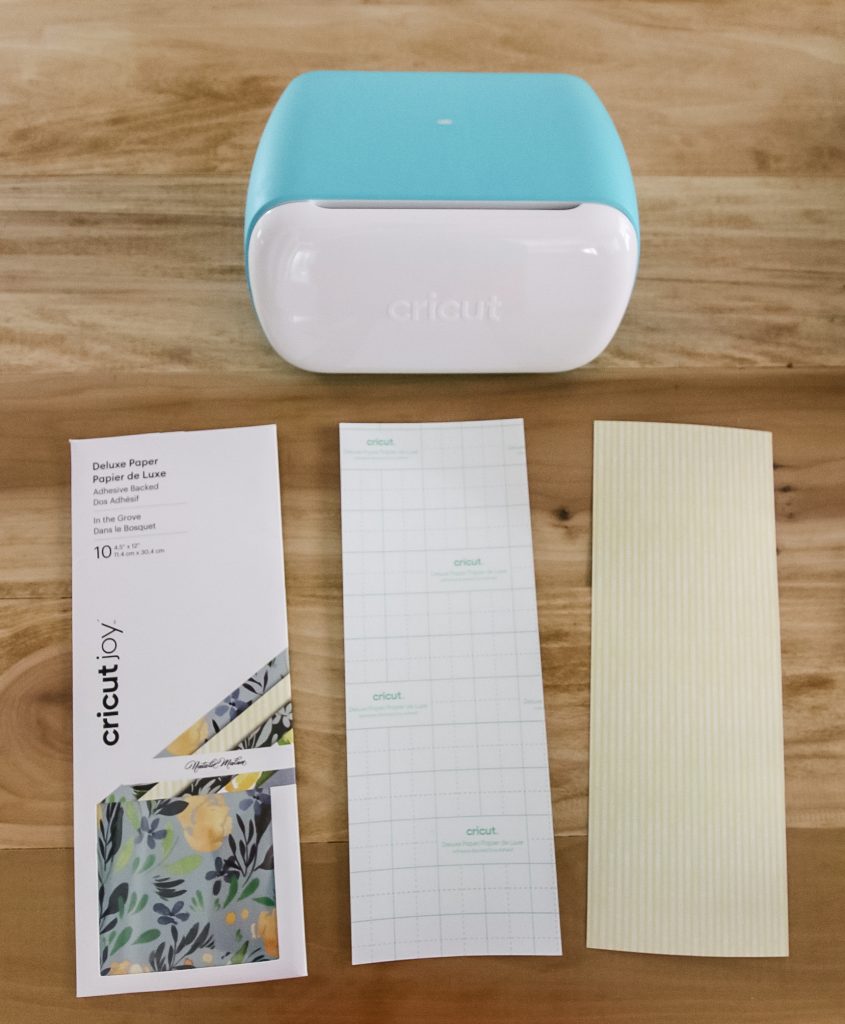 What can I make with a Cricut Joy?
The Cricut Joy is best for simple projects – one color, one cut, one application.
Some ideas for Cricut Joy projects are:
customized labels
vinyl decals
iron-on transfers
birthday banners
greeting cards
paper cut outs
Cricut Joy Sensors
The Joy features two sensors underneath the rollers that pull material in. This allows the machine to straighten and measure the inserted material and measure the inserted material to make sure you have enough material for your selected design before cutting it
Cricut Joy Blade
The Cricut Joy has a specialty blade that is not interchangable with other machines. It is designed to cut light to midweight materials.
It can cut anything that the fine point blade can cut including:
Smart Vinyl™
Smart Iron-On™
Infusible Ink™ Transfer Sheets
Insert Cards
Printer Paper
Cardstock
Permanent and removable vinyl including glitter, printable, outdoor, and holographic vinyls
Iron-On
Printer Paper
Washi Tape
Parchment Paper
Vellum
Canvas
Light Chipboard
Faux Leather (Paper Thin)
Cricut Joy Mats
Standard and Light Grip cutting mats are used with the Cricut Joy. You do not need a purple Strong Grip Mat because the Joy cannot cut with enough force to cut those materials.
There is also a new mat – the Card Mat. It features a clear attached layer that allows you to easily cut folded cards.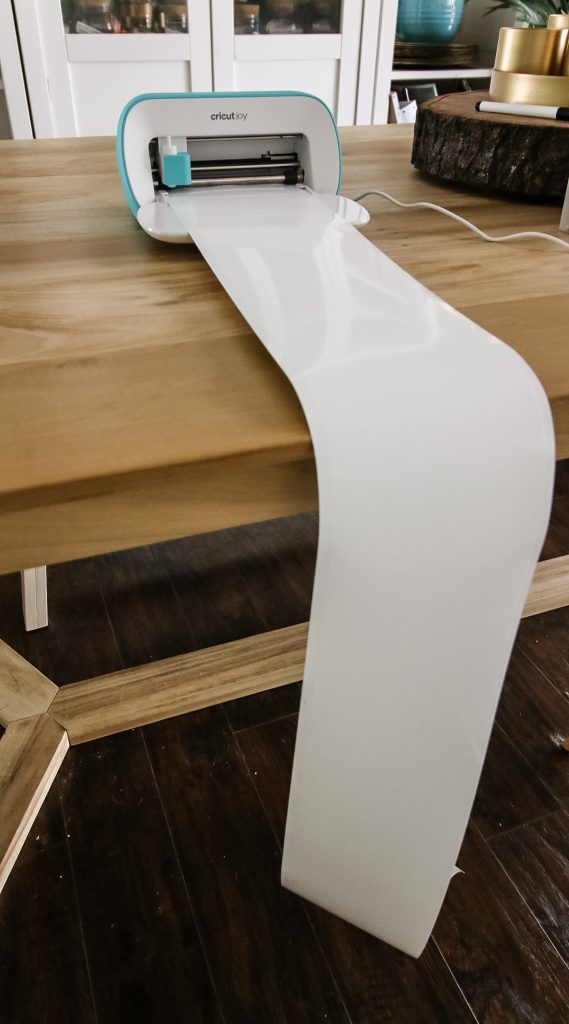 Cricut Joy Materials
Cricut sells Vinyl, Iron-On, Writable Labels, Transfer Tape, Infusible Ink, Pens and Adhesive Backed Paper that are perfectly sized for a Cricut Joy.
You can also use any other versions of these materials – you will just need to cut them to size and adhere them to a mat.
Smart Materials
Smart materials allow you to cut without a mat. These materials are clearly labeled "Smart Materials". They have a thicker backing and fit the Joy perfectly.
These smart materials not needing a mat is what allows you to make 4 foot long cuts – much longer than a mat!
Can I use infusible ink with the Cricut Joy?
Yes! They sell Infusible Ink sized perfectly for the Joy.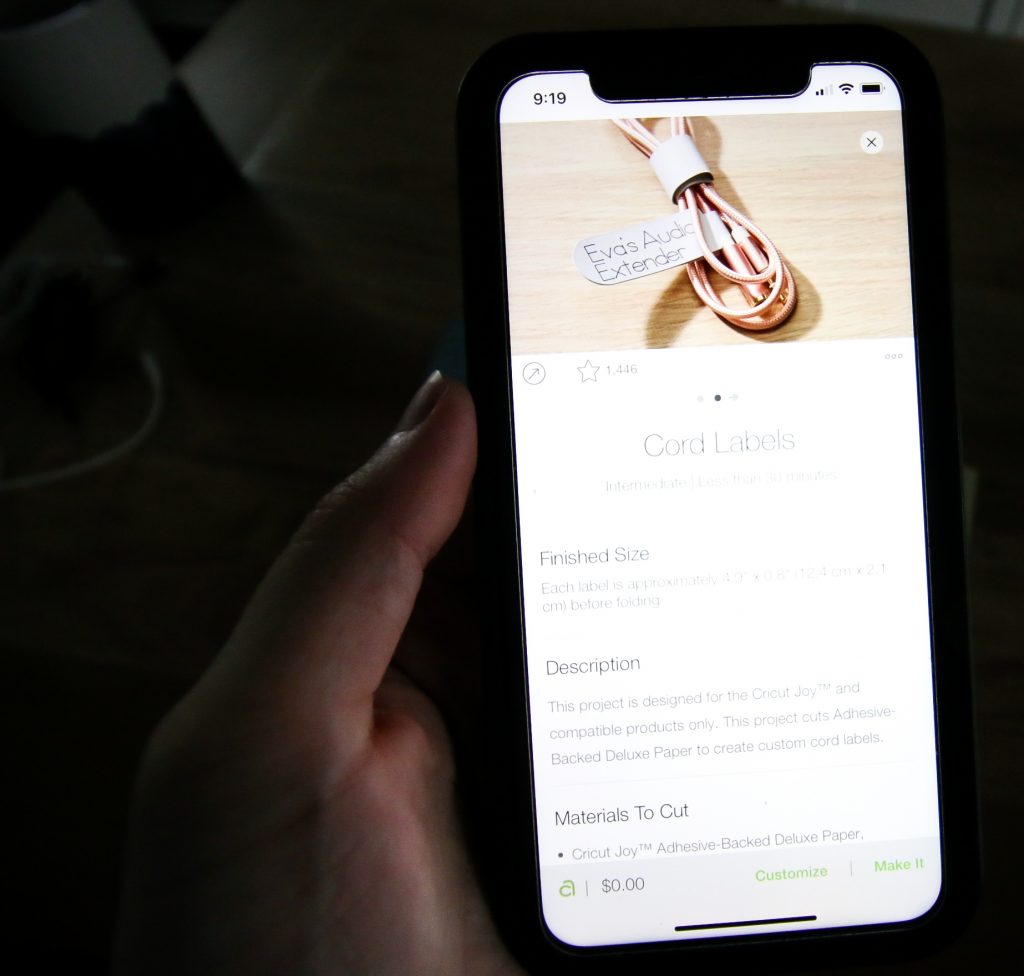 Cricut Joy and Cricut Design Space
There is a dropdown in Design Space where you select which machine you are using. If you select the Joy, Design Space will shift to allow only features that work with the Joy machines.
My favorite way to use the Cricut Joy is paired with my phone (via bluetooth) and the Design Space app. This is easiest if I want to use a pre-made design from Design Space or that I have previously designed on the computer.
Do I need a Cricut Joy if I already have a Cricut?
Of course, you don't need it. It is, however, really nice to have. It is quick and easy to pull out and create projects with. I love it for on the go and think it will be a game changer for people who sell at craft fairs!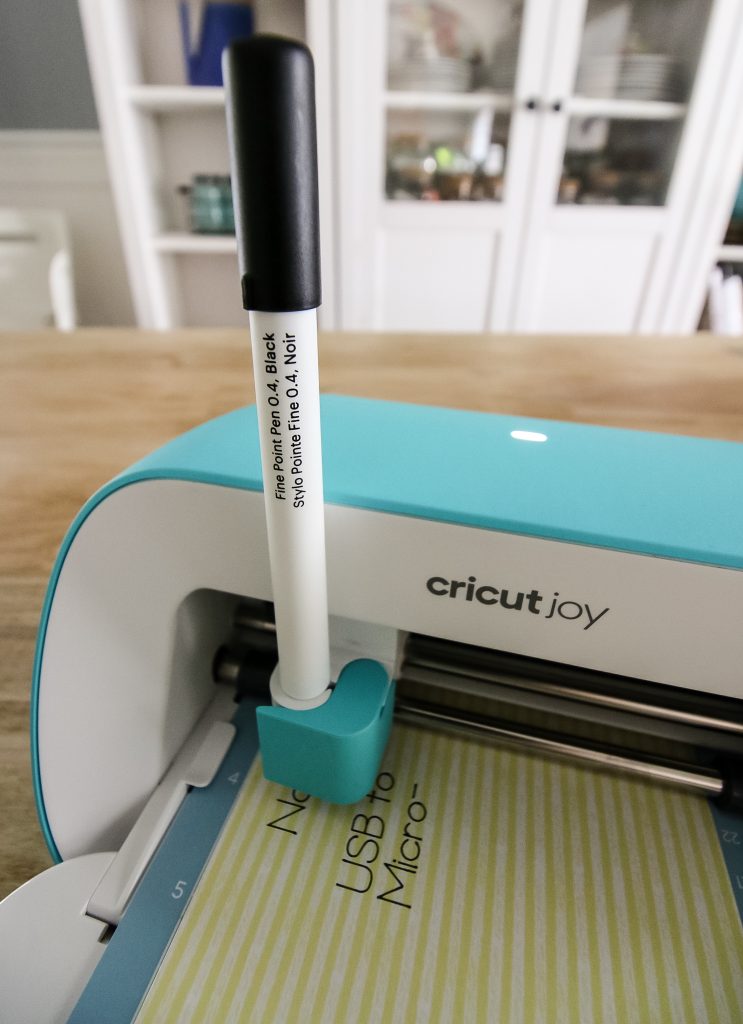 Can I use my Cricut Explore/Maker mats, blades, and materials with a Cricut Joy?
Mats – no, the Cricut Joy is much more narrow than the other machines. Traditional mats will not fit – you have to use Joy mats. However, there are a lot of materials – Smarty Vinyl and Smart Iron On – that don't need a mat!
Blades – no, the Cricut Joy blade is smaller, other blades will not fit.
Materials – Yes, most of them! Iron on and vinyl can be cut to fit the Joy mat. Same with cardstock or any material that can be cut with the fine point blade on your Explore or Maker.
Where can I buy a Cricut Joy?
Amazon
JOANN
Michaels
Hobby Lobby
How Much Does the Cricut Joy Cost?
Cricut Joy is currently available for $179.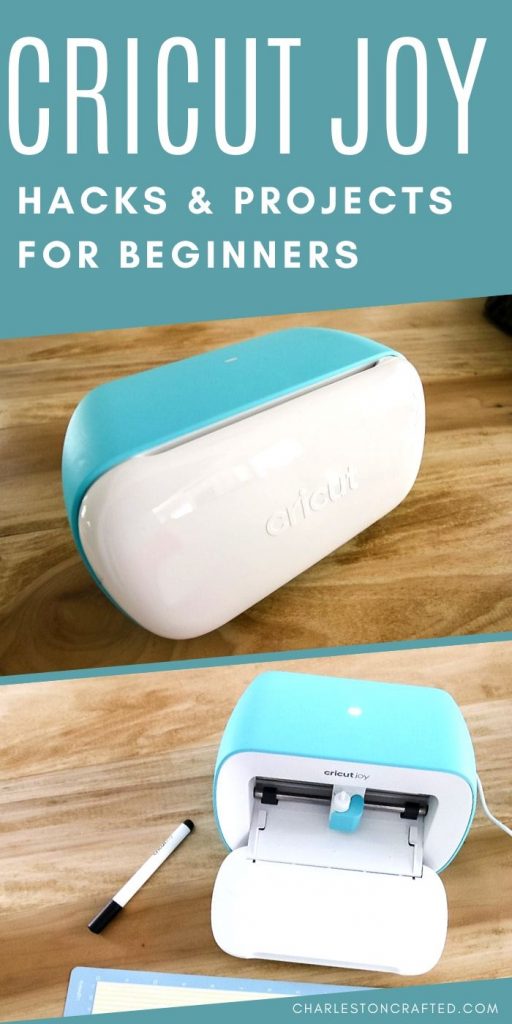 Five simple ways to get organized with a Cricut Joy
I love how easy it is to pull my Cricut Joy onto the dining room table and create labels to get our kitchen and downstairs more organized!
Use adhesive backed paper to create cord tags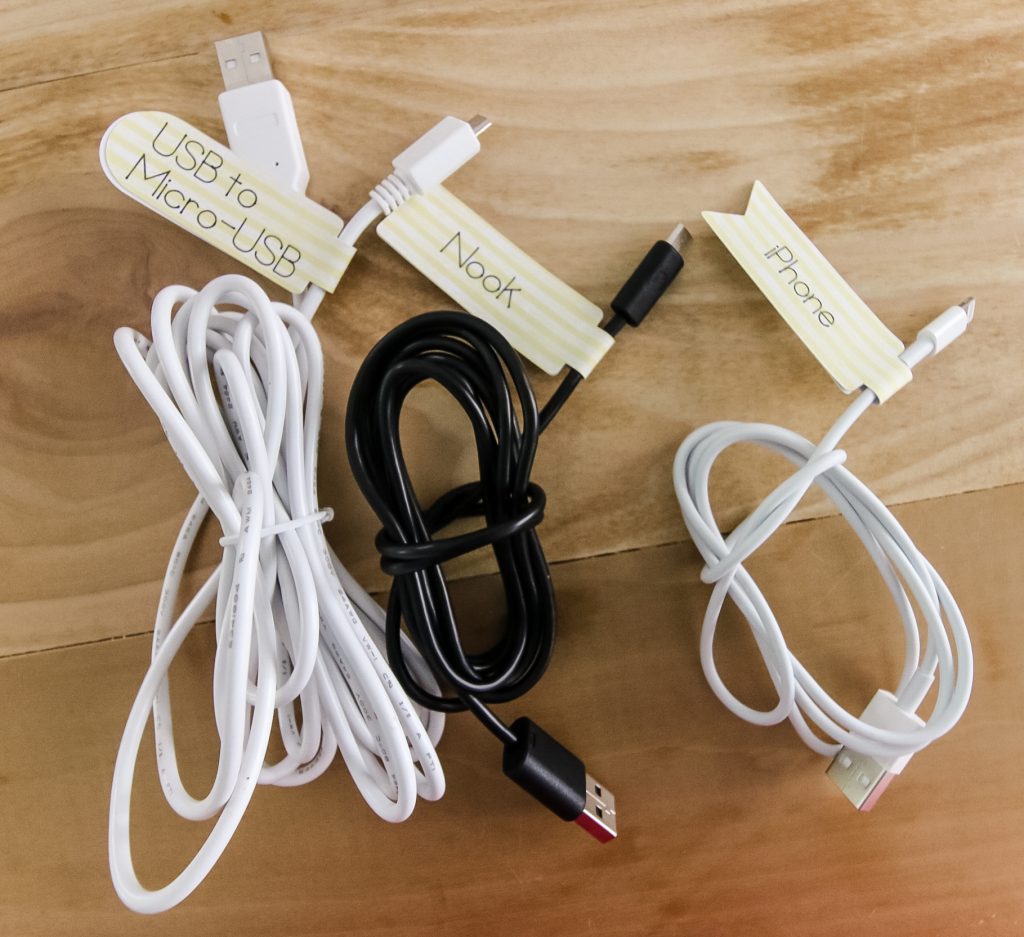 Cords a tangled mess? Time to label them! This Design Space project uses adhesive backed paper and the Joy pen to create quick and easy (but beautiful) tags for your cords. Here is that project in Design Space!
Cut permanent vinyl to create label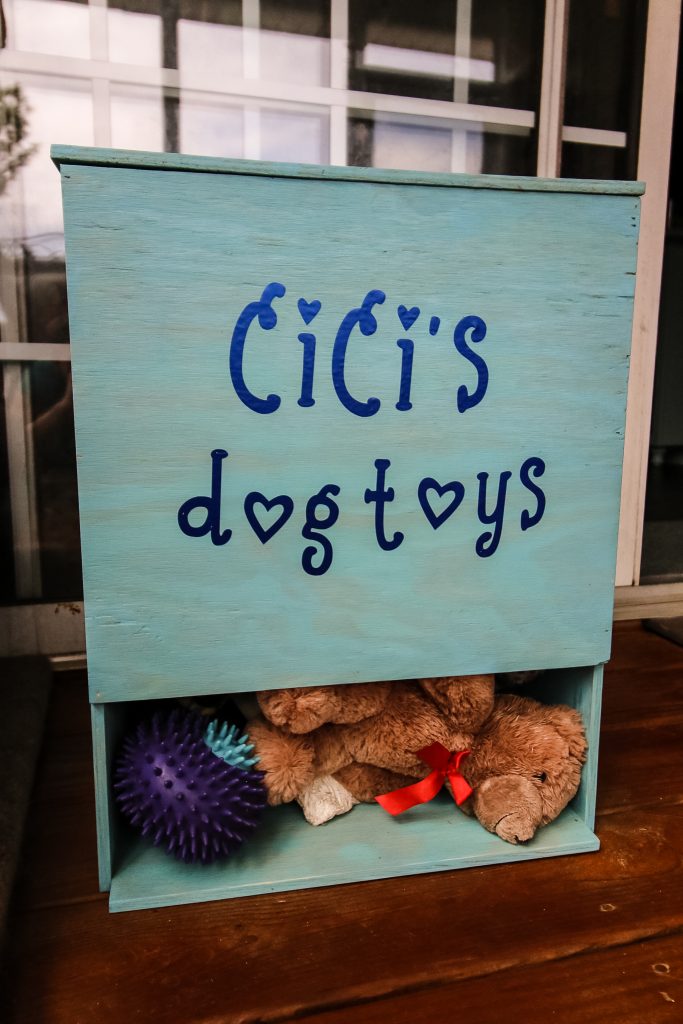 You can use your Cricut Joy to cut vinyl to label a bin or box, just like I did with CiCi's dog toy bin! Cut up to 20 feet long so you can cut a really long phrase out, if you want to! Use any text or design in Design Space!
Use label vinyl and pen to create ready to go labels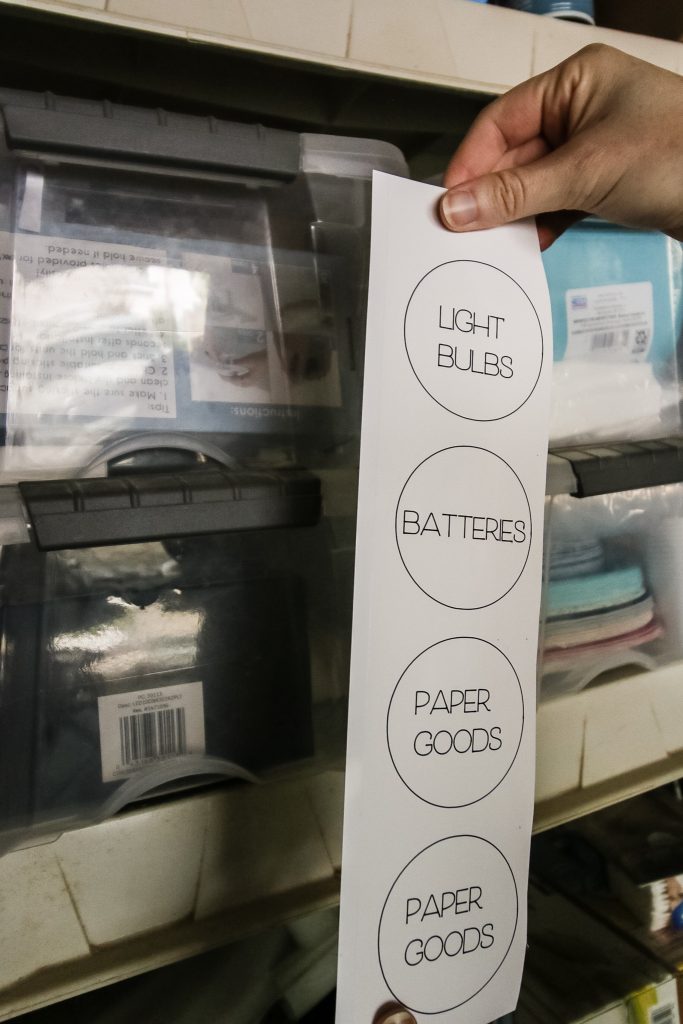 The writable vinyl and pen make it easy to have your Cricut write and label labels for you. Here is that project in Design Space – I just added my own text!
Use label vinyl and pen to create writable labels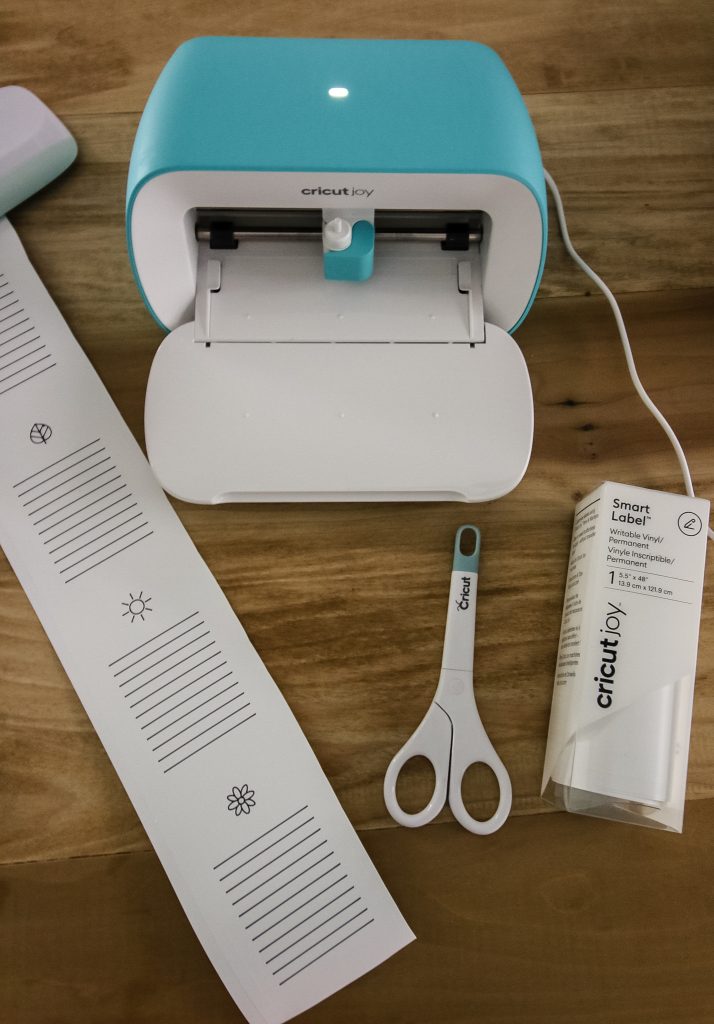 You can also use the writable vinyl to create labels with blanks that you can fill in by hand later! Here is that project in Design Space!
Create adhesive paper labels you can write on on the go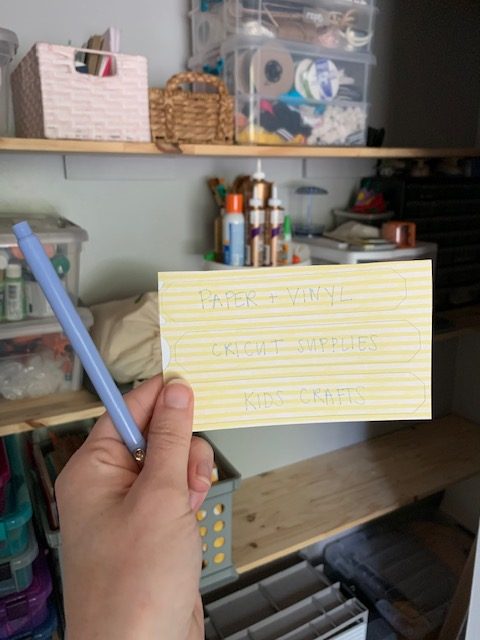 I love using the adhesive paper to create labels for bins for my craft closet. You can write them with a Cricut pen in your Joy or write them by hand! Here is that project in Design Space.
Any more questions about the Cricut Joy?
Facebook | Instagram | Pinterest | Twitter | YouTube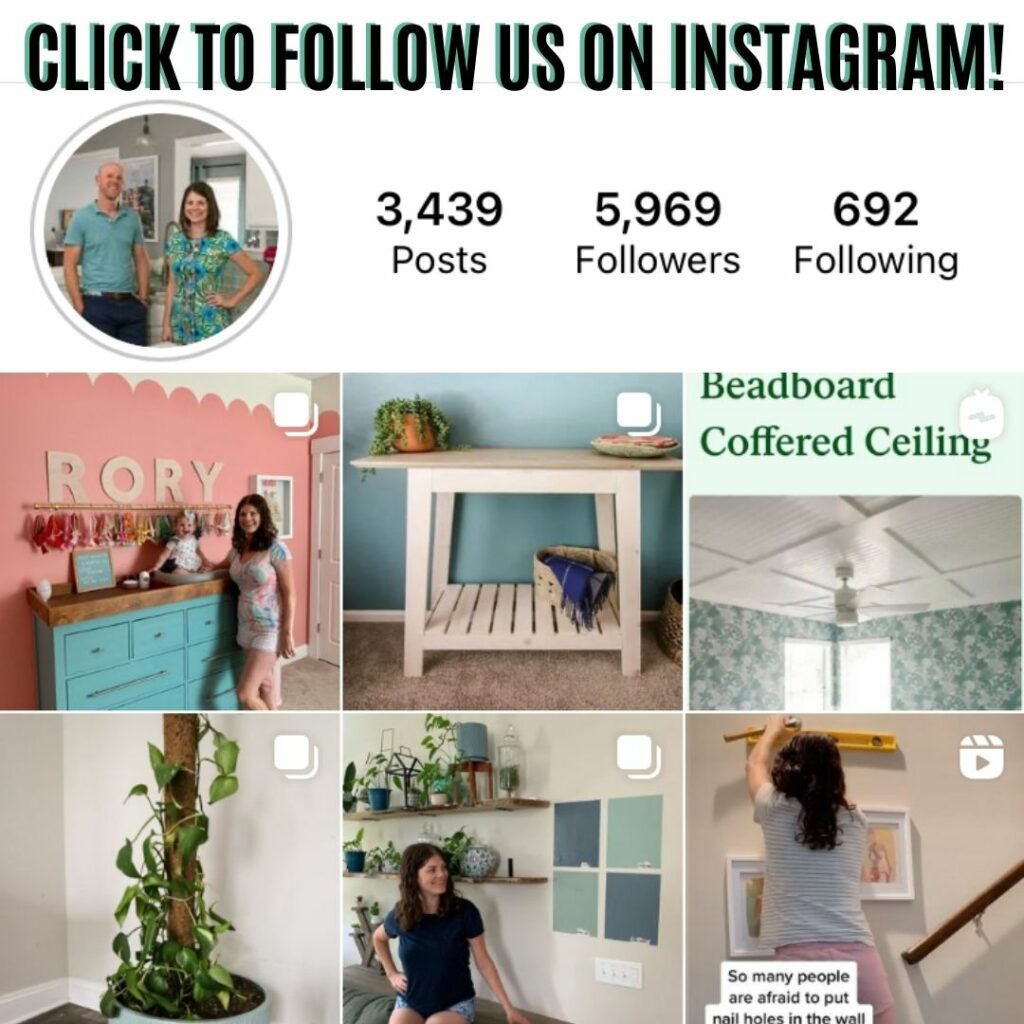 ---
Can we send you our newsletter?
Another great way to keep up with out latest projects is by joining our weekly newsletter! Get alerts of our latest projects and special peeks behind the scenes!
Follow along on Instagram
Join our online community where we share real time behind the scenes looks at our DIY projects and peeks inside our home + family!
---