Want to add LED lighting behind your TV? It is a super easy 5 minute or less project! Here's how to do it!
Ever since we added the faux boxwood panel wall behind our tv, that space has been feeling a bit dark and sad to me.
Don't get me wrong – I love the boxwood and it surely beats the holes and outlets that it is hiding.
During the day, it looks great.
At night, it's a bit dark and shadowy. You can't quite tell what's going on back there!
I decided to research adding LED lighting behind and along the sides of the TV.
I was shocked to see how inexpensive and easy to add these light kits are. It's a great way to get a bang for your buck and take your TV area to the next level.
Whether you want to have lights on for ambient lighting or while watching TV (word on the street is that these light kits can help reduce eye strain and improve your viewing experience) it's definitely worth considering installing LED lighting!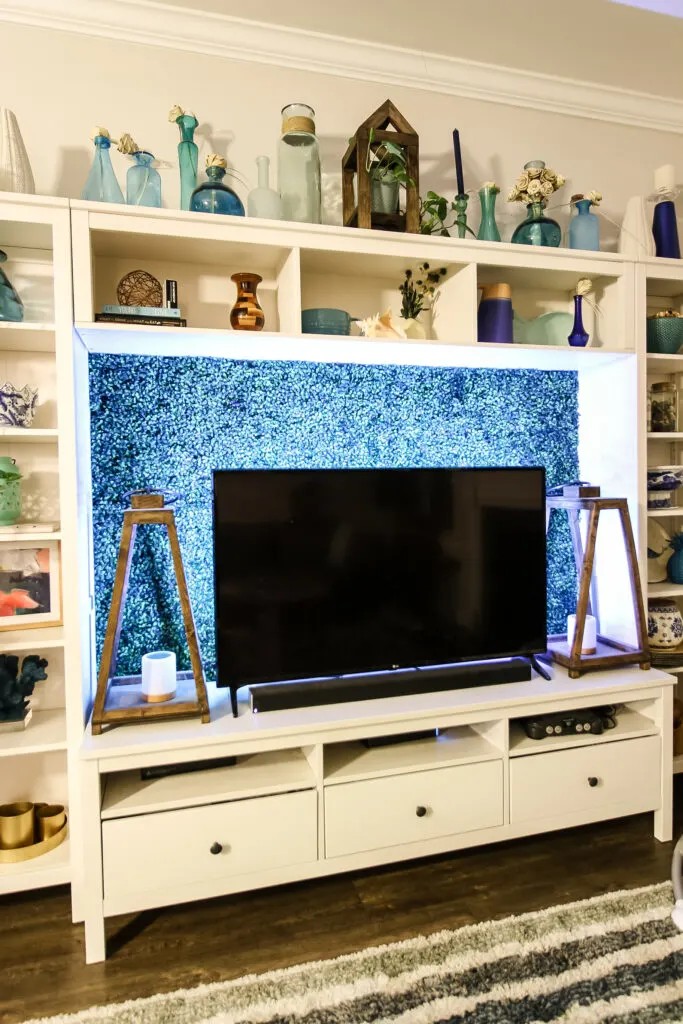 How to add lights behind your TV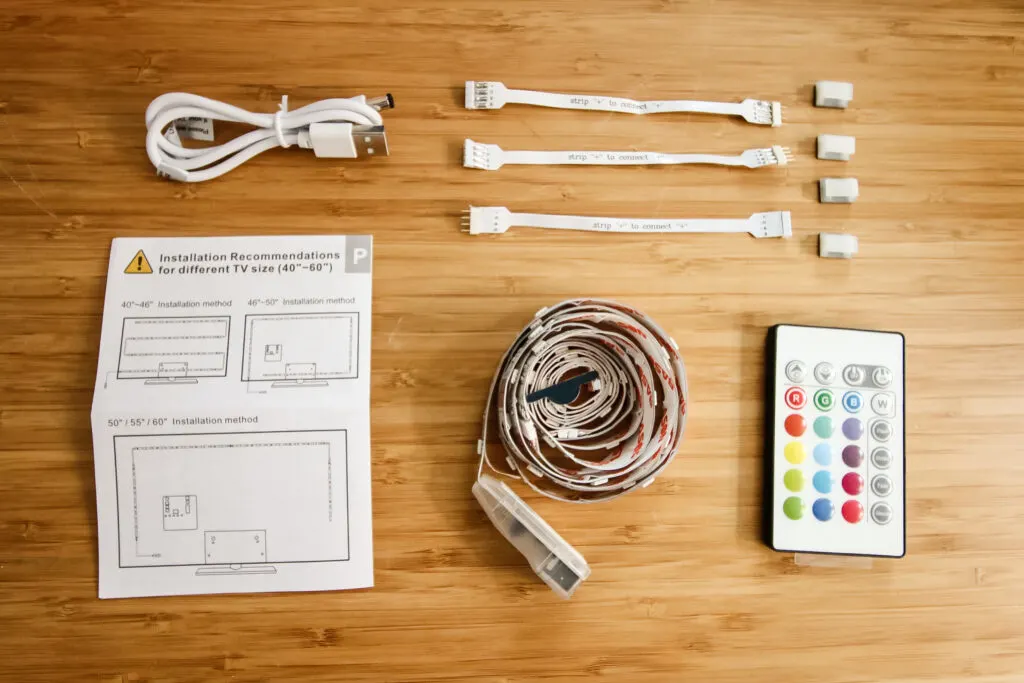 Supplies needed:
LED Strip light kit – be sure to get the right length for your size TV

4 LED light strips
3 connector pieces
USB port connector
Adhesive clip hooks
Remote control

Cloth or towel
A note about smart lighting
If you love Smart lighting (read some of my smart home gear here!) you might like to know that Phillips offers a Hue smart LED strip system.
I opted to stick to the inexpensive option (Phillips is about 5x the cost, $80 vs $15) but if you are serious about building a home theater or want your bias lighting on a timer, it could be worth it to you!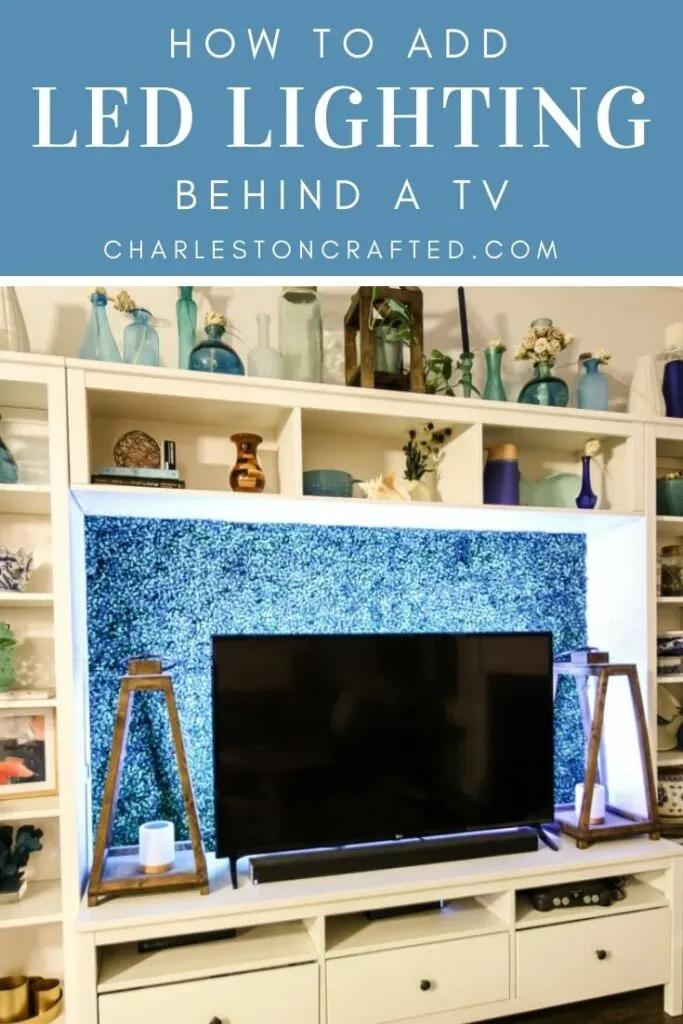 How to add lights behind your TV:
This lighting was easy to install, but I found the included instructions to be lacking. I hope that this guide helps you!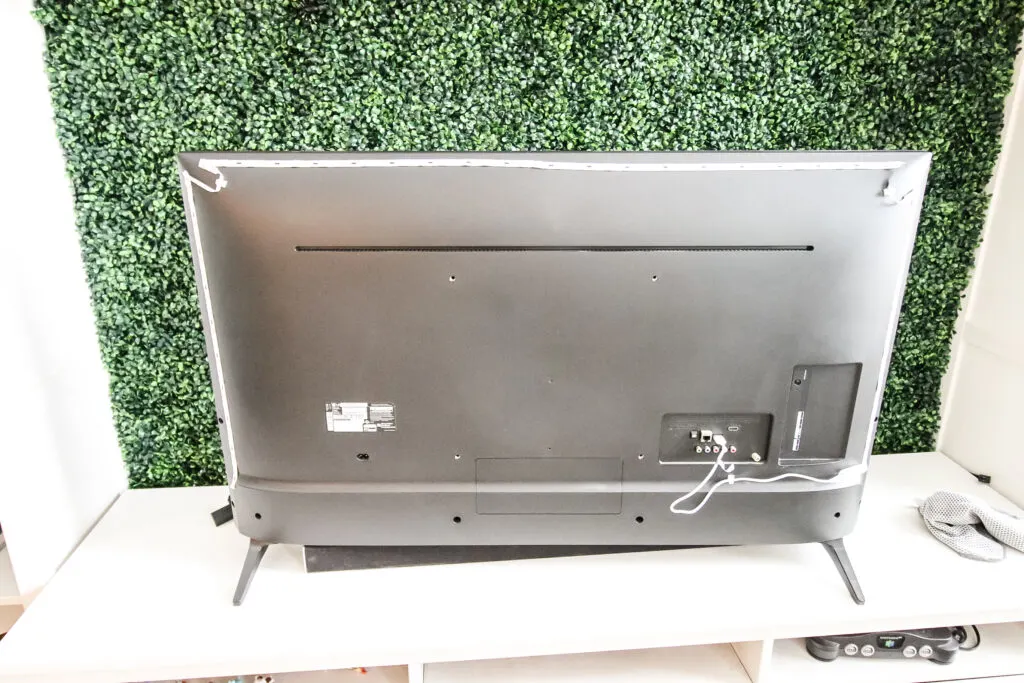 STEP 1: PREPARE THE TV
Turn your TV around to expose the back.
Use a cloth or towel to wipe down the back to remove any dust. The sticker will stick best if it's clean!
STEP 2: SEPARATE THE LED STRIP
This step of the process was a little unclear to me at first and so I wanted to call it out.
The instructions on the LED lighting say that you recieve 4 LED strips but it appears to be only one strip.
Look closely – approximately 1/4 of the way there's a small break in the backing and a thickening of the strip. This is the seam between two strips.
Pull gently on either side and the strip will separate. Do this to separate your 4 strips.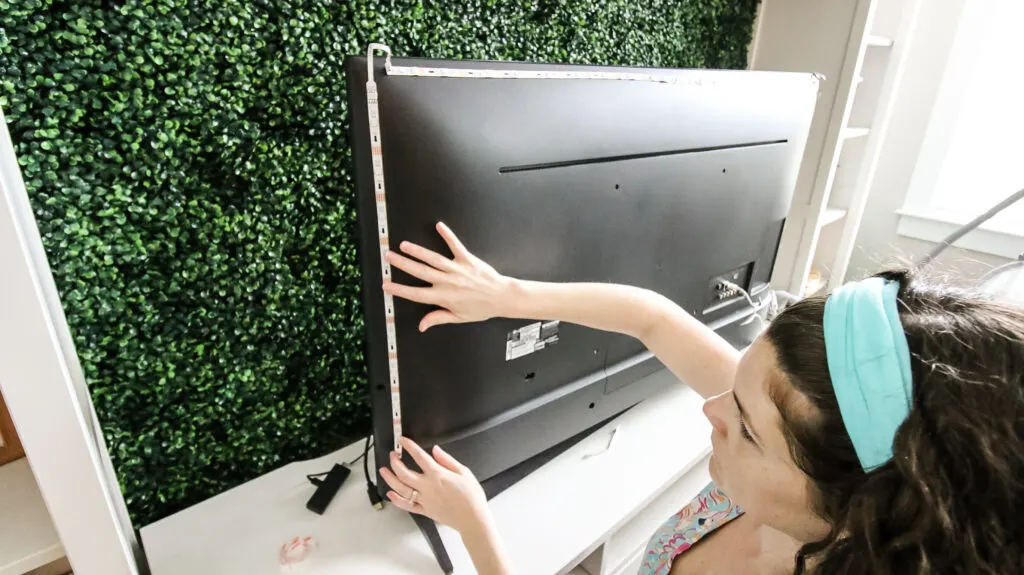 STEP 3: DESIGN YOUR LIGHTING
Decide on the layout of your lighting. The kit came with a booklet with examples, but basically you can do all four sides, 3 sides, or sort of zig zag.
The size of your TV might effect the options, too.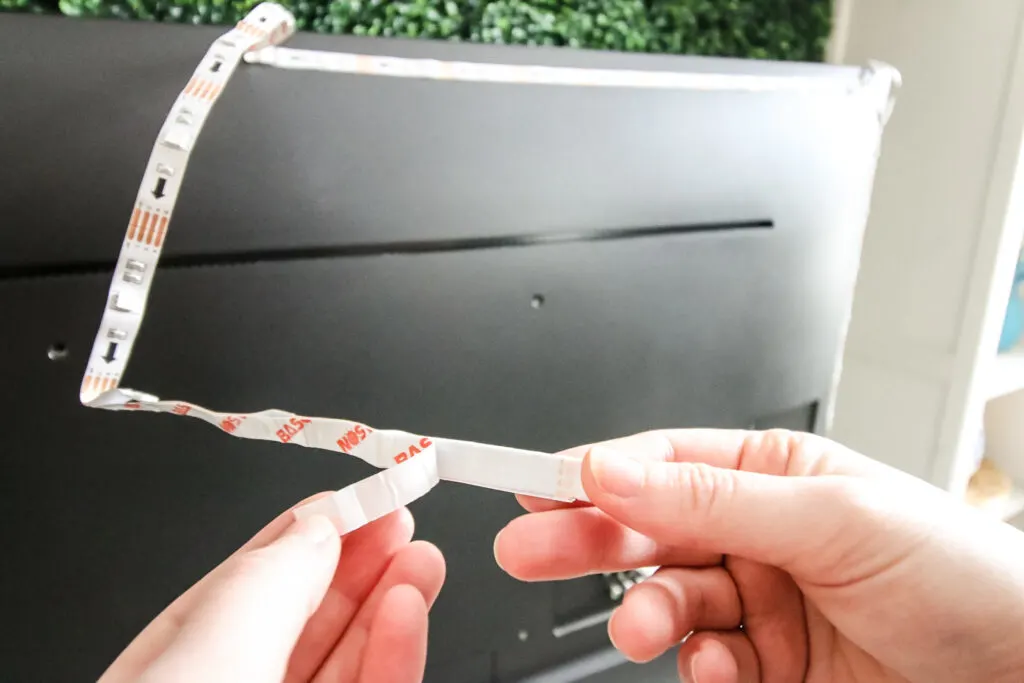 STEP 4: PEEL & STICK
Be sure to start in a spot so that your first piece can reach the USB port. I went ahead and added the connector and plugged it in to be sure.
Peel the backing off of the first strip and gently press it into place. I put our strips 1-2 inches in from the edge of the TV.
Remember to have all of the arrows on your strips going in the same direction. Clockwise or counter clockwise, doesn't matter, it just needs to be continuous.
Add the corner connecting piece, then peel and stick the next strip.
Repeat until you've done all 4.
I did 2 strips across the horizontal width of my TV and one each vertically on the sides.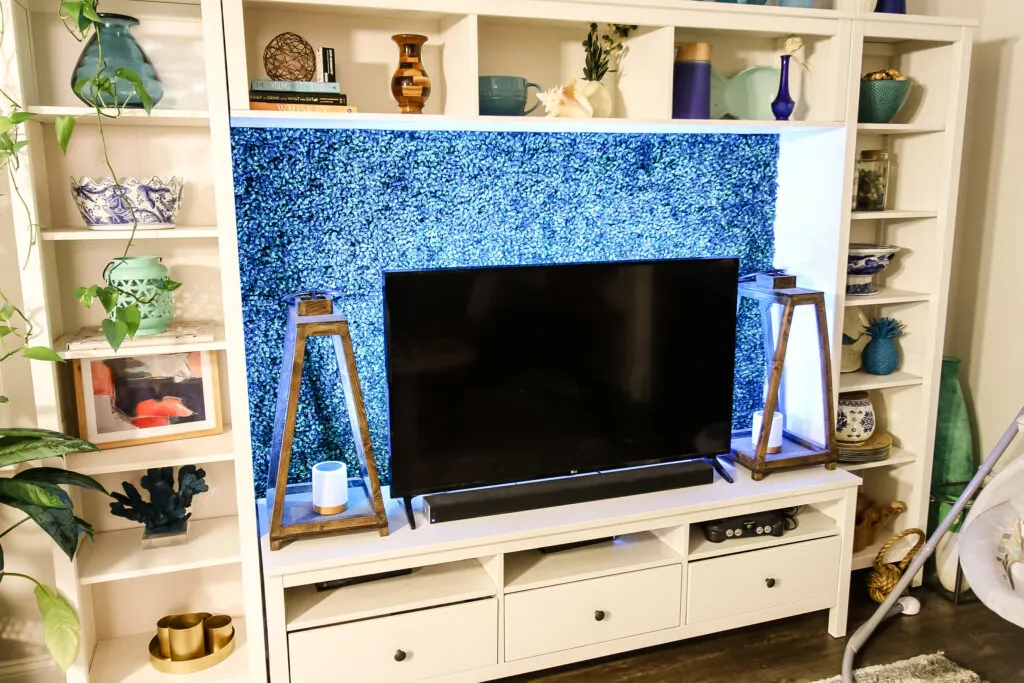 STEP 5: TURN YOUR TV AROUND
Turn your TV back around and test it out!
Different TVs have different ways that the USB panels work – some need the TV to be on and some do not.
Ours required that the TV be cut on for the lights to cut on.
But, we can cut it on and turn it to a non-used HDMI input for a black/off screen with the lights on!
I love how this lighting looks and the little something extra that it brings to our living room!
Video demonstration
I made a video to show you how really easy it was to install this LED lighting kit behind a TV!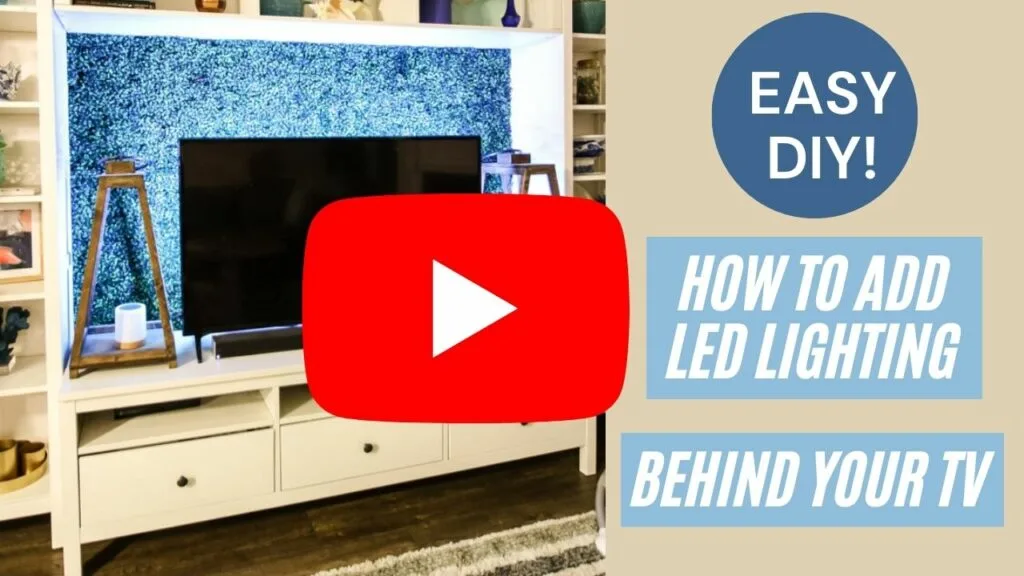 Frequently Asked Questions
Should I put LED lights behind my TV?
Adding lights behind your TV is a great way to add a secondary light source. The color changing options make it festive and fun, too!
How do I connect LED lights to the back of my TV?
LED light strips can connect to your TV using the USB outlet. They then use a peel and stick tape-like adhesive to stick to the plastic on the back of the TV.
Is it safe to put LED lights behind TV?
Yes – LED lights release very low heat so they are totally safe to add behind your TV.
Can I cut LED Strip Lights?
There are cutting points on LED strip lights where you can cut to shorten them! They should be marked on your strip lights.
Can you leave LED light strips on all night?
LED lights let off low heat so they should be safe to leave on all night. I however do not leave ours on unattended. Better safe than sorry!
Can you connect LED light strips together?
Yes – you will need an LED light connecting strip. Kits like this TV backlight kit include all of the connecting strips that you will need.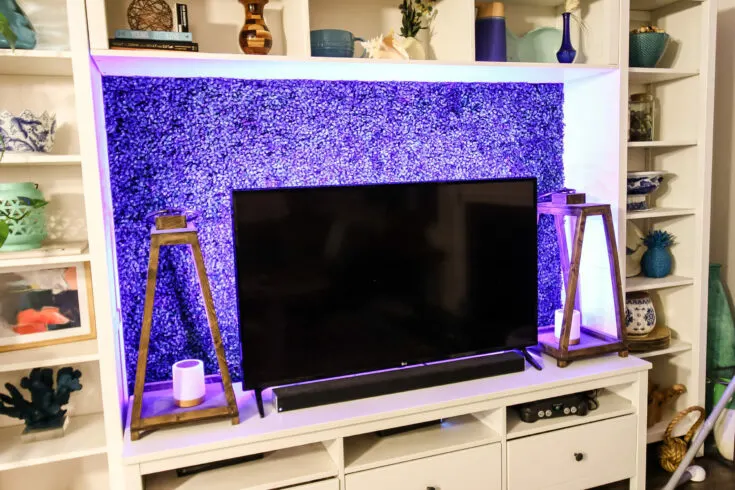 Yield:

1 lit up TV
How to add LED lights behind your flat screen TV
Here's how easy it is to add LED strip lighting behind your television!
Instructions
Turn your TV around so it is backwards. You probably need to unplug everything.
Separate the LED strip into sections by finding the seams and gently pulling to separate.
Design your lighting layout, remembering that the first piece needs to start next to the USB plug.
Peel the backing off the first piece. Plug it into the USB and then stick the strip on 1-2 inches from the edge of the TV.
Add the connecting strip to the strip you just attached and plug the other end into the next strip, matching the + symbols. Repeat the peel and stick process.
Turn your TV around and plug it back in. You may need to cut the TV on to cut the lights on using the included remote control.
Notes
If your TV needs to be cut on for the USB plug to work, you can cut it to an unused HDMI input for a black screen with the lights on.
Recommended Products
As an Amazon Associate and member of other affiliate programs, I earn from qualifying purchases.