Want to know how to get dried paint off of carpet? Here is the technique that worked best for us!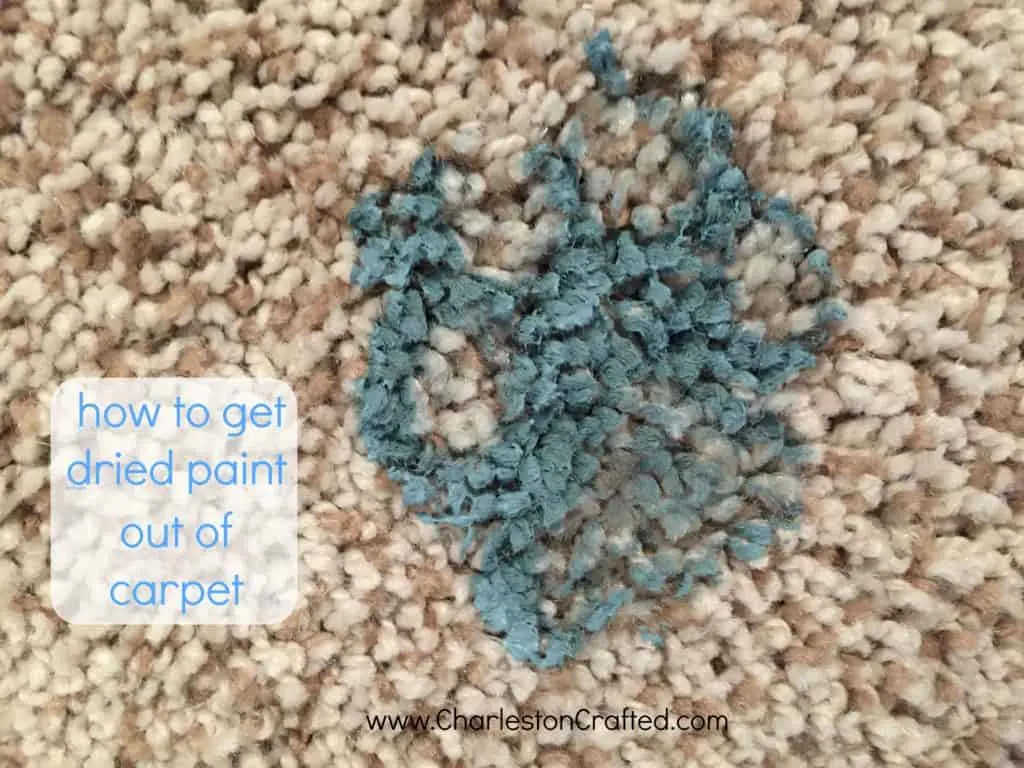 Last week I came home to a great surprise. And by great I mean big and terrible. We had just finished painting our master bathroom around midnight the night before, and in our exhaustion didn't really clean up. Well, lesson learned because I got home from work to a trail of puppy paw prints in the paint across our brand new carpet.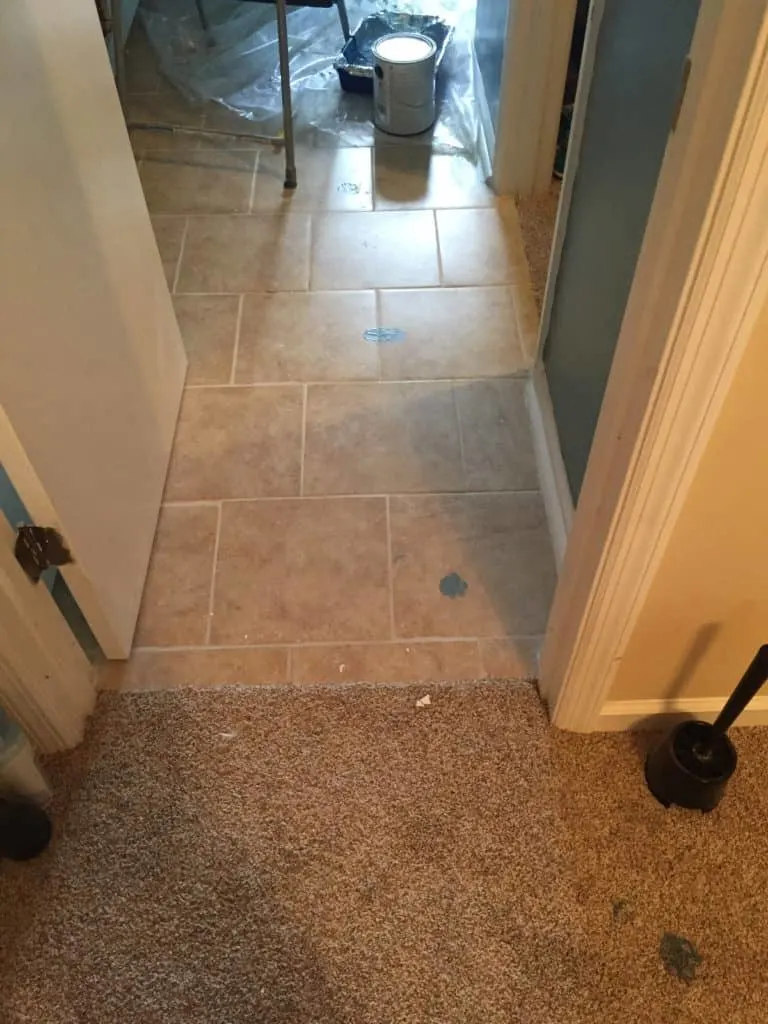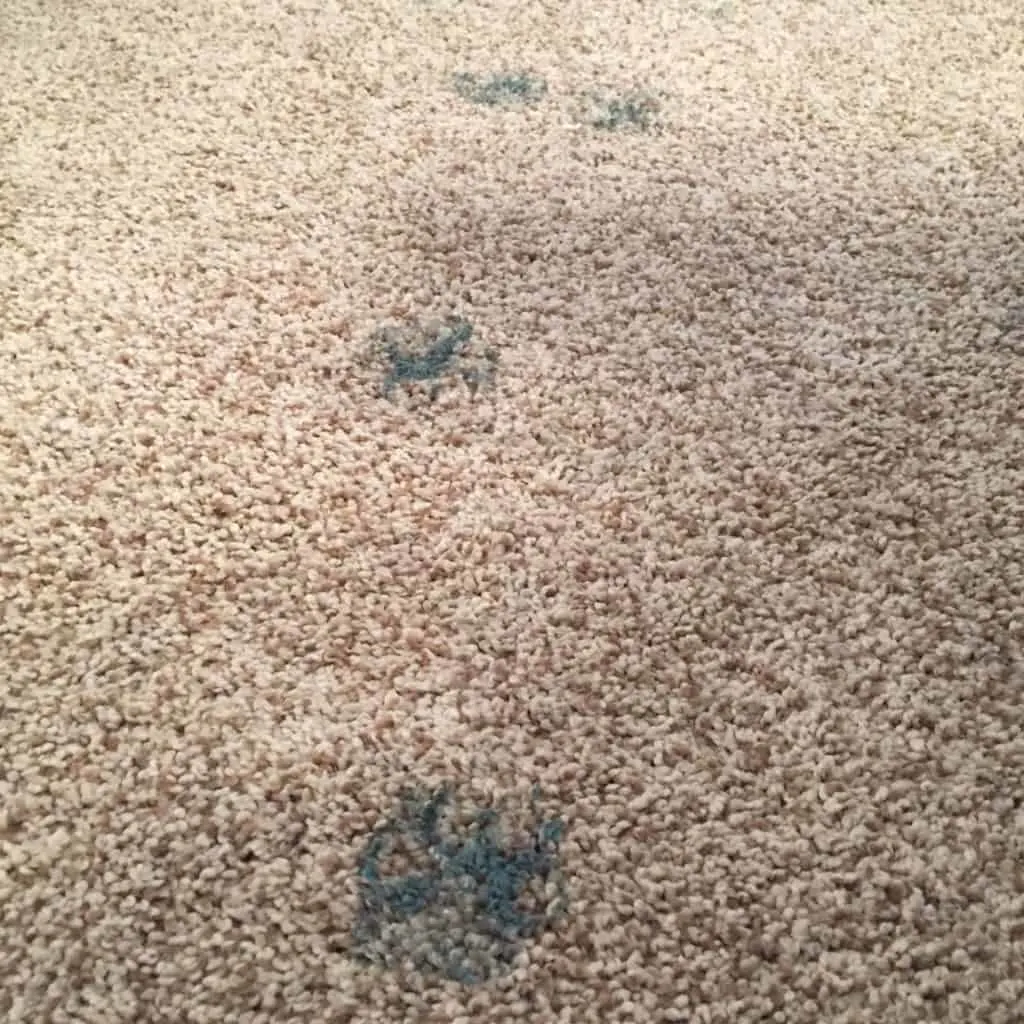 Of course, I thought that the paint only went across our bedroom. It was only later that we realized that they went faintly down the stairs, across the living room, and to the back door. Luckily, the paint peeled off the tile and laminate floors easily.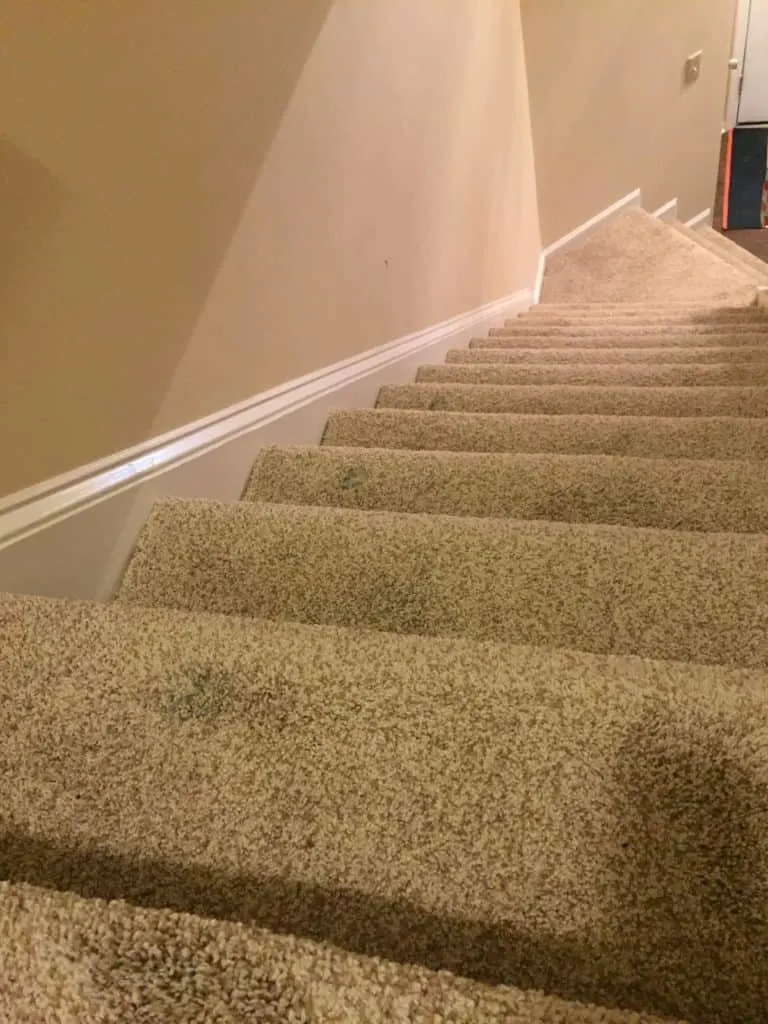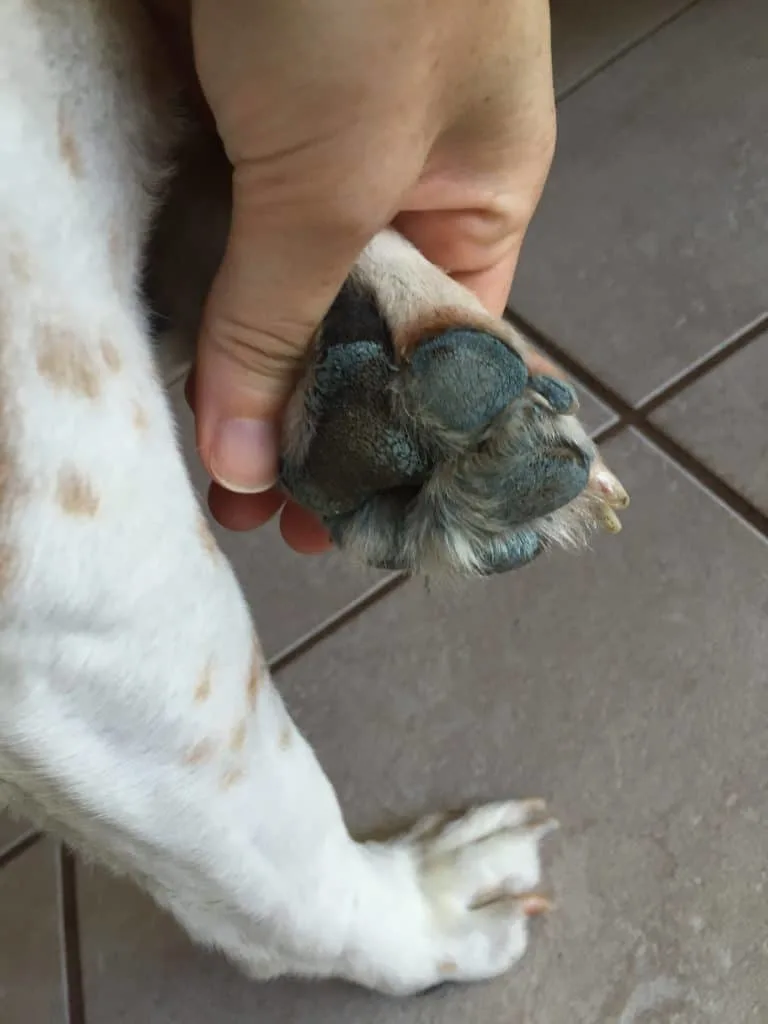 So, that's how we ended up with spots of dried wall paint all over our brand new carpet. After a burst of panic and anger, I decided to just see what kind of work I could get done on removing it, not expecting too much success. I was shocked when, in just a couple of hours, I was able to get all of the paint out. Here is the full tutorial breakdown on what I did:
How to get Dried Paint off of Carpet
Don't apply paint thinner or nail polish remover – it will cause the stain to smear and expand
Don't rub it if it's wet – pick up any blobs that you can but that will just smear it
Here is what you should do: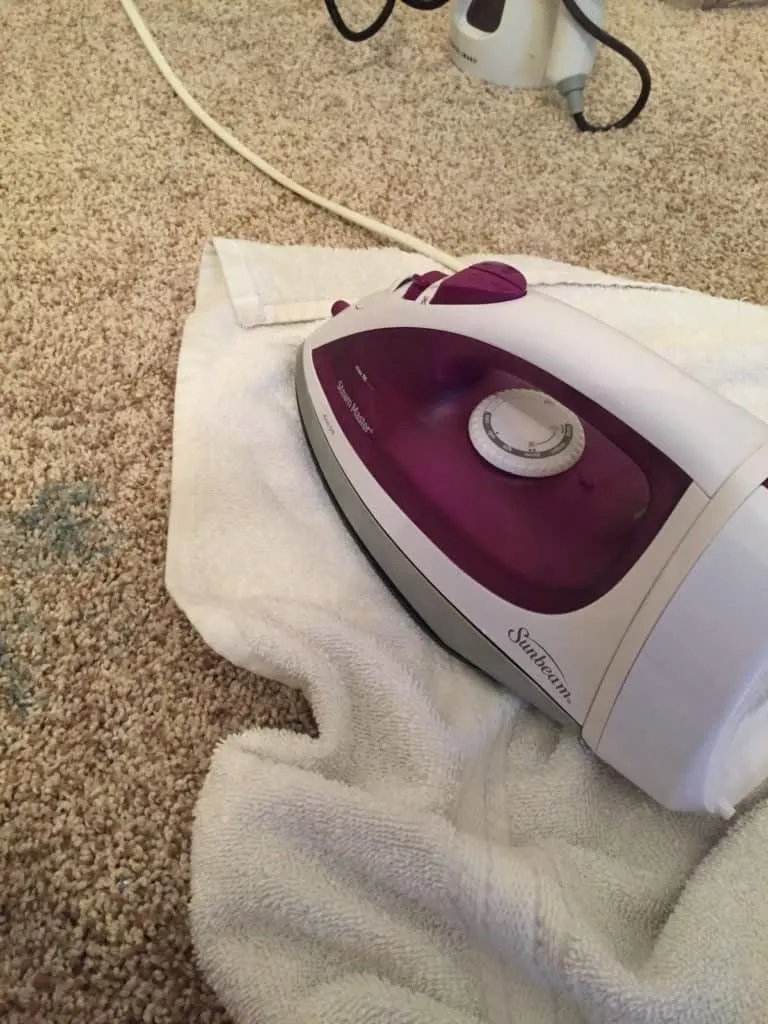 Use a hot iron with a steam function on the stain. Lay a white towel over the stain and steam iron over it for about 30 seconds, constantly moving the iron in small circles. This will not remove the stain but starts to loosen it up.
Use a white cloth and warm soap and water to scrub at the stain. Wring your cloth out before scrubbing so you don't get too much moisture onto the carpet. It's important not to use a colored rag or the dye from the rag can get into the carpet.
Use scissors to carefully cut the paint out. This will work if you have at least a medium shag length to your carpet. Don't just blindly cut. Get on your stomach and look at each fiber of the carpet and if it has paint on it, cut it as little as possible to remove the paint. Surprisingly, you can't tell that we did this at all unless you get down there and really look.
So, what initially appeared to be a disaster turned out to be 100% fixable. You would never know that there had ever been paint.
Have paint somewhere else? Here's how we get paint off of tile!
Do you have any paint removing horror stories?
Have more pet problems? Check out all of our pet projects here!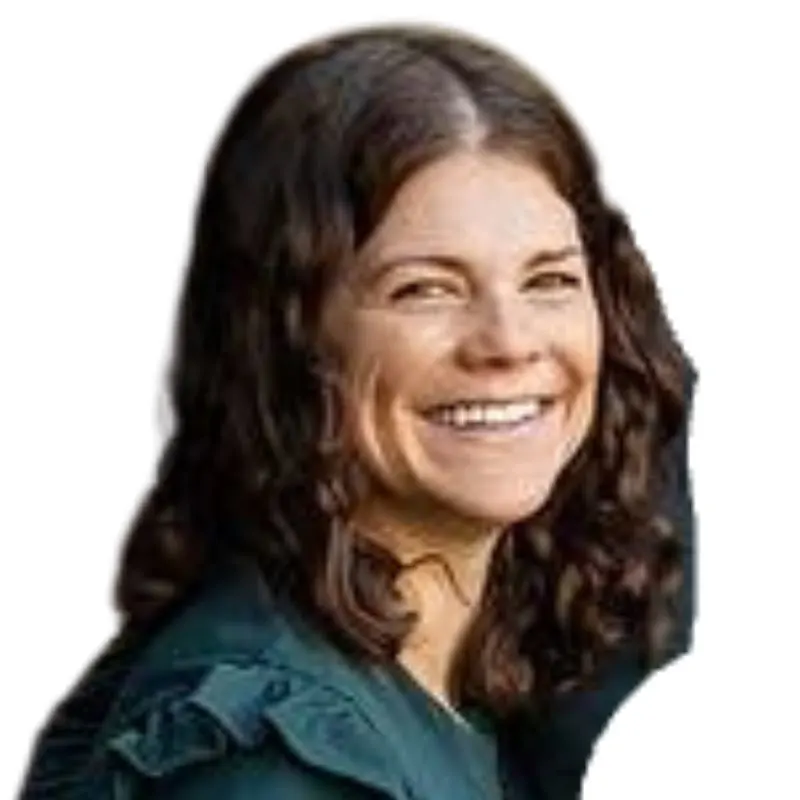 Hello, I'm Morgan, half of the creative force behind CharlestonCrafted.com! With a passion for DIY that dates back to 2012, I've transformed three homes and now I'm dedicated to helping others craft their dream spaces. Let's turn your house into a home together!