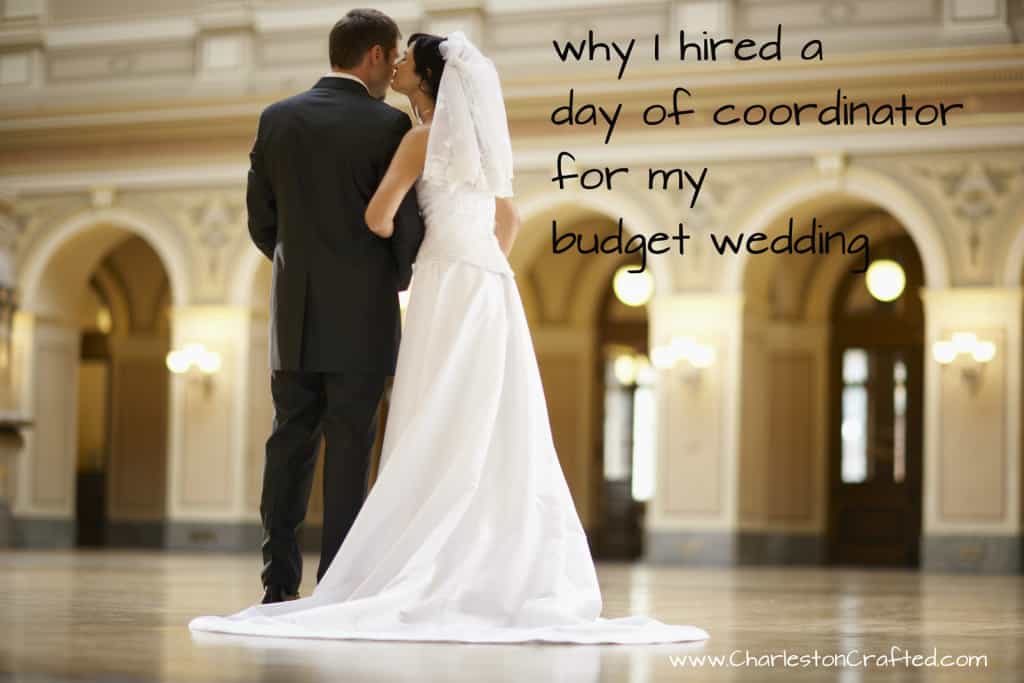 background image via Learnvest
A lot of people that I talk to are actually surprised that we have chosen to hire a Day of Coordinator for our wedding. We are very transparent with the fact that we are paying for our whole wedding and while I think our budget is high, it's not that high by Charleston standards. We are avid do-it-yourself-ers, love building and crafting and creating and planning things. But there was never any doubt in my mind that we would have a coordinator. I ended up engaging my florist, Beth from Wild Flowers Inc, to also act as our Day of Coordinator. Really, though, since we booked her as a comprehensive coordinator, she is acting more of a "Month of" Coordinator. It was worth the extra $1,000 to our budget (we booked her last summer when she had slightly lower rates – it's now $1,500, but you get 10% off if she's doing your flowers).
I really want to relax on my wedding day. We can get into the venue Saturday morning, but not before then. I plan to spend Saturday morning drinking mimosas, getting pampered, and giggling with my girlfriends and my mom. I don't want to have to set up and I certainly don't want to know if anything goes wrong, especially minor things. I tend to freak out about things, so staying just a touch in the dark will be key to my big day sanity.
I also really don't want to clean up after the wedding. We are having an unofficial afterparty at Red's Icehouse, a creekfront bar across the parking lot from our venue. I'd like at least the option to attend, and I certainly don't want to be worrying about getting our decor and vendors out in time to keep our deposit. I also don't want to burden our family with that task.
Another big stressor for us has been deciding on the layout for the reception. Beth has an awesome software program that will allow her to design 2D and 3D layouts so we can get a better feel for the space. So much better than my crappy paint mock ups. Plus, she has worked extensively with our venue and so she knows what tends to work with the space.
Our coordinator will also create our day-of timeline. This is so crucial to me. I have never planned a wedding before, and I don't really know exactly how long things take or when they should happen. That is her specialty and she will make sure that everything runs smoothly.
Speaking of running smoothly, our coordinator will also go through all of our vendor contracts and make sure that everything is well communicated. She will confirm times with all of them and be sure that we have everything booked correctly – for example, the right number of hours with the DJ and the right number of vendor meals with our caterer. We didn't use her as a planner, so we booked all of our vendors ourselves, but she will handle interactions with them in the 30 days leading up to the wedding.
Since we are bundling our coordination with our florals, we actually get a bunch of discounts. We get 10 percent off of the coordination to begin with, but we also get free use of a lot of her rentals, including a cross for our ceremony and decorative lanterns, and we don't have a separate delivery or set up fee. Those savings alone more than pay for the coordination.
While I know that a coordinator is a luxury, I am lucky enough that we can fit it comfortably in our budget. It makes me so excited and happy to know that my big day will be that much less stressful, thanks to her! If you are considering hiring a coordinator, I recommend it, just for the reduction in pre-wedding stress. Of course, I will be back after the wedding to let you know if I still feel the same way.