Pretty early into our wedding planning, we made the decision that we did not want a small, formal rehearsal dinner. We knew that so many of our guests (over 80 percent) were travelling in from out of state and we wanted to extend our time hanging out with all of them.
Before we get into the nitty gritty, I just want to say that this Welcome Party was one of the best decisions that we made about our whole wedding. The actual reception went by so quickly. I know you hear that all the time but it was so fast. We were on a strict photos – dance – photos – toast – cake cutting – dancing schedule and, while we did "do a loop" and stop at every table, we didn't really get to talk to hardly any one at the wedding for any amount of time. The laid back, all-guests-welcome party gave us some chances to really chat and catch up with people and we are so grateful that we did so.
At the same time, I have to mention that I'm sorry for the lack of quality photos from this event. We didn't take any photos since we were kinda busy, and we didn't have a professional photographer until our wedding day. So we relied on scraping together any photos that family and friends happened to take.
Some people might think that an all-guests-welcome event might be too expensive (like throwing a second reception!) but that was not the case for us at all. The hotel where we had a block allowed us to use their conference room for free if we (our guests) booked at least 20 room nights. This included tables, chairs, and linens. We spent a very small amount of money on decorations and the rest was on two cases of wine (from Trader Joes), a keg of beer (from Total Wine), and pizza, appetizers, and non-alcoholic drinks catered by Steel City Pizza, a local place that was very easy to work with. We spent less than $1,000 total for about 80 guests, which is a lot less than we would have spent taking our immediate families and bridal party (and dates) out to a nice dinner.
The theme of the night was FUN! I wanted silly, colorful, casual excitement. It's not every day that you get everyone that you love in a room together. And while the next night would be more formal and traditional, I wanted everyone to spend Friday night relaxing and laughing.
Every Tuesday night, Sean and I play trivia with a variety of other couples and friends. It is often the highlight of our week. It's at Mellow Mushroom and we eat pizza and drink beer and laugh a lot. We wanted to re-create the feeling of this night for our Welcome Party.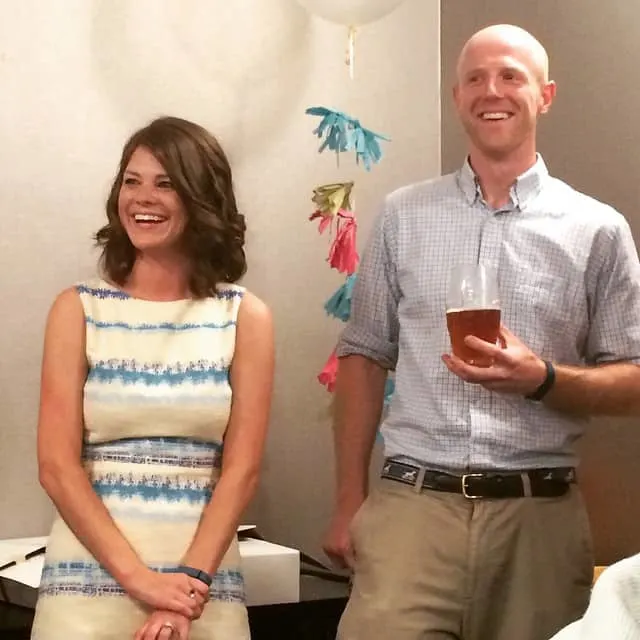 We will talk about the entertainment tomorrow. Today we are talking about the food and decorations.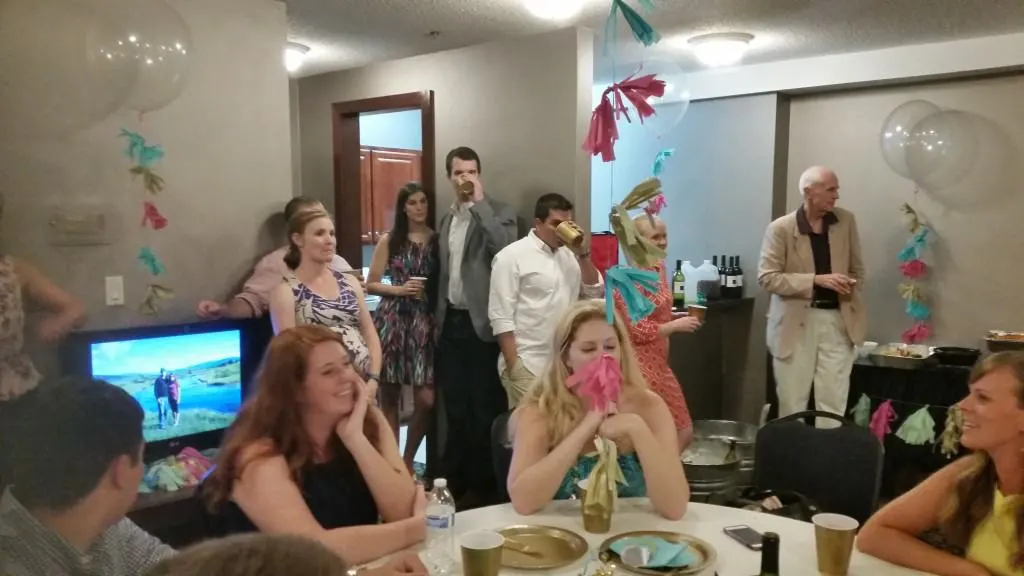 We initially worked with the catering manager at Mellow Mushroom for our event. However, the distance between Mellow and our hotel made it difficult for us to get hot pizza. When they said that they wanted to rent us a warming oven for $350 when the pizza itself was going to cost $400, we decided to look at other options. Steel City Pizza is located in Mt Pleasant and is close to our hotel. They have a specific catering menu and were willing to make two delivery trips so we had two waves of hot pizza. They also provided warming bags for the additional pies at no extra cost and the cost for them to drive pizza to us twice was less than the cost for Mellow Mushroom to bring it to us once.
We ended up ordering 16 pizzas (4 each of cheese, pepperoni, veggie, and meat lovers), 1 tray of baked penne, 2 trays of caesar salad, 3 quarts of hot spinach dip (with tortilla chips), 50 brownies, and 3 gallons each of lemonade and sweet tea. Including delivery costs, tax, and tip, this totaled to just under $600.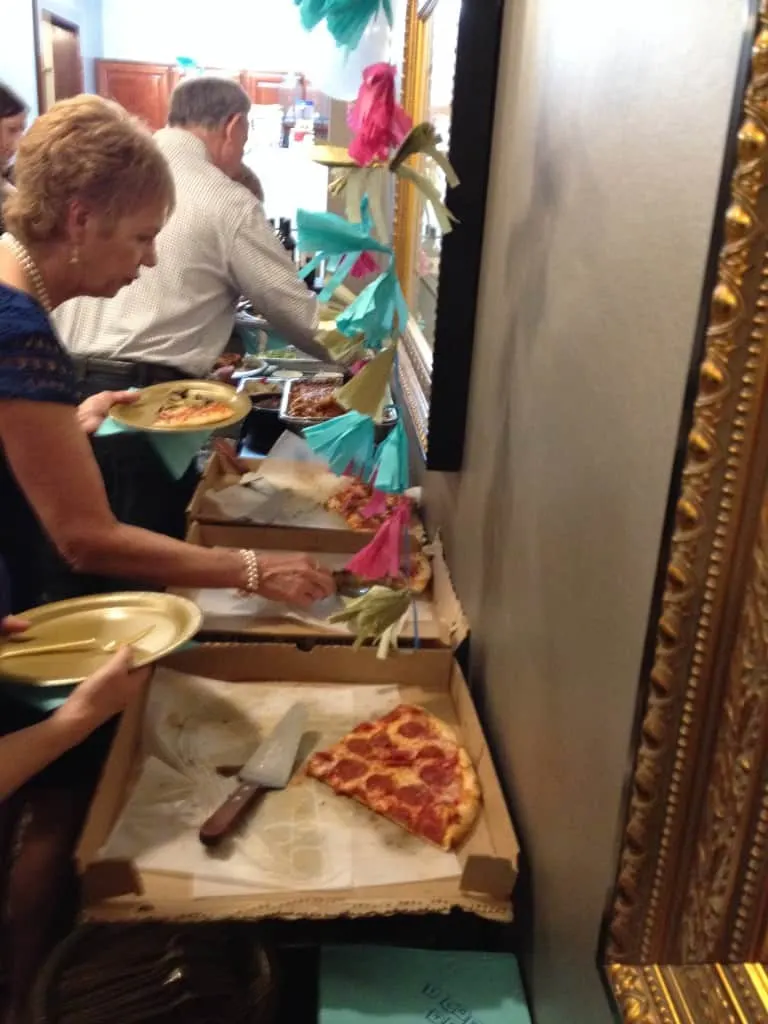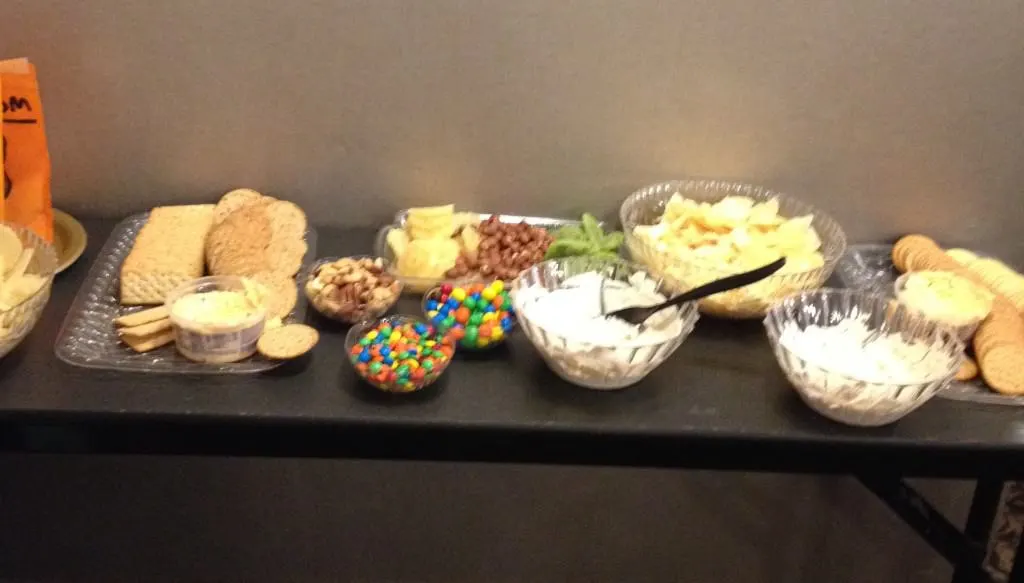 We also special-ordered some napkins for the event. Annnnnnnd, FYI, we have about 400 leftover, so if you come to our house for dinner for the next 6-7 years, you'll be getting one of these.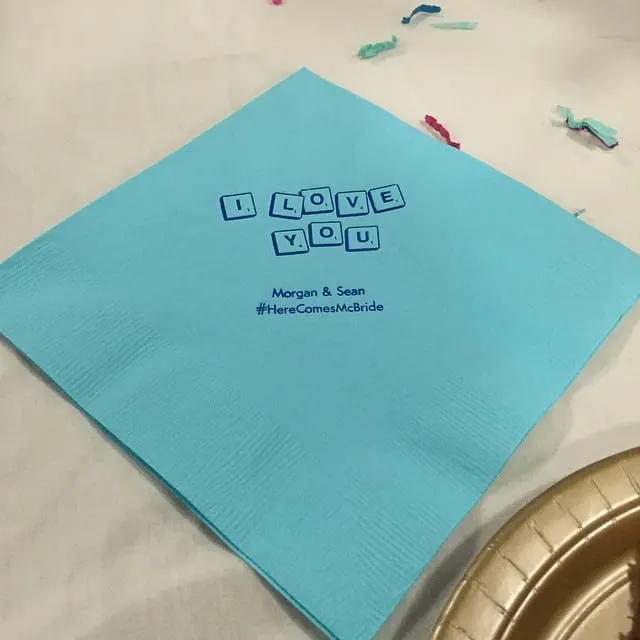 I also ordered a groom's cake for the event. I knew that we would have a ton of cupcakes at the reception, so I decided that the Welcome Party would be a better place to showcase it. I knew that a friend had had a cookie cake groom's cake and had to get on that train, since cookie cake is Sean's favorite. This isn't a regular cookie cake – it's 16″ across but about 4″ deep and serves 70. It was fully frosted and decorated with the Carolina Panthers logo. Sean was surprised (not as much by the logo as the fact that it was a cookie) and loved it. The cake was by Wild Flour Bakery downtown and they did a great job – my dad picked it up that day and it was $65.
For drinks, we got one keg of Yuengling (from Total Wine) and a case each of red and white wine from Trader Joes. It wasn't fancy but it wasn't supposed to be. I thought that we would need way more than a keg but it was still going at the end of the 3 hour party. I know that some people sat in the room until about 2 a.m. finishing it off 🙂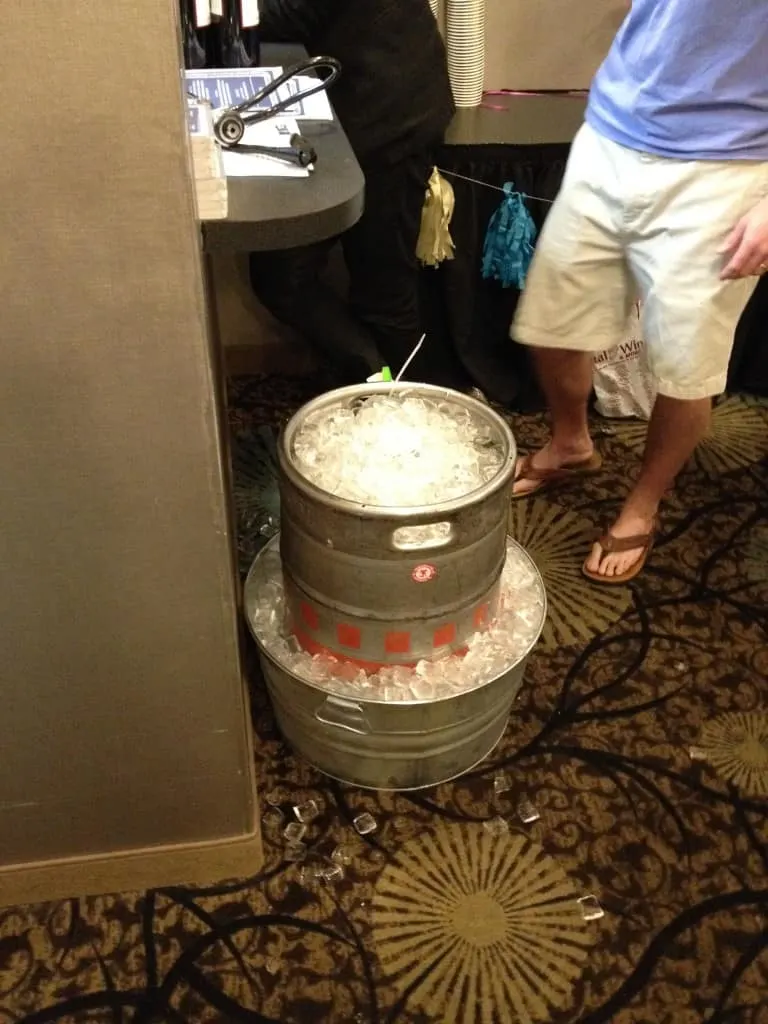 As far as decor goes, I wanted to keep it fun and colorful. Almost like a bridal shower or birthday party. Hey, I don't get to throw a lot of parties. I wanted to do something that I like! I made this pinterest board to help me plan my vision. Pink, turquoise, gold, and lots of tissue paper and balloons.
I pre-made some large tissue paper tassels and also cut some tissue paper "confetti." I ordered these gold letter balloons to spell out our hashtag "HereComesMcBride."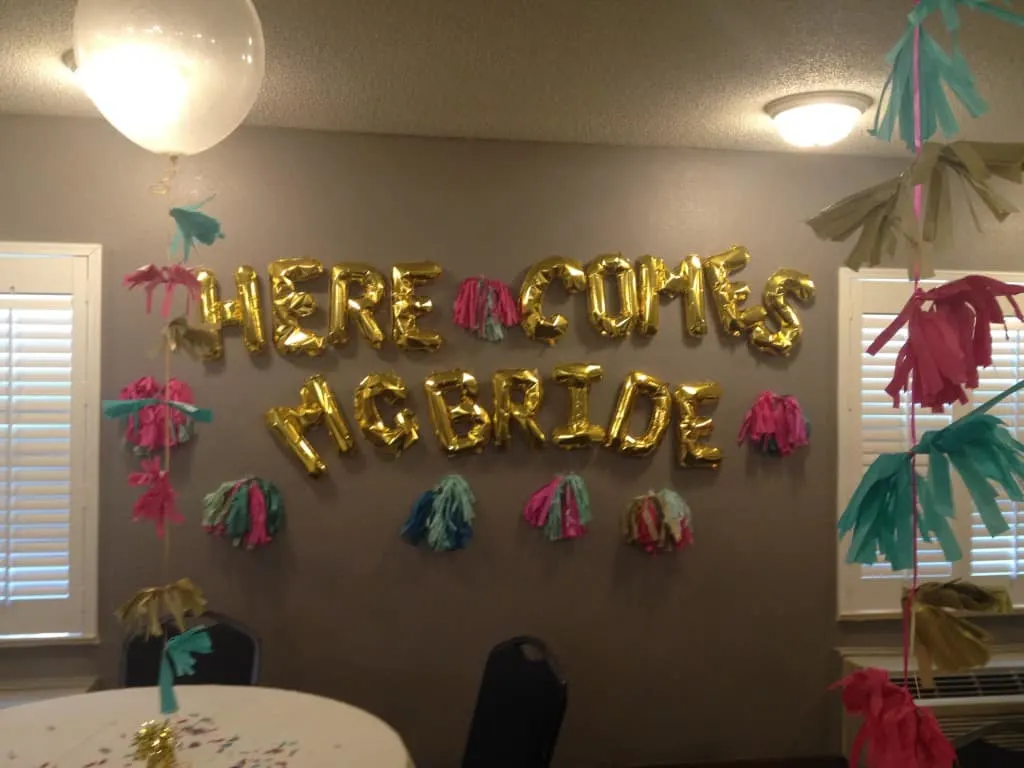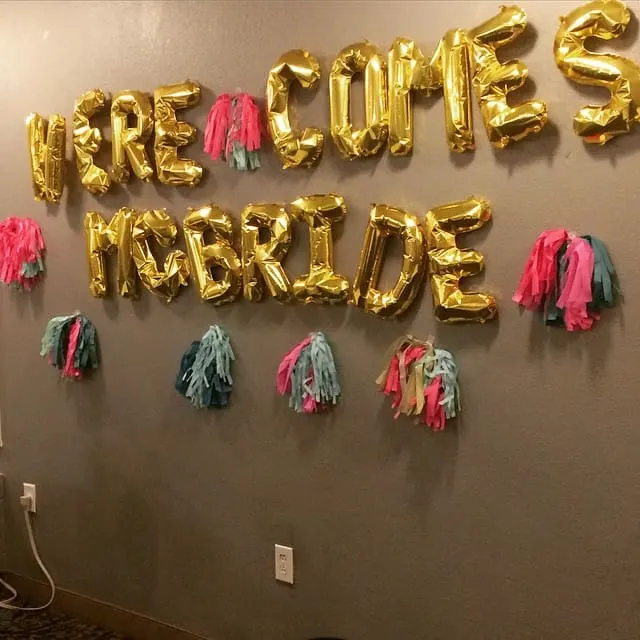 I ordered these large round clear balloons in advance and planned to have them filled with confetti inside them. However, when I went to get them filled (on the day of) I realized that it was going to cost me like $4 per balloon to get that done (they have to add certain drops inside to make the confetti sit right and charged extra to do confetti). The shop owner definitely hated Pinterest girls ala me and my bridesmaid. So, we quickly decided to abandon that idea and instead make mini tissue tassels to hang on the strings. It took an hour to get the balloons filled and took 2 groomsmen in SUVs to get them back to the hotel. Shout out to everyone who helped with this last minute endeavor!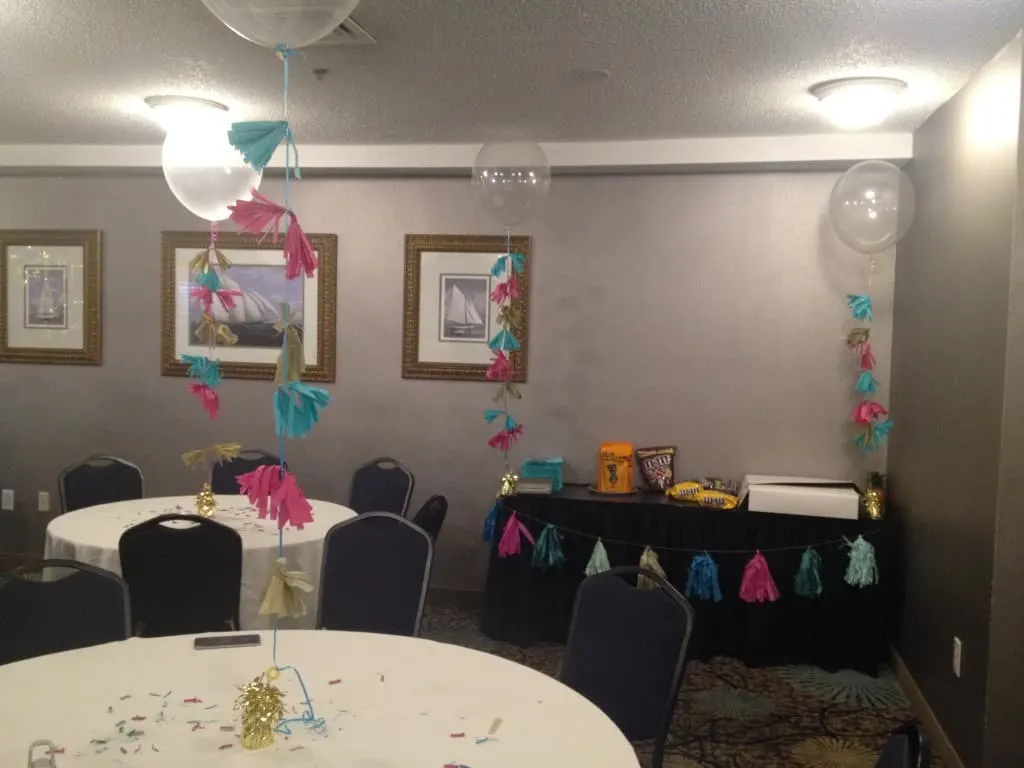 I think that they looked pretty cute in the end. Fun, playful, silly, youthful, and colorful. Just the vibe I was going for.
Tomorrow, we will share with you more about the activities and sequence of the night.