Wedding budgets are a very personal thing. They vary based on a lot of factors – location, time of year, day of the week, who's paying, and most of all, what you can or are willing to spend. I normally don't go around shouting out how much I spend on things, but budget posts are some of my favorites on WeddingBee. It gives me a real sense of whether something is beautiful-attainable, or way out of my league. Was something just not my taste, or really just done on a tight budget? So, in the interest of full disclosure, here we go.
Here's some deets that helped set our budget:
Location – Charleston, South Carolina
Time of year – I was set on a Spring wedding, which is considered "peak" season (April, May, September, and October are peak around here)
Day of week – We were committed to a Saturday wedding due to the number of guests we had traveling from out of state, and due to our personal preference.
Who's paying – Our wedding was mostly self-funded. We received gifts that covered the Welcome Party, my dress, and the flowers, but we paid for the rest using our personal savings.
What we were willing to spend – though it would have shocked me before going into wedding planning mode, our budget was $30,000. Our original plan was closer to $15,000, but after doing some initial research, we realized that we would need to plan to spend about that much just on the venue.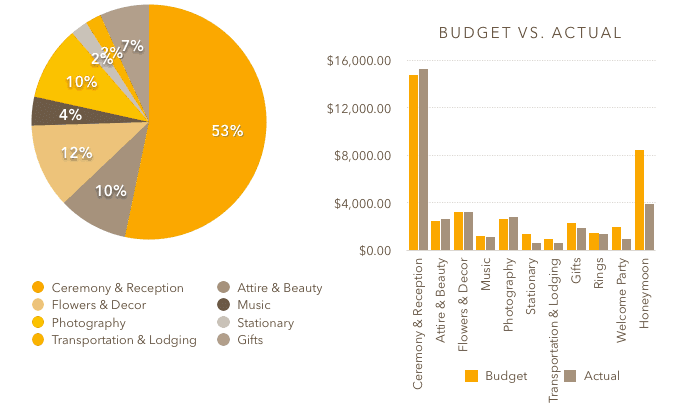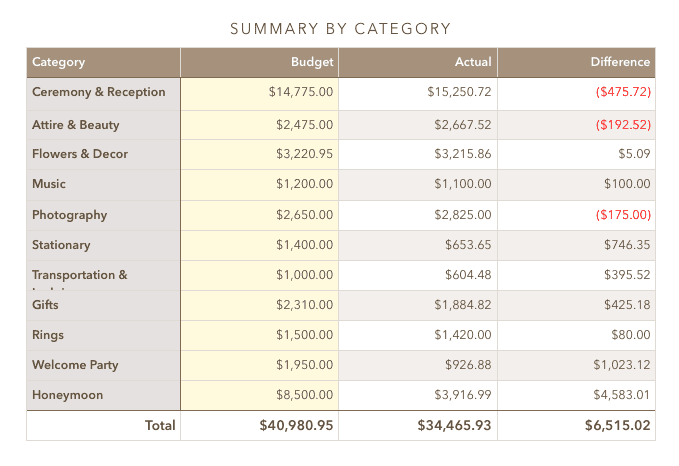 In total, we spent $34,465.93 on our wedding. Of that, $1,420 was on wedding bands, around $1,000 was on the welcome party, and around $4,000 was on the honeymoon. So, we spent a total of $28,193.06 on the day of the wedding. Wow, that's an expensive day! When I compare that to the cost our our two week honeymoon to Italy, and think that we could have gone on 7 more Italian honeymoons. You know, if we had the airline miles and the PTO. Anyways, I digress. We don't regret it at all – it was a beautiful day and we were so glad to have all of our loved ones surrounding us. But we sure are glad that we didn't go any bigger 🙂
Budget Breakdown:
Ceremony & Reception – $15,250.72 (budget – $14,775)
Venue – $4,400
Rentals – $575
Catering & Bar – $8,705.19
Cake – $460
Cake Topper – $6.59
Officiant – $400
Table Runners – $128.75
Table Numbers & Place Cards – $53
Exit Sparklers – $34.02
Misc. DIY Decor – $103.67
Champagne Flutes & Cake Cutter – $67.50
Straws, Napkins – $120
Extra Beer – $147
Signage – $50
The venue and catering were obviously a huge part of our budget. We ended up 5 cents per person over the minimum, so we hit it about as close as we could. I wish that we could have had less food to be honest, but we would have had to pay for it whether it was there or not due to the high per person minimum.
The "extra beer" is special craft beer in bottles that they had behind the bar for people who knew a secret password. Sean had seen this at a wedding before and thought it was awesome so we did it too.
The rentals were linens and I am so glad that we rented them and didn't buy them (which is usually cheaper than renting) because I would not want to have spent my wedding day ironing and washing and, oh gosh it's stressing me out just thinking about, storing them in our apartment.
I think that we did a good job of managing the costs on other decor. Our DIY projects were technically unnecessary, but didn't add up to much (less than $300) compared to the overall impact that they had on our design.
Attire & Beauty – $2,667.52 (budget – $2,475)
Gown & Alterations – $1,344.80
Veil – $157.61
Beaded Belt – $189.35
Shoes – $295
Jewelry – $32.30
Garter – $40
Underwear – $18
Hair – $85
Makeup – $55
Hair/Makeup trial (portraits) – $140
Grooms Suit – $252.50
Grooms Accessories – $27
Day After Shirts – $30.96
I purposefully set myself a low attire budget, because I just couldn't justify spending too much on something that I'd only wear once! I ended up spending less than $1,000 on my dress, but still had to pay what seemed like a lot for alterations. I also drastically underestimated the price of veils and beaded belts! My shoes were a major splurge, but I cancelled that out by mostly using jewelry that I already owned, and I've worn the shoes 3 times already since then. Also, Sean's suit was very inexpensive from Joseph A. Bank, so it evens out.
Flowers & Decor – $3,215.86 (budget – $3,220.95)
Bride's Bouquet – $125
Bridesmaid Bouquets – $510
Groom's Boutineer – $13.99
Groomsmen Boutineers – $83.94
Mother Corsages – $71.96
Father Boutineers – $41.97
Centerpieces – $715
Other Flowers – $275
Cross Rental and Flowers – $125
Coordinator – $1,125
Tax – $129
I was not prepared, going into the wedding planning process, for how much flowers would cost. They ended up being a pretty big chunk of our budget, but I am so happy with how they turned out. I guess that I am just traditional enough to find fresh flowers crucial to the wedding vibe.
Our coordinator was worth her weight in gold and I am so, so glad that we hired her. She was a great investment.
Music – $1,100 (budget – $1,200)
Ceremony Music – $550
Reception DJ – $550
We will talk about it more tomorrow, but one of my biggest regrets is the ceremony music. I always wanted to walk down the aisle to a harp (don't ask me why), and we couldn't hear it hardly at all due to the rain. Whomp, whomp. It was a major waste of $550. Our DJ for the whole reception was only $550 (I booked him because he was the cheapest one I could find) and surprise, surprise, we got what we paid for there.
Photography – $2,825 (budget – $2,650)
Photographer – $2,650
Photo Booth – $175
Our photography included engagement photos and a bridal portraits session. Honestly, I feel like we got a steal compared to other vendors that we looked at and cost was a big reason that we booked her (but she was also really awesome to work with!). We got a great deal on the photobooth by working with an up-and-coming vendor.
Stationary – $653.65 (budget – $1,400)
Save the Dates – $20.99
Invitations – $291.88
Postage – $123
Ceremony Programs – $91.39
Dinner Menus – $91.39
Website – $35
We definitely saved money on our stationary by going the DIY route and doing our printing with Vista Print and Cat Print. I was please with all of the products. The menus were really an unnecessary splurge but we went with them since we were already so far under budget and I really wanted people to understand all of the station options.
Lodging & Transportation – $604.48 (budget – $1,000)
Bride/Groom Hotel – $364.48
Bridal Party Bus – $140
Getaway Car – $100
I really wanted to have transportation for all of our guests from the hotel to the venue, but since it was less than a mile and we would have had to pay for 9 hours for what amounted to less than 2 miles of driving, Sean put his foot down. We rented a one way mini bus for the bridal party to get to the venue and used a rental car for our getaway.
Gifts – $1,884.82 (budget – $2,310)
Bridesmaid Gifts – $127
Bridesmaid Getting Ready Shirts – $137
Bridesmaid Hair – $390
Bridesmaid Makeup – $270
Moms Hair & Makeup – $155
Bridesmaid Dress Contribution – $250
Food While Getting Ready – $56.20
Groomsmen Gifts – $180
Parent Gifts – $109.79
Favors – $33.77
Thank you notes – $20
Bathroom Baskets – $60
Welcome Bags – $96.06
This was a bit of a splurge area for me. It was important for me to pay for hair and makeup for my bridesmaids as well as a portion of their dresses (I paid $50 towards each dress except my sisters (because my dad paid for hers!) to keep their cost under $150). I was able to justify it by cutting costs in other areas, like stationary. The praline favors were very inexpensive since we made them ourselves (they would have been a few dollars each had we purchased them). The bathroom baskets and welcome bags were extras that I think that our guests really appreciated.
Welcome Party – $926.88 (budget – $1,950)
Food – $579
Drink – $139
Decor – $25.88
Paper Goods – $65
Beverage Buckets – $40
Cake – $78
I am really proud that we fed, provided alcohol for, and entertained 75 people for less than $1,000. This showed me that we could have done a really low budget wedding if we had gone pizza-party 🙂 Of course it helped that we got the location for free and also had free entertainment.
Honeymoon – $3,916.99 (budget $8,500)
Flights – $241.50
Hotels – $1,170
Trains – $551.49
Food/Drink – $800
Activities – $708
Luggage/travel accessories – $96
Souvenirs – $350
Our honeymoon was made significantly more affordable by the fact that we used airline miles for our flights. We also stuck to Air BnB and ate out cheaply by focusing on our favorites – pizza, pasta, and 1 Euro wine, instead of going to fancy places. It really suited our personalities and was the highlight of the entire wedding experience for me!
To some of you, this might be a really expensive wedding. To some, it might be cheap. We are pretty happy with the amount that we spent, and don't really have very many spending regrets. We will be back tomorrow with some "Glad We Dids & Wish We Hads" to tie it all up!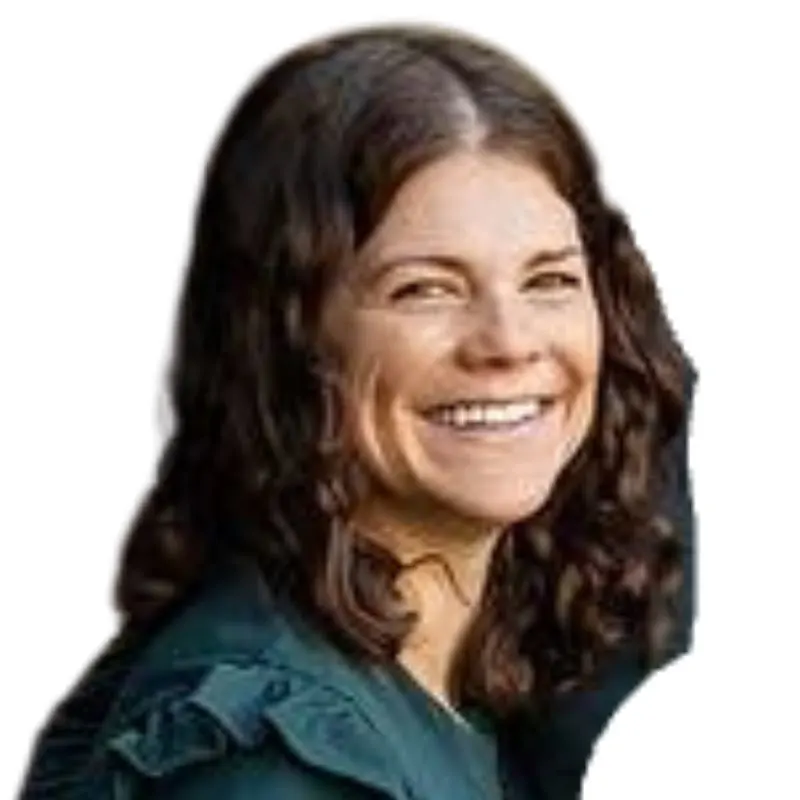 Hello, I'm Morgan, half of the creative force behind CharlestonCrafted.com! With a passion for DIY that dates back to 2012, I've transformed three homes and now I'm dedicated to helping others craft their dream spaces. Let's turn your house into a home together!