As summer rolls in, it's time to start grilling. Now, it's easy to over-buy grill accessories – holidays like Father's Day and hard-to-buy-for-men make it really tempting to buy them all! Believe me, I have been the victim of this (see – the taco griller – we loved tacos but this thing was pointless). Here are some grilling accessories that are actually useful and make great gifts.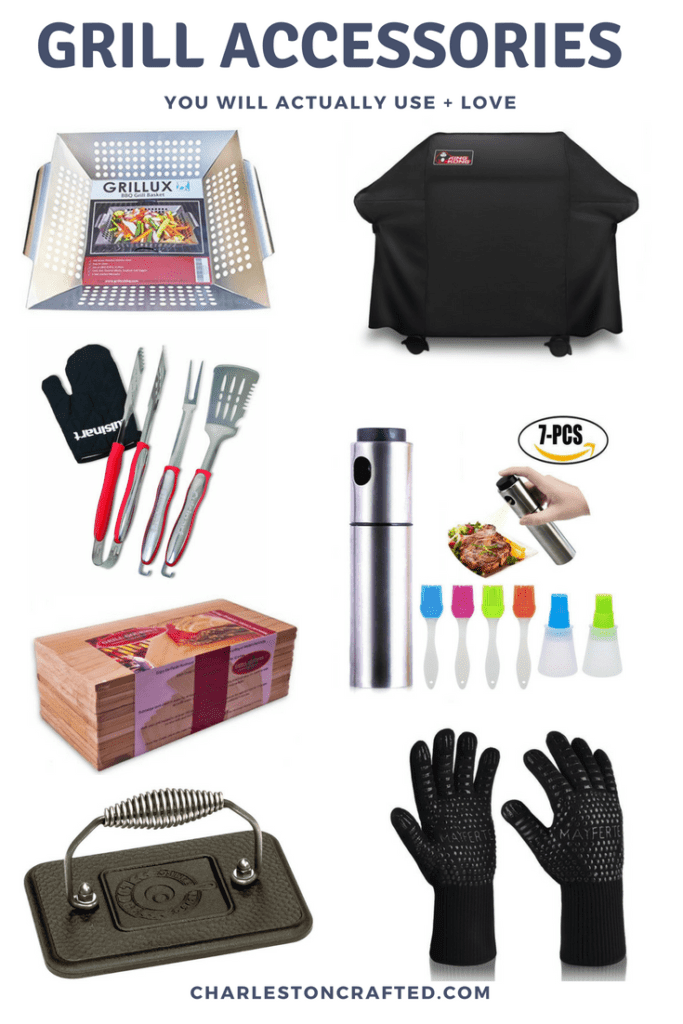 A grill cover – we went Panthers for Sean's favorite NFL team, but they come in a ton of designs and solid. This protects your grill from the elements and will increase it's lifespan.
Flipping tools – metal tools are a grilling must have, especially if you use plastic inside your home. Be sure to pick up a set that has hooks or hoops on the end to make storage easier!
Veggie basket – tin foil packets can be great, but we find that this veggie basket is better for getting things crispy and less steamed. It's great for Brussels sprouts and similar veggies!
Cedar planks – I love the flavor that cedar planks add to so many food. Place them directly on the grill and place the meat or veggies on top. They give the food an earthy flavor and help with grill clean up!
Oil sprayer – if you like to cook with oil, a sprayer is the easiest way to add it to your food as you grill. I prefer oil sprayers to pre-made canned oils because you can swap in any kind of oil whether you prefer olive, vegetable, or almond!
Grill gloves – grab corn and your veggie basket or packets with your hands instead of trying to balance them with tongs by using grill gloves.
Burger press – get a good char and even heat distribution on your burgers with a cast iron burger press.
What are your favorite grill accessories?