Epoxy resin is all the rage and will continue to be for a long time. If you're afraid to get into the epoxy game, the easiest way to do it is to buy a pre-made mold and some epoxy and simply try some things out!
One great example and option for that is to buy coaster molds on Amazon and some epoxy and try out making different coasters!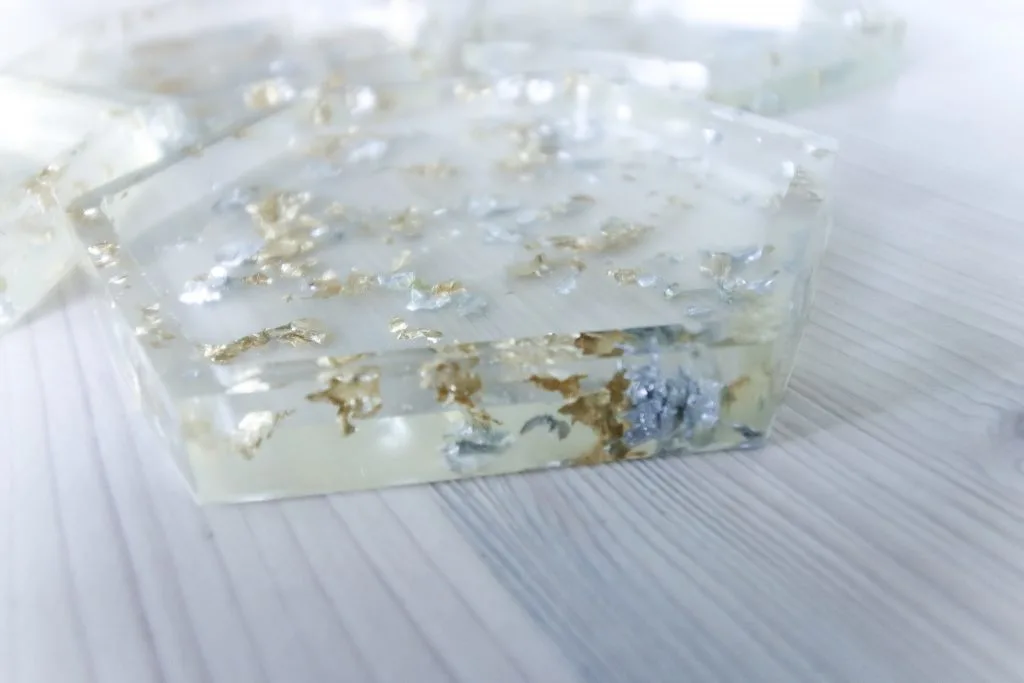 How to make epoxy resin coasters
You can make custom epoxy resin coasters with all sorts of fillers and designs. Start by ordering some silicone coaster molds in square, round or hexagon. These make it super simple to mix your resin and pour into a mold and let dry.
You'll also need epoxy resin. We got ours from Total Boat, but there are lots of kinds of epoxy resin out there that can be used for crafts and DIY art projects like this.
The other thing you'll need is a mixer. You can add dyes, paints, objects or whatever you want.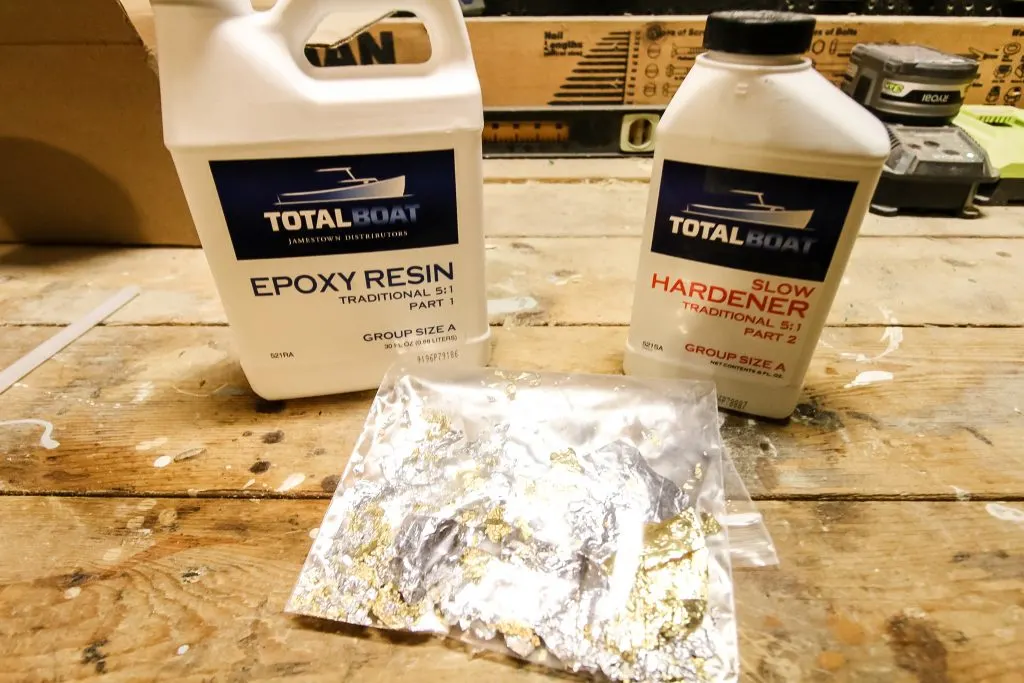 See how we used two-part epoxy and craft paint to make a river table!
Gold leaf resin coasters
For this project, we used gold and silver leaf flecks to make a 3D confetti resin coaster.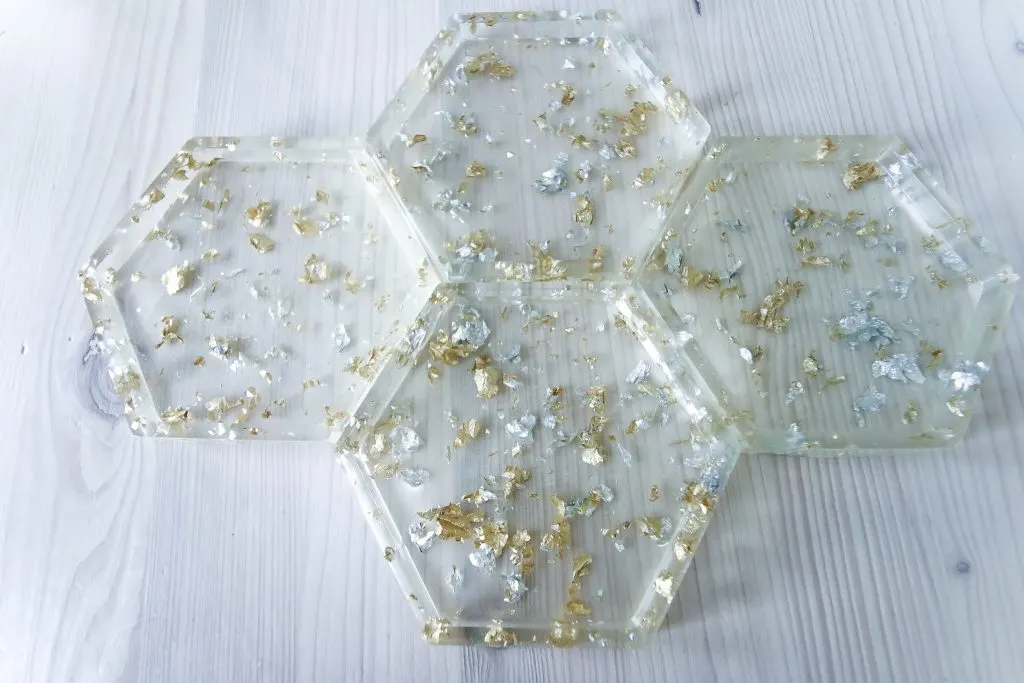 The gold leaf flecks are torn bits that we saved when we made some Christmas crafts covered in gold and silver leaf. These projects were great, but they create lots of small bits torn off. We saved them in a bag for something just like this.
The epoxy resin is simple to mix according to the instructions. Use the ratios for the resin and hardener according to how the specific brand recommends. Pump them both into your mixing cup and stir for about 3 minutes.
Then add the flecks of gold leaf (or other mixer) into the epoxy resin mix.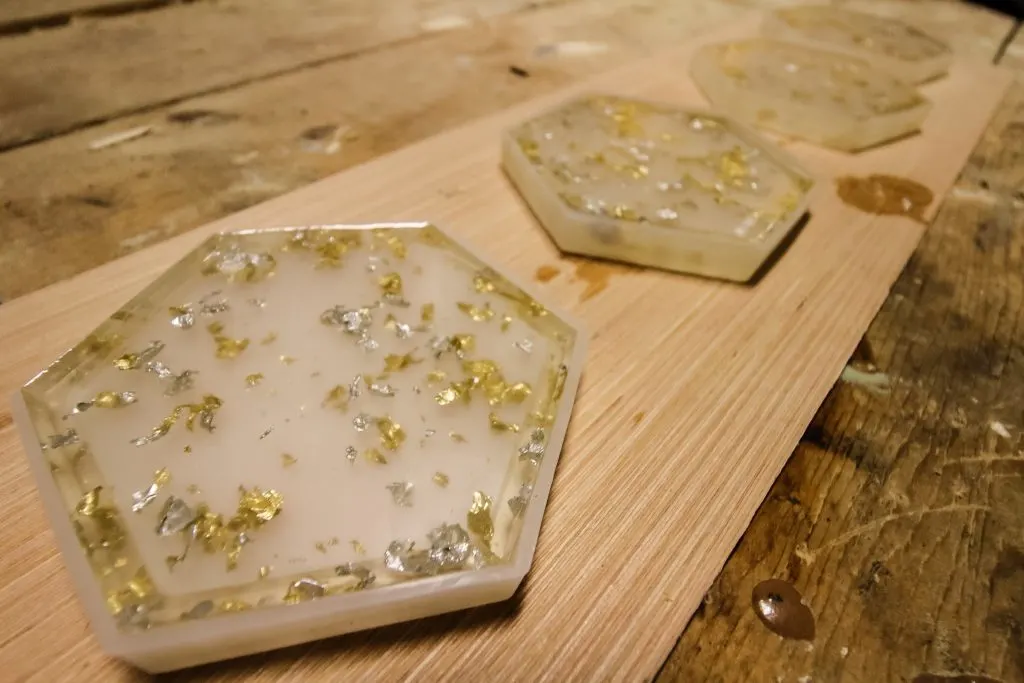 Once it was fully mixed, we poured it into the drink coaster molds.
When adding a mixer into epoxy resin for a pour, make sure that you have a good ratio of your mixer in all your pieces. For instance, the first two coasters got a lot more gold leaf than the others, so we used a plastic spoon to even it out.
After you pour your mix into the mold, make sure to vibrate out any bubbles or use a heat gun to get rid of them. For this mix, we didn't have any bubbles at all, but you can use something to tap the edge of the mold or vibrate with an orbital sander if needed.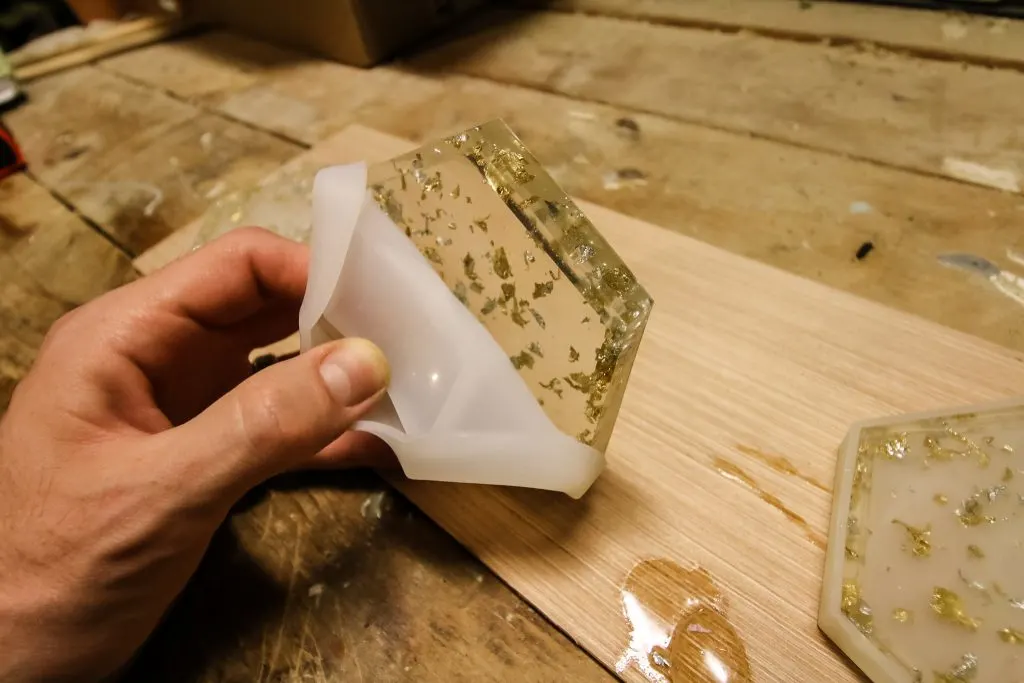 Using the fast dry resin is great for this and the coasters were ready in about 12 hours. Epoxy resin is super lightweight, so these coasters are perfect for serving drinks!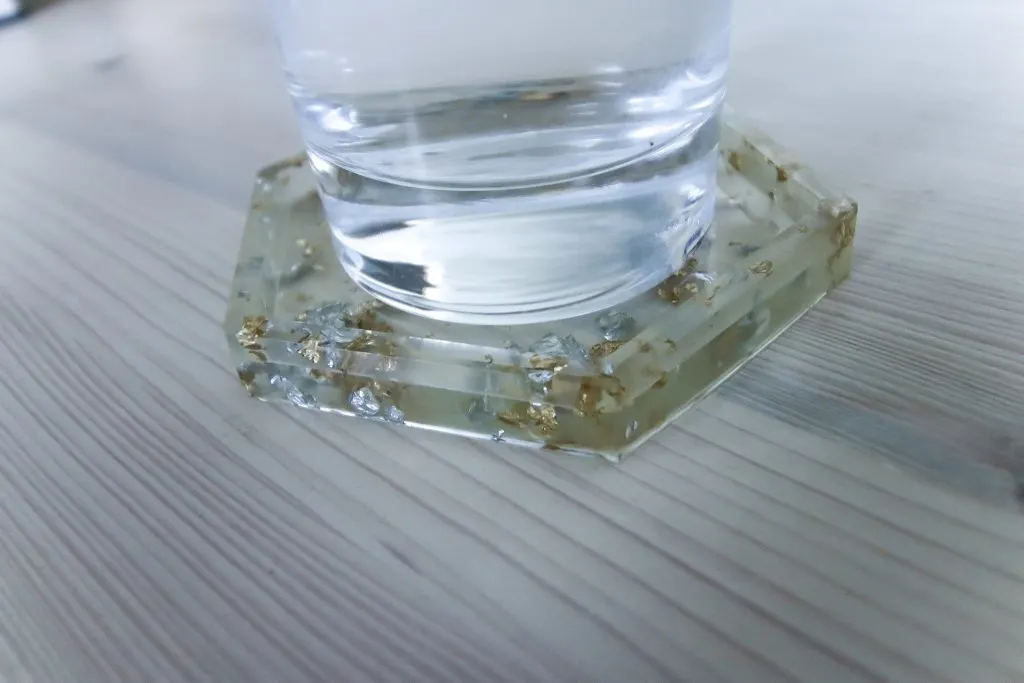 The gold leaf epoxy resin coasters are perfect for a party or celebration. A birthday or New Year's party would be great occasions to make a bunch of confetti coasters to share with your friends and family.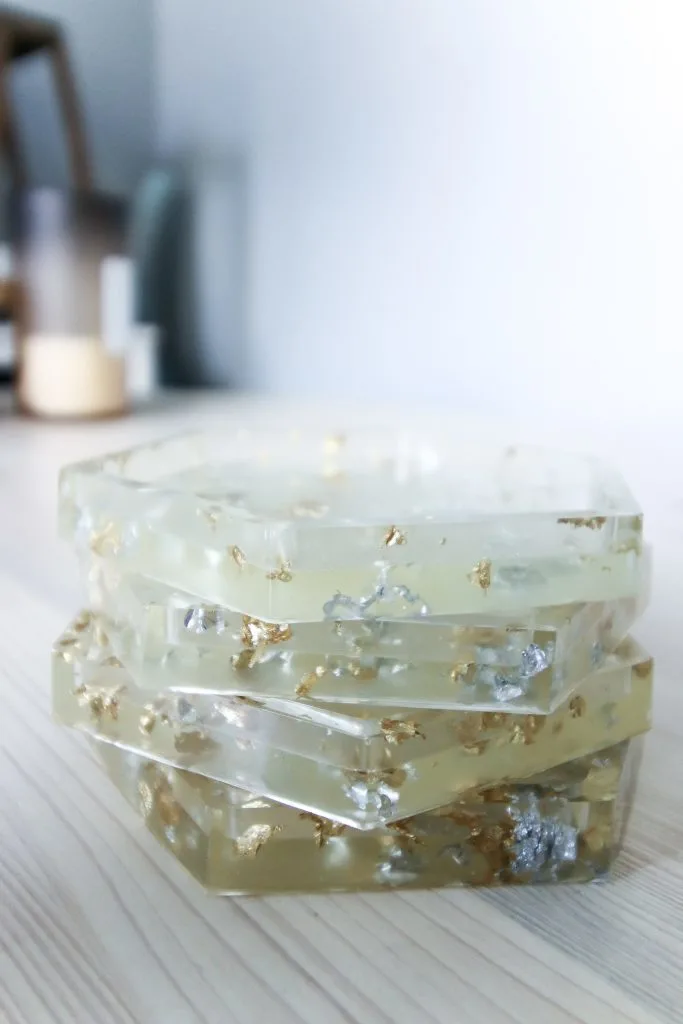 Try making some simple gold leaf epoxy resin coasters today or mix in some regular confetti or other options to suit your style!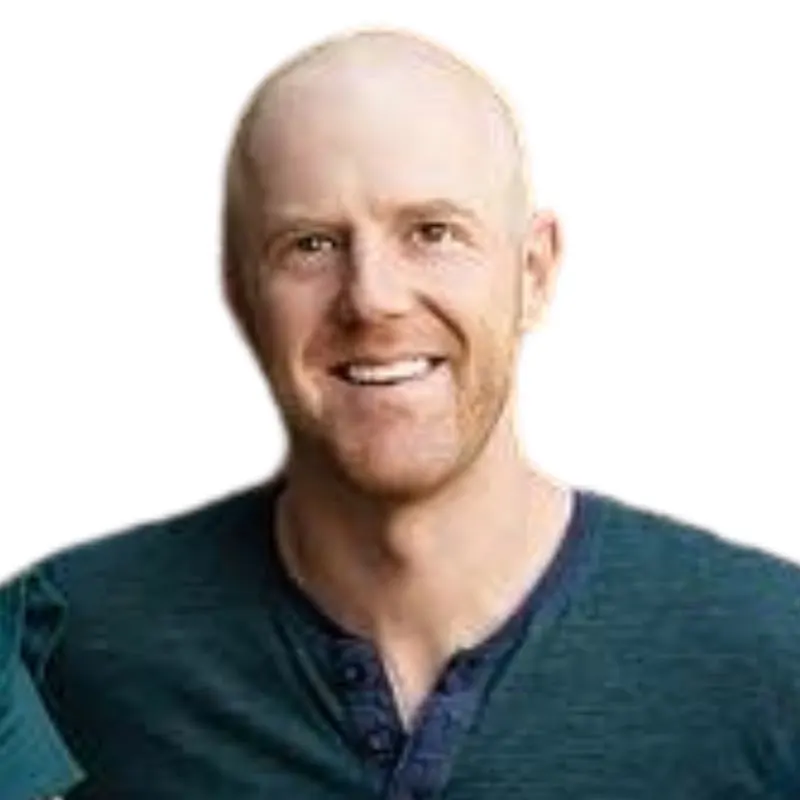 Hey there, I'm Sean, the woodworking enthusiast and builder behind CharlestonCrafted.com! Since 2012, I've been sharing the magic of turning raw materials into beautiful creations. I love teaching others the art and satisfaction of woodworking and DIY. I try to inspire fellow crafters to make something extraordinary out of nothing at all.