Today we're bringing you three holiday projects that are done with gold and silver leaf metal composition. This post is sponsored by Mohawk Consumer Products and contains affiliate links. Thanks for supporting us and the brands that make Charleston Crafted possible!
There are dozens of holiday decor styles to choose from. One of the most classy options is to decorate with gold and silver. Adding gold and silver accents throughout your holiday decorations is elegant and beautiful.
One way to add gold and silver accents is by using metal composition foil and covering different pieces.
Here are a TON of ideas for DIY ornaments you can make and sell!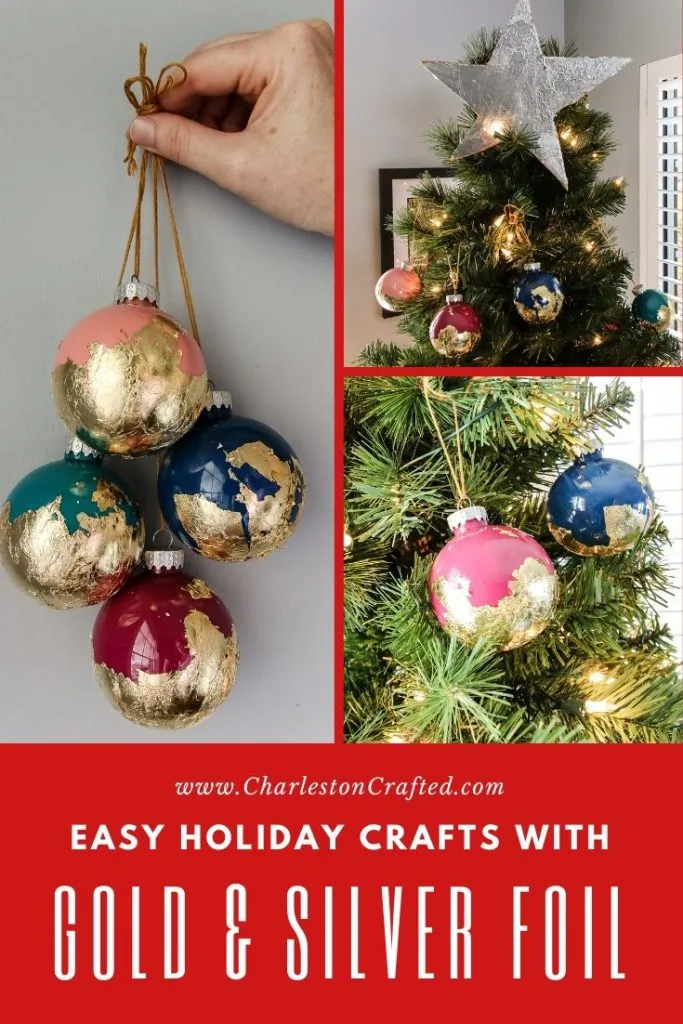 How to make gold and silver leaf holiday projects
For all these projects, we used metal composition leaf from Mohawk Consumer Products. Mohawk's composition leaf has a striking and rich effect similar to gold leaf, but at a lower cost. Mohawk's gold leaf and silver leaf can be used in interior decorating for covering picture frames, art objects and holiday pieces.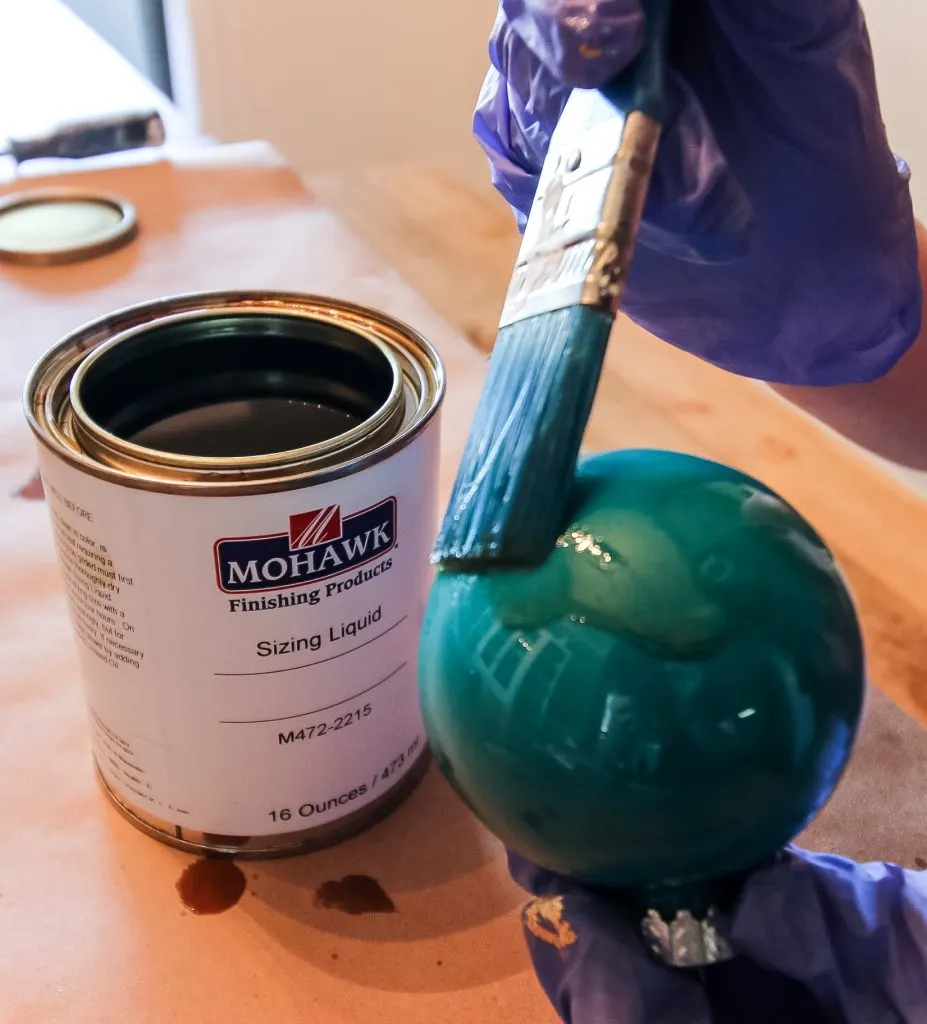 To use the leaf, you also need sizing liquid. This is the adhesive that holds the leaf onto your work surface. For anything you want to cover with gold or silver leaf, first spread a thin layer of sizing liquid anywhere you plan to put the leaf.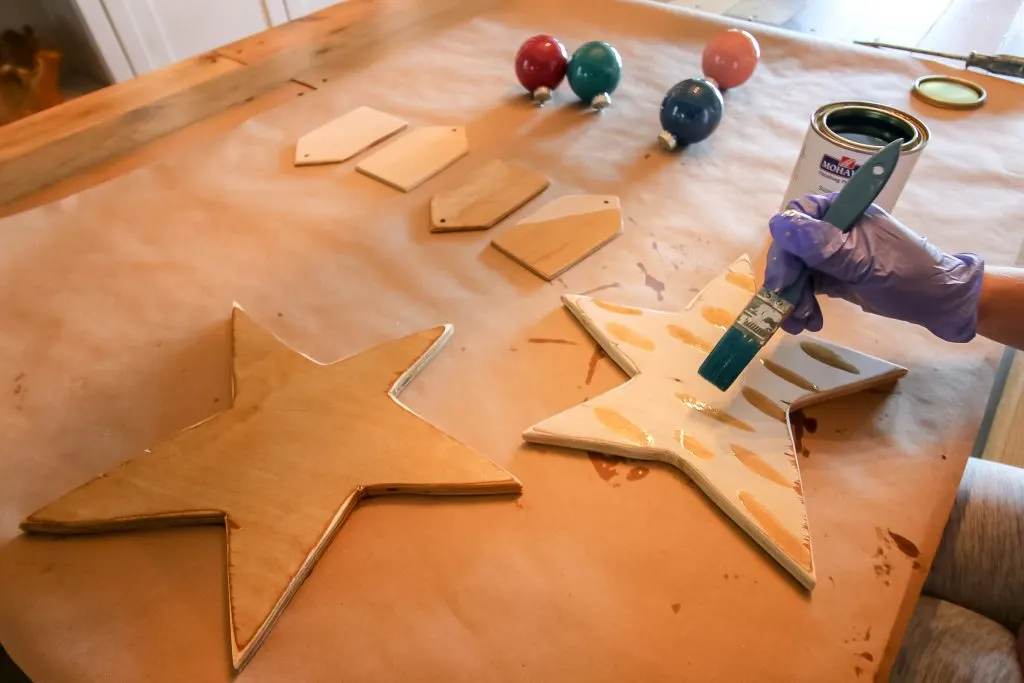 After you spread the sizing liquid, in needs to cure for about an hour. Then you'll drape your leaf foil across the surface and lightly brush it into place with a soft bristle brush.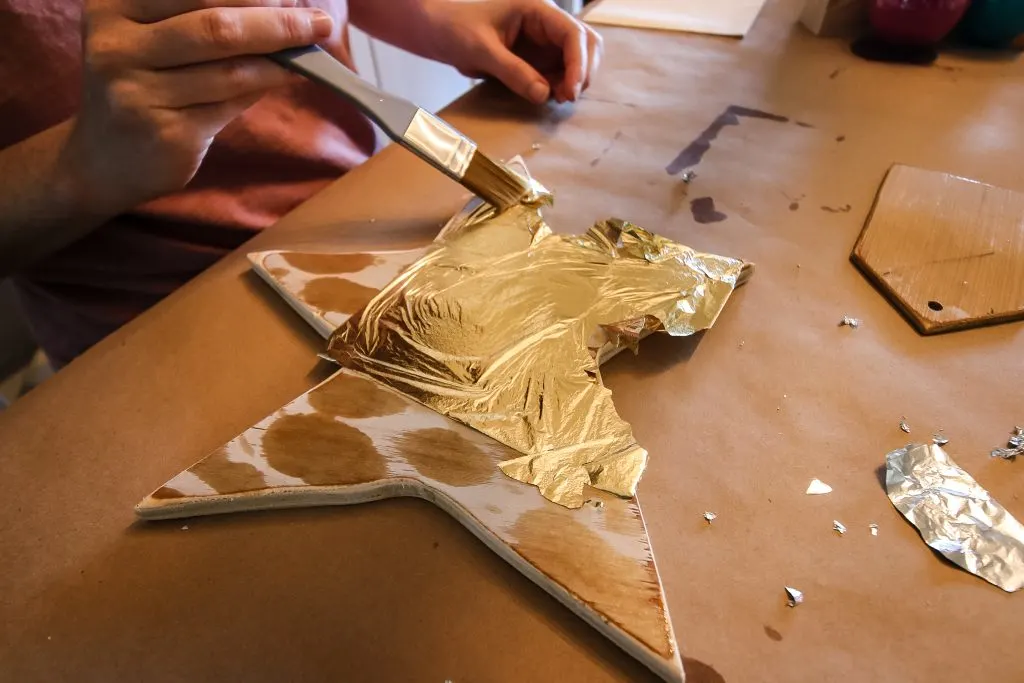 It's important to work slowly and carefully when brushing on the foil. It's very difficult to get the foil on perfectly smooth and straight every time, so instead plan to aim for a look that is distressed. We found that layering pieces and even scraps of foil created a really interesting, textural look.
Here's three projects you can do with gold and silver leaf to make your holidays classy and elegant.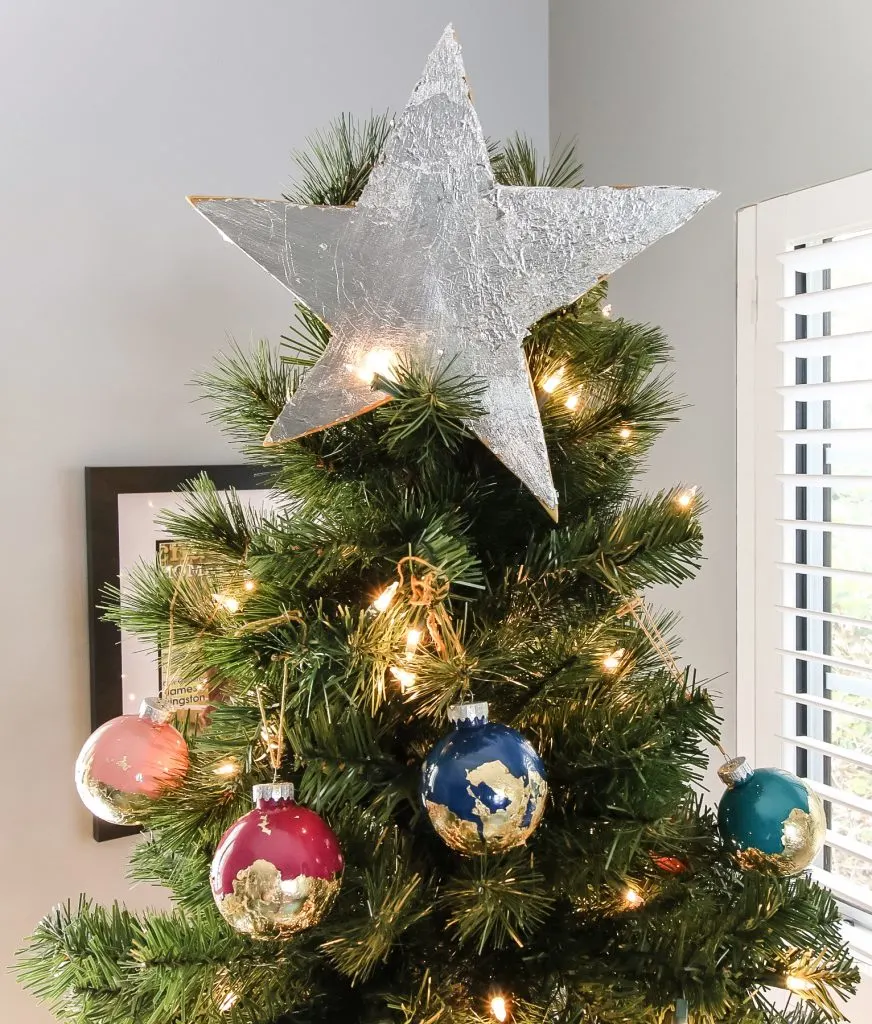 Tree Topper
It's easy to make a star to go on top of your tree and cover it in foil. All you need is some 1/2″ plywood. You can draw out your star to be perfectly angular with straight lines, but we opted to go with slightly abstract angles for a more whimsical look.
Once we drew the stars on the plywood, we used a jigsaw to cut them out, then sanded the edges smooth.
We applied the sizing liquid and brushed on our foil. We tried a couple of different options, including full coverage and also a version with abstract polkadots.
After letting everything dry, we glued on some clips to the back of the star and then it could clip onto the top of the tree.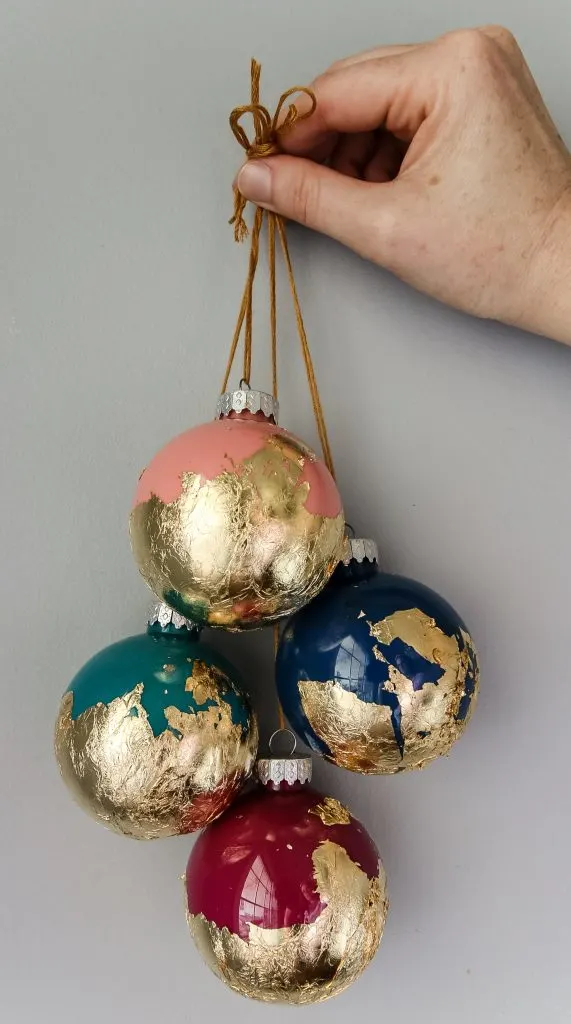 Painted Ball Ornaments
To make leaf ornaments, we wanted to give the appearance of colorful ornaments that were dipped in gold and silver. To do this, we first painted the inside of clear plastic ornaments with various colors and let them dry.
Then, we spread sizing liquid onto the bottom of the ornament balls without being too careful of where it was spread on.
Then, we took whole sheets of foil and spread them around the underside of the ball and lightly brushed it on.
Use a brush to remove excess or loose foil once it is dry. I really love how these turned out!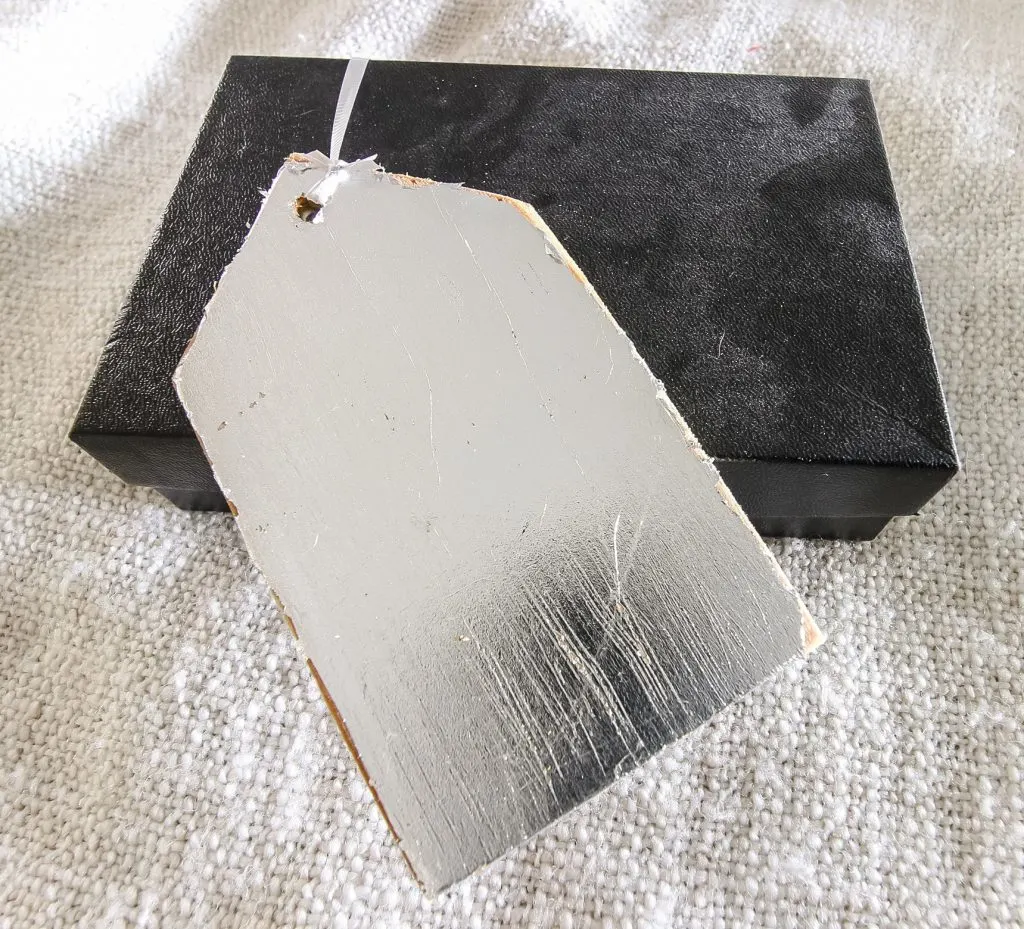 Gift Tags
The last project is foil gift tags. For these, we cut out oversized gift tags from 1/4″ thick plywood and drilled a small hole in the tip for tying onto a present.
We experimented with different looks on the tags, but we did whole sheets covering the tags and angled half sheets.
You can either use these tags as completely decorative, or you can write your "to" and "from" on the back side or the foil side. If the present is for someone you exchange gifts with every year, you can even reuse the tags in the future.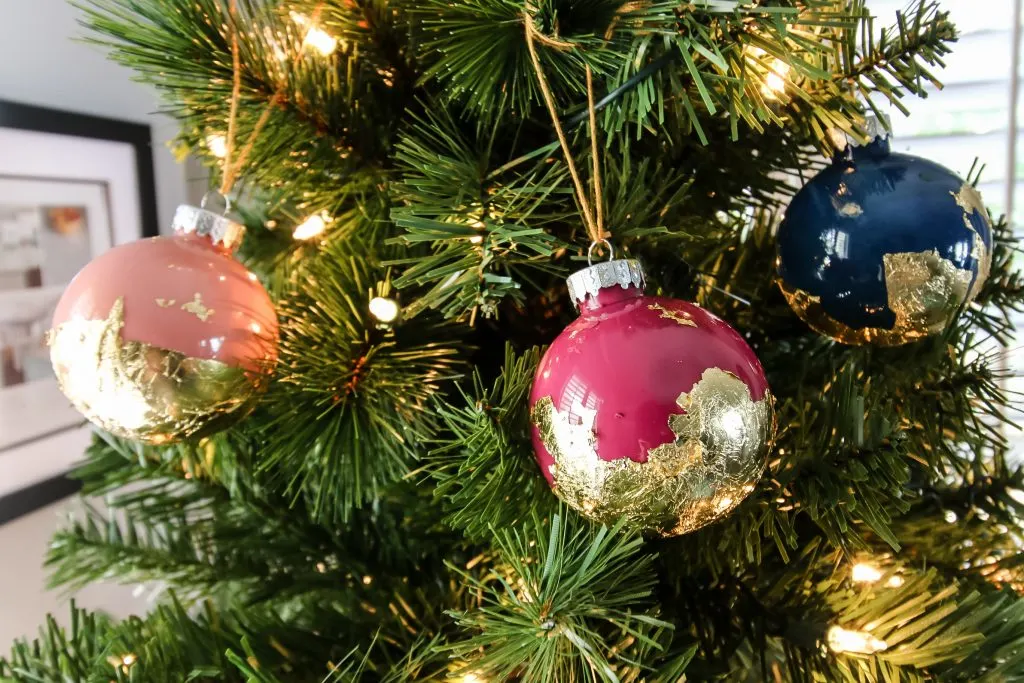 We love the look of the gold and silver leaf and how classy and elegant it makes the holiday season look.
There are lots of ways that you can experiment with gold and silver foil and using Mohawk Consumer Products' leaf metal composition is a great way to do that without breaking the bank. Mohawk also has tons of other great products for wood, metal, leather, fabric and more, so check it out!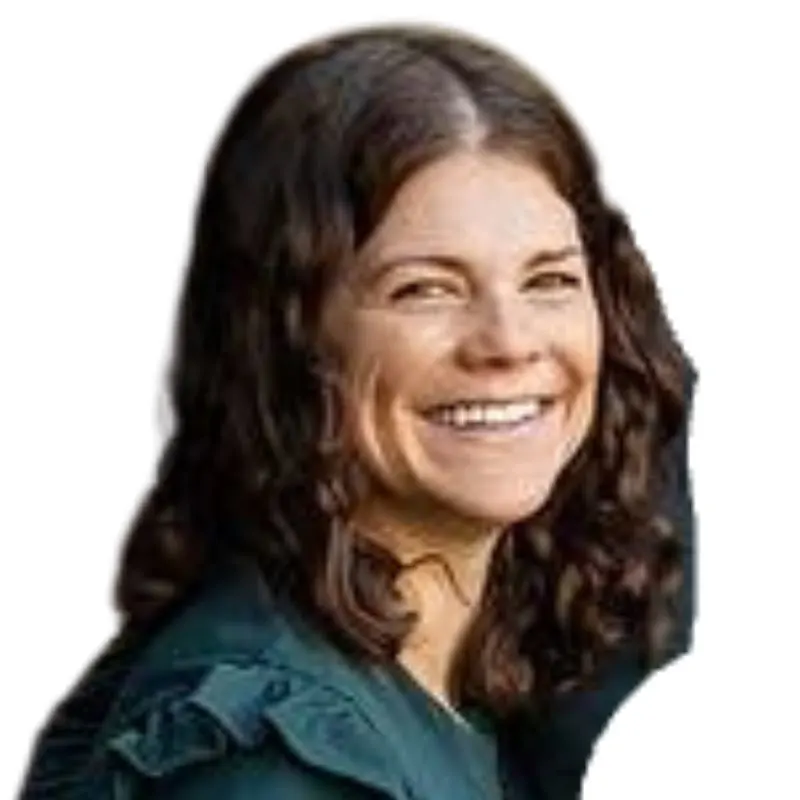 Hello, I'm Morgan, half of the creative force behind CharlestonCrafted.com! With a passion for DIY that dates back to 2012, I've transformed three homes and now I'm dedicated to helping others craft their dream spaces. Let's turn your house into a home together!