This shop has been compensated by Collective Bias, Inc. and its advertiser. All opinions are mine alone. #DoMoreWithMission #CollectiveBias
When you think of spring, of course, you think of flowers and plants! Well, our front flower beds were looking a little worse for the wear after a blah winter. So, I was really excited to give them a refreshing makeover for spring. I was recently introduced to Mission Instant Cooling Gear so I decided to put it to the test as I took on this long project for hours out in the sun.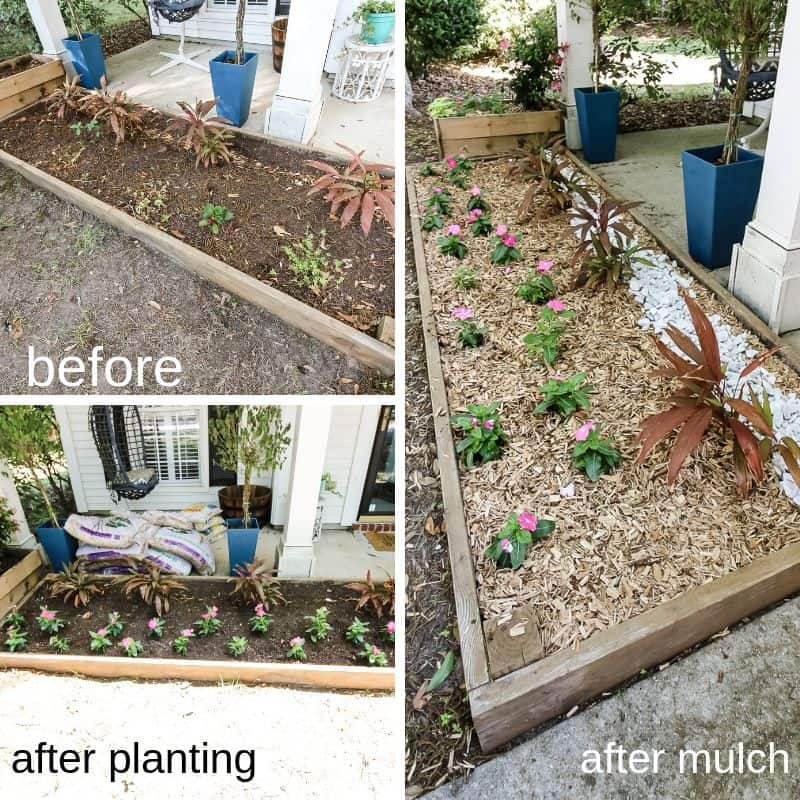 Here is how the flower beds started out. The only thriving plant was our Hawaiian Ti plant. It actually died off in the snow last January, but now, almost 18 months later, it has completely grown back. But, it didn't look its best in this sad planter.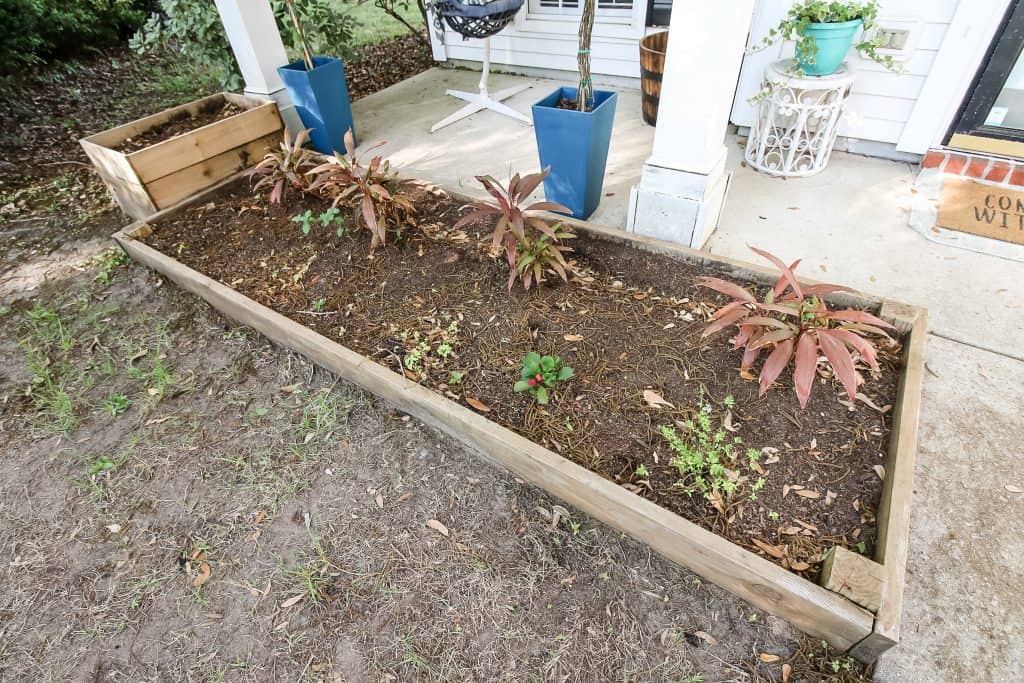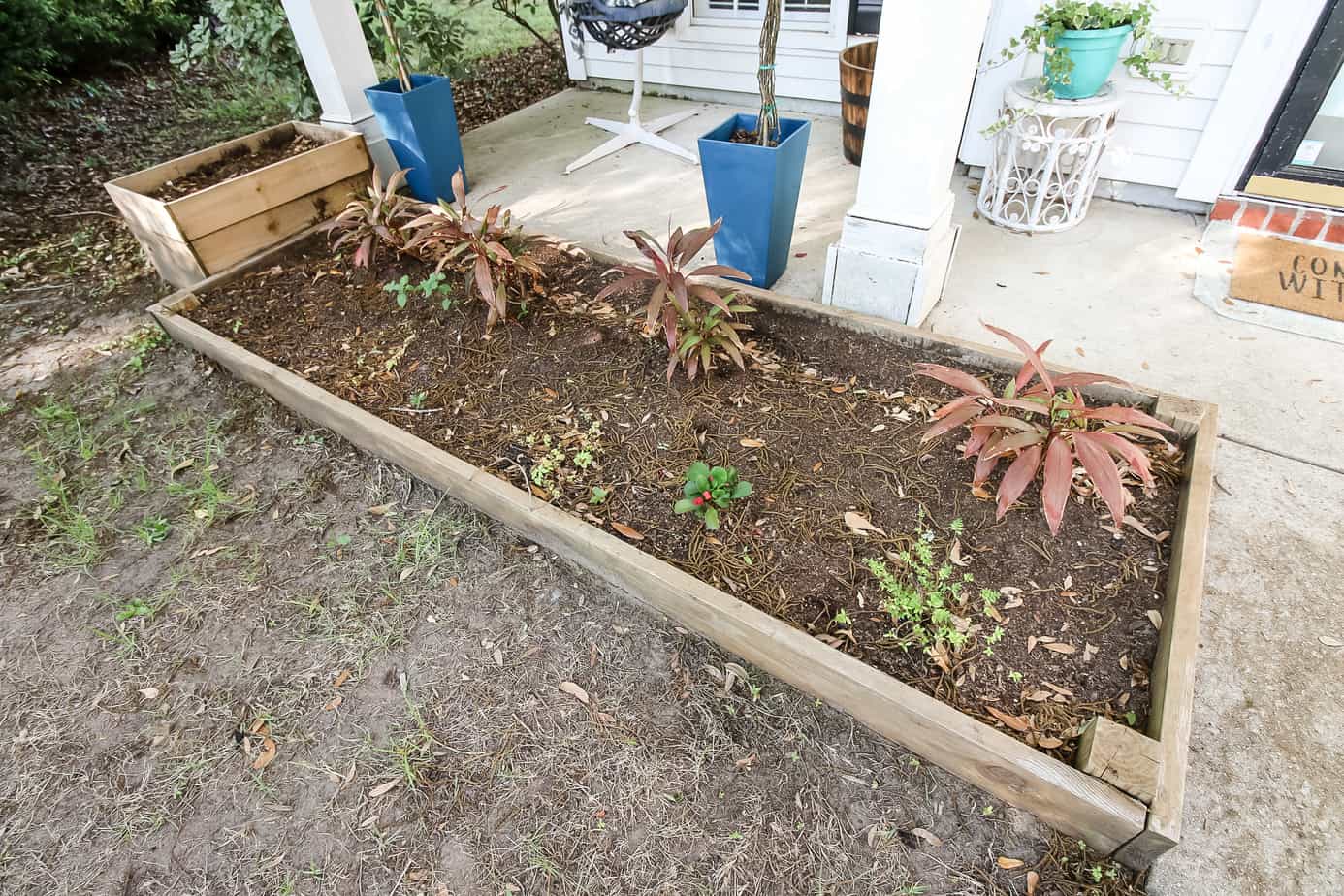 Preparing the garden
The first step was to clear everything out. First, we used the blower to blow off excess leaves and pollen pods. Gross! Then, I used a shovel to dig up some of the sad old plant remnants from last year, leaving just the Hawaiian Ti. Any plants that looked like they had life left in them, I relocated to pots. Then, I used a tiller to loosen up the soil to make it plant-friendly again.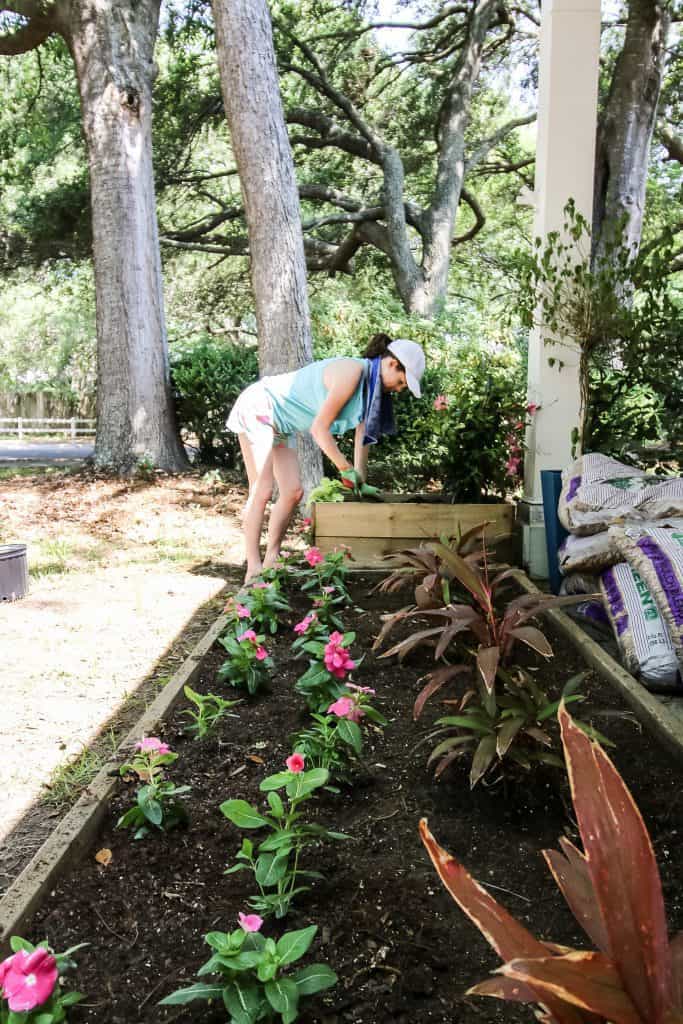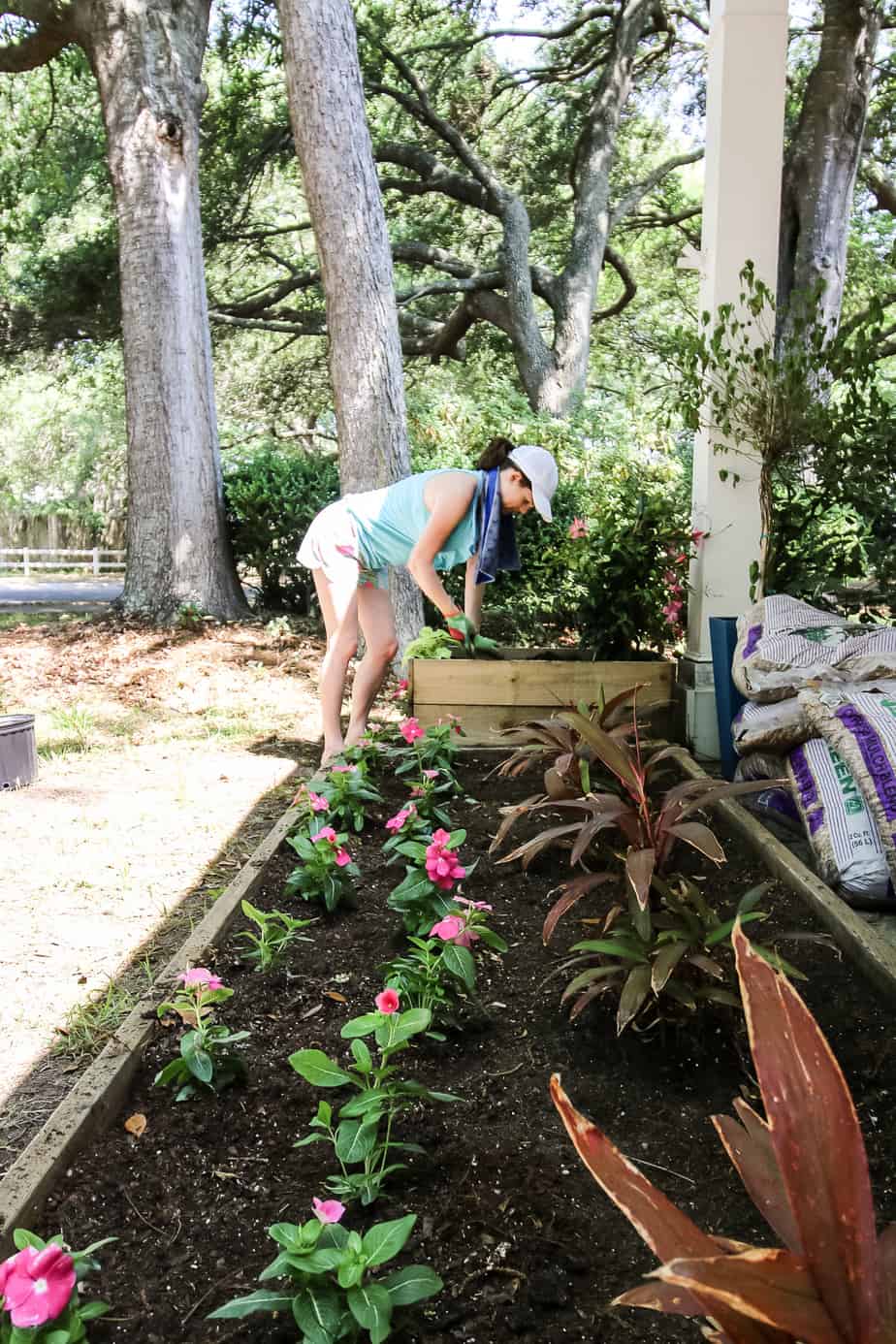 The plants
Next came the time to add my plants. Since I was working with the existing Ti plants, I focused on plants with a tropical feel. I love the look of these pink Vinca plants. The leaves and flowers both felt like a luau to me. I also grabbed some sweet potato vines and one tall mandevilla for the taller endcap planters.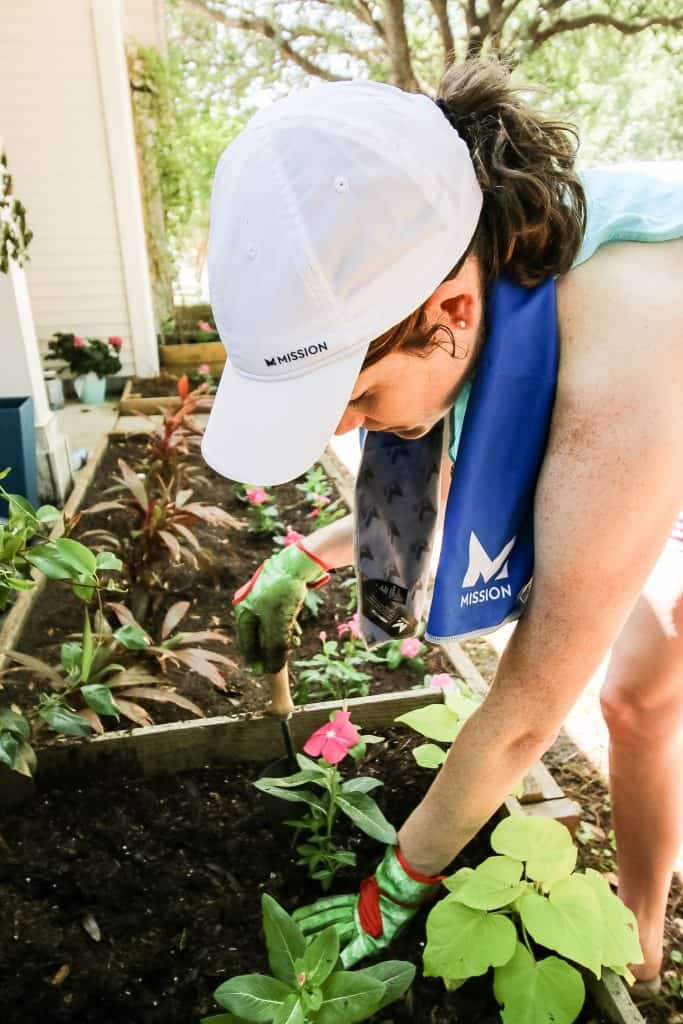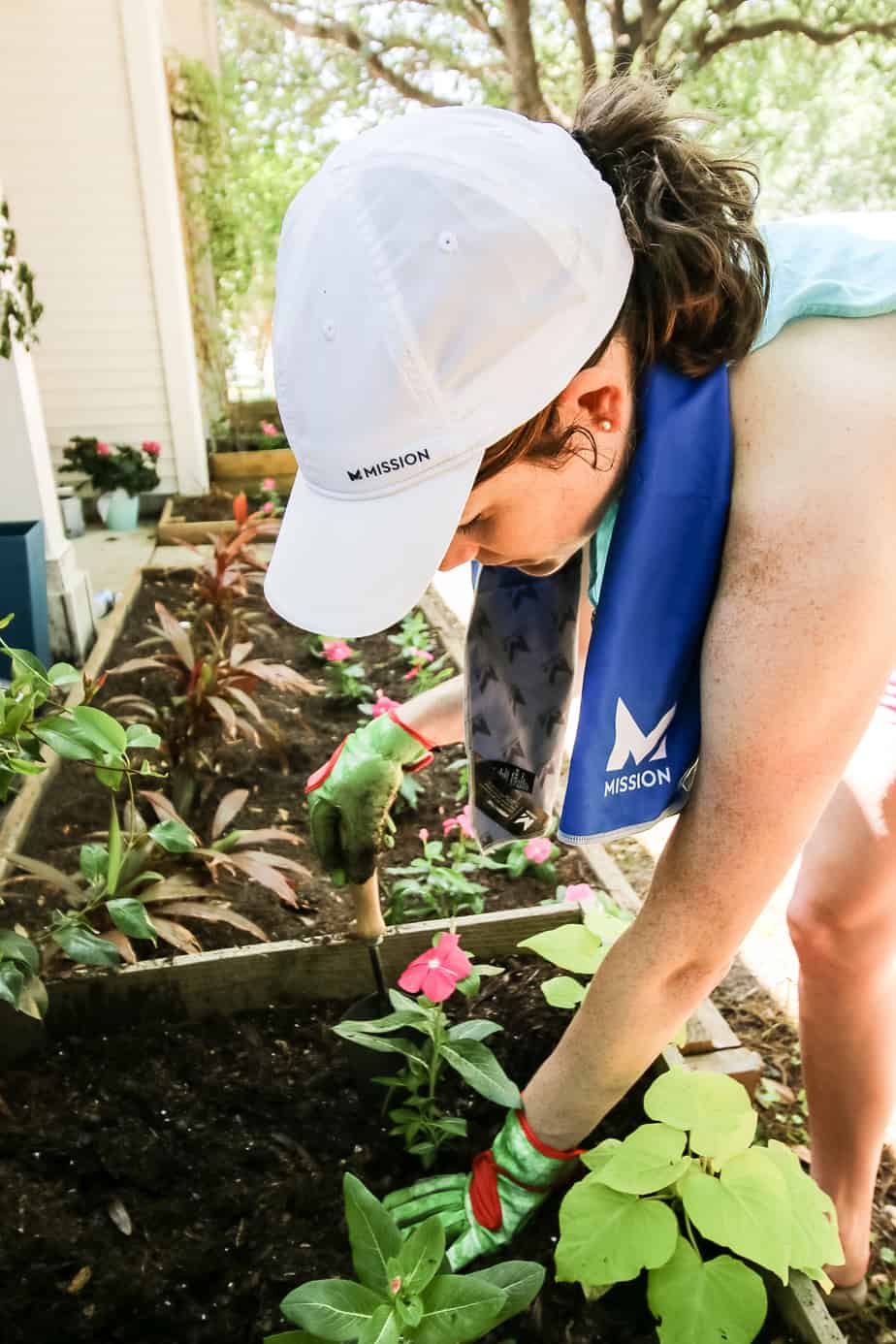 For any planter deeper than 12 inches, I have a 3-step formula:
Growers

– something tall for the back

Showers

– something colorful for the middle

Overflowers

– something to overflow the front edge
My growers are this mandevilla on the end planter and the existing honeysuckle on the two planters by the garage. The showers are the Vinca flowers. The overflowers are the sweet potato vines. I got the plants into the ground, spacing them according to the instructions on their labels.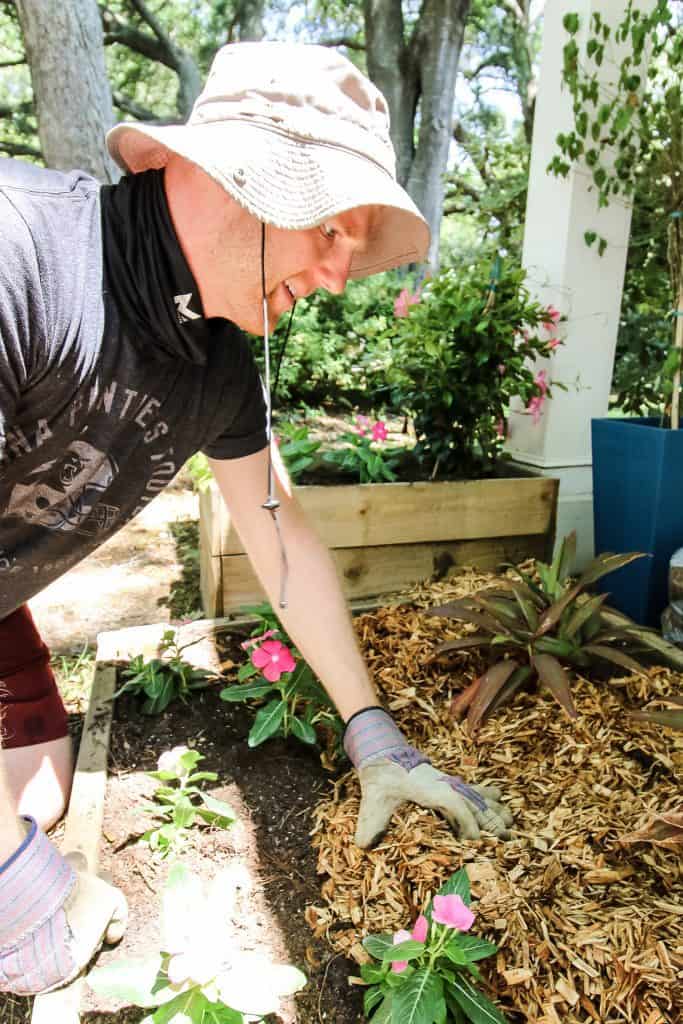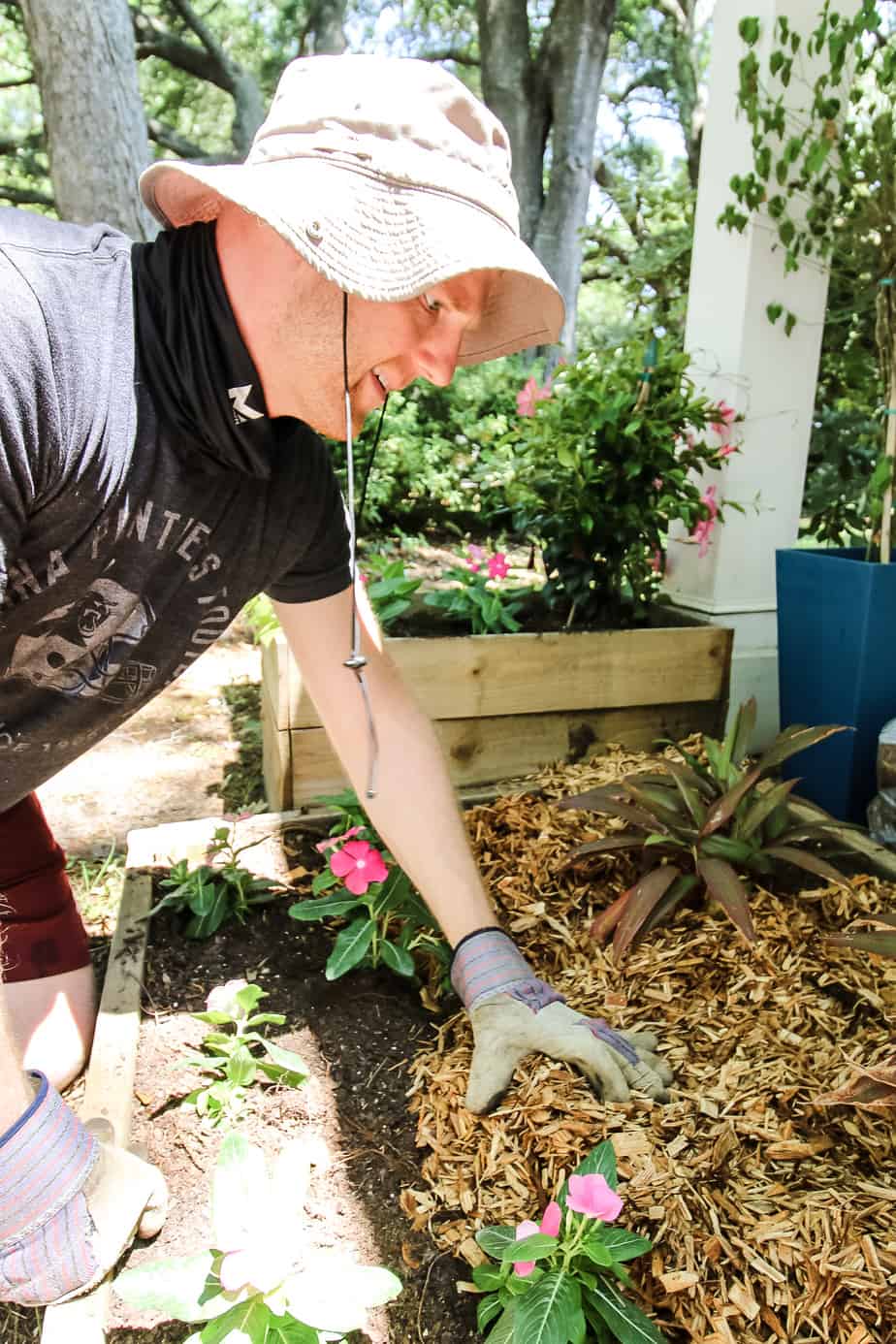 The finishing touches
The garden still needed more work. We added all new mulch to make it feel more complete.
We also added a "river" of pebbles in the back. We do not have gutters on our house and water runs right off the roof into these beds. We added pebbles to the flower beds in the back of the house and that prevented the mulch from being washed away in the rain. So, we did the same up here.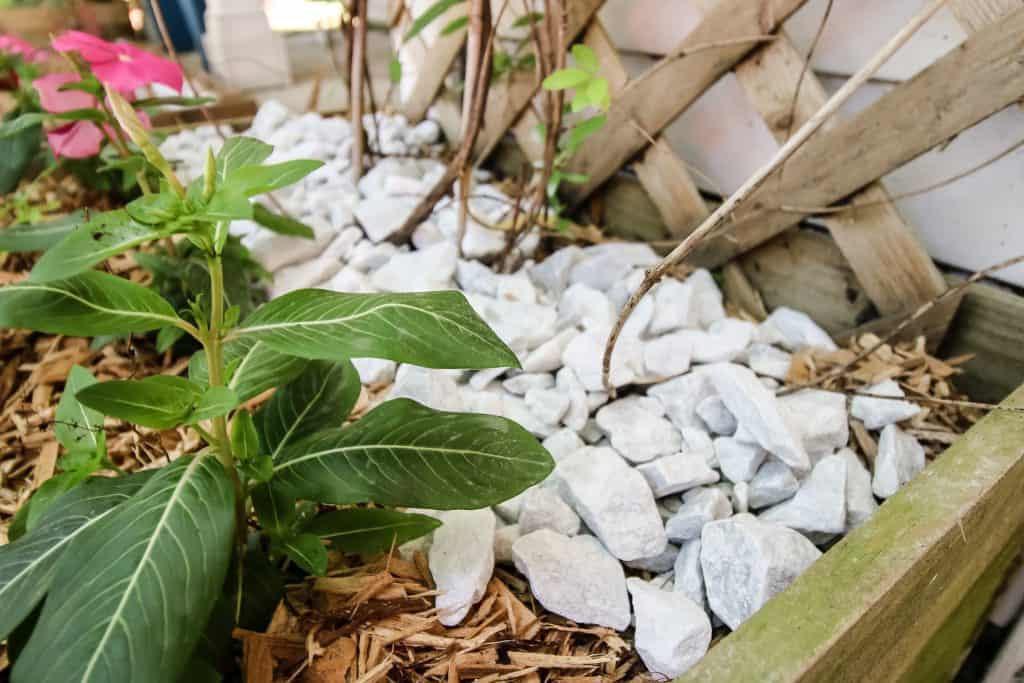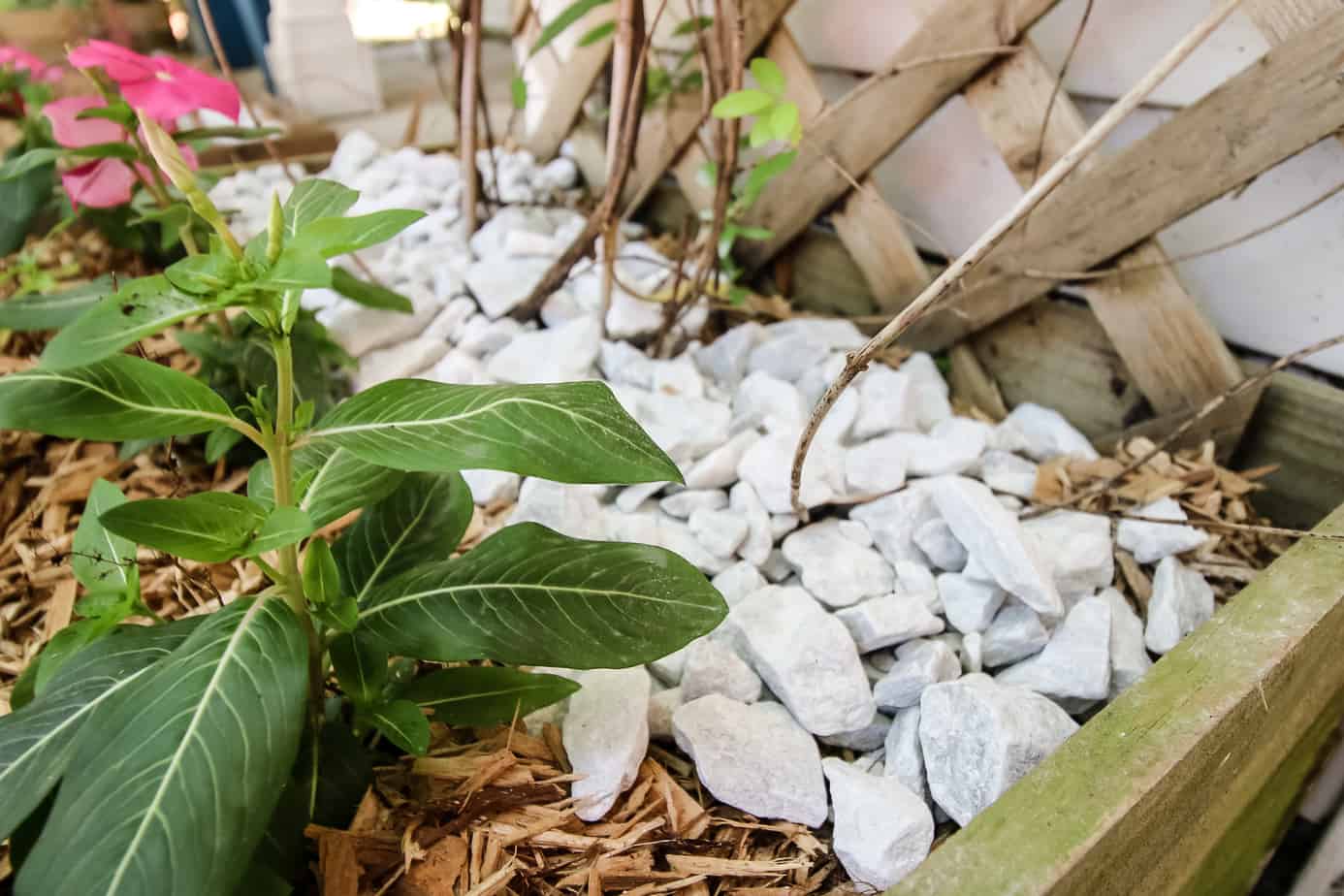 Looking for DIY planters for your home?
DIY raised flower beds – in front of porch
Fence post planters – on either side of garage
Here are a ton of other DIY planters that we have made!
Staying cool
All of this planting in the South Carolina heat can be H-O-T. Luckily, we had a few new Mission Instant Cooling Gear to help keep us cool. They helped us do more and enjoy working on our project in the heat.
I had never heard of a cooling towel before and was a little skeptical. When dry, it just feels like a normal, soft fabric. However, when you get it wet and wring out the excess water, it instantly gets and stays cool for up to 2 hours. You can reactivate the cool feeling by rewetting it at any time. It is also machine washable and can be reused over and over again. This has become a gardening must-have for me!
The neck gaiter has water-activated cooling technology like the cooling towel but is a tube-like circle of fabric that can be worn around your neck, face, or head. For example, you can pull it up to cover your mouth and nose if you are doing something dusty or wear it as a headband to keep hair out of your face.
Mission Cooling Bucket Hat
A bucket hat will always keep you cool by keeping sun off of your face and neck. This bucket hat has UPF 50 Sun Protection and a 3″ brim for sun blockage. It also has cooling technology that makes the fabric feel very cool when you get it wet. Sean loves the way it feels directly on his scalp!
Mission Cooling Performance Hat
I love the look of this white baseball-style cap. It keeps sun off your face, has a ponytail hole in the back, and is adjustable. It also has the same cooling technology when wet. It felt good on my head, which usually gets really hot when the sun hits my dark hair.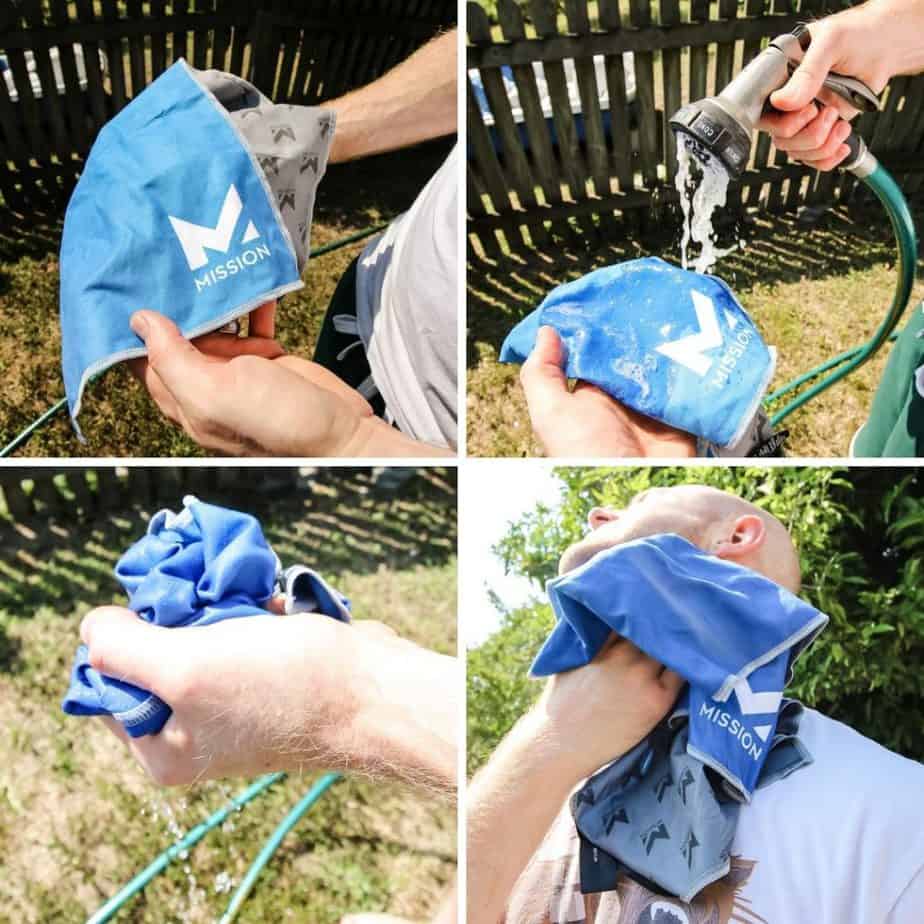 All of the Mission products are super easy to use. Simply wet thoroughly, wring out excess water, and snap or wave in the air to activate the cooling technology, which enhances the natural process of evaporation. Since they are water-activated, all of their products are chemical free. They cool down instantly and the cool fabric on your neck or head makes you feel more comfortable in the heat.
Want to stay cool while doing yard work this summer? Use coupon code MORGAN25 for a 25% discount on your first order from Mission.com!
The summer heat is no joke. Mission Instant Cooling Gear helped us stay cool enough to stay outside longer and get this gardening project done!