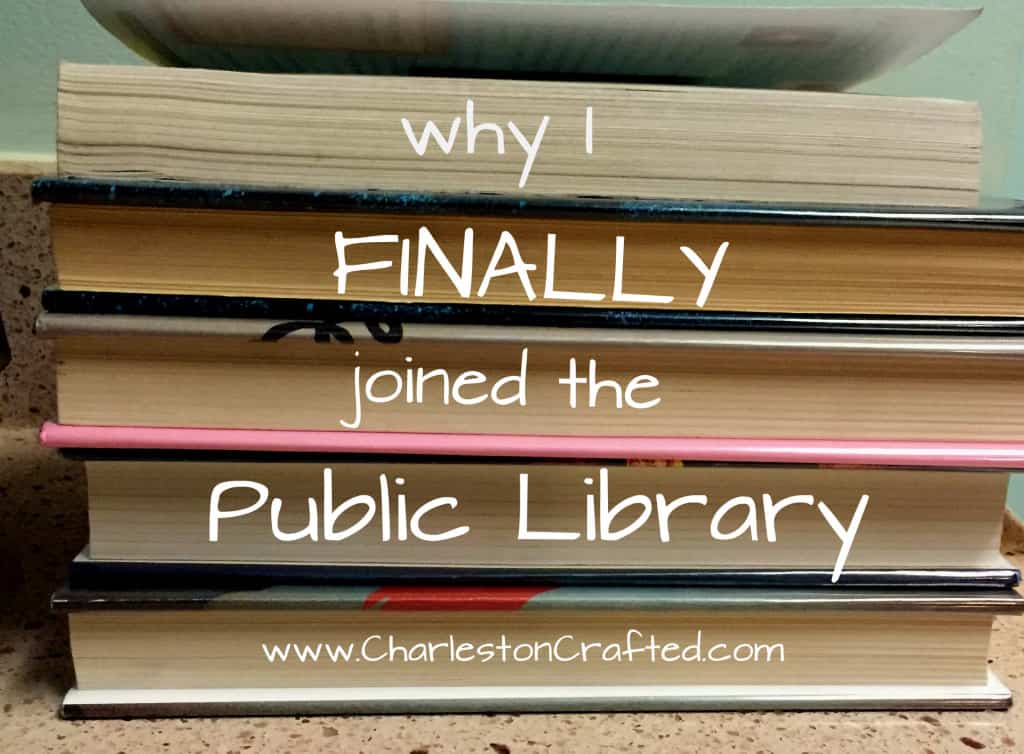 I am, and have always been, an avid reader. I love real paper books and get so excited every time I crack a new one open. Historically, I have been really into reading the same books over and over again. However, about a year and a half ago, I signed up for GoodReads and suddenly felt very competitive with my book count and variety. I started purposefully reading new books as often as possible. In fact, I haven't repeated a book since 2014!
However, in 2015 I spent an average of $50 a month on books. I am an Amazon Prime addict, and it was too easy, convenient, and as I saw it cheap, to order books, especially new releases. I supplemented my Amazon finds with boxes and bagfuls of used paperbacks from the Mr. K's Used Books, the Junior League Whale of a Sale (a paper grocery bag full for only $5!) and the annual Library book sale.
However, a few weeks ago we headed to the downtown Charleston library for an event. And I dogged Sean for not even having a card. I had a card, from when I was in college and frequently checked out the DVD selection. He sheepishly signed up for a card and I checked out a pamphlet on the Library's website.
I learned that you can go to their site (www.ccpl.org) and search the library. You can quickly find books and then either download them directly to your kindle or place a hold at your local branch. They email you when the book is in and you have ten days to pick it up. And most check-outs last a month. It's almost as simple as ordering a book on Amazon – especially since the West Ashley branch is very convenient to my commute home from work.
I have started checking out loads of books. They have new releases – and while many of them have hold lists, I can add them to my list while I'm thinking about it, and I'll get an email when they are ready for a convenient drive-by. I have just been so impressed by the quantity of books they have on hand or can get quickly. And while I sometimes love walking up and down bookstore aisles, online ordering and quick pick up is much more convenient for my lifestyle and is the thing that had me resisting the library for so long.
So, in 2016, as I aspire to read 52 new-to-me books (I'm already 20 in…) I am hoping to achieve that without purchasing a single one.
Are you a member of your local library? Am I the only one who was too lazy to ever check it out before?