We are back this week with week five of our CSA produce boxes.
If you missed it, here are weeks one, two, three, and four.
Once again, we have a fun video of us exploring the contents of this week's box.
If you can't watch a video right now (what, your boss is looking over your shoulder? Busted!) here is a breakdown:
One head of romaine lettuce
One bunch of kale
One green bell pepper
Two yellow squash
Four peaches
Three sweet potatoes
Four beets
Six radishes
One bag of black eyed peas
One container of muscadine grapes
And here's what we made with it: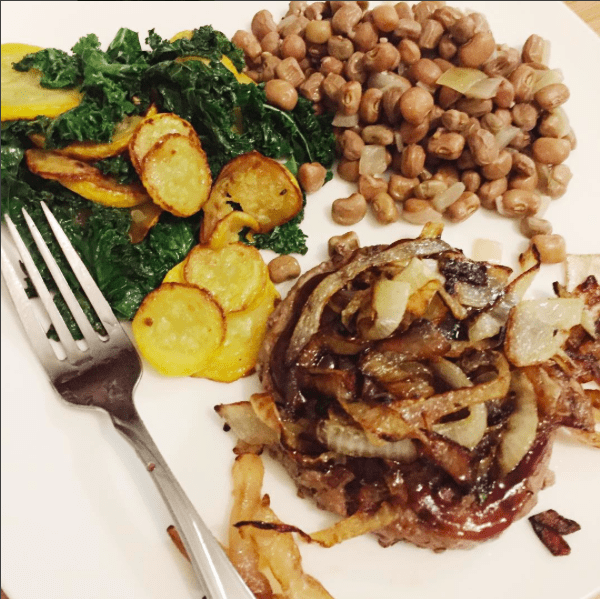 On Wednesday, we ate the last 2 burgers from the Omaha Steaks gift box that Sean got for his birthday. To cut some calories, we skipped the buns and instead topped them with BBQ sauce and slow cooked onions. For sides, we had delicious black eyed peas as well as sautéed squash and kale, all from our CSA box.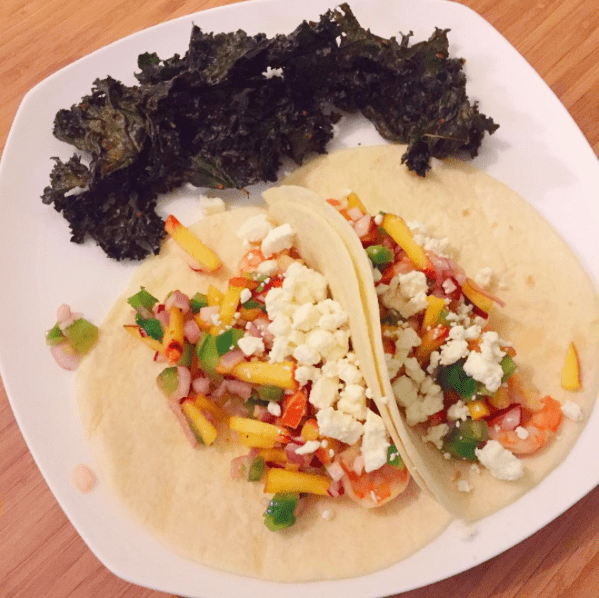 On Thursday, we really enjoyed shrimp tacos topped with feta cheese and a "slaw" (salsa?) made from a peach, half a green bell pepper, cilantro, four radishes, and half a shallot. These were so good paired with taco-seasoned kale chips.
I also made my favorite peach crumbles, because who can resist?
On Saturday night, we were depressed to find almost every restaurant and the movie theater closed due to flooding. We returned home and made baguette pizza bread with mozzarella cheese, tomato slices, and fresh basil (dipped in red sauce) and paired it with side caesar salads made from the head of romaine. You'll have to imagine this one as we did not photograph it! Bad bloggers.
Sean ate the muscadine grapes as a snack and the sweet potatoes are still chilling in our fridge, luckily they last a really long time.
The beets and sweet potatoes are still chilling in our fridge. We know that the potatoes will keep and are hopeful about the beets!
I am unsure if we will get a box this week due to all of the flooding – it's hard to imagine that Gruber Farms wasn't hard hit by the weather. Please keep all of South Carolina in your thoughts!