Want to build a DIY picnic table for your porch or backyard? Here are some fantastic ideas and step by step tutorials to inspire you!
Want to be able to eat outside and enjoy beautiful weather? A picnic table makes outdoor dining a lot more convenient and comfortable.
Your yard or deck can really function, at least for part of the year, as an extension of your home. However, you need to set it up with furniture to make it useful and usable. Picnic tables are a great option!
Benefits fo building a DIY picnic table
Whether you don't have the budget to buy a picnic table or if you just like to build things, a DIY picnic table might be the right option for you.
In addition to saving money, DIY-ing allows you to design a table that exactly fits your space. You can adjust seat heights if you are taller, or make a table extra-long if you have a big family. There are so many possibilities!
DIYing also allows you to add elements that match your personal style, like an X-shaped base for a farmhouse look, or a chunkier leg for more traditional style.
Finally, you can select the finish or material that is right for you. This could mean selecting a certain wood species, or just a stain or paint color that you love!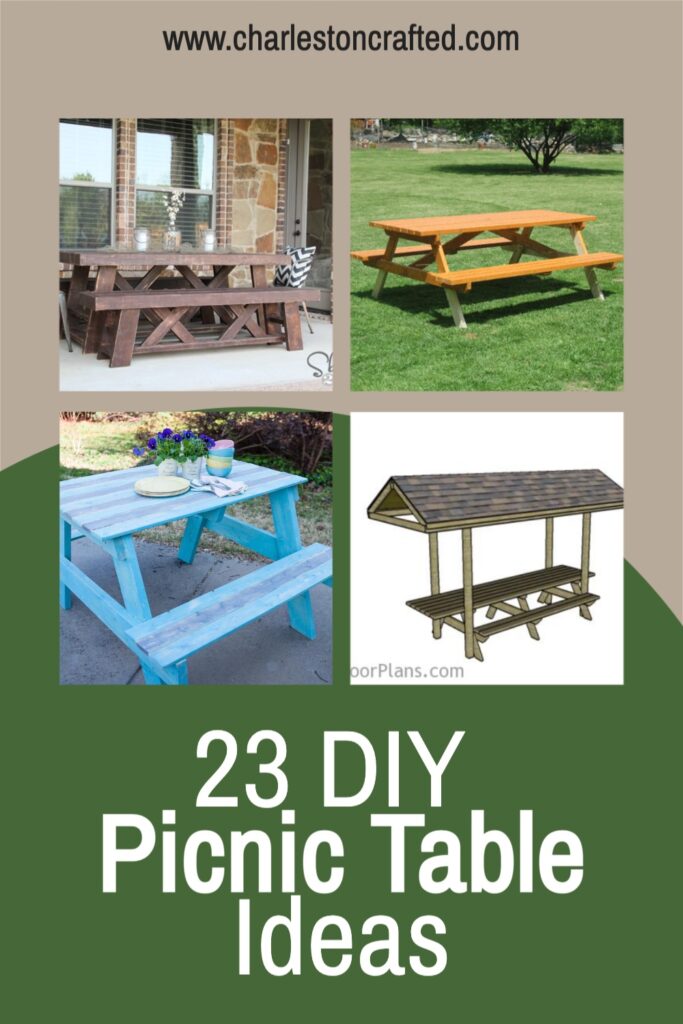 Types of picnic tables
There are a few different types of picnic tables.
Traditional picnic tables
Traditional picnic tables are tables with built in benches. The table and benches are usually rectangular and parallel to each other.
A typical full size picnic table seats 6 adults – three on each side. For extra seating, pull up two chairs on the ends.
Other shapes of picnic tables
Picnic tables can also be shaped as octagons, squares, and more. The two long benches attached to the table with seat supports is what uniquely makes them picnic tables.
Kids picnic tables
Kid's picnic tables are obviously smaller and scaled for children. They can be a great option if you have a lot of kids or have kids over a lot.
Just be mindful that if adults can't sit there, you will need adult seating, too.
Picnic tables are generally easy to build because they are primarily straight cuts .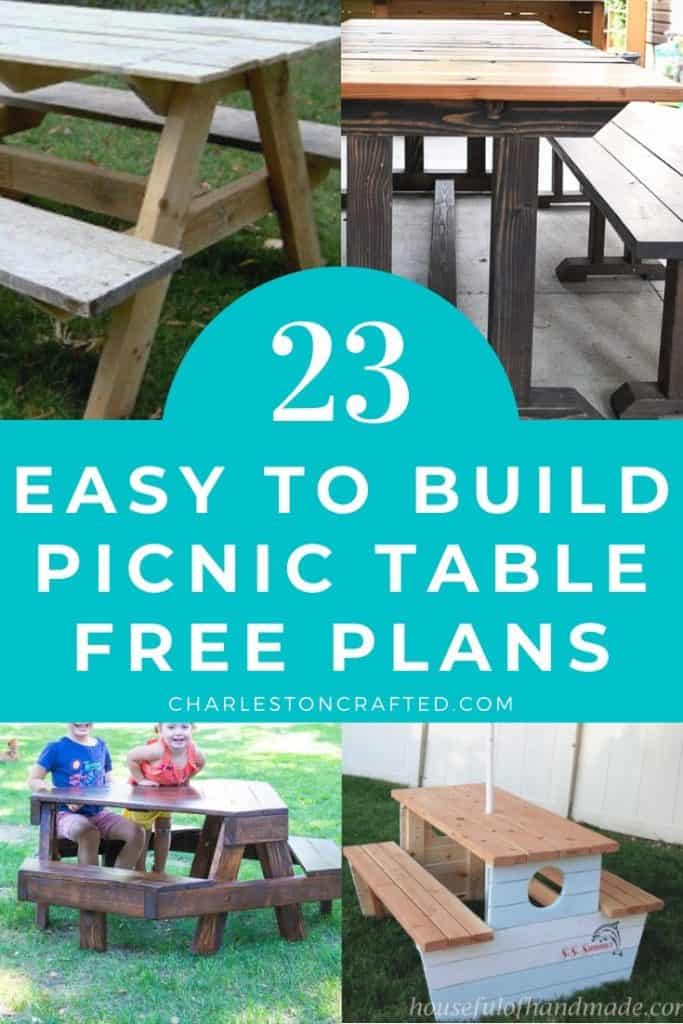 What type of wood should I used to build a picnic table?
When building a picnic table, be sure to use pressure treated wood or wood that is made to withstand exposure to water and the outdoors. Treated lumber has been treated with chemicals to help keep it from rotting.
Extra features to consider
Want an extra-fancy picnic table? How about adding:
a built in cooler
an umbrella holder
a power outlet
extra end seats
How much does it cost to build a picnic table?
Treated lumber isn't cheap, so building a picnic table can get pricey quickly. You can pretty easily build a very basic picnic table for about $100 in lumber, but it can definitely go up in price from there.
Don't forget to budget for hardware including deck screws and carriage bolts. If you have these on hand already, you can save a little money.
What is the best material for a picnic table?
Assuming you plan to put your picnic table outdoors, you will want to either use a wood that is moisture-resistant or apply an outdoor sealant to help keep out moisture.
This would include:
Cedar
Redwood
Douglas Fir
Cypress
Teak
Pressure treated lumber
Otherwise, moisture can lead to mildew, rot, and the table not lasting for very long in the elements.
Here is my guide to sealing wooden furniture for use outdoors!
Want to buy a picnic table instead?
Given up on the idea of building a picnic table already?
Here are some of the top rated picnic tables on Amazon!
And here are some other picnic tables for sale online!
[show_shopthepost_widget id="4004638″]
DIY Picnic Table Ideas
Today I have rounded up a bunch of fantastic DIY picnic table ideas, with links to blog posts with full step by step tutorials so that you can build your own.
These free picnic table plans are all inclusive! They include materials and cut lists, tools lists, and step by step written instructions. Some even have video tutorials!
I hope that these picnic table plans get you inspired to get building your next DIY project!
DIY Picnic Table Ideas
Want to build a DIY picnic table? Here are several great step by step tutorials from ourselves and other awesome DIY bloggers!
Which one of these DIY picnic tables is your favorite?!
Facebook | Instagram | Pinterest | Twitter | YouTube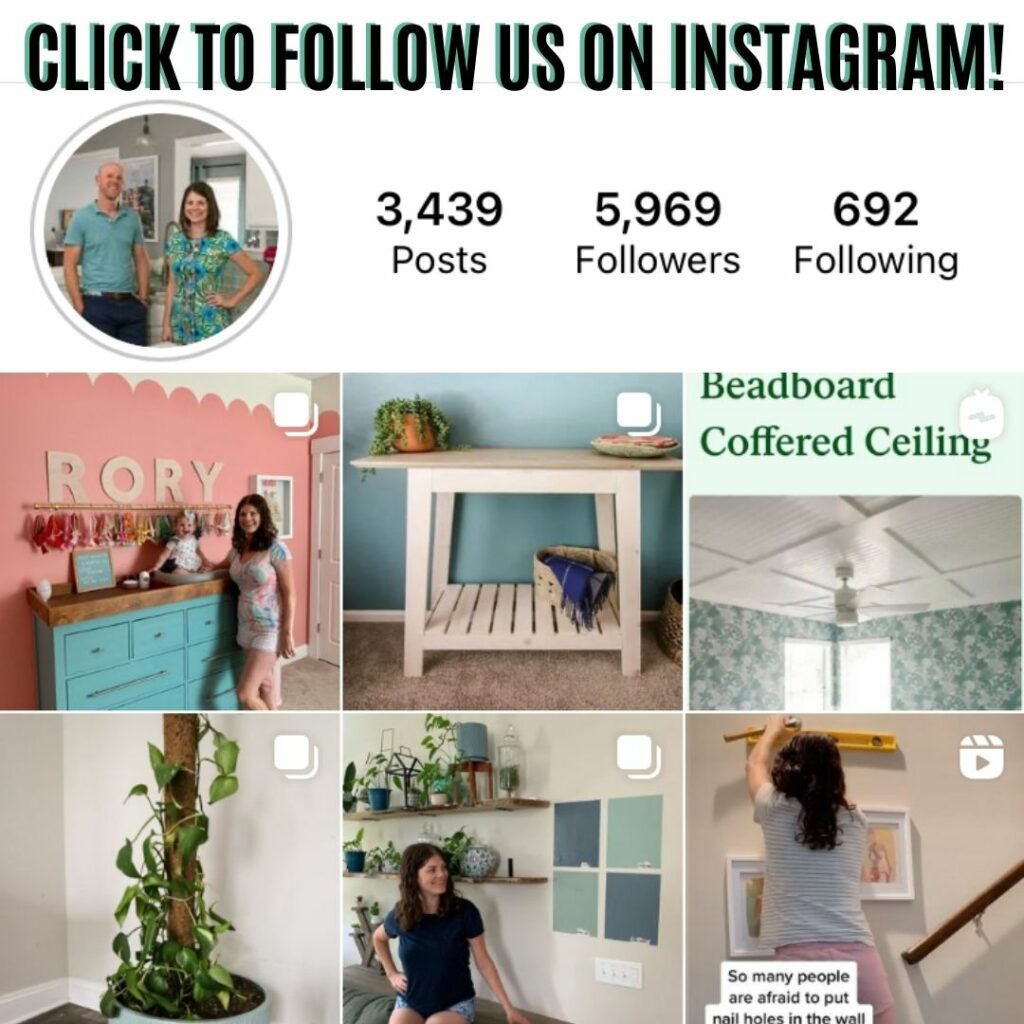 ---
Can we send you our newsletter?
Another great way to keep up with out latest projects is by joining our weekly newsletter! Get alerts of our latest projects and special peeks behind the scenes!
Follow along on Instagram
Join our online community where we share real time behind the scenes looks at our DIY projects and peeks inside our home + family!
---