We love our beagle mix, Cici, to the moon and back. However, sometimes I feel a bit sorry for her being stuck with us all the time, without any puppy playmates. That's one of the big reasons that we got an annual pass to the Charleston County Parks – we now have no excuse for not taking her to the dog park (there's one less than a mile from our house!) on the reg. When we got the annual pass, we also got a bunch of coupons and info about the county parks. That's where we heard about Dog Day at Whirlin Waters.
You can read our page on all of the Charleston County Parks here!
Dog Day at Whirlin Waters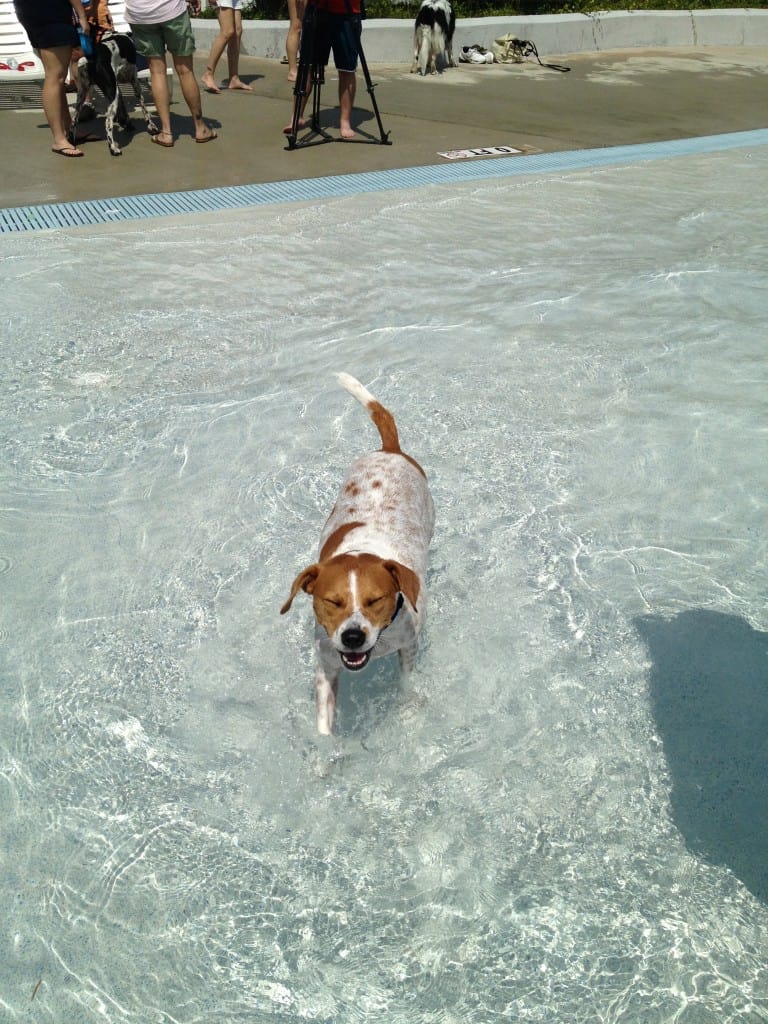 What it is
Whirlin Waters is a waterpark at Wannamaker County Park in North Charleston. We had never actually been before, but decided to make the trek for Dog Day. Dog Day at Whirlin Waters is the last day of the season for the park. They allow dogs in any of the pools, and off leash all over the park. It cost $8 a dog [but humans were free!] We signed up in advance online and brought the waver with us.
We didn't know what to expect with Cici. At the regular dog park, she goes about elbow-deep in the water. Sean says she was traumatized as a puppy when she first chased another dog into the pond and suddenly found herself in over her head, quite literally. Since then, she never goes in where she can't reach.
We have also taken her to the park at Kiawah, which (we just recently learned) allows dogs off-leash year round. She loves digging in the sand & splashing in the surf, but we have to pretty much drag her in if we want her to actually "swim", and she always bolts straight towards the shore.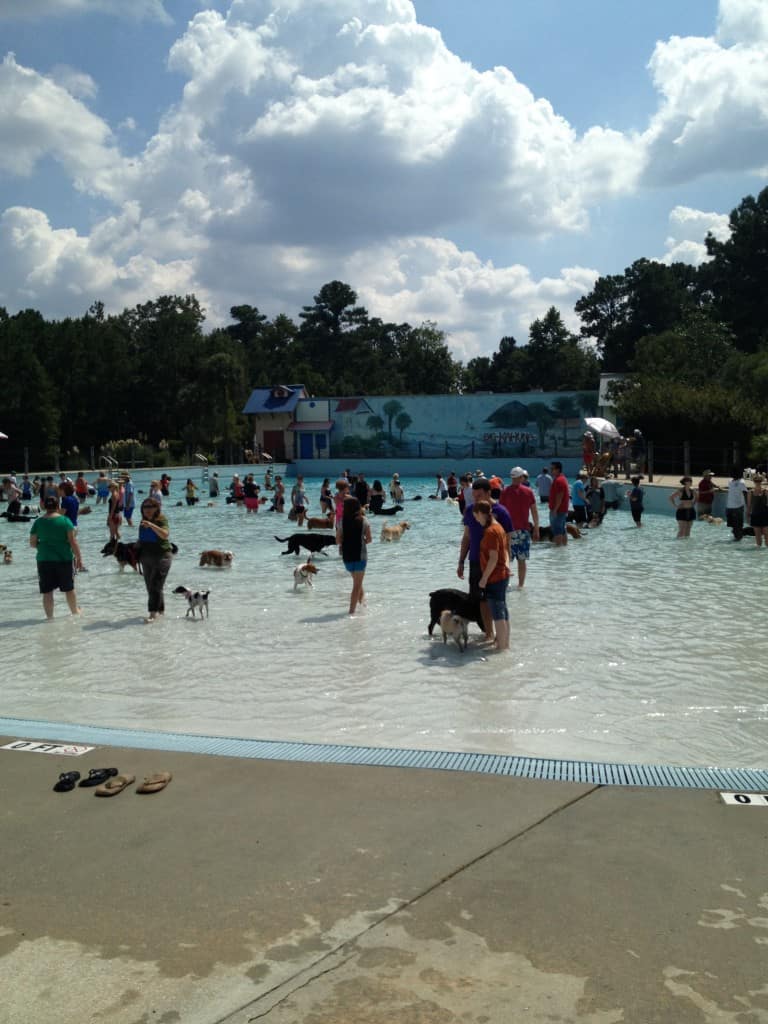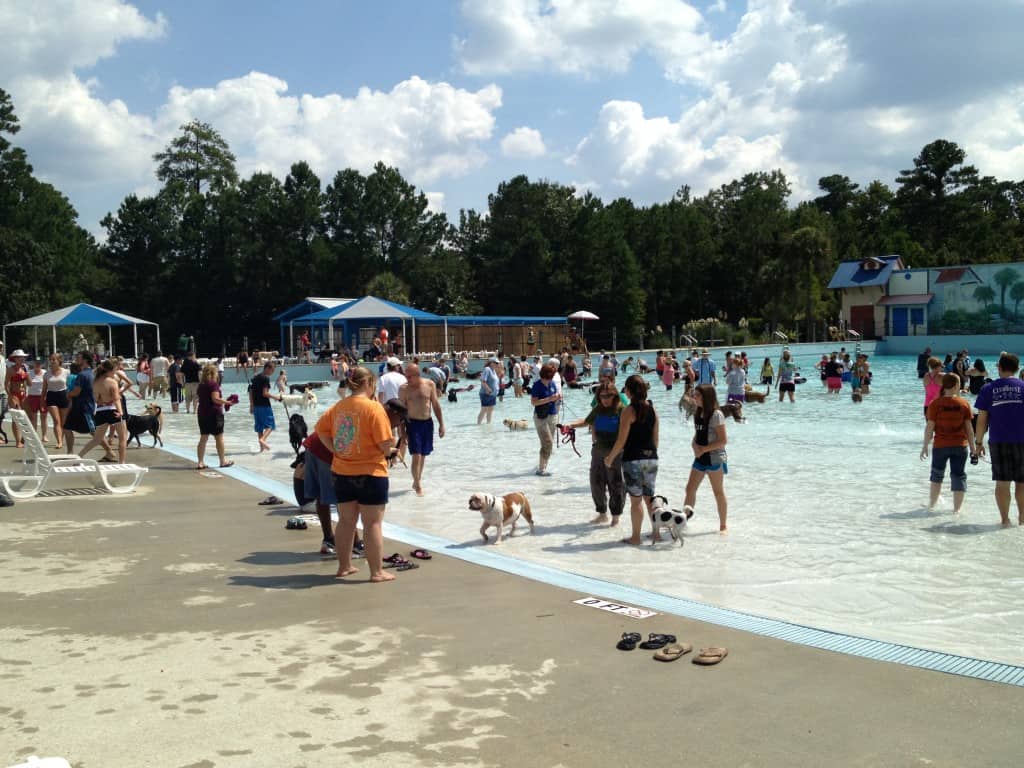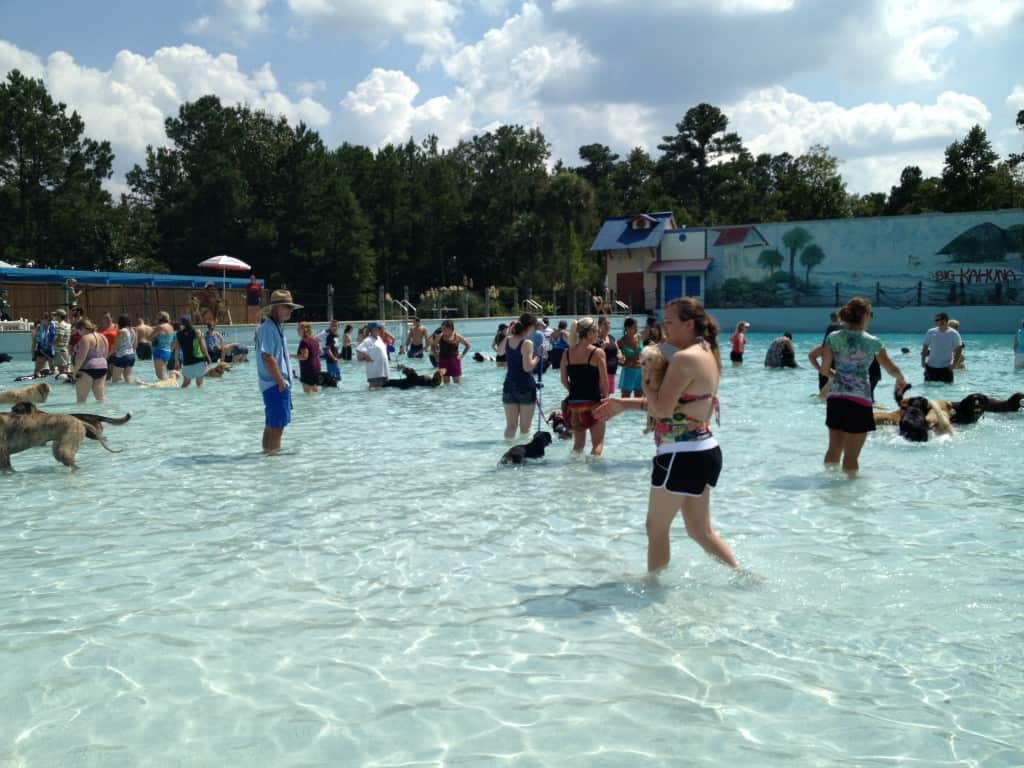 What they have
So, we didn't know what to expect at the pools. When we arrived (about 1 hour into it) there were TONS of dogs there already. She was thrilled to be let off the leash and sniff around. We first headed to the biggest pool, which was the wave pool. This was very dog friendly because of the "beach" entrance to the pool. On the edge of the shore, there was a grate/drain. This spooked Cici at first (it made a woooshing noise as water fell into it) but she got over it pretty quickly.
We walked Cici out into the water, but only about knee deep (her knees, not ours). She basically stood there, looking around with a weird look on her face, as did many of the other dogs. The thing is, Cici's favorite thing to do at the park is sprint & run. She is so fast and loves being chased by big dogs. But, this was a concrete water park. Nobody was running, and lots of the dogs were still on their leashes by their owners sides. Cici's really good about sticking with us- we weren't worried about her running away- but we did want her to have fun.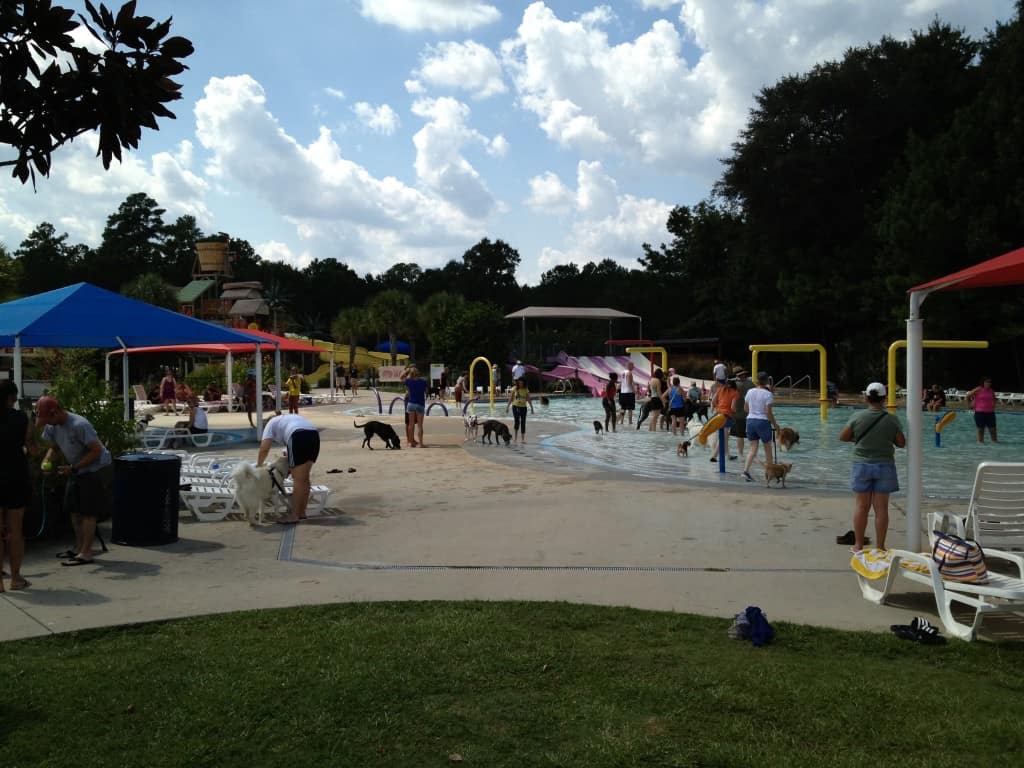 We were starting to think that this whole thing would be a fail. So, we decided to head to the kiddie pool, where one of Sean's friends was with his weenie dog. The water was only about 6 inches deep, but his little legs were so short, he had to swim. We tried to throw the tennis ball for Cici, but she chased it and then was too afraid to get water in her mouth (we are assuming) to pick it up. We were starting to think that this was a bad idea.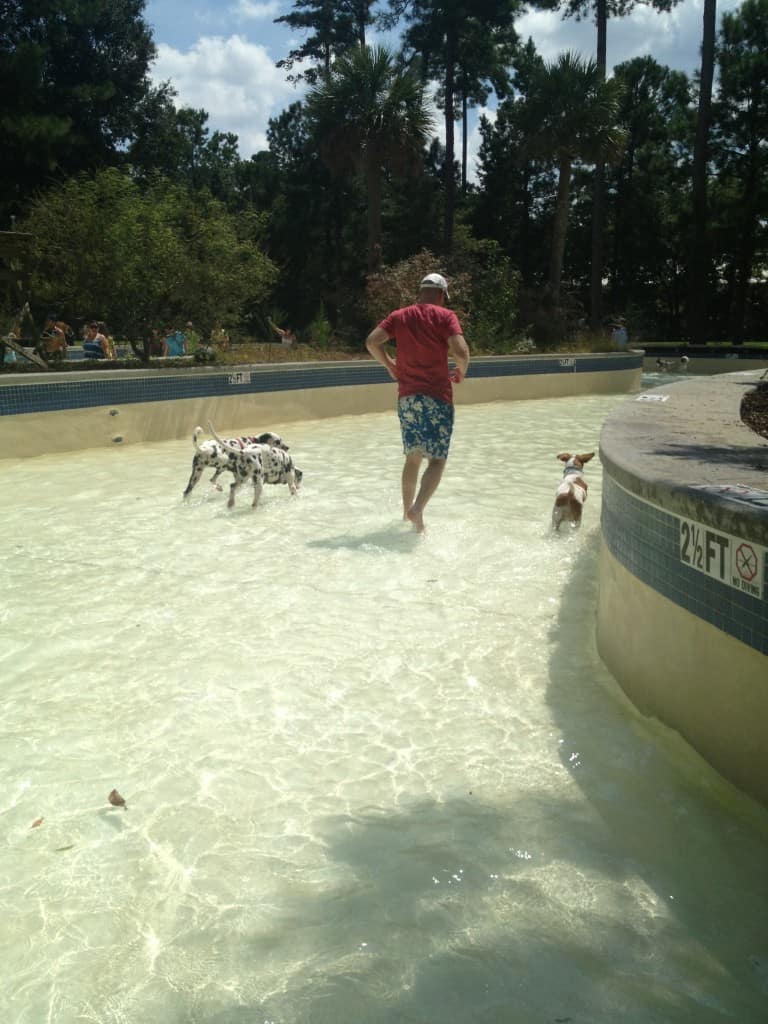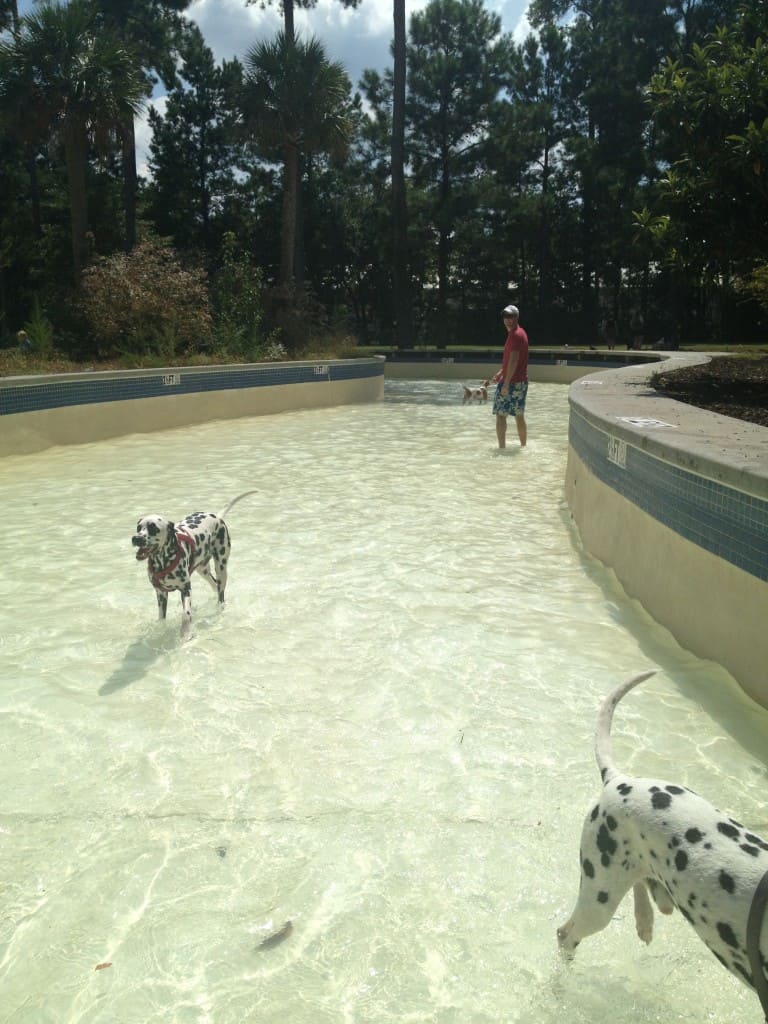 When Sean's friend left (he had gotten there an hour before us) we decided to make one last try at it with the lazy river. They had drained it to about 4 inches deep. We starting slowly walking down the entrance ramp, figuring that Cici would still be nervous, when all of the sudden she took SPRINTING off into the river. She was chasing after two Dalmatians! CiCi quickly realized that this water was fun & shallow & basically a winding racetrack. She splashed, chased, and wrestled with other puppies. The crazy girl even tried to jump over the edge to get to a dog running around the outside of the river (she hit the side and fell down, and it was funny only because she was ok and bounced back immediately.)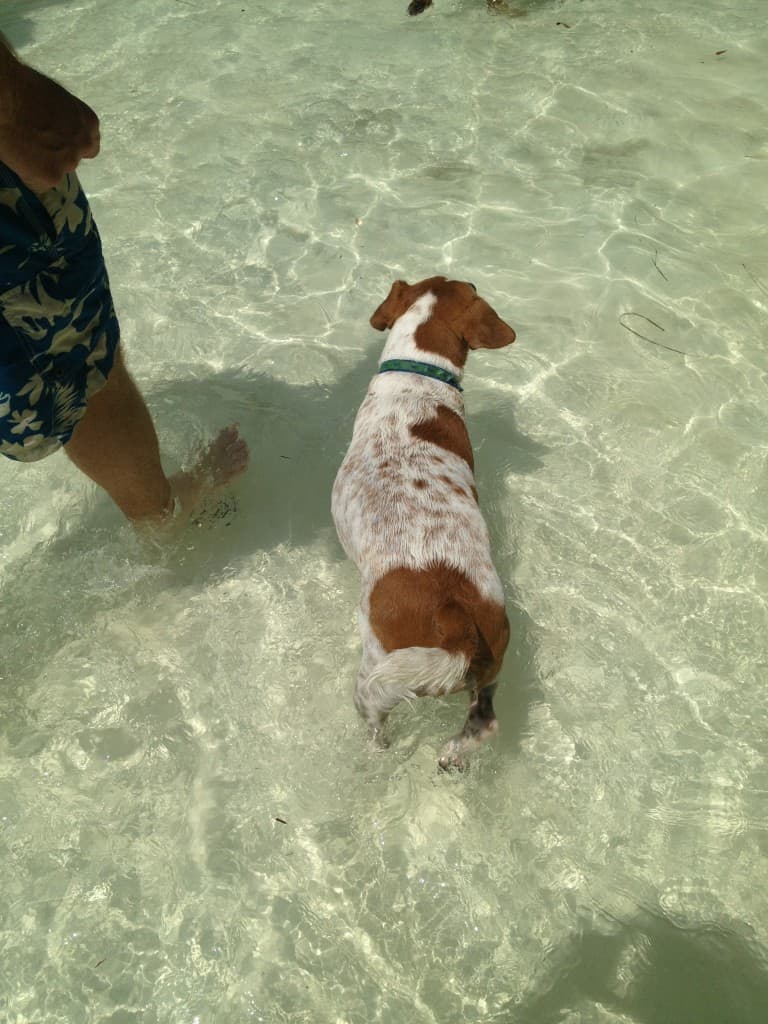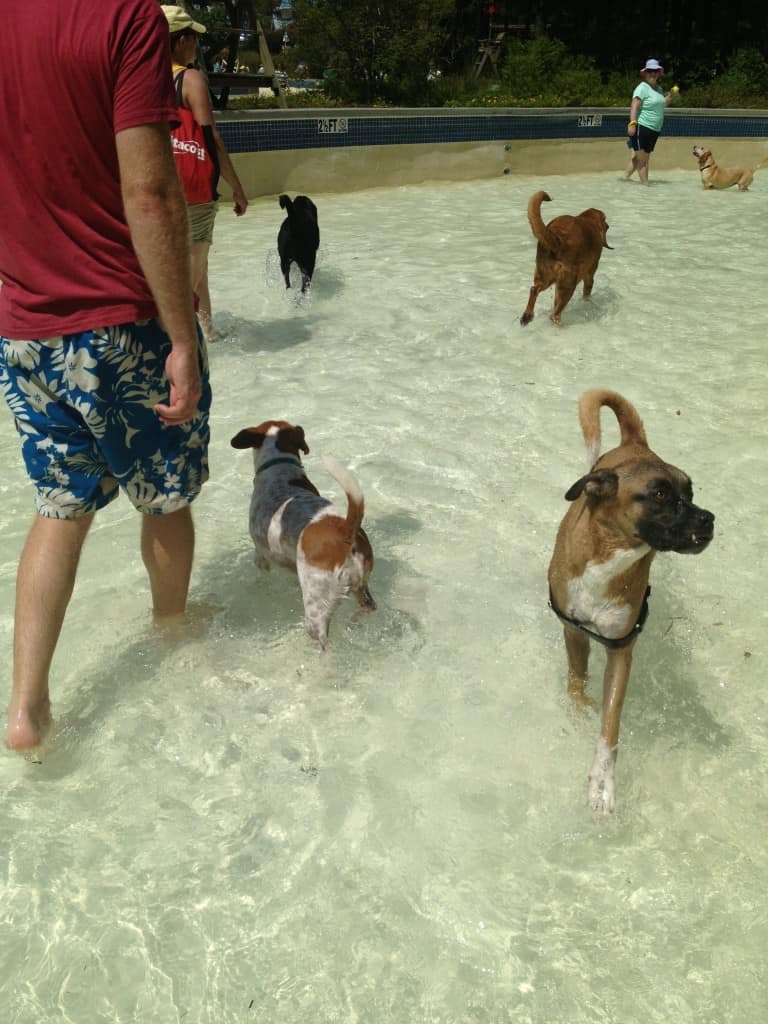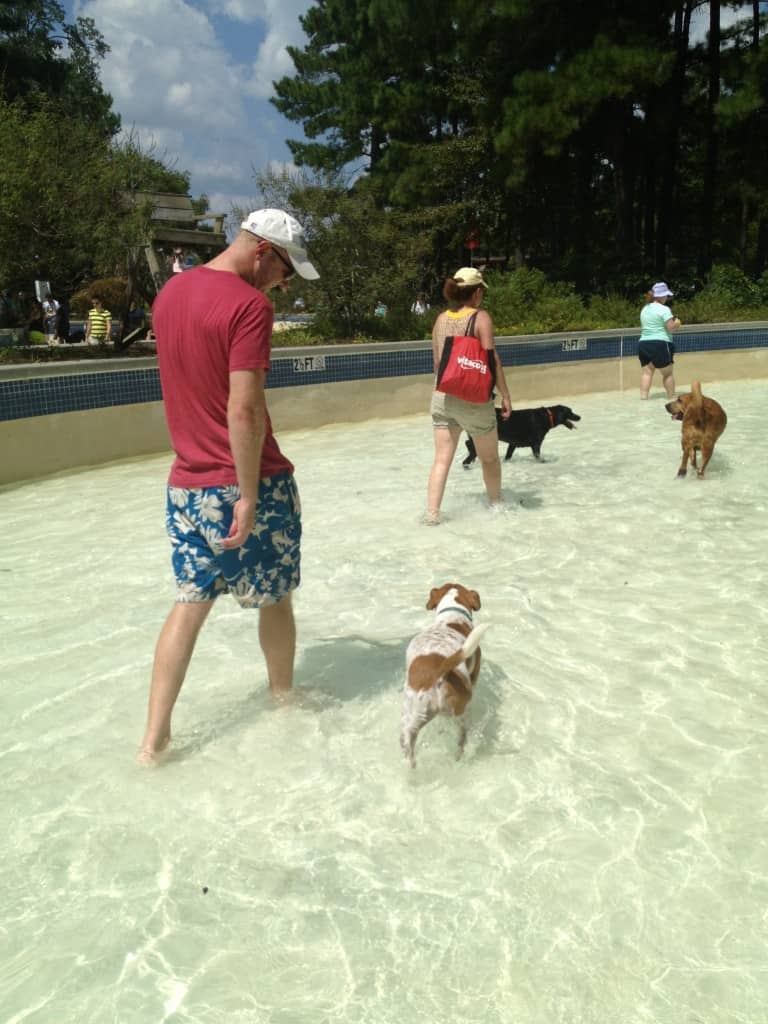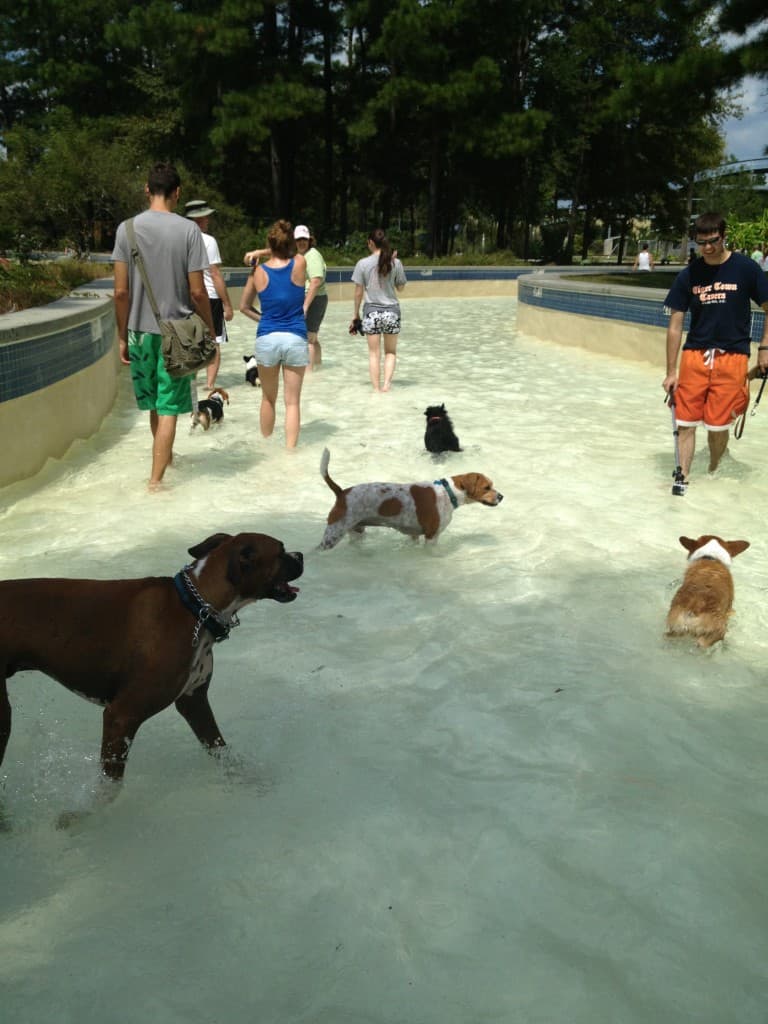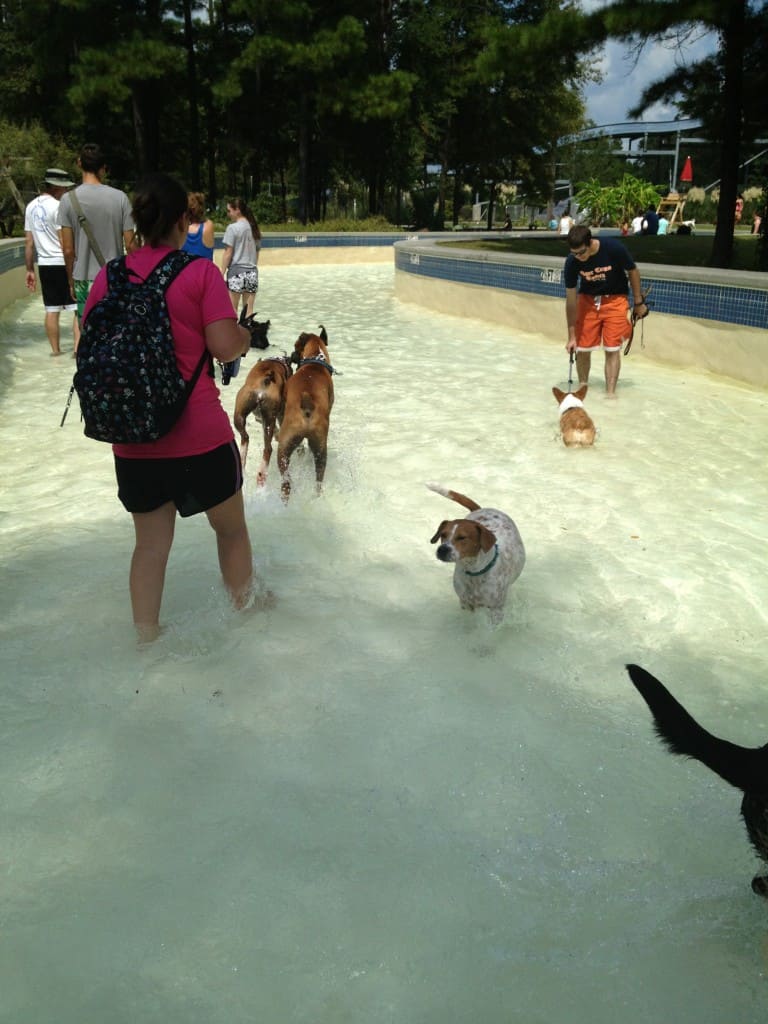 Since she was getting really wild and crazy, we decided to take her to the grassy area on the other side of the lazy river. There she was able to really sprint like at the park and chase Sean & some other pups.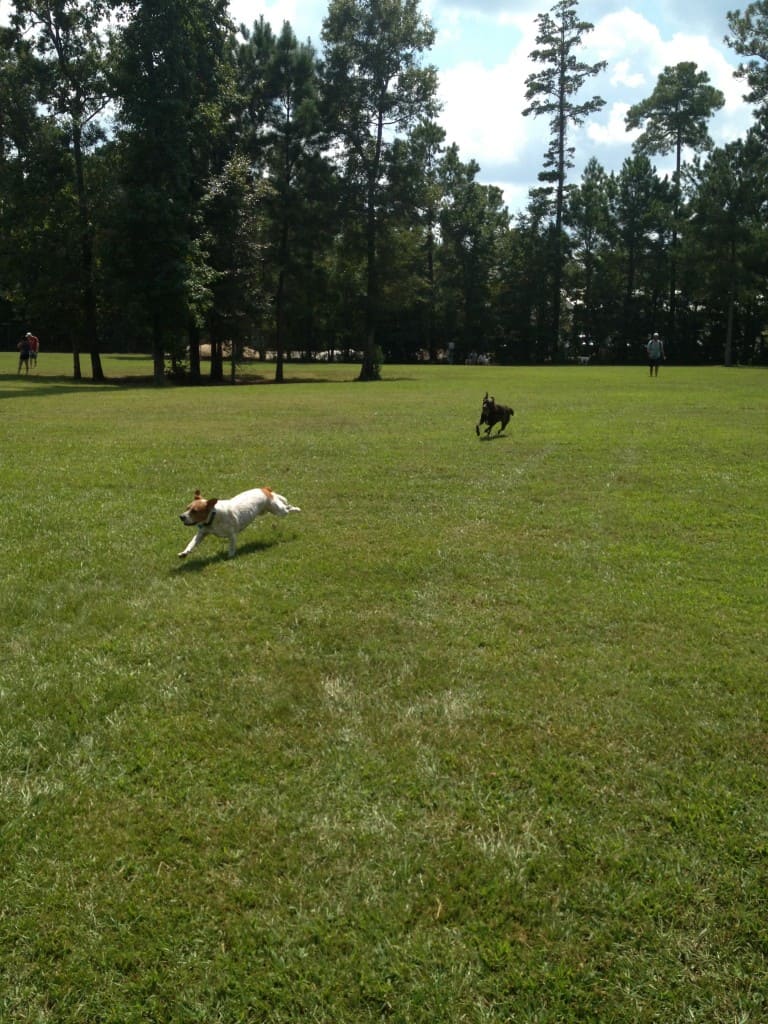 After this, her confidence was really up. Sean & I got dip n dots (yummy!) and decided to take her back to the wave pool. This time she pranced right in! Sean walked in waist deep and she actually followed him! She swam all by herself without any coaxing! Each time she swam a loop out to him and then back to where she could reach, but each time she went deeper and stayed out longer. It might seem silly if you have a lab or another water loving dog, but we had never seen her swim before and she swam a lot!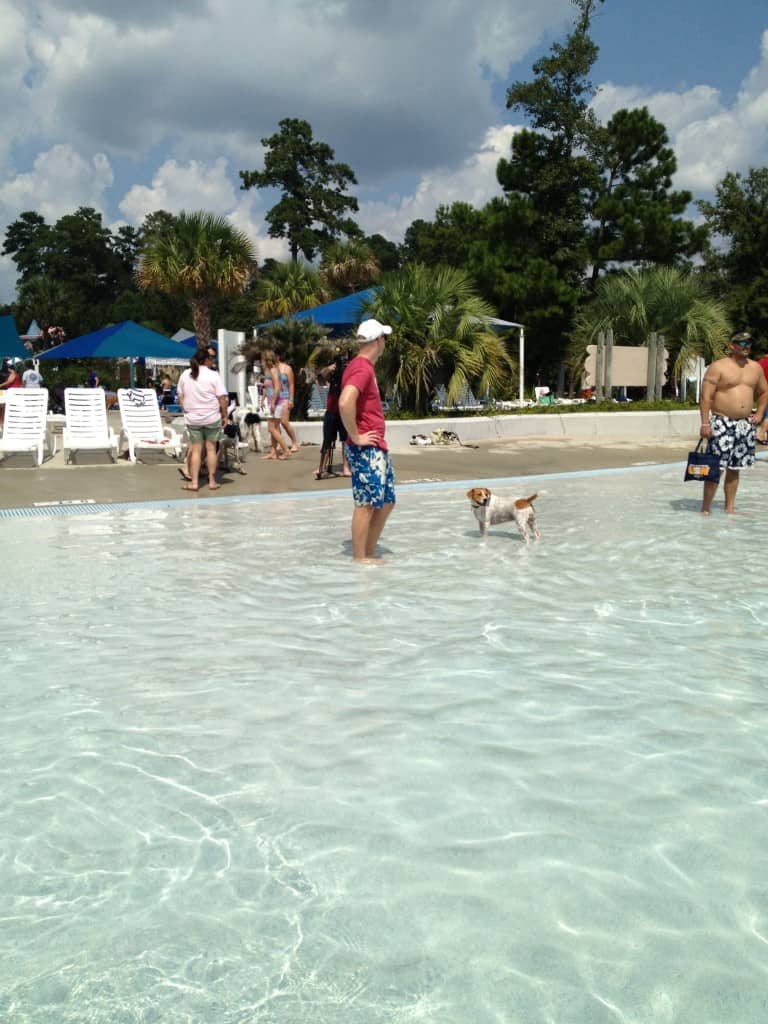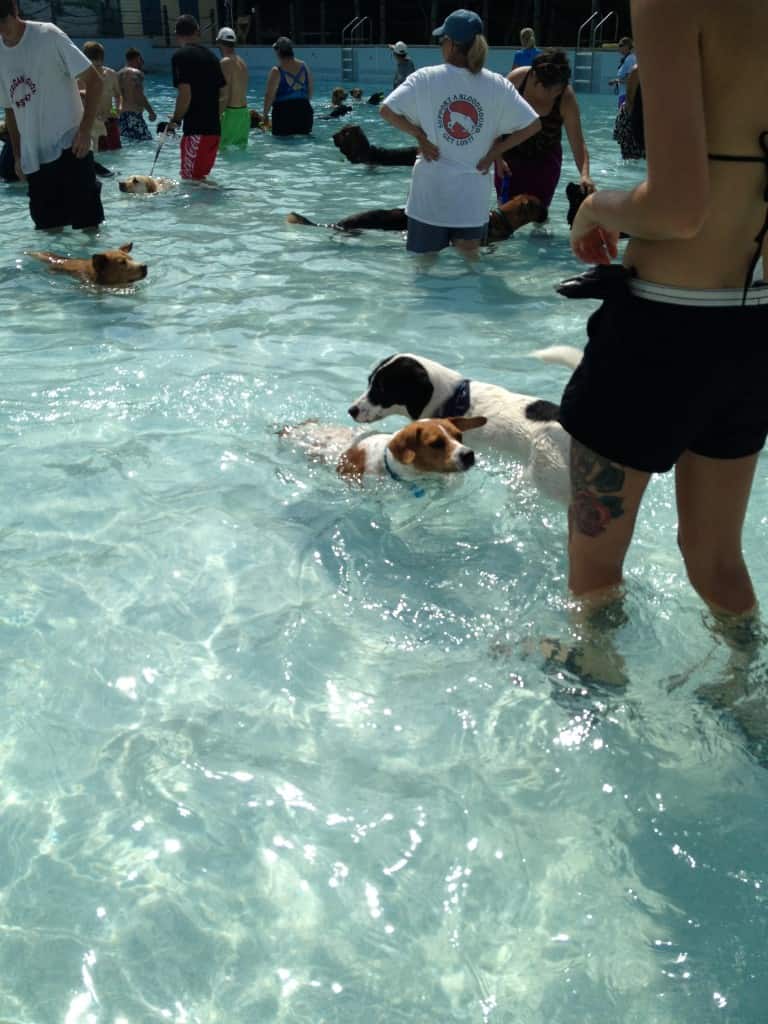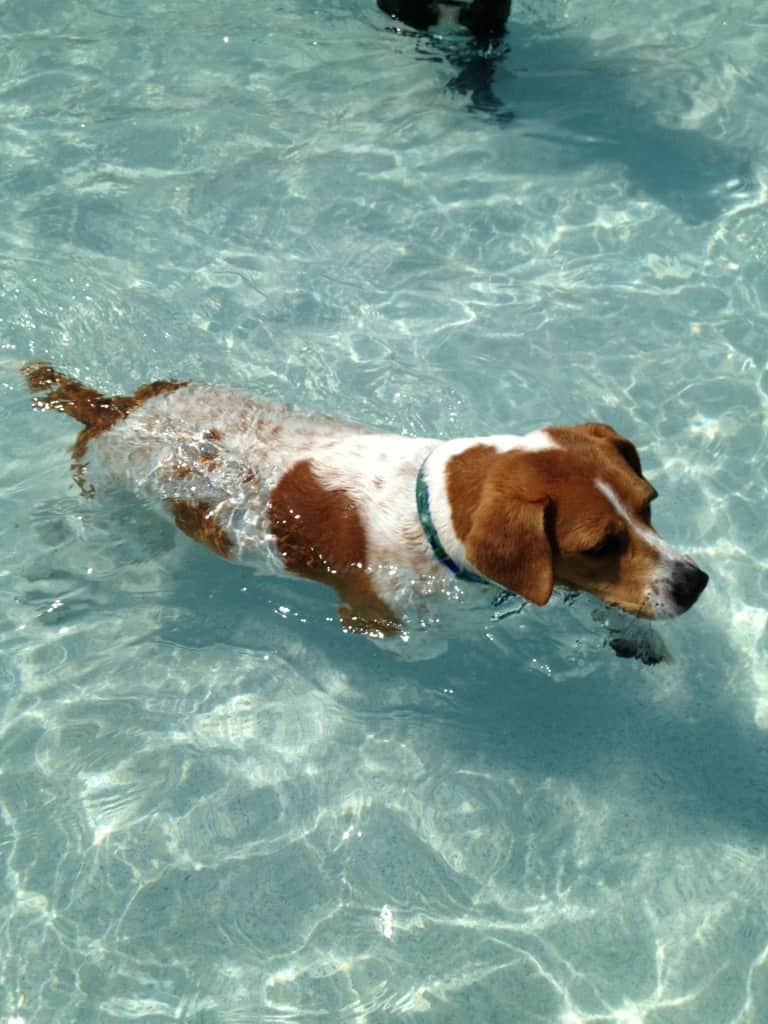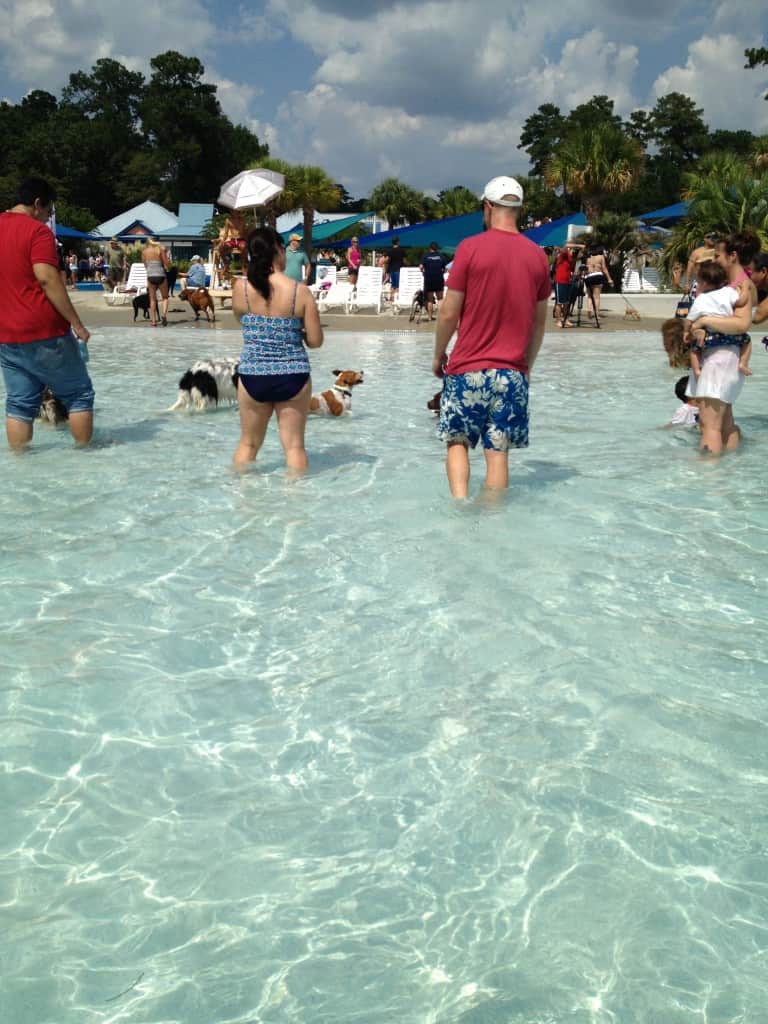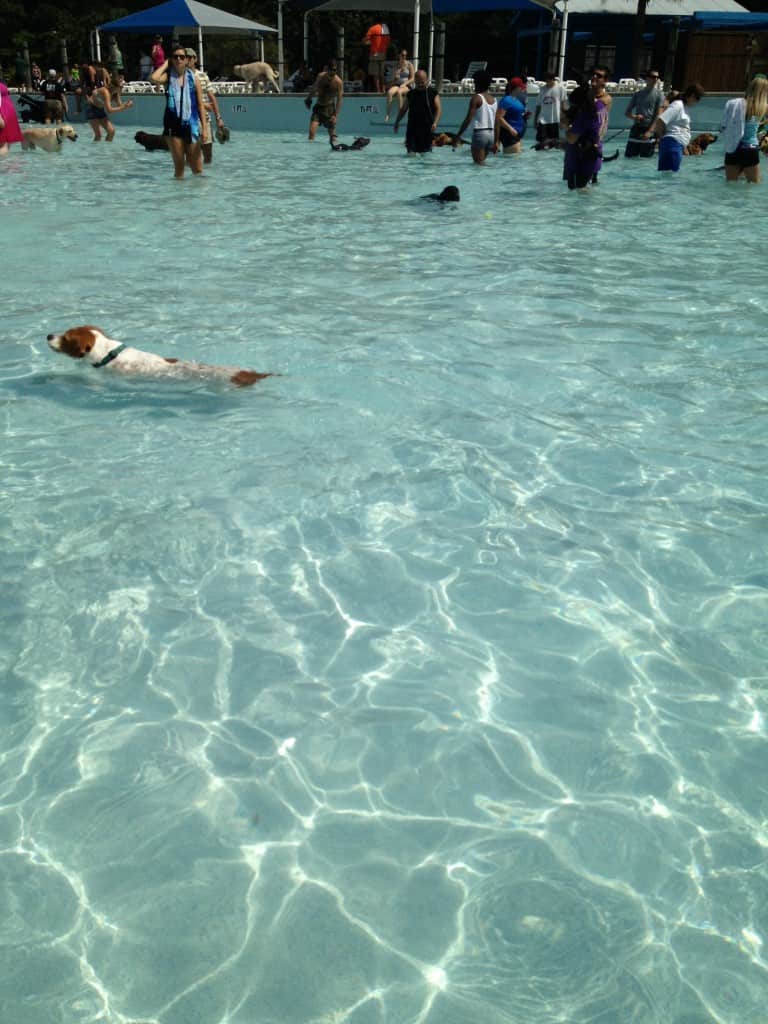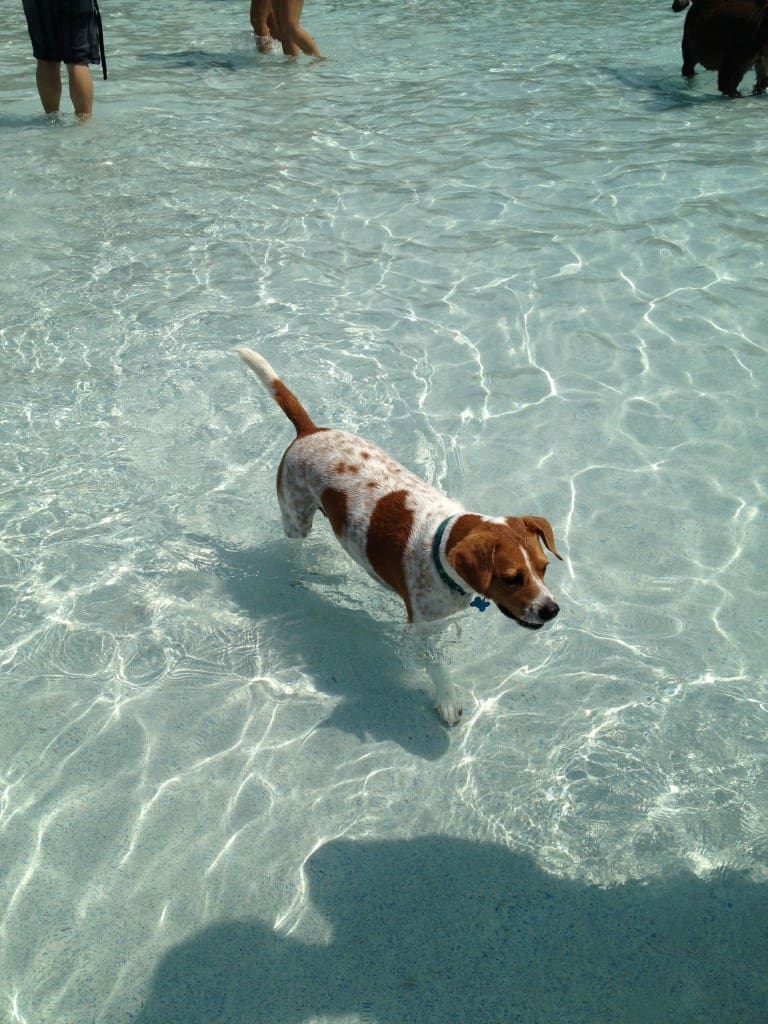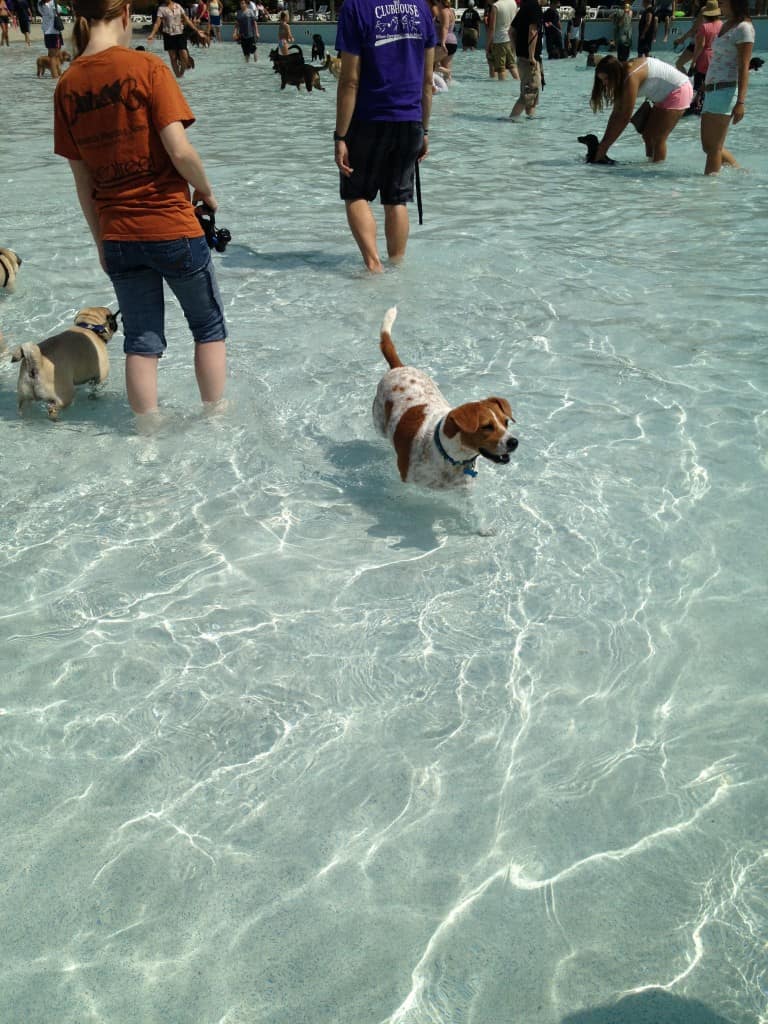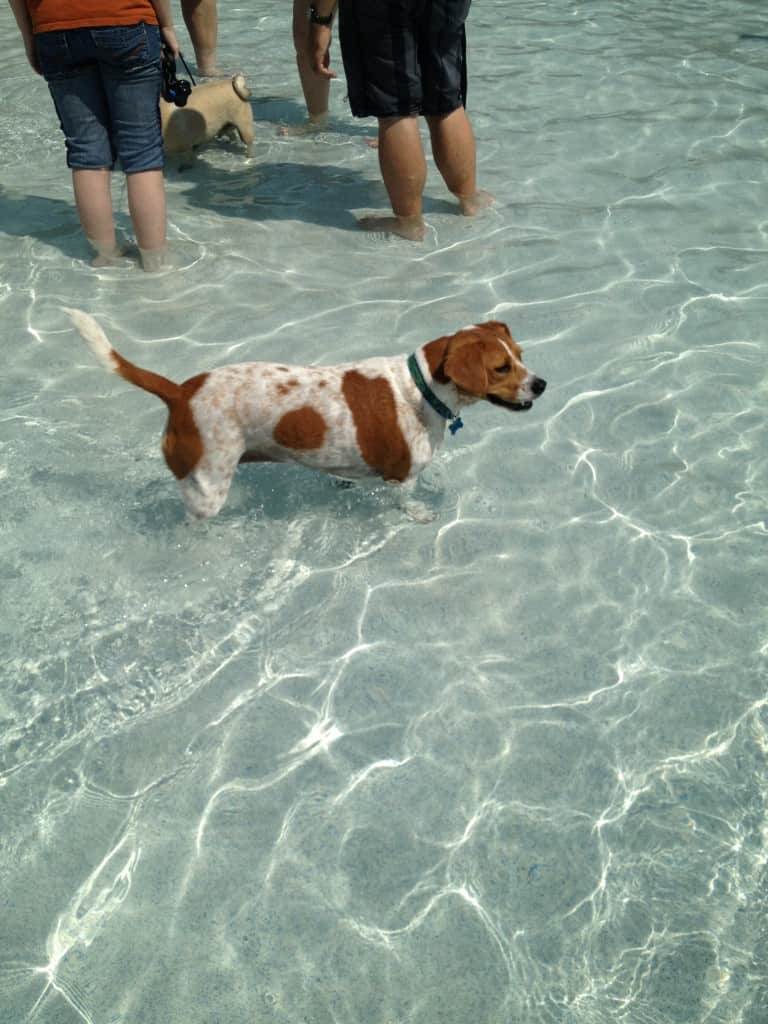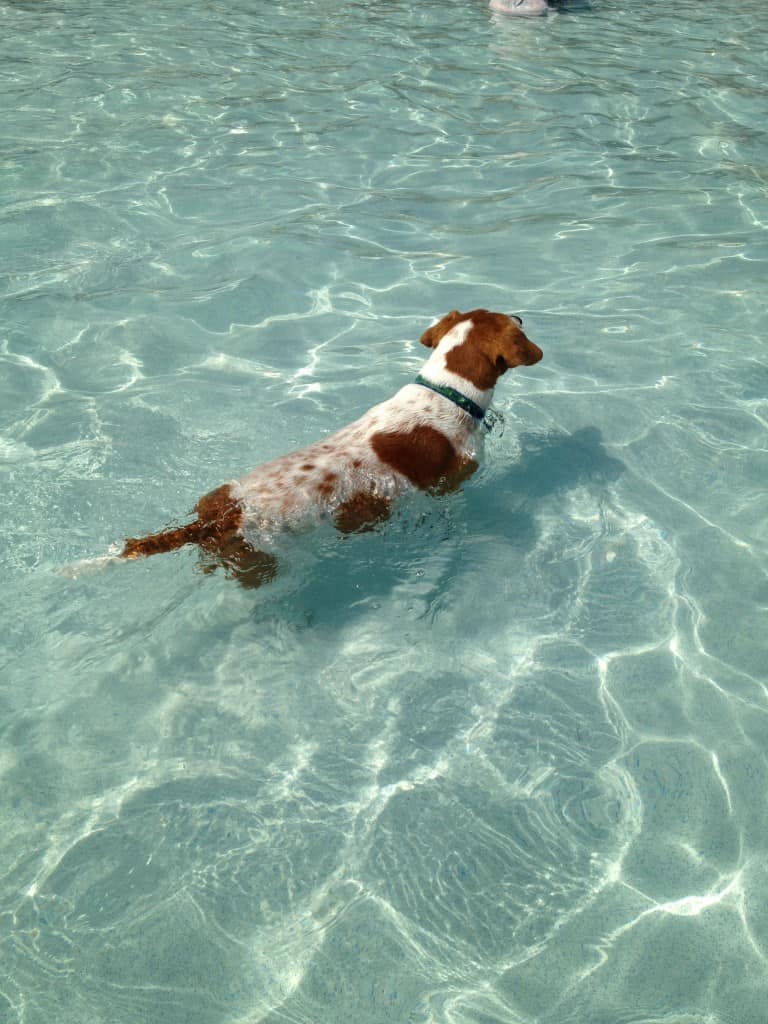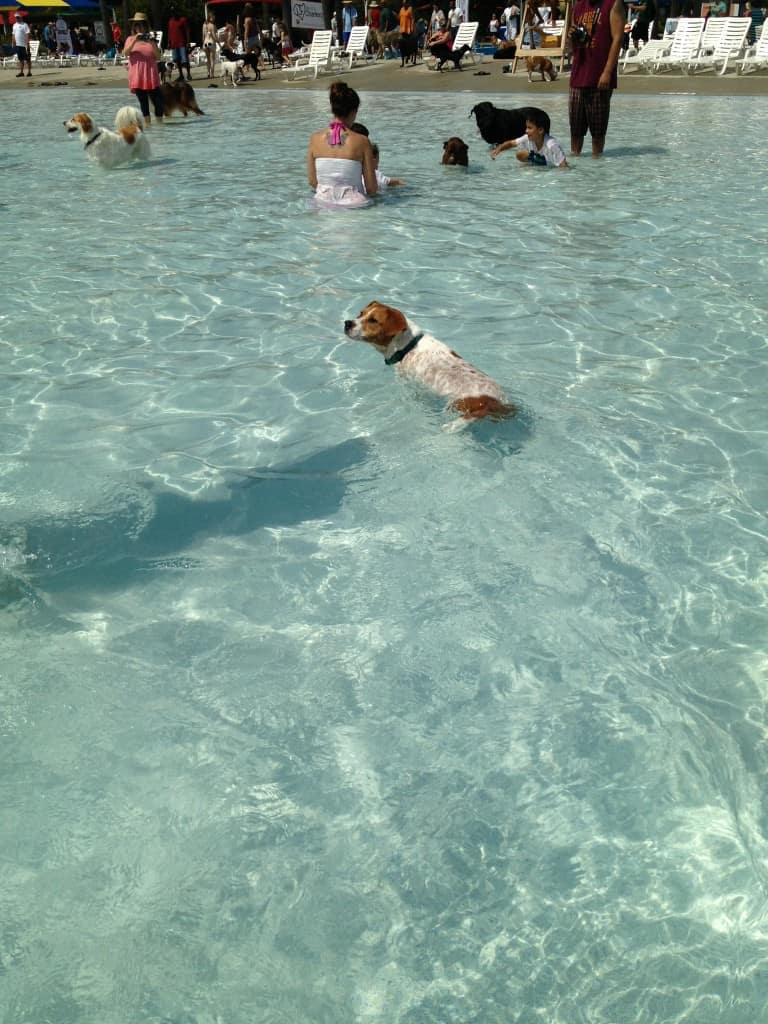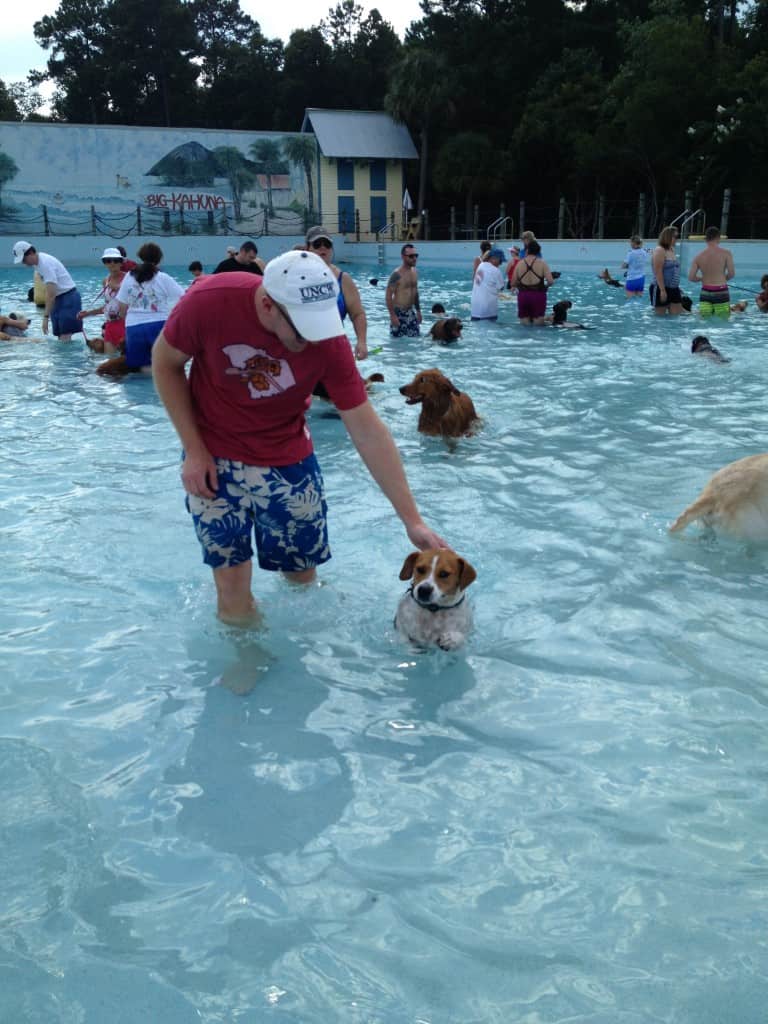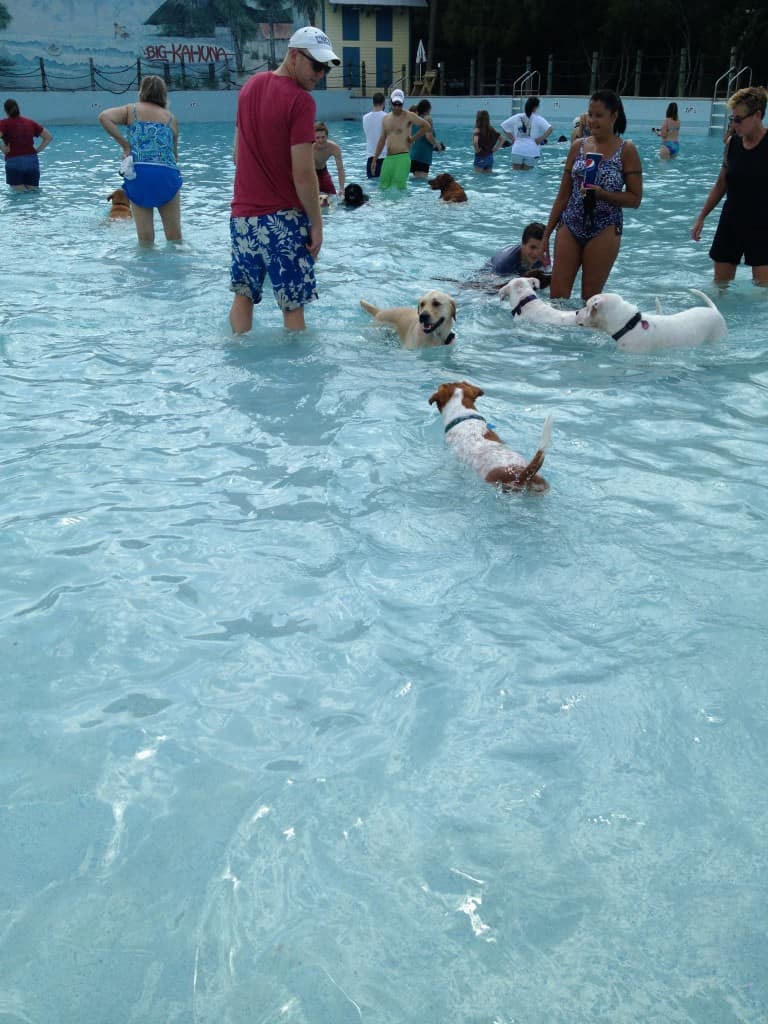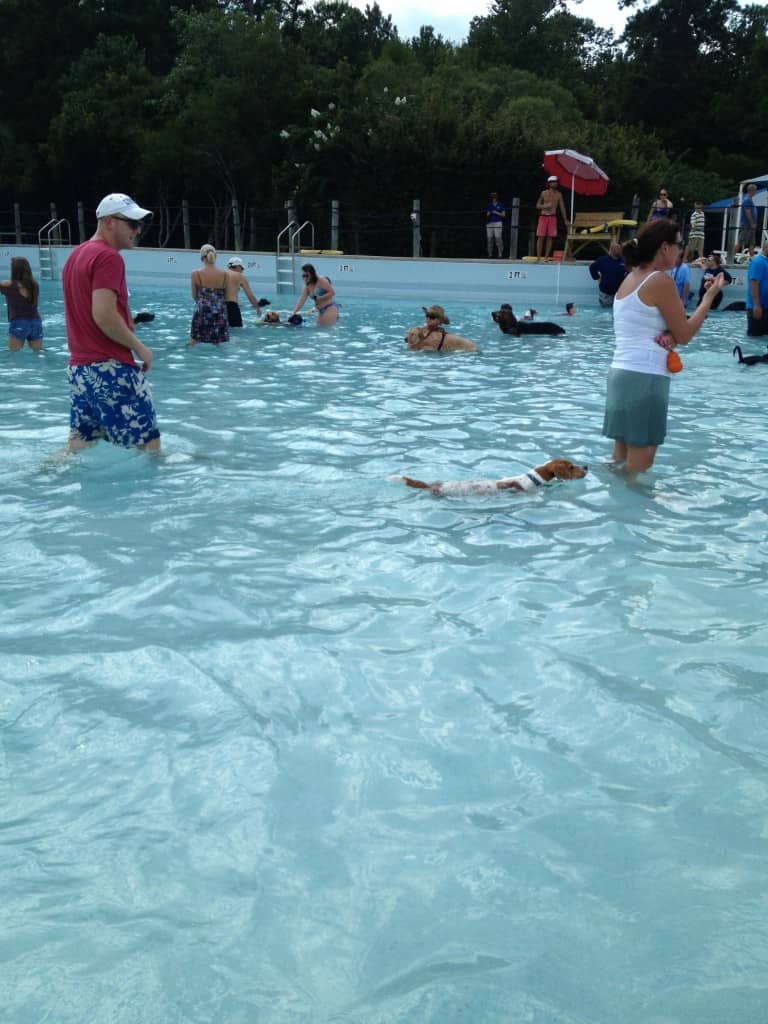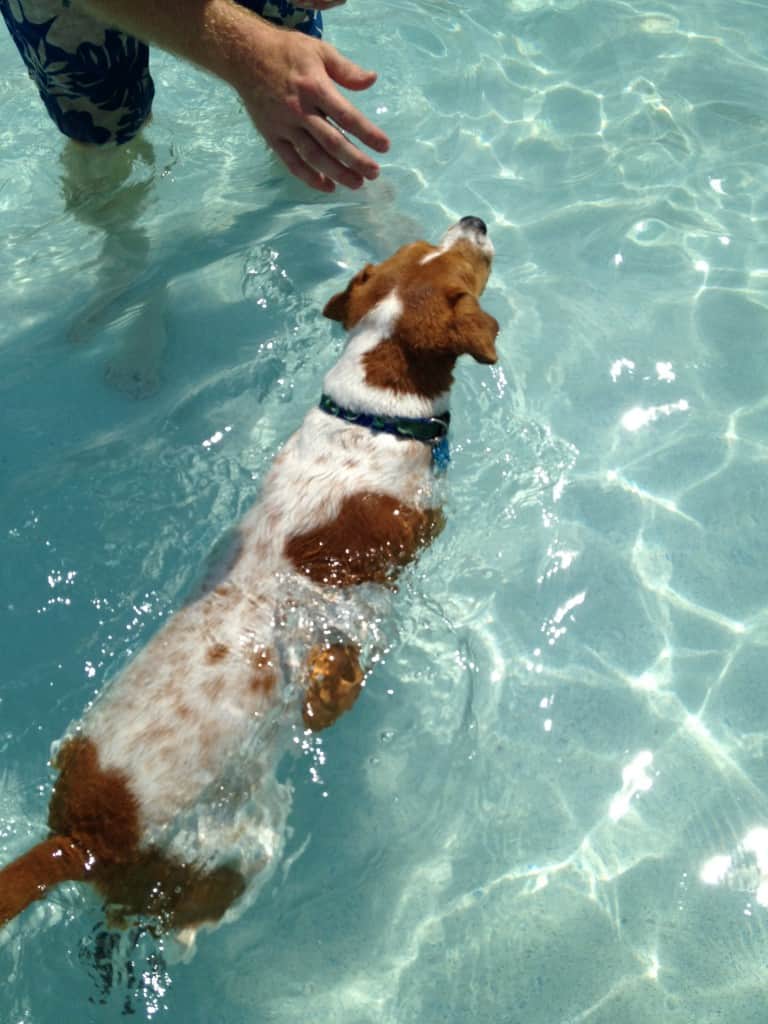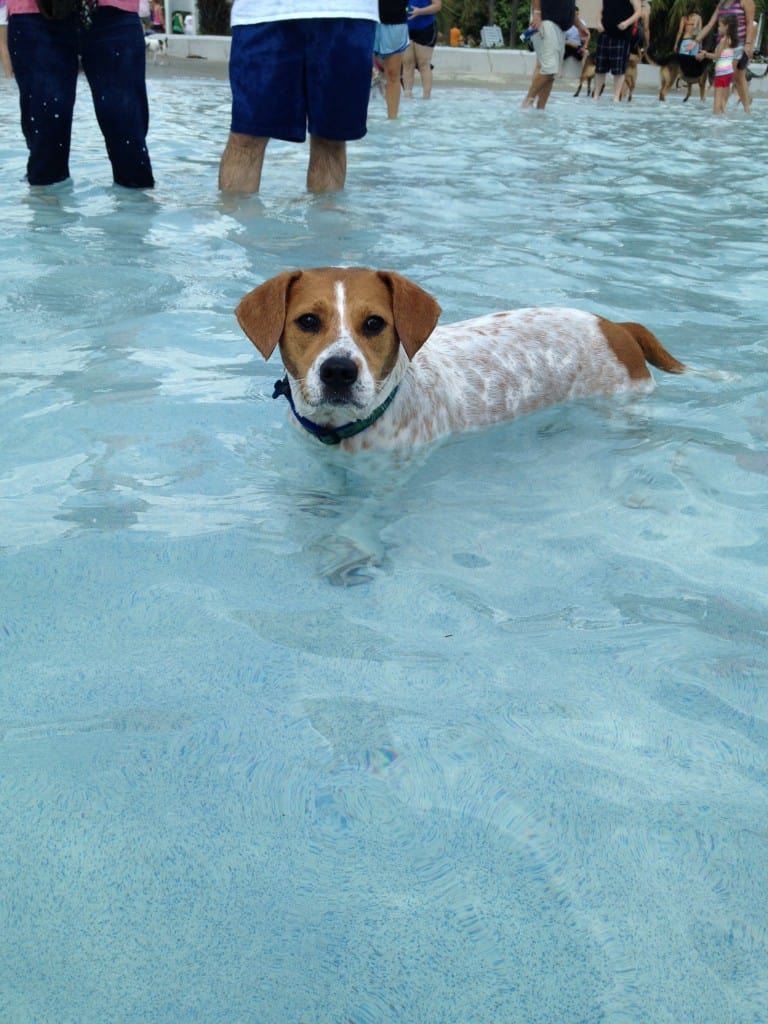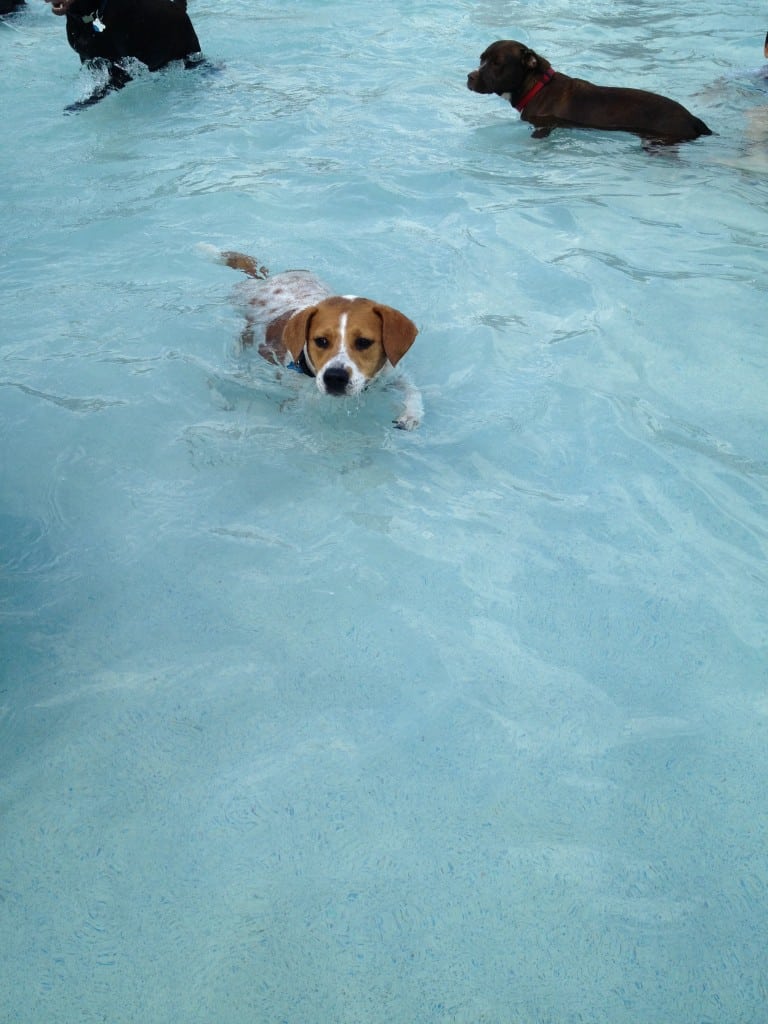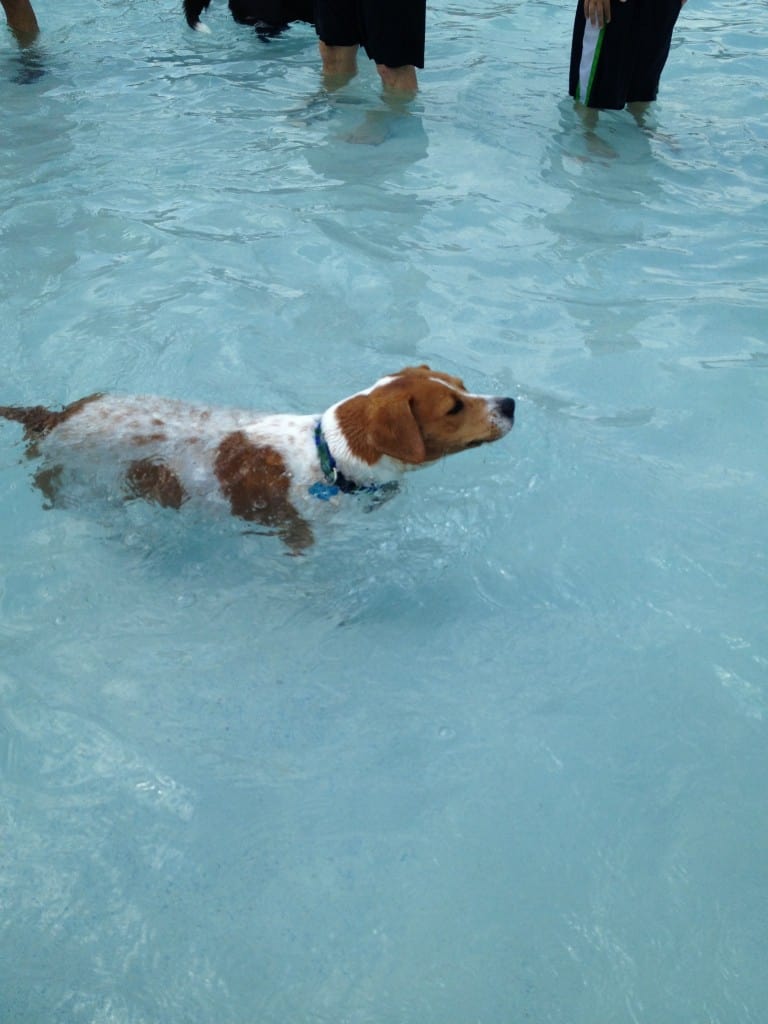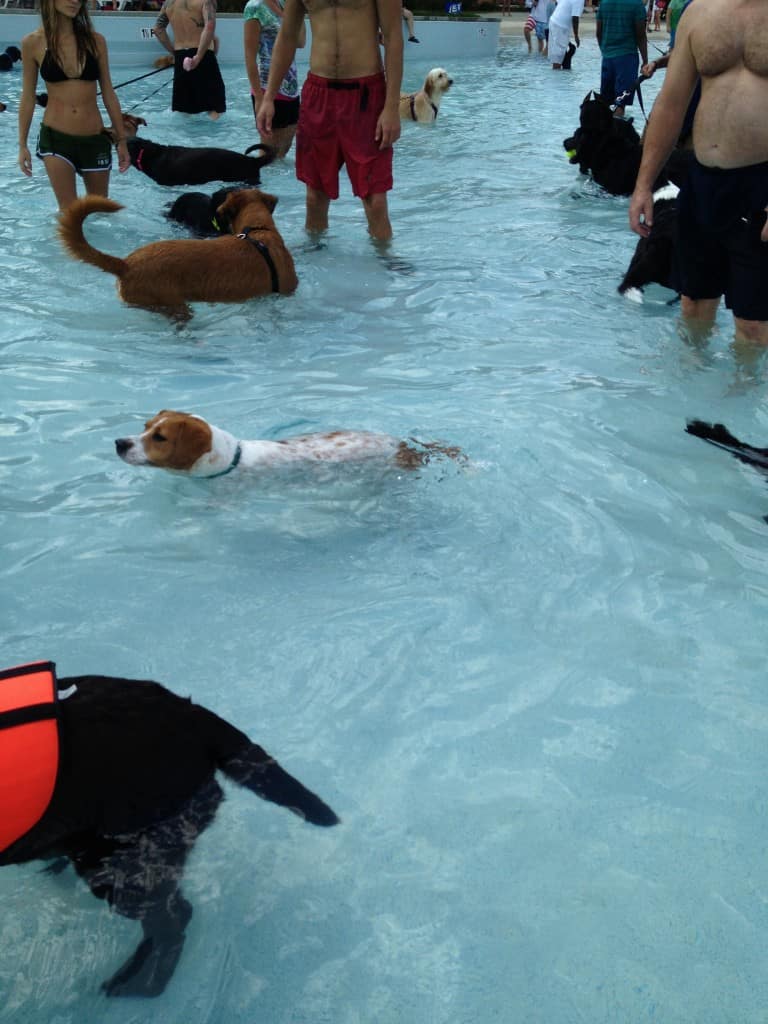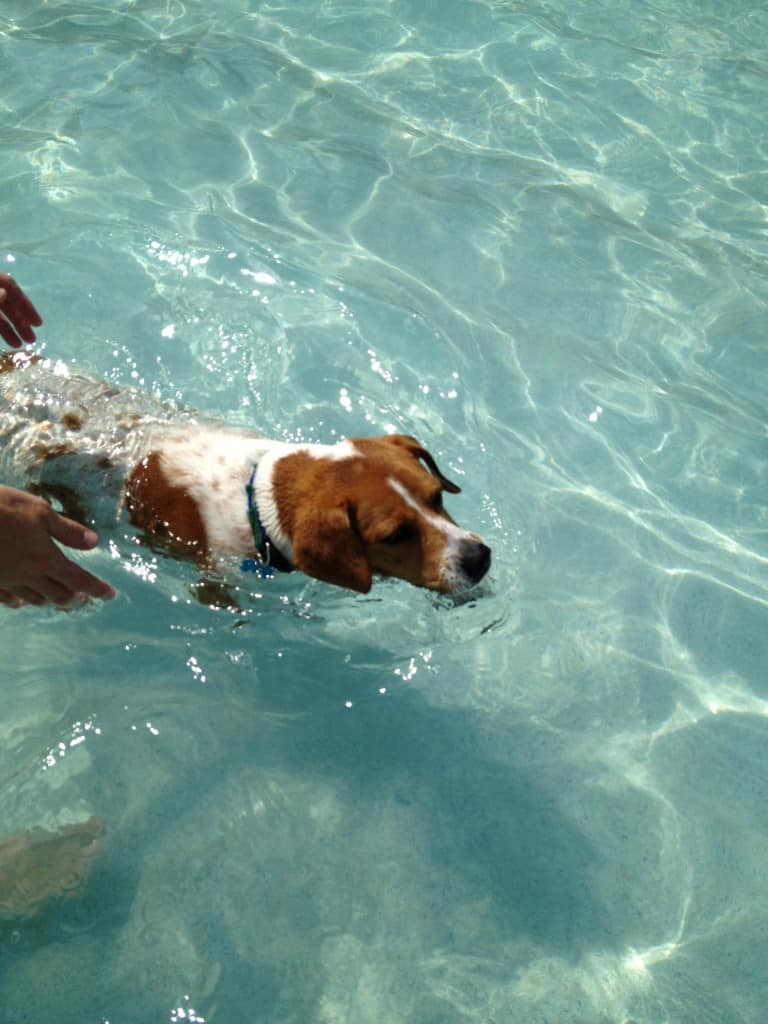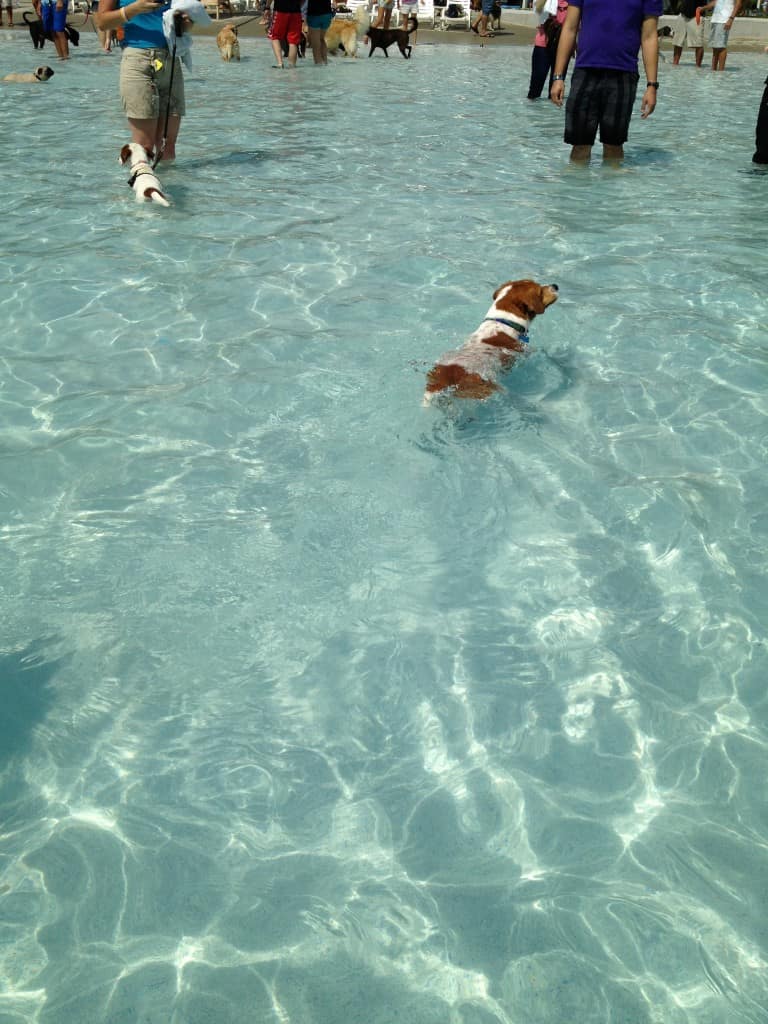 It was such a fun day at Dog Day at Whirlin Waters. We didn't know what to expect, and almost left after Cici was acting scared, but I am so glad we didn't. We ended up staying for about 2 hours and just had an amazing time. I will always treasure these pictures I got of her in the pool, I just think they are too sweet.
Have you ever gotten to do something cool like this with your dog?
It is always a good day when you can do something extra super duper fun with your doggie.