Is your baby berry sweet? The perfect Halloween costume for them might be a strawberry! Here is how to make a long sleeved onesie bodysuit into a DIY strawberry costume for your baby!
Halloween is my favorite. My very, very, favorite. I LOVE making Halloween costumes so much that this year I decided to make Luke THREE costumes!
All three of these Halloween costume ideas are made from solid colored long sleeve onesie body suits. I actually ordered a variety pack on Amazon which made making these costumes super easy.
Today I am sharing the first one – a Strawberry!
DIY Strawberry Baby Costume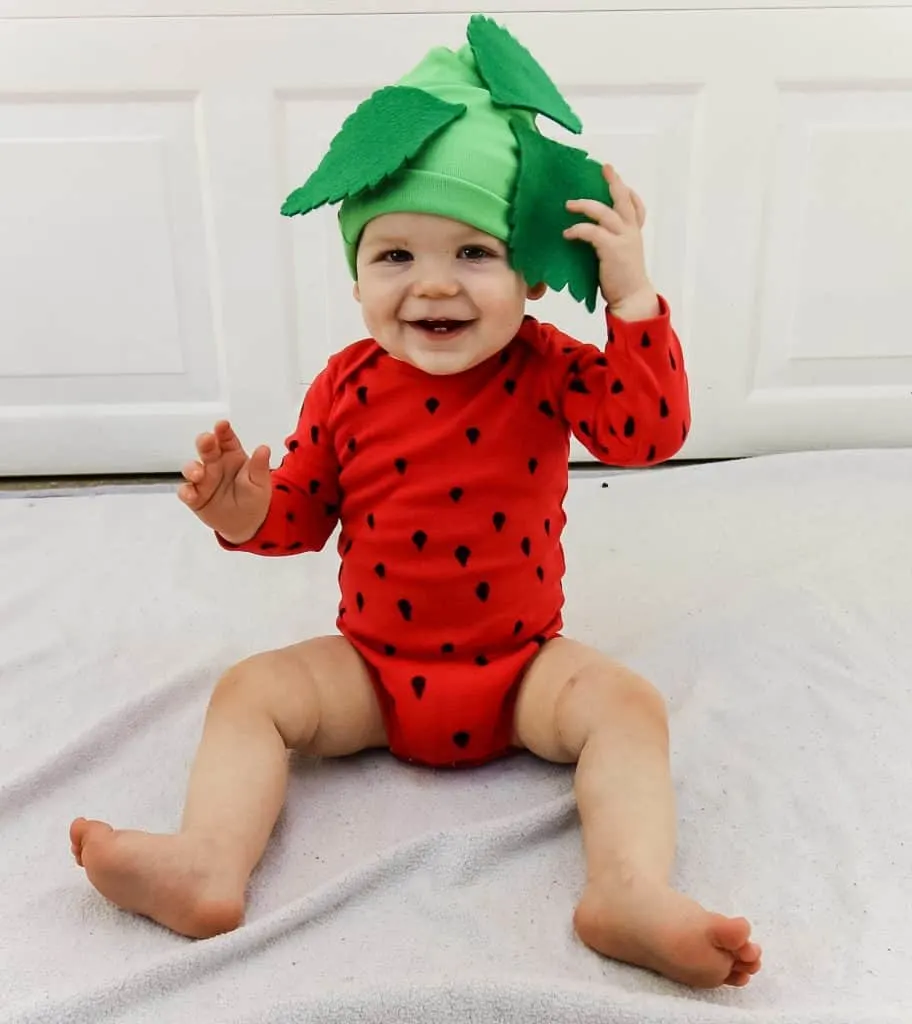 I mean, have you ever seen something so precious? I think not.
This is also a SUPER simple baby strawberry costume that would make a great last minute baby costume. Plus, it's super easy for him to wear. He can even re-wear it with shorts (and, let's be honest, without the hat) after Halloween!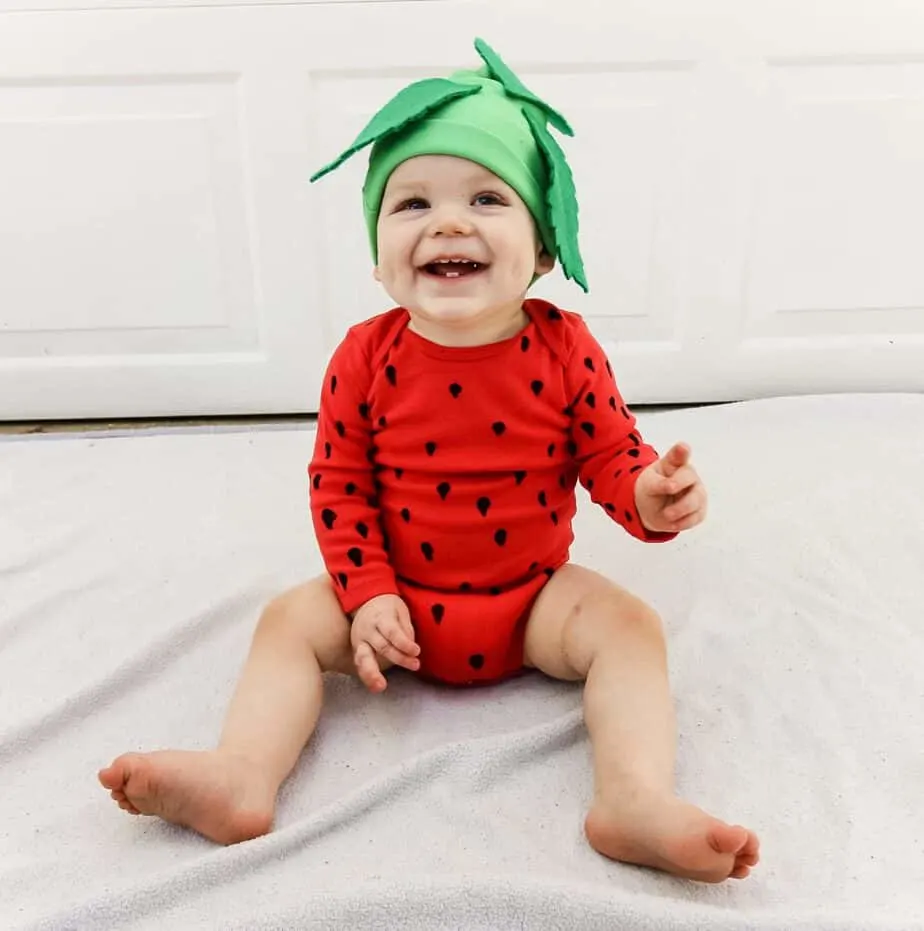 To make this DIY strawberry costume you need:
Paint brush
Scissors or Cricut cutting machine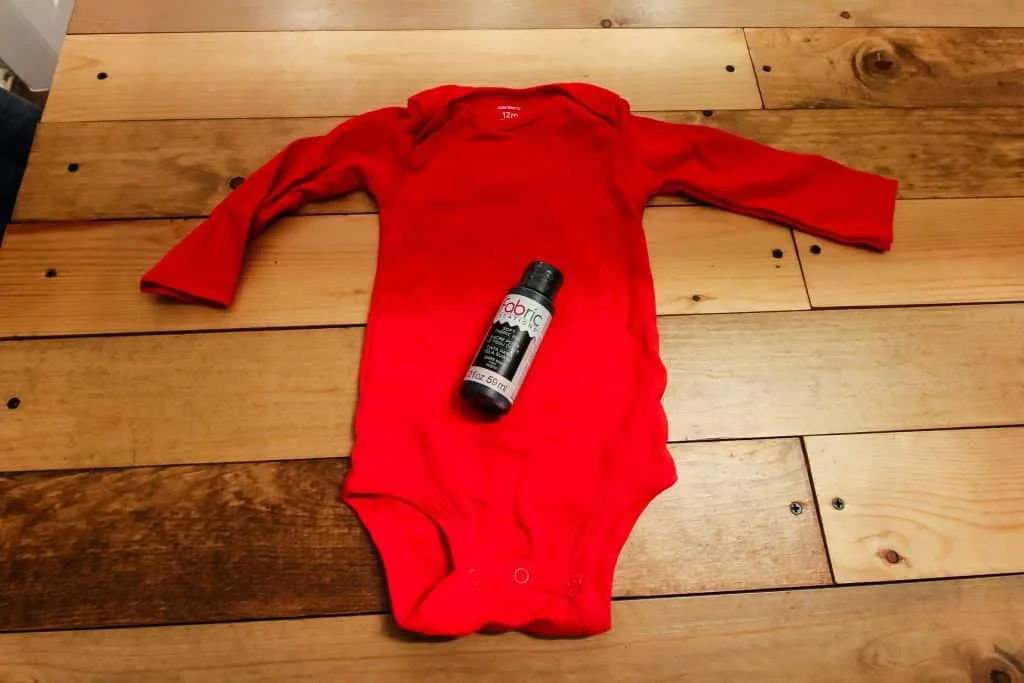 To paint the seeds on your strawberry, paint upside down tear drops.
Be sure to put cardboard in between the layers of the outfit to keep the paint from soaking thru!
Cut the leaf shapes out of green felt. You can download the exact pattern that I used! Either upload it to your cutting software (if you have a cutting machine) or print and trace onto the felt and cut with scissors!
If you use a Cricut to cut your felt – I use my Maker with the Rotary blade and "more" pressure.
Use fabric glue to attach the leaves to the hat in a little clover type pattern.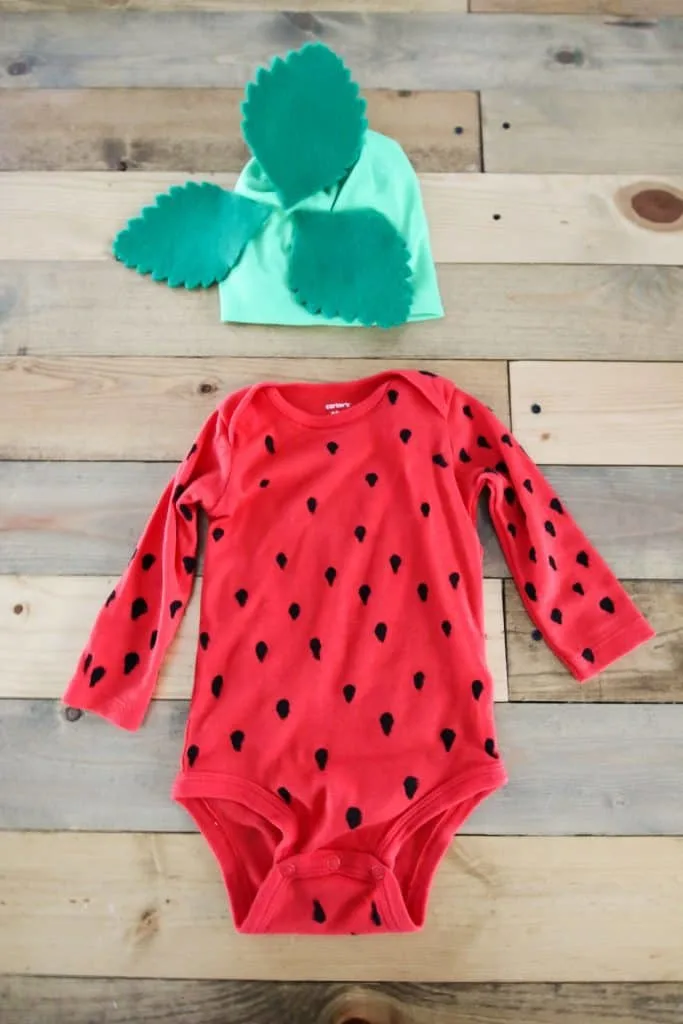 I am just OBSESSED with how this costume turned out. I think that it is SO adorable!
How to turn the Strawberry costume into a family Halloween costume?
To make this strawberry costume into a simple family Halloween costume, dress up like strawberry farmers!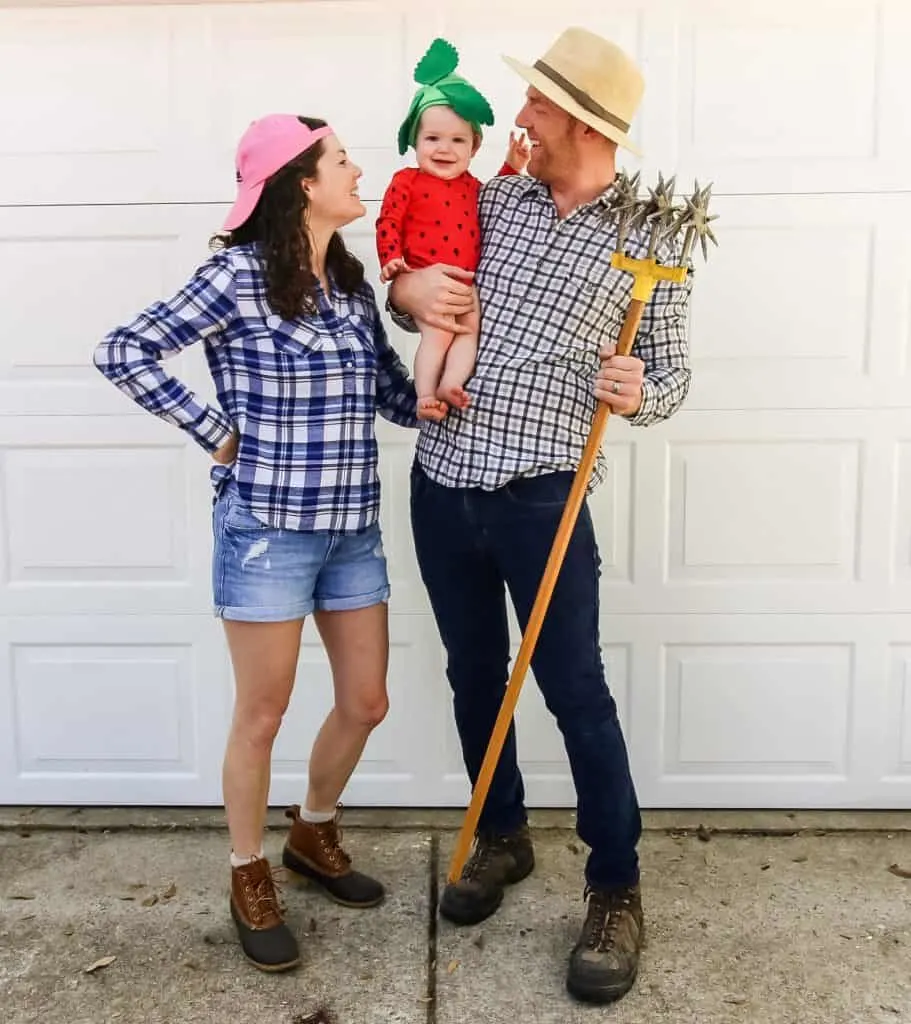 To dress as farmers wear:
Plaid shirts
Straw hats or backwards caps
Boots
Jeans or cut off jorts (depending on your climate)
Carry shovels, hoes, pitch forks, etc
This is a super simple, but super cute costume for your baby! I hope you check in the next 2 days for more ideas!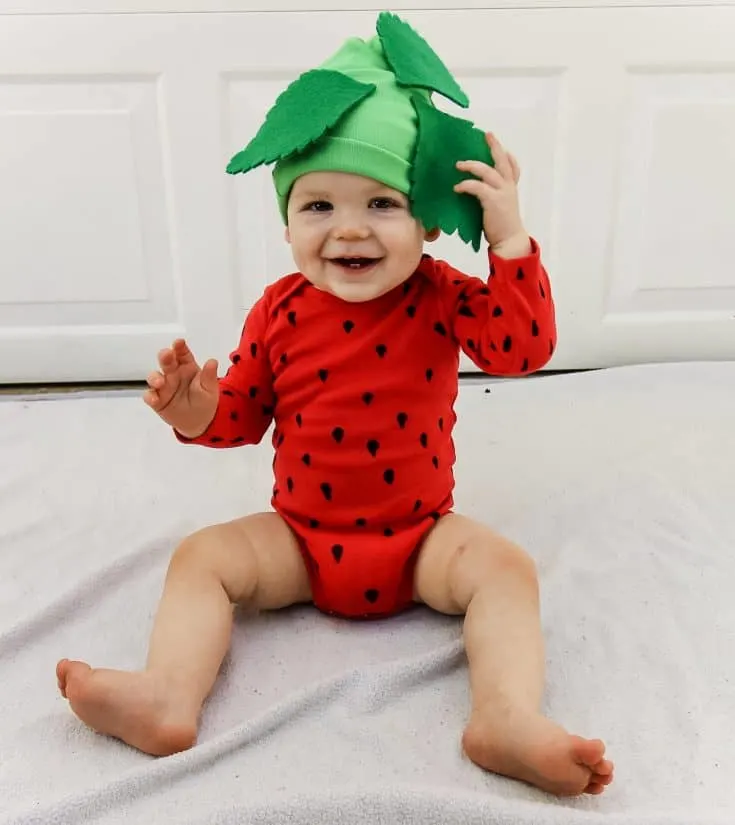 Yield:

1 costume
DIY Strawberry Baby Costume
Want your baby to be BERRY cute this Halloween? How about making this DIY Strawberry costume!
Materials
Red long sleeved onesie
Black fabric paint
Green hat
Green felt
Fabric glue
Tools
Small paint brush
Scissors or craft cutting machine
Instructions
Paint the seeds on the onesie. The seeds are an upside down tear drop shape. Place cardboard between the layers of fabric before painting. Allow to dry, flip, and repeat on the back.
Cut out the leaves for the hat.
Use fabric glue to attach leaves to hat.
Enjoy!
Recommended Products
As an Amazon Associate and member of other affiliate programs, I earn from qualifying purchases.
Love this costume? Check out my DIY baby fish costume and DIY happy little tree costume.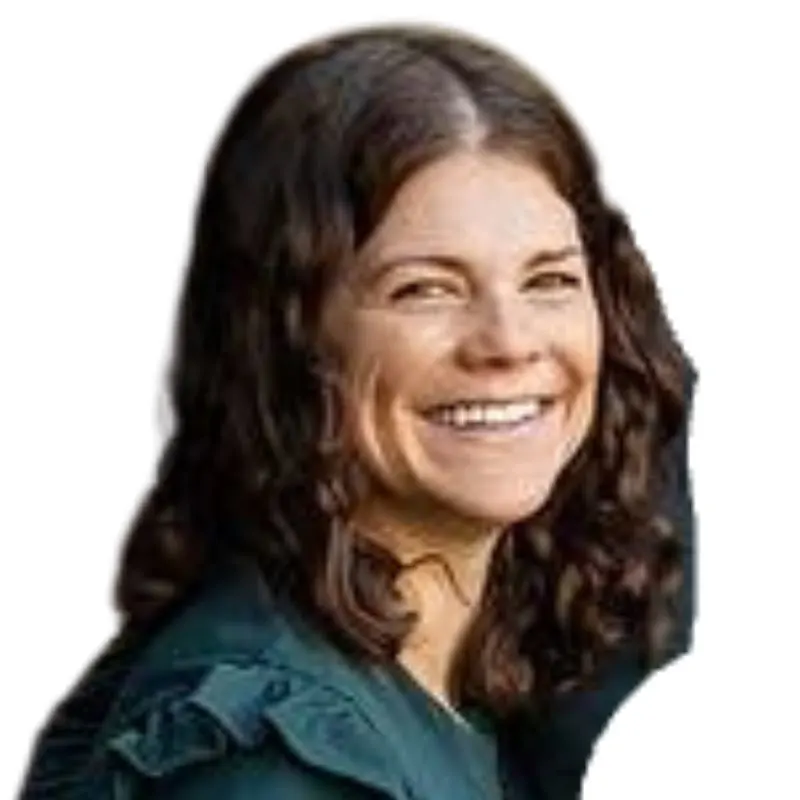 Hello, I'm Morgan, half of the creative force behind CharlestonCrafted.com! With a passion for DIY that dates back to 2012, I've transformed three homes and now I'm dedicated to helping others craft their dream spaces. Let's turn your house into a home together!