If you love mixing up your home decor each season, then you are going to love Decocrated! Decocrated is a home decor subscription box that delivers you a ton of home decor accessories four times per year.
This is my second time receiving a Decocrated box, and I was once again really impressed by how much you get in the box. In the past I have done a few makeup or self care boxes that came with tiny samples of products. These are full sized, seasonal decor fabulous pieces for your home!
Use my exclusive codes:
CHARLESTONCRAFTED10 for $10 off your first box!
CHARLESTONCRAFTED30 for $30 off an annual subscription!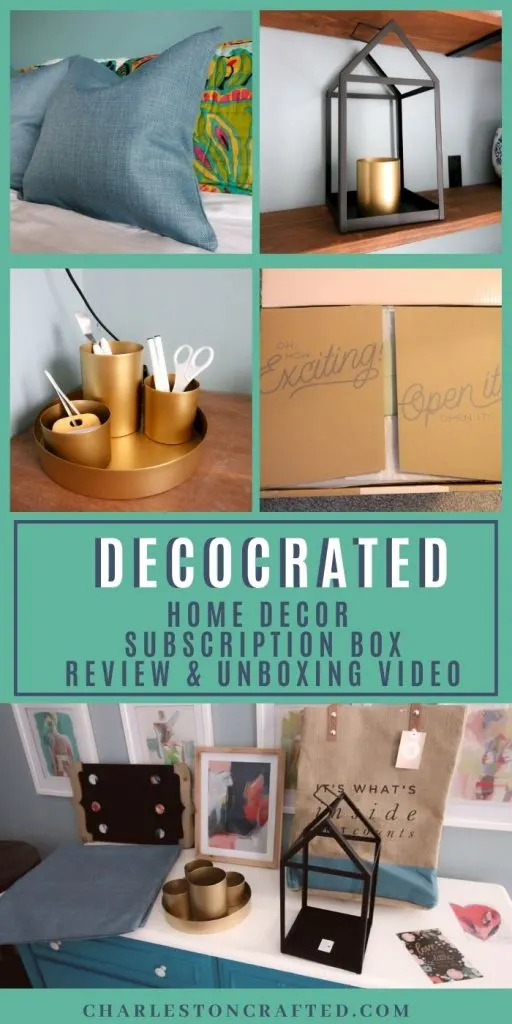 Decocrated Review
The theme of this box is Spring: Getting Organized.
The colors include dusty blues, blush pink, off white, gold, matte black metal, and natural wood. I love the pops of color alongside the neutral black and
I love that each Decocrated box features a small, local artist from around the country. This box features Kelly Merkur, a Texas native living in Florida. Her vibrant art is one of a kind and featured in the postcard prints, the magnets, and the framed art.
This box contained 8 decor items!
In addition to the 8 items, there is the booklet, which gives you details about each item as well as styling ideas for them.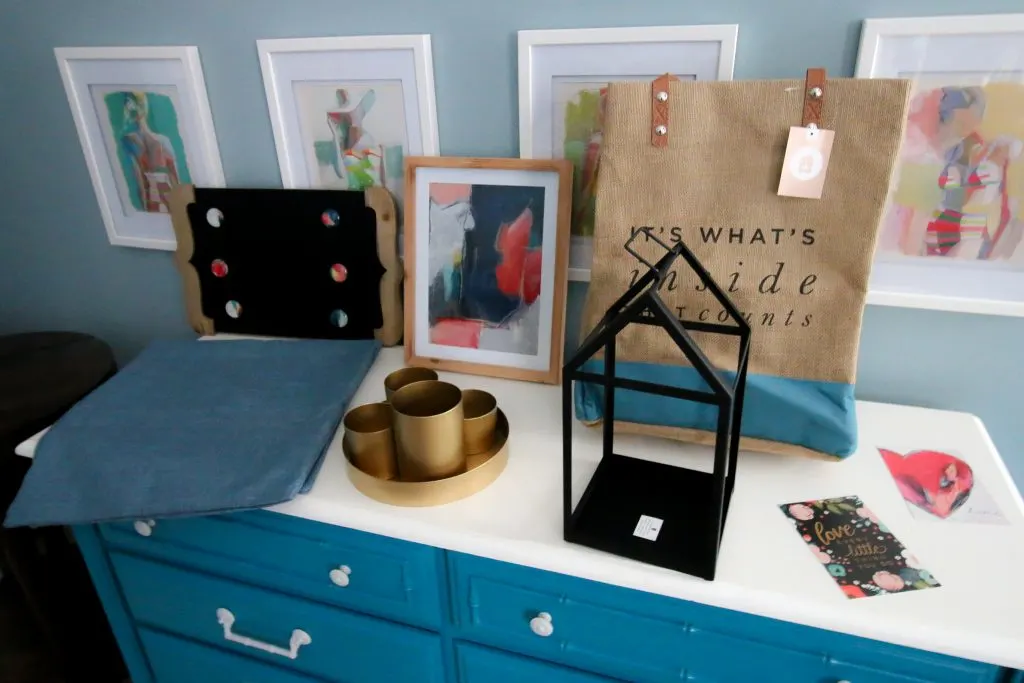 The art prints
They call these art prints but be forewarned – they are postcard sized. They could be cute on a bulletin board or swapped into a frame if you have one at the ready.
I love the colors and styles of Kelly's art, I just don't have a place for small prints like this.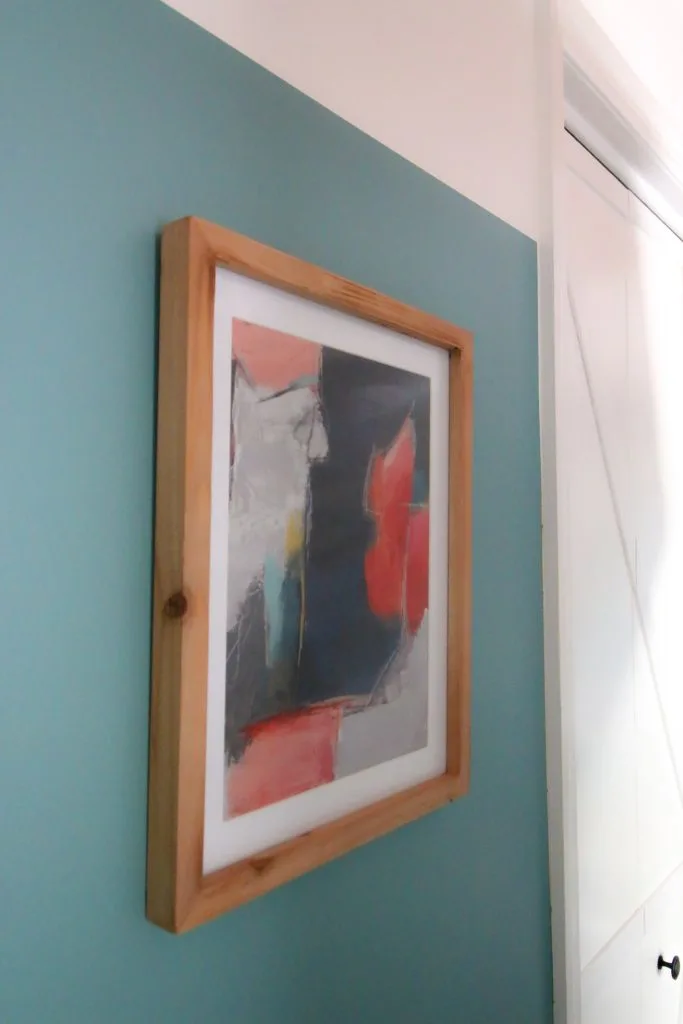 The framed art
I am much more excited about this framed art! The colorful print is GORGEOUS and could work with a variety of home decor styles. It is navy, pink, and light blue.
Additionally, this frame is FABULOUS! It is a raw wood, which would work in any style of home from rustic to farmhouse to coastal. I really, really love the frame.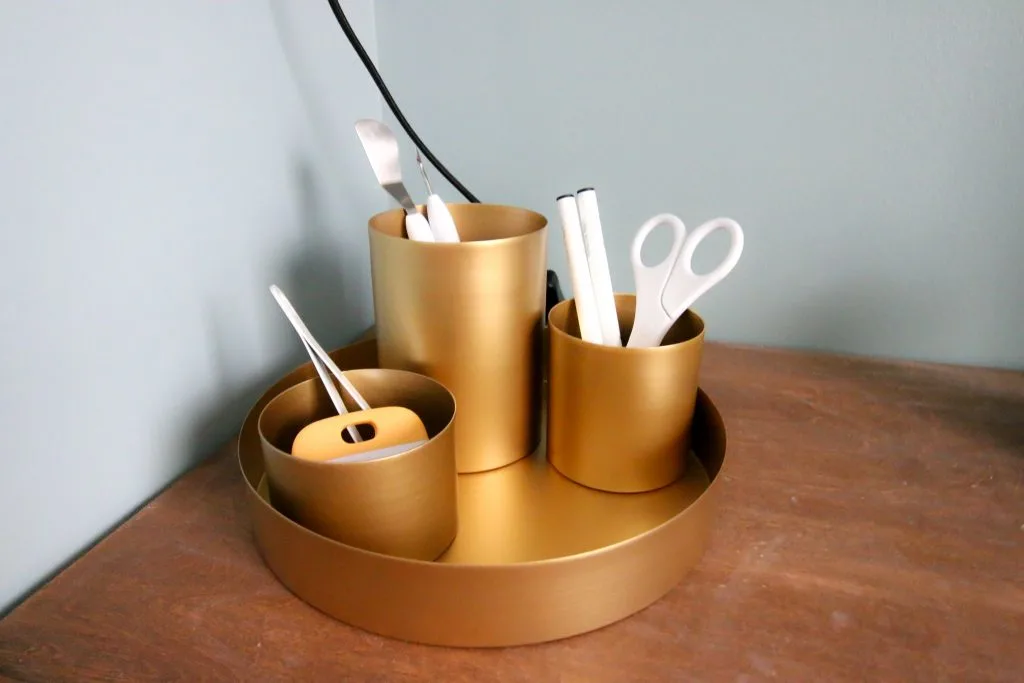 The tabletop tray
I absolutely love this tray! It is a brushed gold color. There is a round tray with detachable tiered cups.
Based on the pictures, I assumed that the cups would be attached but love that they are separate – it gives a ton of room for different options!
I added small mason jars to my cups and used them for flowers but they could also be great as an organizer on a desk!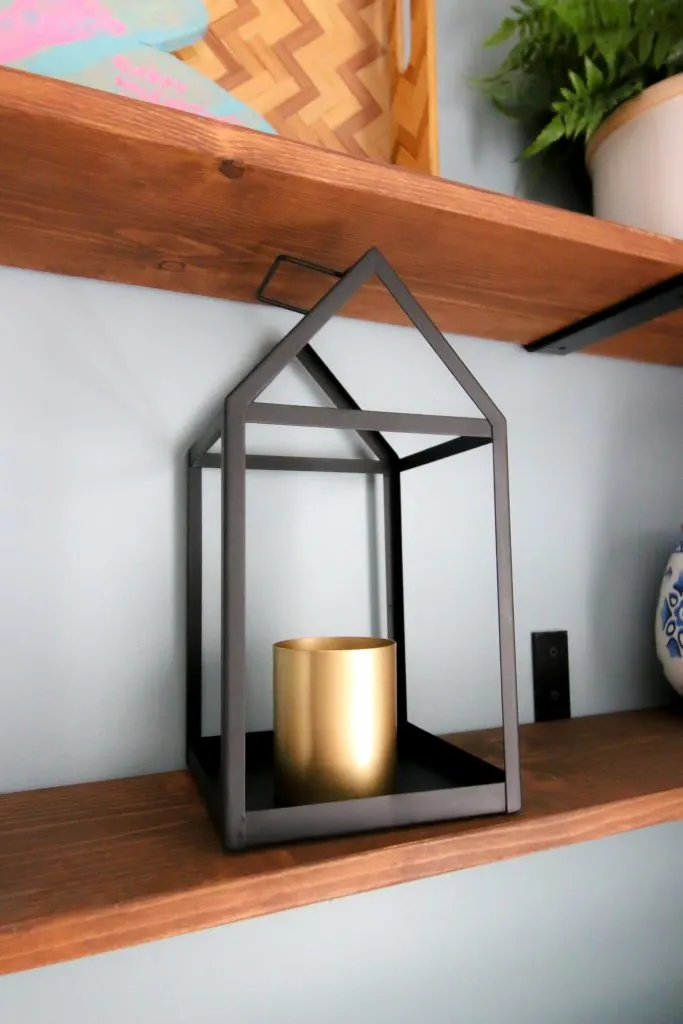 The metal lantern
This metal lantern is super cute and reminds me of something that Joanna Gaines would have in her home decor line.
It is matte black and shaped like a house with a little handle on top. The lantern is a full 12 inches tall so it is not a small piece. You could add a candle or flowers inside the lantern for a fun centerpiece or shelf decor.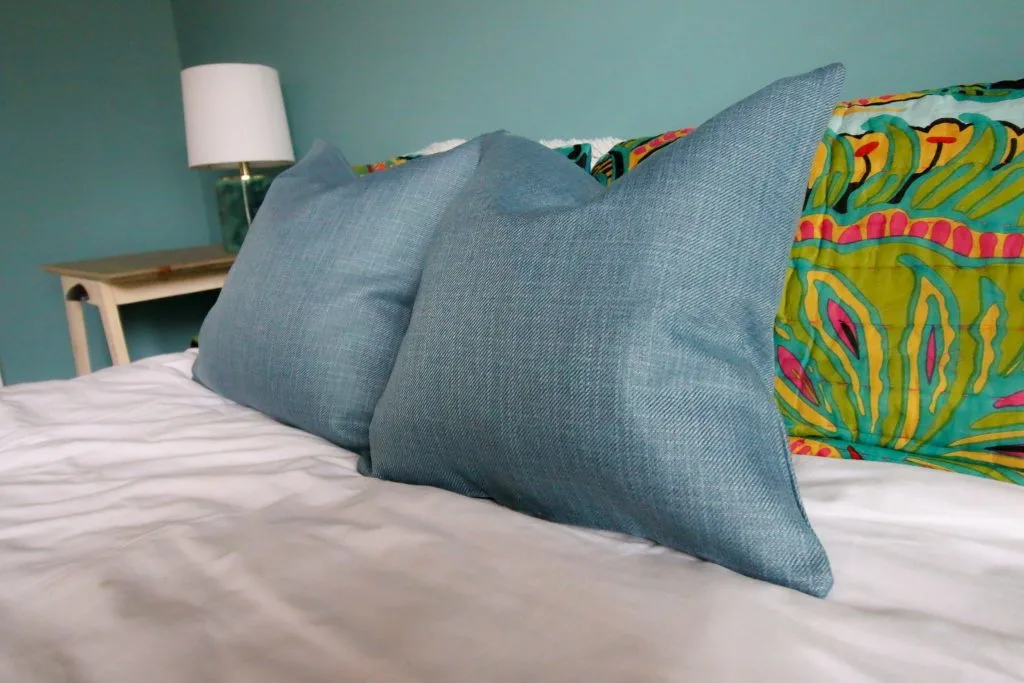 The pillow covers
I love that each Decocrated box comes with two pillow covers! These are such great interchangable items to mix up your seasonal home decor.
Pillow covers are much more practical to store in the off season than full pillows, too.
I love the teal color and thick fabric of these pillow covers. It feels like the type of fabric that a couch would be upholstered with – really nice and heavy duty.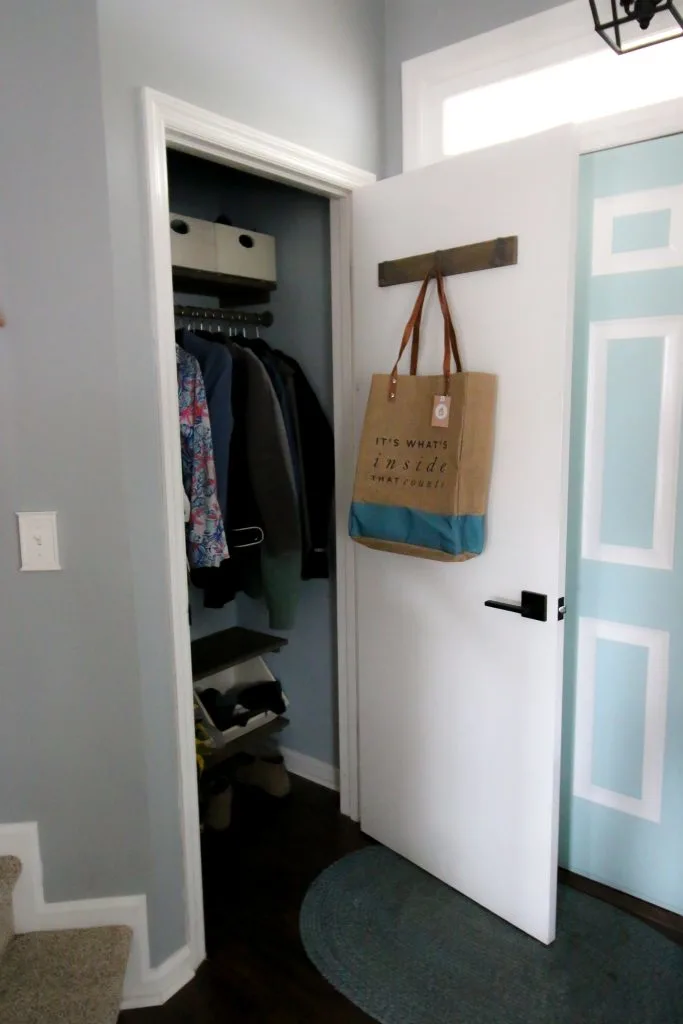 The tote bag
This is a huge tote bag – I'm just not exactly sure why it came in a decor box. It is burlap and teal to match the pillows. It says "it's what's on the inside that counts".
They banned plastic bags here in January, so we can always use more reusable bags. Otherwise, I wouldn't have much use for it honestly.
The magnet board
This is a magnetic chalk board with wooden accents on two sides. Decocrated called them parenthesis but it looks a bit like a quatrefoil to me.
It comes with hardware to hang on the wall. This would be great for someone who likes making and displaying to do lists. The wooden frame really makes this look nicer than a plain chalk board.
The art magnets
These are small glass round magnets with Kelly's art in them. They are cute and work well with the magnet board, if you use it to display items.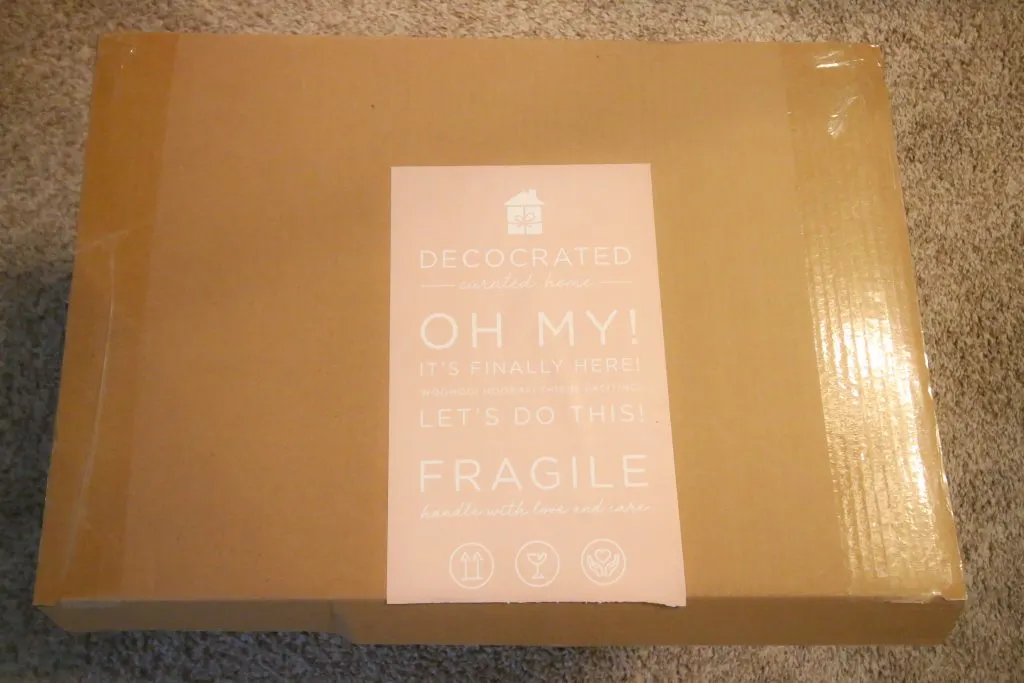 Decocrated Unboxing
I filmed a Decocrated unboxing video for you! Be sure to give it a watch
Frequently Asked Decocrated Questions
Is the value of a box worth the $79.99 price point?
This box had eight items in it. I would estimate the values (based on Target level pricing):
Postcard prints (2) – $2 each = $4
Art magnets – $4 for the set
Framed art print – $25
Golden tray with 4 cups – $30
Metal lantern – $25
Pillow covers – $10 each = $20
Tote bag – $10
Magnet board – $10
TOTAL VALUE = $128
Add to that free shipping and a discount if you use my code, and I think it is a really good deal!
Will my house look like everyone else's?
This is not like going to a furniture store and buying the whole room set. These are small accessories that complement the furniture and decor that you already have. They will look unique in every space!
What if I hate the color?
Each Decocrated box has a set color scheme. This helps the pieces all work together.
But what if that color isn't a color you use in your home?
The Decocrated team works hard to pick colors that work in a variety of style of homes. These colors make great accents in any space.
It's also fun to try something completely different from what you are used to – that's half of the fun of a mystery-style subscription box like this!
How can I connect with other Decocrated subscribers?
Decocrated has 3 Facebook communities for their subscribers!
The Decocrators is a community for showcasing how you use the products in your home.
DecoHacks is for sharing DIY projects using your items – such as spray painting, turning the magnet board into a tray, etc!
The Decocrated Marketplace is a place to resell items that don't fit your style or buy more of an item you'd like additional of!
Use my exclusive codes:
CHARLESTONCRAFTED10 for $10 off your first box!
CHARLESTONCRAFTED30 for $30 off an annual subscription!
Any more questions about Decocrated that I can answer for you?
I was provided with a free box but was not monetarily compensated for this review. If you use my coupon code, I will receive a small percentage of the sale. Thanks for your support!