Recently, we had the opportunity to join a CSA. CSA stands for Community Supported Agriculture. This CSA is run by Gruber Farms, a farm located in St. George, South Carolina, about one hour away from where we live in Charleston. CSAs are a way for members of a community to invest in a farm share and receive fresh, local, seasonal produce on a regular basis.
We signed up for the small summer share with Gruber Farms. I selected them because they have a drop off location in my office building. It is super convenient. The share was $275 for 12 boxes of produce.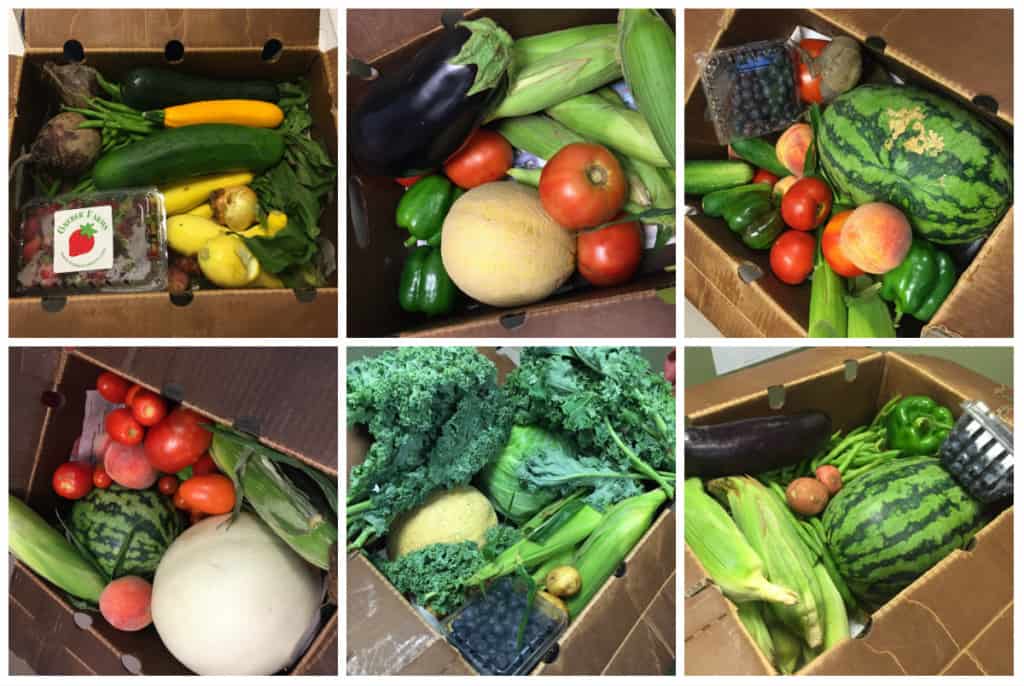 Vegetables and fruit that we received include:  beets, sweet onions, small potatoes, strawberries, green beans, kale, cantaloupe, blueberries, cabbage, watermelons, corn, peppers, eggplant, tomatoes, peaches, squash, honeydew, and more.
 Our overall feeling towards the CSA is that it is an AWESOME way to try new and fresh produce. For example, I had never cooked beets or eggplant before, but got them in boxes and really enjoyed them. It is awesome to know that you are eating local and organic produce and supporting a local small business.
The biggest con of the CSA is that you don't get to pick your produce. That means the type of produce as well as the specific things. Such as, you might prefer really small tomatoes or strawberries that aren't quite all the way ripe yet so they keep longer. With the box, you get what you get and there's no tradesies.
The CSA program would really not be for you if you are a picky eater, if you eat out a lot, or if you have rigid meal plans. You really have to be flexible enough to come up with recipes that correspond with each box's ingredients. It's a bit like being on Chopped, but without the pressure. We generally still grocery shopped and meal planned on Sunday but left two meals per week open. We planned very vague ideas, such as grilled chicken with veggies, or pasta with veggies, or quinoa with veggies, and then filled it in based on what came that week. This flexibility was key to making the most use of our produce box.
If you are considering signing up for a CSA, here are some tips that we have for you, based on our experience:
You are going to get a LOT of produce. Be flexible in your meal planning and plan to have at least 2 veggies or fruits per meal. Come up with certain recipes (such as veggie pasta, chicken foil packets, or grilled skewers) that can work with a large variety of things and just experiment.
Check all of your produce the day that you get it and determine what needs to be eaten first. A lot of local farms pride themselves in not spraying their produce. That is awesome and is a great reason to eat local. But, the produce might not have as long of a shelf life as the stuff grown in Mexico, sprayed to heck and back, and sold at Harris Teeter. Assess it immediately and just plan to cook the ripest things first.
Your freezer is your friend. Somethings freeze well and somethings don't. There's loads of tip sheets on the internet that will help guide you through that. But, if you know that you will have to eat out one week or you just truly can't eat it all, plan in advance and freeze what you can. Double bonus – not only are you not wasting food, but you will get to enjoy local produce later in the year!
Don't be afraid. Beets puzzled us and cabbage gave Sean a flashback to a particularly bad diet, but we committed to at least trying everything. Some things were a fail (beet leaves) but some were surprisingly good (kale in everything, actual beets, eggplant for days). A major reason that we wanted to do the CSA was to expand our pallets. So take a risk – you'll probably be glad that you did.
So, we decided to sign up for the fall CSA, too! It starts in August and we will be sure to keep you updated!