Want to get your craft supplies organized – on a budget? Here are a ton of DIY Craft Supply Organization Ideas!
If you do a lot of crafts, you are going to accumulate supplies. That's just how it is.
Maybe you are making pom pom wall decor and have to buy a huge pack of pom poms, but then have some left over.
Do you throw them away? But what if you need them for some indeterminate future project!
That's how we end up with so much stuff. All that stuff can be overwhelming and make it impossible to find the supplies that you need in your crafting space.
That's why it's so important to get your craft room organized. Let's talk about craft supply storage and some examples of DIY craft storage ideas that you can make yourself!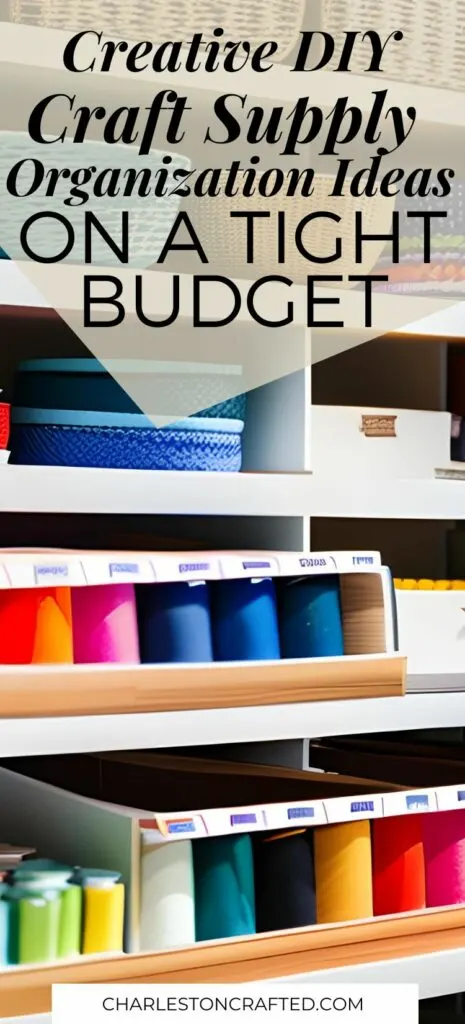 How to organize your craft supplies
Organizing craft supplies can be broken down into:
Decluttering
Sorting
Storage solutions
Decorative displays
Maintenance
Decluttering and Sorting
The first step – and hardest for most people – of organizing craft supplies is decluttering and purging.
I suggest pulling your stuff out and sorting it by type. So, all the paint, all the glitter all the beads together.
Are there any things you don't use any more? For example, if you gave up jewelry making and won't do it again, kindly donate those to someone who will use it.
Then, within each type, pull out anything broken, damaged, dried up, or that you just don't like.
This is pretty easy and painless to get rid of, and then gets you more into the purging mindset.
Finally, you are left with stuff you still will use, works, and you like. Try to get this to fit into your crafting space!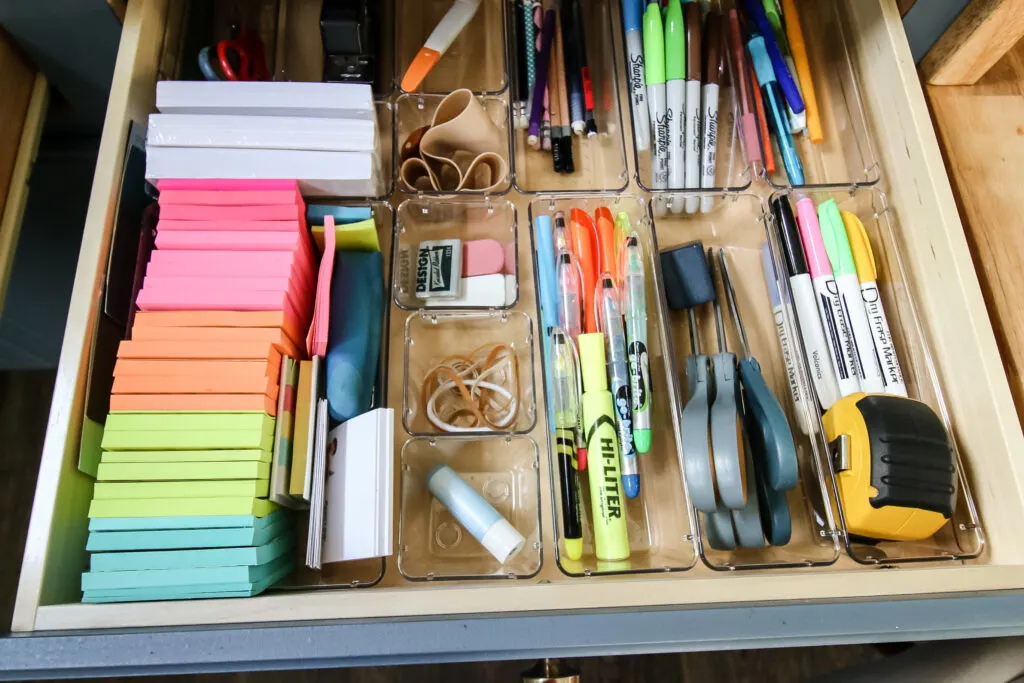 Storage Solutions
It is super important that your storage supplies match the actual supplies that you have to store.
For example, pens or brushes should go in jars or pen holders – not a giant basket.
Rolls of ribbon or washi tape should be stuck on a dowel or spool whenever possible to keep them organized.
Paper generally needs trays or racks to keep it separated.
Bins and boxes: Plastic bins and boxes are a practical storage solution for craft supplies. They come in various sizes, can be stacked or nested, and are easy to label for quick identification of contents. Consider keeping items in their original box when it makes sense, for free!
Drawers and carts: Rolling carts with drawers provide ample storage space for small items such as beads, ribbons, and sewing notions. They can be easily moved around and tucked away when not in use.
Shelving units: Shelving units provide a versatile and flexible storage solution for craft supplies of all sizes. They can be customized to fit your space and are available in various materials such as wood, metal, or plastic. It's also easy to build DIY shelves!
Hanging organizers: Hanging organizers are a great space-saving solution for storing supplies such as yarn, fabric, and wrapping paper. They can be hung on doors or walls and come in various sizes and styles. This is my pick if you have a closet door or something similar to organize on!
Pegboards: Pegboards are a versatile storage solution that allows you to customize your storage based on your needs. They can be used to store items such as scissors, rulers, and paintbrushes, and can be hung on walls or mounted on frames. Plus, they can make for a beautiful focal wall in your space.
Cubes and modular storage: Cubes and modular storage systems allow you to create a customized storage solution for your craft supplies. They come in various sizes and configurations and can be stacked or combined to fit your space.
Toolboxes and caddies: Toolboxes and caddies are great for storing and organizing supplies that you need to take with you on the go, such as knitting needles, crochet hooks, and paintbrushes. They come in various sizes and styles, from small portable toolboxes to larger rolling carts.
Storage bins can get super pricey. So, get creative in how you store things and don't forget to scroll to the end of this post for a list of tutorials for DIY craft supply storage ideas.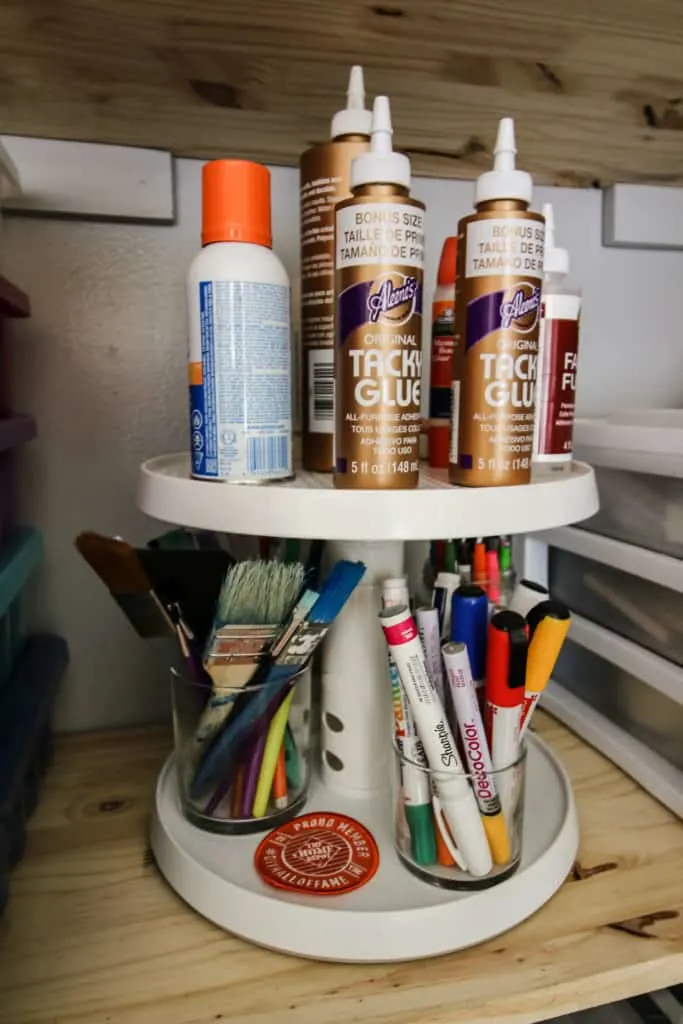 Tips for Maintaining an Organized Space
Once your craft supplies are organized, you have to keep it organized!
The best way that I have found to do this is to have a specific place for everything and to make it very accessible.
If you have a specific bin shelf or drawer for some thing, it is much more likely to go back where it belongs.
Try to avoid stacking things in a way that you have to pull everything out of the shelf or cabinet to get to the bottom items.
In my experience, this leads to things just being thrown loosey goosy which leads to a huge mess.
Finally, be sure to put away supplies when you are done with them. Letting various projects accumulate on the crafting table is what leads to total chaos in my house!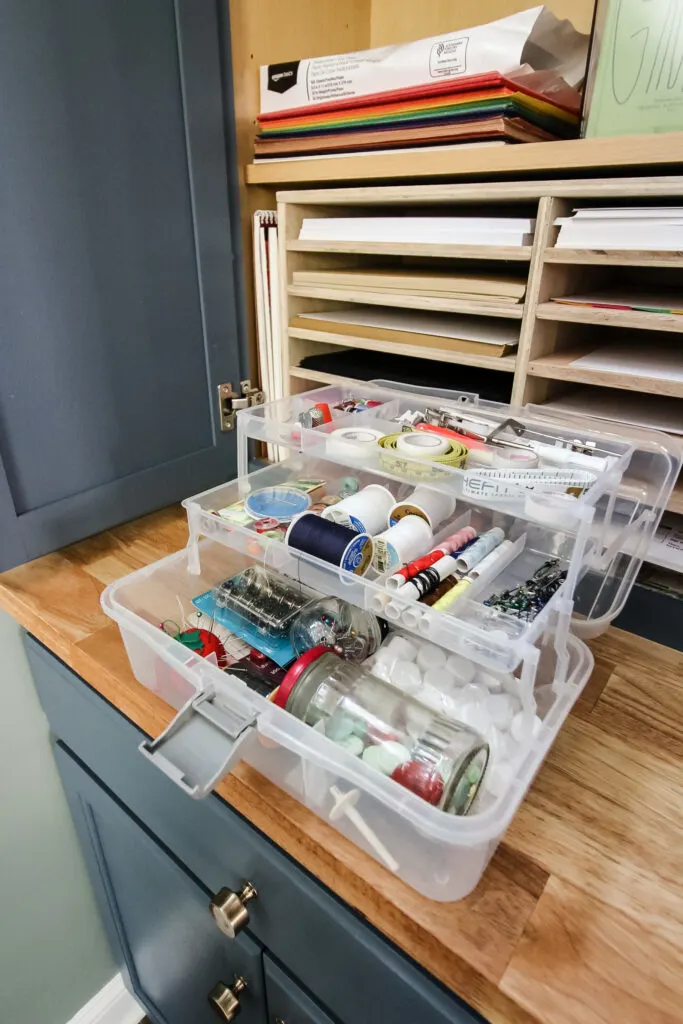 Frequently asked questions about our craft supply organization ideas
How do I organize a lot of craft supplies?
Pull out all of your supplies and sort them by type. Purge anything broken or unwanted and then put back in functional storage pieces.
How do you organize craft supplies in a small space?
The biggest trick to organize craft supplies in a small space is to purge what you don't need, and go vertical with storage. Use the wall, stacking drawers, or a pegboard to pack a lot into a small space.
How do you organize craft supplies in a small space on budget?
To save money, do not buy pricey bins. Instead, upcycle boxes or jars that you already have to create functional, inexpensive craft supply storage.
Where do I start to organize my craft room?
Start by pulling everything out and assessing what you really want to keep. Then, you can determine the type of bins, drawers, or jars you need, depending on the type of supplies that you want to store.
How do you organize a cluttered craft room?
The best way to make a cluttered craft room feel less cluttered is to purge unwanted supplies. After that, consider storage that is hidden or solid – not clear and out in the open – to help disguise some of the chaos.
How do I stop hoarding craft supplies?
I have found that if I can find someone wonderful to take my old craft supplies, I feel better about unloading them. Look for teachers or people who work at retirement homes and might love to put your unneeded supplies to use.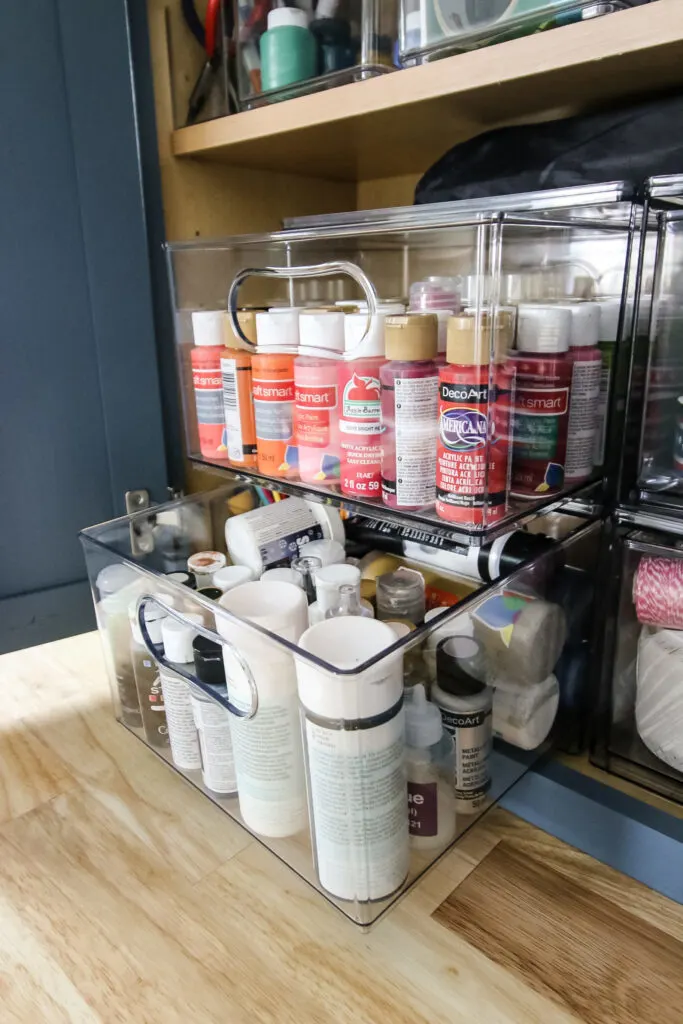 DIY Craft Supply Organizer ideas
Here are some specific tutorials showing you how to make your own craft supply organizers!
DIY Craft Supply Organizer Ideas
Here are some great ways to DIY craft supply organization yourself!
What are your favorite ideas for storing craft supplies?