Here's how to make a DIY bug hotel that's great for kids! You can scale this up as big as you want, but this simple bug hotel is a great afternoon project!
We keep working on our yard constantly (even if it's pulling weeds in the middle of a game of soccer) and we're always looking for new ideas for our kids to explore the outdoors.
One of their favorite things to do is to watch the birds or squirrels around our bird feeder and DIY copper pipe bird bath because they enjoy watching creatures move.
The kids are also huge fans of picking up sticks, rocks, leaves and other natural items and bringing them home. We have a bucket for these and from time to time we'll throw them into the pond.
Those items got us thinking about a bug hotel and the idea of making a small one for our kids to observe.
A bug hotel is a small house that's built to hold natural and decomposing items that bugs and insects can make a home in. Bug hotels can feature bees, ants, spiders, flies or anything small that likes to get into little crevices.
Some people might think bugs are gross or problematic, but bugs are actually very important to our ecosystem. Giving them a place to colonize and do their natural actions is a great reason to have a bug hotel in your yard. It can also keep them in a designated area and away from places you don't want bugs to be.
Bug hotels can be all shapes and sizes and filled with lots of different items from the outdoors. We're going to show you how to make a simple bug hotel that is great for kids to help you build and fill so that they can watch nature and become curious!
Simple DIY bug hotel
You can make a very large and elaborate bug hotel for your yard, but you can also make a simple version that is especially good for kids to be involved in or for a smaller yard space.
Let's jump into what you need to make a bug hotel and how to build one and fill it up for the bugs!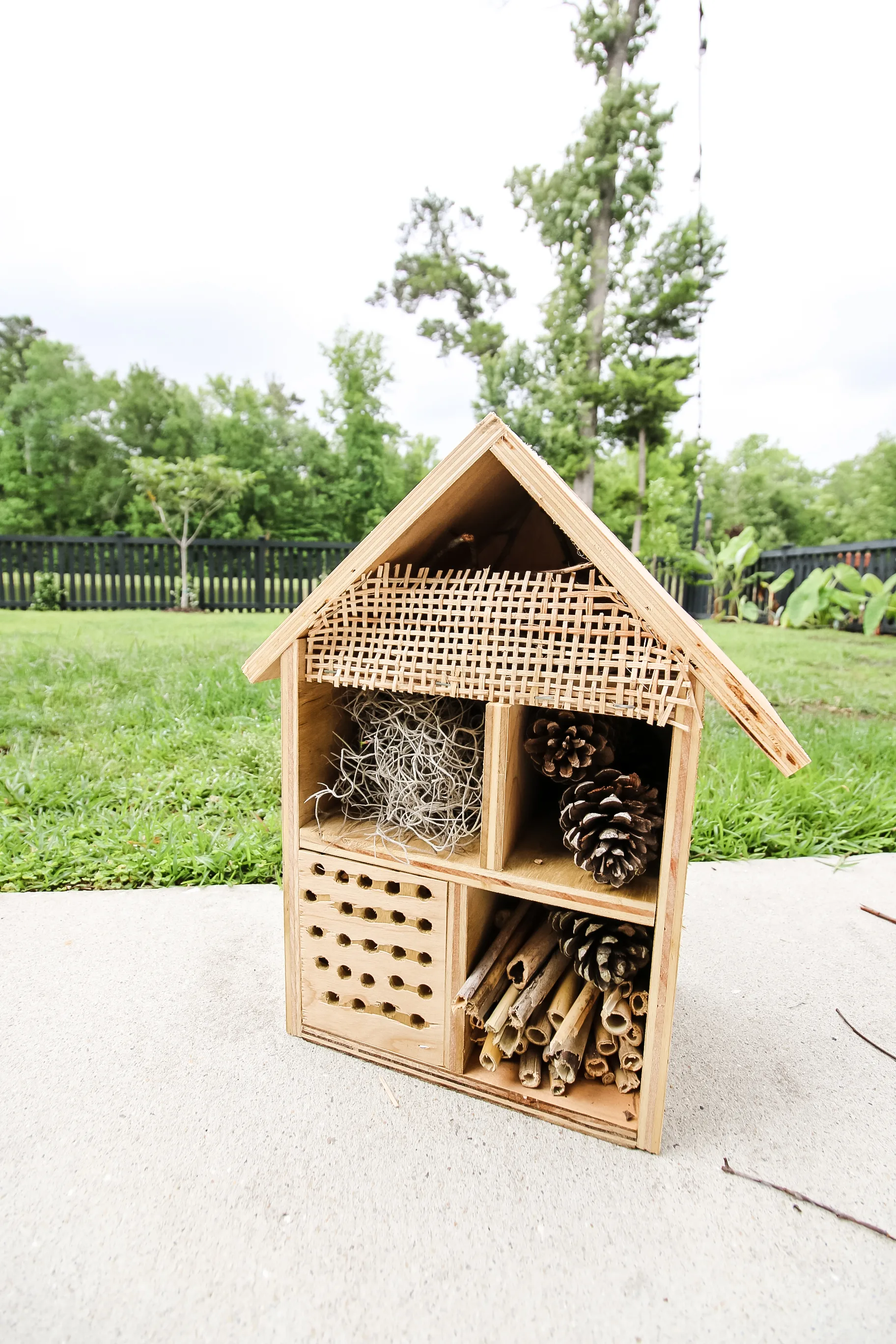 Materials needed to make a fill a bug hotel
To make a bug hotel, you'll first need wood to build the structure. We used 1/2″ plywood for the entire build to make it accessible and simple.
We've even got a full set of woodworking plans to help you build one for yourself!
Then you'll need a handful of natural materials to put in each of the bug hotel compartments to give the bugs a place to live and thrive. Put the right stuff in and you may see bees forming nests, bugs laying eggs or more!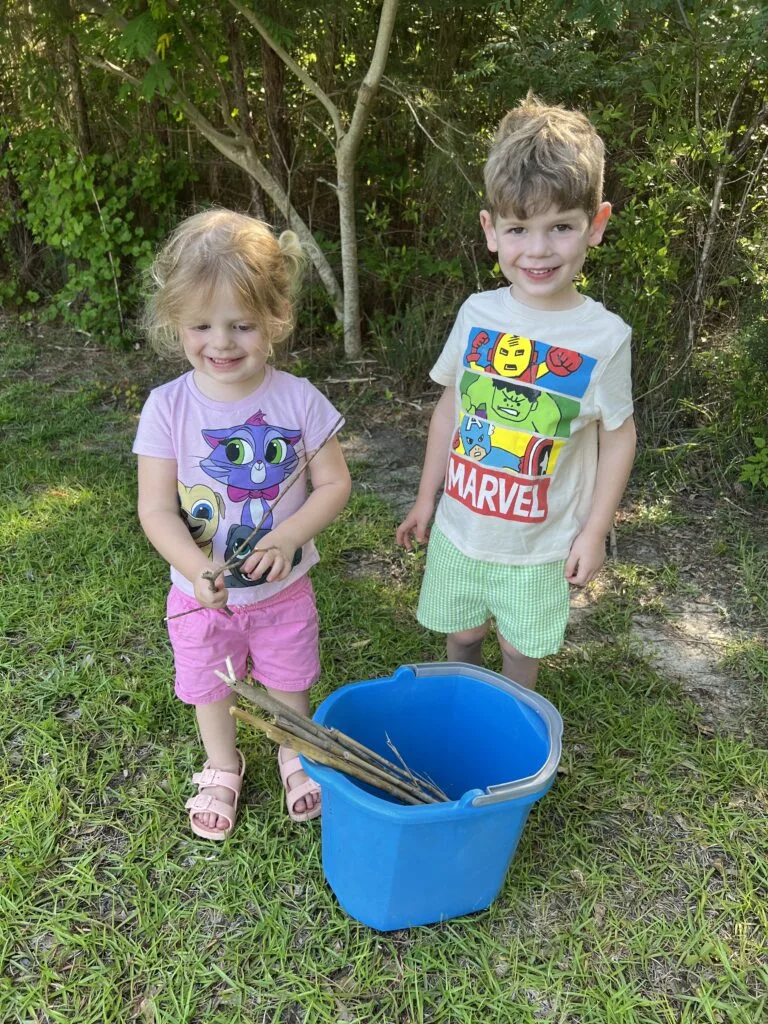 This is a great way to get the kids involved. Take them on a hike in the woods or down to your local park to find these materials readily available and make a fun adventure of collecting what you need.
If you like making habitats, make sure to grab our free squirrel picnic table plans!
How to build a bug hotel
Here's the overview on how to build a bug hotel. Remember that you can grab the full set of woodworking plans to help you build one with your kids! The plans have a full material list, cut list and step-by-step instructions to get you exactly what you need.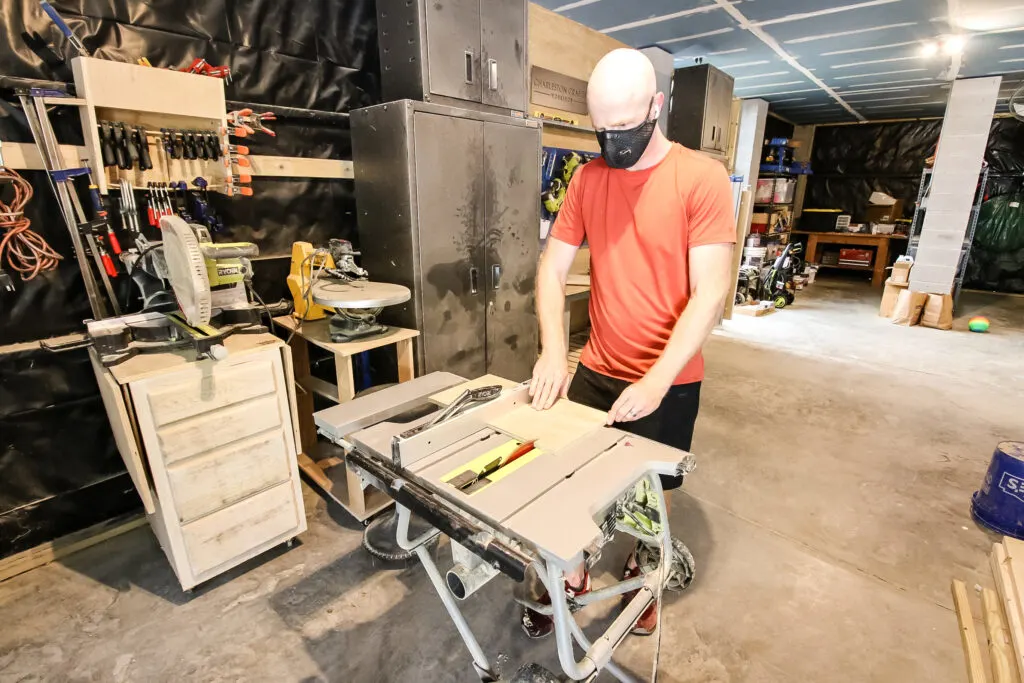 We started out by making all the cuts on the plywood ourselves, then tagged in the kids to help with the assembly. When done safely, you can get your kids involved with projects like this!
This is a great craft for kids! Just make sure they are wearing any ear protection and eye protection they would need.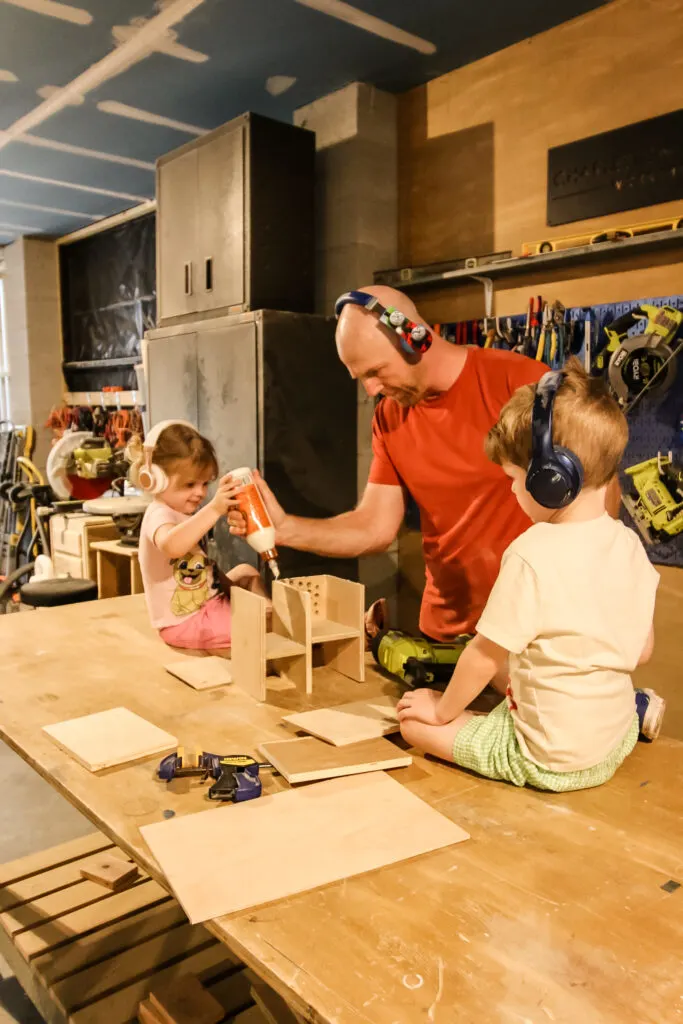 Start by attaching the base piece to the sides of the bug hotel using wood glue and nails.
Then, add dividers in the middle to create different sections for different types of natural materials.
Finally, add some slanted roof boards across the top at a 90 degree angle and attach those to the sides.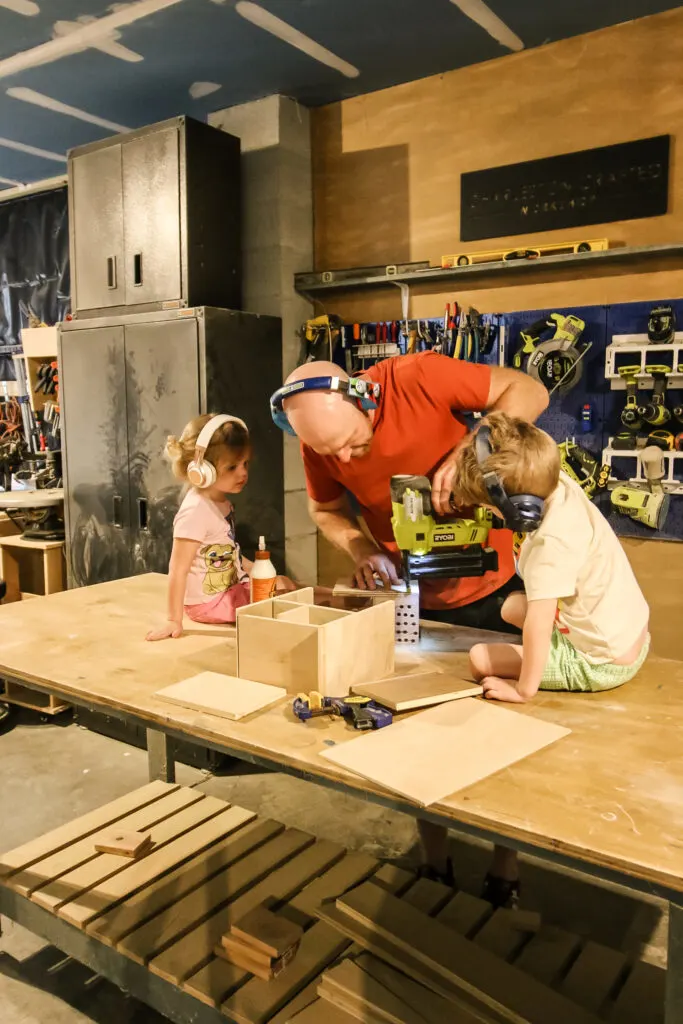 We attached a small board with holes drilled in the front to one of the sections to encourage bees to fly in and make a home. This is a great way for them to slide into the dark spot of the bug house. Drilling holes is simple and you can make them as small or big as you want and put in as many as looks good to you.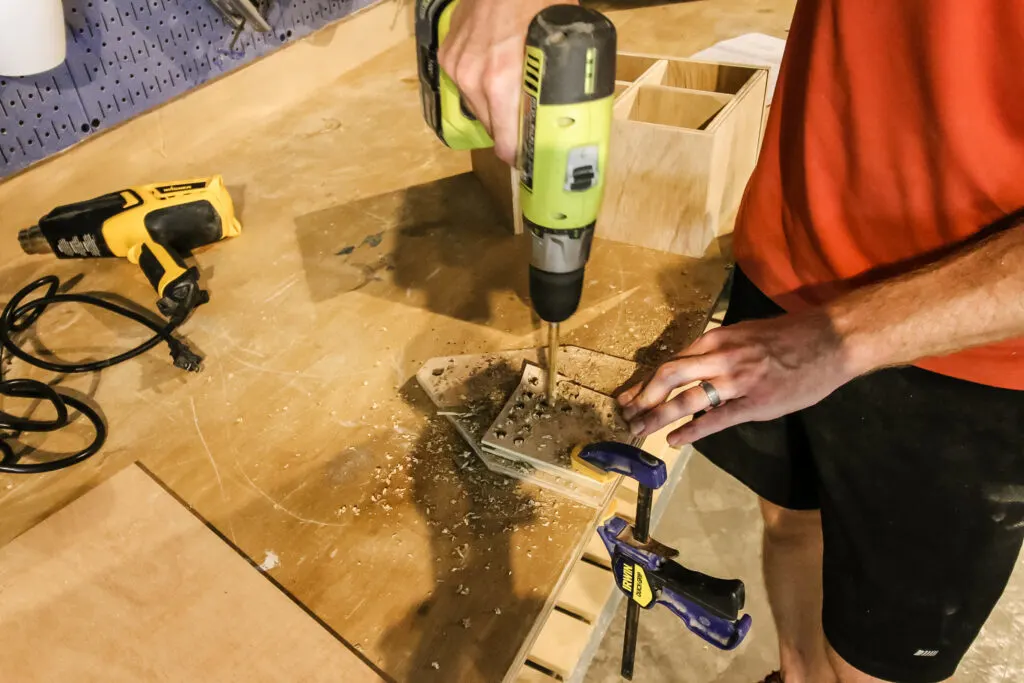 We also put a leftover piece of caning across the top section of our bug hotel that was leftover from when we built our side table media console in our living room.
What's the best size for a bug hotel?
Bug hotels can be big or small with all kinds of materials. The best size for a bug hotel for kids is something that they can interact with and watch at their level.
For that, we made our bug hotel to be about 12″x12″. This is a good size for kids to gather materials for and can be put somewhere they can easily check it out.
What should you put in a bug hotel?
There are lots of great natural materials to put in a bug hotel. Ideally, you're trying to mimic the natural habitats of these beneficial insects to make them feel at home.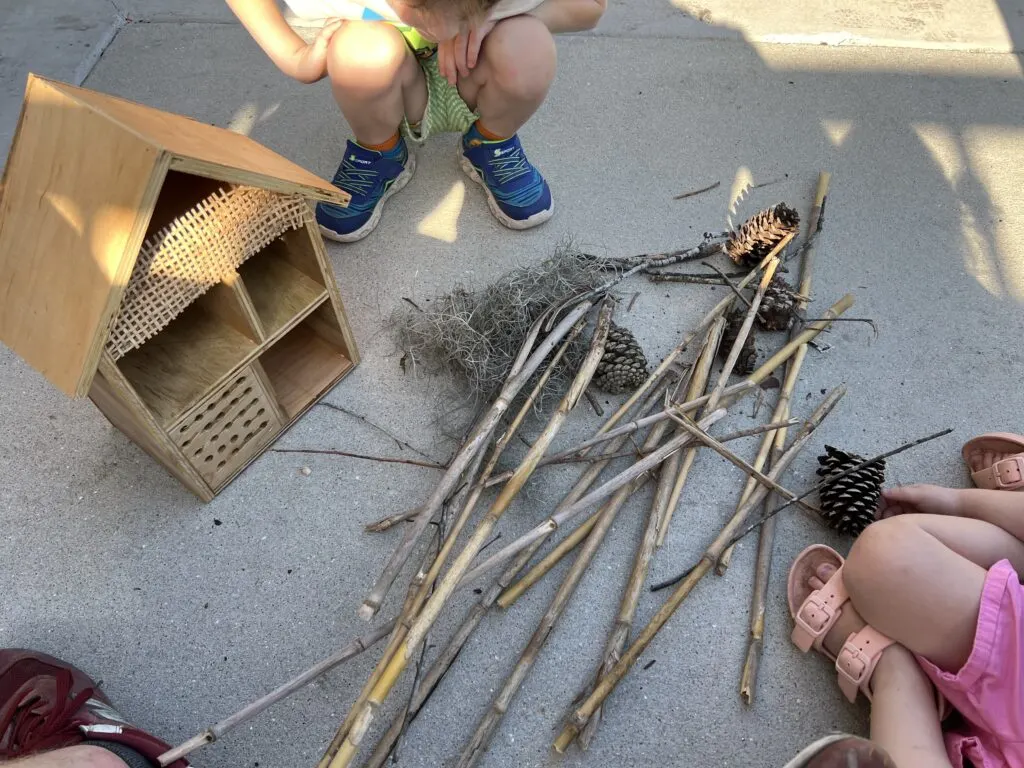 Some of the best natural materials to put in a bug hotel include:
pine cones
dry leaves
spanish moss
hollow bamboo shoots
sticks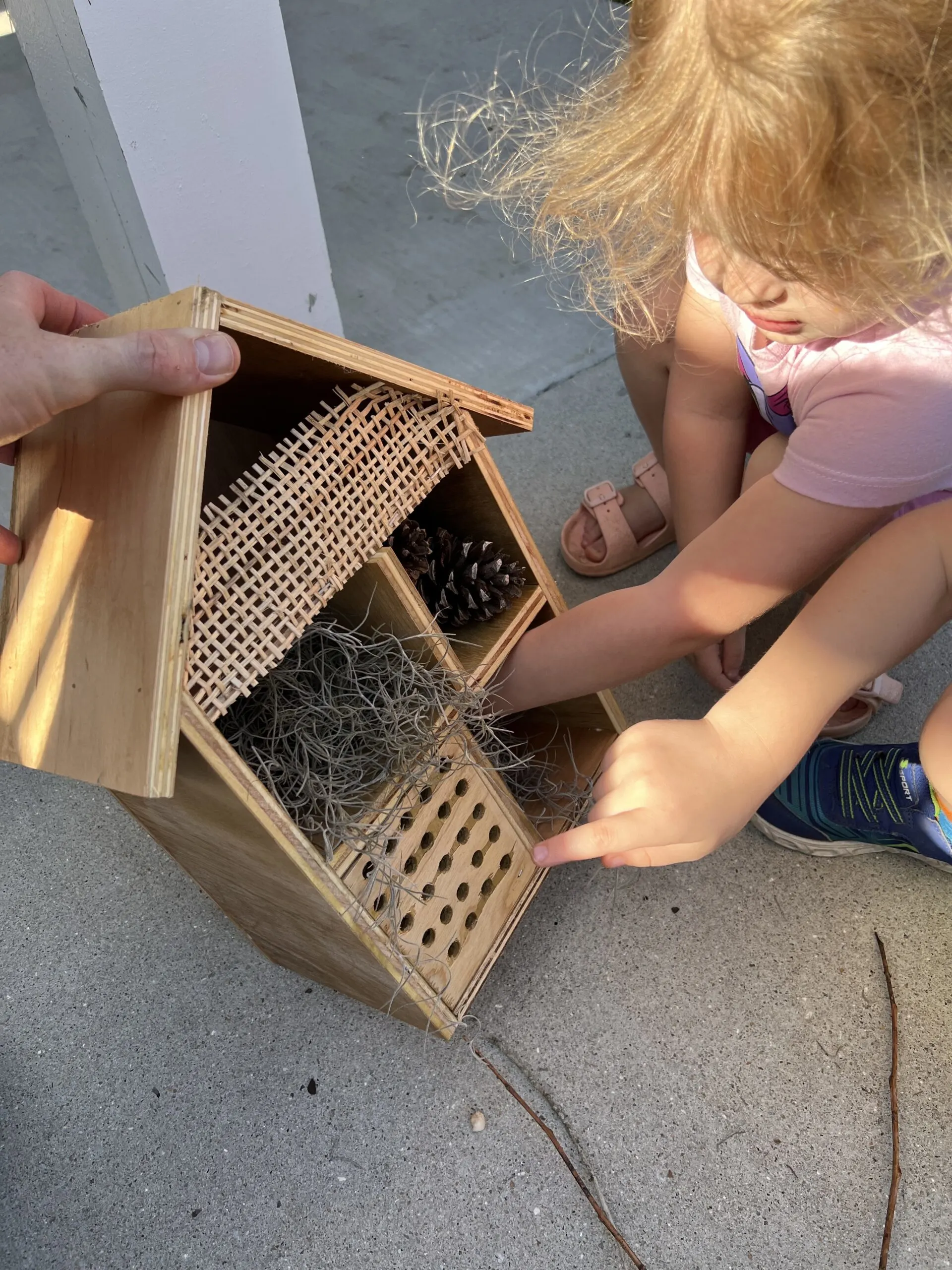 Choosing a spot for your bug hotel
When choosing a spot for your bug hotel, make sure you're doing it in a location that won't attract bugs directly near your home but is somewhere accessible.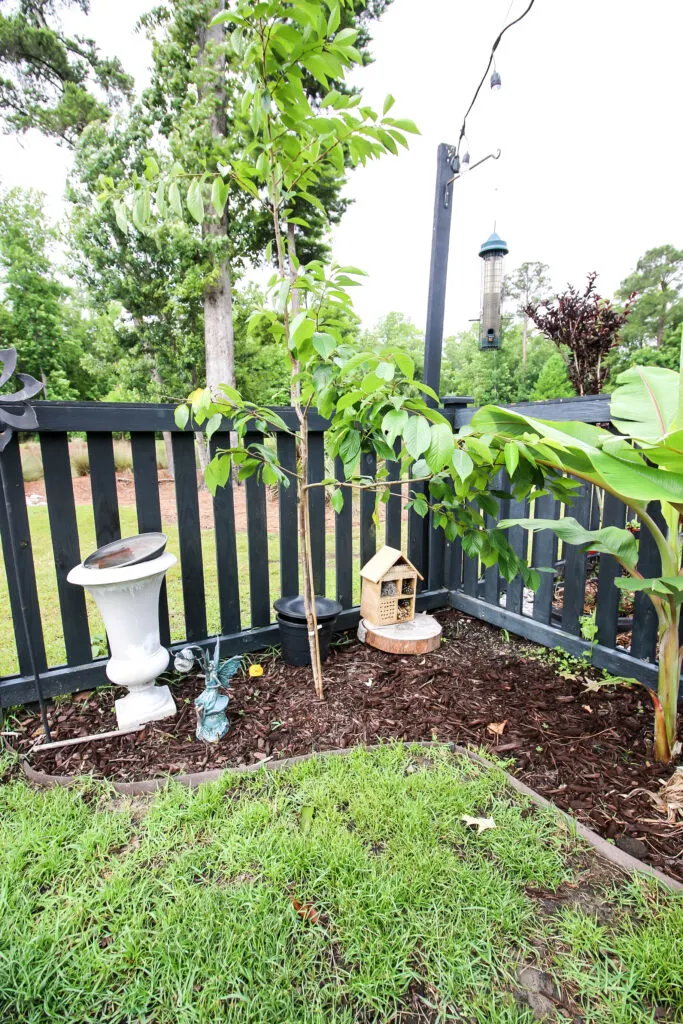 We chose to put ours in the back corner of our yard near our bird feeder and set it on top of a slice of wood from an old log.
Bug hotel for kids woodworking plans
If this looks like a great project for you to do with your kids, make sure you grab the woodworking plans!
Our DIY bug hotel woodworking plans feature a full material list, cut list and step-by-step instructions with computer model imagery.
The bug hotel plans will go into more depth than this post and give you a better look into what you need to be successful, all for the cost of a coffee!
How to maintain your bug hotel
Maintaining your bug hotel is simple. Obviously make sure that if you are interacting with the physical product you're being mindful of any bugs that may be in it.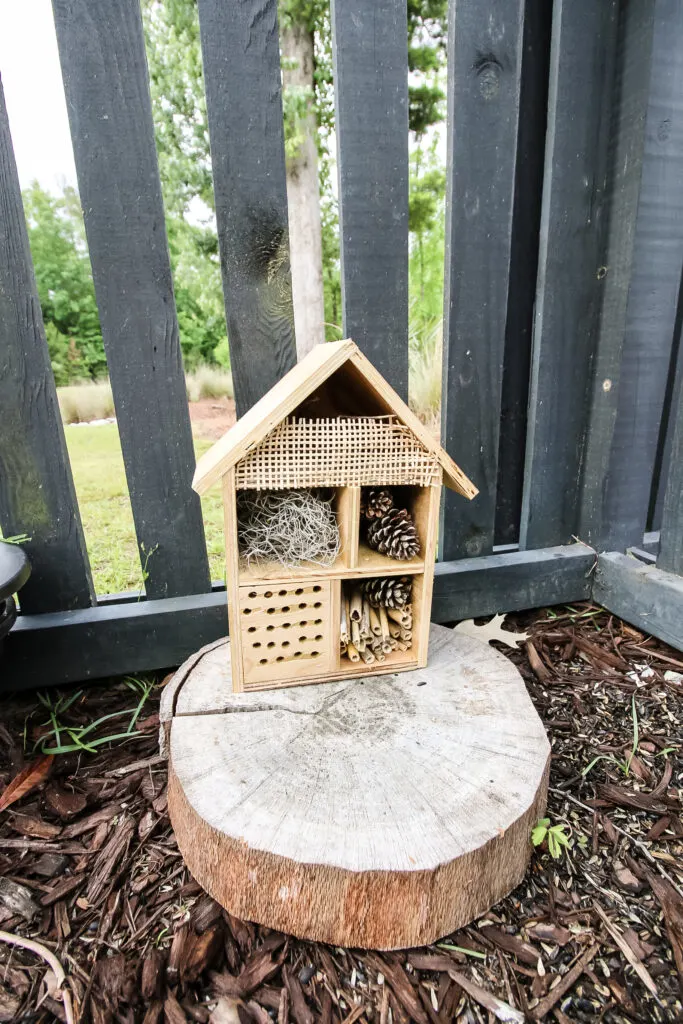 Ways to maintain your insect hotel include changing out the natural materials you've put in there, cleaning out anything that is ineffective or dried out and putting a protective coating on the hotel itself, such as spray on Shellac.
Bug hotel build recap
Bug hotels are a great way to give insects a place to live and thrive and are a great activity for kids. You can engage your children to help you build and fill a bug hotel and then watch it thrive for years to come!