I have ALWAYS wanted a pink room! Pink is my favorite, favorite color. I have pink everything, which one reason that I never have painted walls pink – pink on pink on pink can be a bit much, even for me! So, when it came time to make over my laundry room (I was so embarrassed at the state of it for our blogiversary condo tour!) I thought that it would be the perfect time to add a pop of pink to my life. I'm the only one who spends any serious time in this laundry closet, so I decided to make it as glam-pink as possible 🙂
So, here it is before. Boring builder beige, horrible wire shelving. Tons and tons of junk.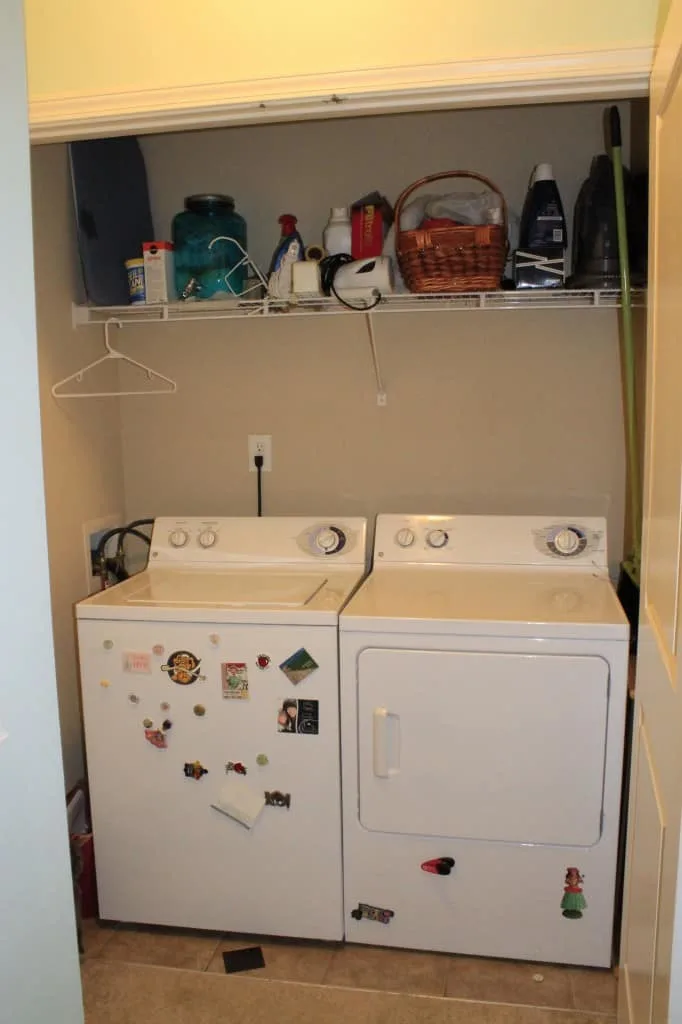 First of all, I emptied everything out of the closet and into the guest room. The guest room also happens to be Sean's room, so while he said it was ok, he was obviously frazzled to have to climb and dig to get to his drawers and closet and desk and everything for a few days.
Once it was empty, Sean used his mega muscles to rip out the shelves. As I've mentioned with my closets and the pantry, these shelves are the worst to take out. There's so many flat head screws and anchors. It really tears up the walls and requires some Hulk-like yelling to yank them out.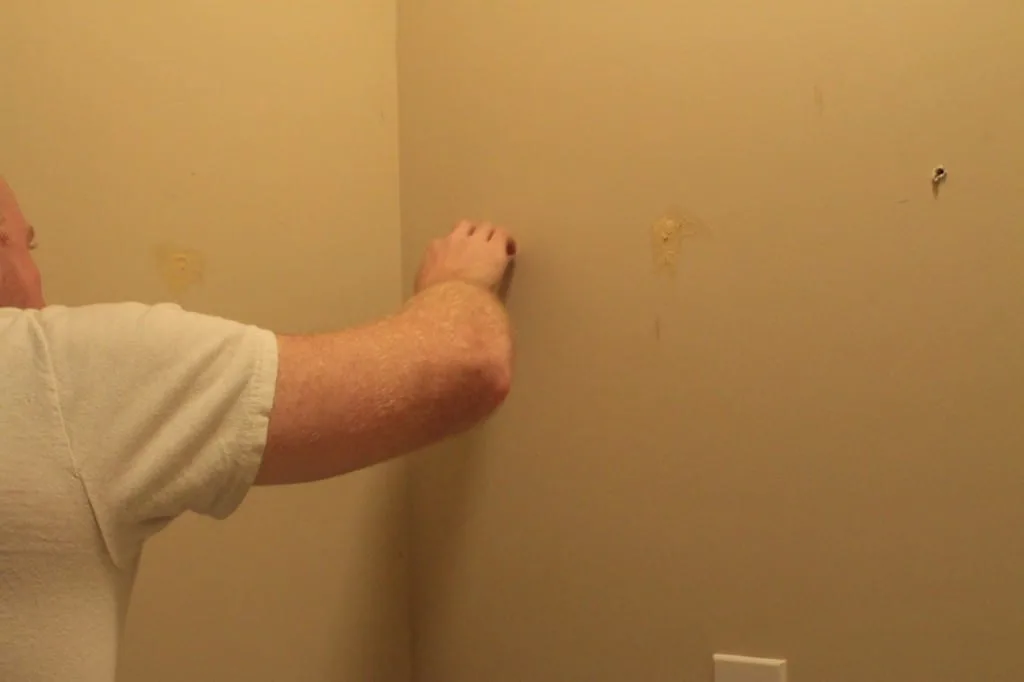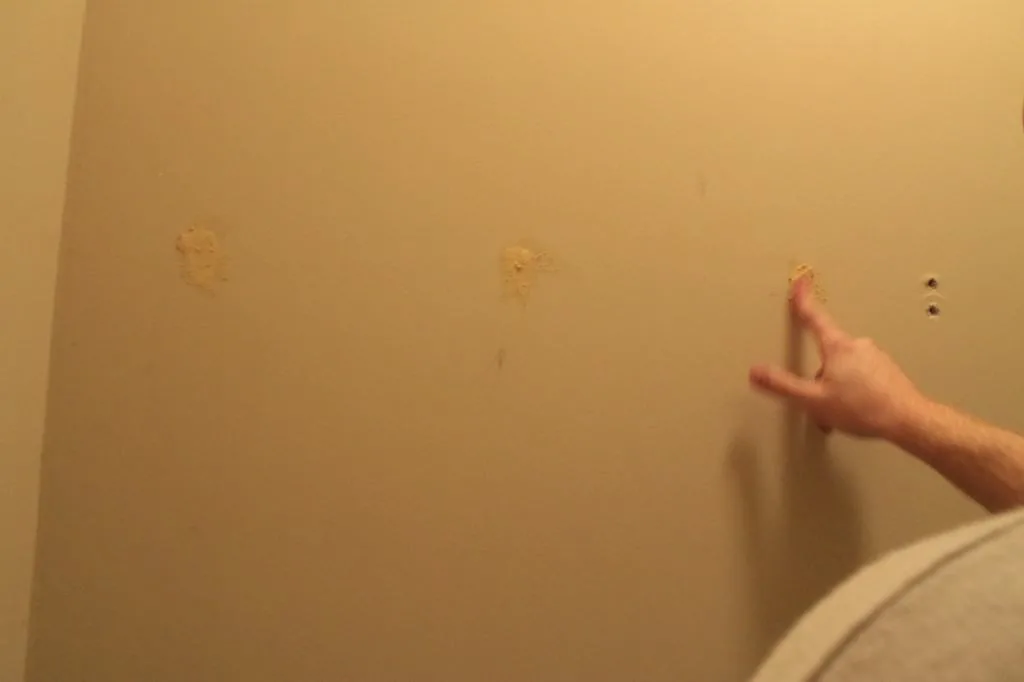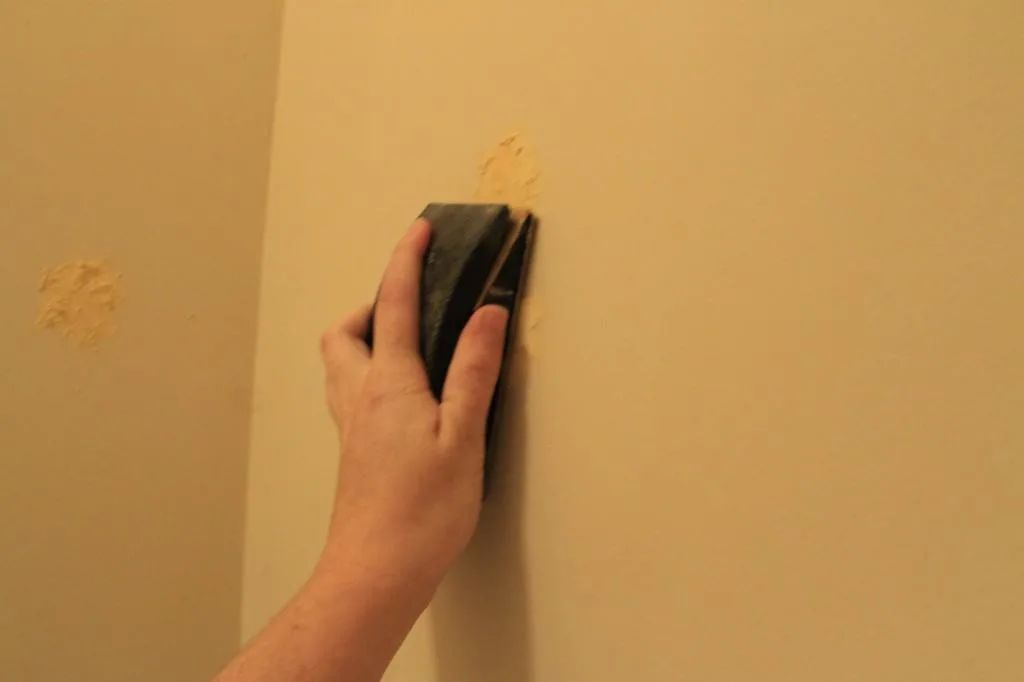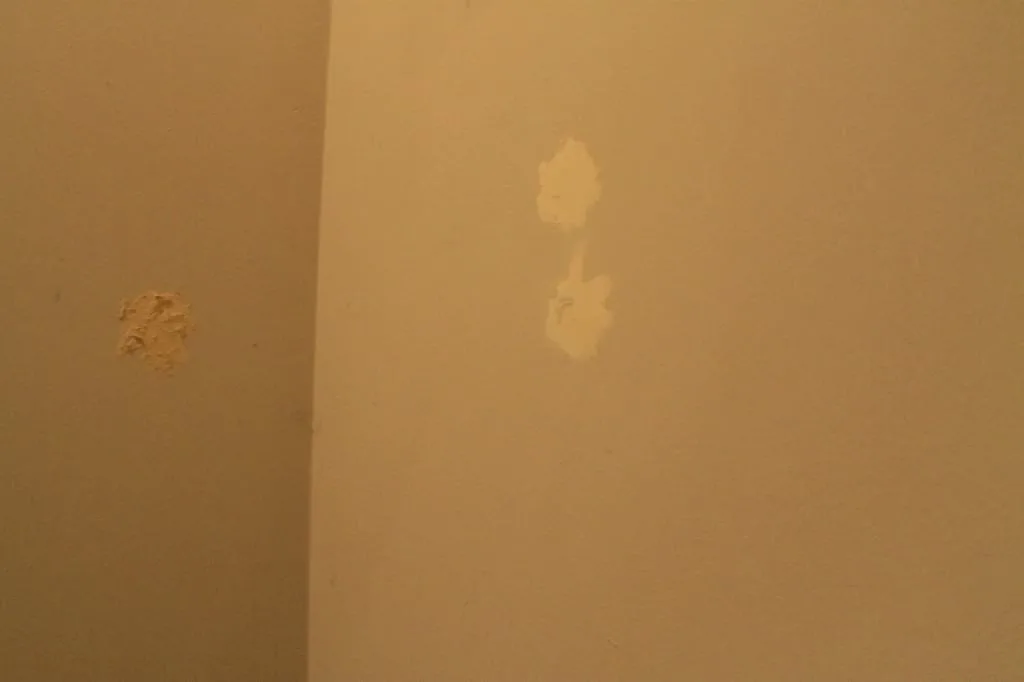 You can see it sanded (on the right) vs. non-sanded (on the left) above.
We patched the holes following this tutorial. I sanded them down and then dusted everything with a rag to make sure the surface was clean and clear to paint.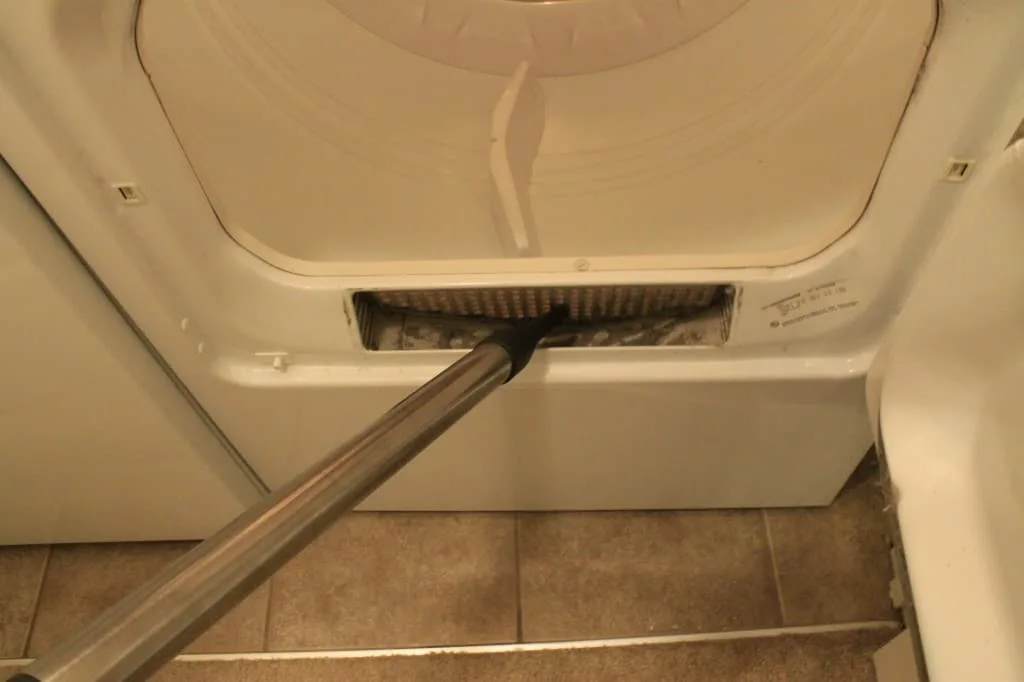 I also took this as an opportunity to deep clean. I wiped down the top, front, and sides of the machines. I also vacuumed beside and under the machines when I pulled them out, and vacuumed inside the dryer lint vent. I always clear the trap between loads, but there was a lot of build up in there. The tubey extension on my vacuum sucked it right up.
Then came time to paint! I chose Olympic One (paint & primer in one) in Panama Rose in a satin finish. I heavily debated going for a more coral color, since all of the colors in our condo are more beachy. However, I was afraid that a coral might appear (or photograph) more orange in certain lights. And, in case you don't know, orange is my very least favorite color. So, it was not worth the risk, and bold sassy Panama Rose won instead!
This small space was really hard to paint. I decided to start by painting all of the brushwork and edges.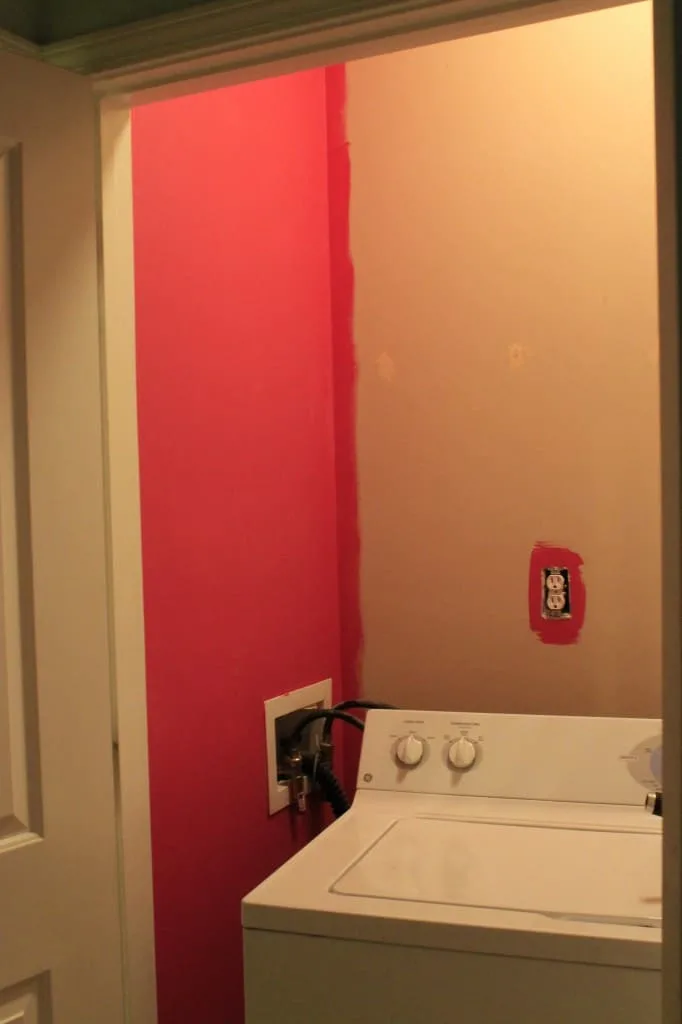 Then, I started to roll. I had to push the machines to one side & do 2 coats on each wall before moving the machines again and painting the next wall. It was super annoying, but it was worth it in the end!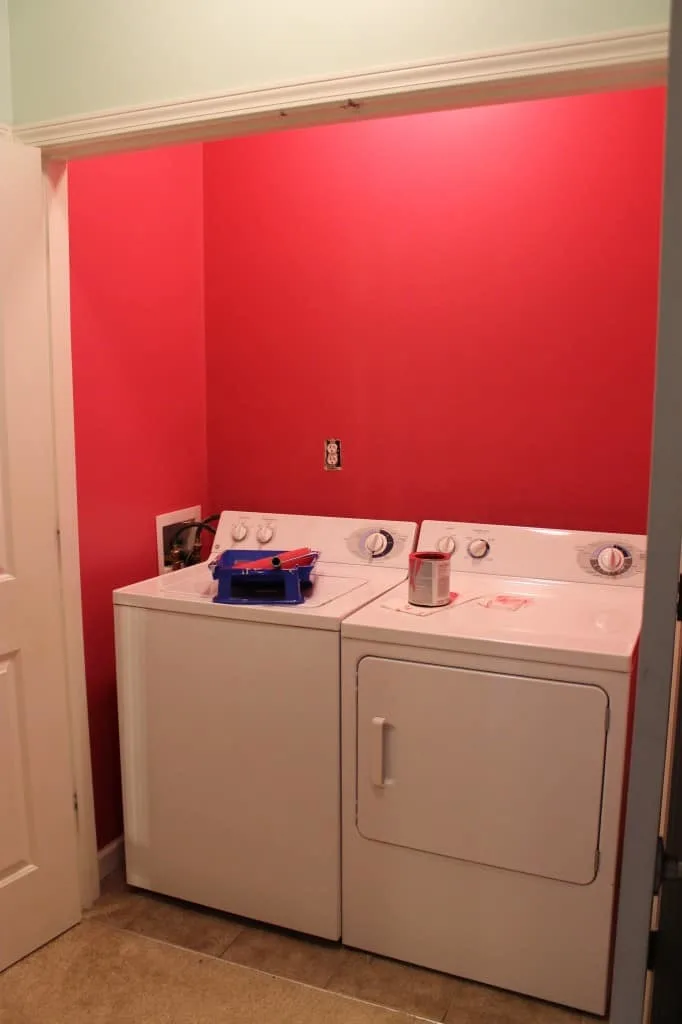 Isn't it fabulous?! I can't wait for Sean to show you what we did with the new shelving. Come back tomorrow to see how it ended up!
Have you ever painted a room pink!??!