We've been out of state 3 out of the last 4 weekends, I've just started a new job, and we've spent a decent chunk of our after-work evenings gathering, labeling, and dropping off stuff for my Junior League's Whale of a Sale (it's next week!). So, other than our super awesome (and shockingly easy) pantry makeover, we've been a little light on the DIY and new & exciting recipes around here lately. However, we will be home until Thanksgiving and have some good projects up our sleeves – so be ready for some goodies coming at you soon… probably kicking into gear next week.
In case you didn't know, Sean is a mega Panthers fan. Has to watch all the games, have Cam Newton on all of his fantasy teams, rock our panthers wreath all season long, and generally bleed panthers. So, I've always thought that it was kind of strange that he didn't have a jersey. He has a sweatshirt and a couple t shirts, but no jersey.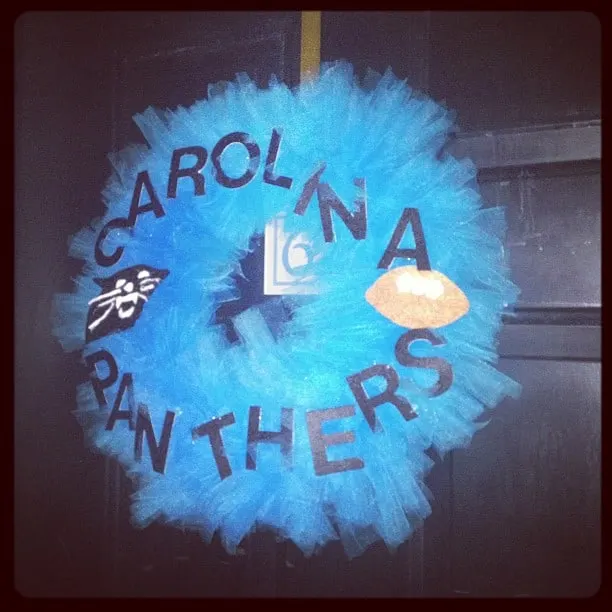 I know that the real reason was that he would never spend that kind of $$$ "unnecessarily", but that's why I thought it would make a good gift. My original plan was to get it for him for Christmas, but after determining that there probably wouldn't be many games after Christmas (sorry, team), I decided that it might be a better "just because" present anyways.
I've been doing some job quitting, applying, starting, quitting again, and starting again lately. I've been moaning and groaning and complaining "I don't know what to doooooo" the whole while along the way. And though many of my friends, family, and mentors have helped me in making decisions, the brunt of it all has definitely fallen on Sean. He has been incredibly supportive and has really put up with a lot. Now that I finally feel settled, I'm definitely glad to thank him with a little something special.
I actually called Sean's best friend to ask him what jersey to get. I decided on DeAngelo Williams (apparently his favorite – I'm certainly glad I didn't try to guess myself because I wouldn't have picked him) in the black color. The teal is way too teal, and I was afraid he would dribble pizza sauce/wing sauce/beer on a white one and I'd never be able to get it off.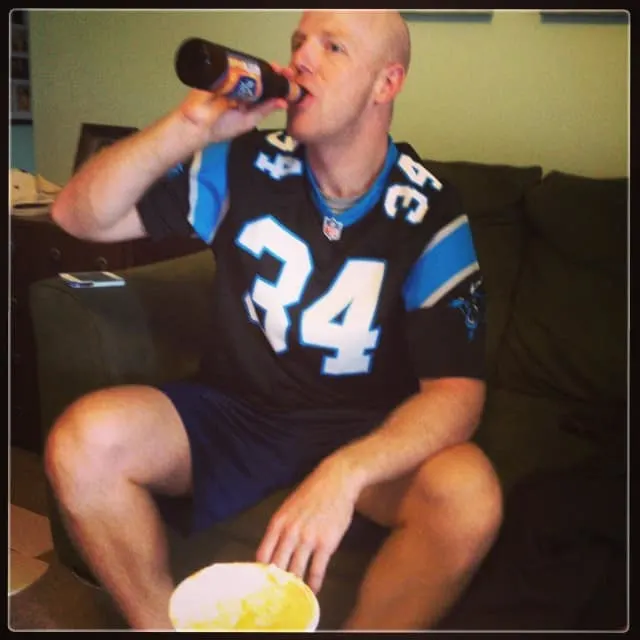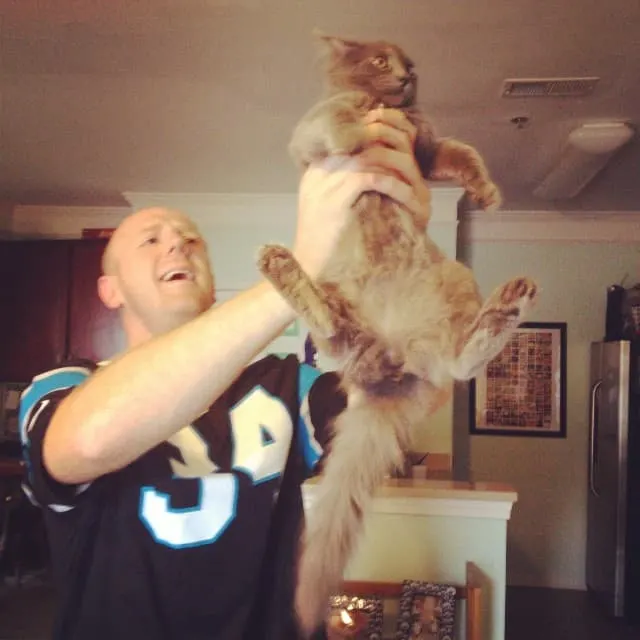 When the panthers win, Bear gets to play Sir Purr.
You like it? He was pretty surprised. I told him he had a surprise coming in the mail and had the package addressed to him. The only thing better than a present is a present in a package in the mail!
Do you ever give "just because" presents??