Wondering where to sell woodworking projects that is easy to work with – and profitable? Here are the best online and in person options for selling handmade wooden projects!
Woodworking is a great hobby. If you get really into woodworking, you might end up with more projects than space in your home.
A great option is to start selling your woodworking projects. This will help to pay for tools and materials and makes your time investment worth it.
Who knows, it could turn into a full fledged business!
Once you pick the perfect profitable woodworking projects to sell, it's crucial to find the right place to sell your goods.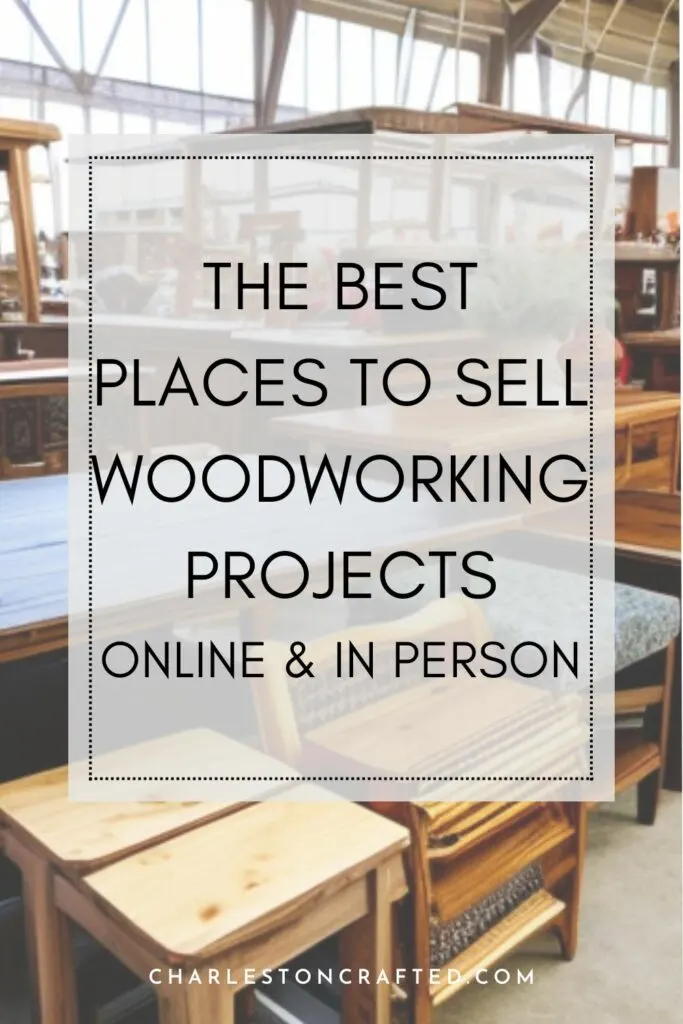 The importance of niching down
Whether you choose to sell online or in person, you will have the most success and be the most profitable if you choose a specialty.
Specializing allows you to perfect a product or suite of products and get "famous" for it. You want buyers to be able to glance at your booth or page and immediately get your vibe and know if they are interested or not.
Be sure to check out our list of the best woodworking projects to make + sell!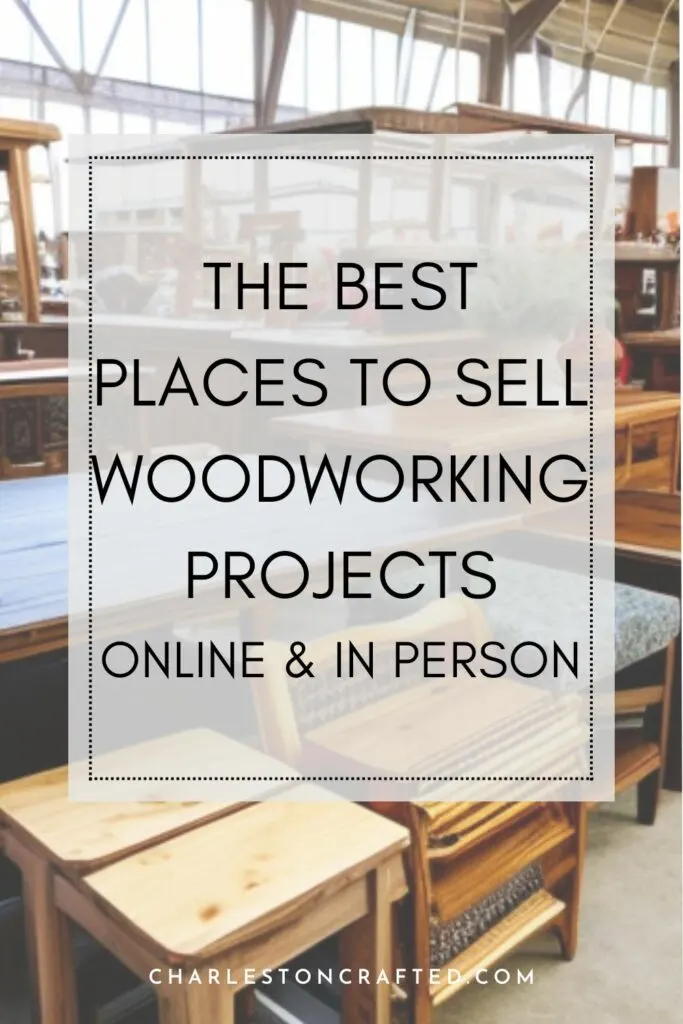 Where to sell woodworking projects
When selling woodworking projects, you have two main choices: to sell online or in person.
Where to sell woodworking projects online
The most common places to sell woodworking projects online include:
Etsy
Shopify + your own website
Amazon Handmade
Facebook marketplace
There are a few places to sell handmade wood items online. When planning to sell online, you will need to keep in mind:
Photography is very important
Regardless of the platform, using keywords that people are searching for is crucial
Position yourself as a high-end or custom woodworker. You don't want to compete for the lowest priced listing.
Etsy
Etsy is a natural place to start selling homemade projects. We have sold handmade, vintage, and digital products on the platform. There are pros and cons to selling on etsy.
The biggest pro is that it is easy to set up, cheap to create listings (20 cents per listing to post), and there is a built in audience searching for things to buy.
This is an easy way to reach potential customers without having to build an audience.
The cons of etsy is that the fees can be significant, and there is a lot of competition. I suggest that you search for your wood projects on the site first to see what exists and what the pricing looks like.
You don't want to be one of 10,000 cutting boards – you will need a distinguishing feature to stand out or else you are just competing for cheapest price, which is not a good place to be in.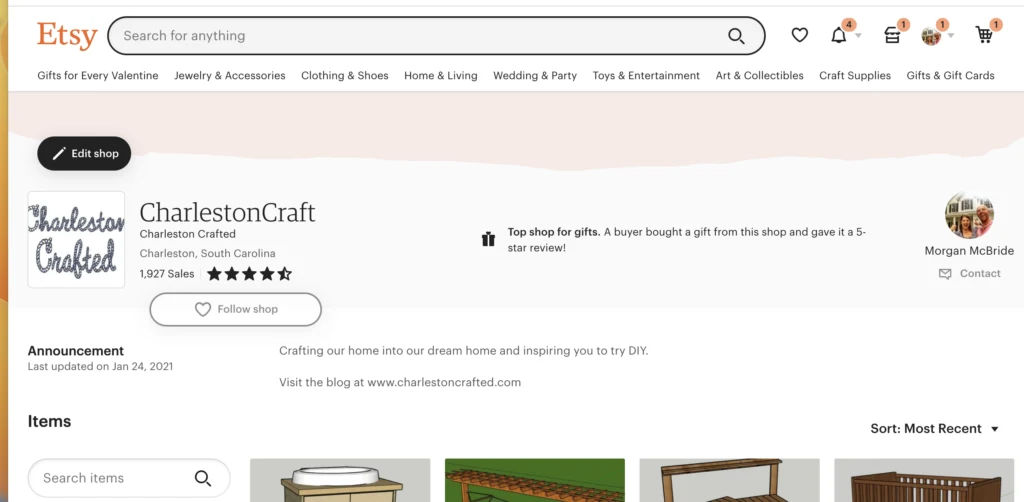 Shopify
You can also create a store on your own website. There are many platforms to do this, but Shopify is one of the most popular.
The benefit of a Shopify site is that you control it and you don't have to pay the fees associated with a site like Etsy. You will still have to pay a regular fee to Shopify and a credit card processing fee.
The con of creating your own shop is that set up can be a beast if you don't know what you are doing. Secondly, and most significantly, you have to drive your own audience.
If you have a big following on social media, you can drive them to your site. But if you don't, it can be hard to reach your target audience.
Amazon Handmade
Selling goods on Amazon Handmade gives you access to all of Amazon's audience – now, that's a lot of people!
There is a monthly fee for using this program of $40, and you pay approximately 12% in sales commissions.
There is also an application process and not all applicants are accepted.
I encourage you to spend some time searching products similar to yours and do some rough math and estimates on what you would need to sell for it to make sense for your business!
Facebook Marketplace
Facebook Marketplace can be set up so that you ship your items anywhere. This is a cheap and easy way to sell.
However, you have to watch out for scammers (there are a lot) and find the right projects that sell to the Facebook audience.
Where to sell woodworking projects in person
If you're wondering where to sell homemade furniture, in person is usually better than selling online and having to deal with shipping.
Some of the best places to sell woodworking projects in person include:
Flea markets
Craft fairs
Consignment stores
Facebook marketplace
Word of mouth
Flea markets
Flea markets can be a great place to sell your furniture. Check it out before renting a booth – be sure that the shoppers are your target audience.
Craft fairs
Craft fairs are more one-off and less regular compared to flea markets. If you can get in the right craft fair, they can be very lucrative – especially at the holiday season.
Watch out for the fees and charges associated with renting a booth. Ask around if possible to be sure that the audience is right for your products.
Consignment stores
Some consignment furniture stores will sell handmade furniture.
The benefit of a consignment store is that they have their own audience of shoppers. Many people like to see things in person before buying and having them in a store makes that easy.
Know that you will have to leave your furniture there and hope that it sells, and pay a 20-50% commission.
Facebook marketplace
Facebook Marketplace can be used to sell furniture online locally. Just toggle that you will not ship, local pickup or delivery only.
When selling pieces of furniture or crafts on Facebook, you want to be clear to differentiate that your items are brand new and custom made.
There can be a lot of yard sale mentality on Facebook – people assume things are old and used and should be super cheap.
You can definitely sell higher end woodworking projects on Facebook – you just have to tweak your listings to be sure you are reaching the right people.
Word of mouth
The best way to sell your wood projects locally is via word of mouth. Print business cards and include one with each purchase. Encourage buyers to post their finds on social media.
We have seen a ton of sales come from things being posted in local, very active, neighborhood facebook groups. This is not from self-promoting but from buyers bragging to their neighbors!
If a shopper tells you they love it, ask them to post or share!
Any more questions about where to sell your woodworking projects?