We are so excited to share that we are (finally!) under contract on a new house! It has been a long journey, and so I wanted to share the full story with you today.
The short story is – we planned to start house hunting April 1, but it was delayed due to the shut down. Our dates got pushed way back – and we were up against a hard deadline – my August 14th due date!
Here is the long version for those of you who have been following along or are interested!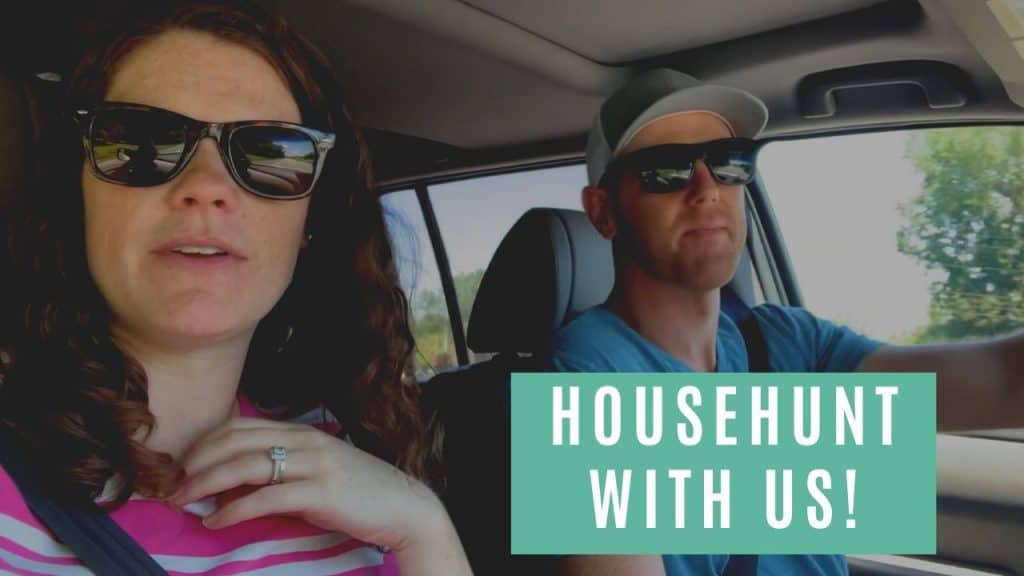 Our original + modified plans
Our plan since we bought this home was that it would work for our family when we had one kid – but not two. Our house only has three bedrooms and no playroom, and all our family is out of state, so we really needed more space. So, as soon as we decided to have a second kid, we knew that would also meant it was time to move.
Our original plan was to do like we did with our condo – find the perfect house, put in an offer, go under contract, and then put our house for sale immediately.
Our planned timeline was to start serious house hunting April 1, and find something by the end of May. We'd list our house right away and move in June or July, with plenty of time before my August 14th due date.
However, when the virus hit, our realtor advised us to list our house for sale first, due to uncertainty in the housing market. We also put the whole process on hold for 6 weeks to "wait out" the "worst" of the shut down.
So, one weekend in May we went out and saw six houses. After feeling confident that one of them would work for us, we pushed "go" on listing our house for sale.
Selling our home
Our home was listed for sale on May 14 and we had a full price offer on day 8.
That was a super long and stressful week! We had almost 20 showings, most of them one-offs, so we were having to constantly clean the house, get the pets, wake up the toddler from a nap, and leave.
This was during the peak of the virus when everything was still closed, even parks! So all we could do was go for a walk or drive around in circles.
I am just so thankful that only lasted 8 days, because it was really hard.
Anyways, we got a full price offer on our home on the afternoon of the Sunday of Memorial Day weekend.
We were thrilled and accepted, with the one amendment that we needed a flexible close date to match up with whatever house we found. Luckily our buyer was flexible and it was a done deal.
So, we told our realtor to prepare an offer on our favorite house – which had been on the market since the beginning of February, so 3 1/2 months at that point.
We were discussing what price we should offer on that house when our realtor called to let us know that they had just accepted an offer the previous day. It was terrible timing and we felt very sad, disappointed, and a bit angry at the timing to be honest.
The perfect house
But, another house had just been listed the prior evening (Saturday). It looked like it had potential so our realtor offered to take us the next morning, Monday (Memorial Day) at 9am.
We went to see that house and fell hard in love. It was even better than the house that we were planning to put an offer in on, and $9,000 cheaper, and 3 houses down from the big central park in our favorite neighborhood.
When we were touring this house, we went into the back yard and the next door neighbor was there with their son. We talked to them for a minute and found out their son was just one month older than Luke. It was like it was the perfect ultimate destiny.
Our realtor called immediately to say that we would be putting in a full price offer. Their realtor informed him that they had already received an offer that morning and sent a counter literally while we were inside touring the house.
We were devastated when we heard this. We had our realtor call and offer $10,000 over asking price, but they said the buyer signed the counter offer and it was a ratified deal.
We honestly got dark after this. This was the PERFECT house and all other houses looked terrible in comparison. We felt so sad and depressed. I just laid on the couch and stared at the wall for 24 hours straight.
I recognize that this was a first-world problem – but it felt like the end of the world. We had a buyer, and a timeline, and now it felt like we were going to end up homeless with a newborn and a toddler and two pets.
People kept telling us to just move into a rental – but that didn't feel like a good solution.
An important factor in our house hunt is that our house is a large portion of our livelihood – home renovations, DIY projects, and room makeovers are a huge part of our business! while we could do some things in a rental, it's not really ideal for us.
House-hunt wise, we made the "cardinal sin" of getting very attached to a certain neighborhood – really one section of one neighborhood. Nothing else compared. All we could do was wait for something to be listed.
The options
So, we kept looking at houses. We considered a few options:
Buy a house that we didn't love, but was in our budget in our preferred neighborhood (there were a few).
Raise our budget (there were 2 houses listed over our budget that met our criteria on paper – but at $50,000 and $85,000 over budget, it was a big stretch)
Look at another neighborhood (which made us feel disappointed)
Move into a rental and keep house hunting
Move into a rental and build new construction in our second-choice neighborhood
New construction
I went and had a consultation with a new construction office. It was actually the same builder as our favorite neighborhood – and the same floor plans – just in a different section of town.
We liked the idea of designing our perfect version of these floorplans. The new neighborhood was OK – objectively a better geographical location than our preferred neighborhood but not as good of amenities.
The big negative of new construction was that it wouldn't be ready until January – and due to payment schedules, we would need to proceed with the sale of our house and move into a rental in the meantime.
Bringing our baby home to a rental, living there for six months, and the high cost of rent were all big turn offs for this for us.
Additionally, at my meeting with the new construction sales rep, I had her mock up our ideal home designs. We realized that new construction would be $25-50,000 over our preferred budget.
Combine that with $3,000 a month rent (that's what a 3 bedroom house in this area rents for!) and our potential lost business income from having to turn down certain types of brand partnerships during that time, and it was an expensive prospect.
Waiting and waiting
So, we kept watching the market and waiting.
We were all putting out feelers everywhere trying to find something before it even hit the market.
I personally connected with a few families on Facebook who were planning to sell their homes soon or had been planning to list and delayed due to the virus.
Most of those homes did not work for us, or the timing was off. However, there was one house that checked all of our boxes. The problem was that it was renter-occupied and we were unable to get inside to see it.
We learned about this house in May and "creeped" on it several times from the outside. We connected our realtor with their realtor, but the renter was refusing to let us enter due to germs and the virus.
The weeks went on. We passed the last date that we could have put in a contract on a house and closed in time to keep our original close date with our buyer. Once again, we are so thankful that she is so flexible.
Now what?
We began talking about worst case scenario, getting out of the sale of our home or moving into a rental. We were stressed to the maximum, snapping at everyone. I was refreshing my phone constantly hoping for new listings.
I felt what can only be described as despair. Once again, I recognize my privilege in this – we have a fantastic house now and are safe and healthy.
I just had this plan that we were going to move before this baby was born and we had gone through so much to get our house sold for a great price – and it felt like it was all falling apart.
So we stretched our budget
We sat down and crunched some numbers and decided to consider raising our budget. There was one house listed at about $50,000 over our ideal budget, but still within our approved range. Since it had been listed for three weeks, we decided to see it and see if maybe we could get it for less – still over our budget but maybe if it was a great house it would be worth it and good for resale value.
Well, we saw that house and were totally underwhelmed. Don't get me wrong – it was a nice house. But, it was priced $60-80,000 more than most of the houses that we had been seeing. We expected it to feel much bigger or grander or nicer.
It was slightly more square footage but didn't feel bigger or fancier than what we were used to. We left feeling very underwhelmed and were trying to justify making a low ball offer.
As we were mulling it over, our realtor was busting his butt trying to get us into the renter occupied house that was not for sale yet. I cannot thank him enough for the time he put into trying to get us in there.
THE house
The renter said we could come see the house that Monday. We were so excited! But then he cancelled that day and said come Saturday instead.
We were so frustrated and knew that this house was the one that we wanted.
So, we did something kind of wacky.
We put an offer in on this house, that wasn't for sale, sight unseen.
To be fair:
We knew the floorplan – and it was the same floorplan of the house we fell in love with near the park
We had creeped on the outside multiple times and loved the yard. The house also looked to be in good shape from the outside, was on a large pond and had woods behind it.
We had seen listing photos and a walk through video from two years prior.
It had an elevated garage, meaning a great place for a workshop.
The main question was the shape the inside was in and if the renters had taken care of it.
Our realtor was able to put contingencies in our contract so that if we got inside and it stank of cigarette smoke or was damaged or anything weird, we could get out of the contract.
We offered their full asking price, with a few little typical asks like $4,000 in closing costs, a warranty, and a 30 day close.
The whole process took a while – they actually let our offer expire before countering and I was sure it wasn't going to happen.
However, they countered and accepted our price (haha luckily, it was the price they told us!) and just wanted to take away the closing costs and warranty, which was fine and what we figured they would do.
However, they also wanted to move back the closing date. Their renter has until July 31 to leave according to his contract, so we understand this, but were disappointed.
We went back and forth a bit and then both signed the contracts! So, we are ratified and officially under contract.
This house was about $25,000 more than we planned to spend, but well within our approved mortgage amount and adds about $100 a month in mortgage payments from what we wanted to spend. However, it also is fully solar, which we know from experience saves about $200 a month in electrical costs, so that is a big help on a monthly basis.
The timeline
Now, we are currently set to close on this house (and our current home) 10 days before my scheduled c-section. If I go into labor early? We might be moving with a newborn.
It is not an ideal timeline whatsoever, but they have promised that if the renter decides to leave early, they will let us know and the close date can potentially move up.
In conclusion
I am just so thankful that everything seems to have worked out. I am SO thankful to our amazing realtor for making the hardest possible thing happen.
I am thankful to our buyer for being flexible on close date.
I am thankful to the sellers for contacting me on Facebook and being responsive, working so hard to get us in, and honoring the price that they told me back in April and not trying to take advantage of our clear desperation.
I am thankful for my husband for tolerating me during this time when I wasn't so pleasant to be around.
Of course, I am thankful for our health and safety during this time, and that we both have steady incomes that will make this house possible.
Fingers crossed that everything works out according to plan!
Any questions for us?!
Facebook | Instagram | Pinterest | Twitter | YouTube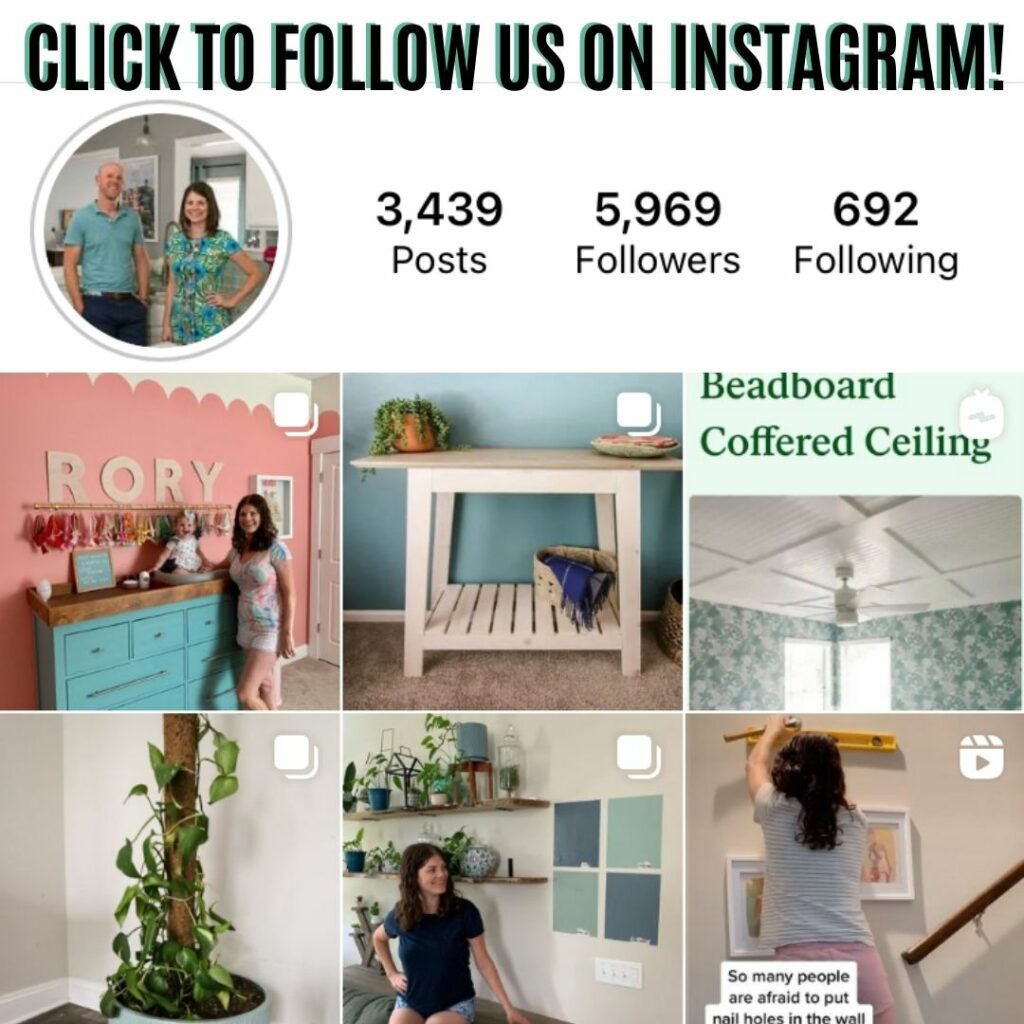 ---
Can we send you our newsletter?
Another great way to keep up with out latest projects is by joining our weekly newsletter! Get alerts of our latest projects and special peeks behind the scenes!
Follow along on Instagram
Join our online community where we share real time behind the scenes looks at our DIY projects and peeks inside our home + family!
---