Are y'all all done with your holiday shopping? I am further behind than usual but trying to be very thoughtful with my gifts this year. One of my favorite kind of gifts to give and receive is a goodie bag – or a stocking – full of lots of smaller goodies. It's fun to buy things that the recipient didn't ask for but you know that they'll love!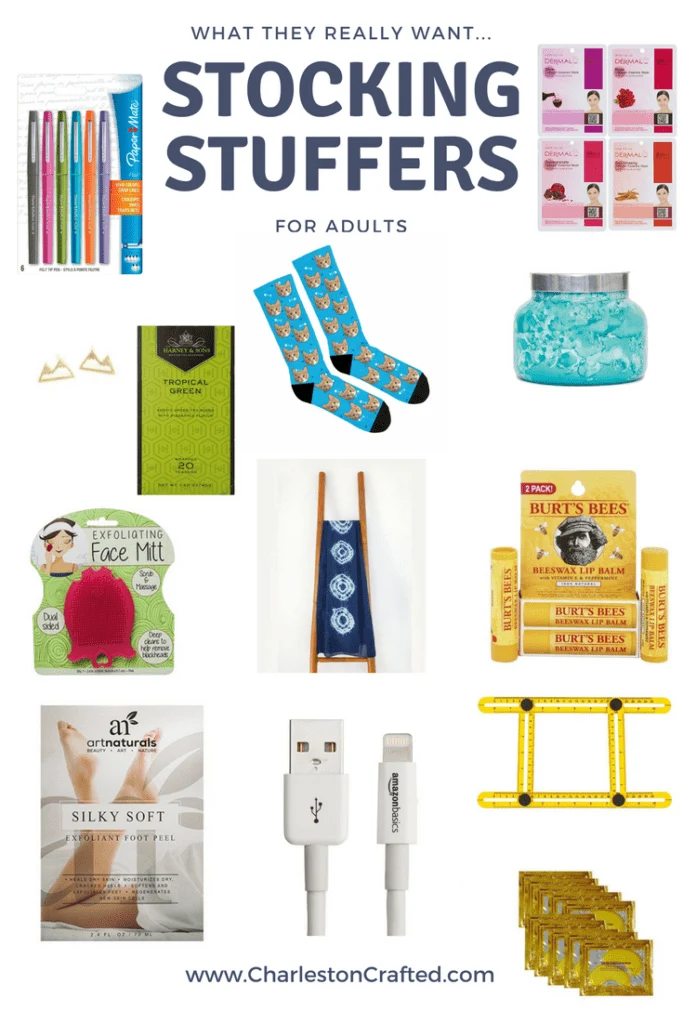 Nice pens – fancy pens are such a luxury! I recommend papermate flairs or le pens – you can buy a larger pack and split them between people!
Burt's Bees – everyone's all time favorite lip balm. I buy it in bulk on eBay, which makes it super affordable! I keep a huge stash in my vanity year round, but they are always a welcome gift.
Sheet masks – face masks are such a simple luxury. I buy these and am gifting some this year! These under eye pads are also a fun similar gift! Also, there is NOTHING better than this foot peel! And throw in one of these super inexpensive face scrubbers, too!
Angle Tool – if someone on your list is into DIY, this angle tool is inexpensive and has a lot of cool potential!
Phone charger – you can never have too many phone charging cords. This 6 footer is surprisingly inexpensive or consider a back up battery pack.
Funny socks – everyone needs socks, and men's dress socks are especially fun to shop for. Consider these for any pet lovers in your life!
Essential oils – even if you aren't super oil-crazy, a nice essential oil roller is great to have for your desk drawer or bag. I love peppermint for when I have headaches!
Tea or coffee – always a huge hit in the cold winter months. Here's my absolute favorite tea!
PJ pants – is there anything better than new pajamas for Christmas?
Little luxuries – of course you can never go wrong with small candles, simple jewelry, or a light scarf!
What's your favorite stocking stuffer?
This post contains affiliate links. That means, if you click through and make a purchase, we receive a small percentage of the sale. Thanks for supporting us and making Charleston Crafted possible.