Y'all know that I have gone crazy with Spring fever! The weather is warming up and I am ready to surround myself with plants. Plants are beautiful and wonderful, but cool planters can make them even more interesting. So, I decided to round up a selection of really unique planters, all of which are available on Amazon!
Plants are a great way to bring a bit of life into your home. Even if you have a black thumb, plants like succulents, pothos, and snake plants are pretty easy to keep alive. When in doubt, you can always fill any one of these planters with a fake plant!
Some of these planters are for indoors, some are for outdoors, and some can be used for either! Be creative to give your plants the most stylish possible homes.
It's easy to keep plants in the cheap flower pots that they came in, but upgrading to a cuter (but still totally affordable) pot will make them much more of a home decor statement!
Unique Planters from Amazon
Click here to pin this post to your Pinterest boards!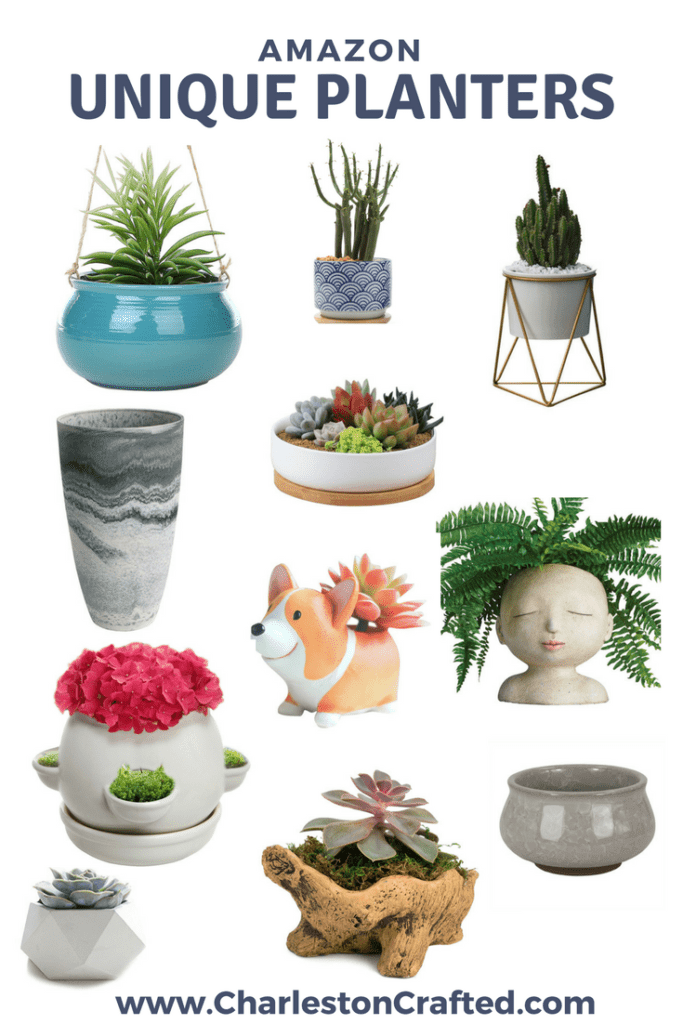 clockwise from top left
This aqua hanging planter is the perfect pop of color! Hanging planters are a great way to fill an otherwise awkward open space.
Y'all know that I love the blue scallop pattern on this pot. It is geometric and fun but could also play as very preppy.
This gold metal plant stand gives your plant height and geometric interest. Mixing up the height of planters is a great way to make them look more purposeful and less like a pile of pots on the floor.
The wooden base on this ceramic planter really makes it pop. It is a simple design but really feels luxurious and expensive.
This head shaped planter is whimsical and will definitely make you smile. I think it would incentivize me to keep a plant alive if it was a planter girl's hair!
I love the crackle glaze on this grey pot. It takes something ordinary and really makes it feel special!
A faux driftwood planter adds a warm rustic feel to any space. It is a really great way to pull in double nature vibes! See some of my DIY driftwood projects here.
I don't even know a corgi and I feel like I need this puppy planter. Look at that little smile on his face!
Concrete is super on trend and these geometric planters are perfect for so many spaces. The straight lines really contrast nicely with the organic shape of the plants.
I love how strawberry pots lets plants pour out from all directions. You don't have to just use them for strawberries – how fantastic would drippy plants look coming out of all of the holes?
Tall planters can be really expensive, but I was really impressed at the price of this marbled one. Plus, marble is oh so very chic and timeless.
This post contains affiliate links, which means that if you click through and make a purchase, we receive a small percentage of the sale. Thanks for your support!