We are so excited to be planning a trip to Kauai, Hawaii for our wedding anniversary. In preparation for the trip, we have done a little shopping! Honestly we don't shop often and try not to buy things with only one purpose, so we feel confident that this stuff will continue to come in handy once we get back.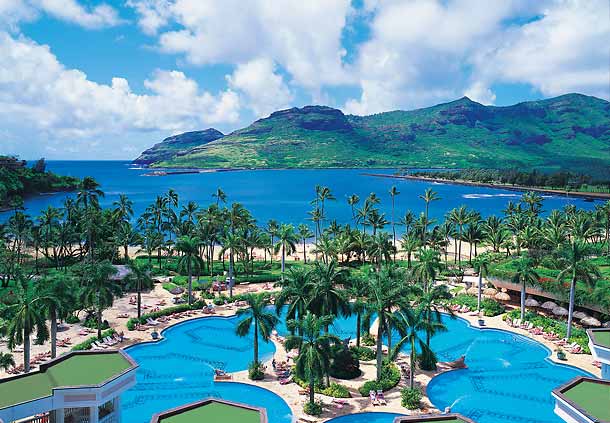 sneak peek image of our resort via
Here are the things that we have picked up:
Guide Book – We love the internet (especially blogs + Yelp) but for planning the details of a big trip, I love having an old school guide book. This was the most recommended book on Amazon, and we have loved the insider feel of the suggestions. We will be sure to be back with feedback after our trip. (And, ok, we probably won't use this after the trip! But everything else we will.)
Bathing Suits – Living at the beach, our bathing suits tend to take a beating. I love picking out a new suit or two each year and this year took advantage of early sales at Victoria Secret to snag this bikini in teal and this one in pink. Better get on those crunches!
Hats – In an effort to keep our heads, ears, necks, and faces from getting fried, we both plan on wearing wide brimmed hats whenever we can. I picked up a couple of cheapies at Walmart and we are hoping that they really do the trick.
Workout Gear – A big reason that we chose Kauai as our destination was the abundance of hiking. Of course I have lots of work out gear, but I was able to get a great deal on a new outfit by shopping as a new VIP member at Fabletics. Pro-cheapo tip: sign up for VIP to snag the discounted outfit, then call and cancel your membership anytime in the next month and you'll never be charged a monthly credit. Or, stay a member and pay $50 each month for a really cute work out outfit!
Hiking Shoes – Sean already has hiking boots, but decided that he wanted hiking sandals for this trip. I had purchased these for our trip to Maine, and he was so jealous that he picked up a similar pair. For under $30, they are a great buy, and he has been breaking them in recently to avoid blisters or discomfort.
Go Pro – This was by far our biggest purchase for this trip. We knew that we would be gong snorkeling, sailing, swimming, hiking, and zip lining. I really wanted to be able to get some great pictures. When we went on a cruise in 2012, we purchased underwater disposable cameras and weren't thrilled with the results. So, we bit the bullet and ordered a GoPro Hero+ LCD, floating selfie stick, remote, and chest mount. We know that we will get great shots and use it on upcoming projects.
Sunscreen – I am sure that we will be able to buy sunscreen once we get there, but we definitely wanted to stock up here at home when we can control the prices. We really don't want to get burned – or too much sun at all, really.
What would you suggest we buy for a trip to Hawaii?
This post contains affiliate links, meaning if you click through and make a purchase, we receive a small percentage of the sale. Thanks for supporting the brands that make Charleston Crafted possible.