A hole in a wall can seem like a devastating accident. However, it doesn't have to be. Many holes can be patched with a drywall patch kit – which is super easy and inexpensive to do.
What is a drywall patch kit?
A drywall patch kit is a kit that includes everything that you need in order to patch a hole in your drywall. This includes the tools and materials that you need to make a small drywall repair.
These kits include the same things you would gather or buy to fix the hole – they are just convenient for people who don't have any of the tools or supplies on hand.
What is included in a drywall patch kit?
Some type of compound
A putty knife
Sandpaper or something else to smooth the compound
Some kind of backing
If you have these things already, don't buy a kit. They are perfect for people without the supplies who just want small quantities of each item all together in one cheap and convenient package.
Here are some of the best drywall repair kits.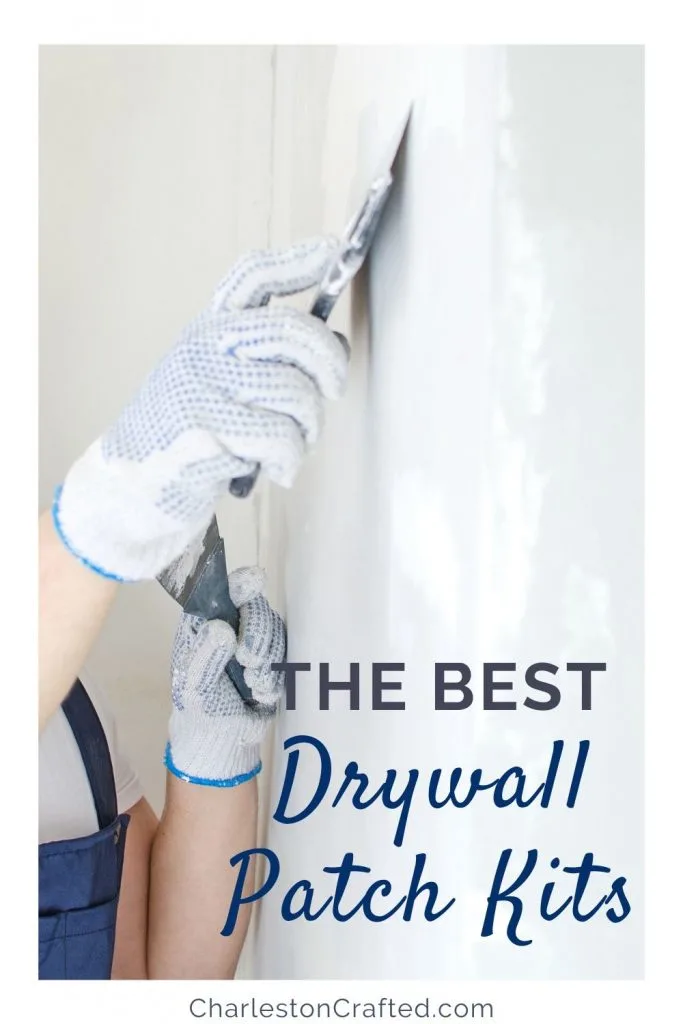 Top 4 Best Drywall Patch Kits
There are tons of drywall patch repair kits available for purchase. Here are some of the best ones!
| | | | | |
| --- | --- | --- | --- | --- |
| Name | Patch Type | Patch Size | Extra tools needed? | Buy it now! |
| 3M Patch Plus Primer Small Hole Repair Kit | Fiberglass | 4″x4″ | No | AMAZON |
| Homax Wall Patch & Repair Kit | Steel | 4″x4″ | No | AMAZON |
| Red Devil Patch-A-Wall Kit | Aluminum | 6″x6″ | No | AMAZON |
| DAP Wall Repair Kit | Aluminum | 5″x5″ | No | AMAZON |
What types of drywall patch kit are available?
Most drywall patch kits are the same. The big differences are if they include all of the tools and supplies that you need, the type of patch, and the type of compound.
Types of patch
Different kits come with patches with different types of backing. They might include fiberglass mesh, galvanized steel mesh or even plastic.
Generally, fiberglass or metal is going to be stronger – and last up to a few more bumps – than plastic mesh backing.
Metal backings should not be used in damp spaces – such as bathrooms – if they have a chance of rusting over time. Fiberglass is more resilient to moisture.
Types of compound
The compounds used to cover the patch vary slightly by brand. It's very important to follow the instructions on the packaging to avoid hairline cracks or problems down the line.
Types of sanding devices
Your kit will probably come with either sand paper or a sanding block. A block is generally easier to use, but for a small task, it doesn't make too much of a difference.
Types of putty knives
These repair kits are going to come with inexpensive, disposable plastic putty knives. They aren't great but will do the job. Feel free to use a metal putty knife if you have one on hand.
Features to Compare
When Should I Use a Drywall Repair Kit?
Drywall repair kits are generally best used for holes smaller than 4″x4″ and not large holes.
These kits work great for small holes or dents in the wall.
It's important to note that a drywall patch is purely cosmetic and does not repair the structural integrity of the wall. So, if something feels off, it's best to do a full repair job.
Once you have your repair patched, these patches are really easy to paint over and blend into the rest of your wall, making them a great cosmetic solution!
What are the Advantages of a Drywall Repair Kit?
The main reason to use a drywall repair kit is convenience. It includes everything that you need to fix a hole in the wall quickly and cheaply.
It's actually surprising how big of holes you can repair with some of these kits – just refer to the packaging to see how big they can get!
If you have never worked with drywall before and don't own a lot of tools or supplies, these kits are the way to go.
If you already have most of these things on hand, it's a better bang for your buck just to pick up a patch and not the whole kit.
If you are a seasoned DIYer, you will want to use your own putty knife and sanding block anyways.
How do I Use a Drywall Repair Kit?
We detail the whole process for how to patch a hole in the wall in this article.
Here is the basic step-by-step guide to dry wall repair:
Sand the hole to clean up any rough damage. You may need to use a drywall knife or utility knife to cut off ragged spots.
Apply the adhesive patch mesh tape over the hole to patch the wall.
Use the putty knife to apply compound to cover the patch. Apply multiple thin layers if needed.
Sand smooth with sand paper or sanding sponge.
Paint to match the wall.
Any more questions about drywall patch kits? What other home improvement projects do you need help with?