Trying to pick the right paint colors for your home? Here is my complete Samplize review of their peel and stick samples.
Picking paint colors can be an overwhelming process. But, paint is one of the cheapest and easiest ways to transform a room in your home.
So, today I am excited to tell you about one of my favorite paint sample hacks: Samplize!
This is my true and honest, non-sponsored Samplize review!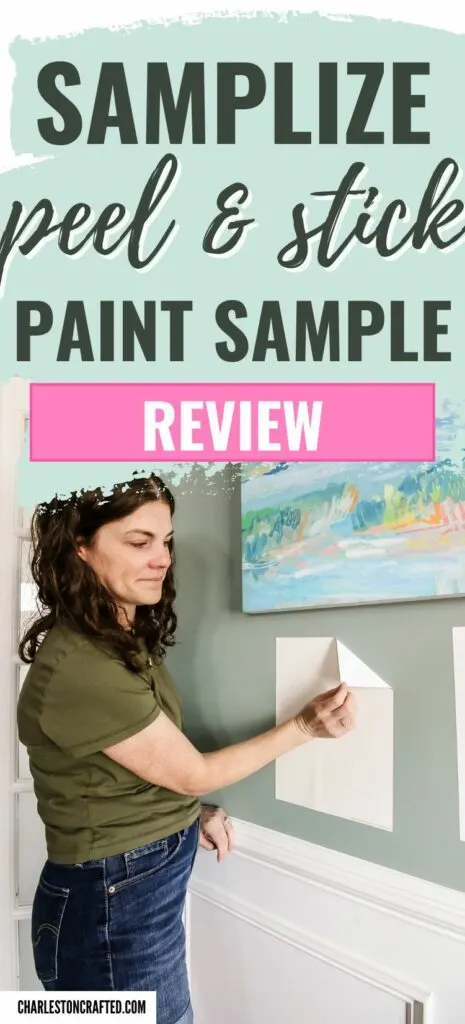 What is Samplize?
Samplize is a service that offers mail-order peel and stick paint samples.
These samples are:
made with real paint
removeable and re-positionable
delivered to your home as soon as the next day
How does Samplize work?
You simply head to Samplize.com to select the paint colors that you would like to sample in your order. Add them to your cart and check out.
All orders are shipped priority overnight shipping.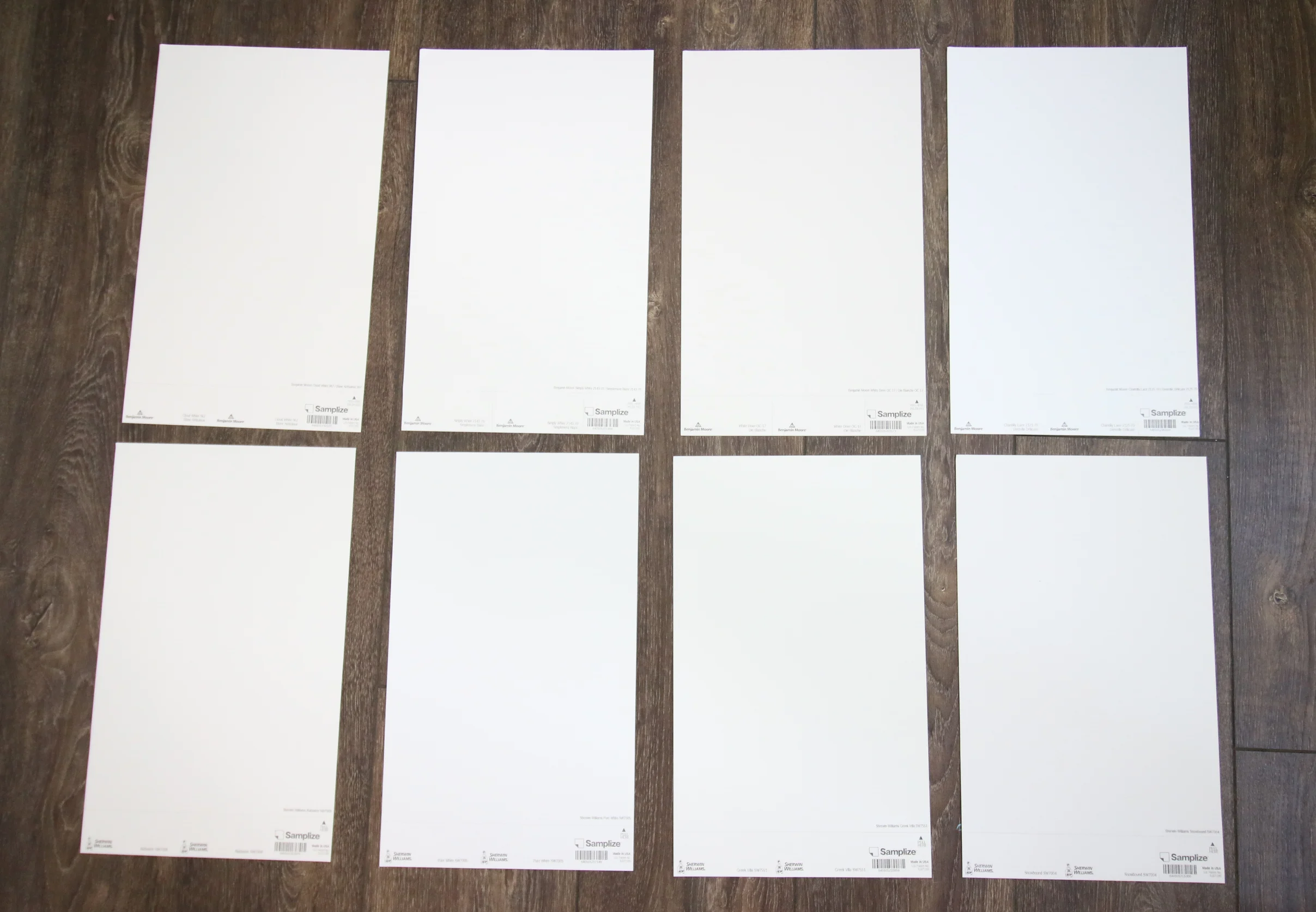 What brands does Samplize carry?
Samplize offers samples of:
Benjamin Moore
Sherwin Williams
PPG
Farrow and Ball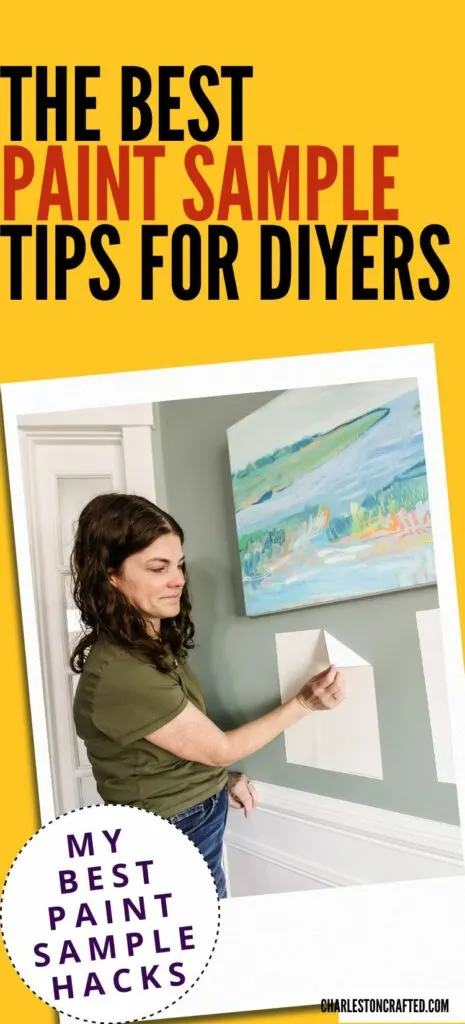 Features of Samplize
Here are some of the things that you should know before ordering Samplize paint samples.
What finish are Samplize peel and stick samples?
All Samplize samples are an eggshell finish. They are painted to have a drywall-like texture so you can really see how it would look on your walls – not just a slick piece of poster board material.
What is the quality of samples?
The samples are of a great quality. They peel easily off the backing and have good coverage – 2 coats of paint each.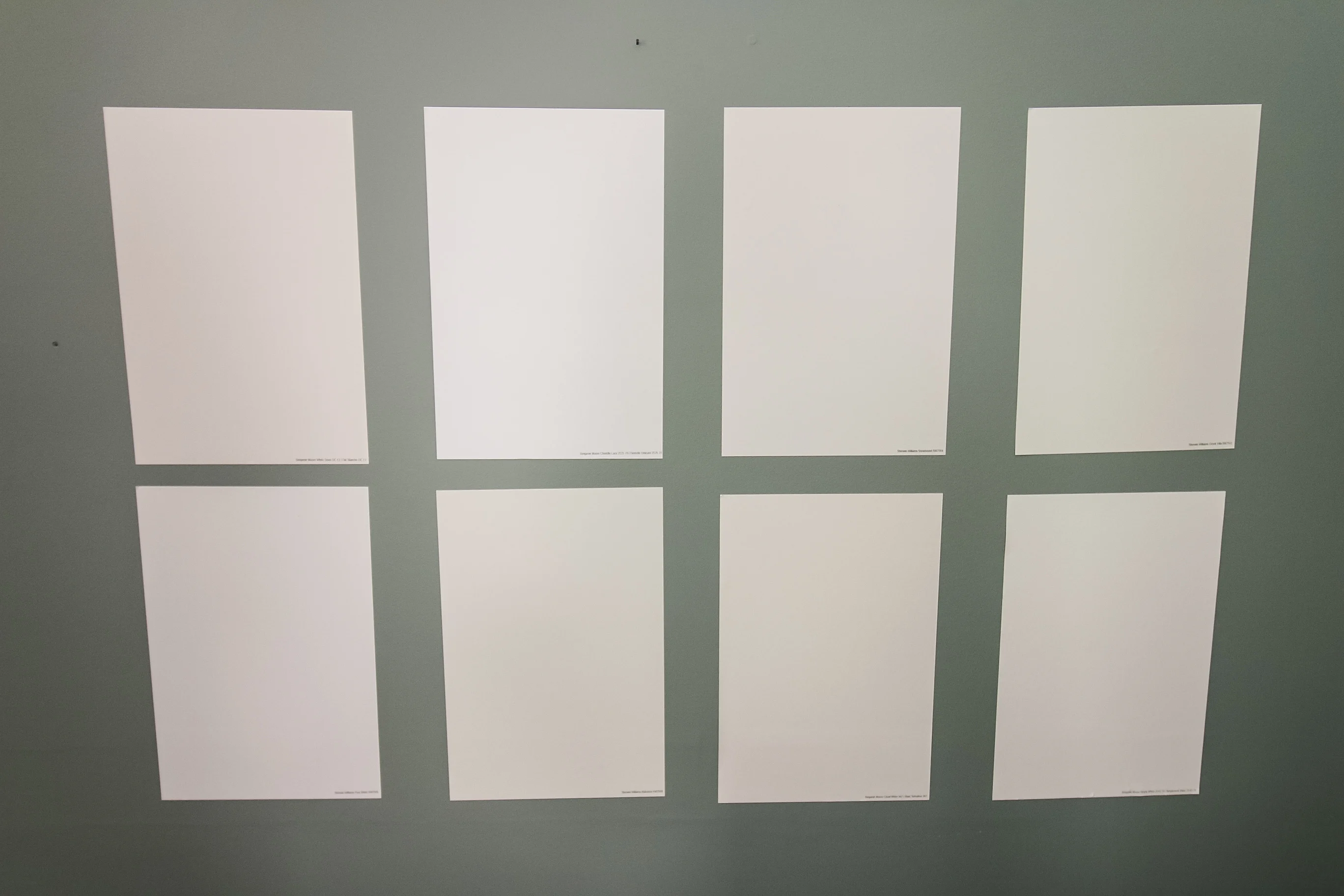 Are Samplize peel and stick samples accurate?
Samplize paint samples are 100% accurate. Because they are made with 2 coats of the actual paint, they are actually more accurate than the paper paint swatches you get at the paint desk.
Customer service
Samplize has a customer support email address and when I emailed to ask a question I got a response very quickly.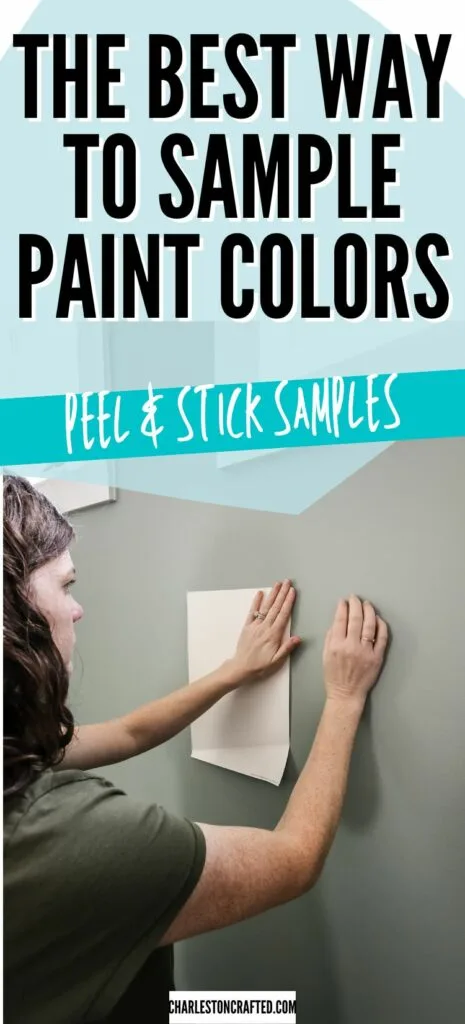 Tips for using Samplize samples
Here are some of my best tips for using peel and stick paint samples efficiently.
attach to a poster board – stick to a white poster board or paper. This makes it so you are not influenced by the colors around it (like old paint that will be going away), but just the new color itself.
move around the room – be sure to see how it looks on all of the walls at different times of the day and in all lighting situations.
place near fixtures – focus on things that will stay the same, like tile, flooring, trim, counters, or even large furniture!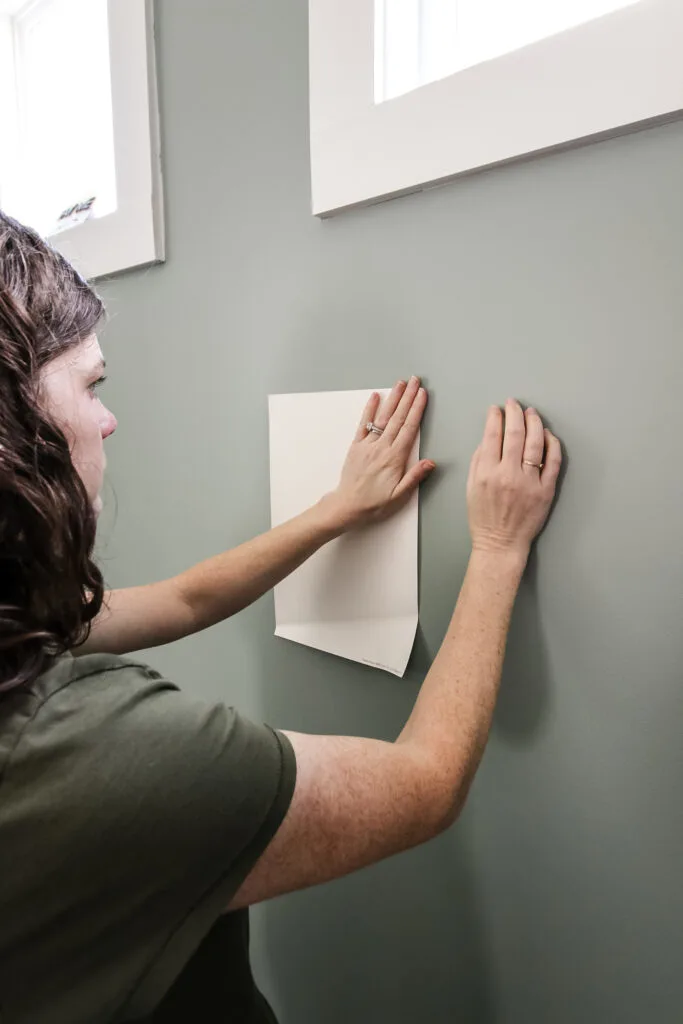 Pros of Samplize
There are a ton of benefits of using Samplize!
Easy
My 4 year old literally peeled and sticked these to our walls – they are so easy to put up and move around!
Deliver to your door
Home delivery means no going to the store (and getting distracted and buying other stuff). No waiting at the paint desk. No human interaction at all.
Nice size
These samples are 9″x14.75″, which is a really nice size for getting a feel of how a color will look on your walls. MUCH better than tiny 2″ square paper samples.
No mess
Want to look at 6 samples? No need to dirty 6 paint brushes (or wash the same one 6 times). These arrive ready to go, and you aren't going to rub against them and stain your clothes.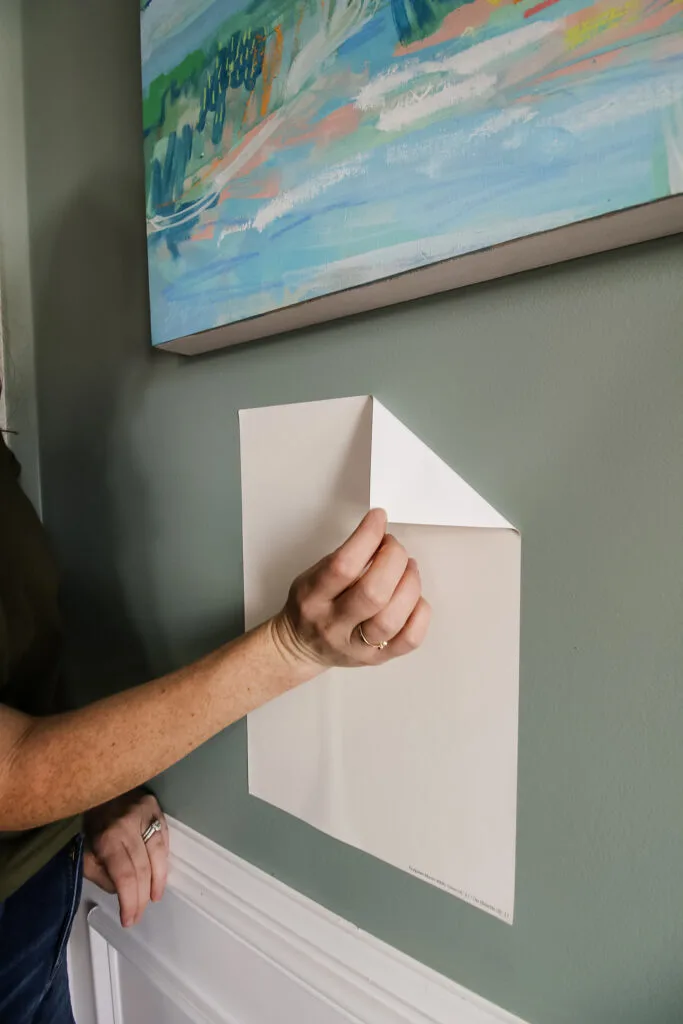 Removable
Have you ever put up paint samples, then not painted for months? And had squares of paint on your walls for all that time?
And then gone to paint over the squares and have to sand and sand and STILL be able to see the square's texture through the finished paint?
Not just me? Good.
Environmentally friendly
Excess paint is not environmentally friendly. So, by cutting down on paint waste, you are being a bit greener in your shopping habits. Not sure how that cancels out with the shipment and delivery offset, but it is worth considering.
Curated collections
Samplize offers curated collections to help you narrow down the best paint color for your room. For example, they offer a warm whites collection.
This takes the thought out of it and lets you then take these popular colors in a color family that you know you like and pick which works best in your room's actual lighting.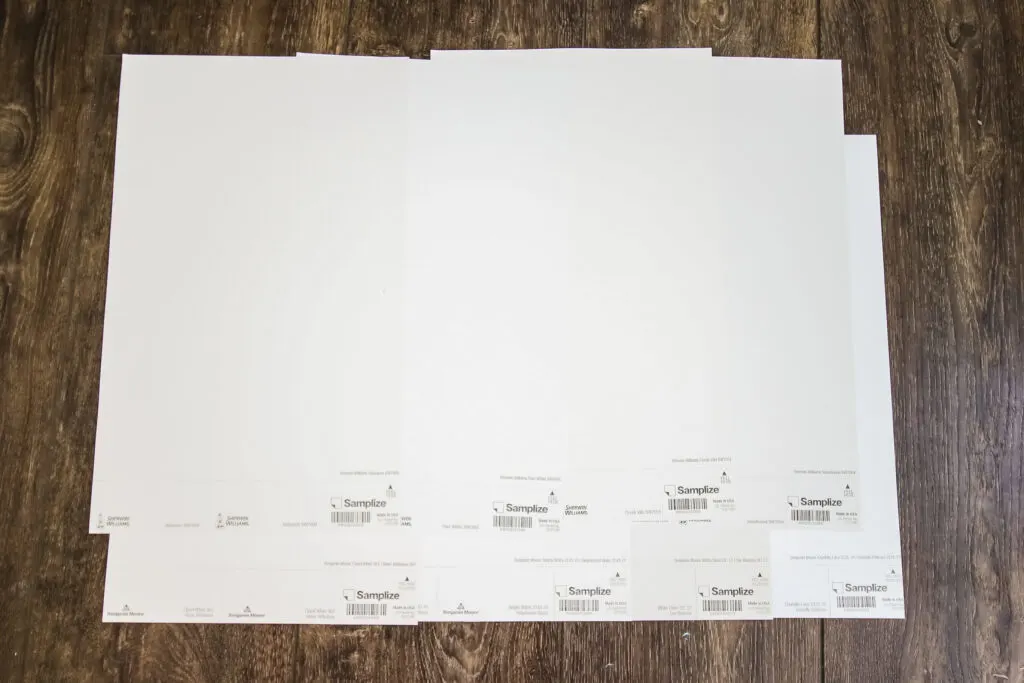 Try a few different brands
Another great pro is that you can sample multiple brands easily. Mix Sherwin Williams and Benjamin Moore without having to visit two different stores – or any stores really!
Wrap around corners
Random, but these samples can be wrapped around a corner, which is cool if you are looking at a whole house paint color and want to see how it looks in the two spaces at once.
Real drywall texture
As I mentioned, they have a drywall texture which is much more realistic and better to look at compared to the poster board texture of paper paint swatches.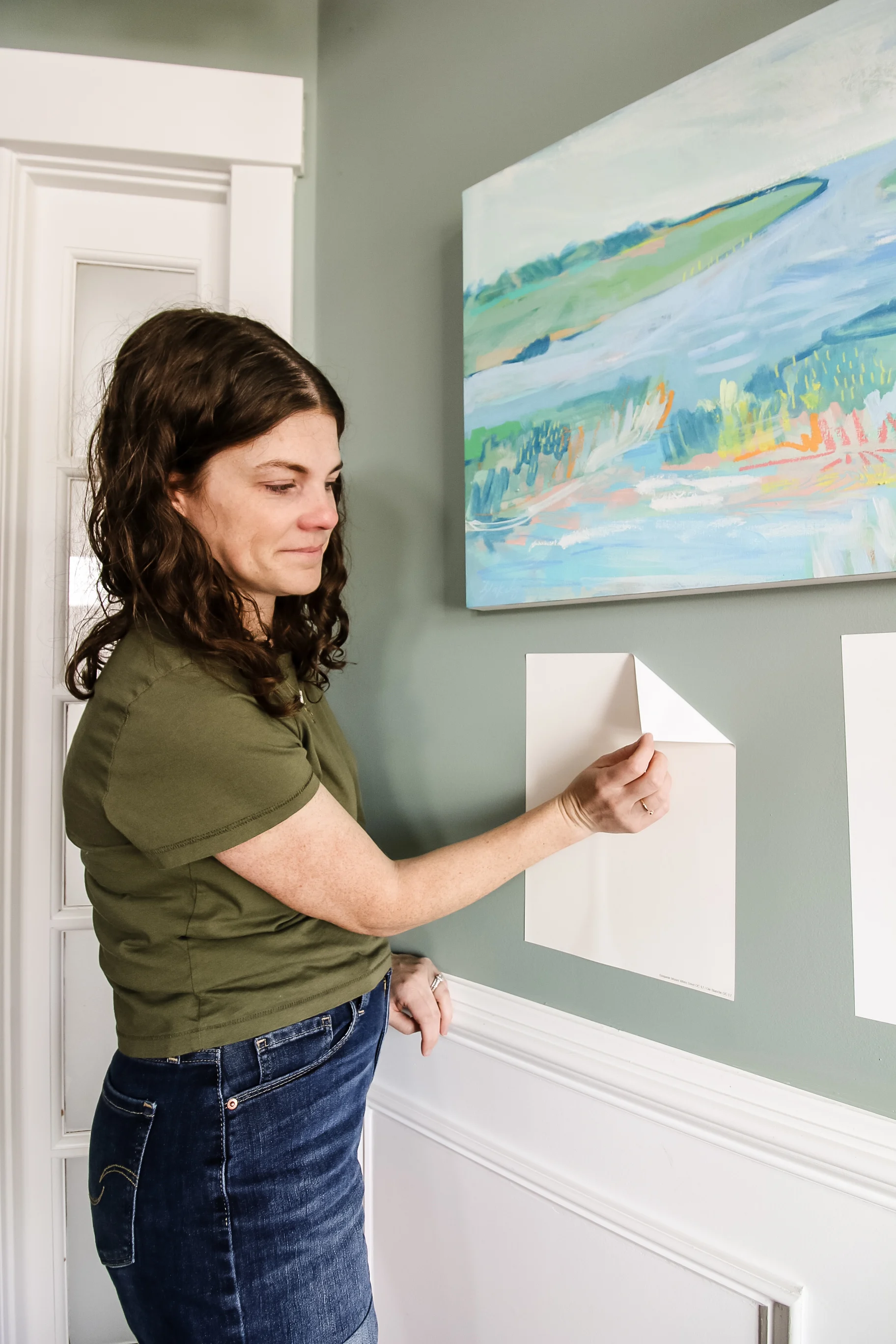 Cons of Samplize
Here are the biggest negatives of using Samplize samples:
Limited finish
As I mentioned before, Samplize only provides eggshell samples. This usually doesn't matter, but if you are going for a glossy finish, the color could actually look a bit different than eggshell in real life.
Limited brands
I really wish that Samplize would carry Behr paint. It's the brand sold at the Home Depot and it's really popular with a lot of our readers – and us! So, I will say that the limited brands is a con.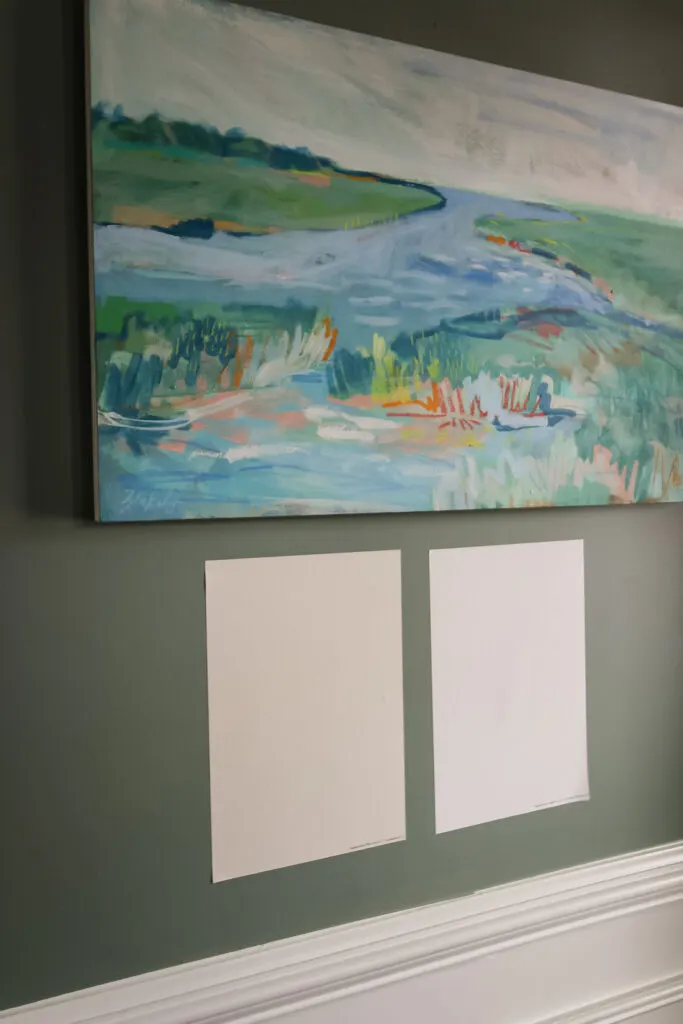 No left over paint
When you buy small samples sized jars of paint, you will have lots of leftovers. When you order paint samples from Samplize, you will not have any leftover paint.
Now this is kind of a weird con because it was also a pro – with a big ole asterisk of "it depends on the person".
Personally, I do a lot of DIY and craft projects, so I like having small things of different colors of paint around.
So, this could be a negative if you are a crafter.
Hard to get back on the backing
This is really only an issue if you want to store your samples to re-use in the future, but it can be hard to line the samples up perfectly to put them back on the backing.
You might want to consider cutting a piece of wax paper that's larger than the sample to stick it to so you don't have to worry about it.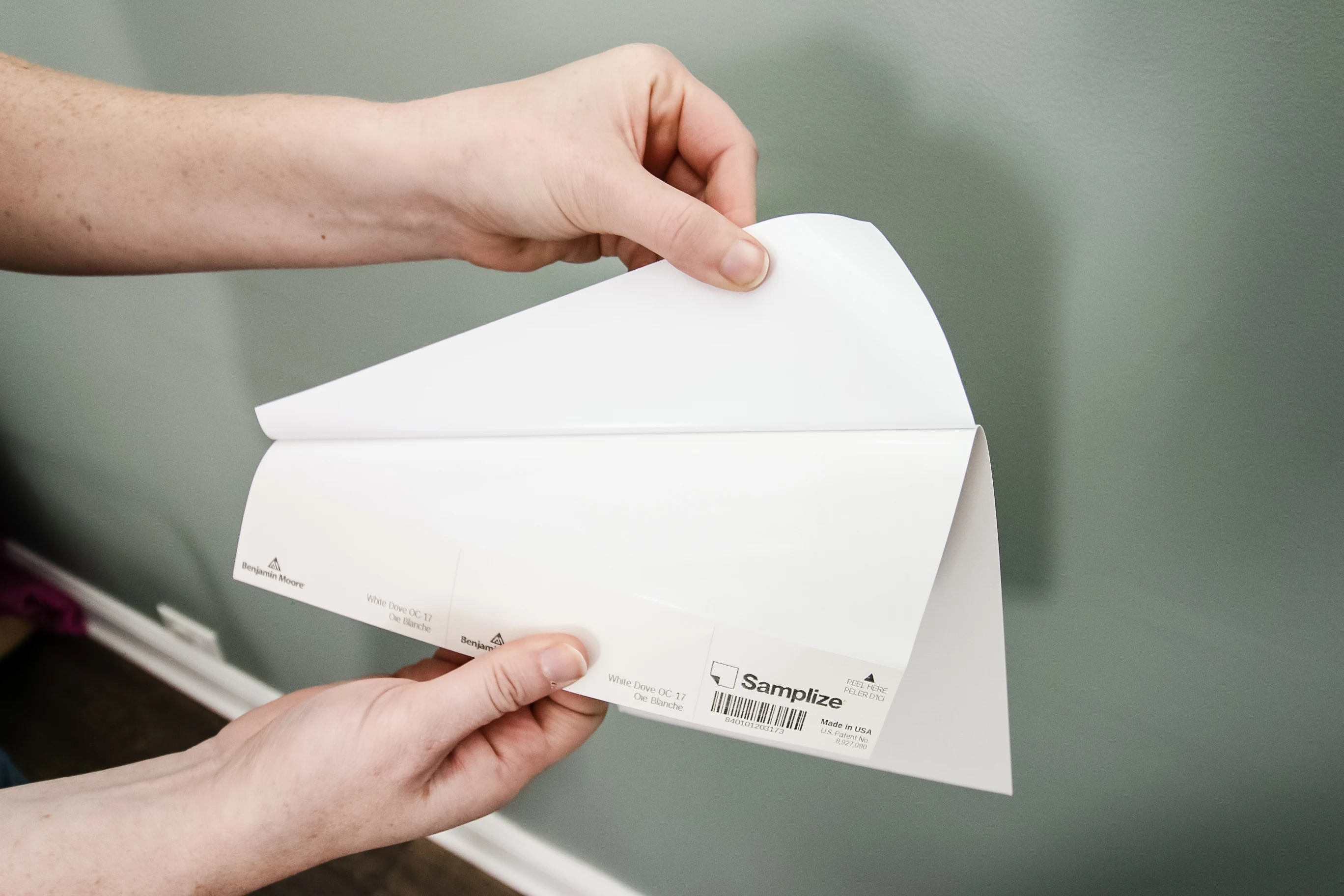 Are Samplize peel and stick samples worth it?
Samplize samples are a super convenient way to sample paint. If you do not have a use for small tins of leftover paint, they are 100% the way to go.
However, they are not cheaper than buying paint samples at the store unless you take advantage of one of their bundle deals.
Now, let's compare the price of Samplize samples vs other options!
Samplize peel & stick samples vs paint samples
Samplize sample – $5.95 + $8.95 shipping
Home Depot sample – $5.98 + free to pick up in store
Lowes sample – $5.48 + free to pick up in store
Samplize peel & stick samples vs making your own
Samplize sample – $5.95 + $8.95 shipping (with buy 8, get 2 free deal)
Total cost for 1: $14.90
Total cost for 3: $26.80
Total cost for 10: $56.55
SureSwatch peel + stick paintable pieces – $2.95 for 3
Lowes sample – $5.48 + free to pick up in store
Total cost for 1: $8.43
Total cost for 3: $19.39
Total cost for 10: $63.65
So, you can conclude that Samplize will not save you money. However, it is only marginally more expensive, especially the more you order.
If you value the convenience, it is totally worth it!
How to get free Samplize shipping
My local Lowes actually offers Samplize peel & stick samples for $5.95 with FREE in store pickup – it just might take a few days!
Is Samplize legit?
Samplize is a legitimate company that sends completely accurate paint samples to your door. It's really a great service!
What paint colors are you loving right now?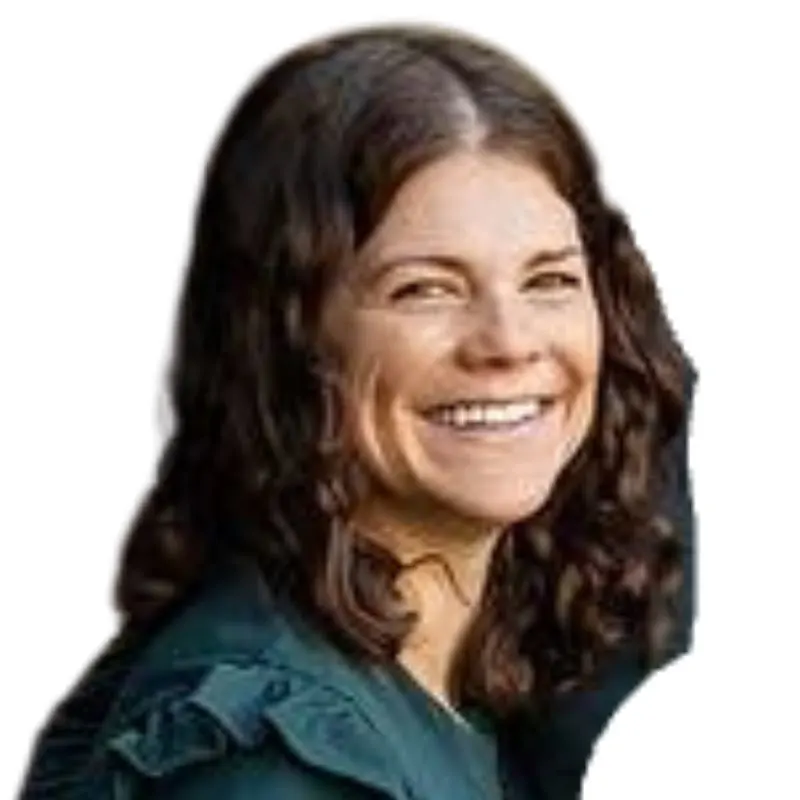 Hello, I'm Morgan, half of the creative force behind CharlestonCrafted.com! With a passion for DIY that dates back to 2012, I've transformed three homes and now I'm dedicated to helping others craft their dream spaces. Let's turn your house into a home together!