We were recently given the new RYOBI Whisper Series Brushless Jet Fan Blower to review. We were not compensated for this review. The opinions in this post are our own based on our experience with the blower.
We're talking today about the RYOBI Whisper Series 40v Brushless Jet Fan Blower, the newest tool for tackling leaves in your yard.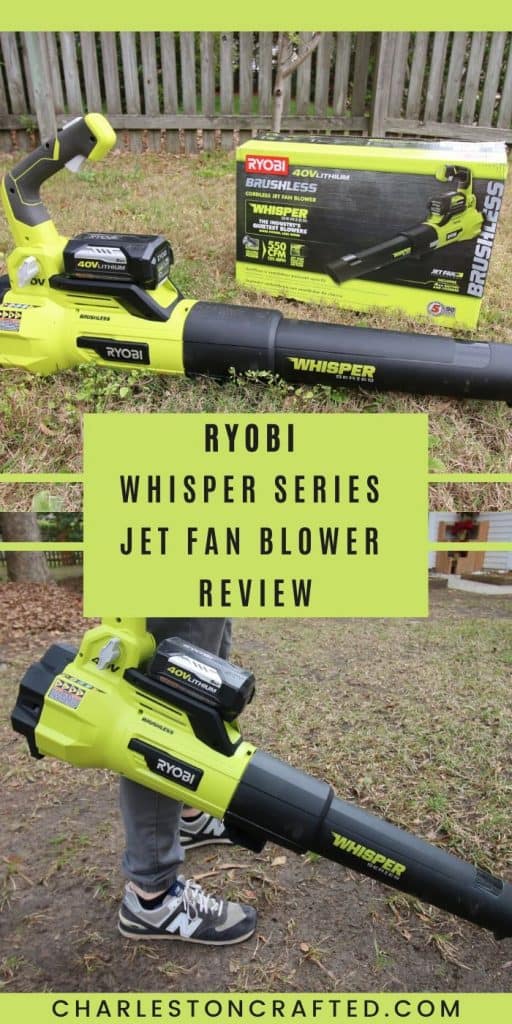 New RYOBI Whisper Series Blower
RYOBI has a long line of outdoor tools and lots of options for a handheld blower, but the newest is their Whisper Series. The blowers in this series come as either a 40v or 18v option, listed at $199 and $169 respectively. Both work with the same lithium ion batteries as the rest of their power tool line.
We've previously reviewed the RYOBI 40v Expand-It system and the 40v brushless mower, which all use the same batteries. Here's what we think of the Whisper Series battery powered blower.
Buy the RYOBI Whisper Series Jet Fan Blower Review from the Home Depot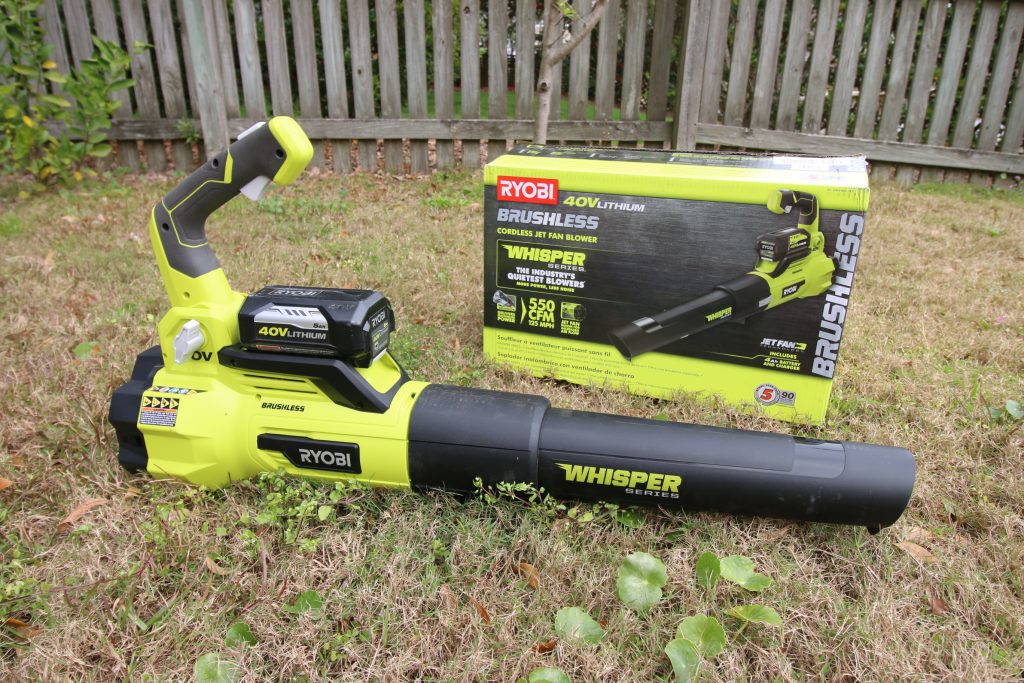 Setup
Out of the box, the blower is almost ready to go. It comes in two pieces, the base housing and the nozzle. These two snap together and you're ready to go.
The package also comes with a battery and charger, which will likely be dead. Charge it up and you'll be ready to go. It's small and compact and doesn't require much.
The Whisper Series blower is better than the Expand-It blower in this sense. Sure, the Expand-It is nice because the base works with all sorts of tools, but individually it can be too big for some attachments, like the leaf blowers. It's hard to get into nooks and crevices with a blower that's six feet long.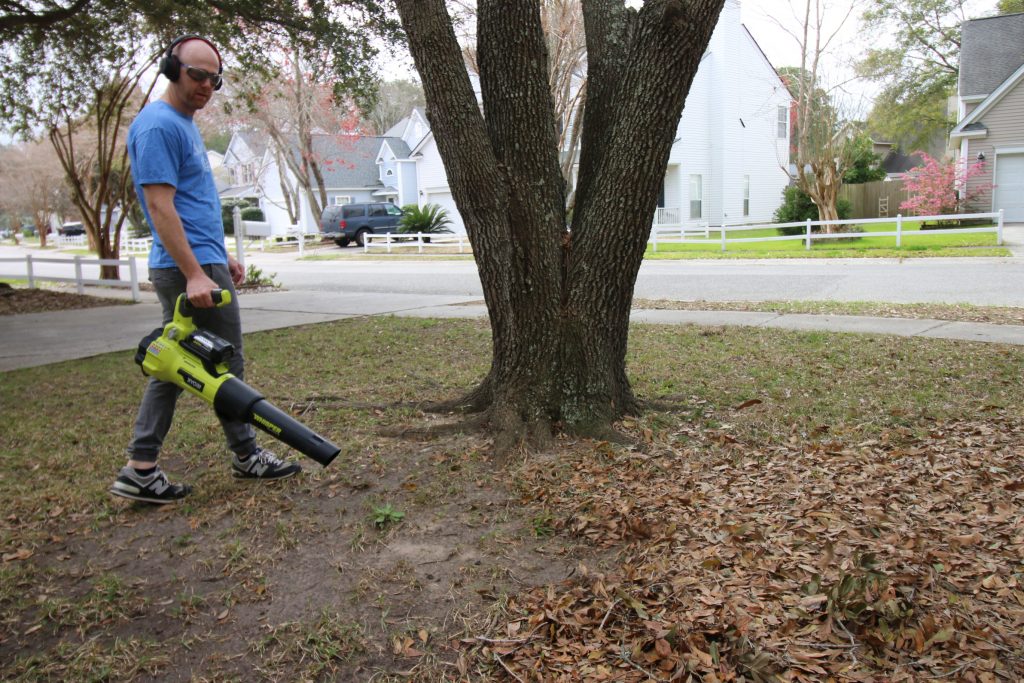 Functionality
The RYOBI Whisper Series 40v Brushless Jet Fan Blower is simple yet very effective. There's not a lot of bells and whistles and things that need to be adjusted, yet it is ready to get to work.
There is a variable speed trigger on the Whisper Series blower, allowing you to control how much wind you're putting out by how much pressure you're applying to the trigger. There's also a turbo button that adds an extra oomph when trying to get stubborn leaves worked into the dirt.
I really like the handle on the Whisper Series blower. I know, that sounds lame to be excited about a handle, but I like the variable positioning. You can set the handle to be aimed straight forward or angled up. I like it angled up so my wrist is comfortable and the blower nozzle is pointed at the ground.
Oh yeah, and how about the "whisper" part of Whisper Series? RYOBI calls this "the industry's quietest blower." While I can't confirm or deny that, I can say that it is quiet. The jet fan doesn't make nearly as much noise as it would look like it would and it is way quieter than a gas blower.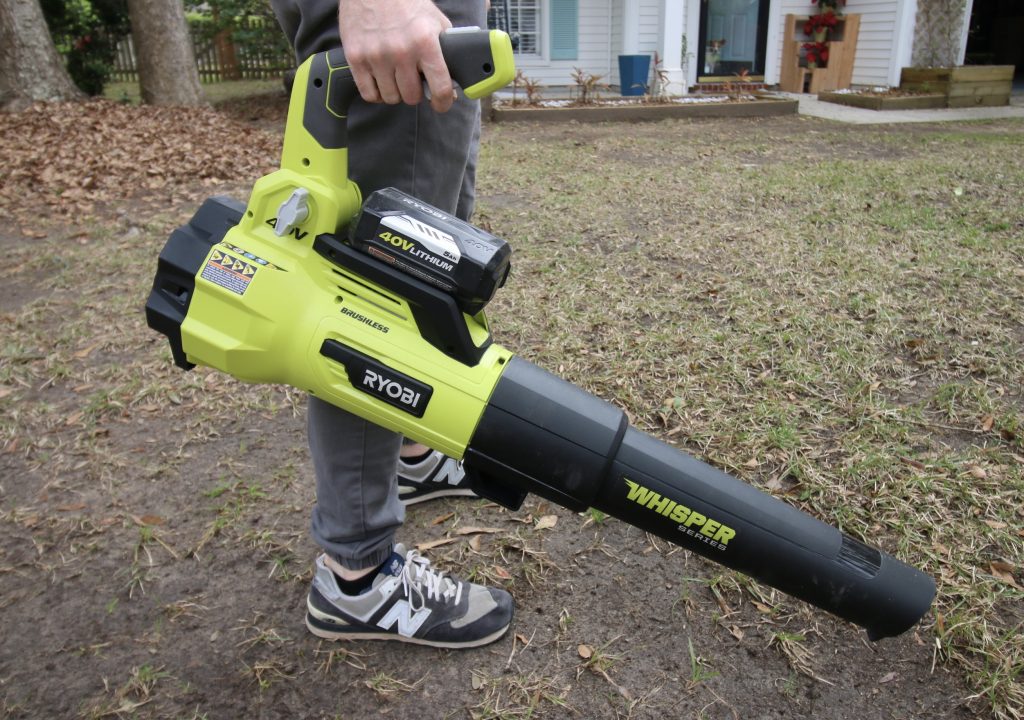 Power
As mentioned, there's a variable speed trigger on the Whisper Series blower that allows you to control your power. Plus, you can boost it with the turbo button. They call it "gas like power" and I see what they mean.
The Whisper Series also features a brushless motor, which leads to more efficient use of power and therefore longer battery life. That's key when trying to blow a big yard of leaves. However, it takes me almost a whole battery to do the front yard, which isn't that big.
Overall, the power is really good. I like that I can use this blower in the garage to blow out sawdust and also to clear stubborn oak leaves in the yard.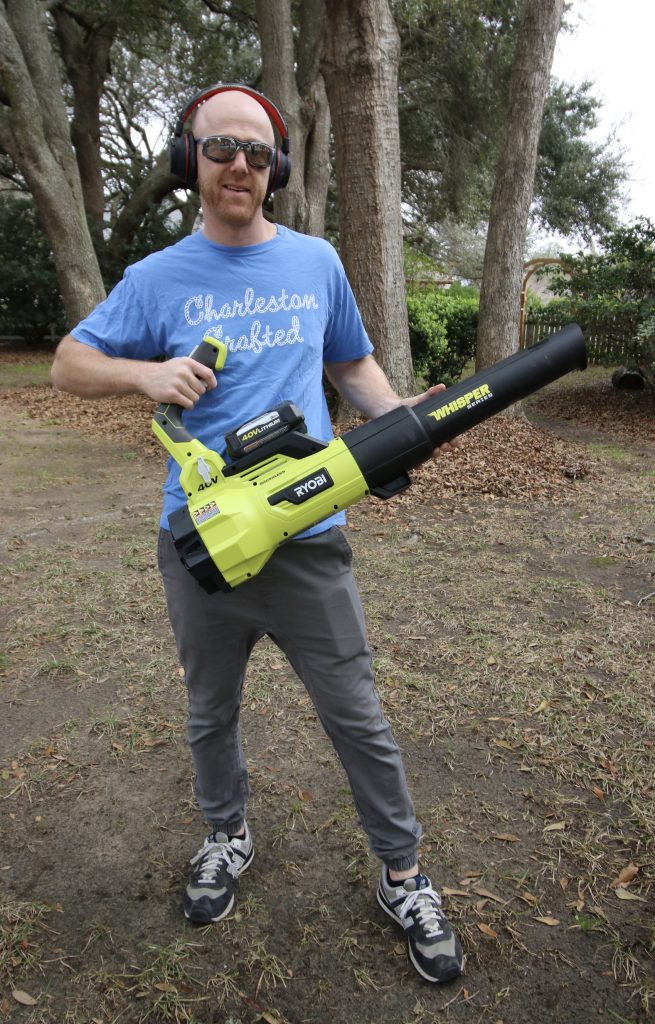 Would we recommend the RYOBI Whisper Series 40v Blower?
I would recommend this RYOBI blower as a good option for people that have small yards or want to blow out their shops. It would be even better if you have those light, crunchy leaves that fall lightly to the ground. I struggle against heavy, hard oak leaves no matter what blower I use, but this does work.
Overall, I like the setup and functionality and the power is as good as I would hope for in a product this size.
Buy the RYOBI Whisper Series Jet Fan Blower Review from the Home Depot
I hope that this RYOBI Whisper Series Jet Fan Blower review was helpful to you. Be sure to check it out!
Facebook | Instagram | Pinterest | Twitter | YouTube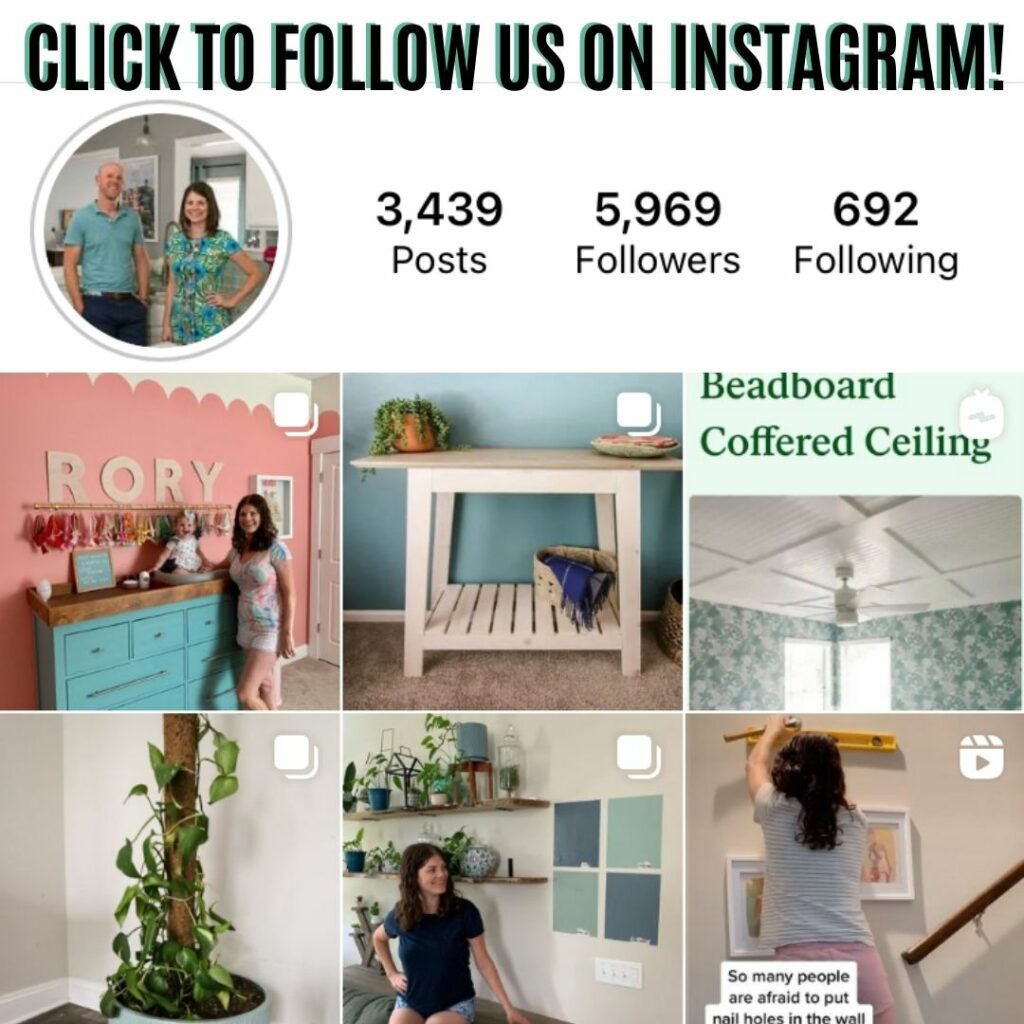 ---
Can we send you our newsletter?
Another great way to keep up with out latest projects is by joining our weekly newsletter! Get alerts of our latest projects and special peeks behind the scenes!
Follow along on Instagram
Join our online community where we share real time behind the scenes looks at our DIY projects and peeks inside our home + family!
---