Planning to replace your countertops? Here is a step by step guide on how to remove laminate countertops and backsplash without damaging cabinets!
We have been preparing for our new counter tops this week (follow me on Instagram stories for live updates!). Here are the details on our recycled glass countertops!
Our installers offered us a $150 discount if we removed them ourselves, so you know that we decided to give it the old DIY try.
We love to save money wherever we can!
We already painted our old cabinets so we wanted to be sure that we did not damage them!
Is it hard to remove laminate countertops?
No, it is extremely easy to remove laminate countertops! Seriously, you can do this! Removing it yourself is a great way to save a little money on your new countertop install, too!
Do I Need to Hire a Professional for Countertop Removal?
NO! This is an easy project to DIY. All countertop installation teams will offer removal of old countertops. While heavy granite might be worth paying to have removed, lightweight laminate is extremely easy to remove yourself. Save the money and do it yourself!
How to Remove Old Laminate Countertops & Backsplash Without Damaging the Cabinets
Love our new kitchen design? Be sure to check out our whole DIY Coastal Kitchen Remodel Makeover!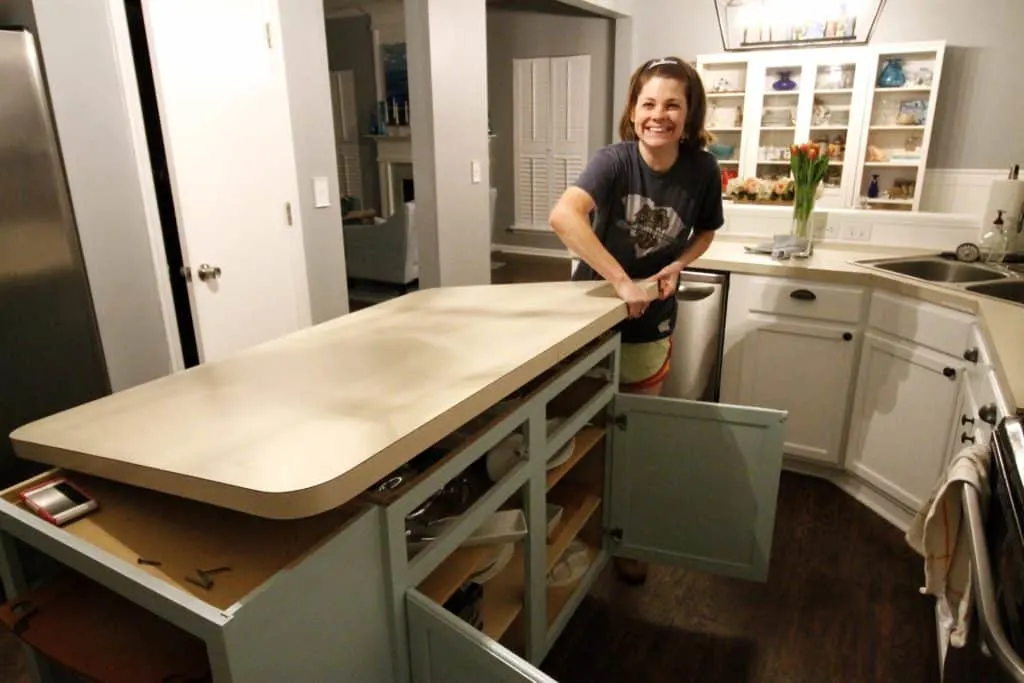 We had a few steps in our laminate kitchen counter top removal process DIY project.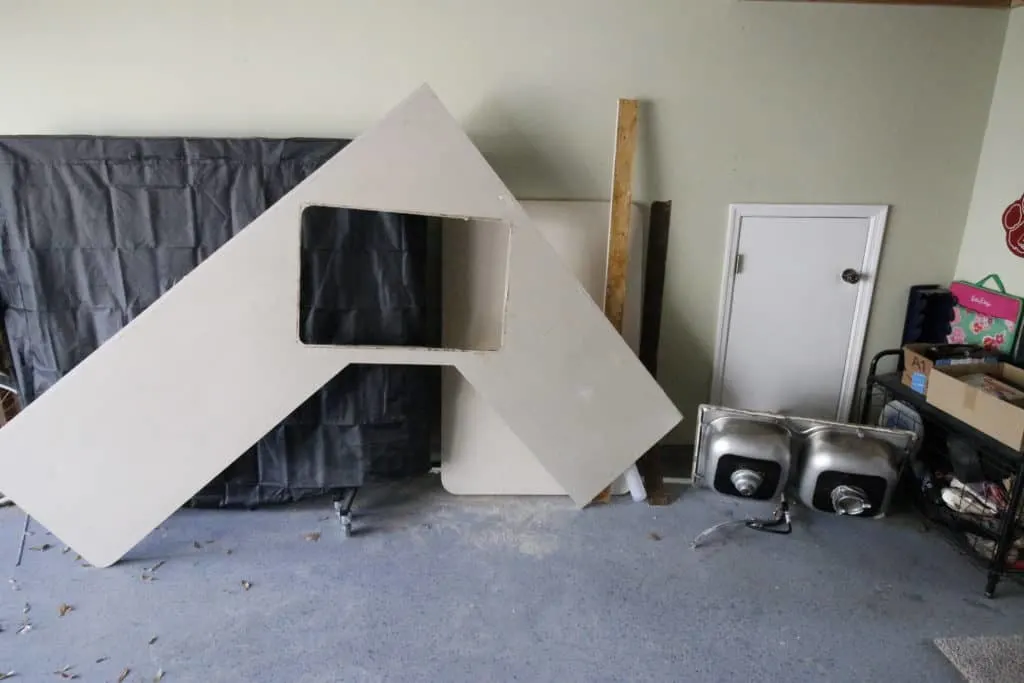 Tools needed to remove laminate countertops:
Drill/driver
Crowbar or putty knife
Box cutter or similar knife blade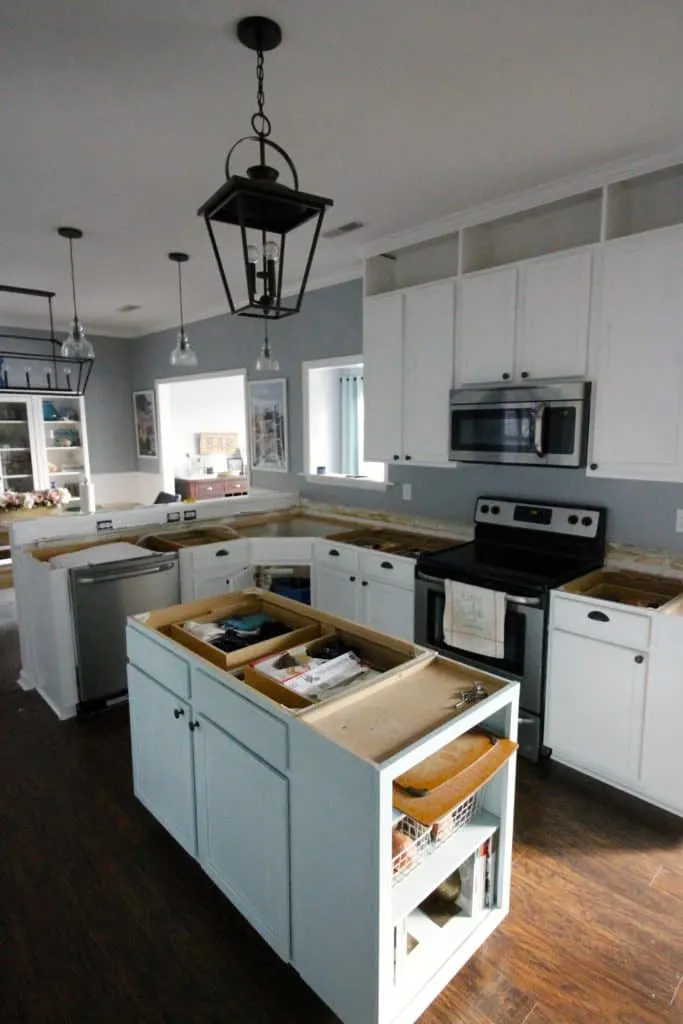 How to Remove Laminate Countertop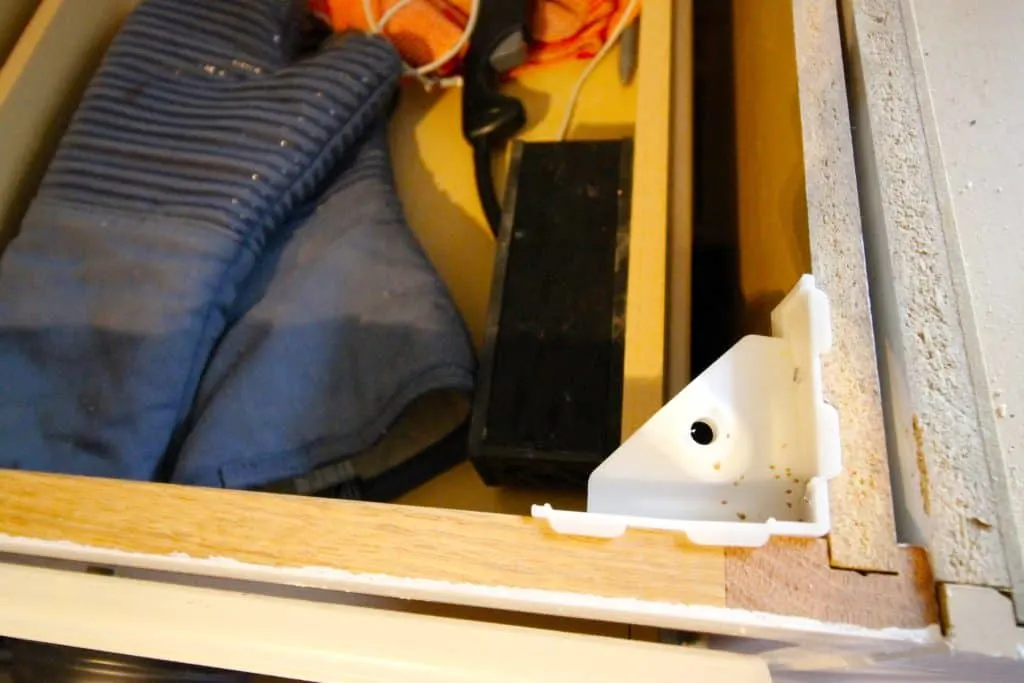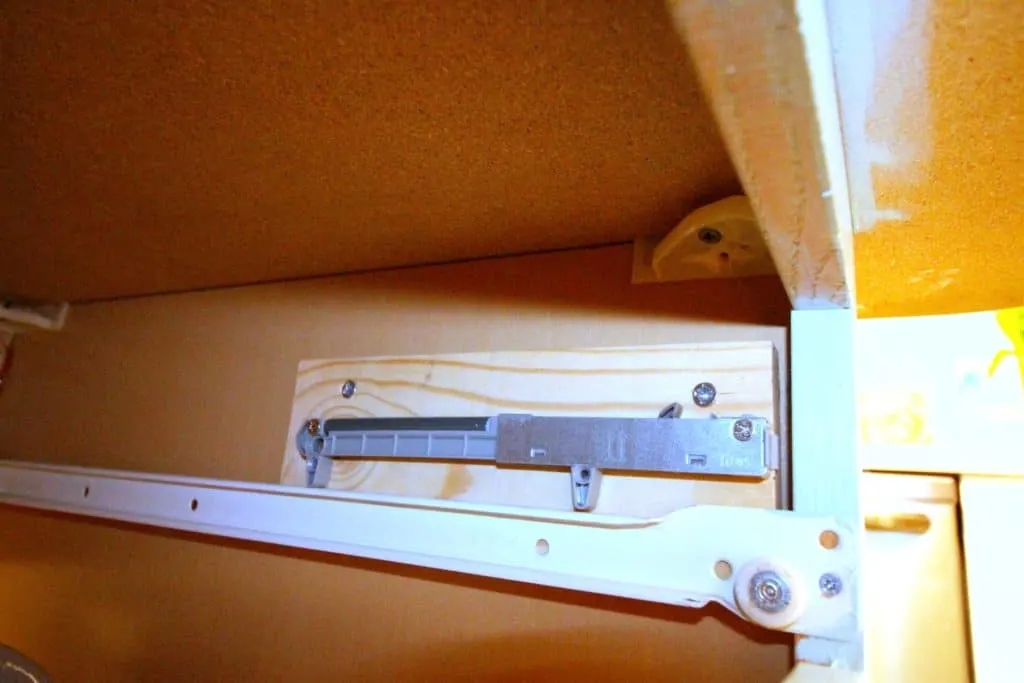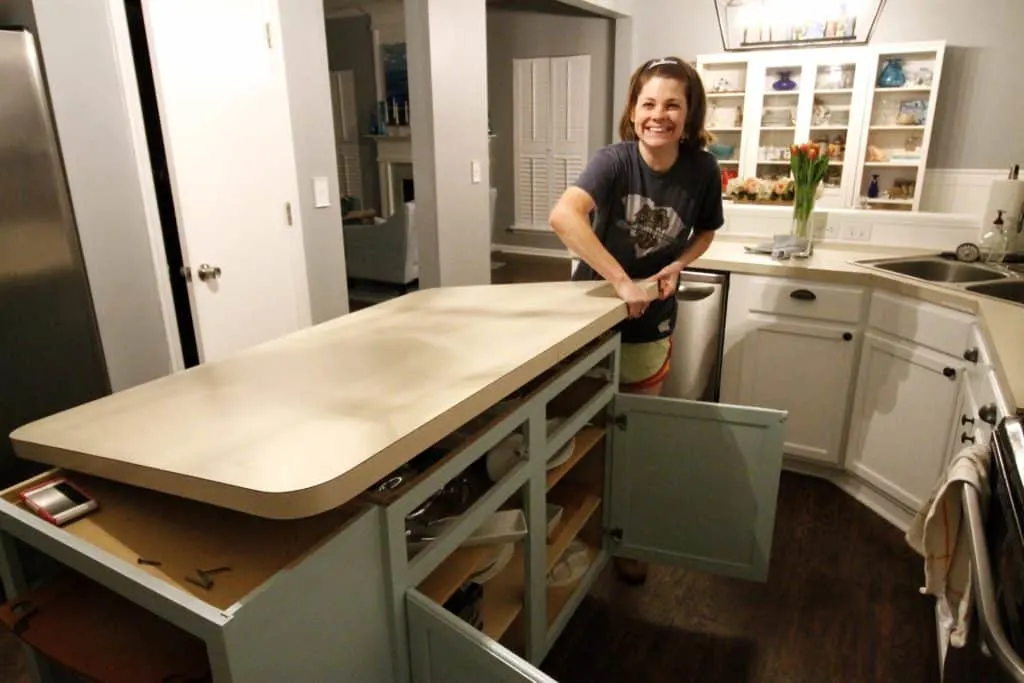 It's always good to cut off any gas lines or water lines in the kitchen before you go pulling on them removing countertops!
Now, remove the drawers and open your cabinets.
You might not need to remove and open them all, but it makes removing the countertop easier to have clear access.
Removing the actual countertops was super simple.
They are just screwed in place. If you look inside the cabinet up at the underside of the counter, we had small plastic diagonal pieces in each corner.
These plastic pieces were connecting the countertop material to the cabinets themselves.
There are just a couple of screws holding the countertops on!
These had one screw in them. I used a drill to remove the screws and then the countertops lifted right off – warning – they are heavy!
Lift the countertop with a friend to avoid injury.
This method works on laminate and solid surface kitchen countertops.
I am not sure if granite or stone counters are held on the same way – I think they are just glued in place.
You will have to use a putty knife to remove the caulk and glue before carefully removing stone counters.
How do you remove glued down laminate countertops?
Our countertops were not glued down, but some are. If yours have glue, you will simply use your utility knife to score/cut right along where the glue is to loosen it up. You may need a little extra muscle to pry the countertops up. You can also purchase a caulk softener to make it easier to cut the caulk.
How to Remove a Laminate "Backsplash"
It took us a little while to figure out what the heck we were doing here so if you are reading this you will be ahead of us.
It helps if you understand this – it appears that our backspash was a 1×4 piece of wood screwed into the wall and then covered with plastic.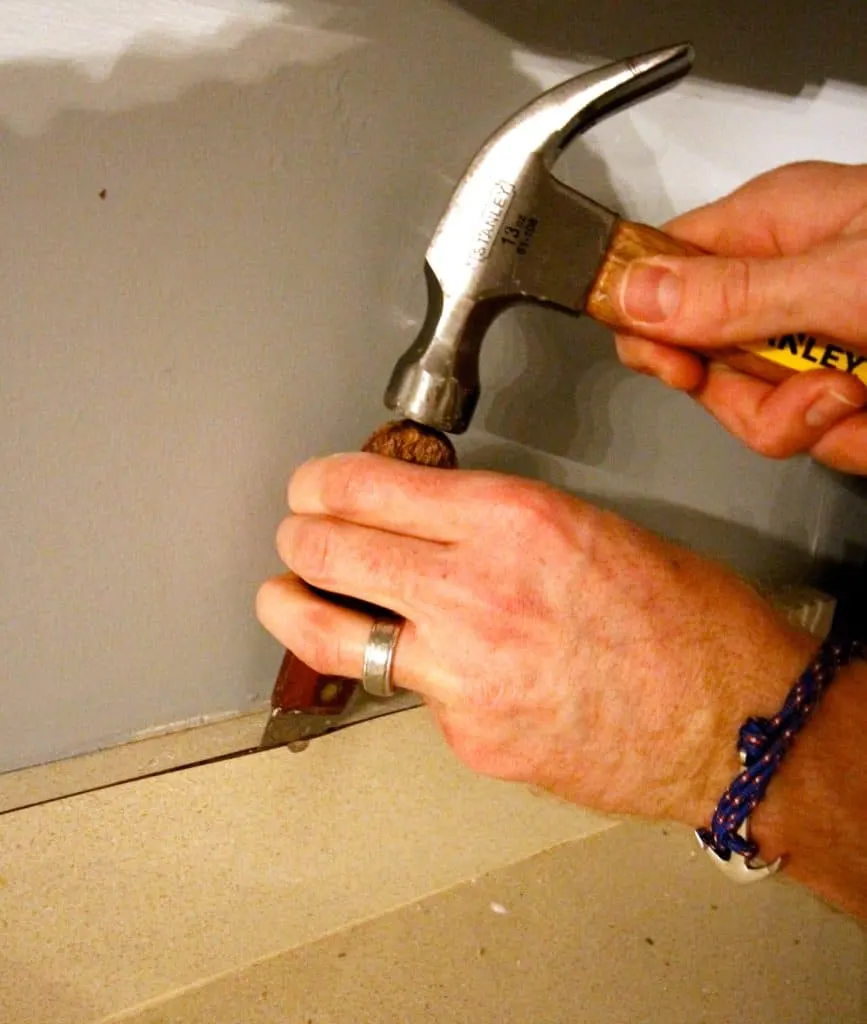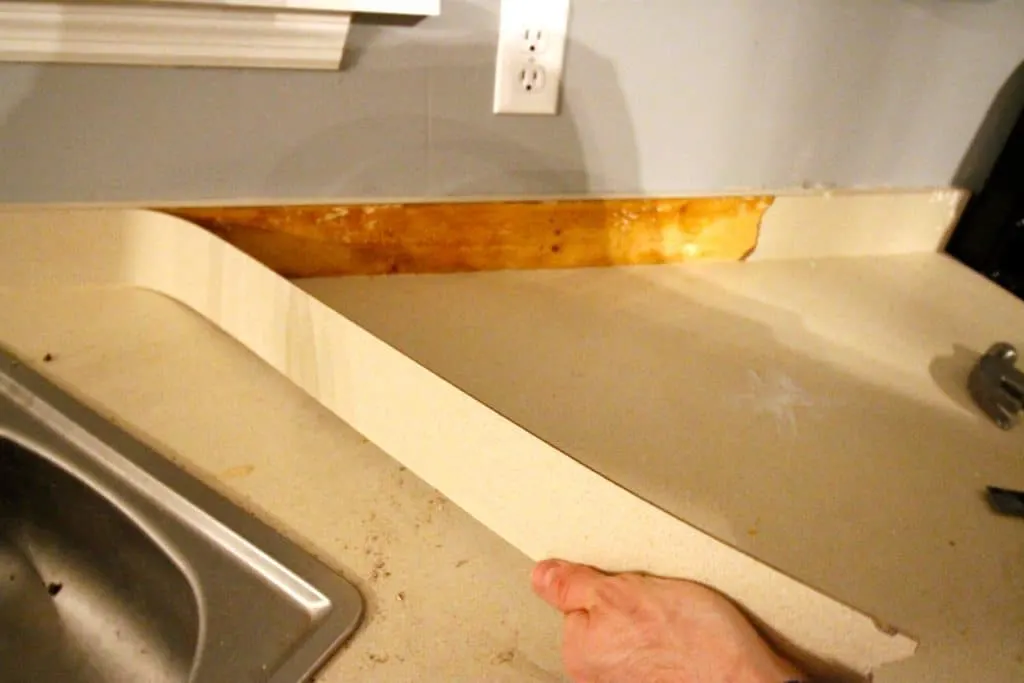 So, put your crowbar (or pry bar or removal tool of choice) in the front seam of the laminate NOT on the seam with the wall. Hopefully this photo makes sense.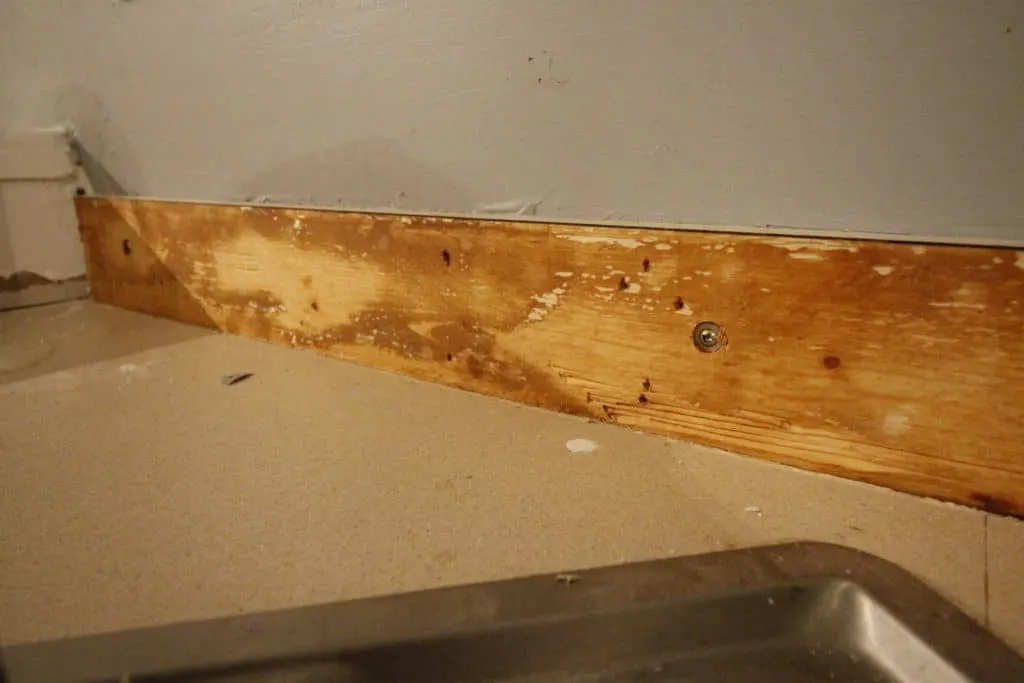 Remove just the plastic covering. Now you should see a board with screws. Un-screw them and pop them off the wall.
You may need to use a knife to break the seal if it is stuck on with paint around the edges.
Removing the Sink & Faucet
The last step was to remove the sink. We purchased a new sink, faucet, and garbage disposal, so these all had to go.
The sink itself had six brackets holding it in place that just needed one screw removed to come away.
Then we had to disconnect all the stuff attached to it.
First, we disconnected the disposal, which is as simple as using a screwdriver to give one half twist at the top and it pops off.
Then we had to disconnect the drain pipe on the other side so that now the sink was free. Use an adjustable wrench to do this.
The last step is to disconnect the two water lines from the faucet. Make sure to turn off the water first.
We actually had to shut off the main water line as well because the connections in this old house don't completely stop water from pouring out.
Then we just pulled the whole thing out as one.
Can you remove countertop without damaging cabinets?
Yes – it is easy to remove countertops without damaging the cabinets! The trick is to take your time and act carefully, don't just swing hammers like they do on HGTV!
I am SO HAPPY to say bye bye to these laminate countertops.
And I am so glad that we were able to replace the countertop without replacing cabinets.
Just one way to save money on your home improvements!
Click here to read all about our new, recycled glass and oyster shell countertops!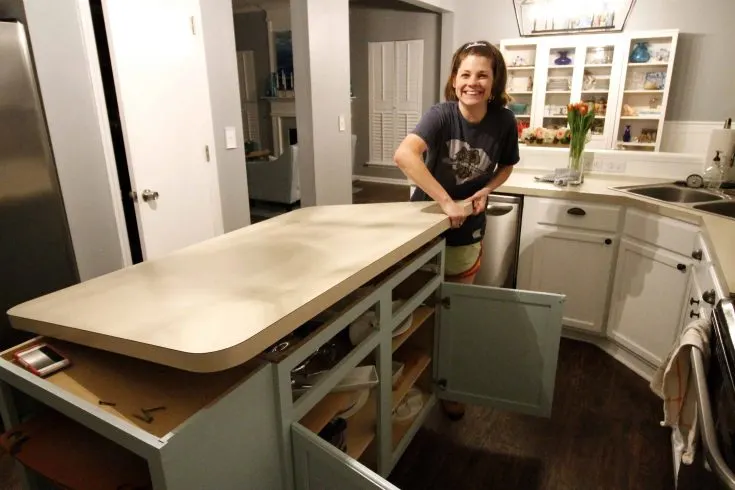 Yield:

1 countertop
How to remove laminate countertops without damaging cabinets
If you are replacing your countertops, a great way to save money on the installation is by removing your old countertops yourself. Here is how to easily DIY remove laminate countertops.
Tools
Drill or screwdriver
Hammer
Straight blade or crow bar
Instructions
Use a drill to remove the screws and then the countertops should lift right off.
Place crow bar or straight edge between the laminate backsplash and the wood. Use hammer to knock the back to remove laminate from the wood.
Remove the laminate covering.
Unscrew the board from the wall.
Recommended Products
As an Amazon Associate and member of other affiliate programs, I earn from qualifying purchases.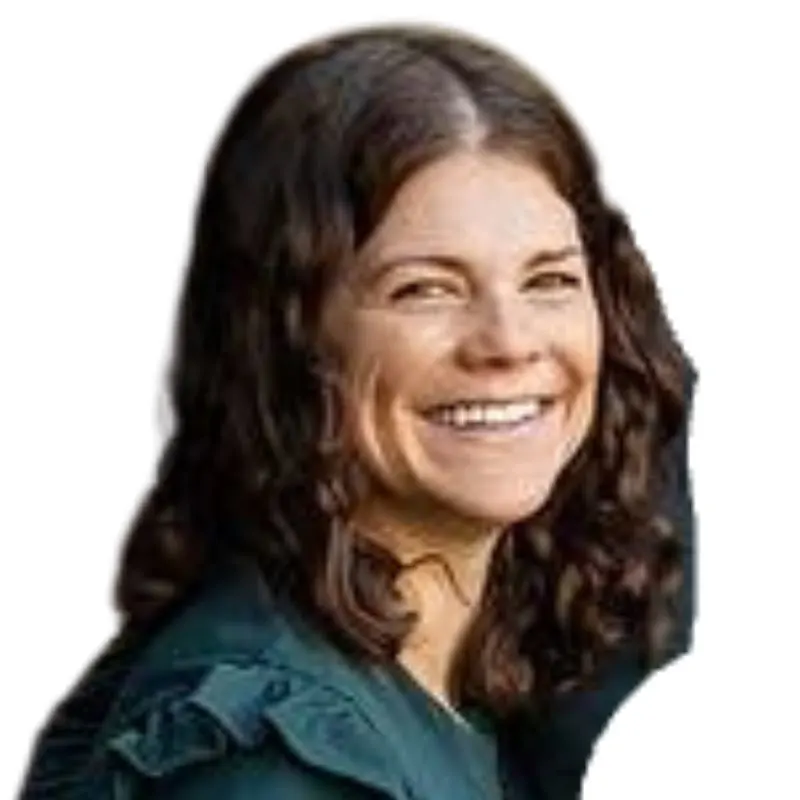 Hello, I'm Morgan, half of the creative force behind CharlestonCrafted.com! With a passion for DIY that dates back to 2012, I've transformed three homes and now I'm dedicated to helping others craft their dream spaces. Let's turn your house into a home together!