In addition to weekly grocery shopping at Publix, we shop in bulk at Costco about once a month. I thought that it would be fun to share a typical Costco haul and tell you about what we buy, what it costs, and what we do with it.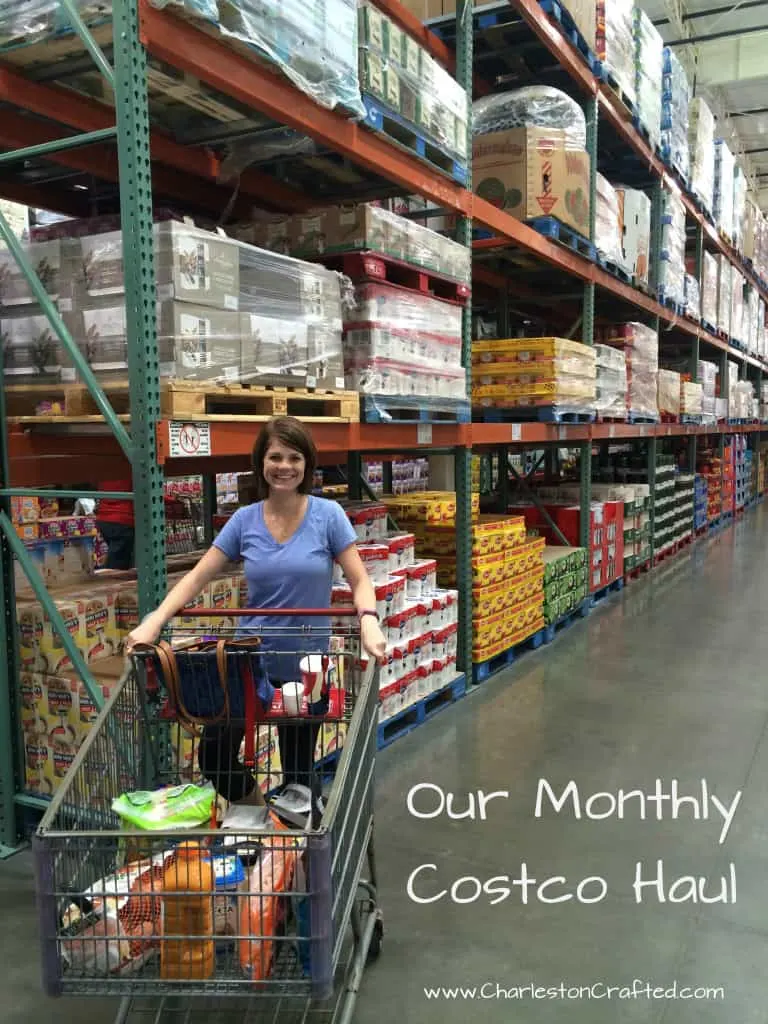 Our Monthly Costco Haul
Its really easy to go crazy at Costco. There are so many great products that we love to use. However, we are limited on space. We have a pantry and some limited paper goods storage (in our laundry closet top shelves) but that's it. We don't have a garage or a deep freeze or anywhere to store huge amounts of things in our apartment. Hopefully, when we have a house, I will be able to stock up a bit more on canned and dry goods. Until then, here is a typical Costco haul.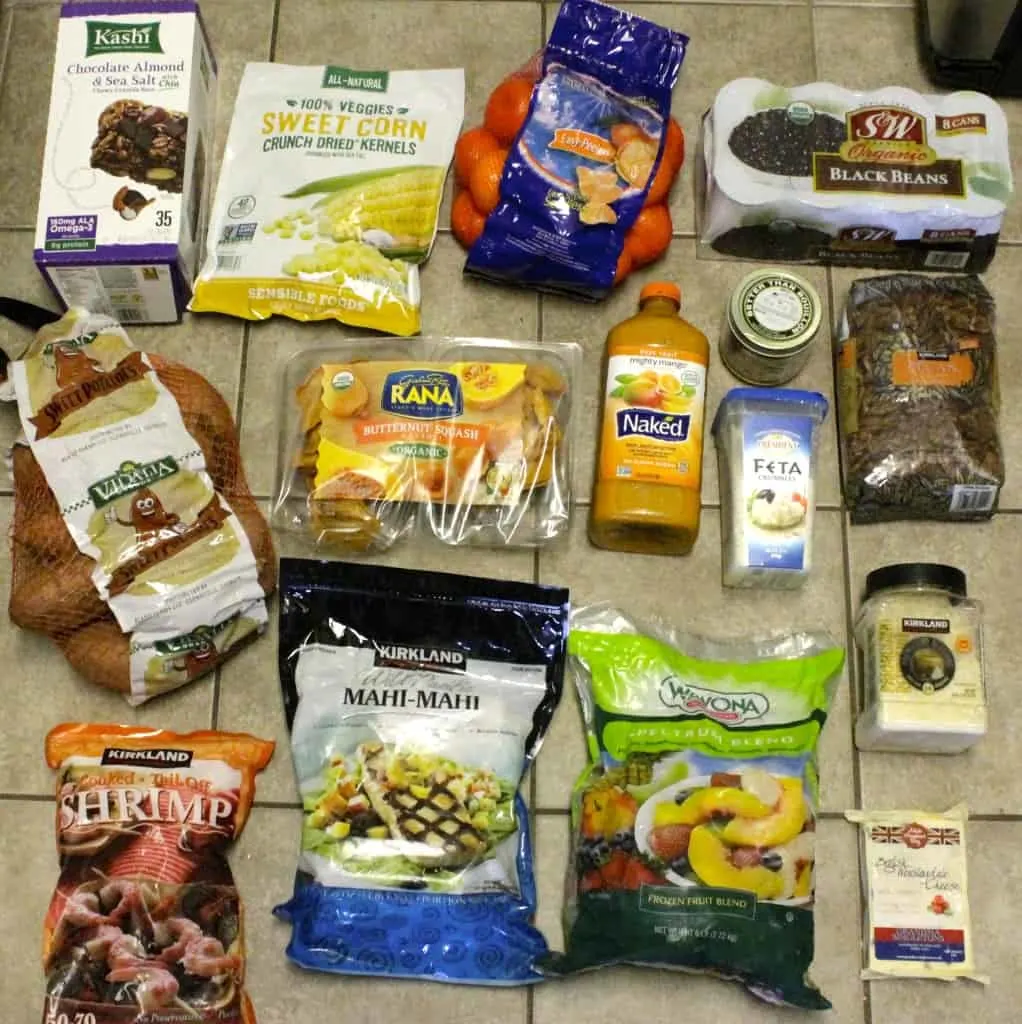 Clockwise from top left:
Kashi Chocolate Almond & Sea Salt bars – $12.89 for 35 – I eat one of these bars most week days as my 10am snack at work. Since I often have a liquid (smoothie) breakfast, I like to get in some solid carbs before lunch. I love that these have whole almonds and the hint of sea salt is just perfect.
Sweet Corn Crunch Dried Kernels – $10.59 – this corn was a sample that we got addicted to. There are only two ingredients (corn & sea salt) and it is so crunchy and refreshing. We add it to salads, tacos, or pasta dishes for an extra crunch, or just eat it as a healthy snack.
Clementines – $8.99 – I love grabbing a bag of fruit at Costco because it is usually double the size of the bags at Publix for the same price. We love clementines for a grab and go snack. Our other favorite bagged produce is apples or bell peppers if we want to make stuffed peppers.
Organic Black Beans – 8 cans for $6.79 – I put black beans in almost all of our Mexican dishes. They are a great protein source and help make vegetarian meals more filling. We don't have tons of space for extra cans, but have room for a case of these and a case of canned corn on the floor of our pantry. In the future I'd love to stock up on canned tomatoes and green peas as well!
Pecans – 2lbs for $12.59 – nuts can be really expensive, so I love buying them at Costco when I can. I rotate between pecans, walnuts, almonds, and pistachios and keep them in rubbermaid canisters in the pantry. They are a great addition to salads, my go-to lunch salad being greens, feta, pecans, crasins, apple or pear, and balsamic.
Better than Bouillon (Organic Chicken Base) – $5.99 – This is my go-to substitute for chicken broth or bouillon (just add water). I love that the Costco version is over twice as big as the one I can get at the regular grocery store, so it lasts a long time.
Feta Cheese Crumbles – $7.69 – We use A LOT of feta because it pairs well with so many flavors! I love it on a salad with red onion and hardboiled egg, or on a fish taco. We used to buy 2-3 grocery store containers at a time, but this size lasts us a month.
Naked Mighty Mango – $5.99 – I have gotten really into having a pressed juice with my breakfast on days when I don't have a smoothie. Costco carries 3 flavors of Naked (Green Machine, Berry Blast, and Mighty Mango). At this price point, its much more affordable than at the grocery store, where a bottle this size is usually $7.99.
Shredded Parmesan – $10.59 – We have moved away from the shaker of Kraft Parmesan and onto this stuff since it has actual real ingredients, aka cheese, not cheese-flavored product. Once again, buying at Costco makes that fiscally possible. This is a lot of cheese, but we sprinkle it on pasta dishes and it really really tastes better than the un-refrigerated shaker.
Block of Cheese – $5.99 – Costco has an amazing cheese section. They have so many blocks for much less than the grocery. I love buying the balls of fresh mozzarella during the summer. Year round, we often do cheese, crackers, and jelly as a weekend lunch. We have tried some really good cheeses at Costco!
Frozen Fruit Blend – $11.99 – We have smoothies at least three times a week for breakfast and the Costco-sized bags are definitely the way to go. We have gotten berries or pineapple before but this tropical fruit variety has the most different fruits and is the best bang for your buck.
Mahi Mahi – $19.79 – Meat-wise, we pretty much only eat white fish, shellfish, and chicken. Occasionally ground turkey (maybe once a month) and of course a beef hamburger if we are out and about, mostly during BBQ season. We recently shifted our whitefish of choice from tilapia to mahi after reading some gross stuff about how tilapia is farmed, and I for one am very happy with that decision. Mahi is a delicious and meaty fish and tastes so good grilled for 5-7 minutes and seasoned with just salt and pepper. These come individually wrapped and are very easy to thaw.
Pre-Cooked Shrimp – $14.89 – I know, I know. We live at the beach and I buy pre-cooked, peeled, tail off shrimp. To be fair, we do have a local seafood spot (Huff's) where we get fresh shrimp, scallops, and fish sometimes. Mostly on the weekends, or when we have guests in town. But for a weeknight shrimp taco between a workout and a two hour long blog-writing session, these frozen guys can't be beat.
Sweet Potatoes – $7.99 – We don't have a lot of space for bulk veggies, but one shelf of our fridge is reserved for a sack of sweet potatoes and a sack of sweet onions. We include them in so many recipes, and always having them on hand makes it very easy to throw things together. Plus, they have a super long shelf life, so they are not in any danger of going bad.
Butternut Squash Ravioli – 2 pack for $9.99 – We don't always buy pre-made pasta, but I never regret it when we do. These freeze really well (cook frozen – no thawing or forethought required) and are amazing for a quick dinner. I'll boil them in one pot while I brown onions and saute kale and frozen peas in a pan and we can have a really well-rounded dish (toss it all together with garlic and olive oil, top with Parmesan and pine nuts) in less than twelve minutes. They are definitely a great "use up any random bits of veggies" kind of meal. This is just one type of their ravioli, as they also have a spinach and cheese, chicken and mushroom, and lobster version as well.
We have found that these are the best things for us to stock up on. By having all of our meat stocked in the freezer, we focus our grocery trips on fresh produce (in addition to our CSA box), some grains, and lunch foods. We are in and out of the grocery store much quicker this way. We also have a lot of staple meals that we know we can throw together just off our our pantry and freezer items each week. Plus, with our CSA, it's easy to get our box on Tuesday nights (after we've already gone to the grocery on Sunday) and be able to plan to pair those fresh veggies with things we have from Costco.
Do you shop at Costco? What does your normal haul look like?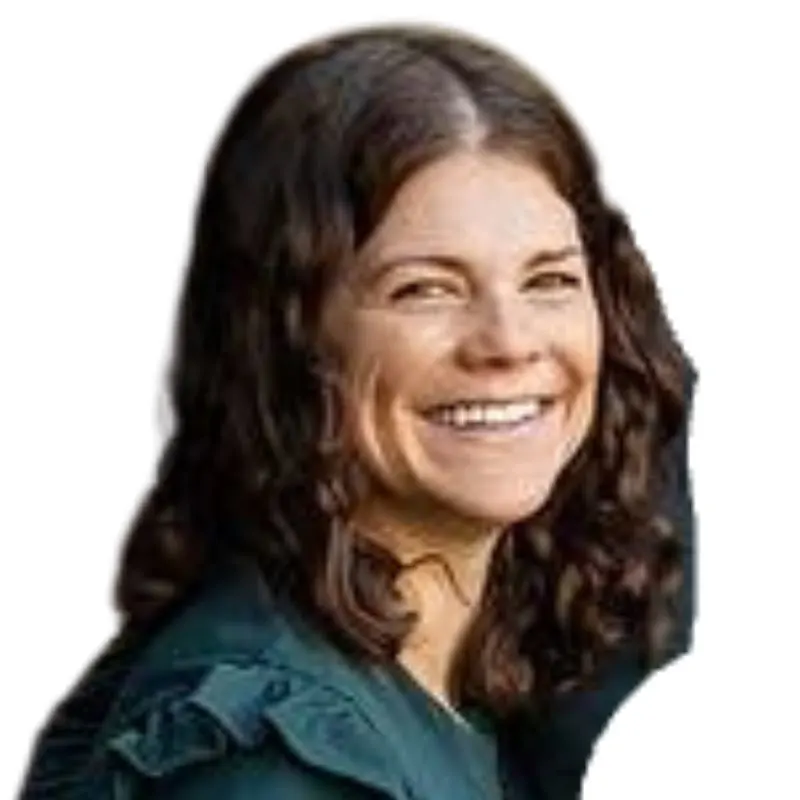 Hello, I'm Morgan, half of the creative force behind CharlestonCrafted.com! With a passion for DIY that dates back to 2012, I've transformed three homes and now I'm dedicated to helping others craft their dream spaces. Let's turn your house into a home together!