Hello all! I am so excited to check in with you today on our front room progress. If you are wondering what the heck I am talking about, we are participating in the fall season of the One Room Challenge where we will make over a room in 6 weeks! You can read all about the challenge and our plan here.
Since last week, the biggest thing that we did was paint. We chose the color Sherwin Williams Online ( SW7072) in eggshell as a neutral gray color with cool undertones. We were able to save money long term by purchasing a 5 gallon bucket of the paint for around $100 at Lowes and will use this color for our entire downstairs as well as the stairwell and hallway at the top of the stairwell. Hopefully this will bring color cohesiveness as well as save some cash. We went ahead and painted the front room as well as the dining room and will continue it up the stairs and in the sunroom maybe later this month but definitely before Christmas. The kitchen wallpaper will unfortunately stay up until we redo the kitchen next year. While we were painting we also gave the trim a fresh coat of bright white semigloss paint.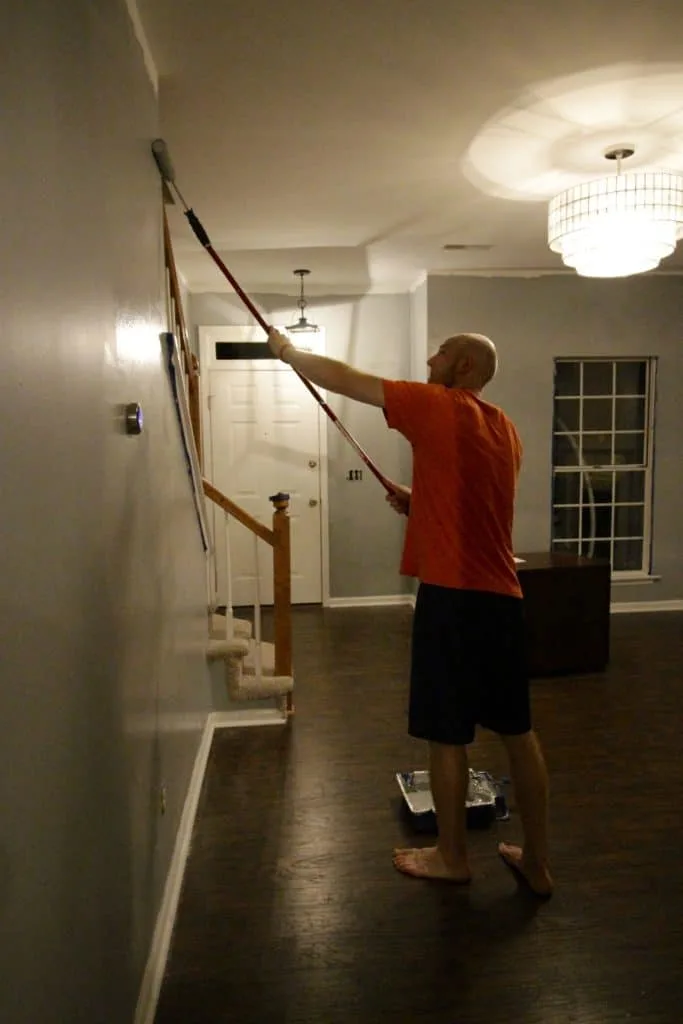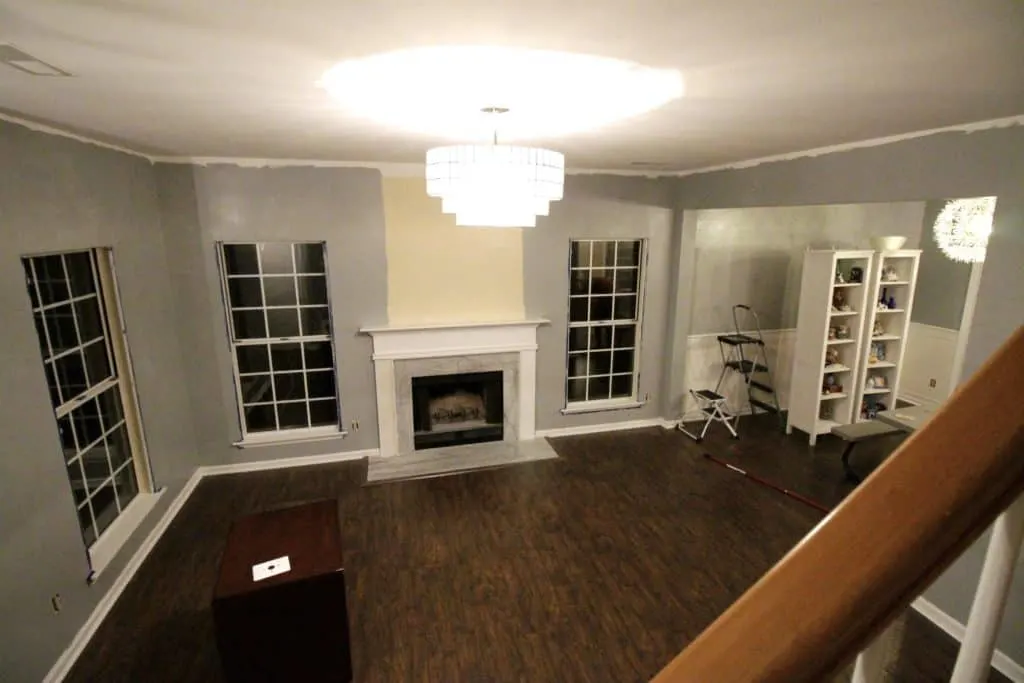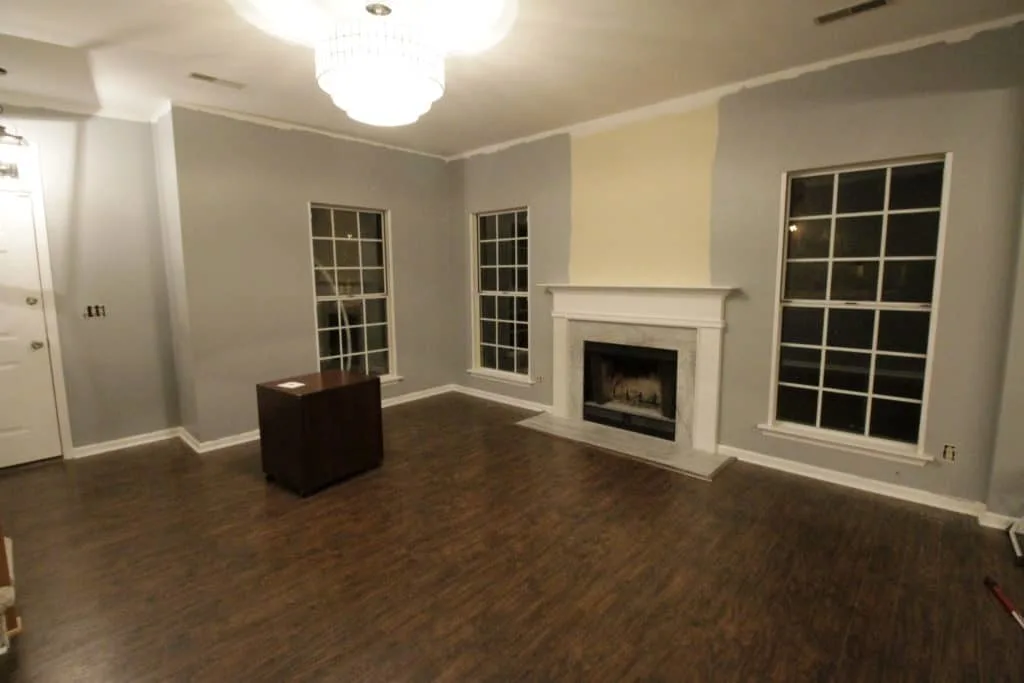 You can see that we left the space over the fireplace blank. We are going to add a bit of a feature wall there and decided not to bother with the gray paint. Hopefully we will get a more flushed out idea for that soon. We also left a gap between the walls and the ceilings. We are planning to add crown molding so didn't even bother cutting in too closely. We recently had our ceilings re-drywalled and paid about $800 for the contractor to paint them for us and didn't want to risk getting a drop on them.
The other change that you will notice is that we added a bit of furniture. The chairs are these Rockwell Accent chairs from At Home. They are priced at $199 each but one of ours was damaged – it had a pick on one side – and they gave us 20%, $40 off. I easily cut the pick off with a small pair of scissors. We also used the "new customer" 10% off email sign up coupon. I picked these up sort of spontaneously a few weeks ago because At Home is a bit like Homegoods in that you get what you get and you can't order online. They have been camped out in the guest bedroom during the construction. This is not the furniture layout. They are shoved way too close together here! They are just chilling for now and being slid around by the pets and as we do projects.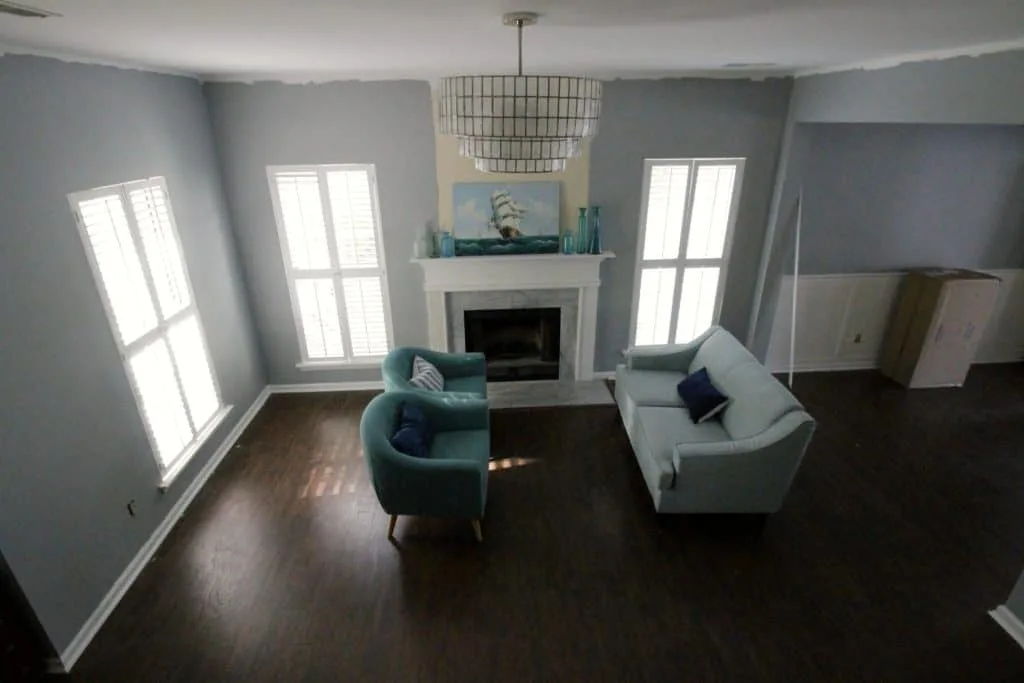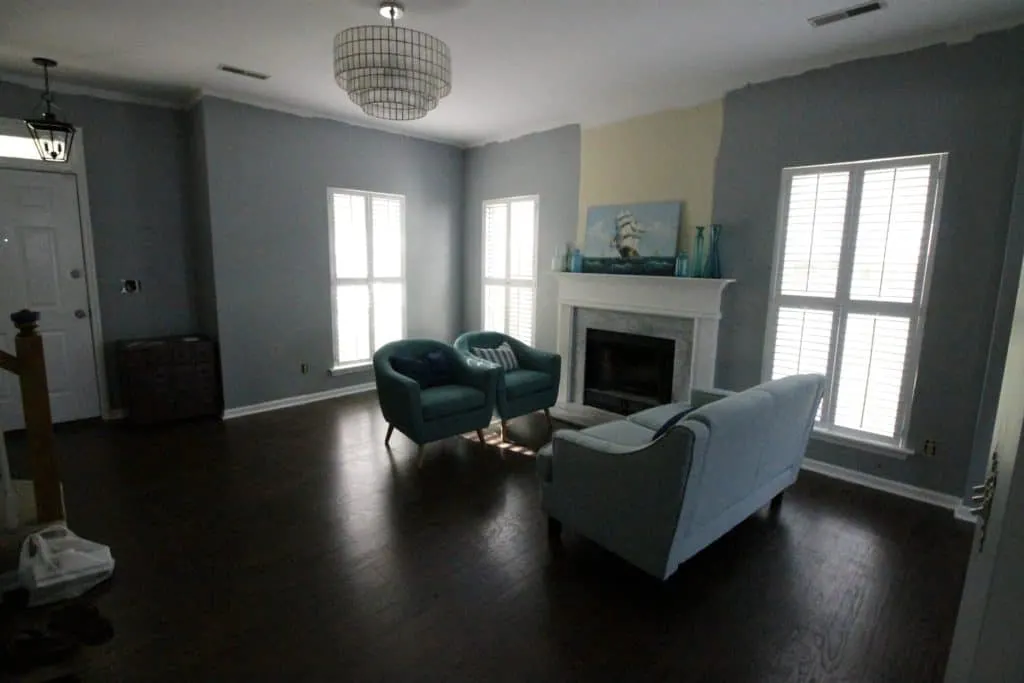 The love seat is the Calloway Loveseat via Joss & Main from our mood board. I ordered it the day after they finished construction and it shockingly came in 3 days. It is a brighter light blue than I imagined but I am really digging it. They were running a sofa special and I used a $10 referral credit to get it for $422.
We were hoping to get more done throughout the week and the weekend (and Sean's day off for Columbus day was to be all crown molding & framing out the fireplace) but unfortunately we along with the entire South Carolina coast were evacuated due to Hurricane Matthew Tuesday night. We left Wednesday at 5am and headed to Raleigh for the duration of the evacuation. Thankfully, our house was unharmed (the tree we were most worried about is right on the other side of the fireplace outside!), but it did put us about 6 days behind on our projects.
We will just have to jump start and get it going for next week! By next Thursday we hope to have the fireplace built out & crown molding up! We are also going to be swapping out all of the visible outlets and switches from beige to white! Lots to do!
Thanks for checking in!