Since our wedding, I have really tried to start focusing on a solid beauty and skincare routine. I'm only 26, but I can already tell that my fair skin is going to need a lot of attention to stay in it's best possible shape.
Here are some products that I've been using and loving lately.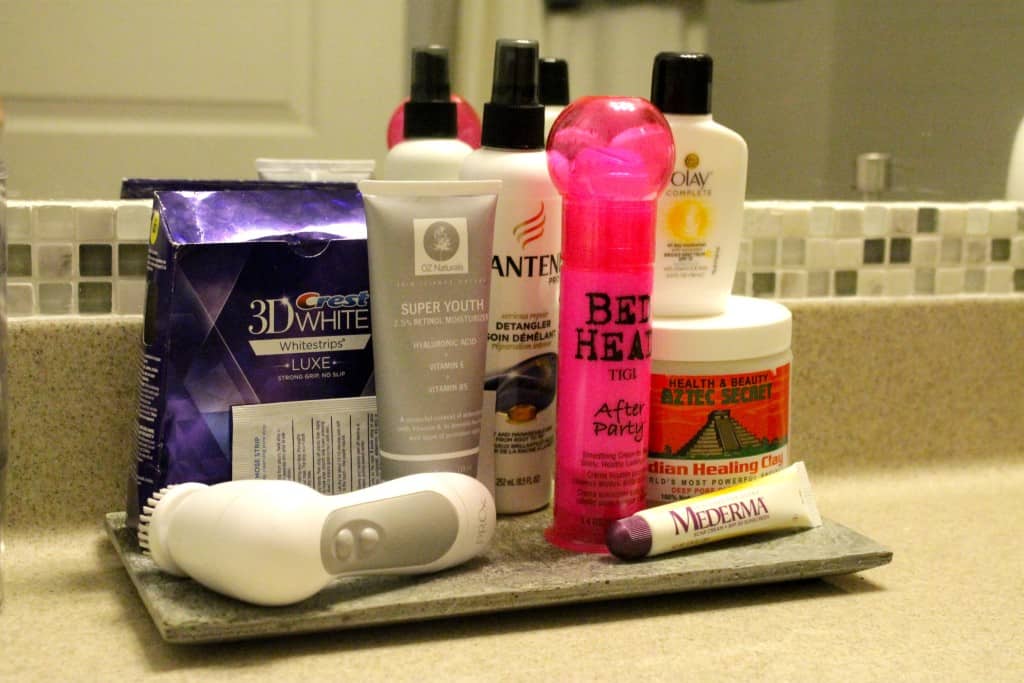 Olay All Day Moisturizer with Sunscreen – I am really trying to be better about always wearing sunscreen on my face, and I love that this cream is also a moisturizer and has no sunscreen odor. I put it on every morning and after I shower if I shower in the middle of the day (which I do a lot – either around 6pm during the week or randomly in the middle of a Saturday.)
OZ Naturals Super Youth – I use this cream every night before bed on my face and neck. It has no odor, it all natural, and I wake up with a glow. The combination of these two creams has made my skin so much softer and smoother in only a few months!
Olay Pro-X Cleansing System – I have always been really bad about washing my face at night. Now that I am more seriously moisturizing, I am also making an effort to wash my face each night. This spinning brush is gentle enough to not aggravate my skin, but strong enough to make it feel very clean. Plus, at only $22, it's a much better price than many of the competing brands.
Indian Healing Clay – I have always been a sucker for a face mask (and would love any recommendations that you have!) I recently got a jar of Indian healing clay and am obsessed. It is actually a powder that you mix with apple cider vinegar to form a thick paste and spread over your face until it gets dry and flaky. I really feel like I can feel it sucking my pores clean. It's totally unlike anything I've done before – and I really recommend it!
Biore Pore Strips – These are a little bit old school (I've been using them since middle school!) but I swear by them for clearing blackheads out of my nose area. You put the strip on, then let it get really firm before pulling it off. It's a little bit like ripping off a bandaid, but seeing all the gunk that comes out makes it totally worth it.
Mederma Scar Cream – I have quite a few cat scratch scars on my arms, hands, and thighs especially. It's a hazard of having pets, but I recently decided that I wanted to try to get rid of them. This cream has been great – it goes on easily without any odor and absorbs very quickly. It takes a while to see results but I have definitely faded scars with it. I love that it has SPF, too, since the sun darkens many scars.
Contoured Face Mask – I wake up easily in the middle of the night, so I decided to get a sleeping mask. I "splurged" on this one (it's less than $13 but seems like a splurge since you can technically get sleep masks at the dollar store.) I LOVE the fact that it is molded, so you can actually open your eyes comfortably while it's on. It sounds weird, but if I wake up in the middle of the night and open my eyes, it's still dark and it's so much easier for me to fall back asleep. I also love the adjustable elastic strap. This is a keeper!
Bed Head After Party – In the summer, it gets super humid around here. I use this cream on my wet hair to cut down on frizz. A little goes a long way, but I rub it in before I blowdry my hair, or even use it to "scrunch" my curls when I am going natural – without the crunchy gelled curls look of the 2000's.
Pantene Pro V Detangler Spray – I have used this spray since I was about five years old! I use it as a leave in conditioner. It keeps my hair shiny and makes it super easy to comb through, and I love the light scent. Plus it's super cheap (the Amazon listing that I linked to is for 3 big bottles!)
Crest Whitestrips Professional Effects – I have used a variety of teeth whitening strips but have gotten the best results from the Crest Whitestrips Professionals line. We try to do them twice a week to keep our teeth fresh and sparkly. I have found that having whiter teeth makes me look tanner, too!
 Tropical Green Tea – So, this isn't directly beauty related, but I have started drinking at least one cup of hot tea a day. It's a great way to wake up in the morning (I don't drink coffee and never have) but it's also great fro your body. According to WebMD, green tea can lower cholesterol, stabilize blood sugar, and can help you lose weight. I have found that my green tea time has become a relaxing daily ritual!
I am always interested in trying new beauty things – especially if I can get them on Amazon Prime. Do you have any suggestions?
This post contains affiliate amazon links. So, if you click thru and make a purchase, I get a small percentage of the sale. Thanks for supporting the brands that make Charleston Crafted possible!