Want to use your hanging planters in a festive way? Here's a step by step guide on how to make a Christmas hanging basket for outdoors!
I love decorating for the holidays. We've accumulated a lot of outdoor decor, and this year am trying to supplement it in little ways.
One thing that I love to do is repurpose year-long decor with a holiday aesthetic. One thing that we have on our front porch is hanging planters.
So, I decided to create a hanging Christmas planter.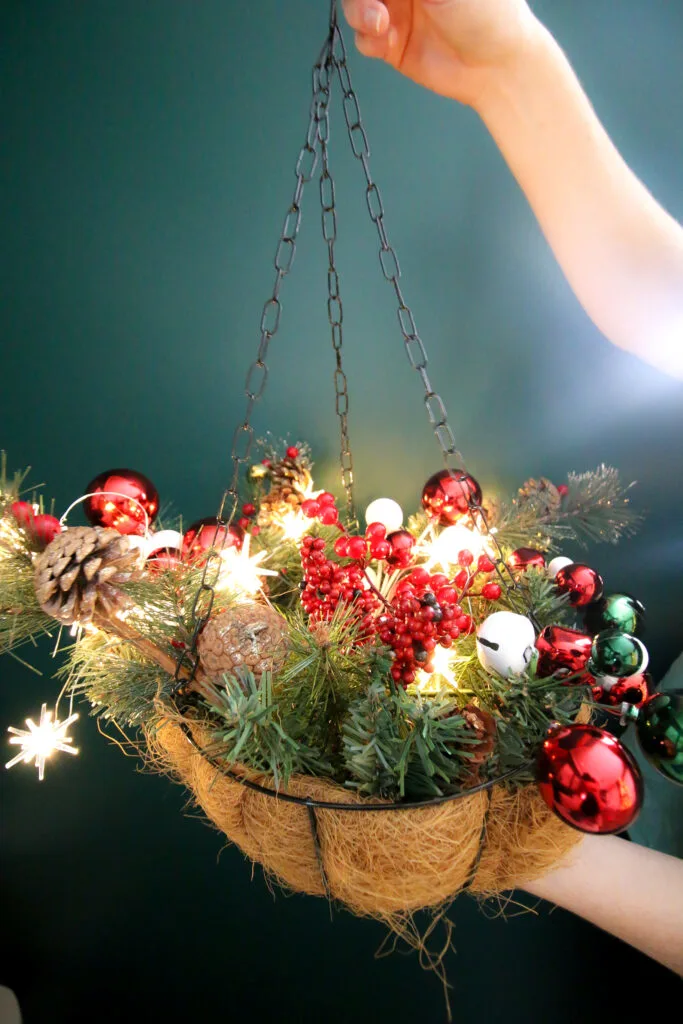 It's easy to make a Christmas hanging basket DIY using any hanging basket you already have on hand. Dump out the dead flowers and let's make them festive!
There are lots of outdoor Christmas hanging basket ideas – you can use any type of greenery and accent picks that goes with your decor. Mix up the accent colors so it flows with the rest of your home!

Decorative accent ideas:
Pine cones
Floral picks
Ribbon
Ornaments
Berry Stems
Branches
Faux flowers
Make sure you hang up these DIY wooden snowflakes too!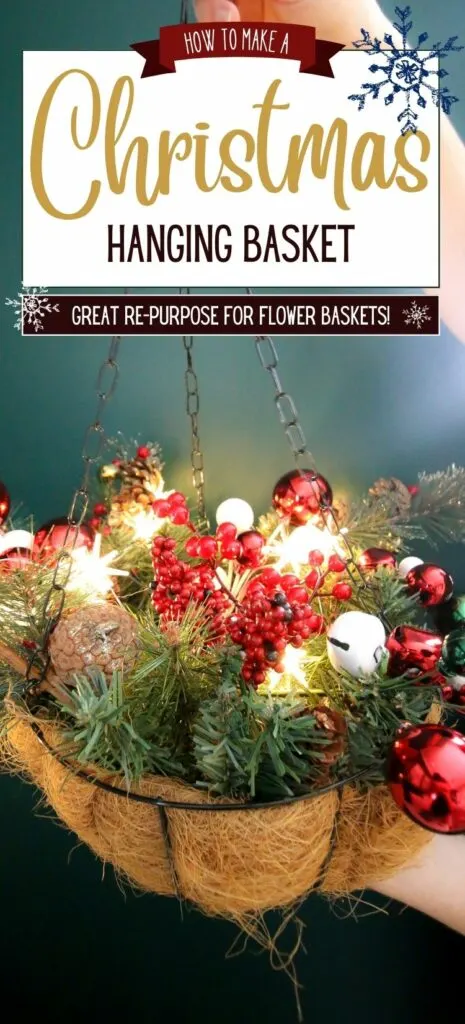 How to make a hanging Christmas basket
Here's how I made this pre-lit artificial Christmas hanging basket!
Supplies needed:
Steps to make a DIY Christmas hanging basket
STEP 1: Filler
This is optional, but if your planter is deep, you may want to add something to the bottom to keep your decor from getting lost inside. Consider balled up paper, soil, or packing peanuts. Keep it to something lightweight – the basket has to hang, after all.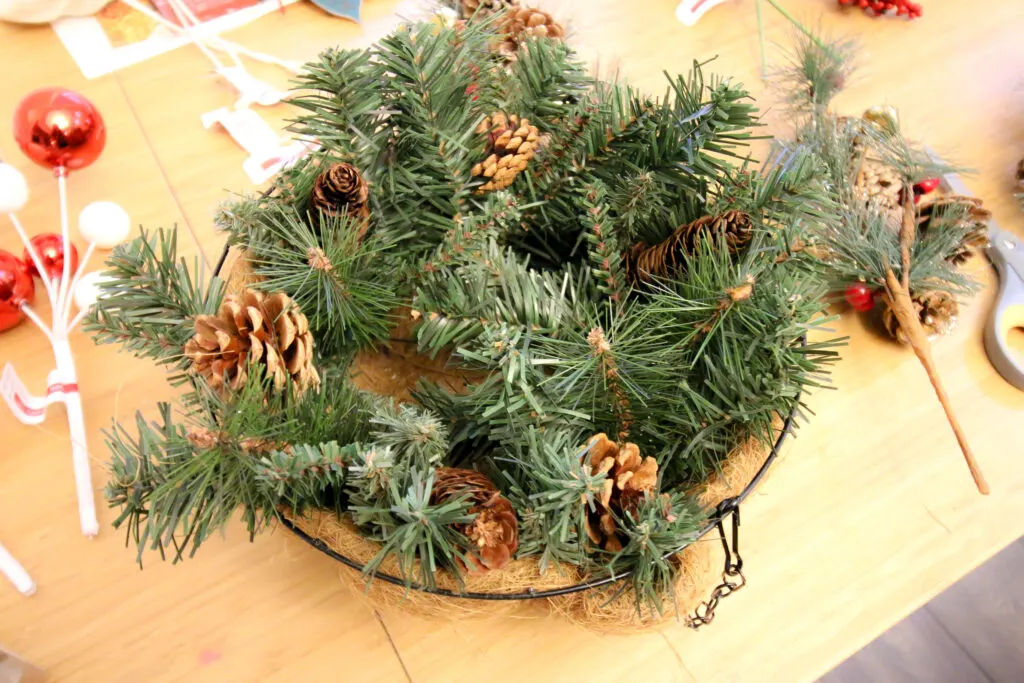 STEP 2: Overflowers
Now, place your overflow-ers. I chose a 12″ faux greenery wreath for my holiday hanging basket. You could also use picks of greenery – choose ones that are soft and will hang out compared to stiff wire.
STEP 3: Growers
Next, add growers. These are pieces that will stick up and out from the back. I prefer picks with stiff wire that can still be shaped, but something on a small wooden pick can work, too. Fan them out to create the backdrop of your basket.
STEP 4: Showers
Your show-ers are the exciting baubles in the front and center of the basket that automatically grab the eye. These are placed last, front and center.
You could do ornaments, jingle bells, large pine cones, or whatever goes with your style and aesthetic.
STEP 5: Lights
Finally, I like to add lights on a battery pack. This is totally extra, but really takes it up a notch!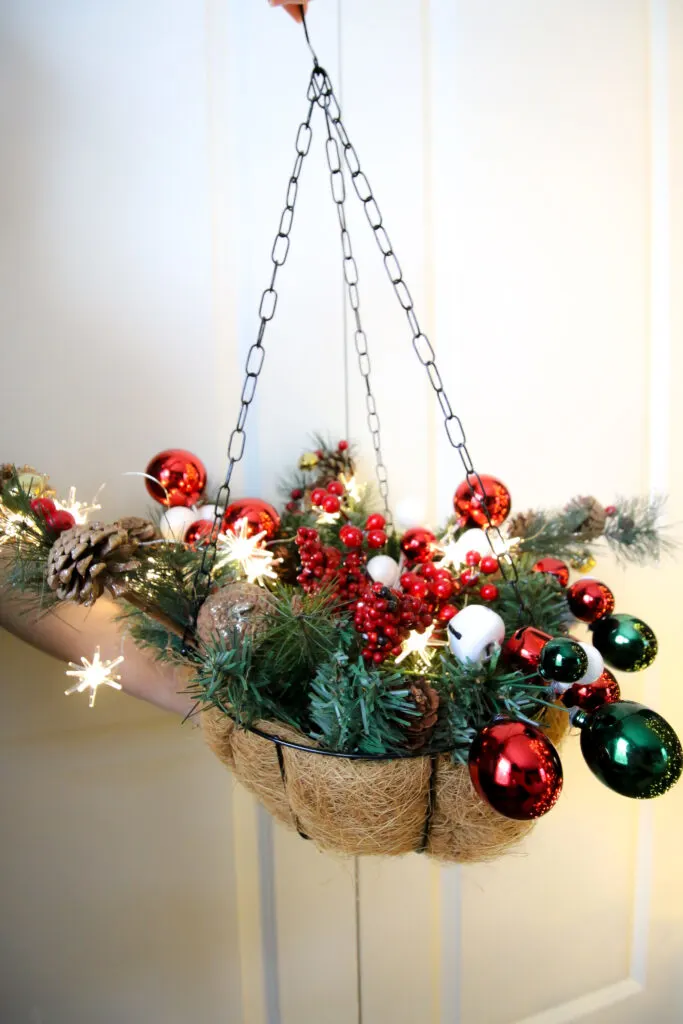 STEP 6: Hang & Enjoy
Hang from a hook on your front porch and pair it with your other porch Christmas decorating.
Enjoy!
Any more questions about how to make a Christmas hanging basket for outdoors?!