If you want to add privacy to a glass door without losing the light bright feeling it gives your home, consider frosting the glass door panels! Here is how to frost glass for privacy.
One thing that I love about our new home is that the guest bedroom is on the first floor.
It gives a little separation from the bedrooms, which is nice for guests when we have babies crying at night.
But, truly, the "guest bedroom" was designed as a "flex space" in our home.
The biggest difference between the Flex Room and a Bedroom in the floor plans is that a flex room get french doors with glass panels.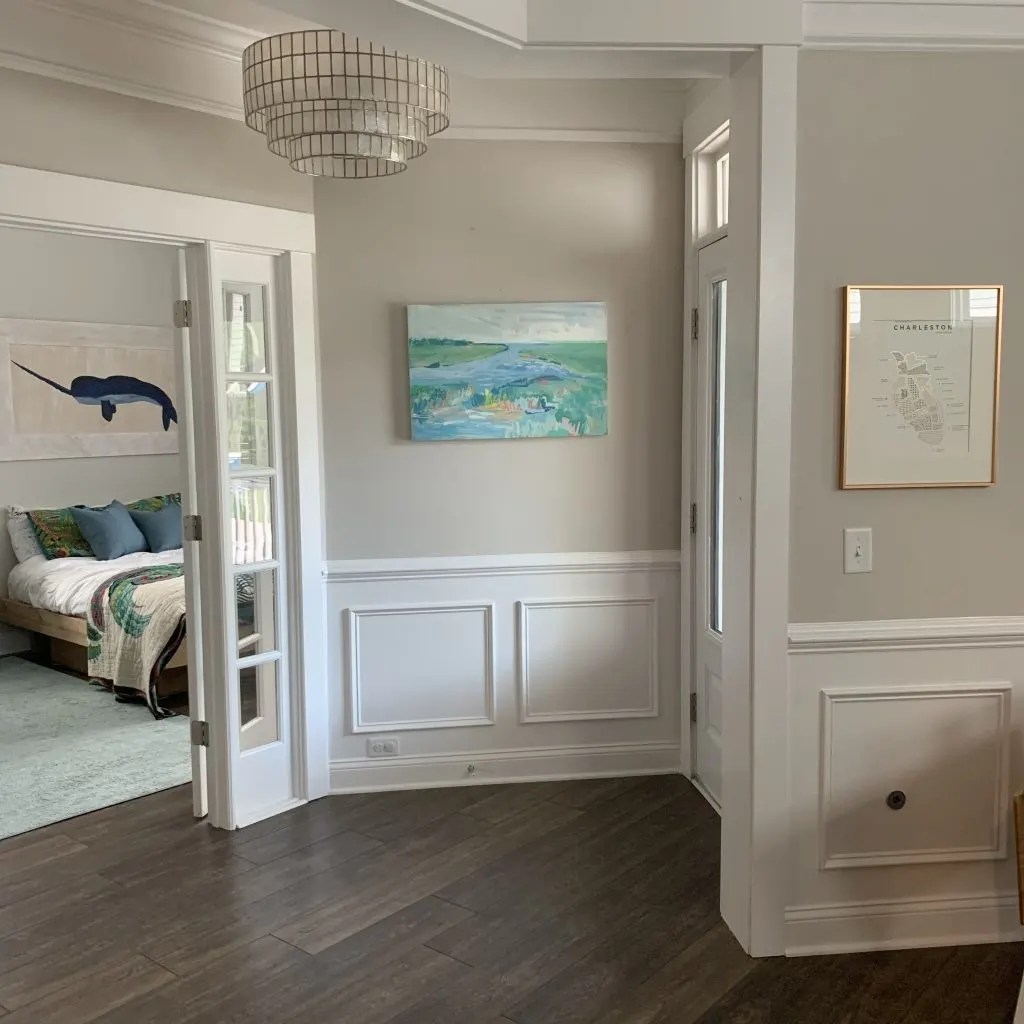 It's actually really lovely. It makes our entry hallway feel light bright and open in a way that a traditional door would not.
But, we do want our guests to have some semblance of privacy via a more solid bedroom door. But, we didn't want to replace the doors -we wanted to do this in an inexpensive way.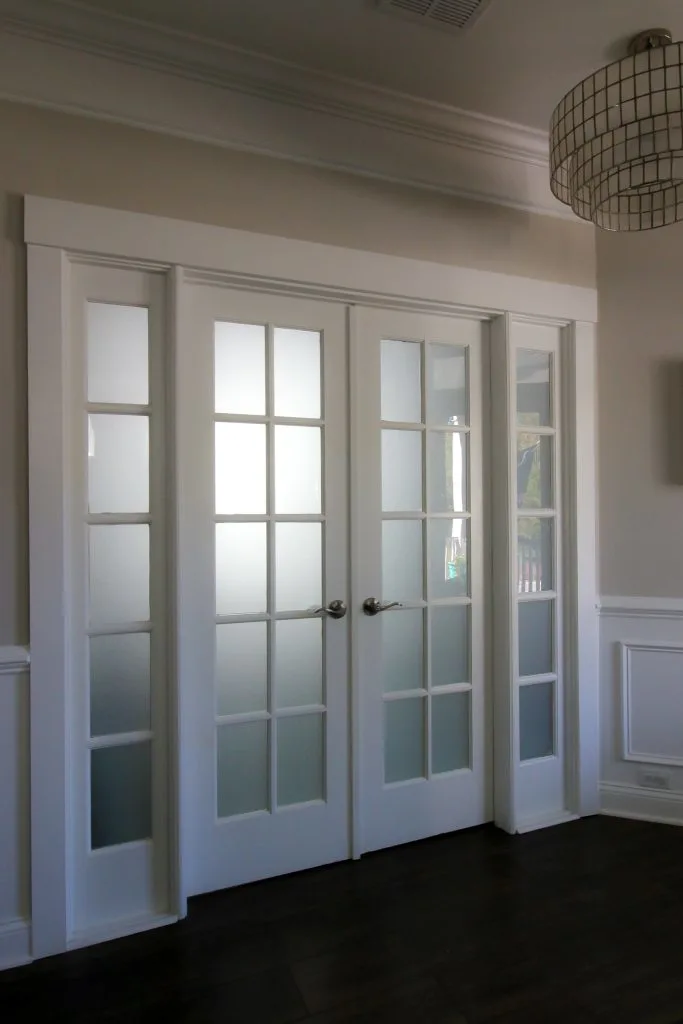 So, we decided to frost the french door glass panels.
Frosted glass is opaque and therefore allows for privacy while still letting natural light pass through.
Win-win!
The easy way to frost glass doors and windows is with a peel and stick film. This transforms clear glass and gives it a frosted look using an easily removable static cling effect.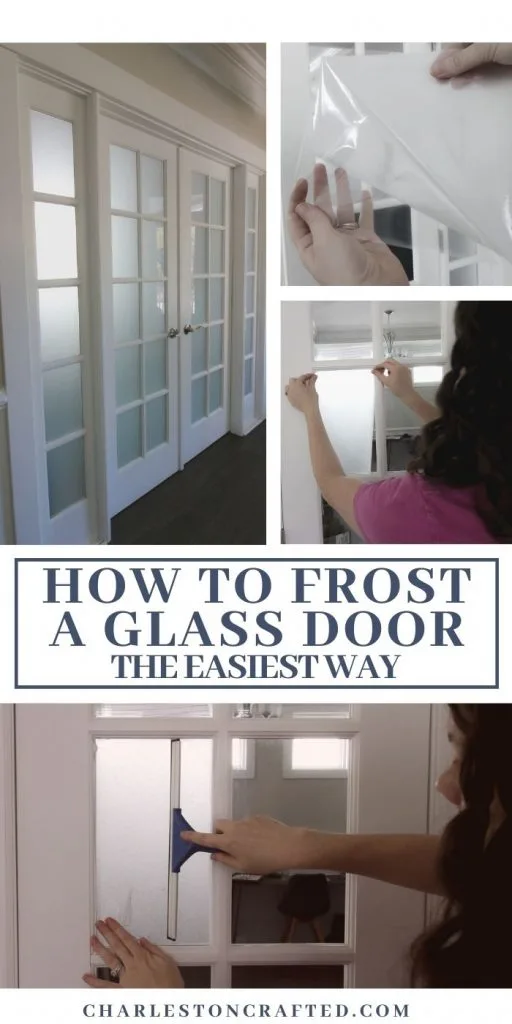 How to frost interior french doors
What you need to frost glass doors or glass windows:
How to frost glass door panels:
Clean glass windows to remove fingerprints, dust, or debris.
Create a template of your glass window panel. This applies to windows with small individual window panels that are all the same size. I used a paper grocery bag and cut it to size.
Cut out rectangles of window film following your template. It is better to cut slightly big than small!
Peel the backing paper off of the rectangle you just cut. This is hard and you will need fingernails or to use the tip of the exacto knife, carefully.
Spray the window panel thoroughly with water. The wetter the better.
Place the rectangle of contact paper onto the glass surface. Shiny side goes on the glass, bumpy side out.
Use your fingers to position the film and then use a squeegee to remove air bubbles.
Use a cloth or towel to wipe any water off of the window or door frame.
Once in place, use the exacto knife to remove excess along the straight lines of the window panels.
Allow to dry, wipe excess water with a microfiber cloth or paper towel.
If you are unhappy, you can remove it, re-spray, and re-position.
Repeat previous steps for each glass panel in your whole door or window!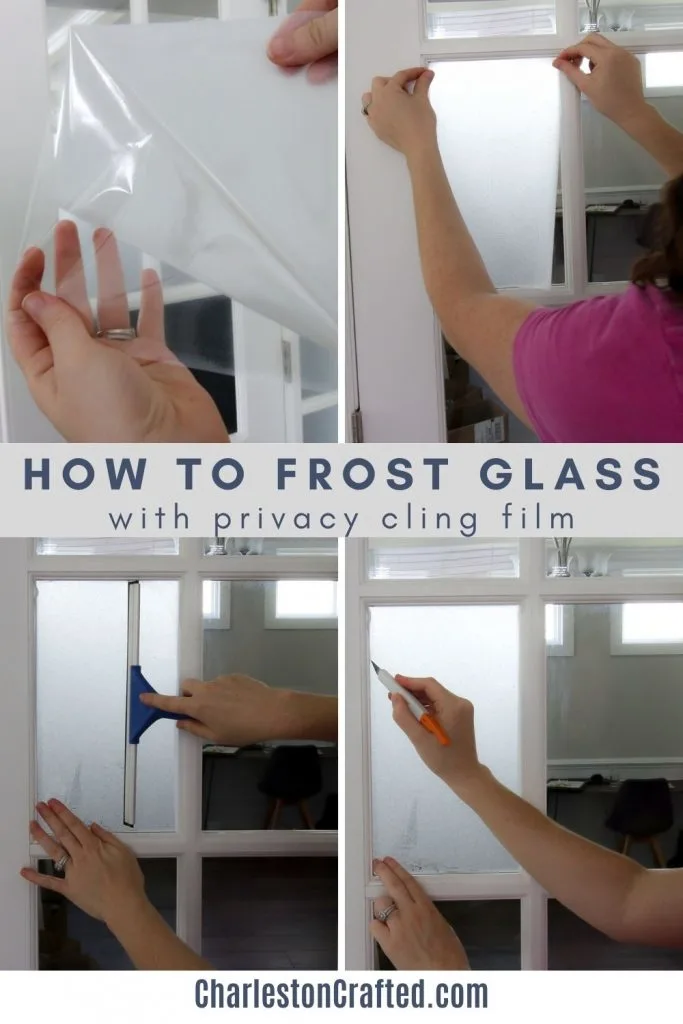 Video tutorial
Check out our step by step video showing exactly how I frosted our glass french doors!
Frosted Glass Spray vs. Privacy Window Film
I have used both frosted glass spray and privacy window film to achieve the DIY frosted glass look. You can read about my experience trying frosted glass spray here.
Frosted glass spray paint is in a spray paint type bottle and you spray it on the window to get a frosted glass effect.
I had a very hard time getting an even and consistent finish. It turned out very splotchy and uneven, no matter how many coats I did.
I'm not saying it is impossible – but there is definitely a learning curve.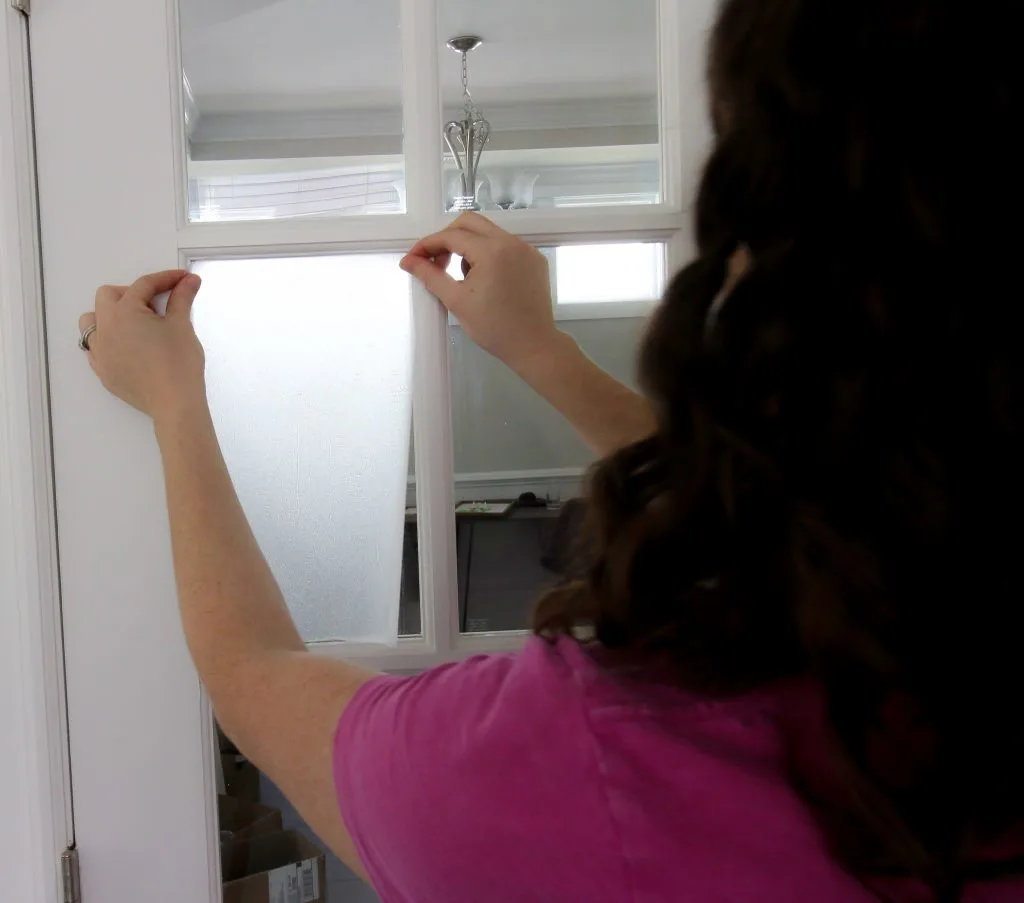 Is glass frosting spray permanent?
No! Frosting spray is removable. I actually scraped the frosted paint off using a razor blade and replaced it with the etched window film.
If you need a permanent frosting effect, look into glass etching cream (which I will discuss below).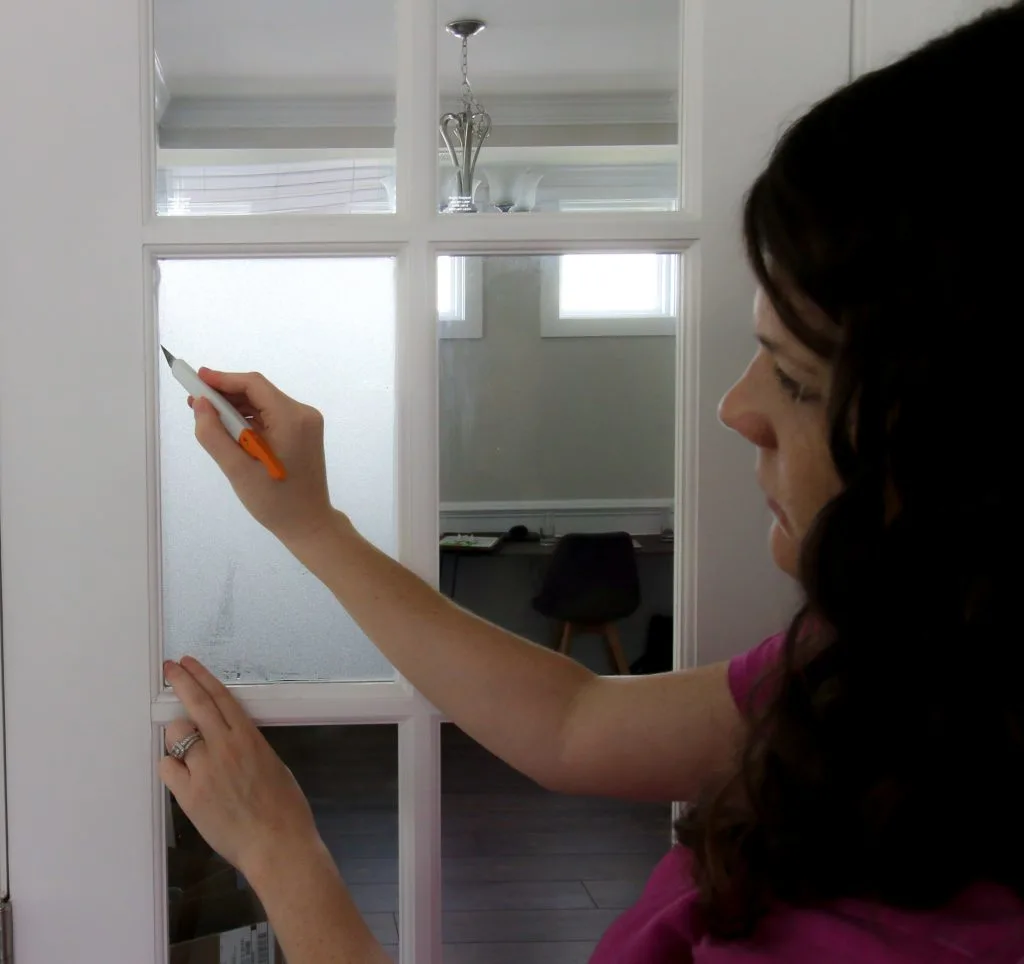 Frosted window film is really easy to use. I didn't find any sort of learning curve to it at all.
I shared the full tutorial above, but I really love that the window film is easy to apply and requires no special skills or tools!
Clearly, I think the window film is the best way and had more success with it!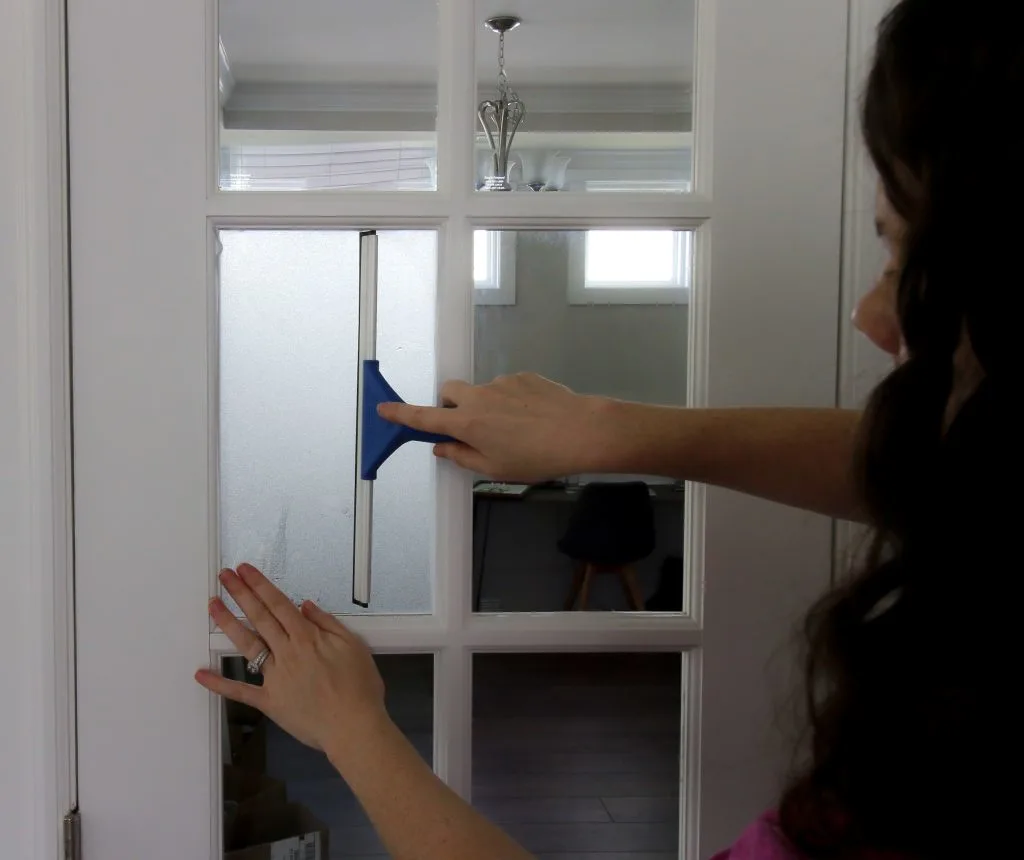 Frosting Glass with Etching Cream
A final option is to frost glass using etching cream. This is a permanent option and not one that I have tried.
Etching cream is relatively expensive and very permanent, so keep that in mind if you choose to go that route.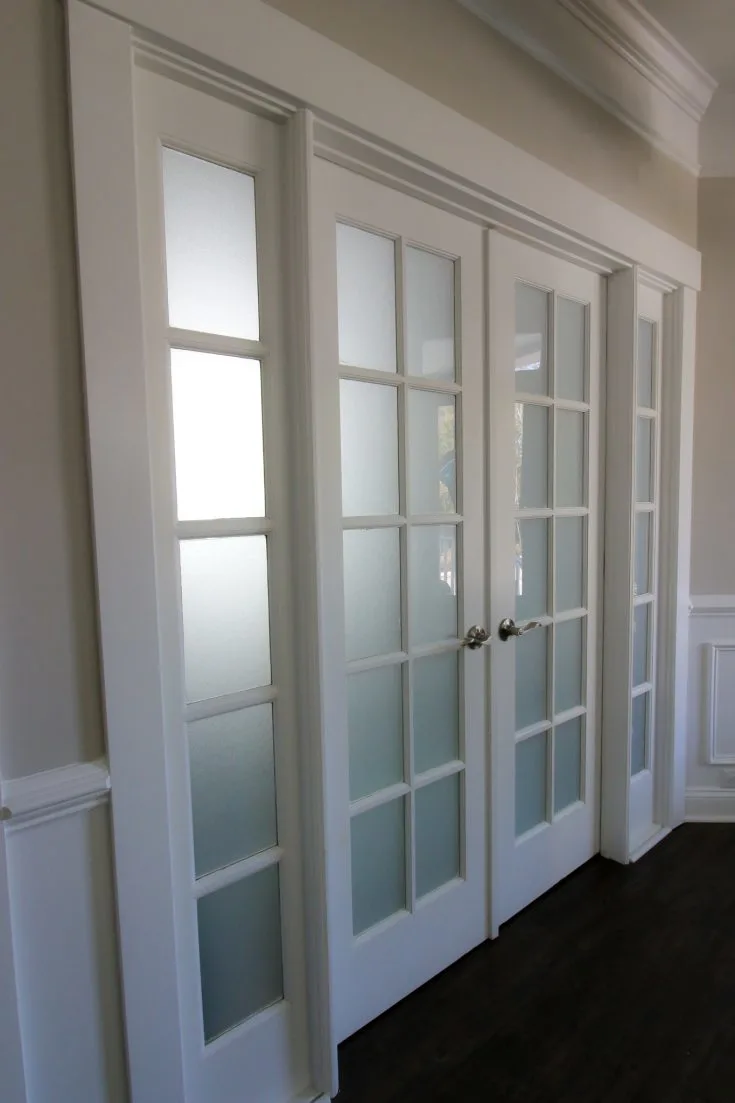 Yield:

1 frosted door
How to frost a glass door
Total Time:
1 hour
30 minutes
Want to add privacy to a glass door? Here is the easiest way to frost the glass for instant privacy!
Materials
Privacy Window Film
Paper or cardboard (to make template)
Tools
Scissors
Spray bottle of water
Cloth or towel
Squeegee
Exacto knife
Instructions
Use paper or cardboard to create a template the size of each window panel.
Use template to cut film into rectangles. It is better to cut slightly large and trim later.
Peel the backing off of a rectangle.
Spray window with water. The wetter the better.
Place frosting film on the window, shiny side against the glass, bumpy side out.
Position the film and then use a squeegee to remove any bubbles.
Use a cloth to wipe any excess water from around the window frame.
Use an exacto knife to trim the excess.
Allow to dry.
IF you are unhappy with a sheet, you can remove it easily and repeat the process. Pieces are reusable!
Recommended Products
As an Amazon Associate and member of other affiliate programs, I earn from qualifying purchases.
Have you frosted windows before? What method did you use?