Have a pet stained sofa? Here is the best way to get Pet Urine Odor out of a Microfiber Couch!
Looking to get pet urine smells out of your couch? You are in the right place! If you are looking for more great pet ideas (we have a cat and a dog!) check out all of our pet projects here.
I have a problem. I love my little kitty cat; he is the fluffiest, snuggliest little baby I know, but he has decided that my couch cushion is his litter box.
Any time I leave him alone, he pees on the cushion. It's weird because he very rarely does it anywhere else!
I'm working on getting him to stop- I've used pheromones, I lock him up while I'm gone during the day- but if you have any other suggestions, please let me know.
I have taken him to the vet and they said nothing is wrong with him- it is just behavioral. Lucky me.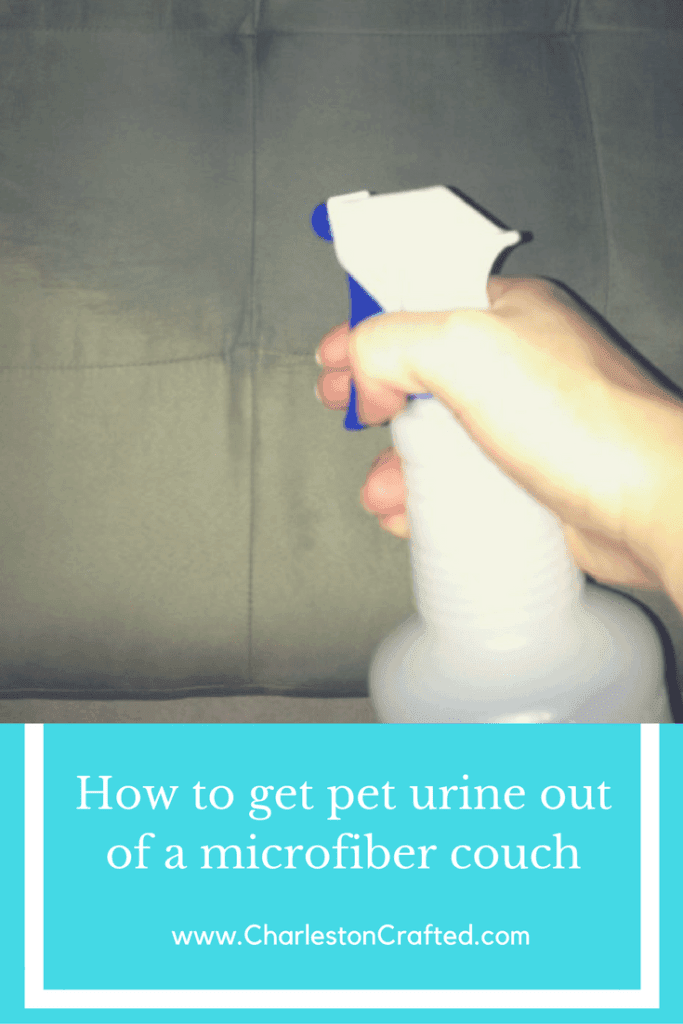 I'm really sad because I feel like my couch is being ruined. So, I combed the internet for cleaning techniques to deodorize the sofa.
My couch is microfiber and from Ashley Furniture. I desperately want a new couch, but am afraid that he will ruin it immediately.
Health hazards associated with pet urine
Breathing in tons of pet urine has been shown to cause respiratory issues including asthma, and eye and skin irritation if you are exposed. It also is stinky and can make furniture feel permanently wet. It's best to clean it as well as you can.
What is the best urine cleaner for a couch?
Baking soda + white vinegar is a natural way to clean pee stained upholstery. Plus, you probably already have it on hand!
For tougher stains, an enzyme cleaner like Nature's Miracle is your best bet.
How do you prevent a pet from peeing on the couch?
Here are a few tips to help discourage your pet from peeing on the couch.
Take them to the vet to be sure they don't have a UTI or medical issue
Give them toys and exercise so they are not bored
Take dogs out more often or clean the cat's litter box more often
Look for things that might be stressing them out and try to resolve the issues
Consider containing your pet in another room when you are not home
Process for getting pee smell out of couch
So, in the meantime, here is what I do to clean the couch cushions:
As soon as you discover the "accident," use paper towels or a white cloth to soak up as much as possible.
Luckily, Cesar usually doesn't go very much- another clue to me that this is just behavioral.
As soon as possible, fully saturate the area with an enzyme cleaner. I like Nature's Miracle.
Follow the directions on the bottle, but some say to use a white rag to soak up the moisture after 5-10 minutes.
If you want to do a deep cleaning, take the cushion covers off of the couch & run them through the washer with 1 cup of vinegar. Unfortunately my cushion covers are sewn to the foam cushion. You can't take them off without ruining the couch.
Take the cushions off of the sofa. I set mine on my screened porch. Spray with a mixture of 1/2 white vinegar, 1/2 warm water. I sprayed until they were very wet all over.
5. Then, sprinkle the entire cushion with baking soda. I sprinkled heavily, using a whole box on the 2 cushions.
6. Let sit for at least an hour- I left mine over night.
7. Vacuum well. I used the brush attachment and vacuumed slowly, twice in each direction (vertical & horizontal).
Then I placed the cushions back on the couch.
8. Optional- I scotch guarded my whole couch again once I got it clean.
This will hopefully help in the future (it was also scotch guarded when I bought it about a year and a half ago.)
9. Finally, I sprayed the whole thing heavily in Febreeze. I like the super odor eliminating kind, especially for pet odors.
That's it! That's how to get dog smell out of microfiber couch.
My couch seriously smells and feels 10,000 times better! I am very happy with this system- it took a little time but was physically easy and used all ingredients I already had. Most importantly, it worked!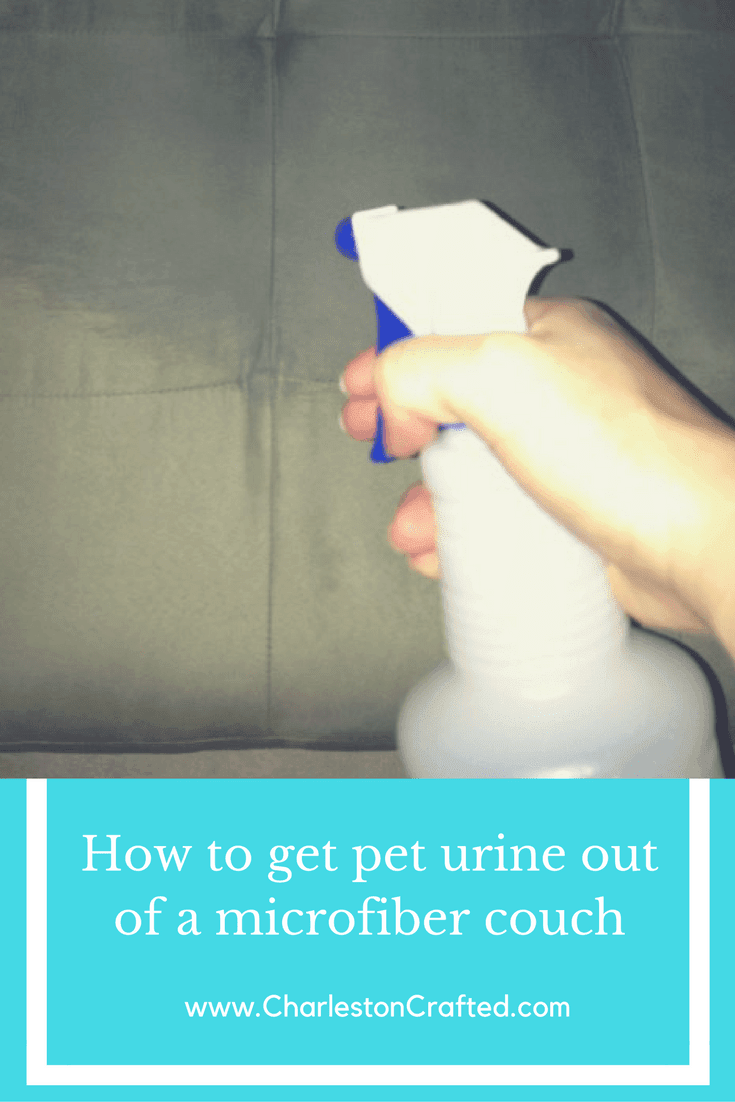 Yield:

1 clean couch
How to Get Pet Urine Odor out of a Microfiber Couch
This is the best and easiest way to get pet urine smells out of a sofa or couch. It works well on all furniture and carpet or rugs, too!
Materials
Paper towels
Enzyme cleaner
White vinegar
Baking soda
Scotch guard
Air freshener
Tools
Spray bottle
Washing machine
Vacuum
Instructions
Use paper towels to soak up as much of the moisture as possible.
Fully saturate the area with an enzyme cleaner, following the directions on the bottle.
If you have removable cushion covers - take the cushion covers off of the couch & run them through the washer with 1 cup of vinegar.
Spray cushions with a mixture of 1/2 white vinegar, 1/2 warm water
Sprinkle the entire cushion heavily with baking soda.
Let sit for at least an hour.
Vacuum clean.
Optional- apply scotch guard to help protect in the future.
Spray with Febreeze or odor eliminator of choice.
Recommended Products
As an Amazon Associate and member of other affiliate programs, I earn from qualifying purchases.
FAQs
How do I get dog pee out of a microfiber couch?
Apply a stain remover to the couch. You can use white vinegar + baking soda or Nature's Miracle. Let sit and then vacuum thoroughly.
How do you get the pee smell out of a couch that has been dried?
You can still use white vinegar or nature's miracle to remove stains from a couch even if the pee stains are dry. However, you are going to need to scrub harder to get the dried stains up.
If that doesn't work, try a steam cleaner. This will loosen up the stains and make them easier to remove.
How do you clean a badly stained microfiber couch?
Use a stain remover to blot at the stains as much as possible. Vinegar + baking soda can be a great option using things from your kitchen. After scrubbing it, vacuum the couch to help finalize the clean.
What cleans urine out of a couch?
Nature's Miracle is your best bet for neutralizing urine smells in upholstery.
Professional cleaning
If you don't want to mess with cleaning yourself or simply cannot get it clean enough, it might be time to hire help. Most carpet cleaning companies will also deep clean sofas and upholstered furniture.
Do you have any tips for cleaning pet odors? What about for keeping them from being bad in the first place?
Click here to pin this process to your Pinterest board
**Edited to add: if you have further problems with deep pet stains (especially in carpets or upholstery), we love our Bissell spot clean stain remover.
Check out the (unsolicited/not-sponsored/we genuinely bought and love it) review here!