Today is a big day for us here at Charleston Crafted as we have a pretty cool announcement to make. So by now everyone knows how we've been upgrading the condo that Morgan bought last year. Well I've been getting pretty fed up with my apartment and was looking to buy as well. Luck had it that the unit directly below Morgan's became available and I put a bid down. I couldn't believe it but I actually got it!!!
But that's not even really the big news. We decided that there was no real reason to have two condos on top of each other. So I hired a contractor and have sketched out some plans that are going to let us make our units a two story condo!!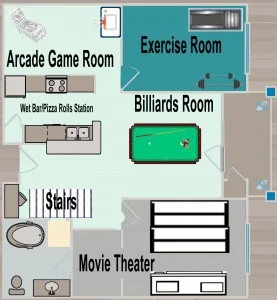 Basically, we're going to cut out the floor where the dining nook is in Morgan's place and put in a staircase down to mine. Since there are already two bedrooms in her place, we don't really need there to be two more in mine. So in the master of mine we've decided to put in a couch and an elevated couch in front of a projector and make it movie/Nintendo 64 room!
In the "living room" in my place, I got a great deal on a pool table off Craigslist and I brought it over the other day. It will be a great entertaining space. This will tie in nicely to the kitchen which I've decided to call the "wet bar/pizza rolls station." We have the full kitchen upstairs so there's no need for this to act as a kitchen.
So Morgan always says that she doesn't work out because there is no room. Well… problem solved. We're taking out the closet in my guest room and turning it into a fitness room. We have some stuff, but we're planning to add a treadmill, some free weights, and maybe a bowflex so that we can get trim for the beach season!
Finally, I decided to knock out the extra laundry room and storage closet in the hallway and combine it with the guest bathroom. I'm going to take out all the appliances and bathtub and everything and sell them. I want to use that money to fund our new game room. Planning on going old school with a pinball machine, free throw basketball game, and who knows what else.
Basically, we're calling this our entertainment floor, but I know Morgan isn't going to use it much so it's going to be my man cave complete with Panthers wall art and beer signs.
The contractor is supposed to come start cutting out the floor for the stairs a week from today, so April 8th. Wait… That makes today April 1st which makes it….
APRIL FOOLS!!!!
(C'mon, we're young but did you really think we were that crazy?)