Want to makeover your bathroom? Building a vanity is a great place to start! Here are a ton of DIY bathroom vanity ideas to inspire your project!
Bathroom makeovers are some of my favorites. Bathrooms are the unsung heroes of most homes – not as glamorous as kitchens but just as well used!
When planning a bathroom makeover, a big part of the bathroom is the vanity. Whether it's a small half bath or a large primary bathroom, the sink and vanity are a big part of it!
You can transform the space by painting an existing vanity or replacing it. You can of course buy a new vanity, but today I will be sharing some of my favorite bathroom vanity builds.
Here are our tips on how to paint cabinets!
How do I build a simple bathroom vanity?
A simple bathroom vanity will have a box frame with legs. It might have drawers, a cabinet, or shelves. If you can build a box – you can build a DIY vanity. Anything on top of that is just extra!
Is it cheaper to buy or build a vanity?
Buying vs building a vanity can widely vary in price. Vanities usually take a good amount of plywood or lumber to create, which can add up quickly. Add a countertop and faucet and it's not exactly cheap.
If you want to build your own, check out our tips for getting the best deals on lumber.
You can also consider buying cheaper wood and staining it for a higher end look. Here are our favorite wood stains tested on different wood types.
The cheapest possible DIY bathroom cabinet would probably be a repurposed bathroom vanity. For example, shop at Habitat for Humanity ReStore for an old vanity that just needs a vanity makeover. You could even upcycle an old vintage dresser!
If you are shopping for a new vanity, check out the discount rack at Lowes or Home Depot. They often have open box deals. They might have slight scratches or just be returned items that you can get a great discount on!
Here are our best tips for painting a wooden vanity.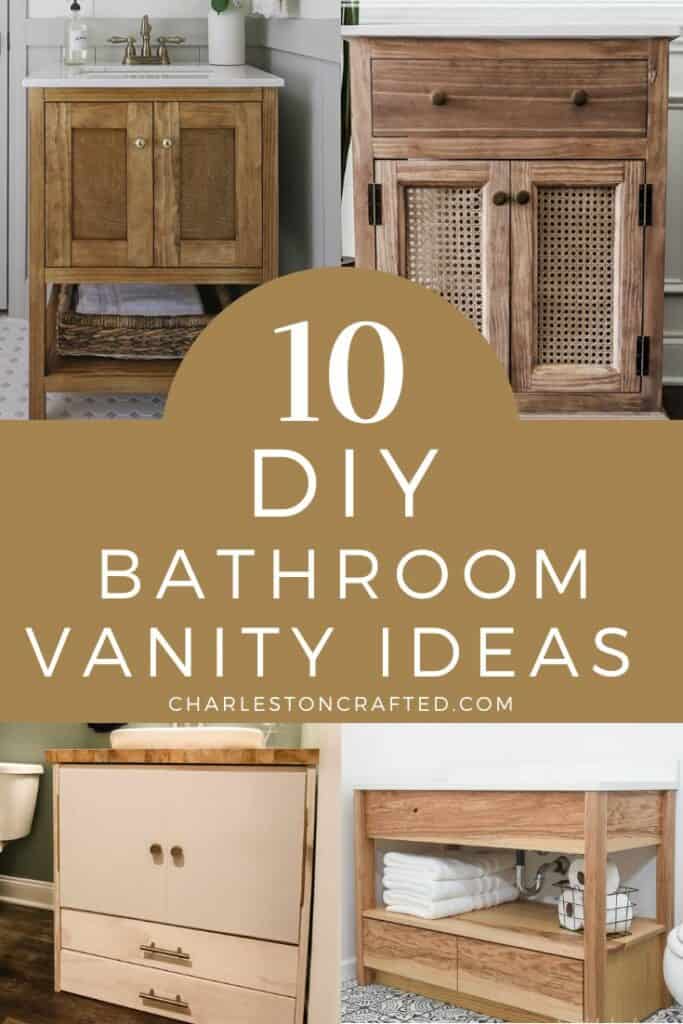 DIY bathroom vanity ideas
Here are some of my favorite homemade bathroom vanity ideas and DIY bathroom vanity plans!
DIY bathroom vanity ideas
Want to make over your bathroom? Here are a ton of DIY bathroom vanity ideas to inspire you!
What are your favorite ideas for a bathroom vanity?!