We hope that you enjoy reading about our 2 week honeymoon in Italy!
On Sunday April 12, the day after our wedding, we left Charleston around 11:30 for Charlotte. We spent the morning at a farewell breakfast with our out of town guests and then stopped by our condo to grab our suitcases and throw together our toiletries. Then we hit the road towards Charlotte. We decided to fly out of Charlotte because we were able to fly directly to Rome. Sean grew up in Charlotte, and his parents still live there. So, we were able to leave his car and the dog at his dad's house. We hate having to board her, so it was worth it to drive the 3 hours just to let her stay in a friendly, familiar house.
The drive is normally 3 hours, but took over 5 hours due to some major traffic jams on the highway. We were a little bit stressed, but luckily had plenty of time before our 6:30 flight.
We arrived on our plane and laughed when we saw that we were one of four honeymooning couples literally in a row on the plane. We weren't so special any more. We still got some perks from my dorky Mr & Mrs t shirts (bought via Groop Dealz). The flight attendant brought us all champagne before we took off! The flight was really empty, so people were able to spread out. It was really nice. We watched a movie, ate dinner, and then slept rather restlessly until we were pretty much there.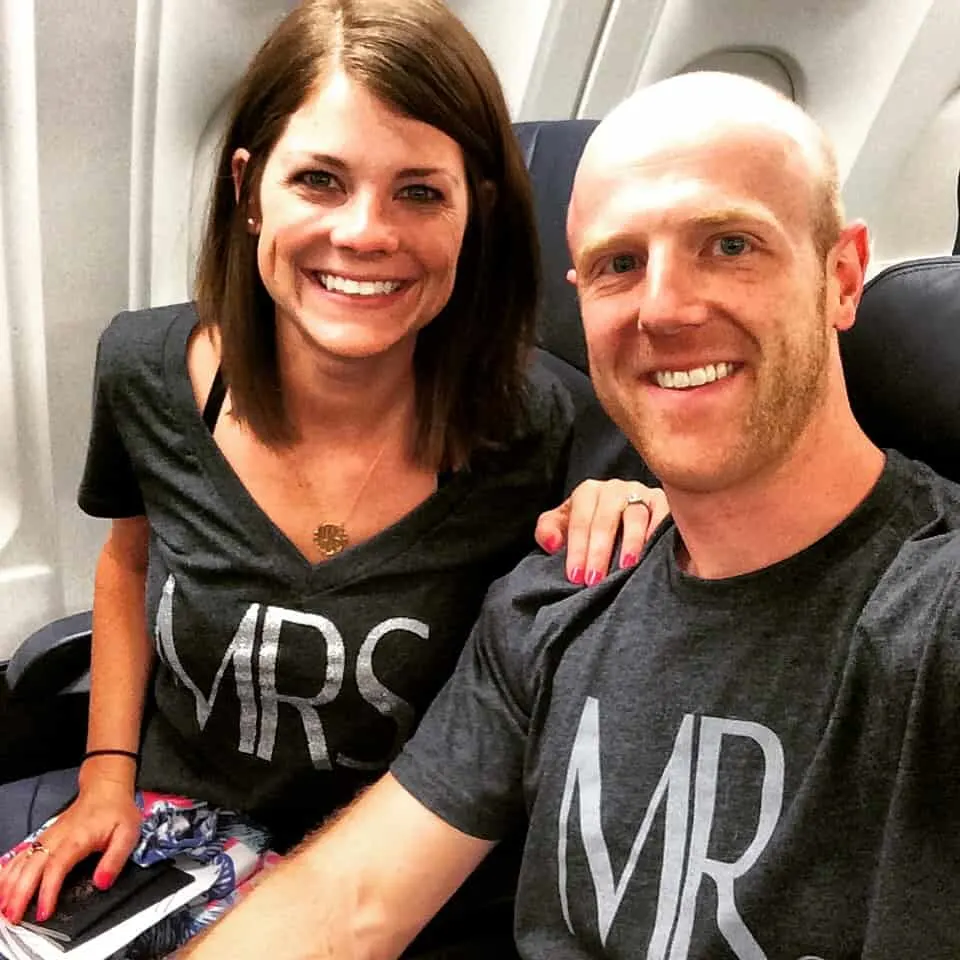 We arrived in Rome at 9:35am local time. While we flew directly to Rome, we didn't plan to start our trip there. We caught a local train from the airport to Rome Termini, the main Rome train hub. We had pre-booked these train tickets (they were the only tickets we pre-booked for the whole trip). Retrospectively, we didn't need to pre-book them and could have gotten on an earlier train if we bought the tickets that day. It was okay though. We were tired and sat in a small cafe and had our first Italian meal – pizza of course! I had margherita and Sean had fungi (mushroom).
By then it was time to catch our train to Venice. It was a 4.5 hour train, and I passed out right away. We were surrounded by people speaking Italian and it was really exciting – we knew that we weren't in the states anymore!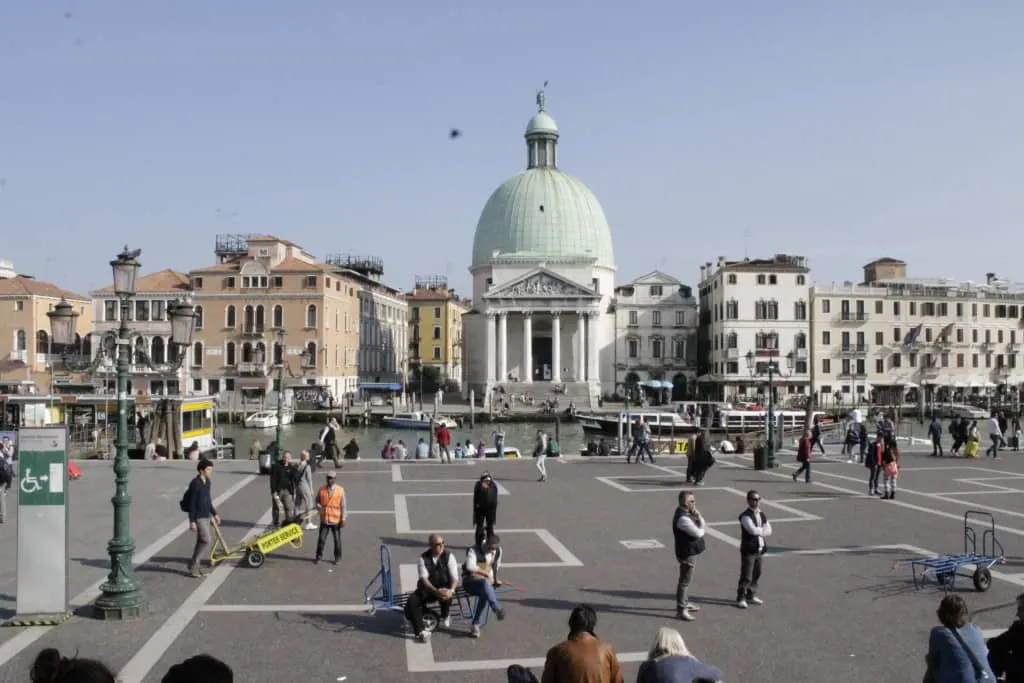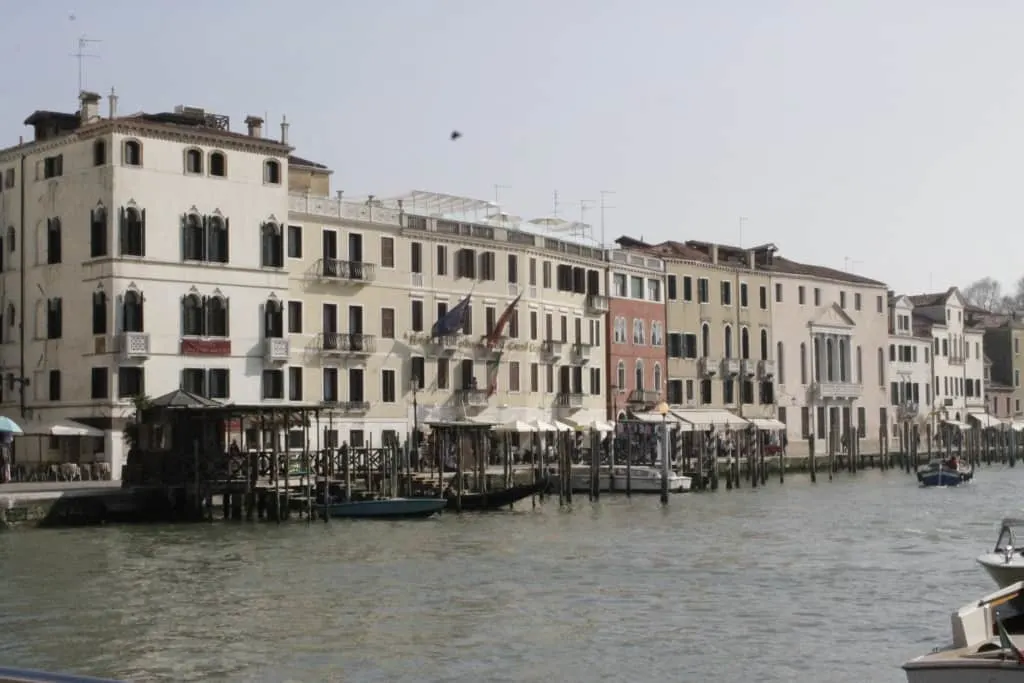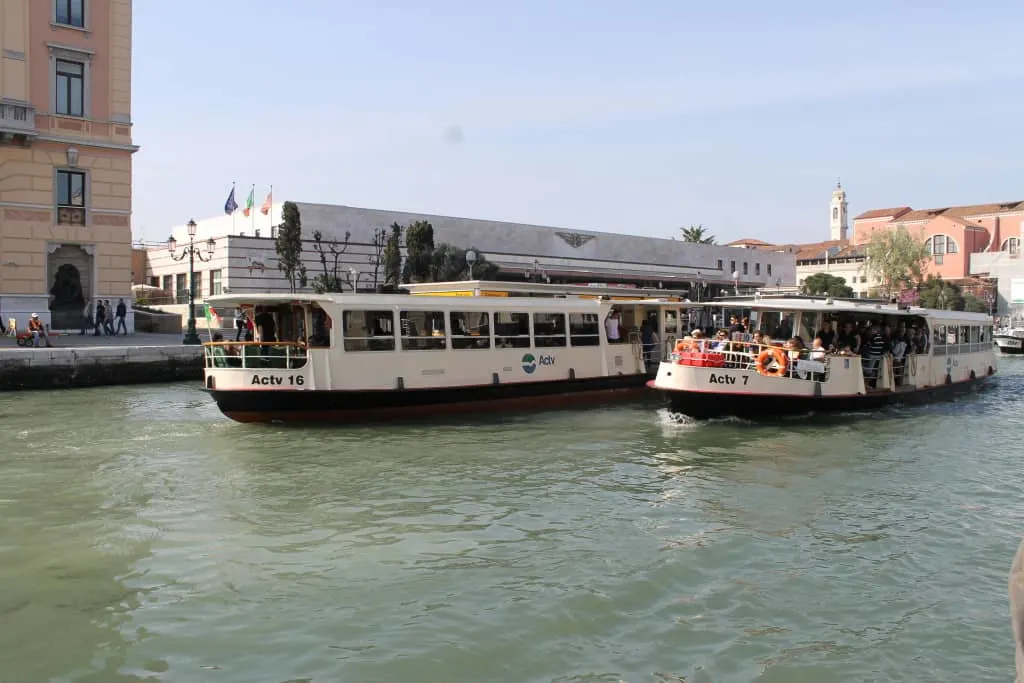 We arrived in Venice and were immediately impressed by the sites. The station is located right on the canal – we were instantly struck by the beauty of the city and it's true uniqueness. We had directions to our Air BnB apartment that said to start by taking the BOAT and we bought tickets but somehow got going in the wrong direction. The boat operator was a bit rude about it, but I guess he is constantly harassed by lost english speaking tourists. We got it figured out, but when we got off the boat at our stop, we went the wrong way! We tried to use Google Maps to find our apartment, but it said address not found. We later figured out that since Venice has no cars, driving directions do not work, you have to change your maps to walking! Seems obvious, but we totally didn't think of it at the time.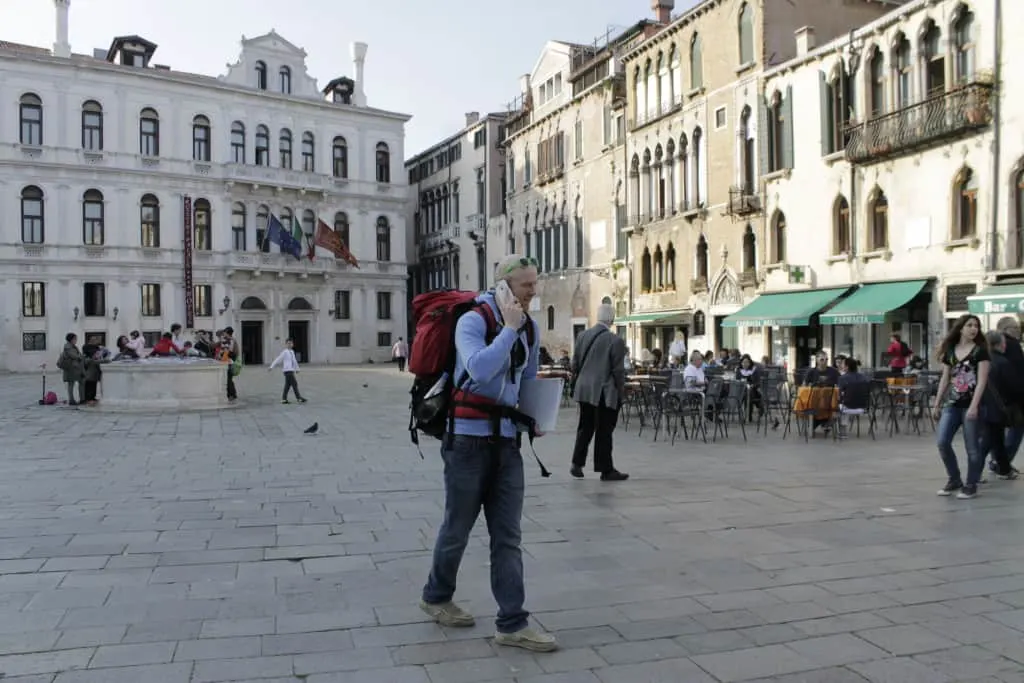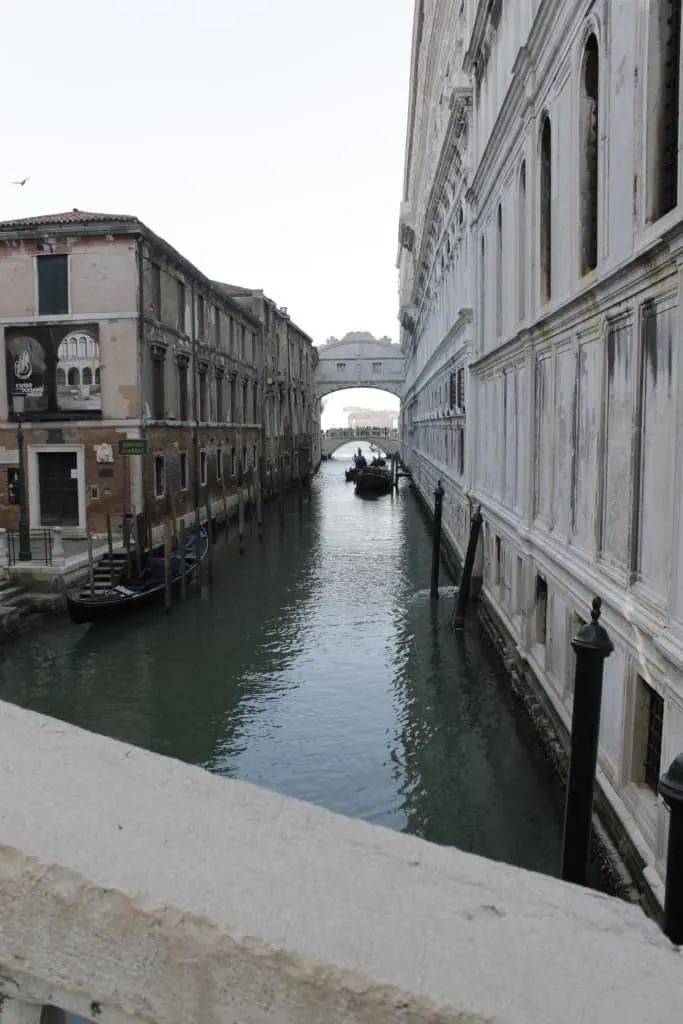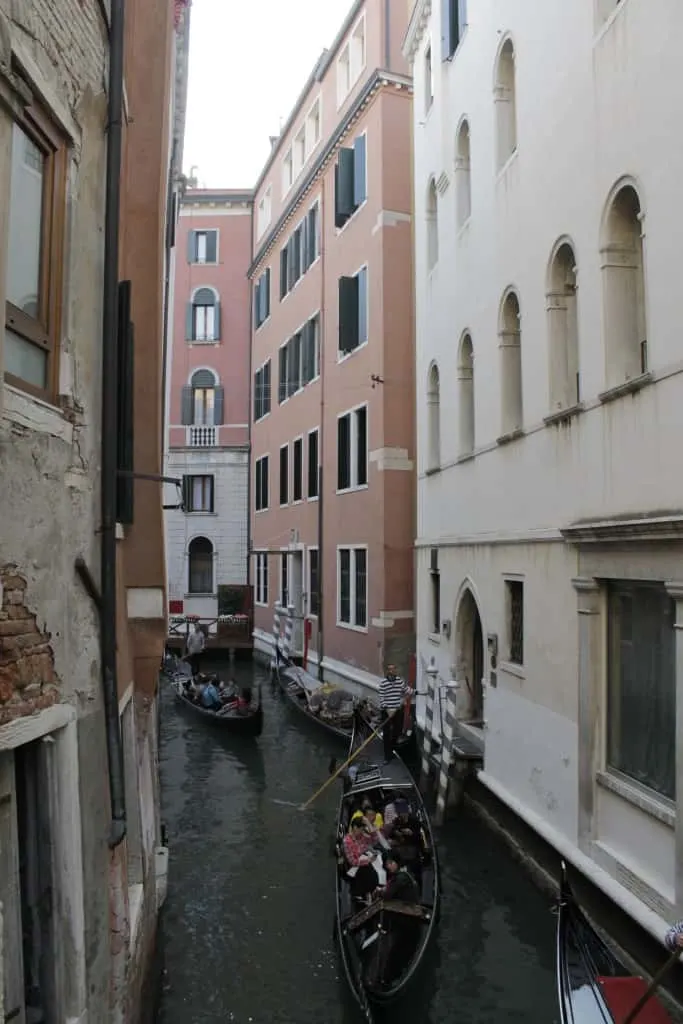 We arrived at our apartment and were so excited to drop our backpacks. Our apartment was small but very clean and had a huge rooftop patio with great views of the rooftops. Our host had strawberries and champagne waiting for us and we sat on the roof and enjoyed the view!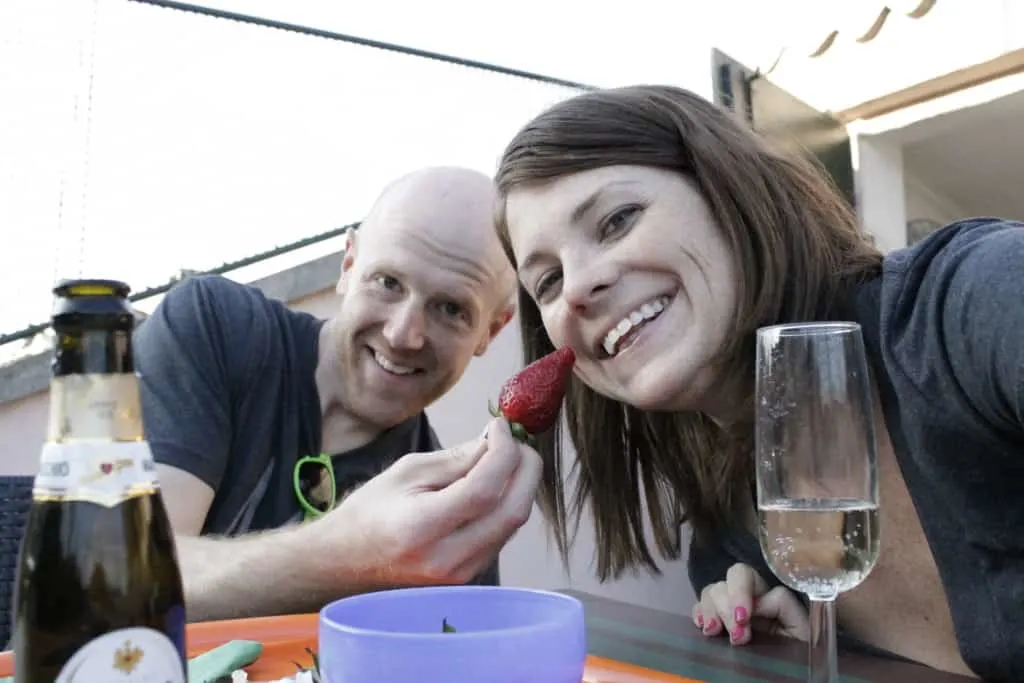 We looked at Trip Advisor and decided to try Del Moro's Fresh Pasta To Go. It was really close to our apartment and was just a tiny hole in the wall. However, there was a line going out the door! We got up to the counter and ordered three pastas – quatro fromaggio (4 cheese), pesto, and bolognese di pollo (red sauce with chicken sausage). It came in chinese take out containers. The man at the check out didn't want to let us order 3 pastas – he said "two people, two pasta. One person, one pasta." but we really wanted to try three different sauces! We carried it back to our apartment (it was only a 5 minute walk) and ate it on the rooftop with a bottle of white wine (our host had a wine fridge where you could purchase bottles of wine for only 5 Euros!) And we ate all the pasta.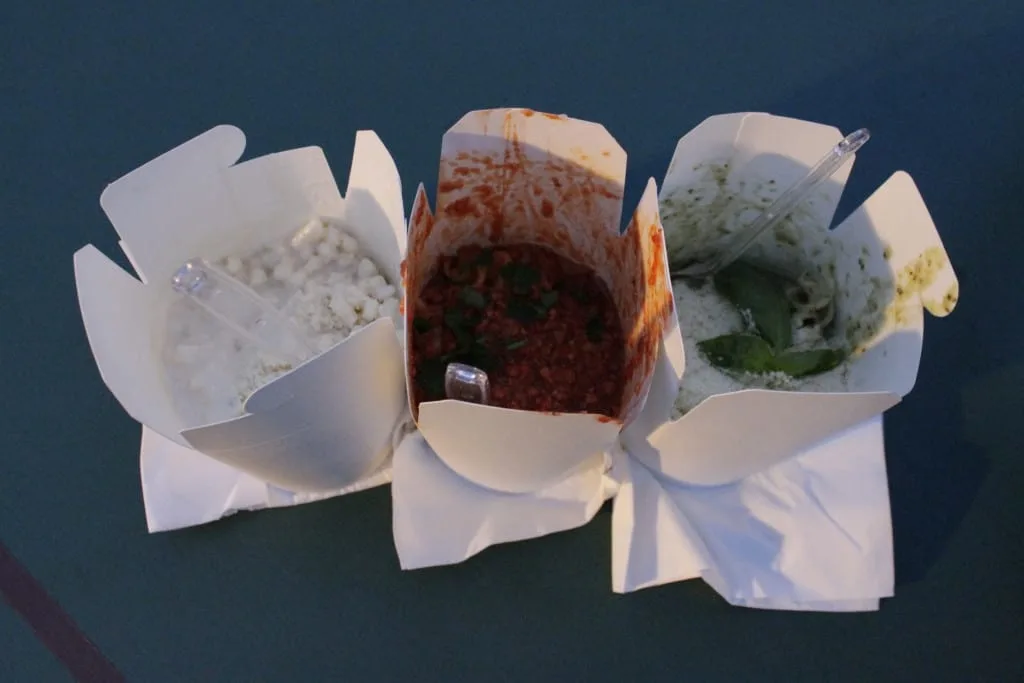 After eating that big meal, we decided to go on a nighttime walk. We walked down to the river and around the grand canal. We didn't really know where we were going, but we walked for about one hour. Venice is such a beautiful place to wander!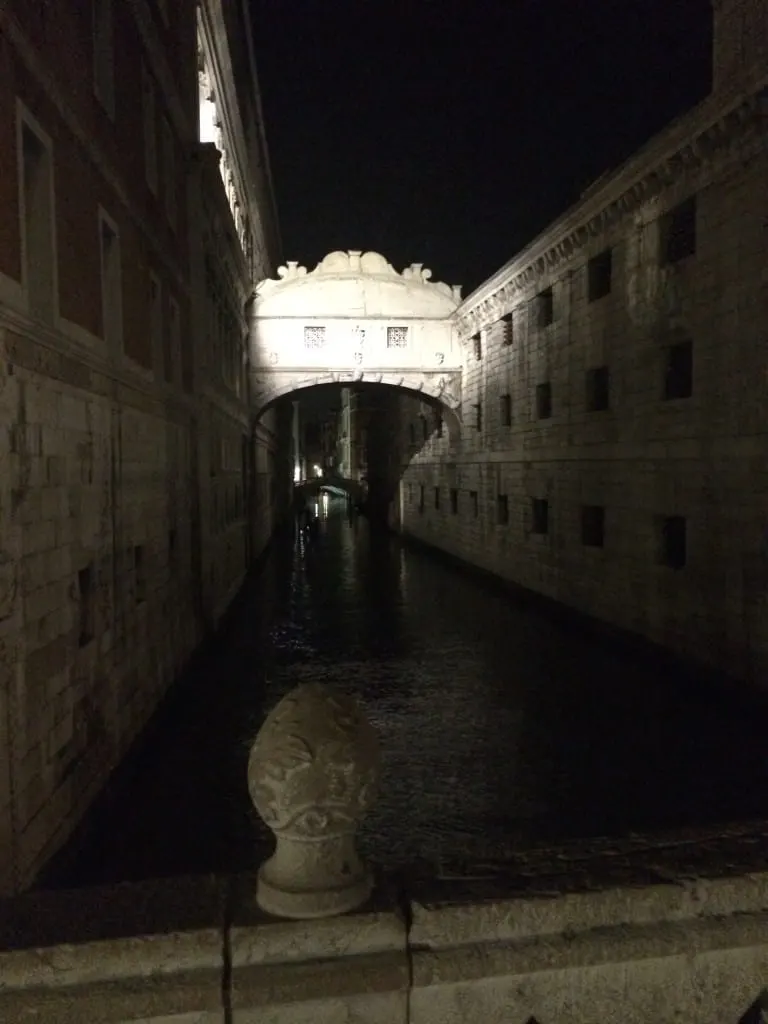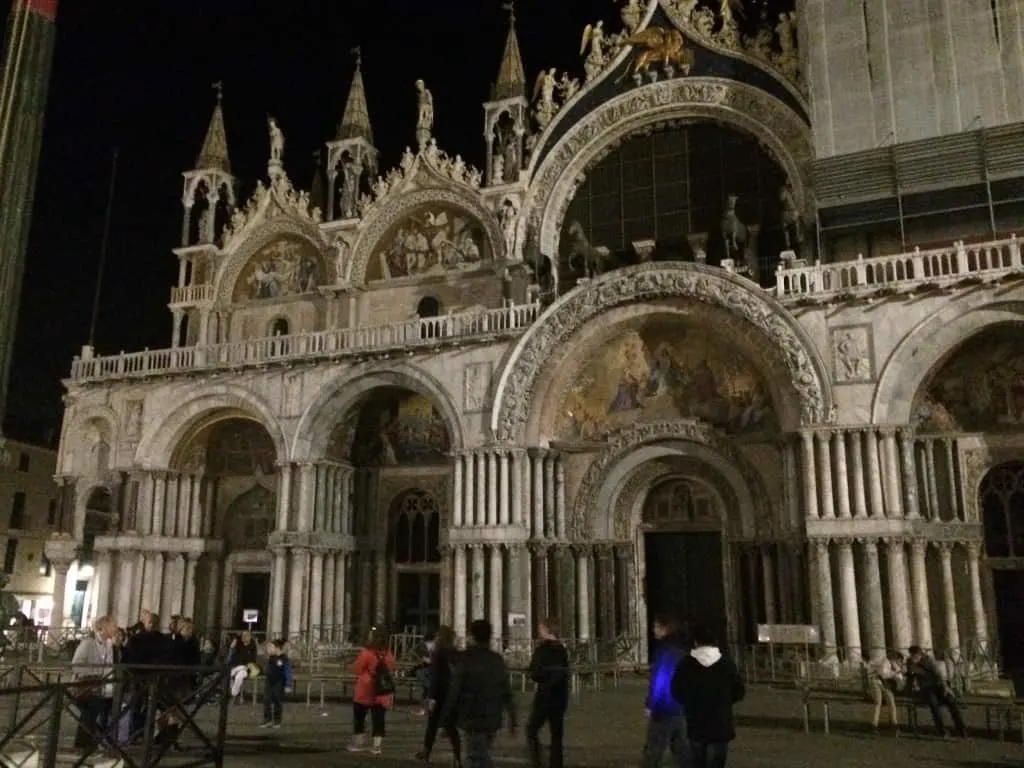 Needless to say, our heads hit the pillows pretty hard that night. Check in tomorrow to see what we did on Tuesday, our full day in Venice!
On Tuesday, we woke up in Venice! Our apartment provided a great breakfast spread – we had fresh fruit, juice, coffee, yogurt, and pastries. It was great to not have to go out and hunt for breakfast. We packed our day bag and headed to St. Marco's Square. This is the big tourist-y area in Venice.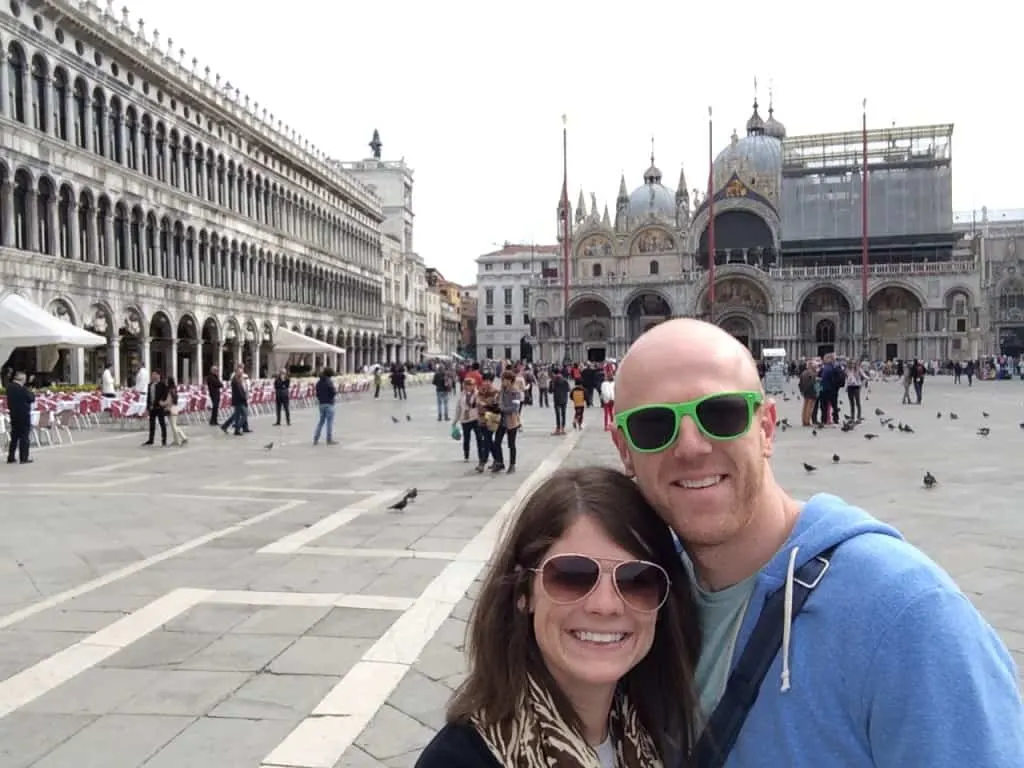 We started by going into St. Marco's Basilica. It was free to get into this amazing church. We were blown away by the details in the architecture. It's crazy to think that they made this hundreds of years ago without modern technology!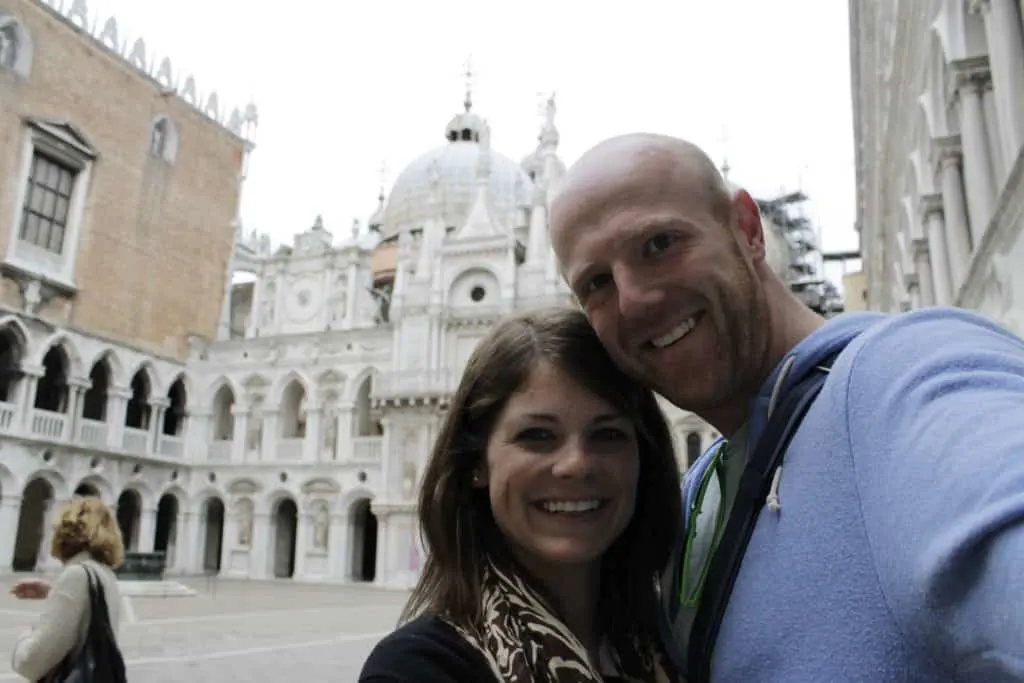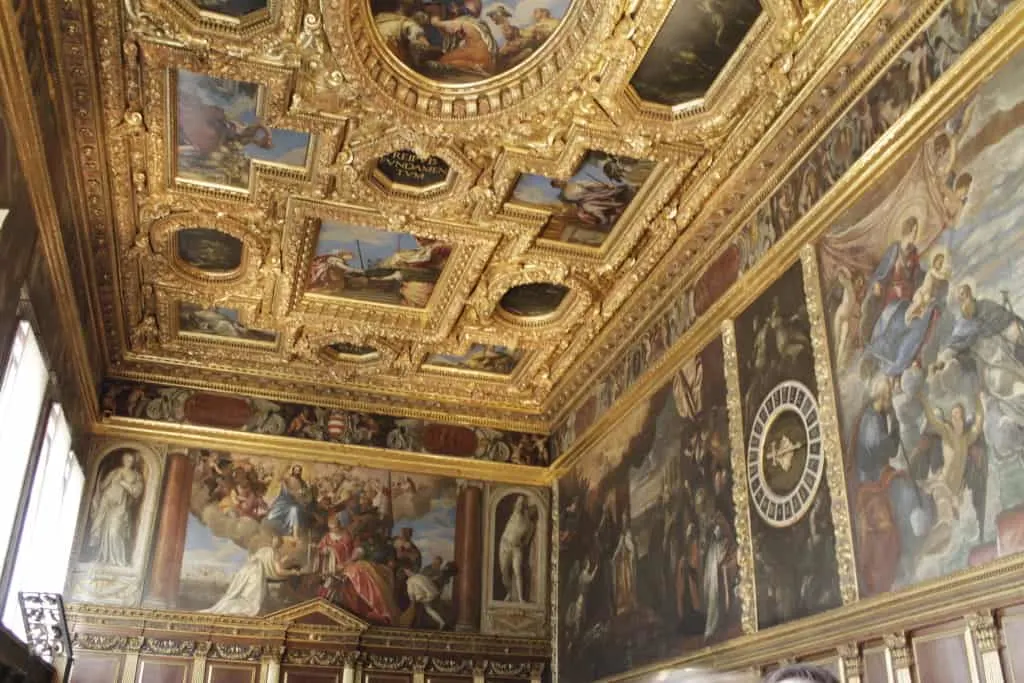 Next, we crossed the square to Correr's Museum. This appears (to us) to be one of the less-popular attractions on the square. However, the ticket that you buy here is a combination ticket that also includes Doge's Palace, which is a really popular attraction. Having the ticket allowed us to skip the really long line at Doge's, so we are really glad that we did it! Correr's Museaum was preserved palace that used to house Italian royalty. I loved seeing the decor.
There was also a museum with art, statues, coins, and other artifacts. It was interesting to see it all.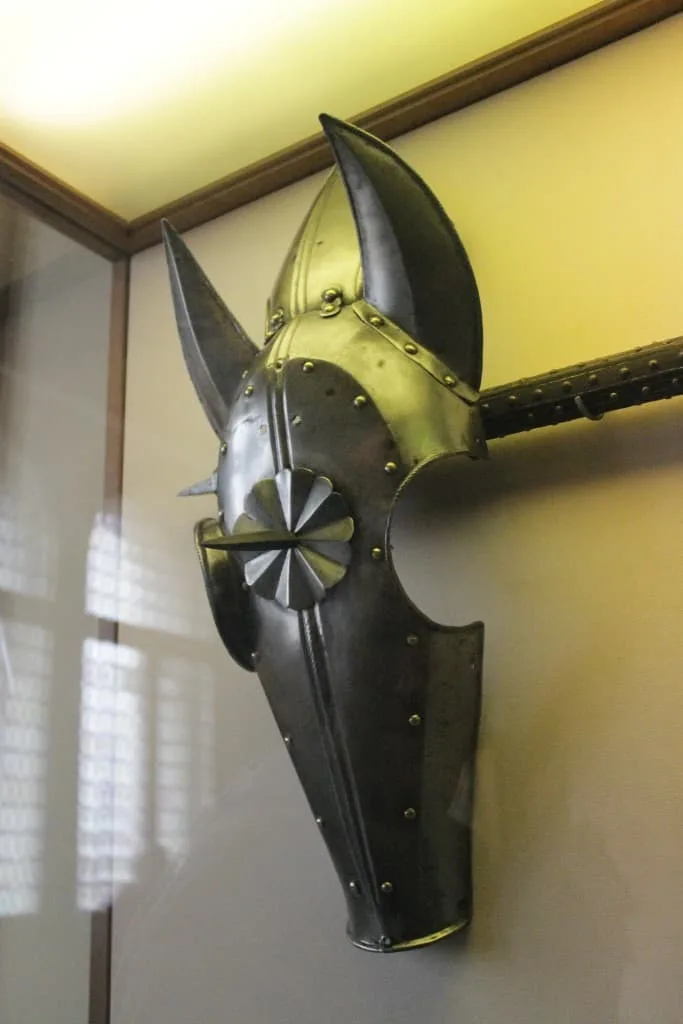 Next, we headed across the square towards Doge's Palace. Of course, we stopped for a nutella crepe for a snack.
Doge's Palace was where the government was housed. There were huge chambers for council meetings and courts. We also saw the armory, where there were tons of swords, armor, guns, arrows, and more.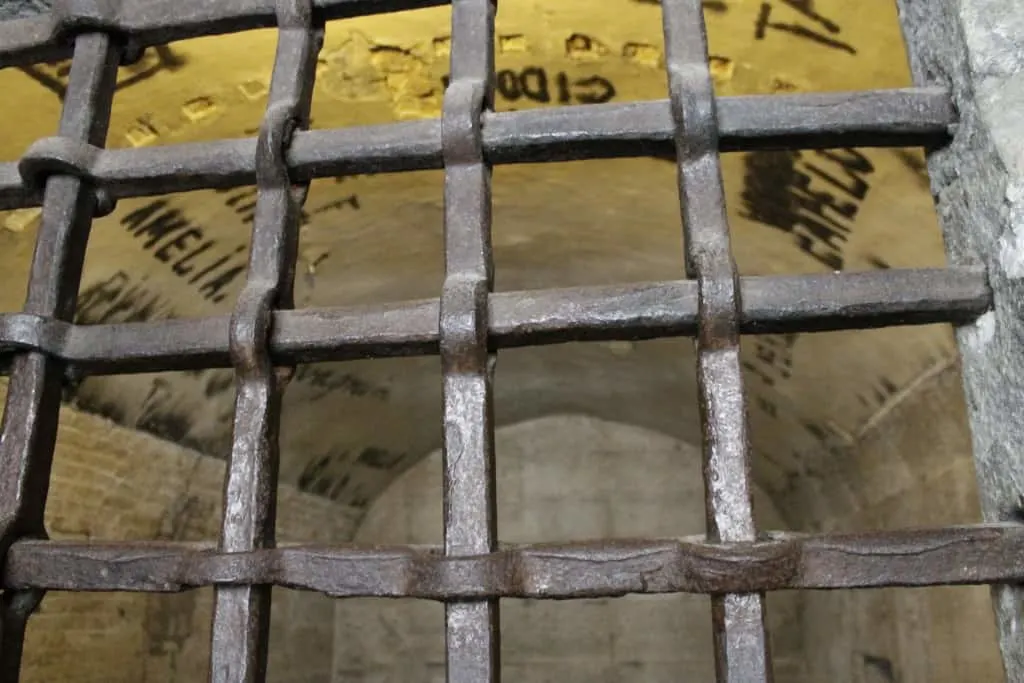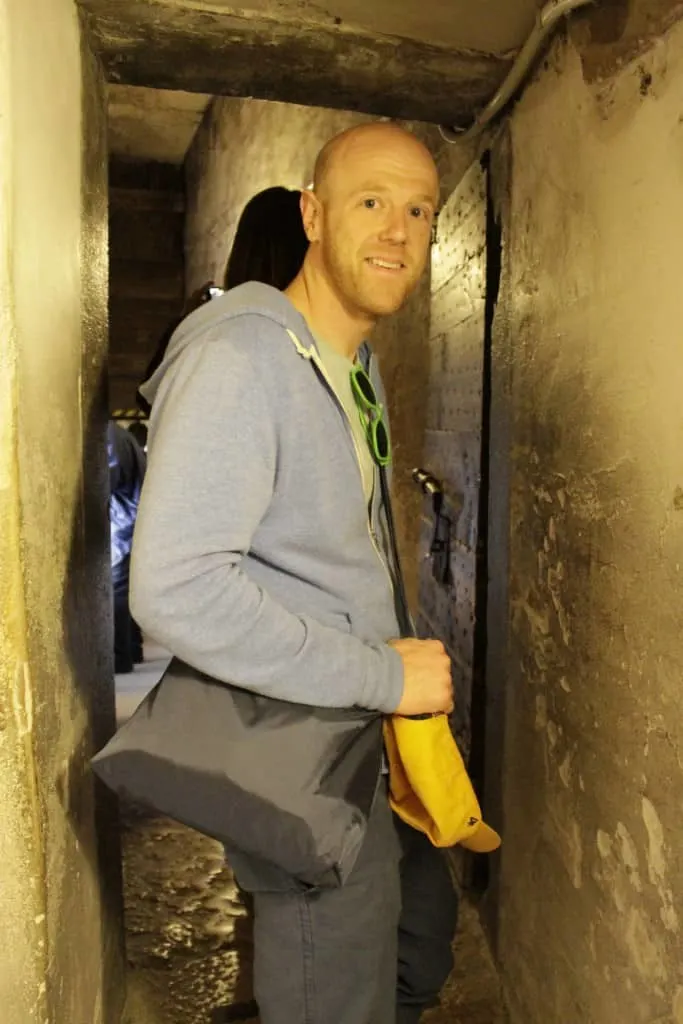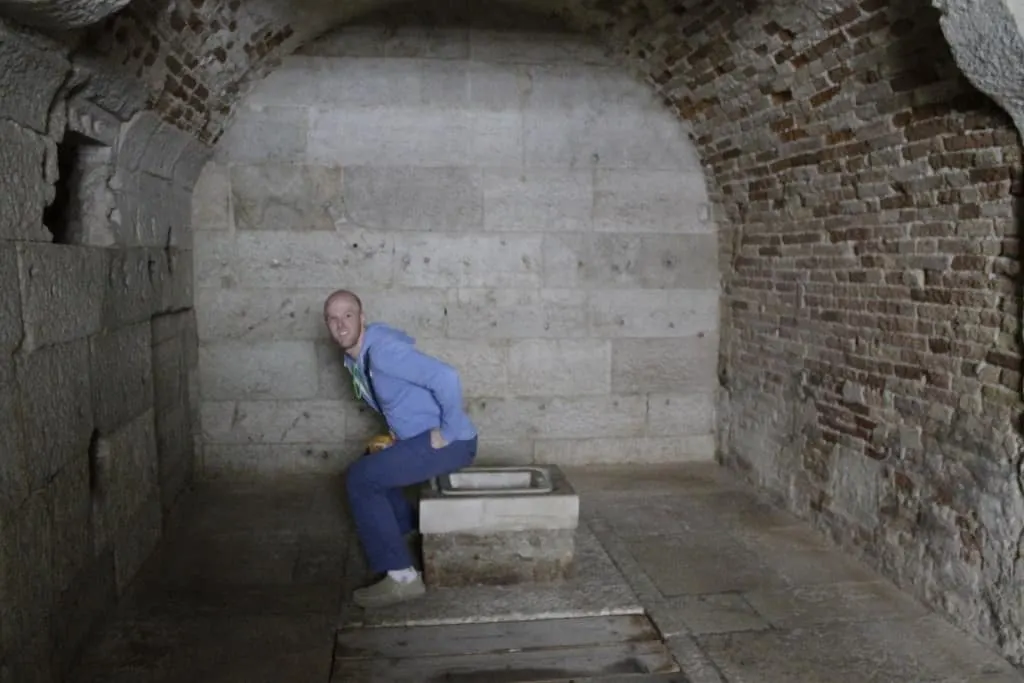 We also went down into the basement, which was the old prison. It was very spooky and eerie down there. We walked across the Bridge of Sighs, which is where the prisoners were able to look out at Venice for the last time before being locked away.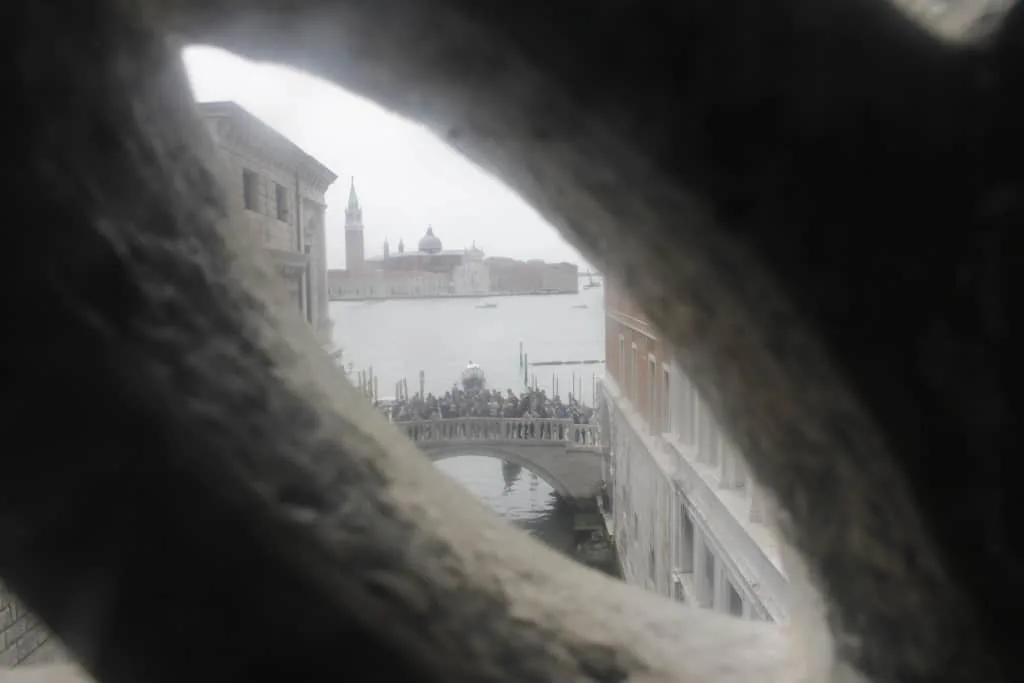 After leaving Doge's Palace, we were starving. We decided to grab a quick slice of pizza. Most of the pizza by the slice restaurants had no seating, so we just ate them while we walked. You also can't get tap water for free in Italy (at least, not in our experience), so we were thankful that we had packed re-fillable water bottles.
We walked across the Rialto Bridge and walked through a shopping market. There were lots of booths of goods for sale, including leather good and murano glass. We had to carry everything that we bought, so we didn't want to buy much. I purchased a small glass figurine as my souvenir.
After the market, we just wandered and explored Venice. There were so many alley ways and small bridges. It was very romantic and fun just to wander! We sat on the edge of a pier on the Grand Canal and just looked over the water and relaxed.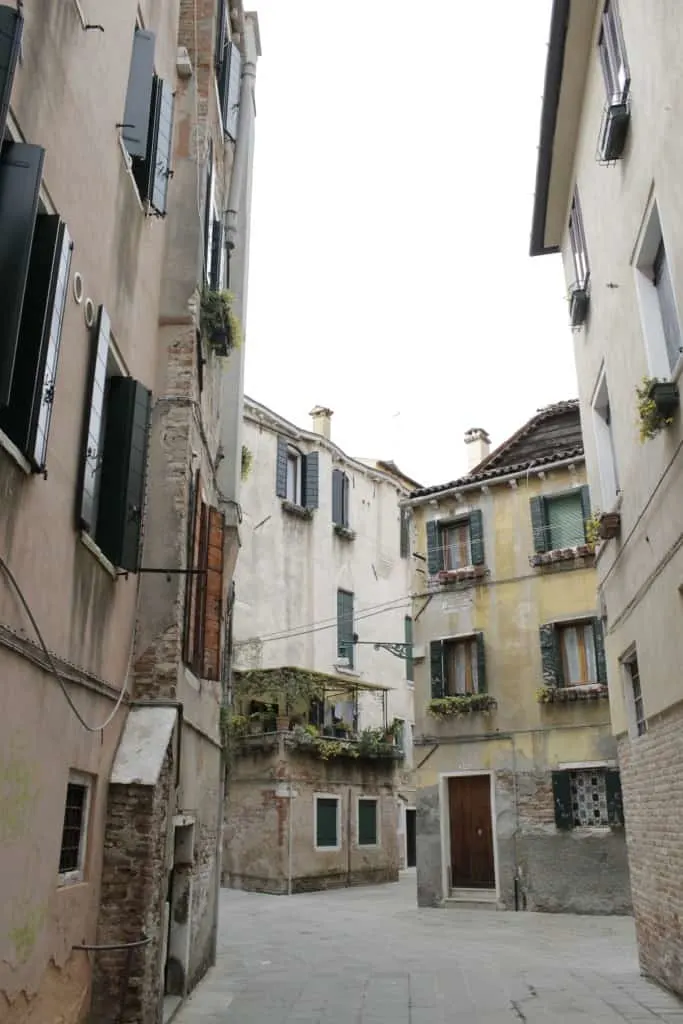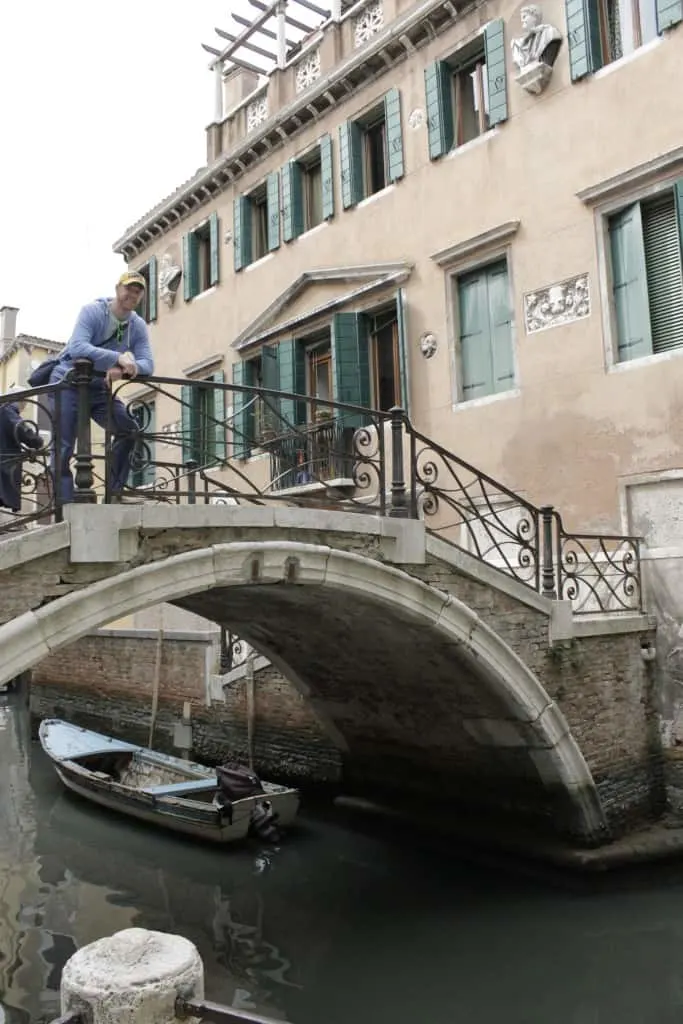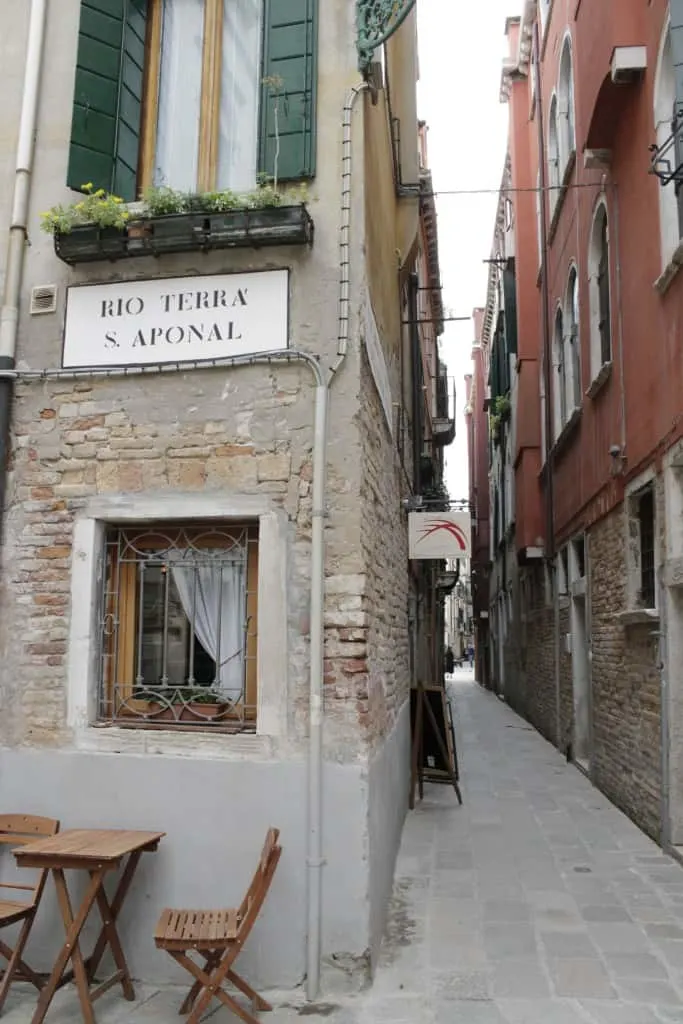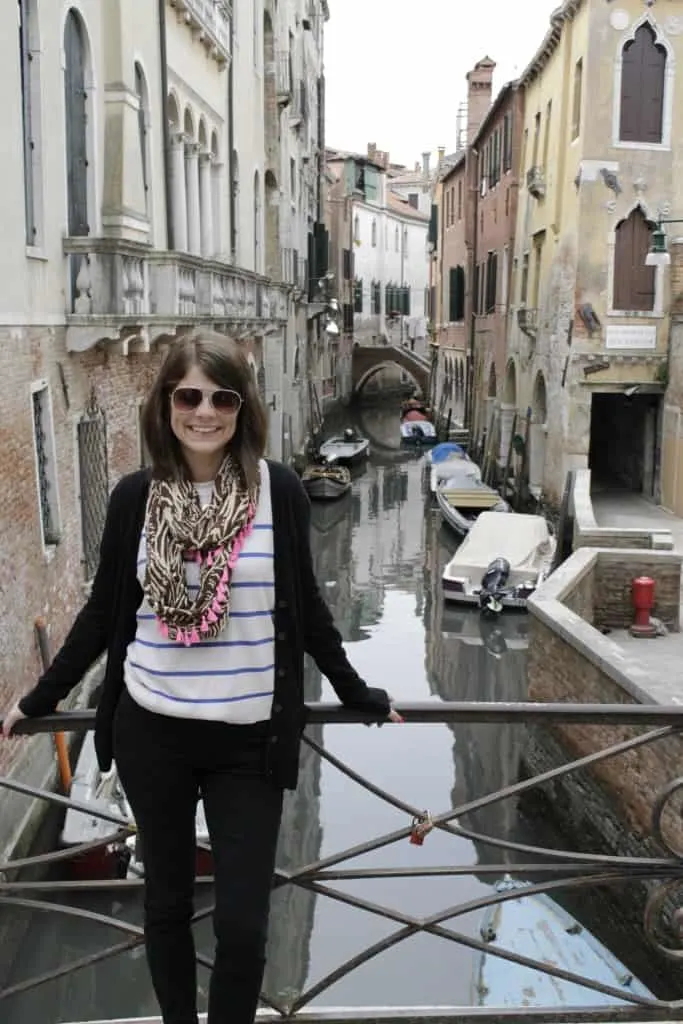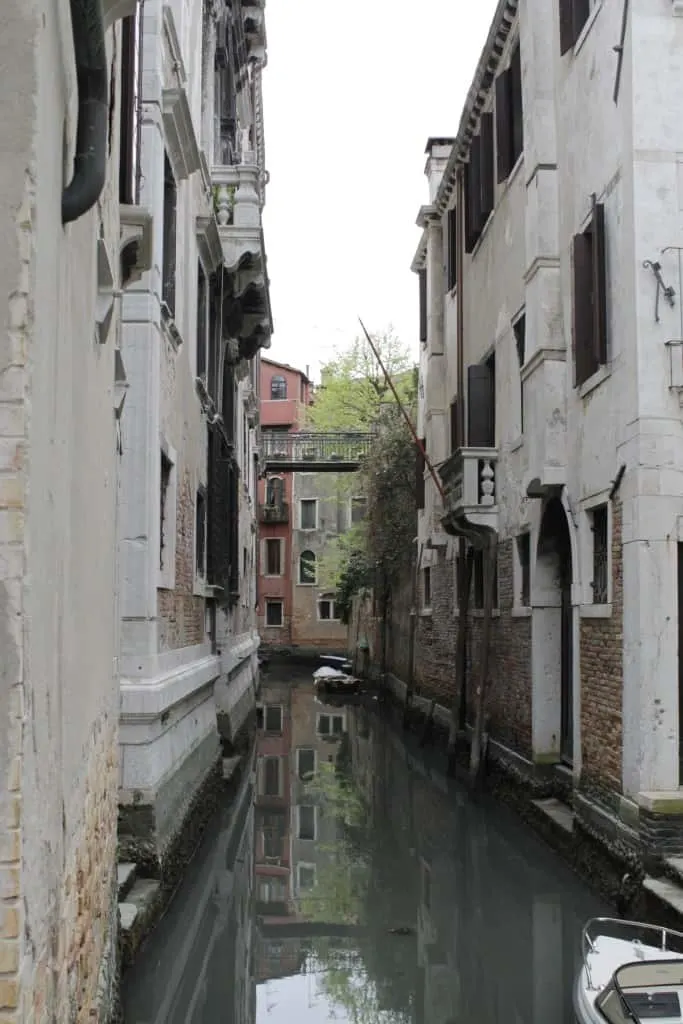 By this time, it was about 2 o'clock and I was hungry again! We popped into Cantina du Mori – a really small restaurant that served tiny bites of food. We got a sampler of parmesan, salami, tuna crusting, artichoke paste, and fried carne. Oh, and vino bianca della casa (white house wine), of course! It was great to relax and have some authentic eats.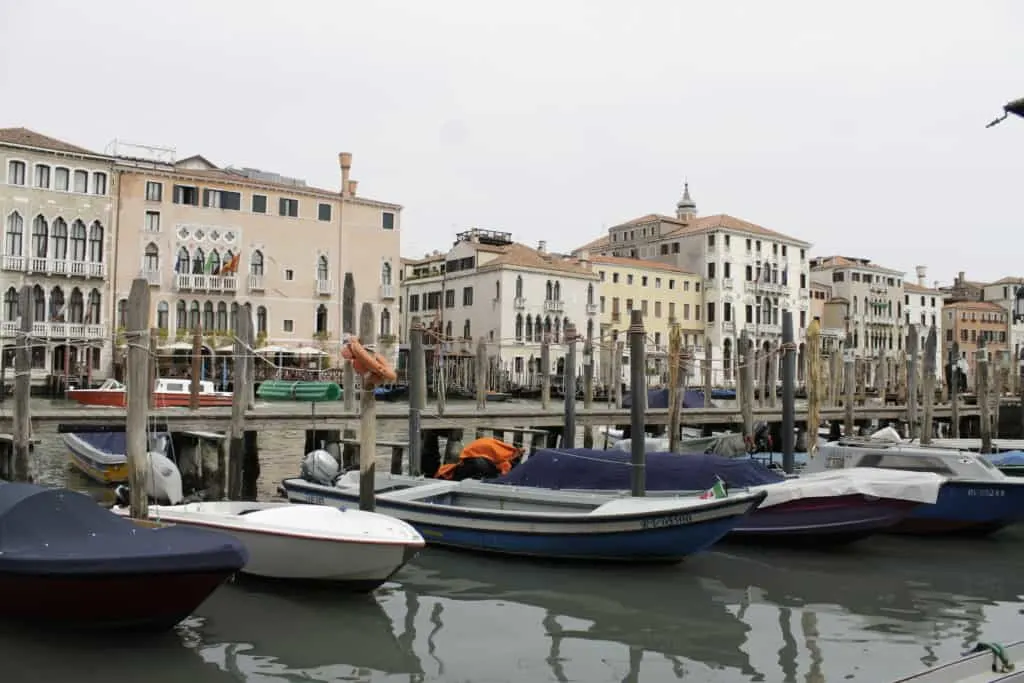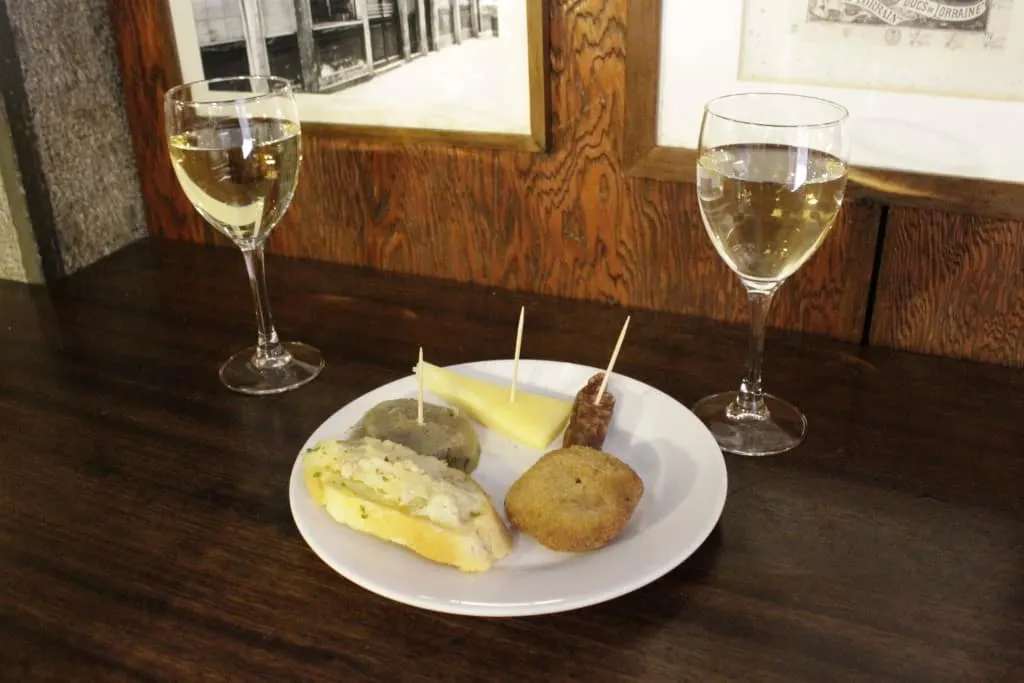 Next, we walked more. We were near the market so we went to see the fish and produce, but it had closed up for the day. We ended up on the Grand Canal. We debated it and decided to splurge on an (80 Euro, 30 minute) Gondola ride! I am so glad that we did – it was one of the highlights of Venice for me. We started on the Grand Canal but were mostly on smaller canals. It was beautiful, relaxing, and romantic.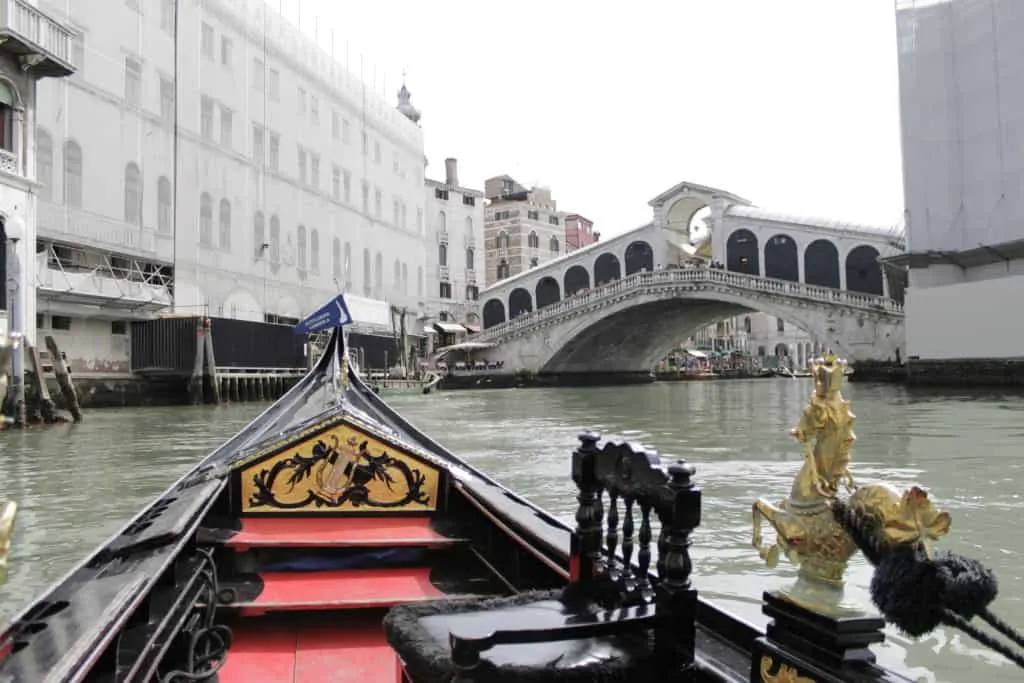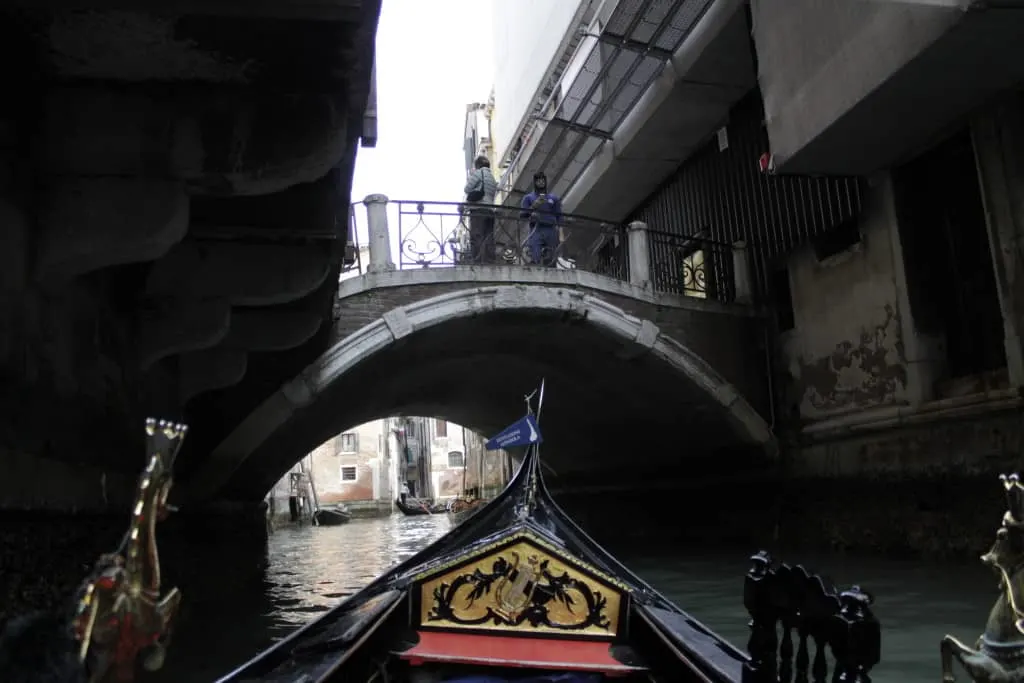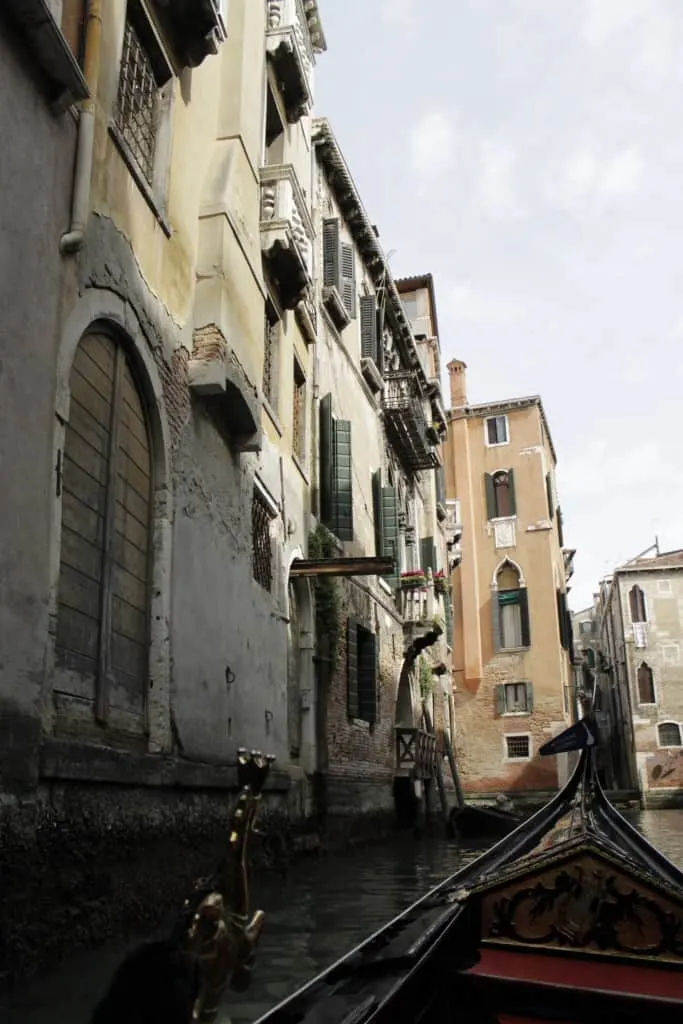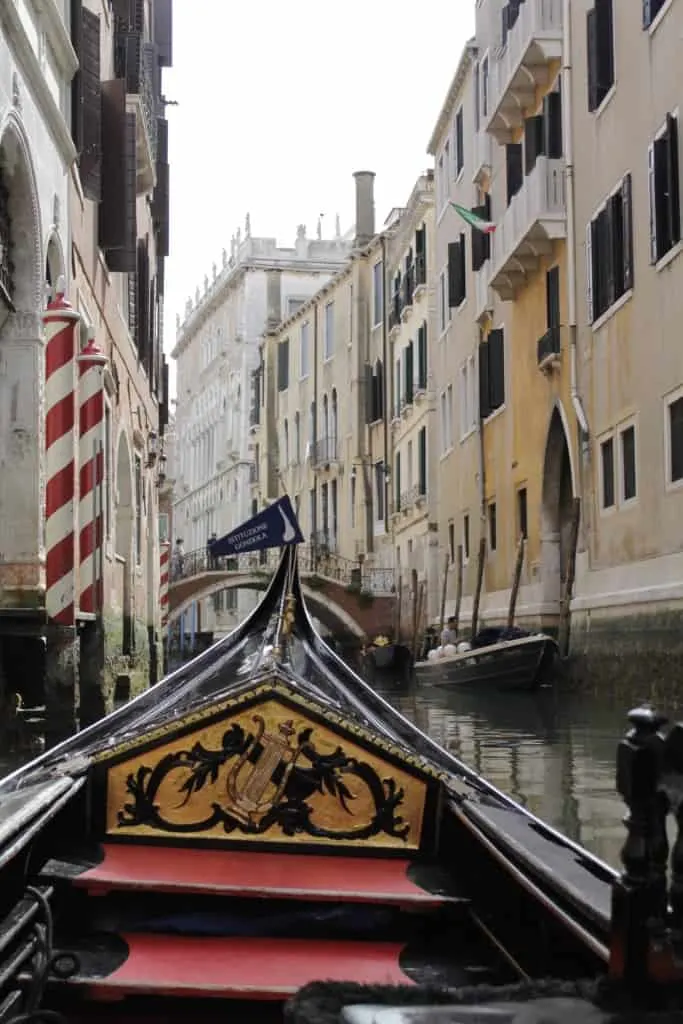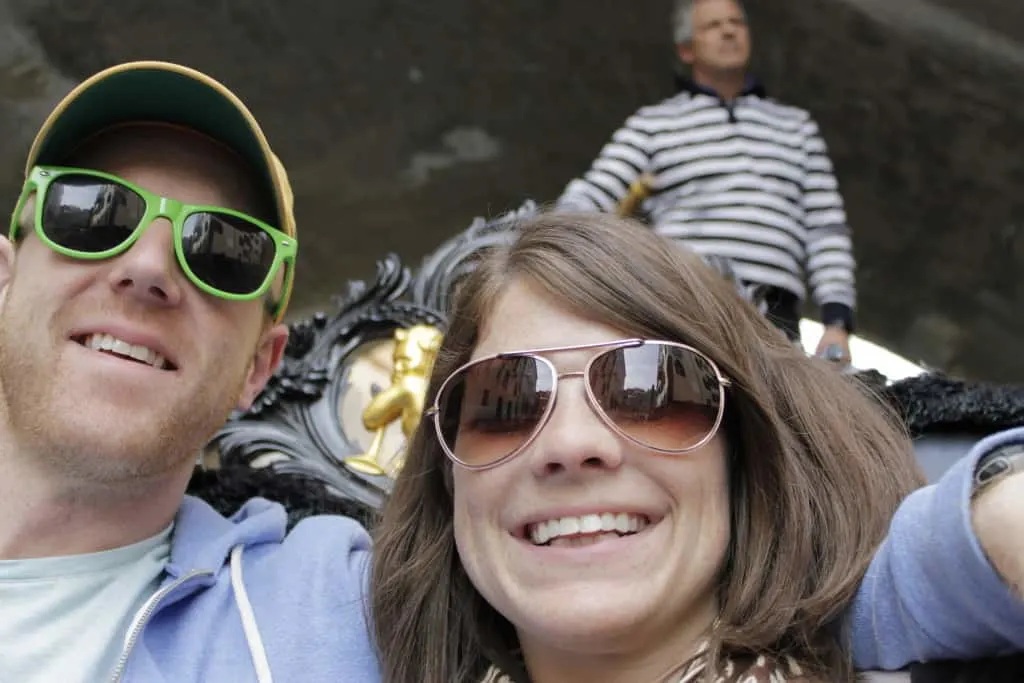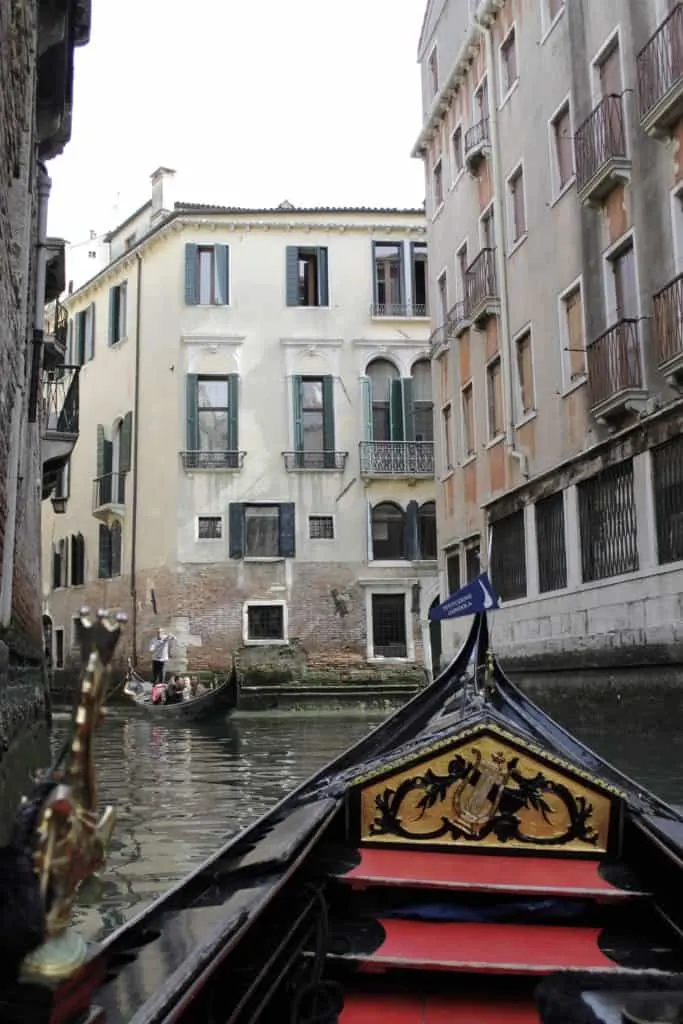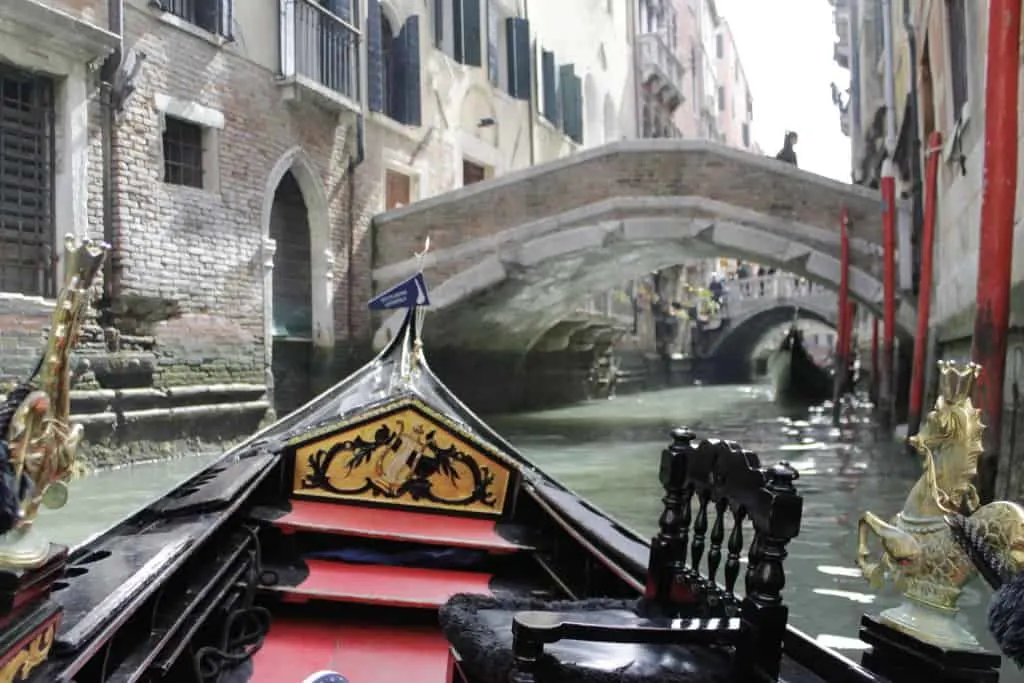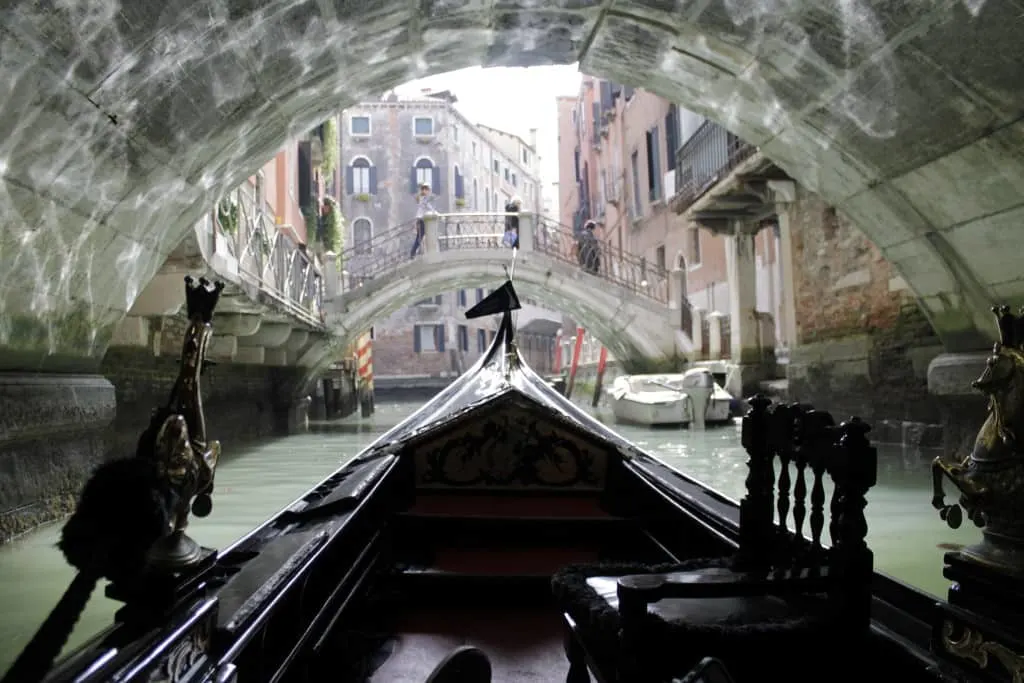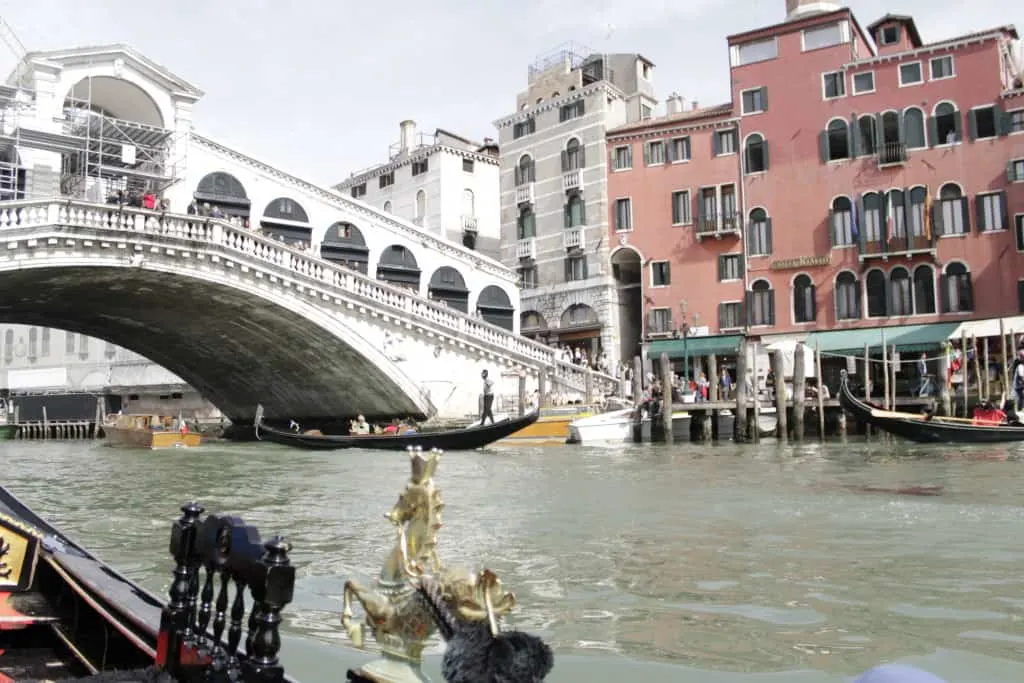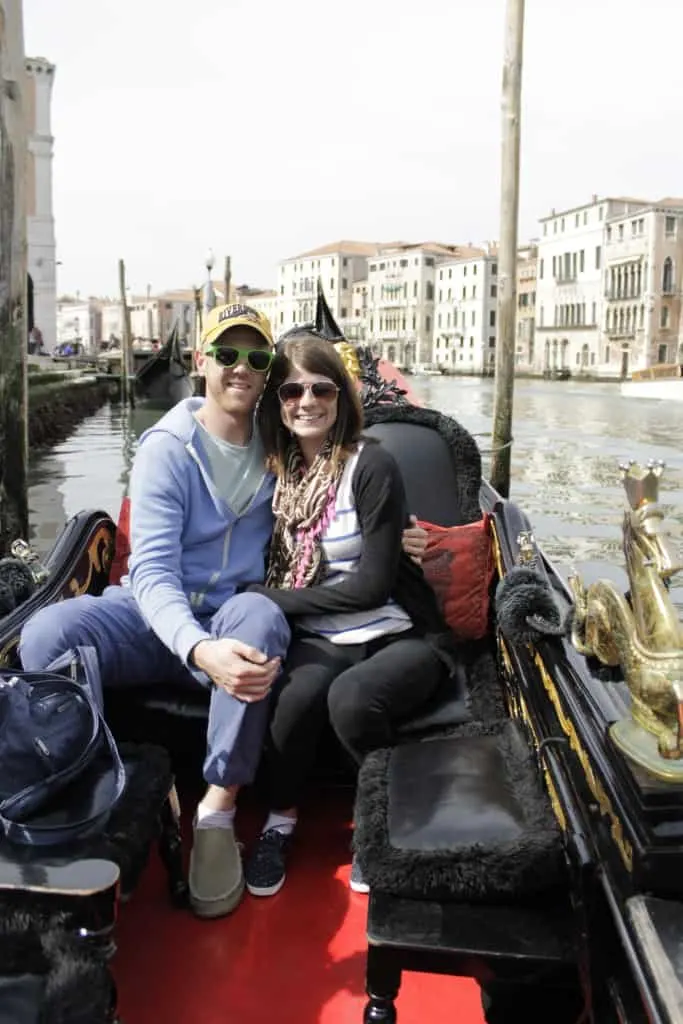 After that, we were pretty much out of cash, so we headed back to the apartment. We sat on our rooftop piazza and read and napped until about 6pm.
Then, we decided to go ahead and go on a walk. We wanted to walk to the train station and time it to see if we could do that in the morning instead of taking a taxi boat. It only took us 20 minutes and we pre-bought our tickets for the next morning. We finally got the hang of the Venice streets and started to recognize landmarks.
We headed back to our apartment, dropped off our stuff, and headed out to dinner. We ate at Osteria al Mascaron for dinner, which was very close to our apartment. One thing that was new for us was that they seat you at a table with strangers. So, if most of the tables were tables for 4 and there were lots of reservations for 2, they would pair you up with strangers. It was different, but not a problem. Most of the people that we sat with at restaurants weren't speaking English, so we just kind of politely ignored each other.
We had bianca della casa, a caprese appetizer, and a seafood medley pasta. It was so fresh and delicious. We really stuffed our faces!
After dinner, we walked for about 30 minutes. We saw a group of students wearing Clemson gear and spoke to them – they were studying abroad and one girl was from about ten minutes from us! It's a very small world. We grabbed our nightly gelato and headed back to the apartment to go to sleep.
Tomorrow, we head to Lake Como!
On Wednesday, we woke up in Venice and walked for about 20 minutes to the train station. Inside the station, we picked up sandwiches and cokes for the train ride. This was crucial as we were taking small regional trains that definitely did not have food cars! The train took about 3 hours and we had to transfer in Milan.
We stayed in Varenna on Lake Como. It was very convenient as there was a train station right in town. It was only a ten minute walk to our apartment, but our Air BnB host picked us up in her car. This was a great touch – it eliminated the confusion of being in a new town. Check out the view from our apartment: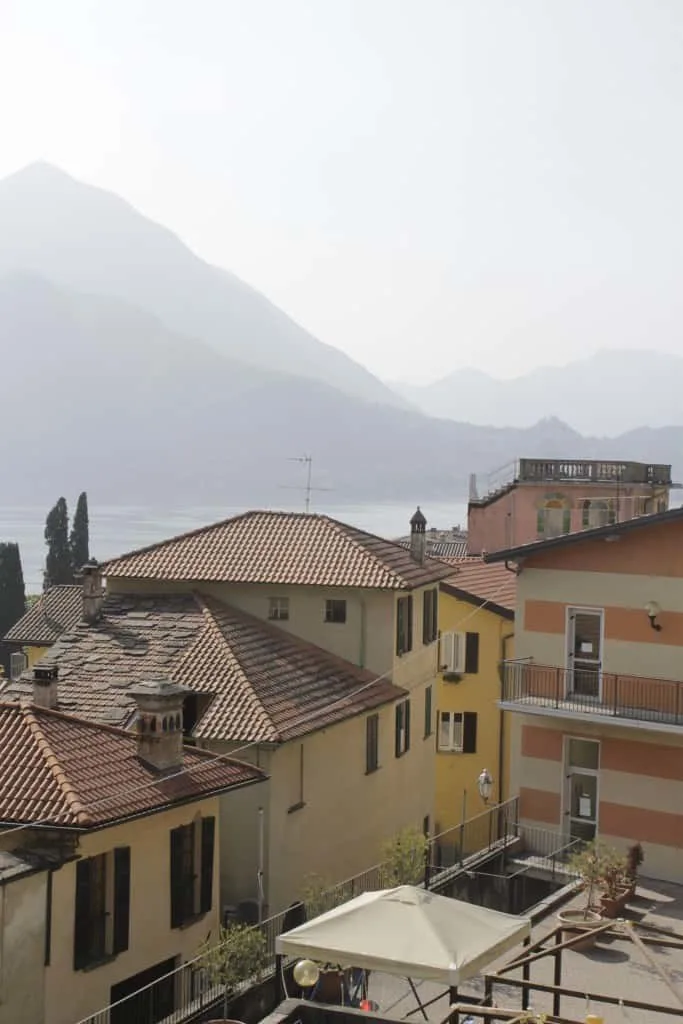 It was really warm, so we changed clothes, and went walking and exploring. Varenna is located at the base of the Alps, directly on Lake Como. It is basically how I envision heaven to look.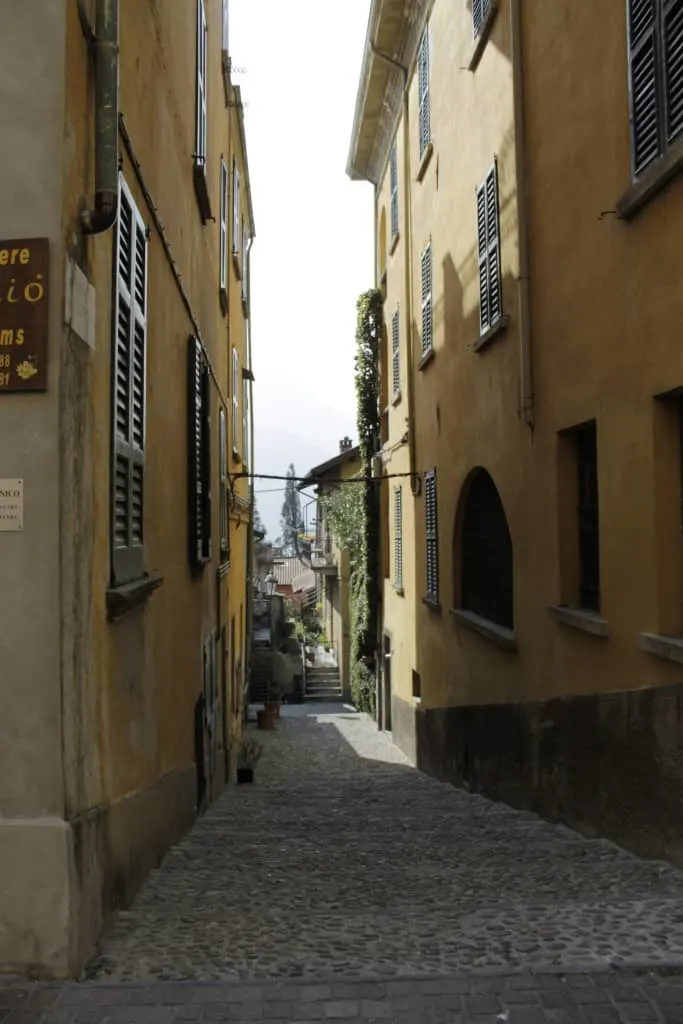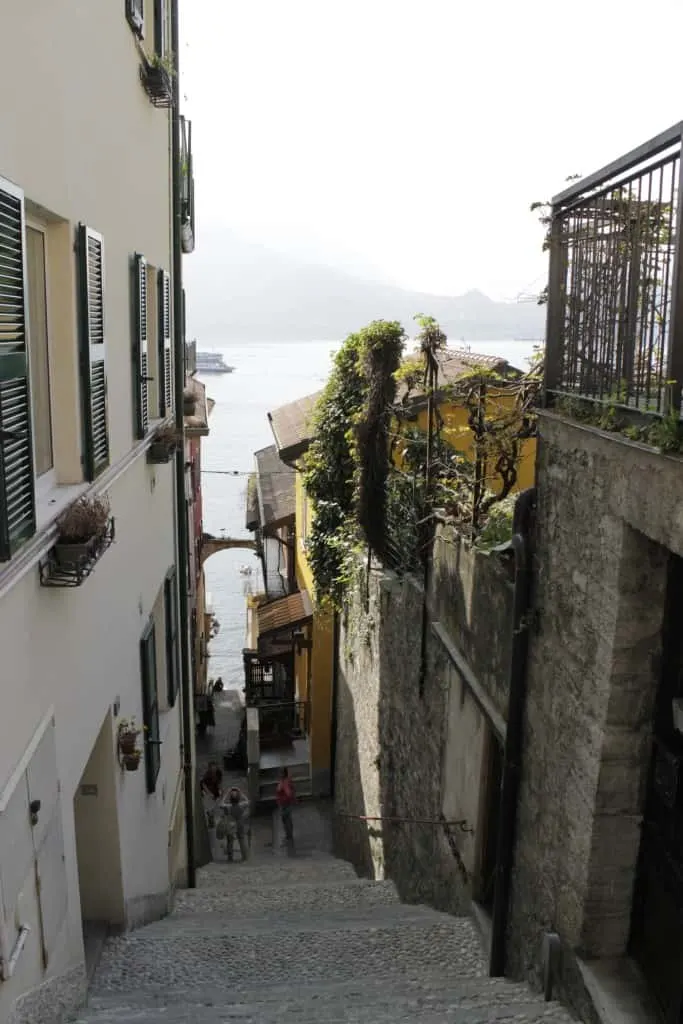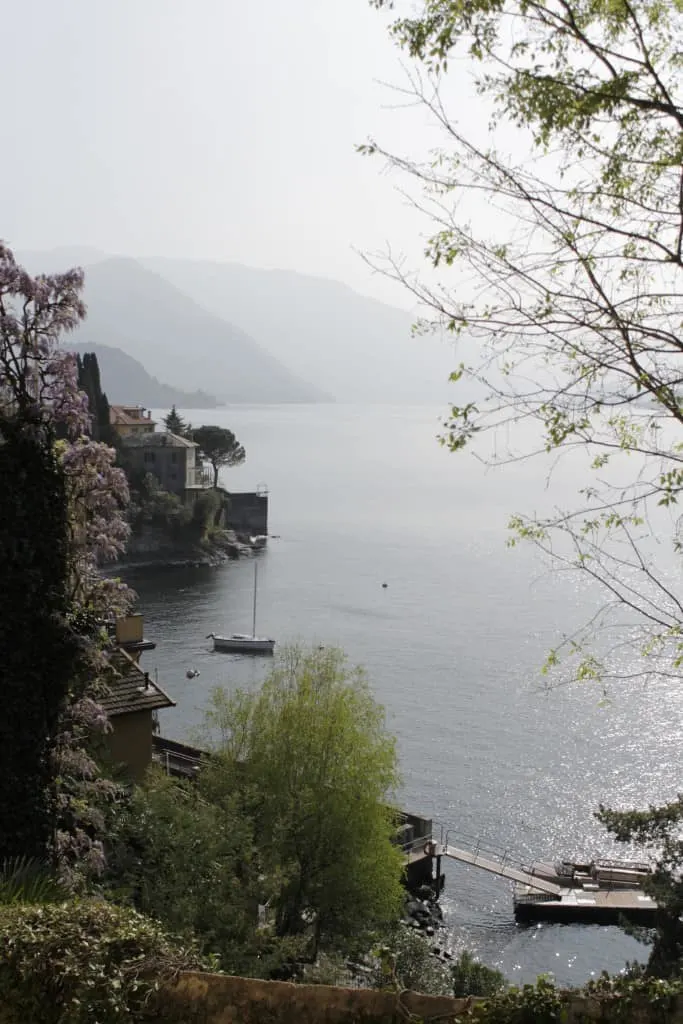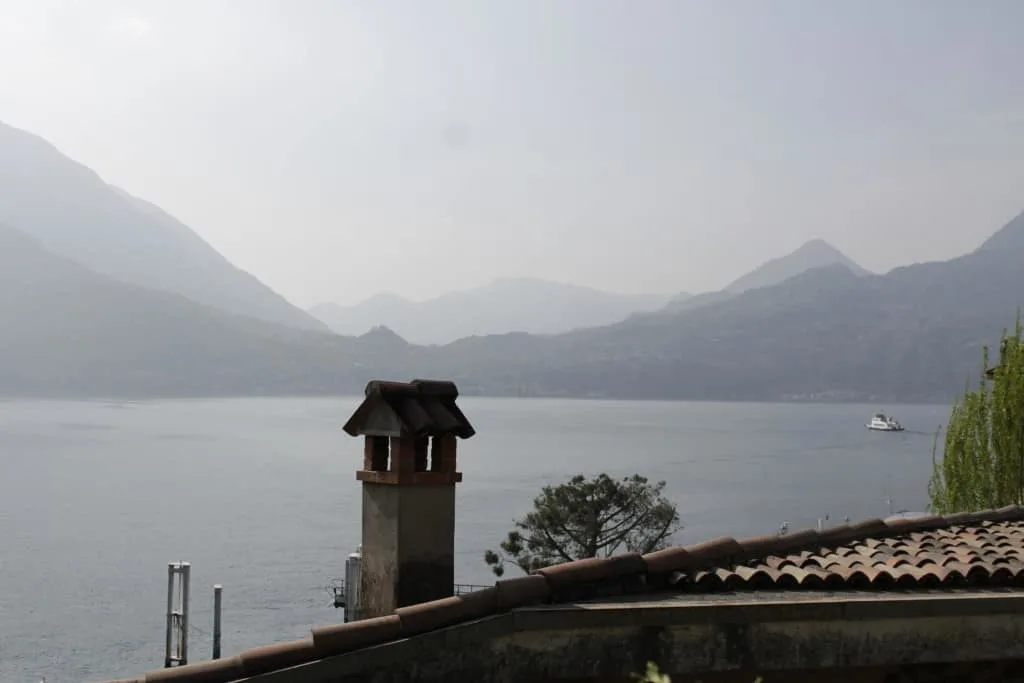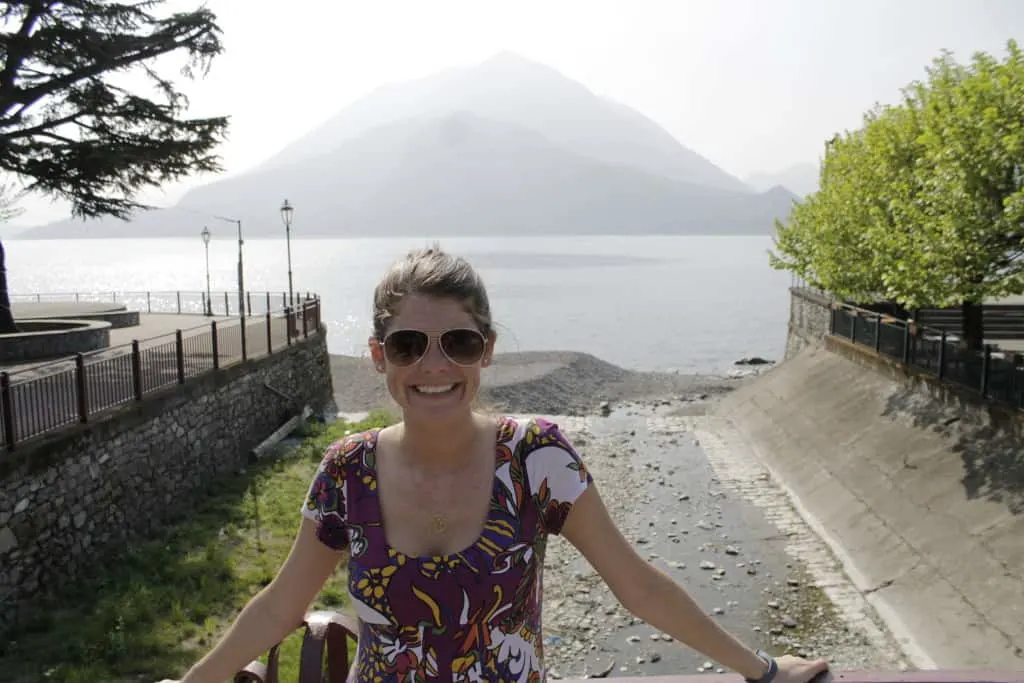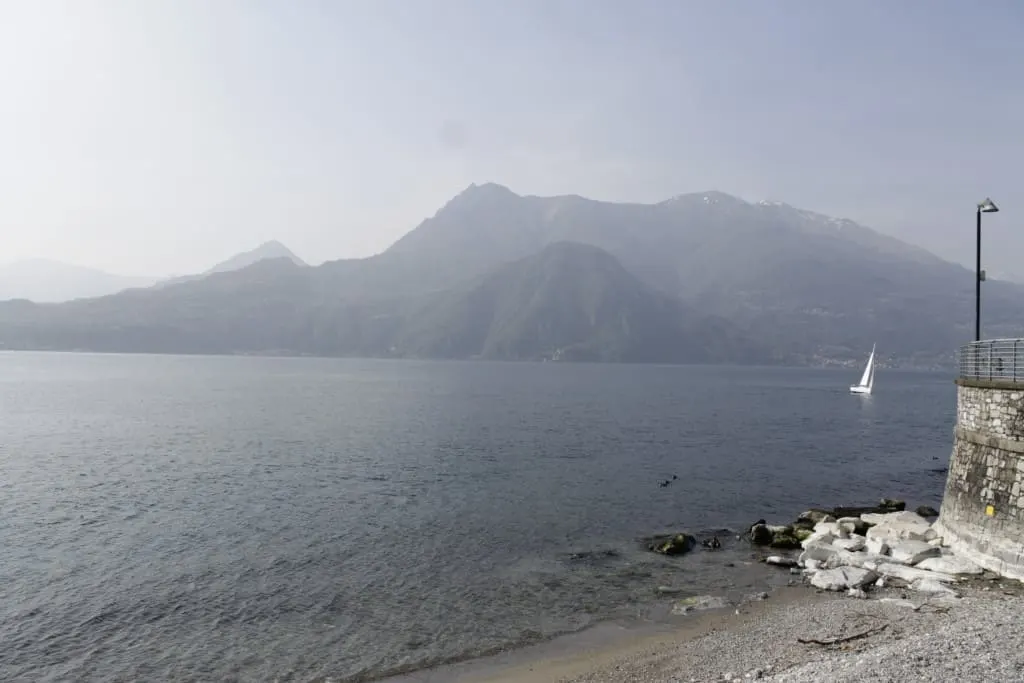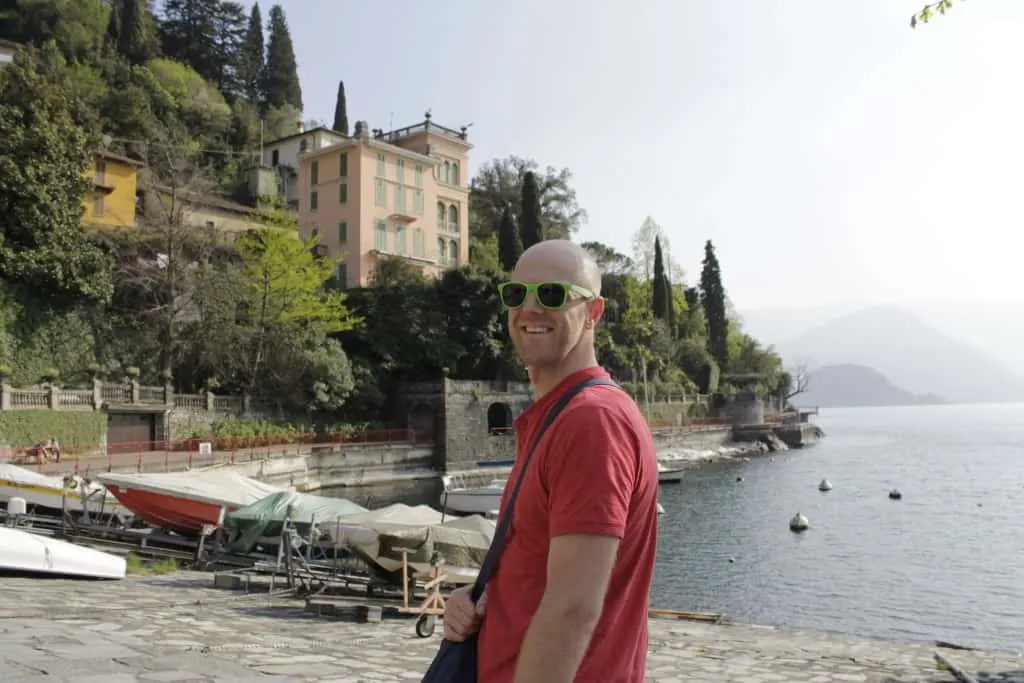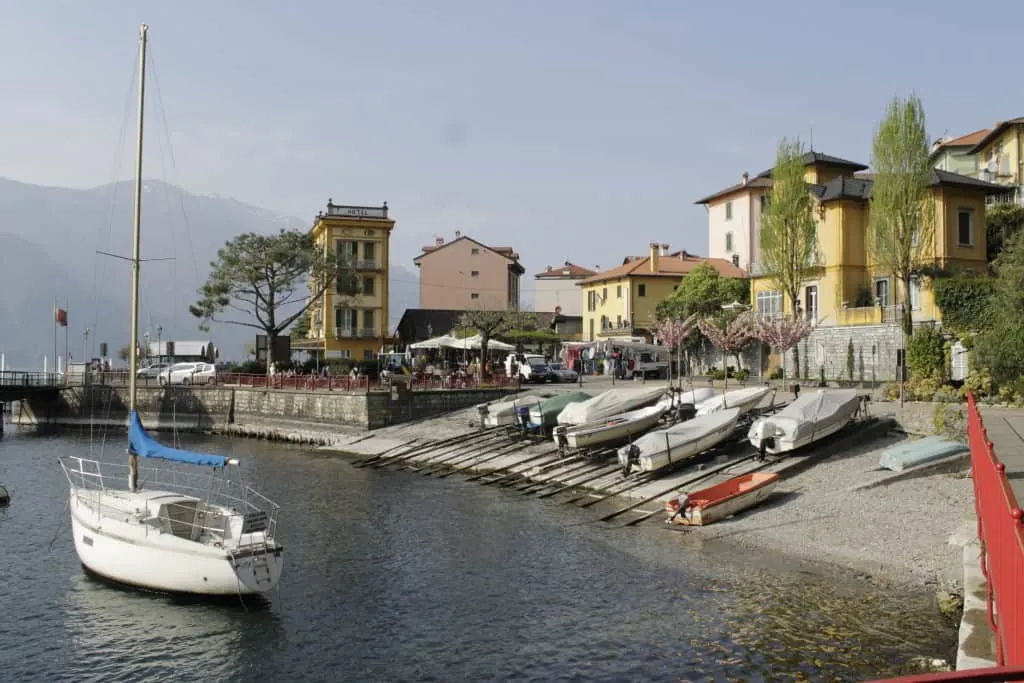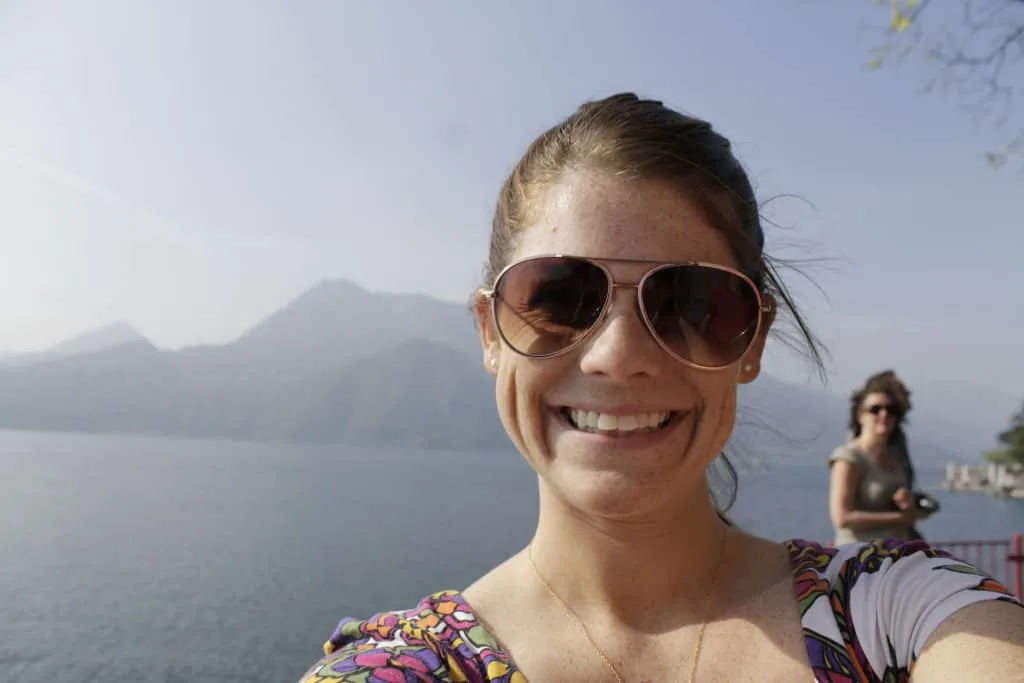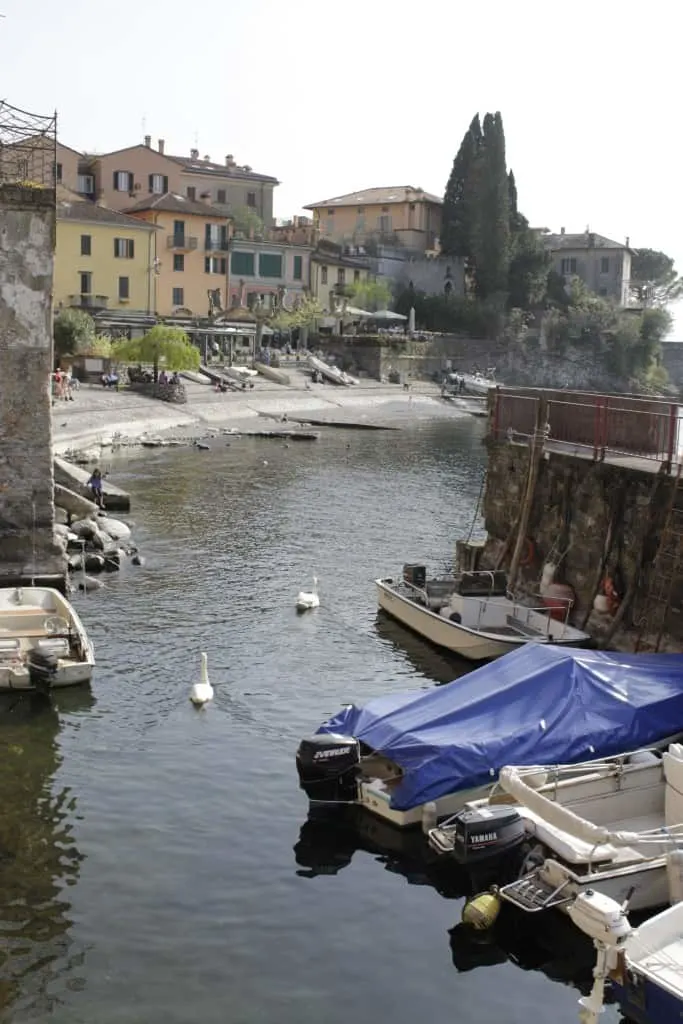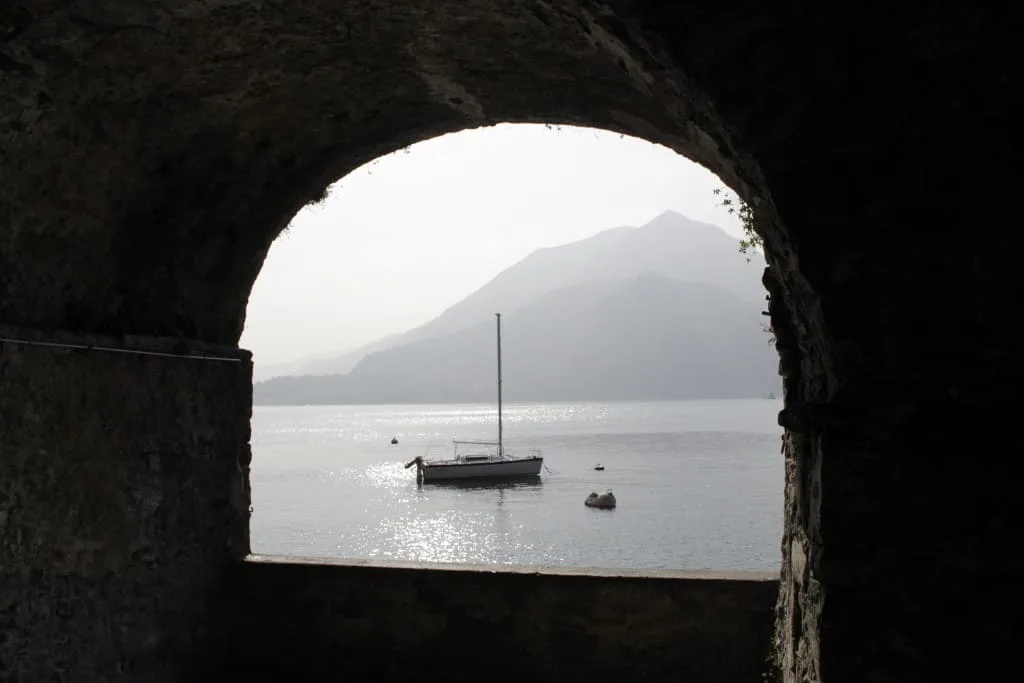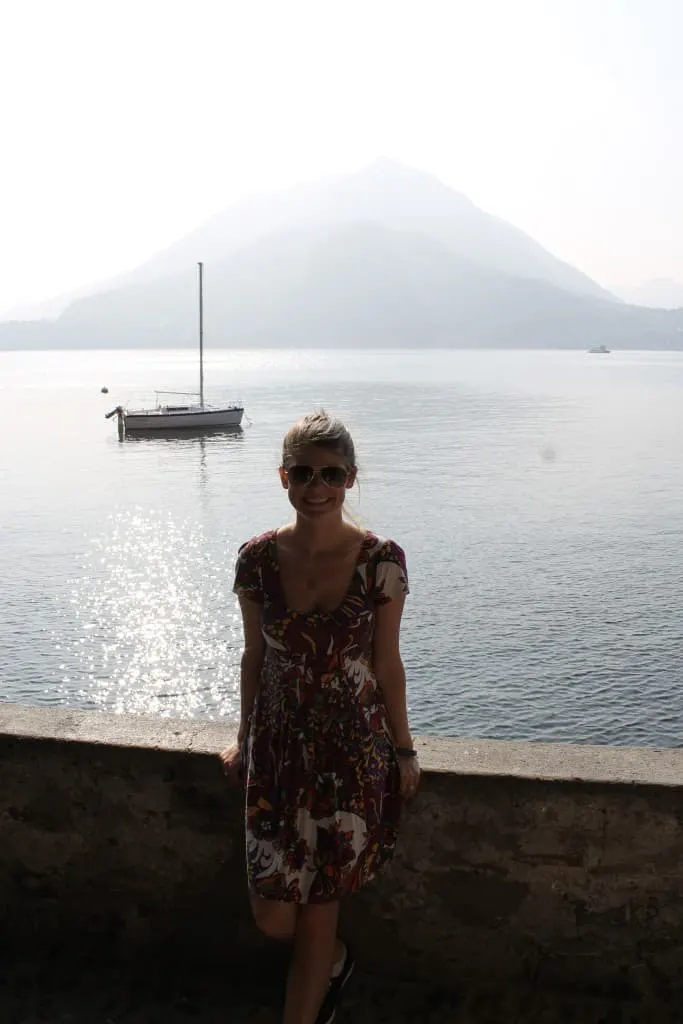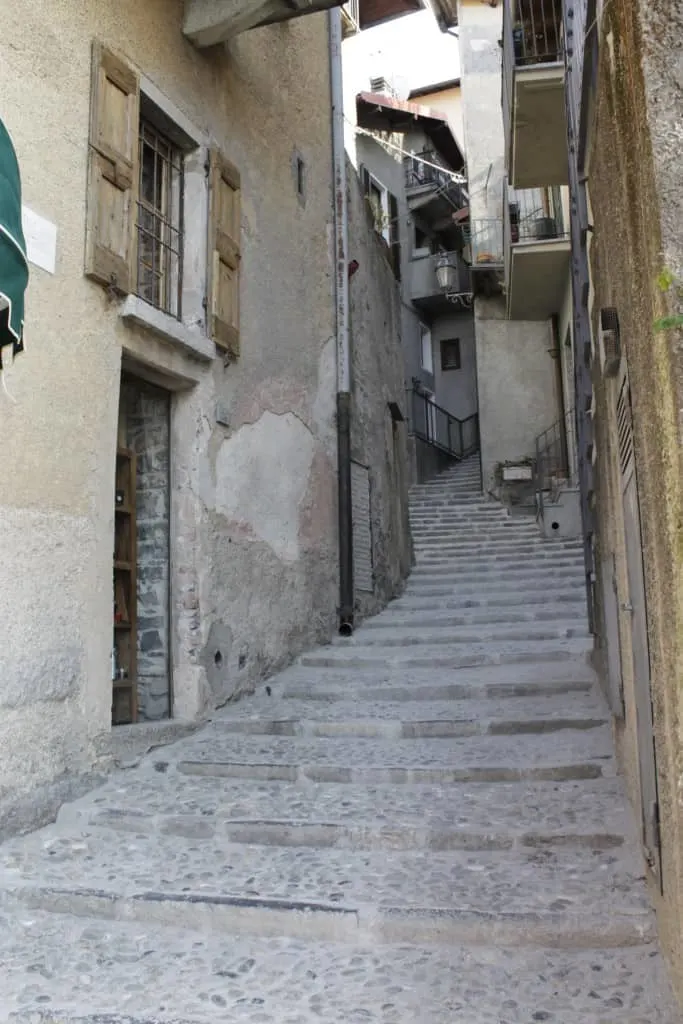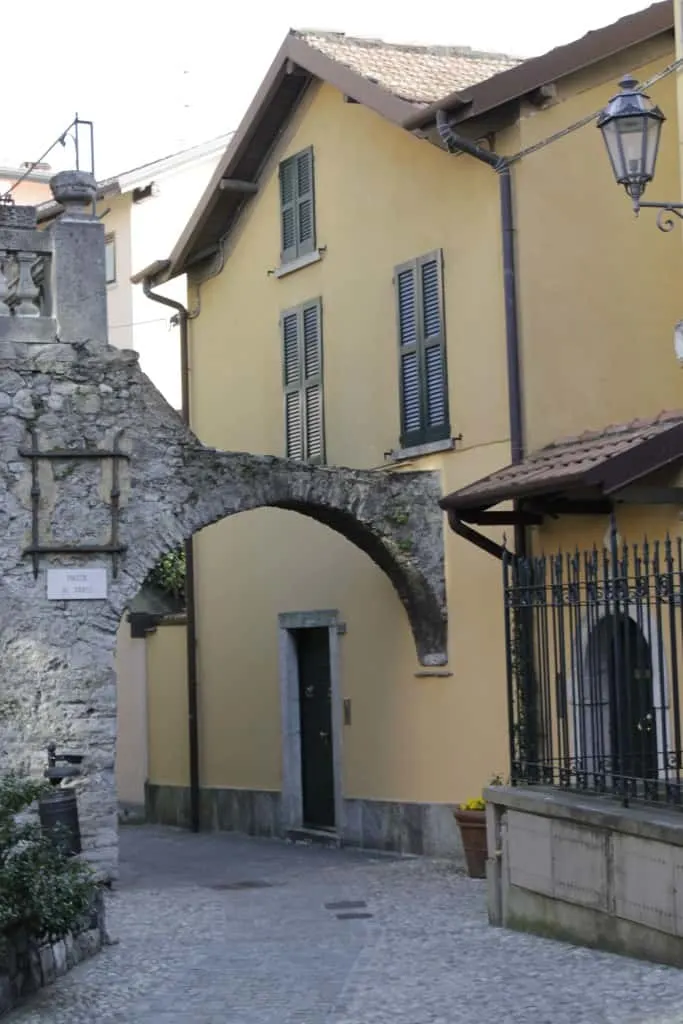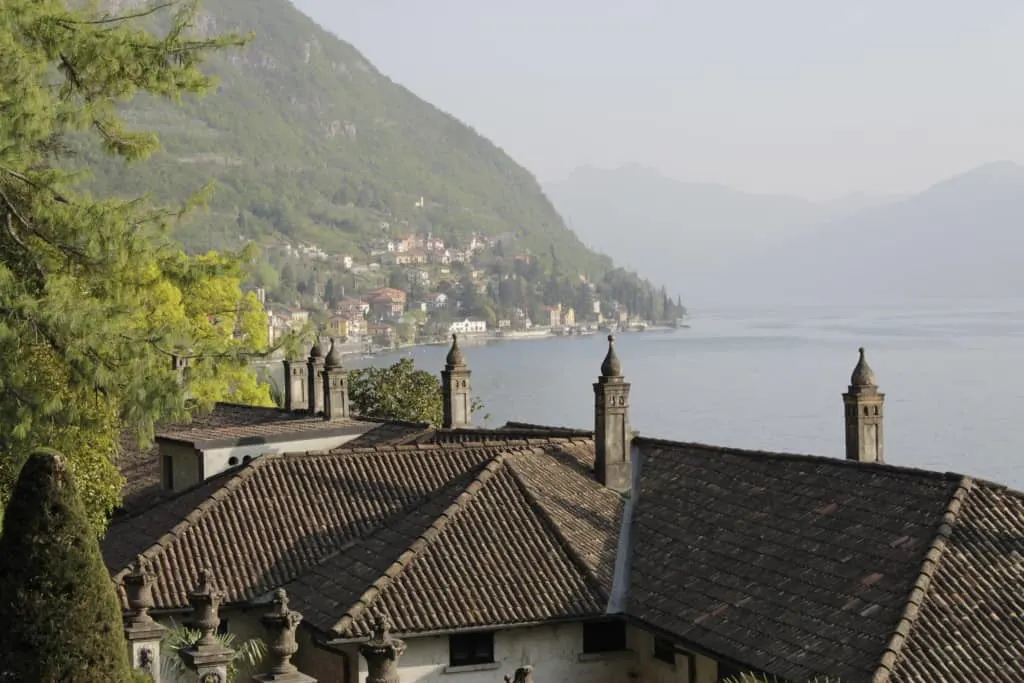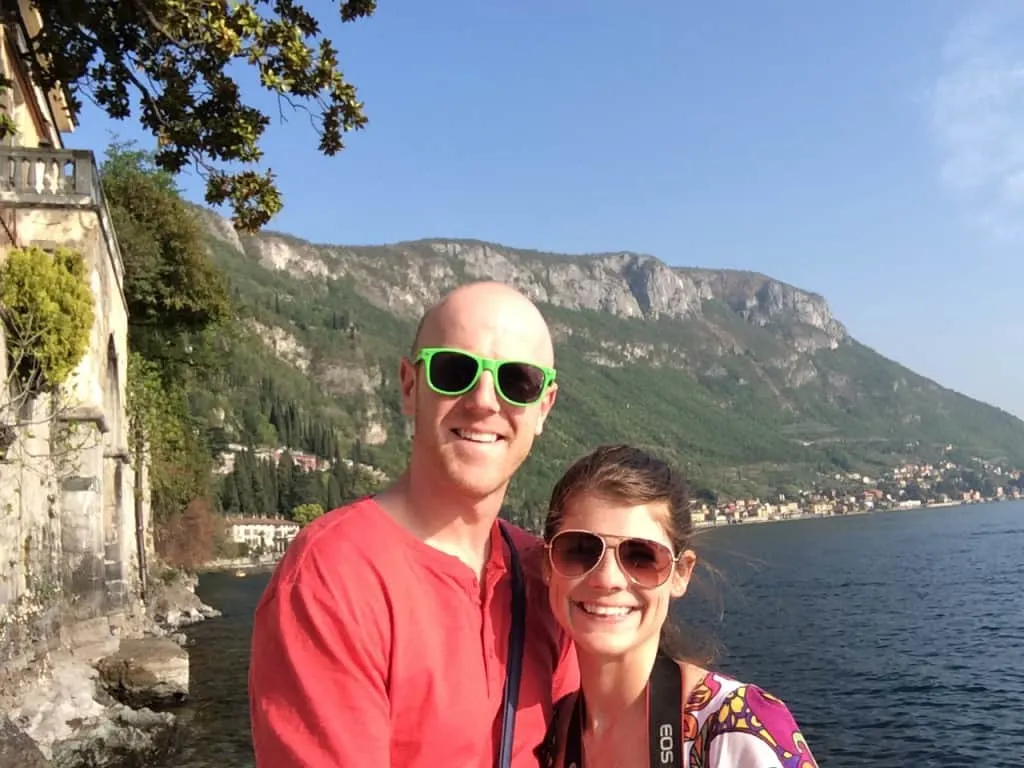 The sand on the lake is very rocky, but full of sea glass! It was really beautiful. We had a snack of gelato, which hit the spot.
After walking around for a few hours, we decided to go change back into pants and head to dinner. We ate at Bar il Molo, directly on the water in Varenna. The view was truly breathtaking. We had wine, pizza, and risotto. We learned that it's better to share plates and order more courses!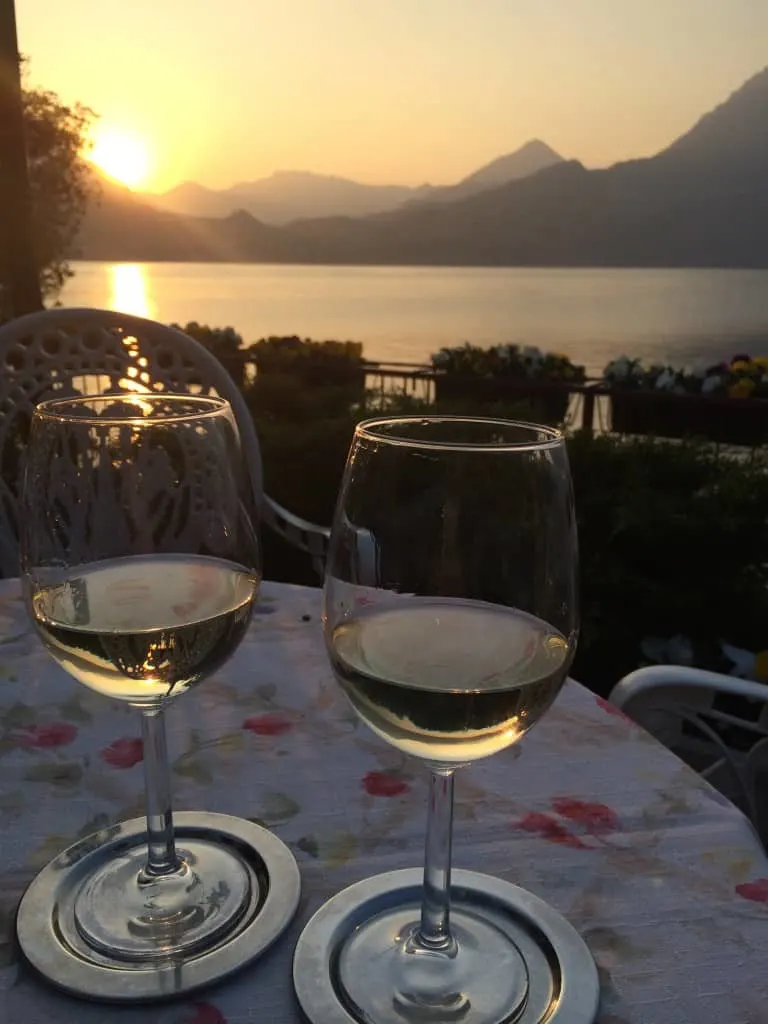 We watched the sunset and went to bed very, very happy.
On Thursday we woke up in Varenna, on the banks of Lake Como. We had pastries and coffee at a small cafe on the town square. Then we headed out to catch the ferry across the Lake. We bought an all day unlimited ferry pass for 15 Euro each, which was a great buy. You got your money's worth on 4 rides, but it was worth it just to not have to wait in the lines – the ferries come and go quickly and don't wait on you to buy tickets!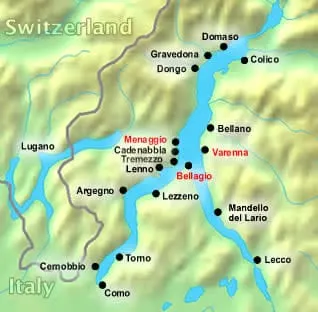 First, we headed across the lake to Menaggio. It was a much more bustling town than Varenna, but it was still a small town. We didn't have a plan, but we saw a sign with a map up to a trail, so we headed in that direction. It ended up being a paved walking trail that went through a tunnel. We walked for about an hour before deciding to turn around and head back to the dock. Where we turned around ended up being a trail map sign at a road crossing, and showed many places to go see. We had other towns to see that day, so we decided to turn around, but we definitely could have spent a full day hiking Menaggio!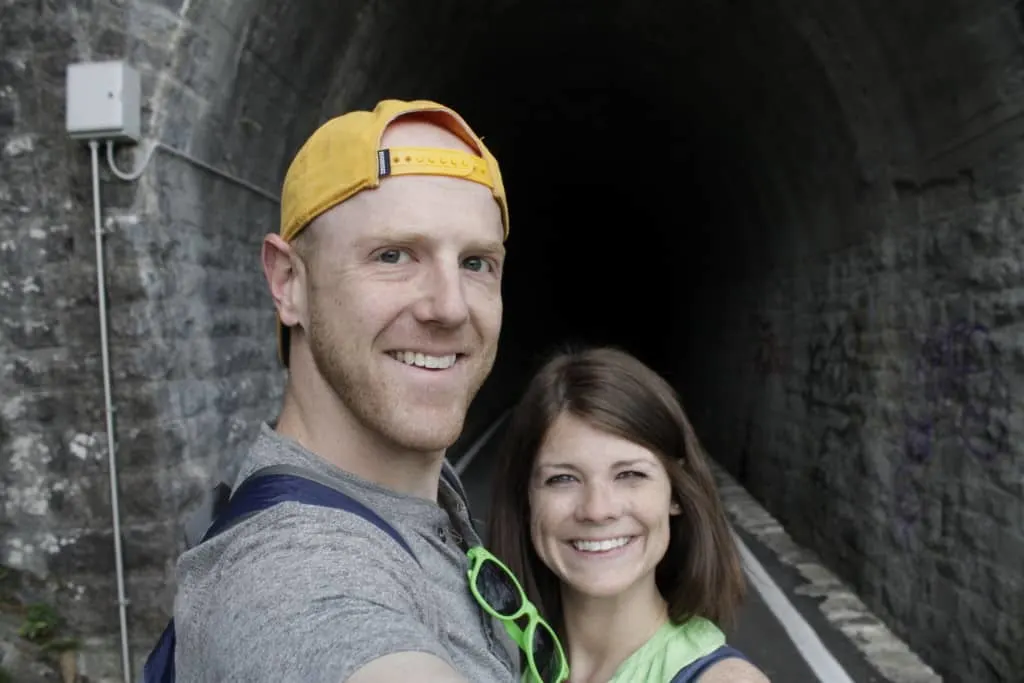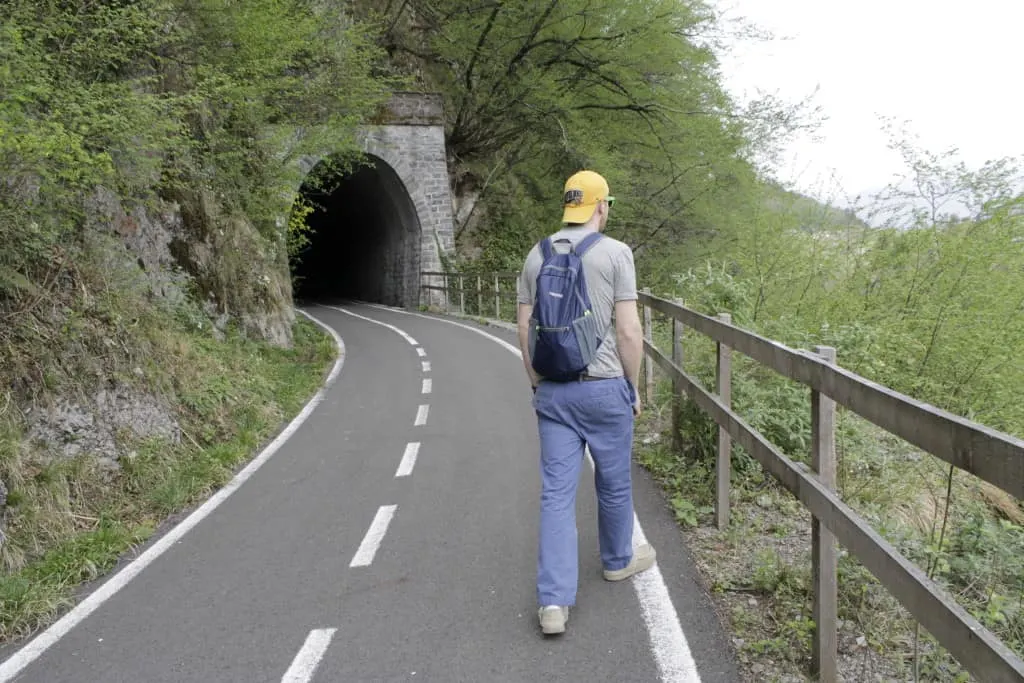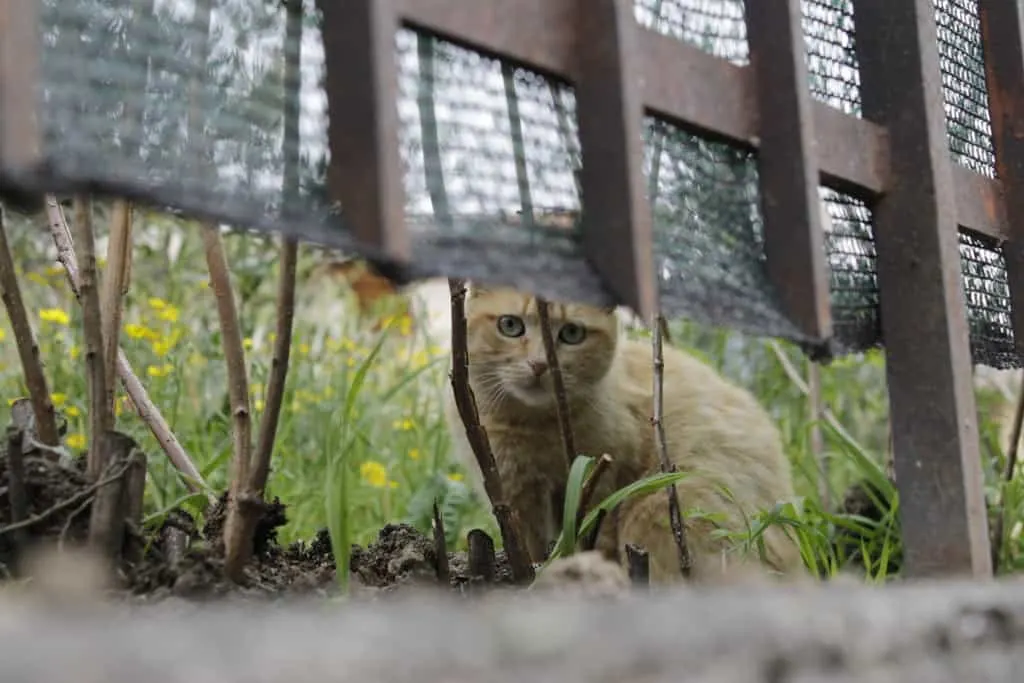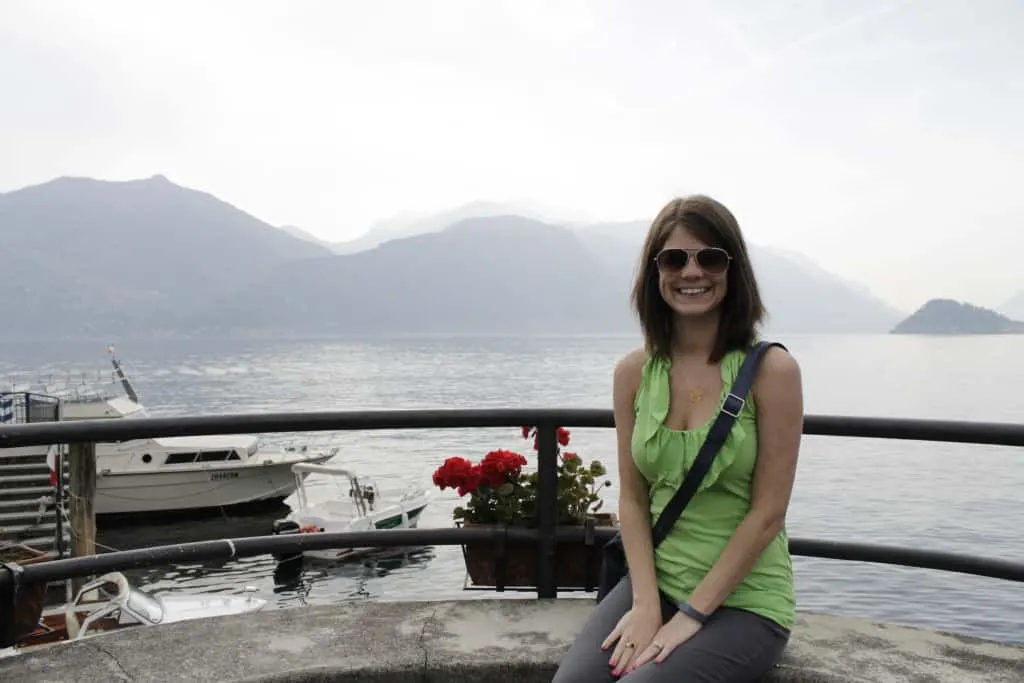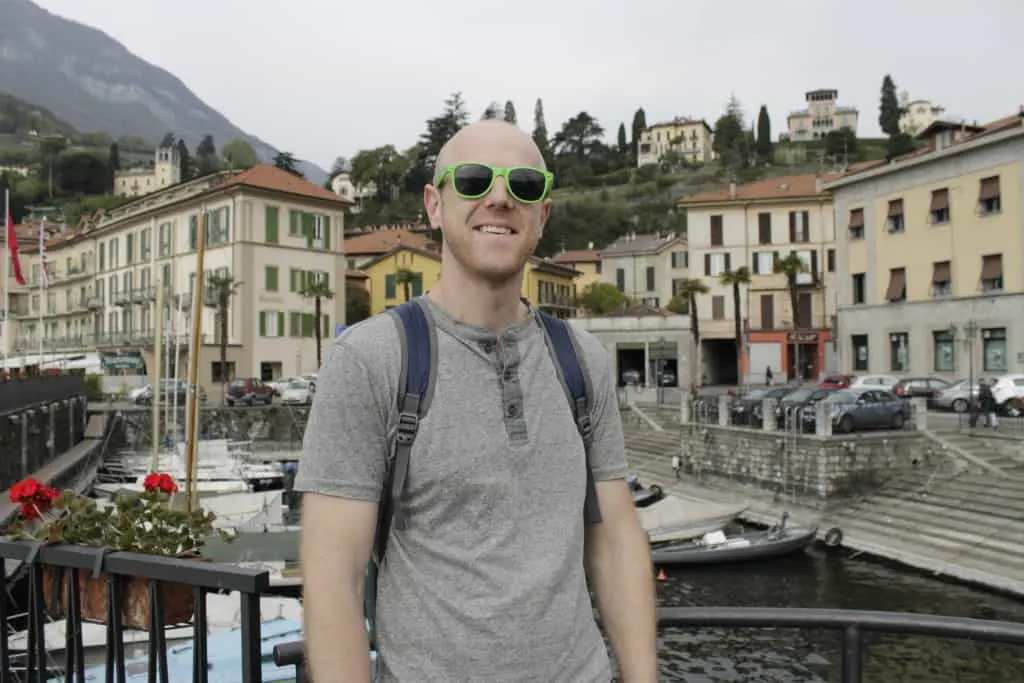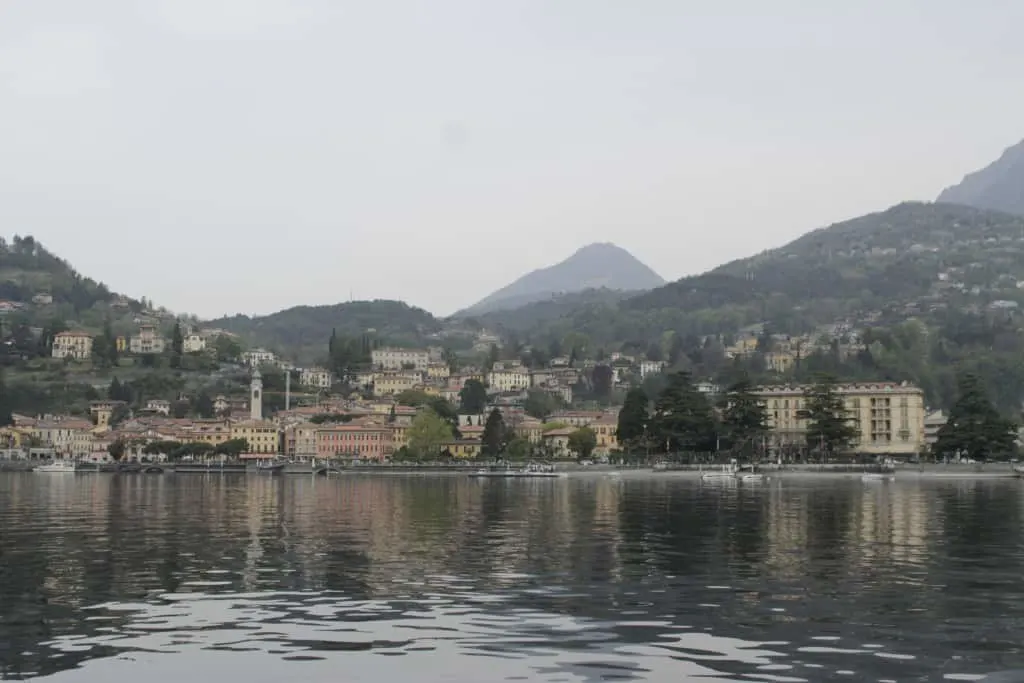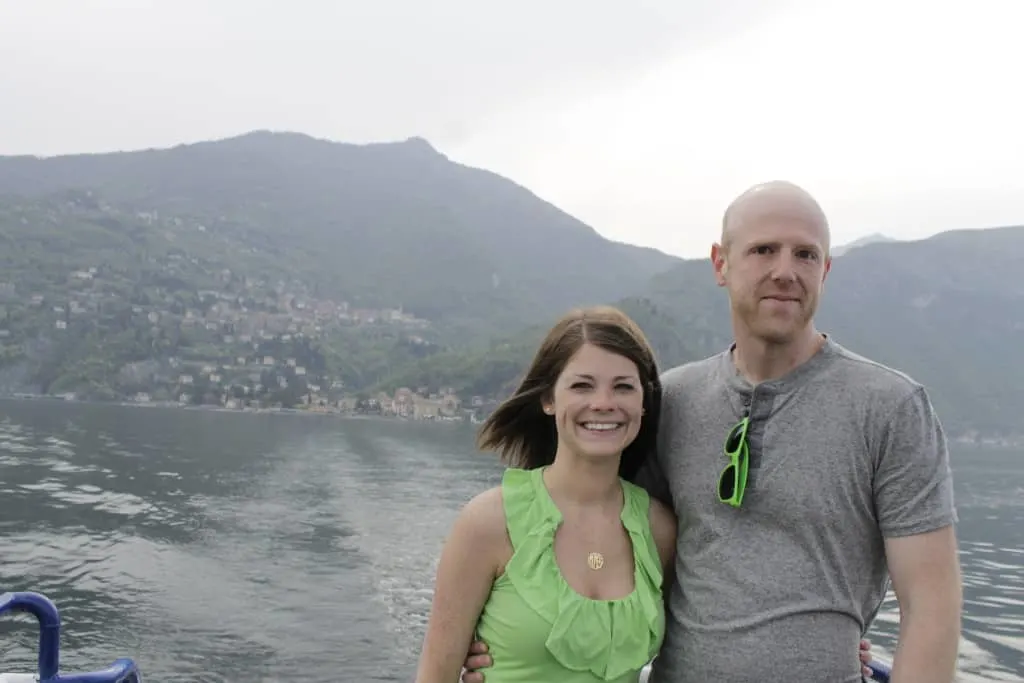 Next, we hopped the ferry to Bellagio. Bellagio was the largest town and was a bit more touristy than the other towns. We grabbed some pizza and wine and then walked around. It was on the point of the lake and so it was surrounded by water on both sides. It was really beautiful. Sadly, there was no casino to match the hotel in Las Vegas, but we did see the hotel that they must have mirrored the one in Vegas after.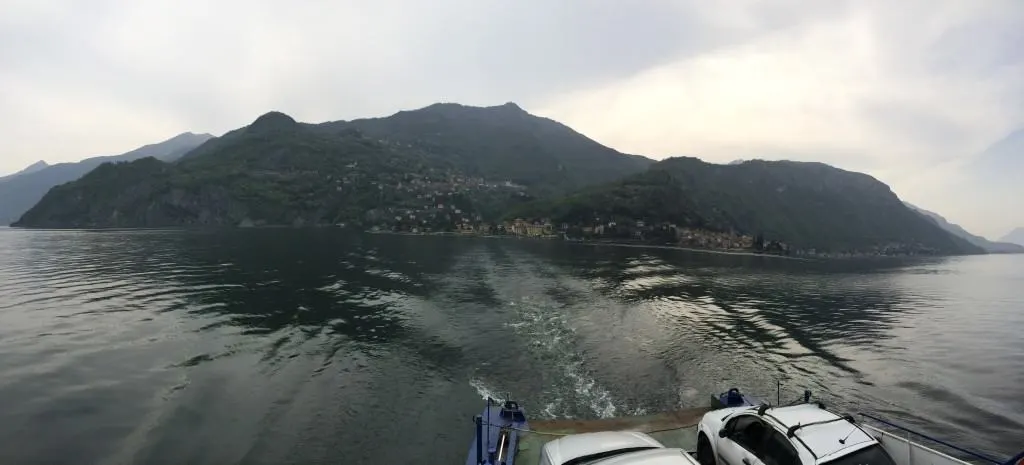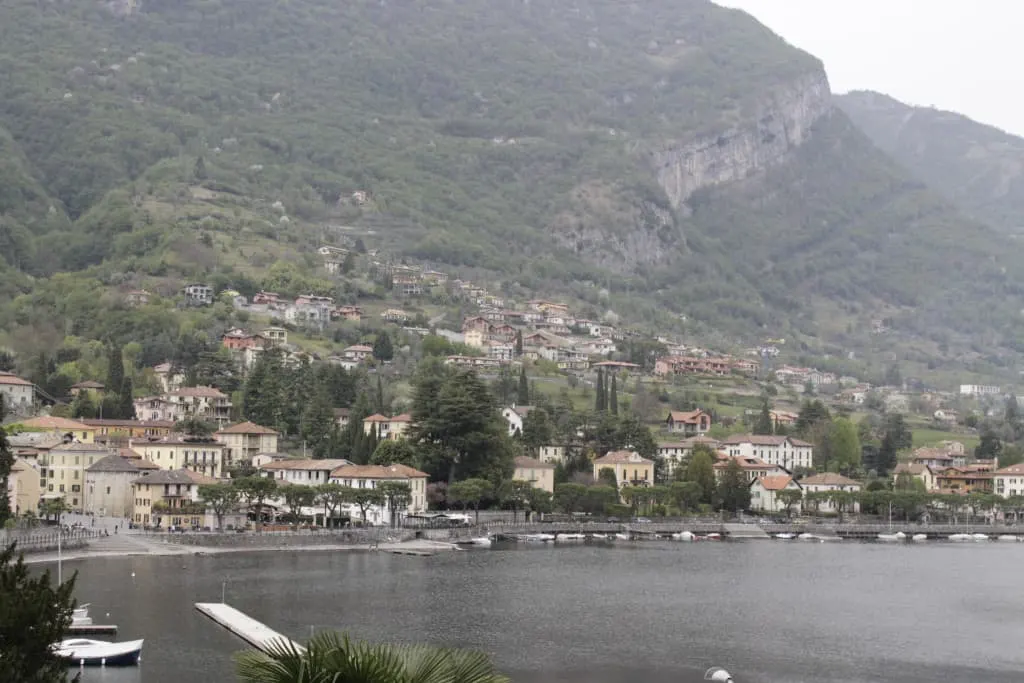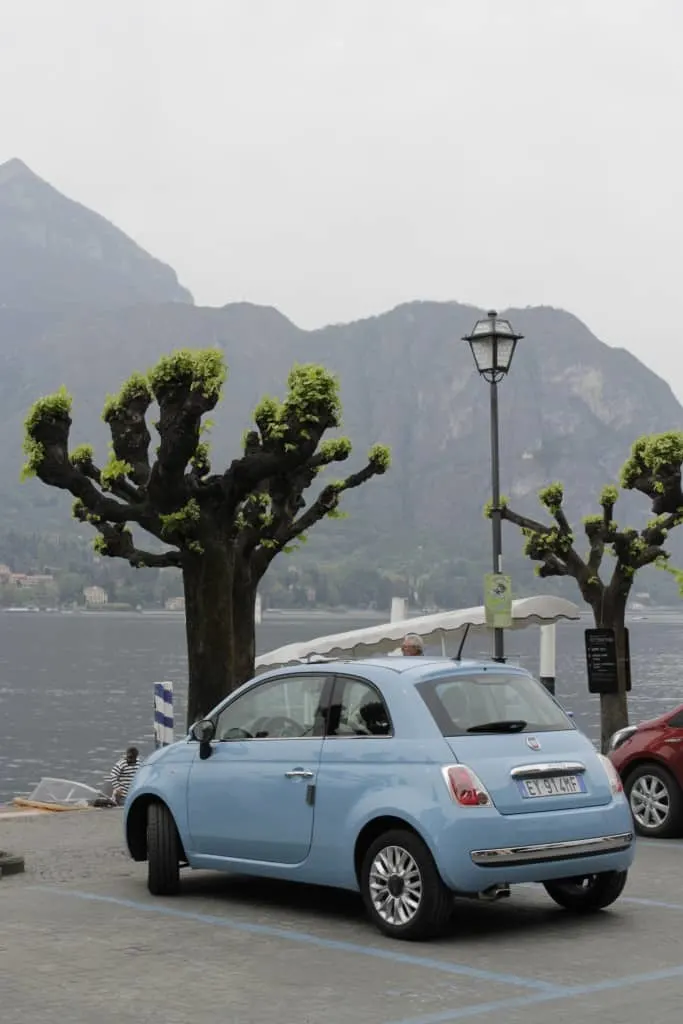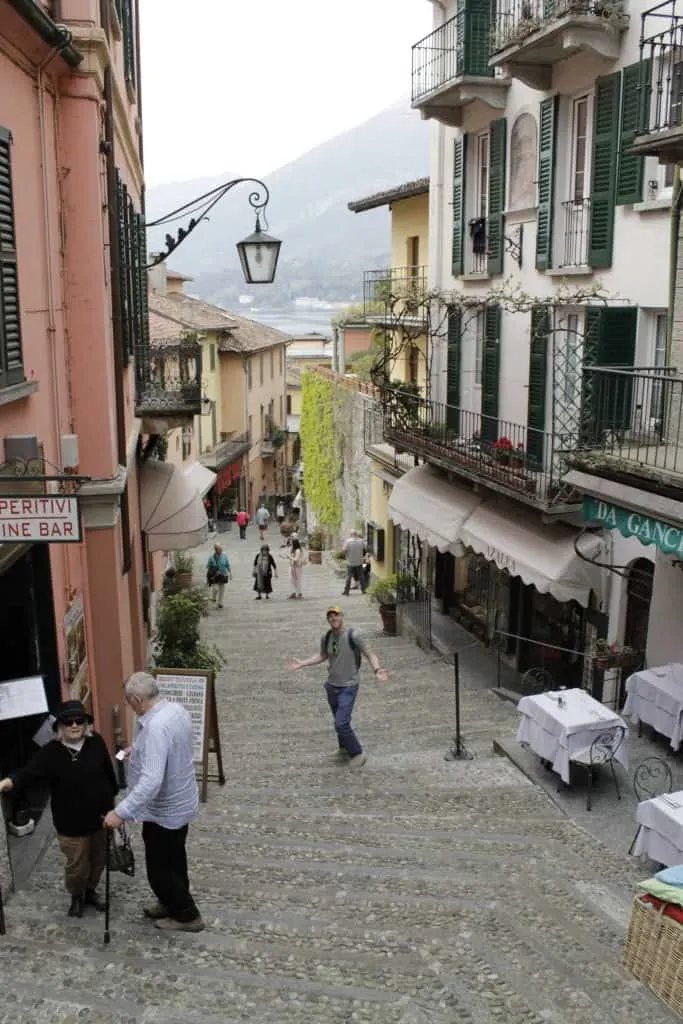 Next, we hopped the ferry to Lenno. That was the furthest town that our ferry went to and it took about 20 minutes from Bellagio. We walked about 20 minutes, some of it very steep, from the ferry station to Villa del Balbianello. This was where Star Wars: Episode II and James Bond's Casino Royale filmed scenes. It's an old mansion that was donated to become a public park. We purchased tickets to tour the gardens, though there was a second ticket to tour the villa as well. We spent about an hour looking at the gardens, views, and flowers.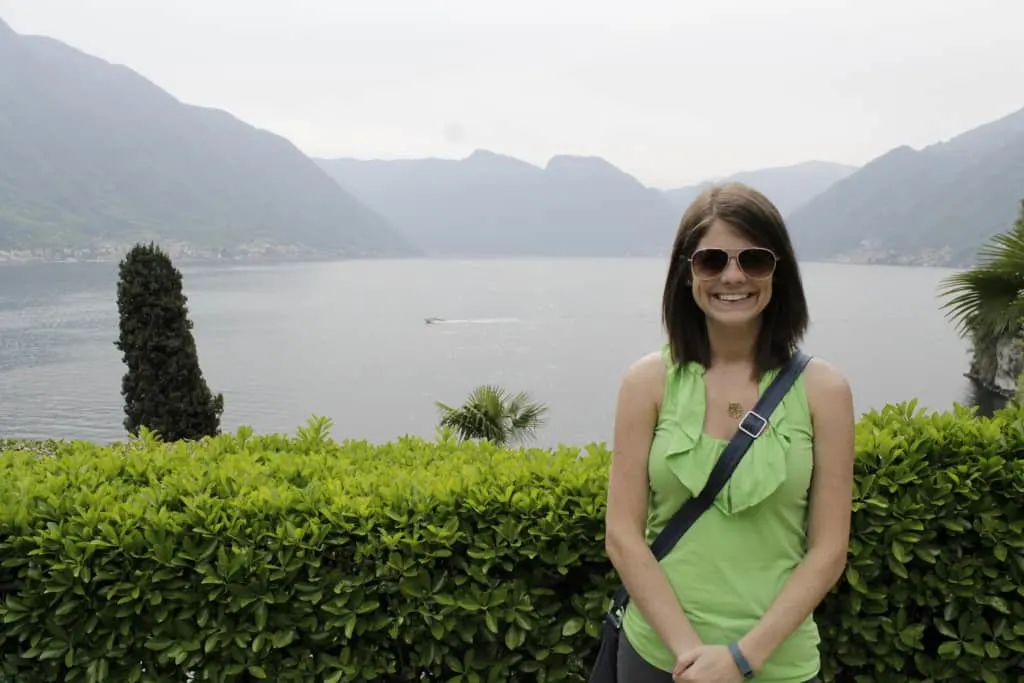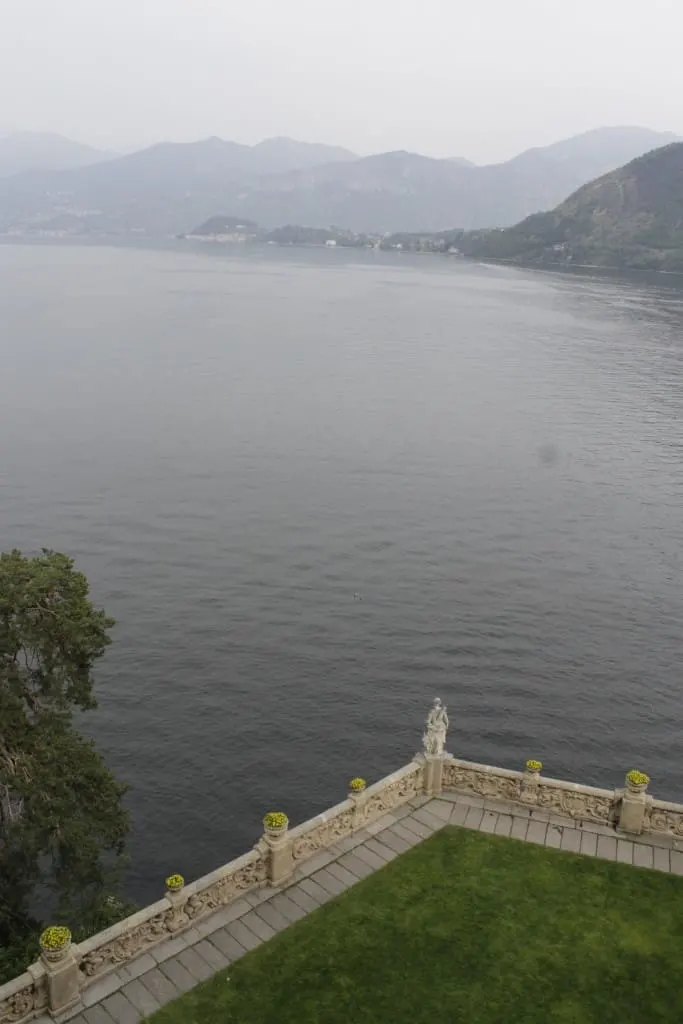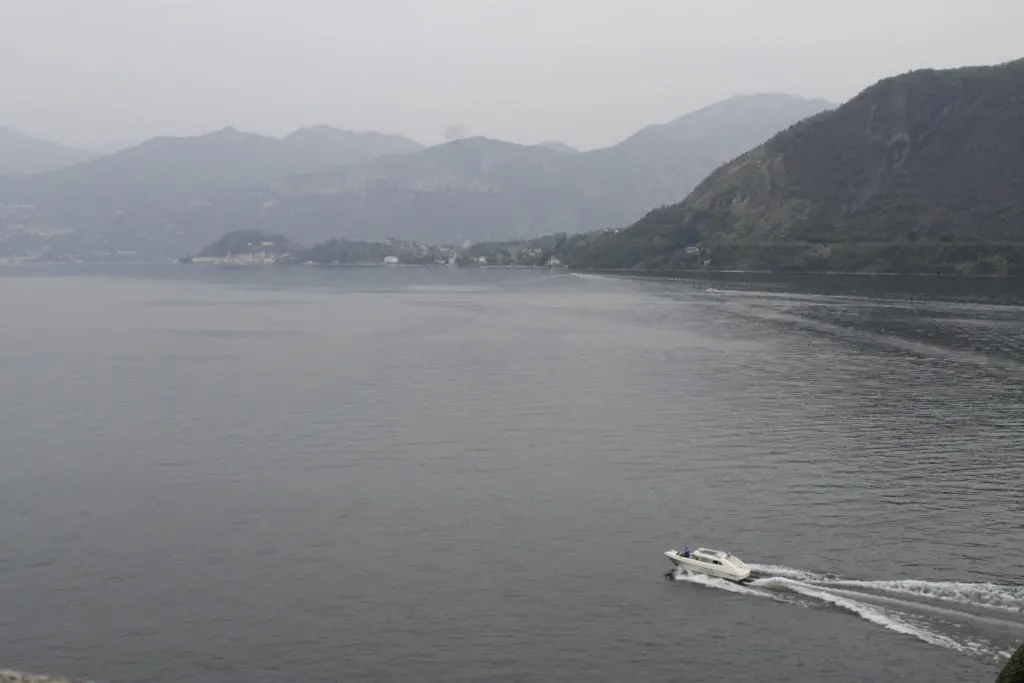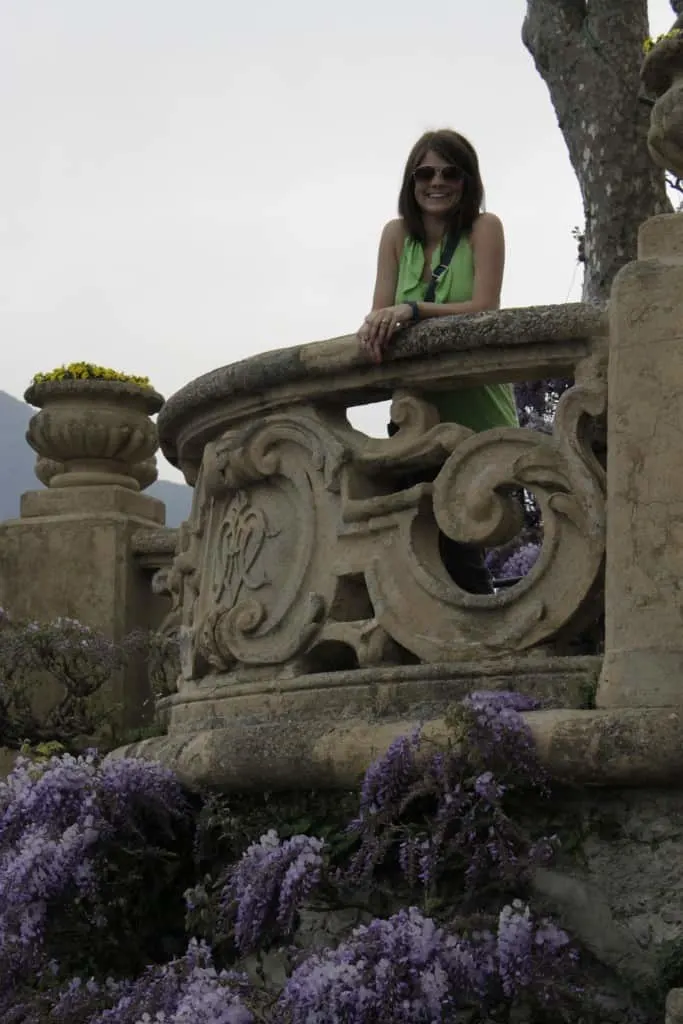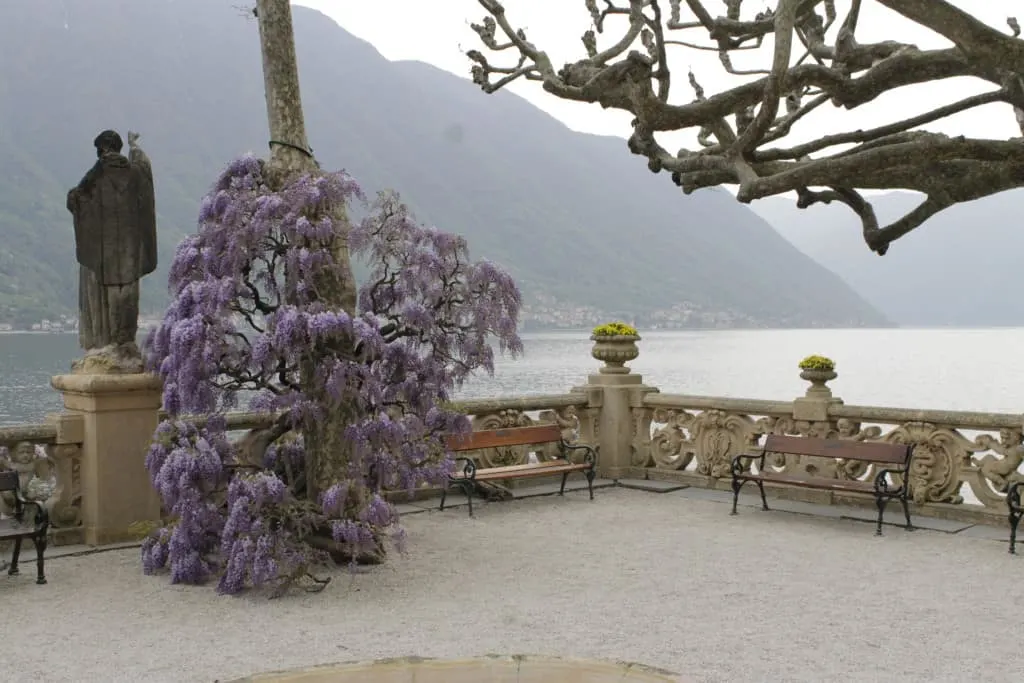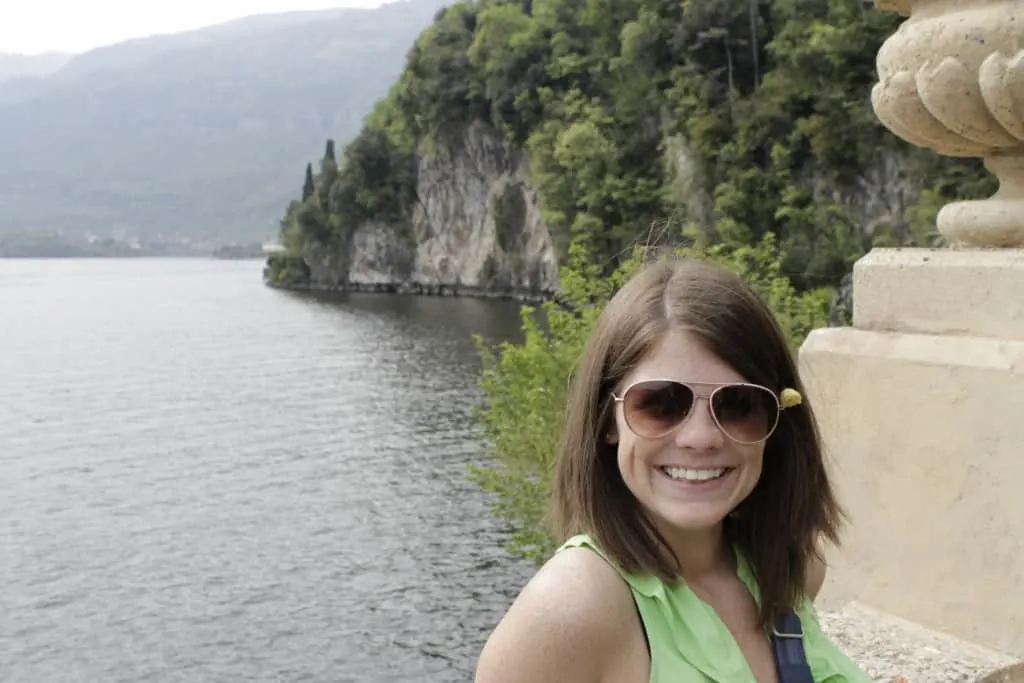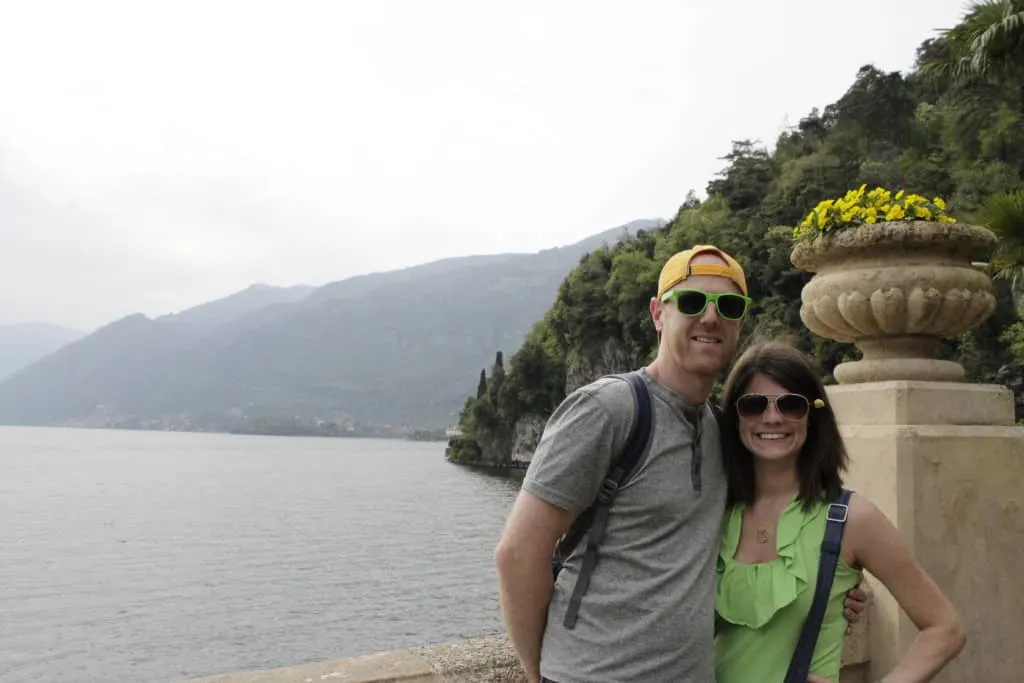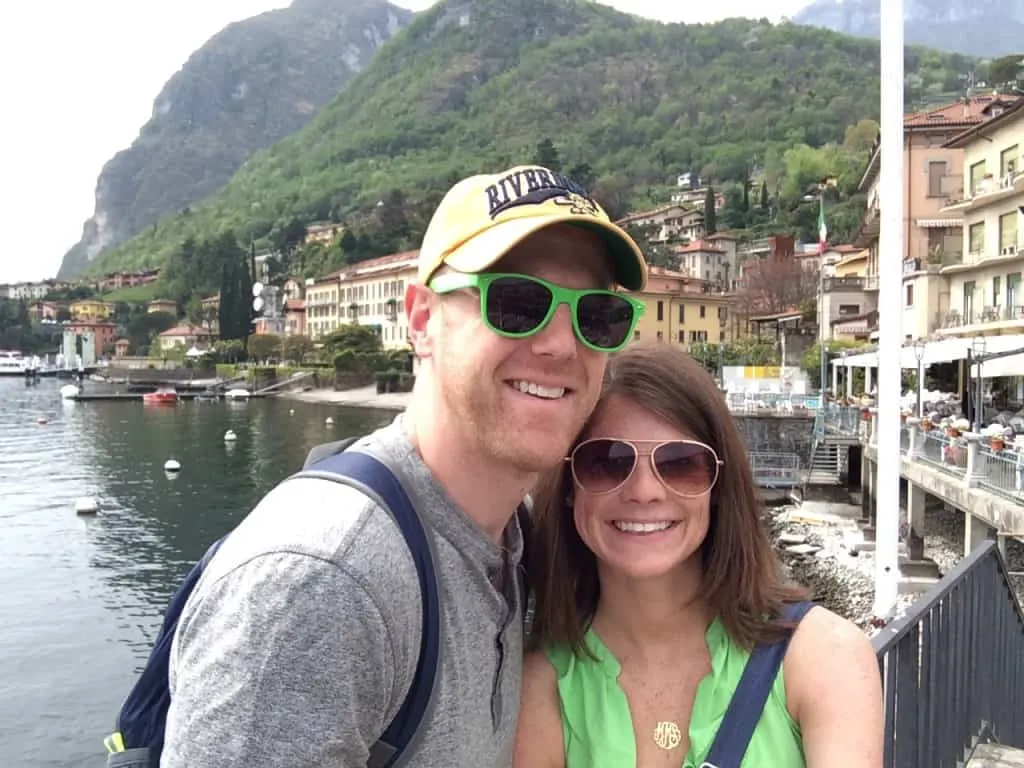 On our way back to the ferry, we stopped on a beach to skip stones. Suddenly, we realized that we were about to miss the boat, and had to sprint to catch it! I was really glad that we didn't have to buy tickets or we would have missed it, and the next boat wasn't for an hour.
We headed back to Varenna and picked up a few souvenirs before headed back to the apartment to drop off our bags. We had dinner at the Nilus Bar, right next to where we had dinner the night before. We had wine and pesto spaghetti and bruchetta – it was delicious.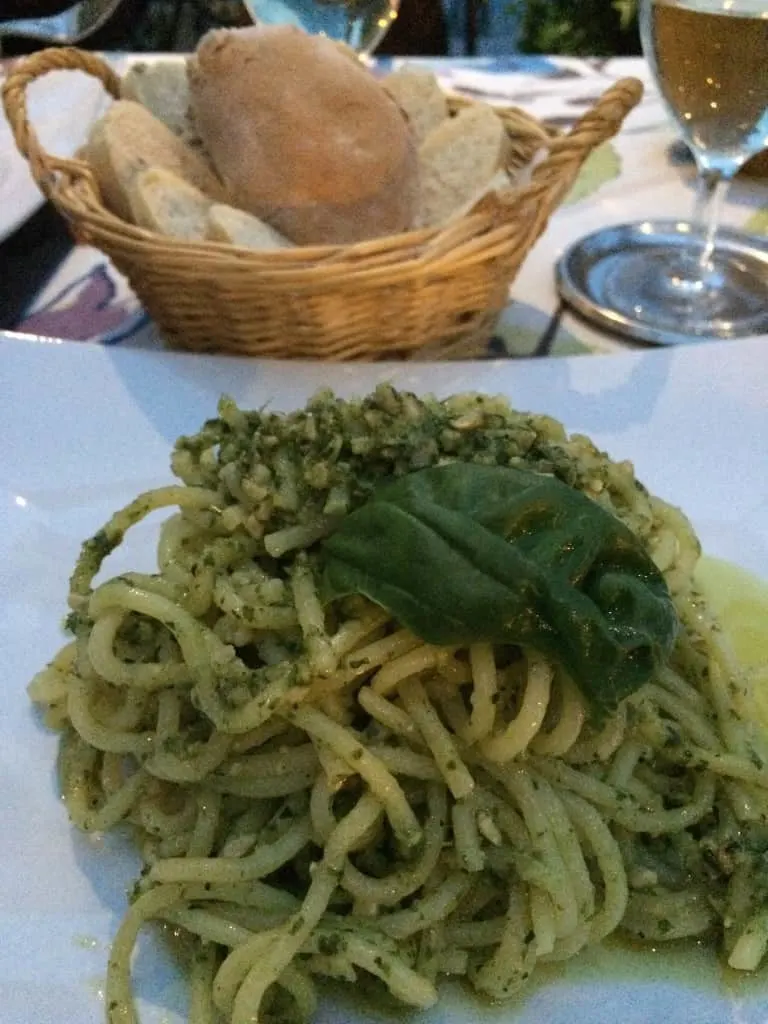 We walked home in the dark through the tiny alleyways with no other people around. It was such a beautiful and peaceful town, so we were very sad to say good bye to Lake Como. Tomorrow we head to Cinque Terre!
On Friday morning, we sadly had to bid farewell to Lake Como. We were really sad – Lake Como was like a dream. I grew up visiting the mountains a lot and just felt at home there, and the towns were so friendly and beautiful, I truly feel that we could have stayed for weeks.
But, we had more of Italy to see. We caught the early morning train from Varenna to Milan, then connected in Geneva, then headed to our final destination of Riomaggiore. This was our roughest travel day. The three trains were local trains, meaning that they moved slowly and made a lot of stops. They were also small trains without some of the amenities, like a food car. Long story short, we had croissants at 8am and were unable to get food again until we arrived in Riomaggiore after 3pm. The time between trains was short and the stations were small enough to not have cafes (Milan did, of course, but our first train was late and we had only 4 minutes to get on the next train). I incorrectly assumed that the trains would have food service and ended up… hangry. Our lesson was learned and after that day, we went to a grocery store and stocked up on granola bars and fresh fruit for emergency snacks. This helped immensely.
So, once we arrived in Riomaggiore, we were starving. We dropped our bags off at our apartment (which was incredibly centrally located) and popped over to a pizzeria for a quick slice. Mamma Mia was it good! The specialties of Cinque Terre are pesto, sea food, and focaccia pizza. The focaccia pizza is soft and thick, unlike the usual Italian cracker crust pizza. It was delicious and great to get some variety!
With a slice (or two) of pizza and a coke in my belly, I was good to go. We walked down to the water (only a three minute walk from our apartment – Riomaggiore is a very small town with one main street) to check out the sites. We didn't hate it.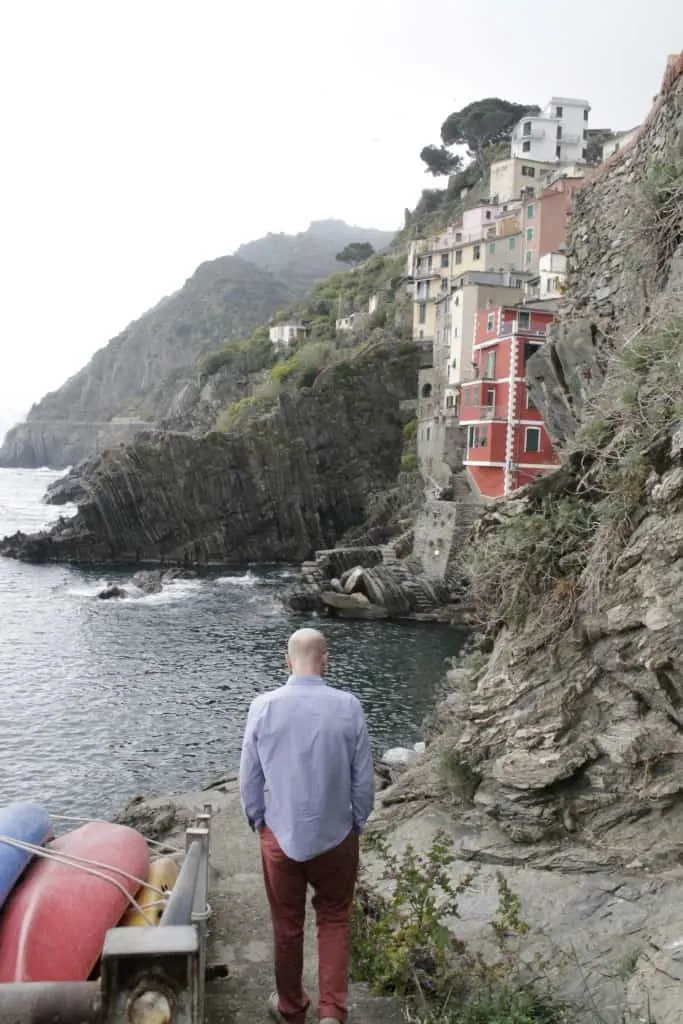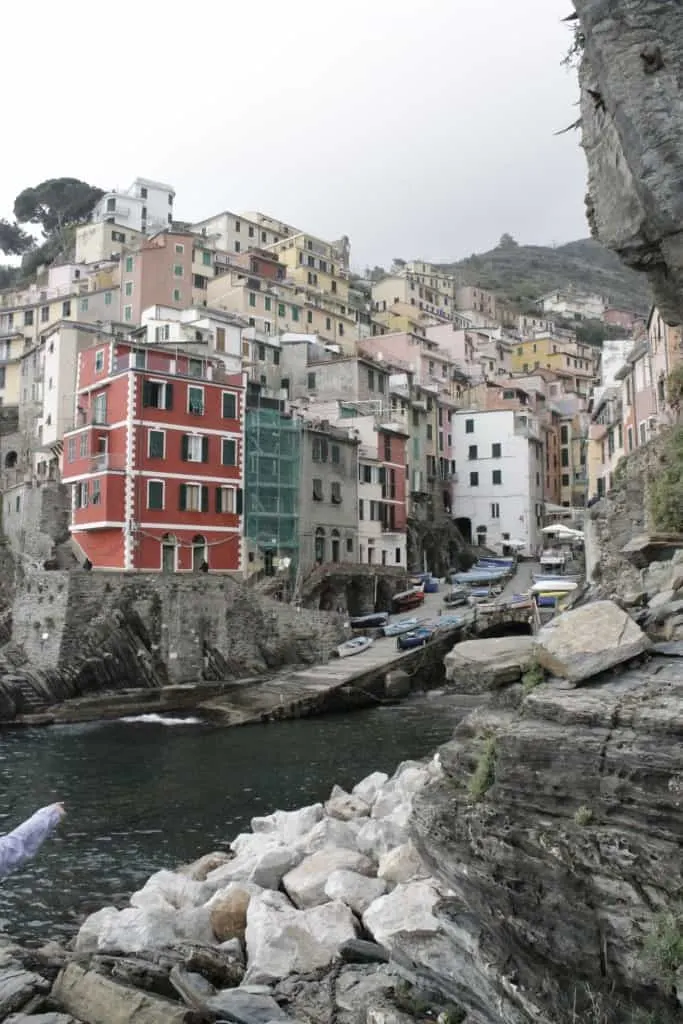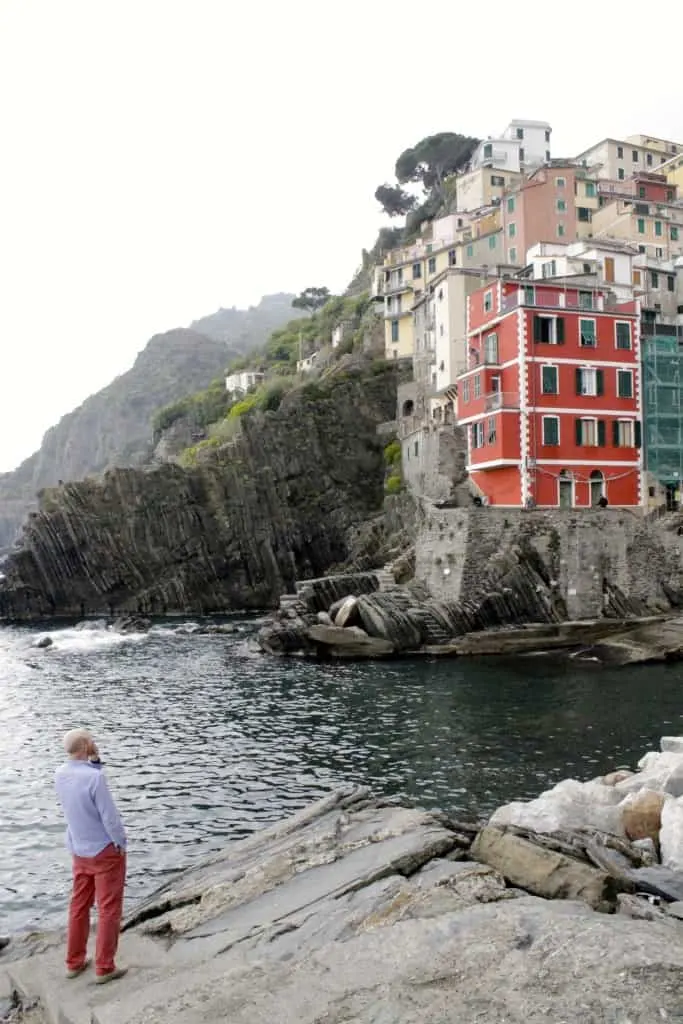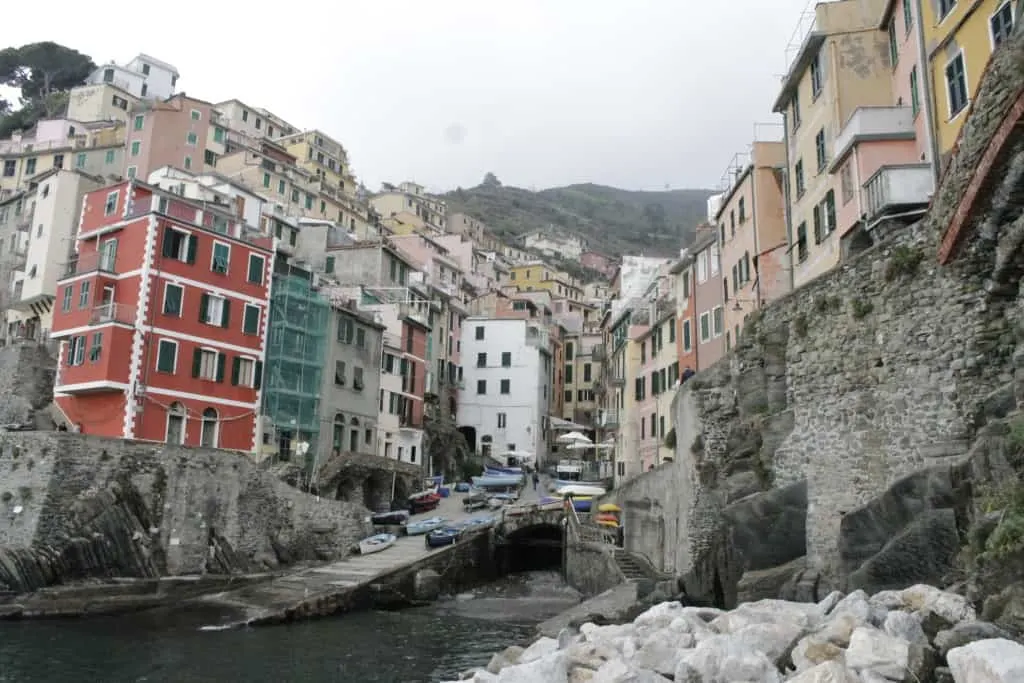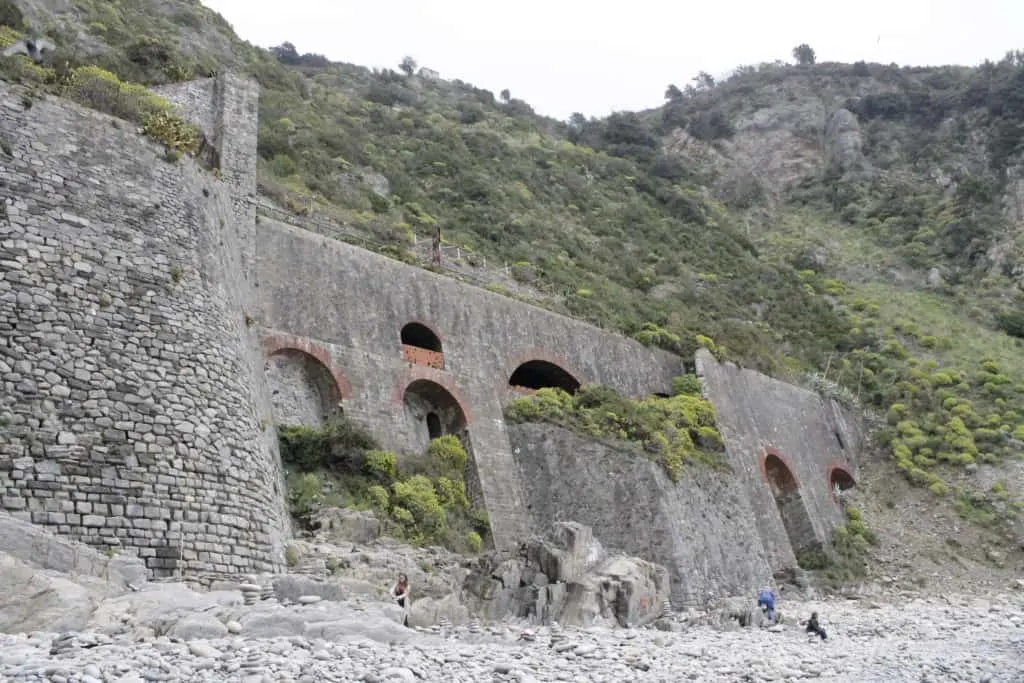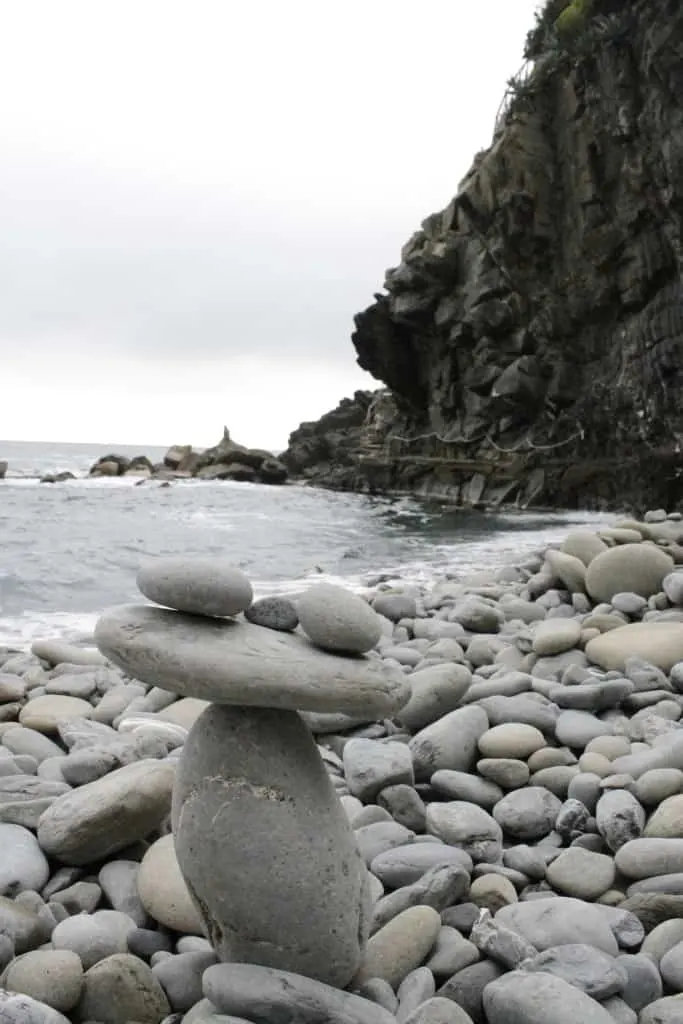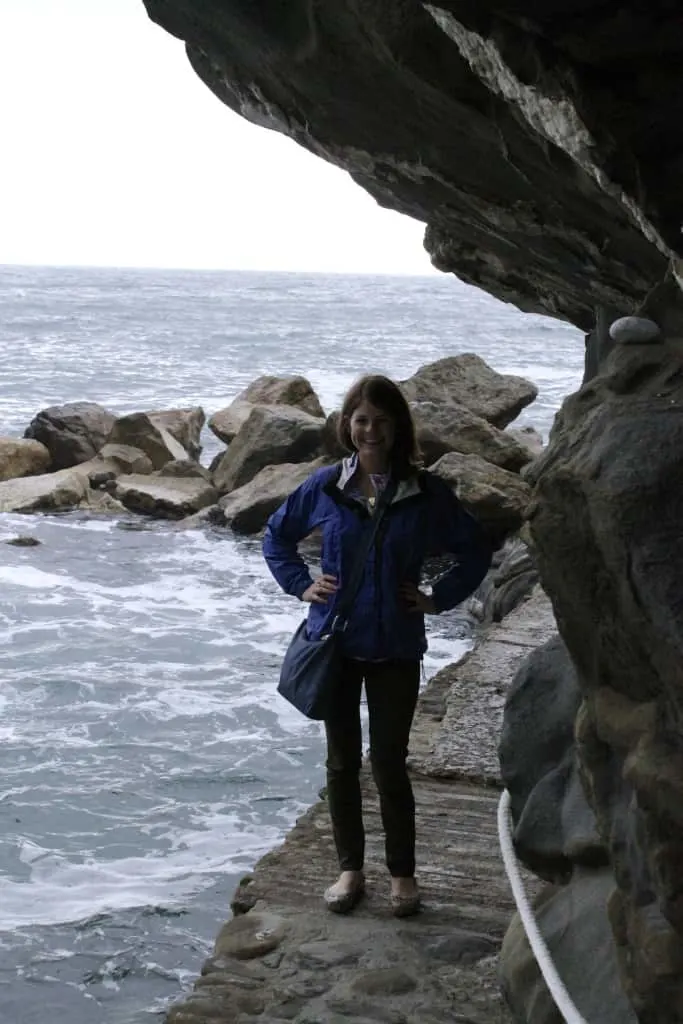 Cinque Terre is a cluster of five cities, situated on the edge of the Mediterranean. It used to be all olive farmers, but the area has become a major tourist destination for people that like to be off the beaten path of places like Rome, Florence and Venice. It's easy to see why.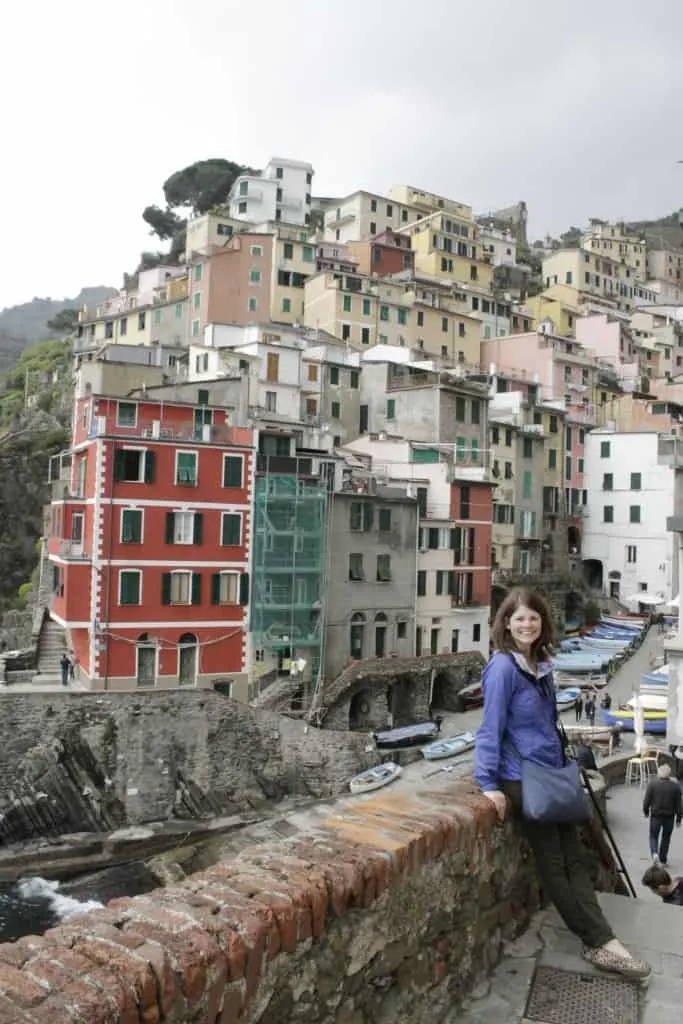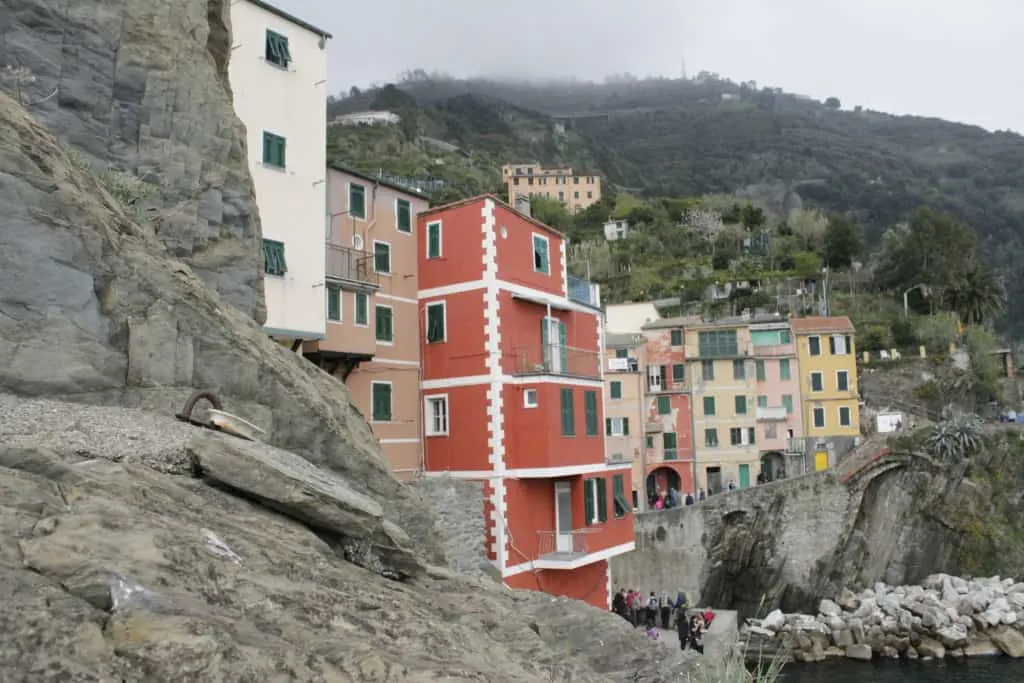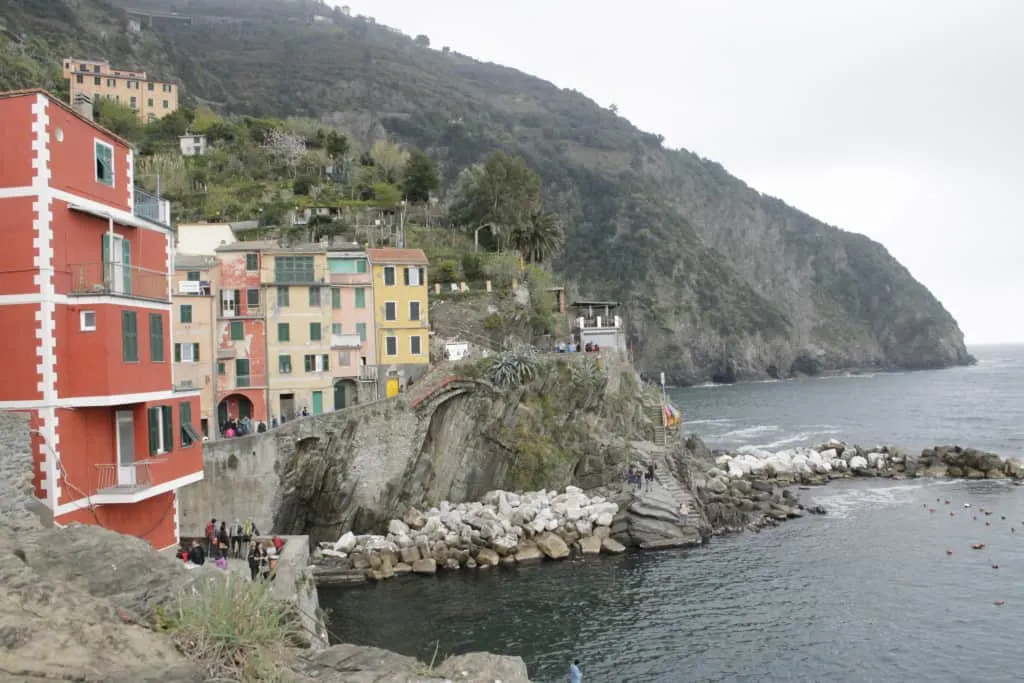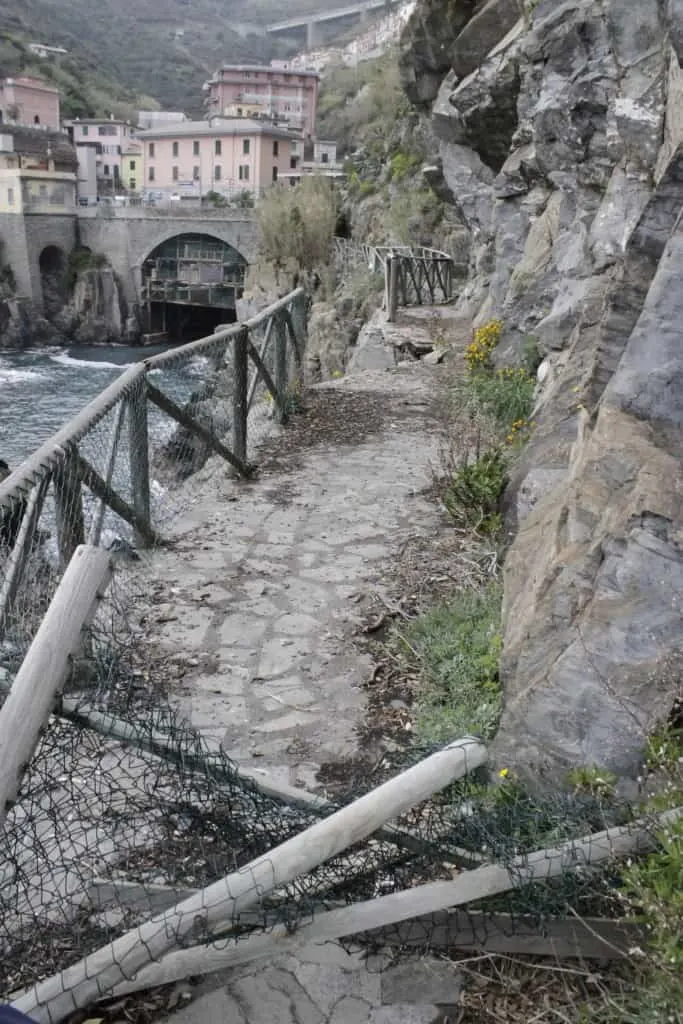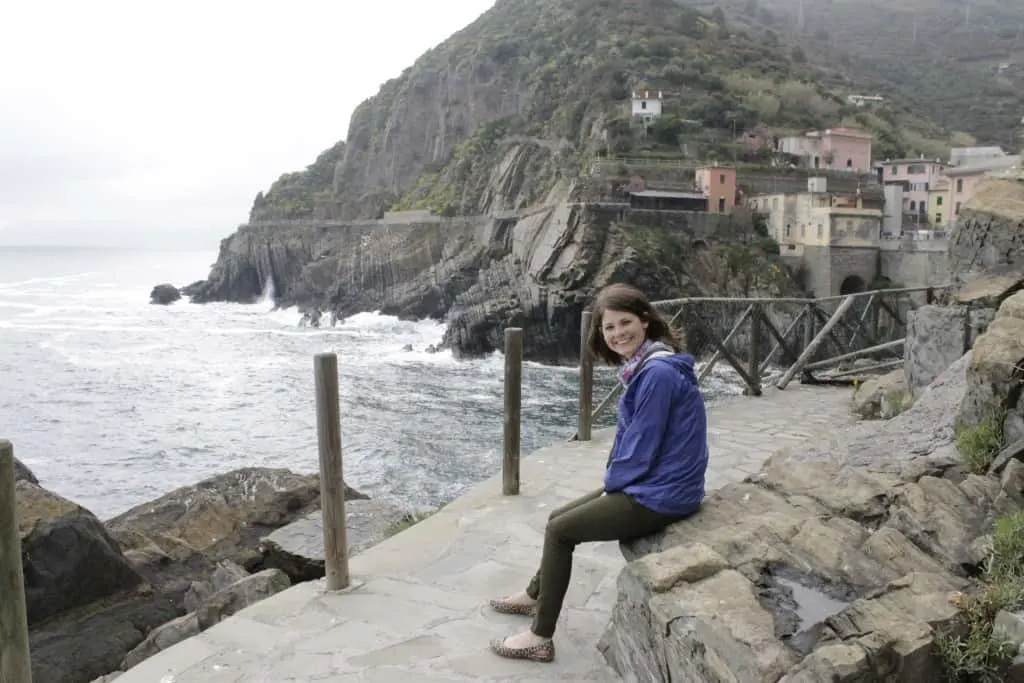 We walked along the path on the coast. This path is called the Lovers Trail. It connects all 5 of the cities. We were sad to hear that 3/4ths of the trail were closed due to landslide. It was still beautiful!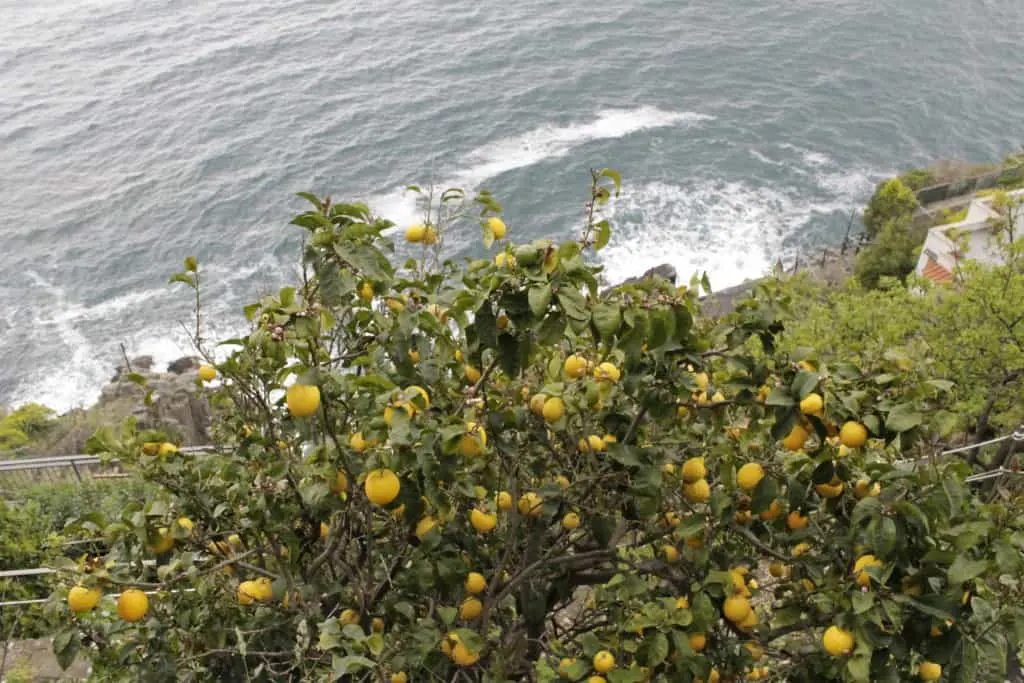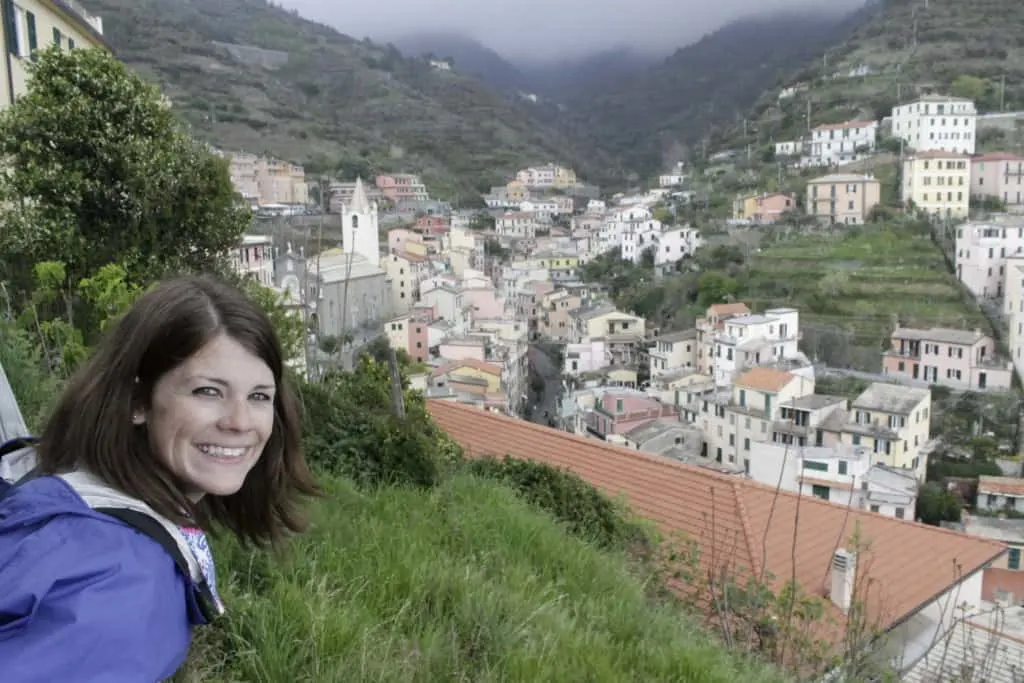 We walked all around the town just taking pictures. When we decided that we were hungry, we knew exactly what to do. First, we popped into the grocery and got a bottle of 3 Euro white wine (way better than $5 wine in the US!). I ran it up into our apartment fridge. The food specialty in Riomaggiore is fried seafood in a cone. Yep. We headed to Il Pescato Cucinato and ordered a grande cone. That's a a paper cone filled with fried sardines, calimari, potatoes, vegetables, and shrimp. We took it back to our apartment's balcony and enjoyed the wine and seafood while people watching.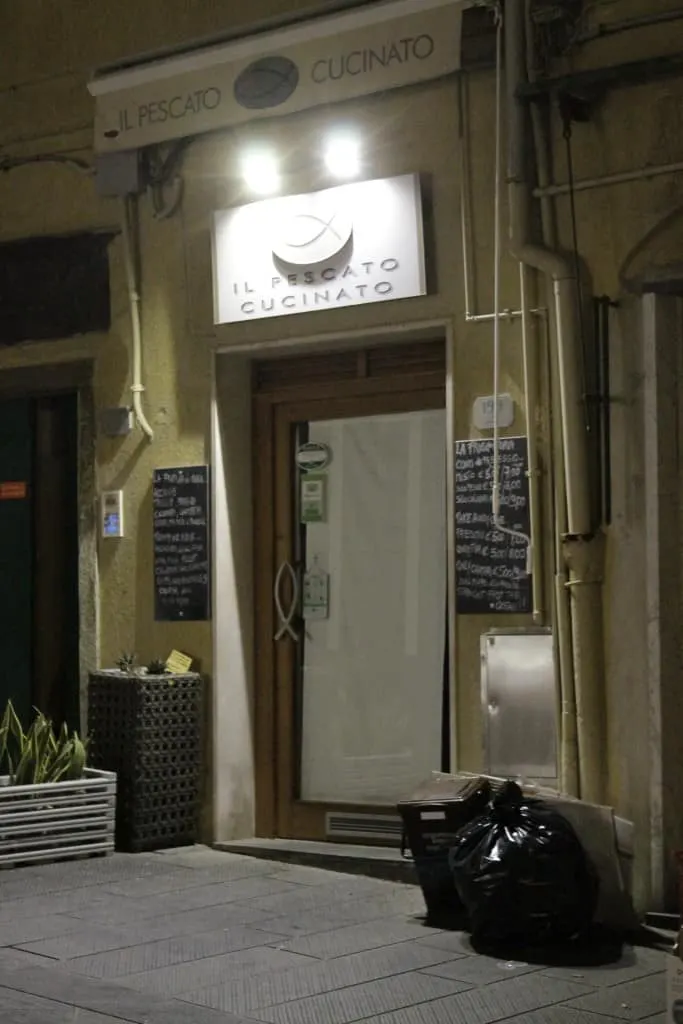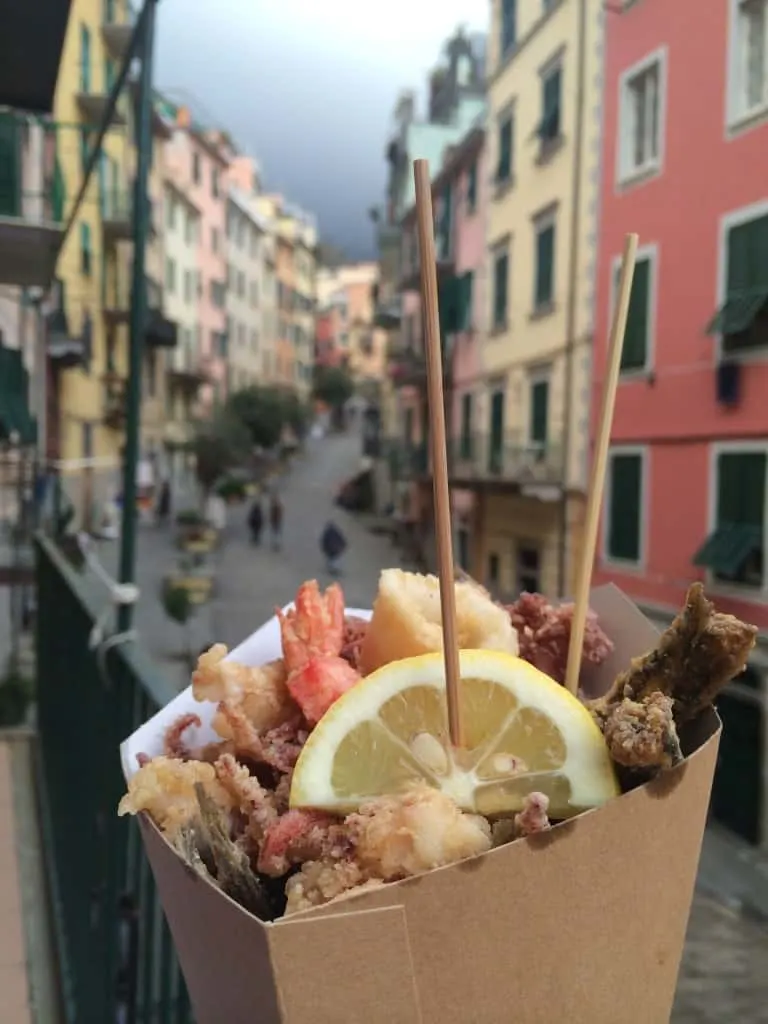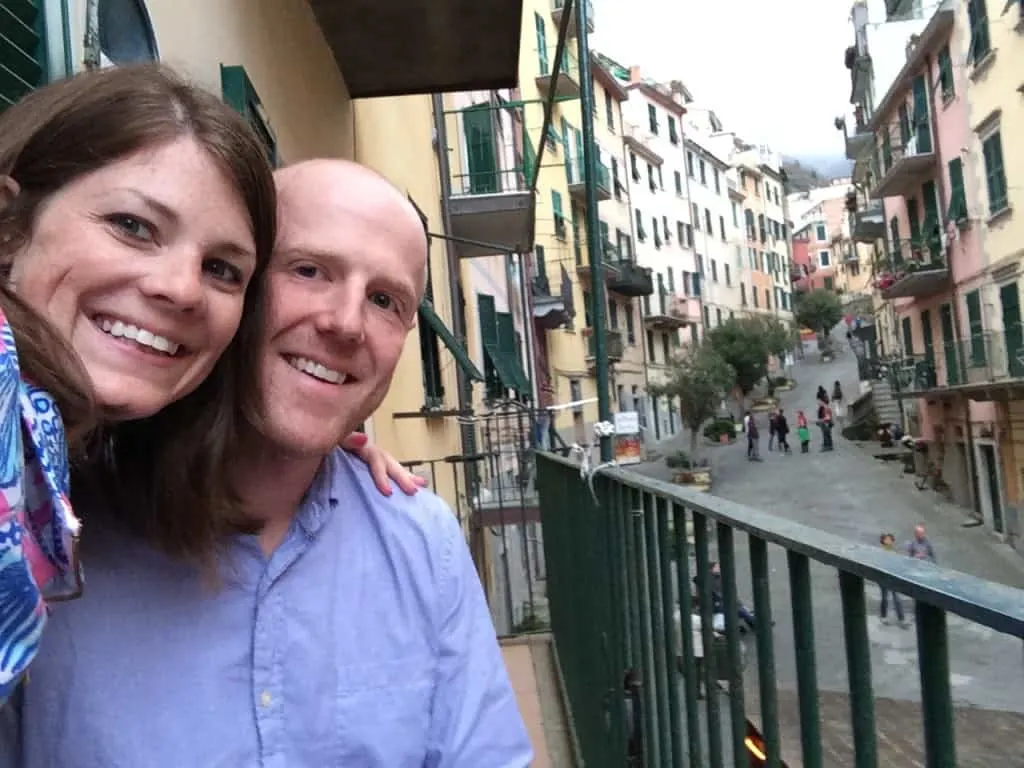 Once that was scarfed, we walked up the street a few spots and got fresh pasta to go – only 5 Euros each for delicious, fresh pasta. It wasn't as good as del Maro's was in Venice, but still yummy. I want to say – why is $5 fresh pasta fast food not a thing in the US? It's so good and easy and I really could go for it at least twice a week.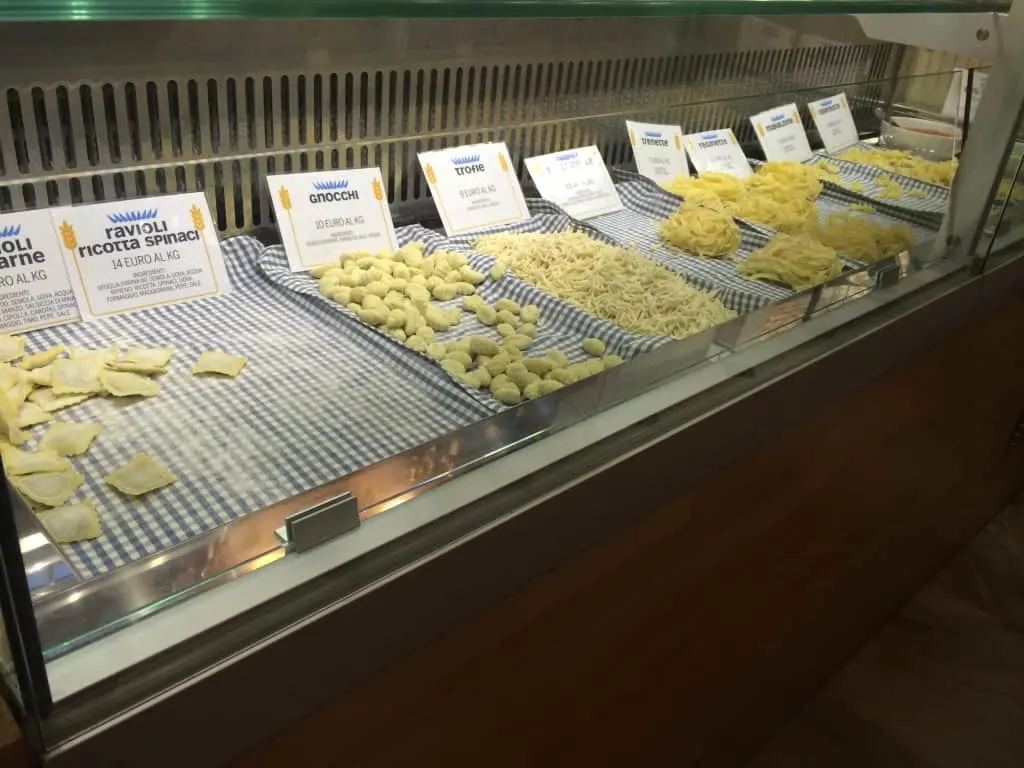 After we ate that, we walked around the town and above the town along a road and looked at the town lit up in the night.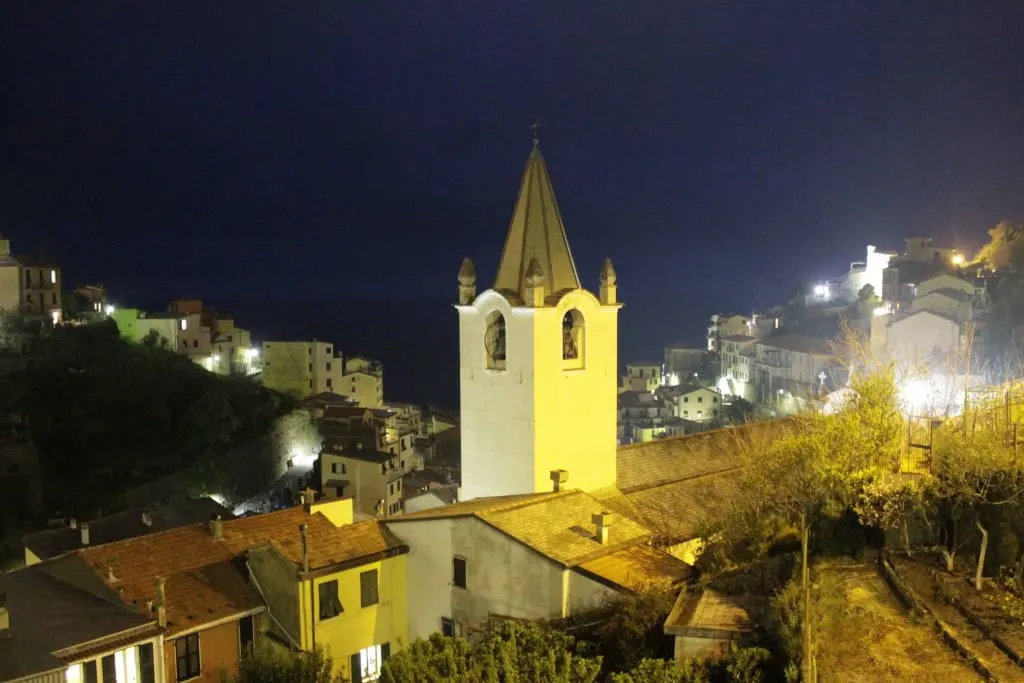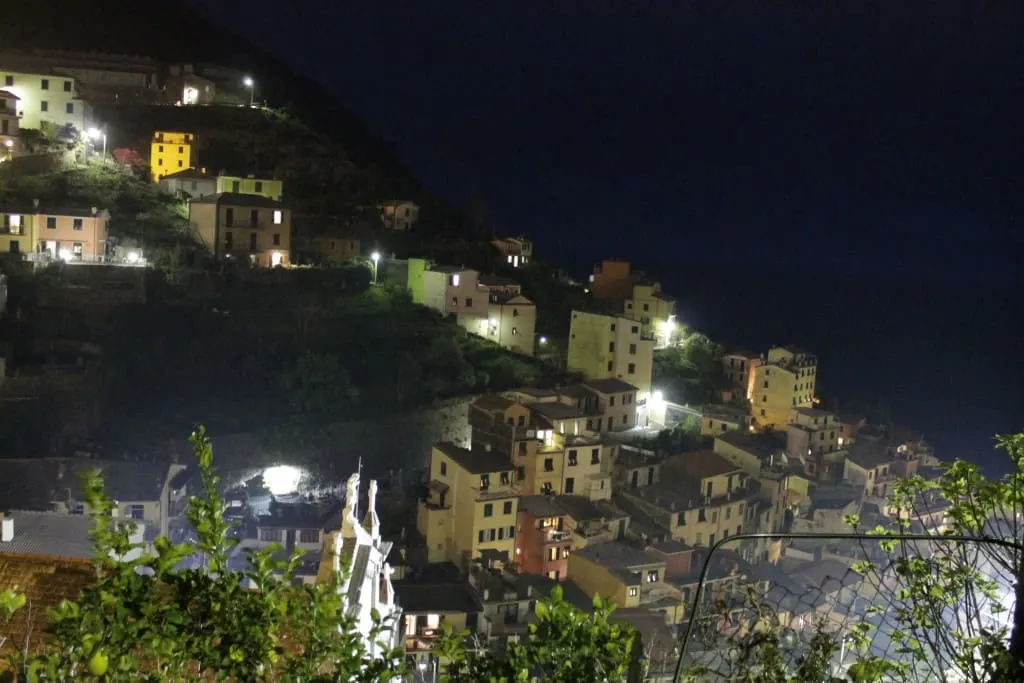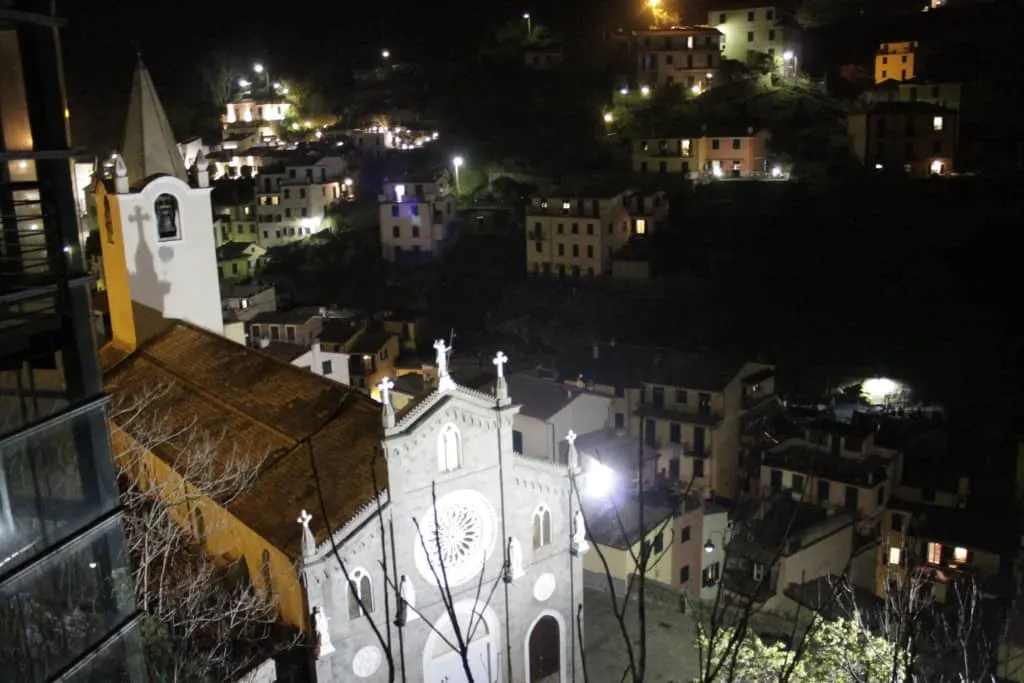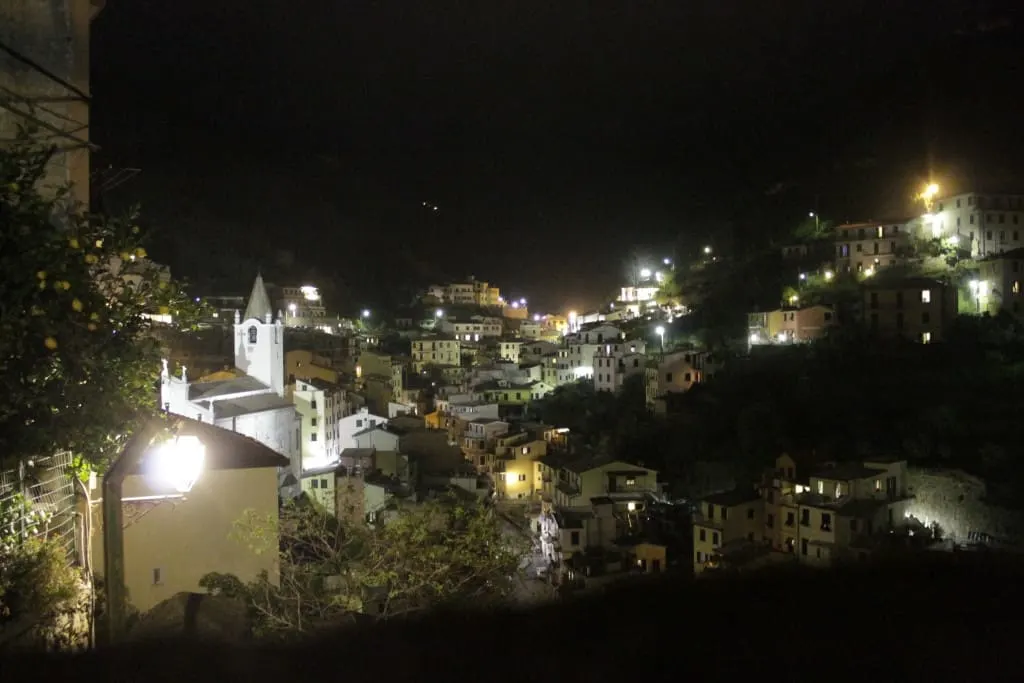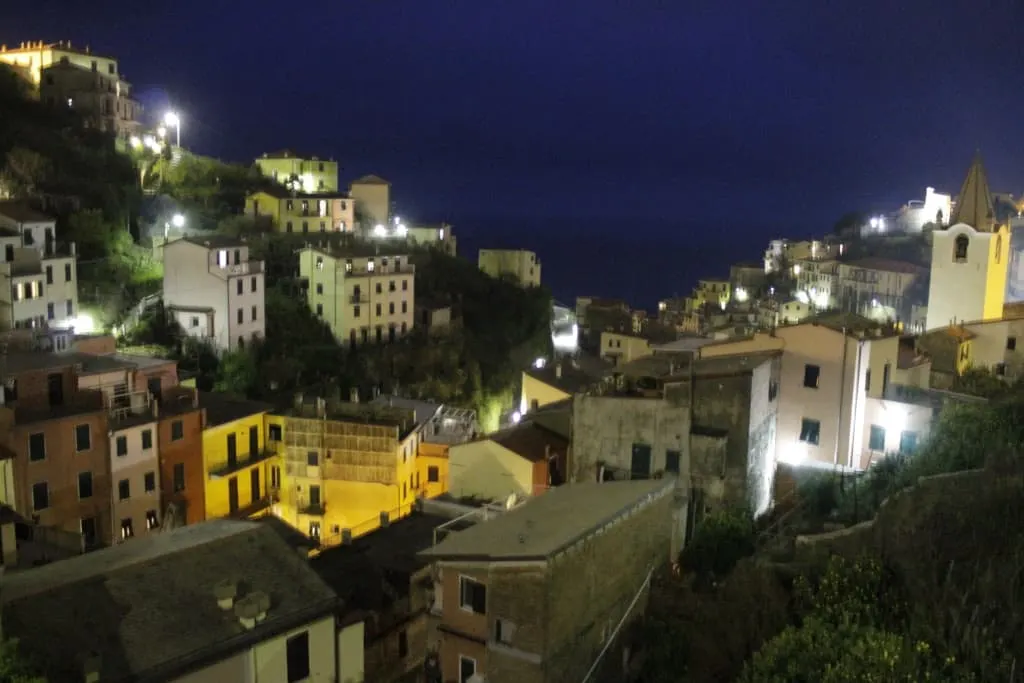 We just sat on the deck and watched the people and the stray cats and felt lucky. I know that it was our honeymoon and I did want to splash out on nice meals at restaurants, but the times when we got take out and sat on our decks were some of our favorite meals of the trip! I highly recommend it.
We went to bed early to prepare for our big hiking day the next day! We'll bring you our trip through Cinque Terre on Monday!
We woke up on our full day in Cinque Terre early and went downstairs to Bar Centrale's breakfast bar and had pastries and cappuccino for breakfast and planned our day. We had learned from our AirBnB host (who happened to work for the Italian National Park Service) that 3/4 of the Lover's Trail was closed since the landslides in 2011. She informed us though that there were still plenty of trails between all the towns… they were just much more difficult. We decided to tackle one of those trails, take the train between some others, and hike the one section of the Lover's Trail that was open.
Our town of Riomaggiore was on the end of the five, so we could work our way from end-to-end. We started the day by taking the three minute train ride to Manarola. It was a pretty small town and didn't have much to see, but it was still beautiful. It was one of the two towns that we had read before our trip that didn't have much to do and wasn't a huge destination for tourists to stay. But from here we started a two and a half hour hike through the mountains above Cinque Terre between Manarola and Corniglia.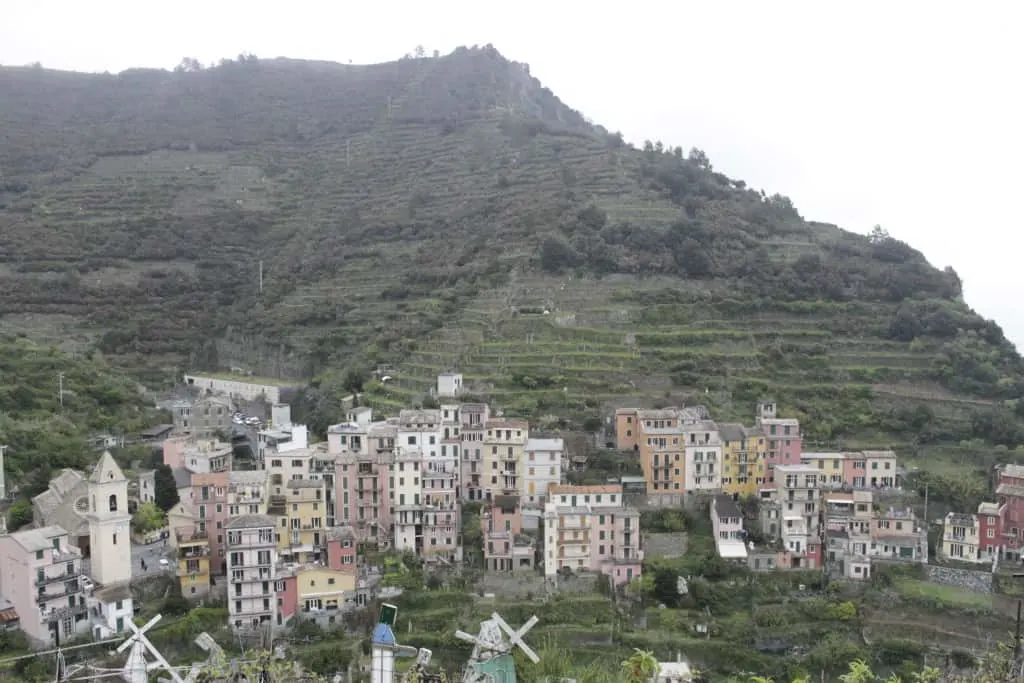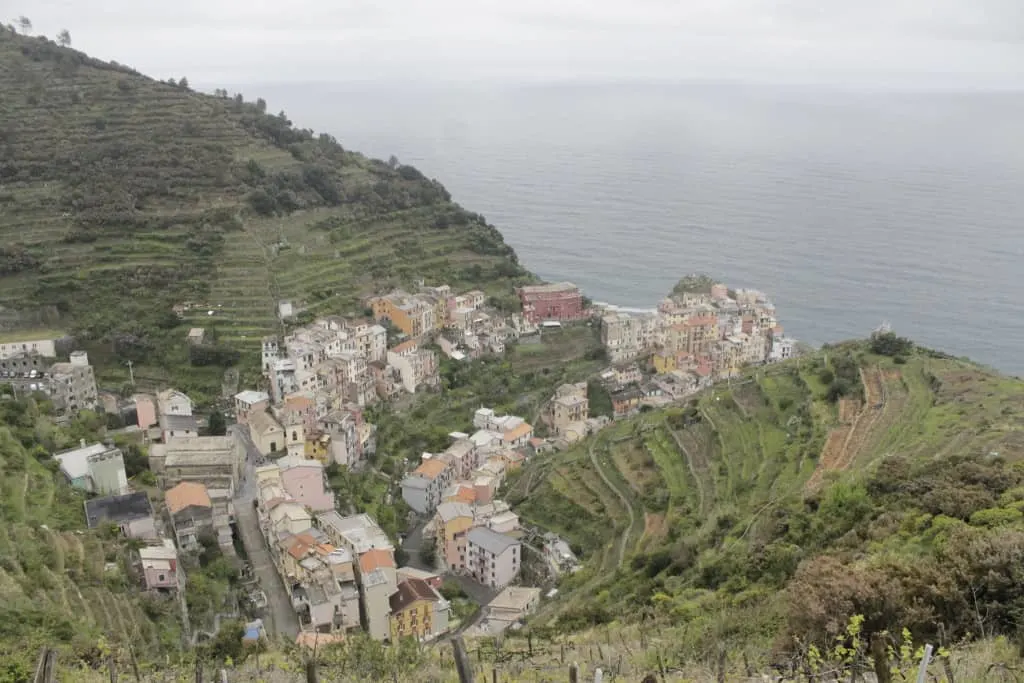 The beginning of the trail was straight up a hill. Like, really straight up.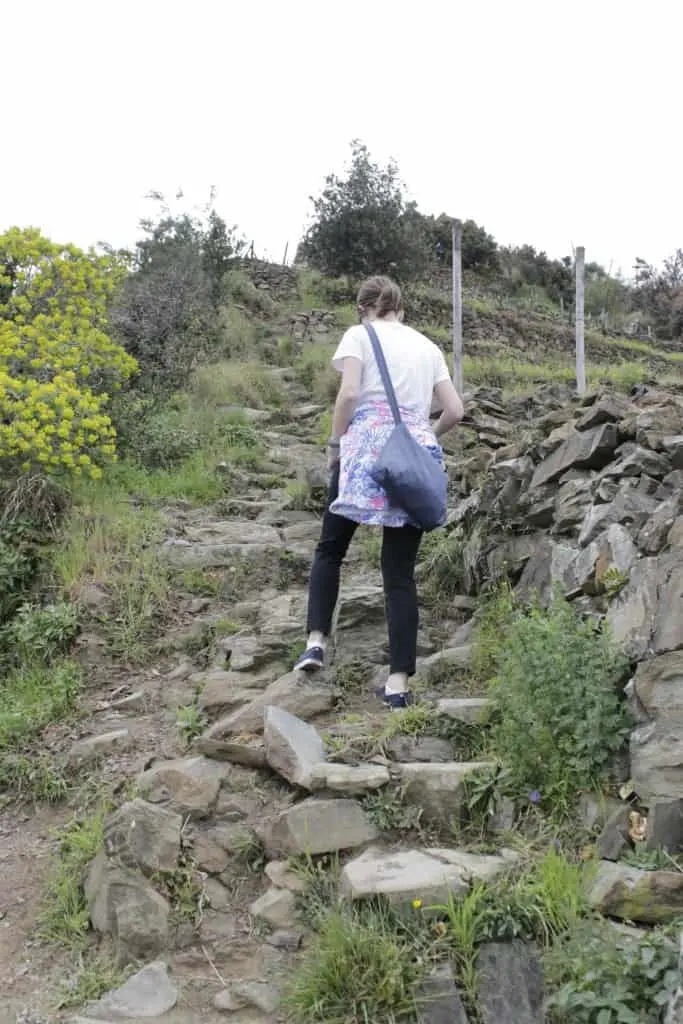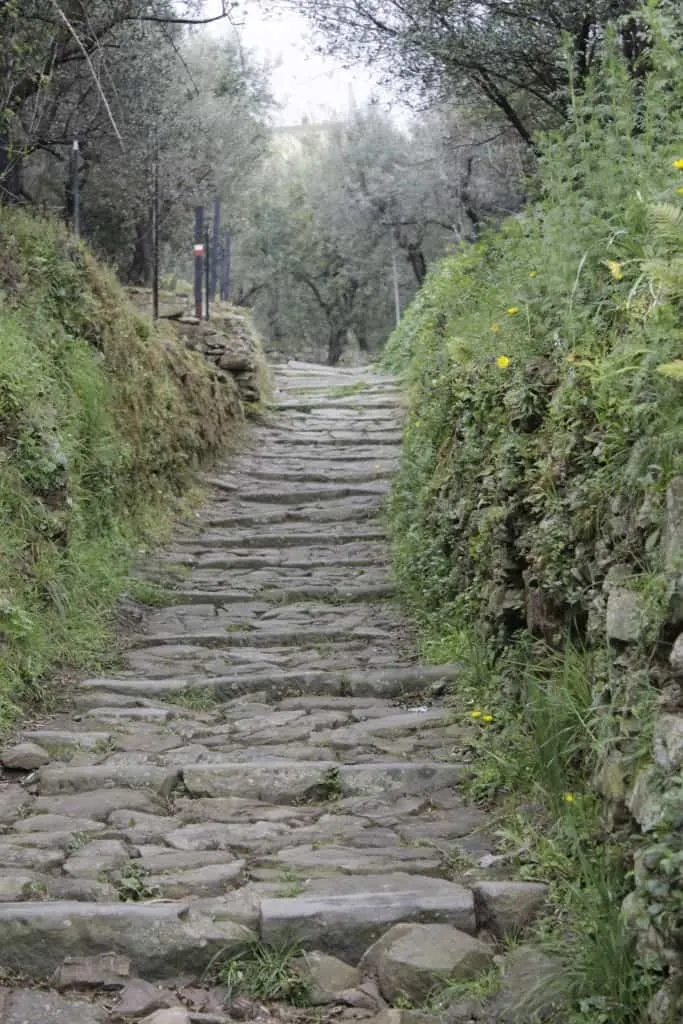 We went through olive farms and had extraordinary views looking back at Manarola and looking over a cove to our destination of Corniglia.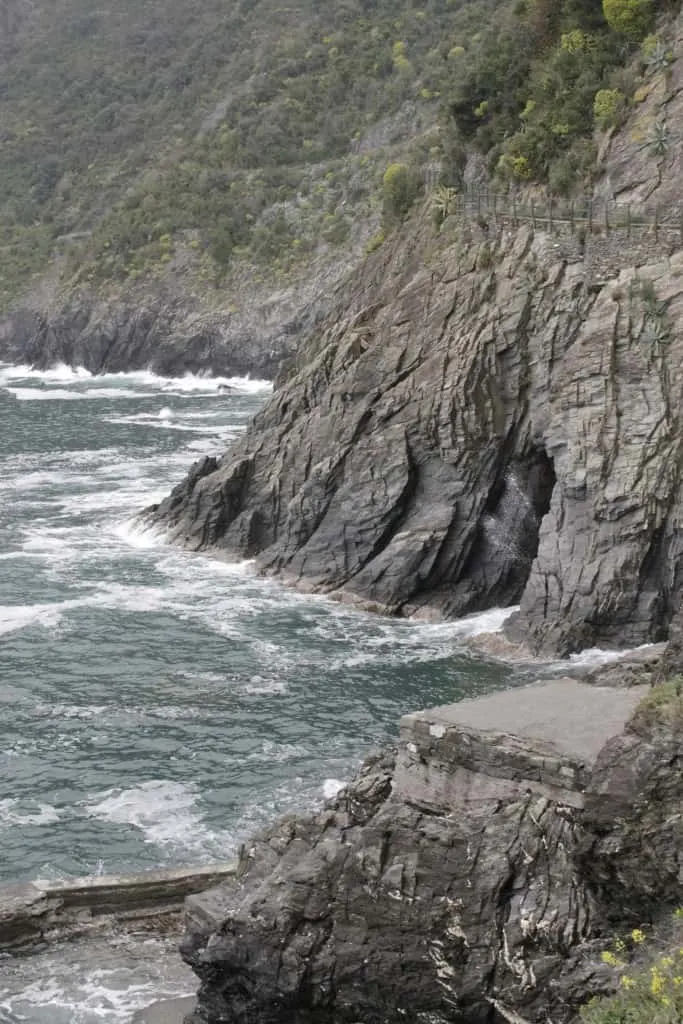 The hike went up for a long time before finally leveling out. We were walking straight into a cloud the entire time and pretty soon we couldn't see the water anymore.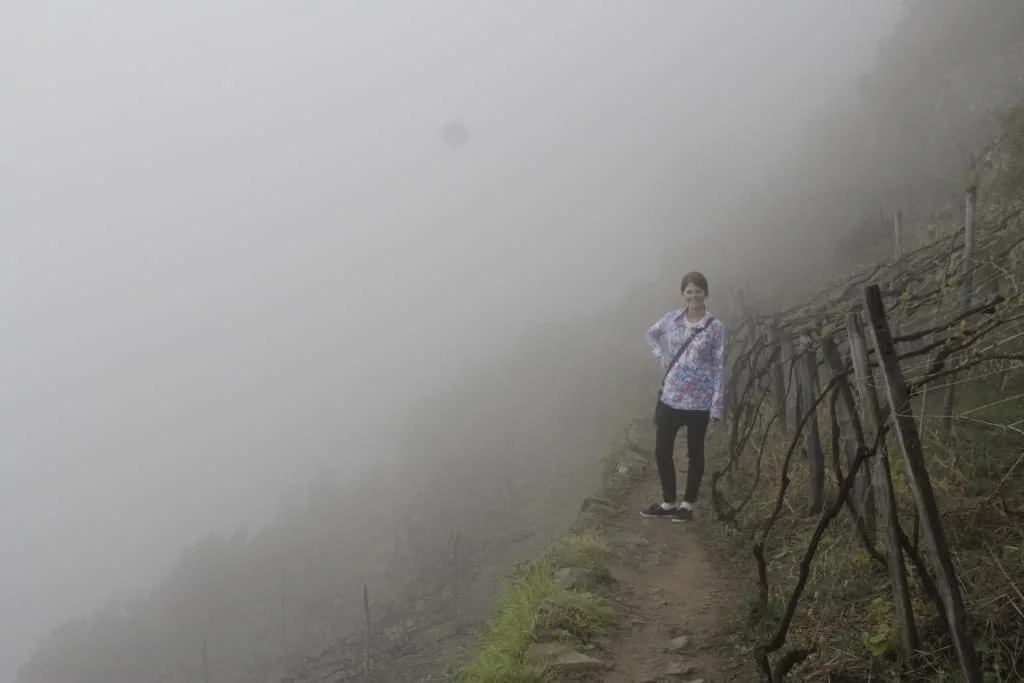 We walked through more farms and fields and thought about how weird it is that people actually live and work in these hills. We have no idea how they even access their homes. Do they have to do these hikes every day??? Anyways, the hike was great over the hills and through the woods. The further we walked into the hills, the more it started to mist and finally started raining pretty good. Luckily, it didn't last too long though because we had curved back around and started hiking back toward the coast and Corniglia. We figured out that in the two days we were here, it seemed like there were always dark clouds in the hills but it was clear on the coast. The last hour of the hike ended up being pretty slippery because it was downhill and wet, so we had to be very careful. We were happy to see the town of Corniglia!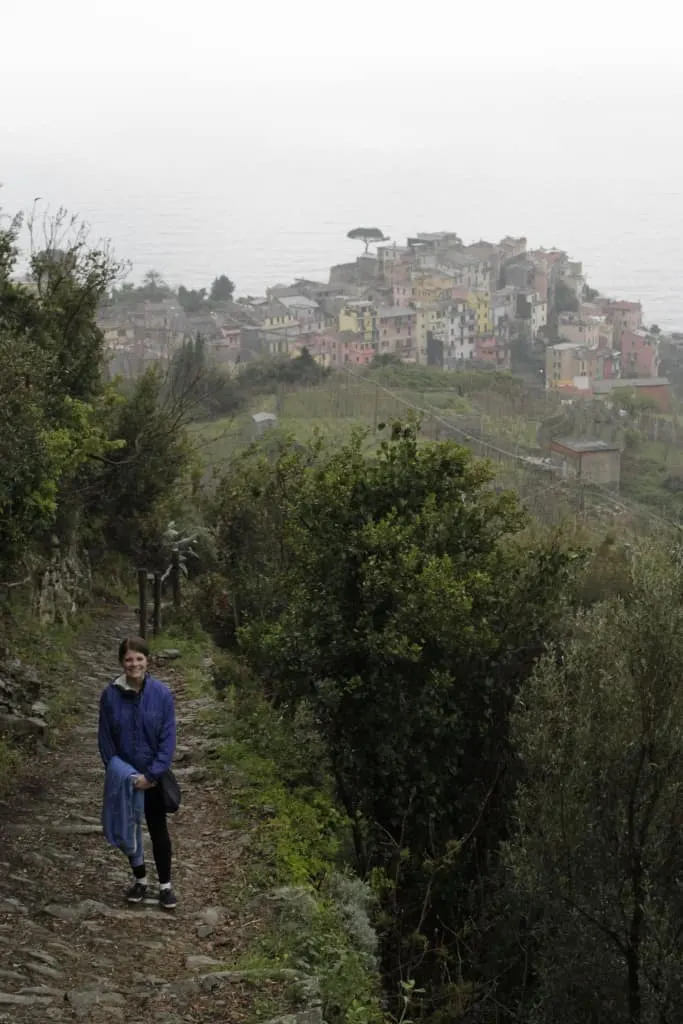 Corniglia is the smallest of the five towns of Cinque Terre and is also the only one that is not on the coast. It is positioned on the top of a cliff, so a little different from the other four.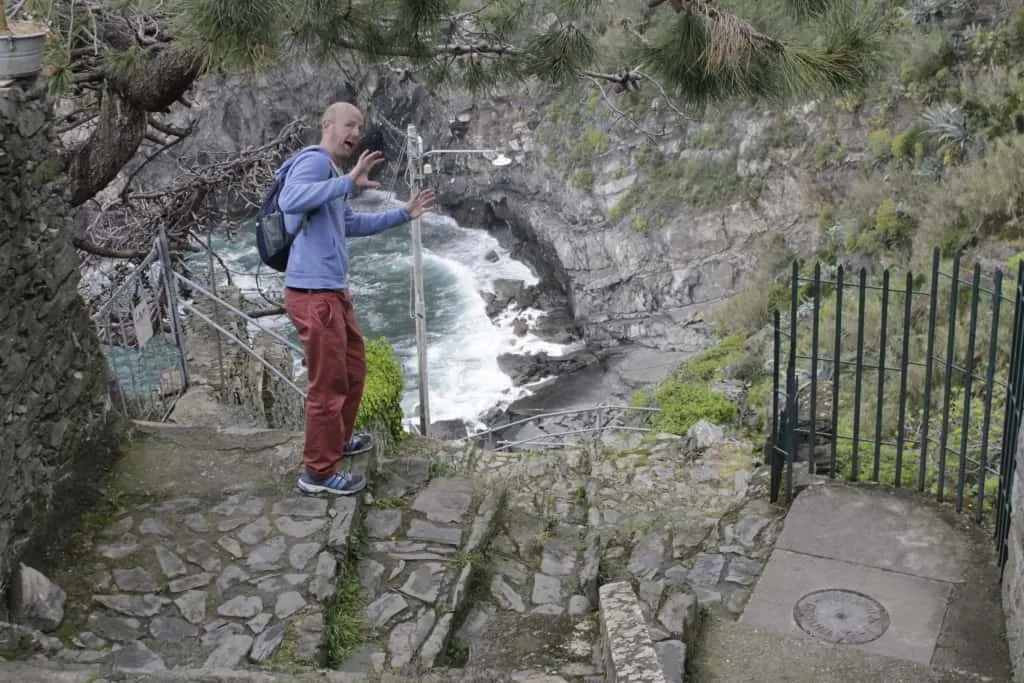 We ate lunch at a place looking at the water called Food and Sea bi Daniello Elisa. When we walked up, we greeted the server with a friendly "bongiorno!" but I think she thought we said "bonjour!" aka- French. Soooo, she brought us a menu in French. It was pretty funny. We both took French in high school and college, so we were able to translate the menu pretty well.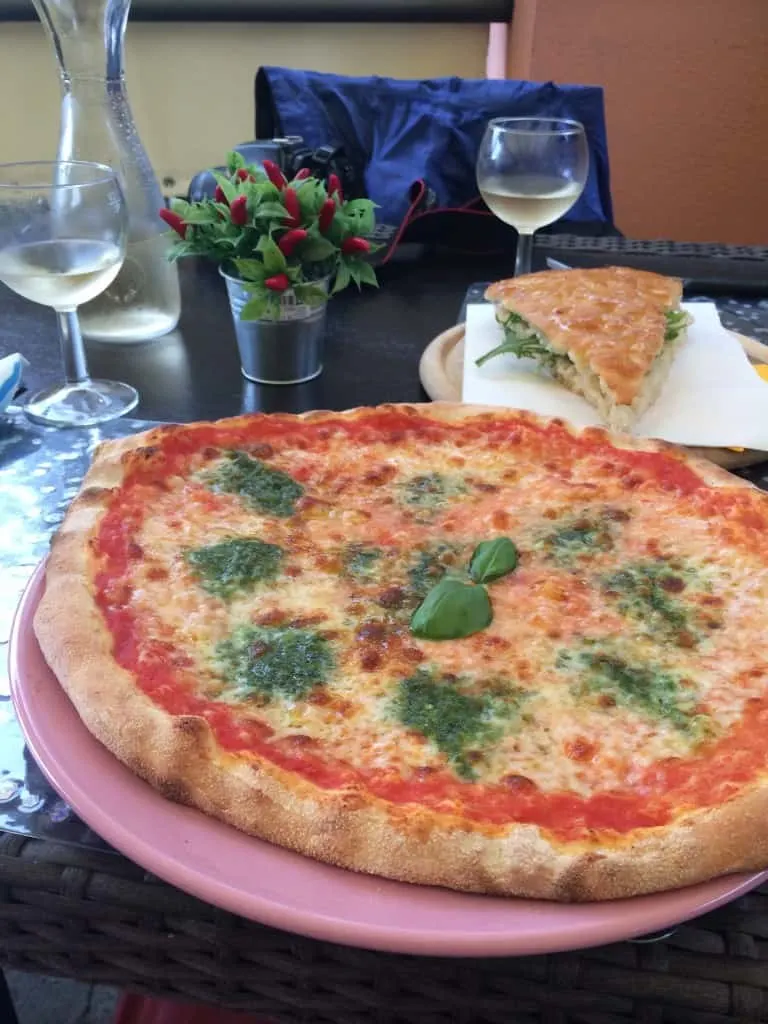 After a delicious lunch of some vino bianco della casa, pesto pizza, and foccacia with rocket and soft cheese, we walked down about 1,000 stairs to the train station and took the ride to Monterrosso, the resort town on the end of the Cinque Terre strip.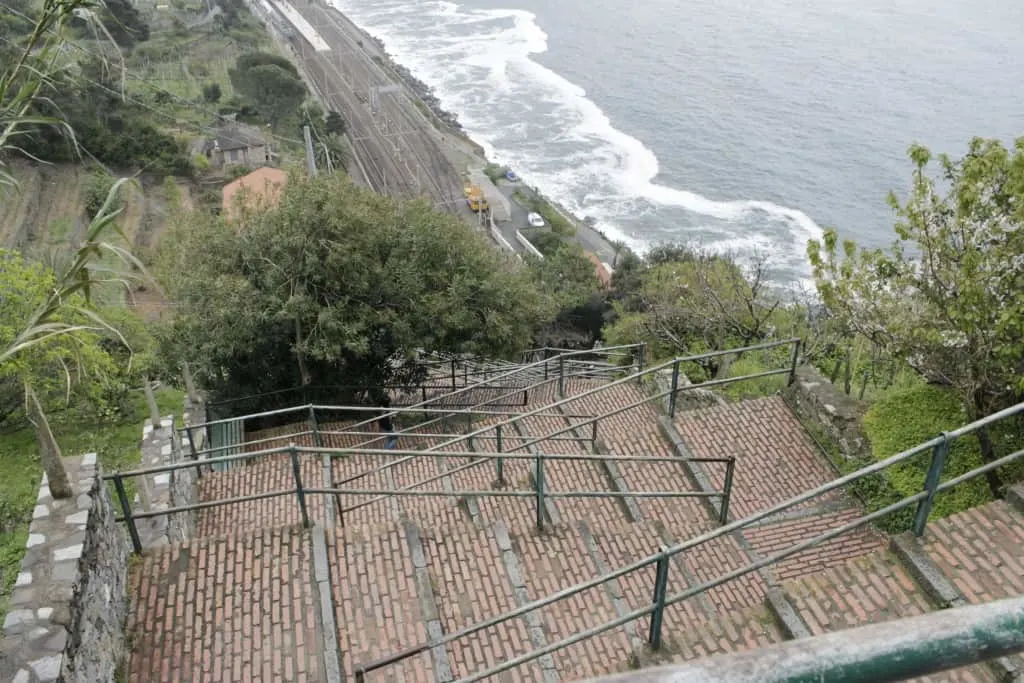 Monterrosso was filled with college students and would have been a great place to party. Seemed like a favorite destination for college kids studying abroad. One place even offered the "Drunk Ass Bucket." Seemed like a cool place if you wanted to be at a resort relaxing and be able to spend a little time in the calmer part of the town as well.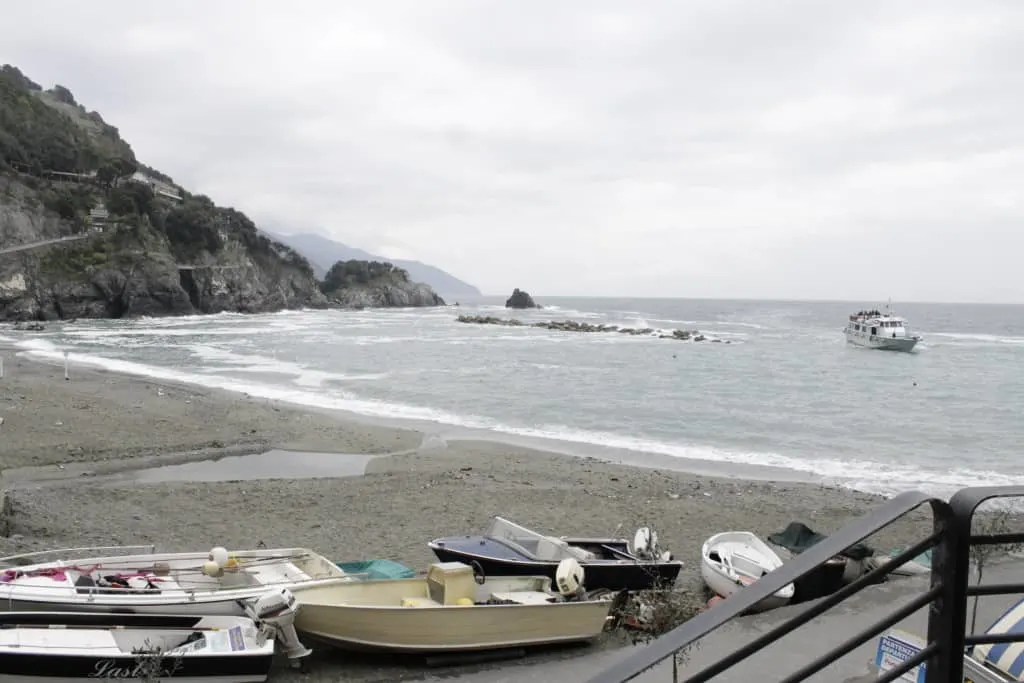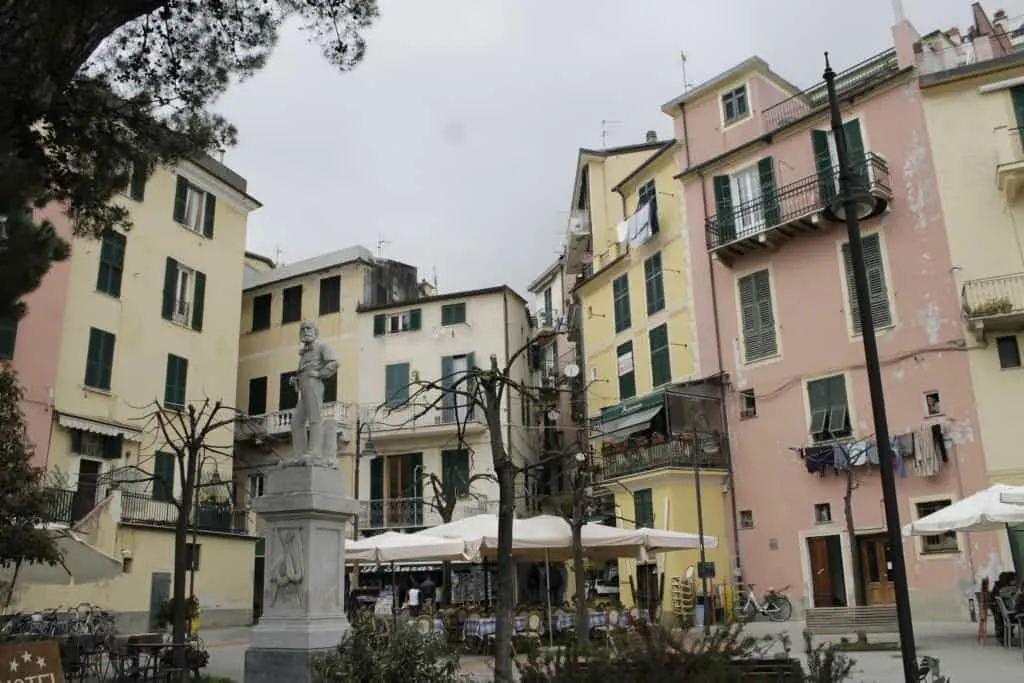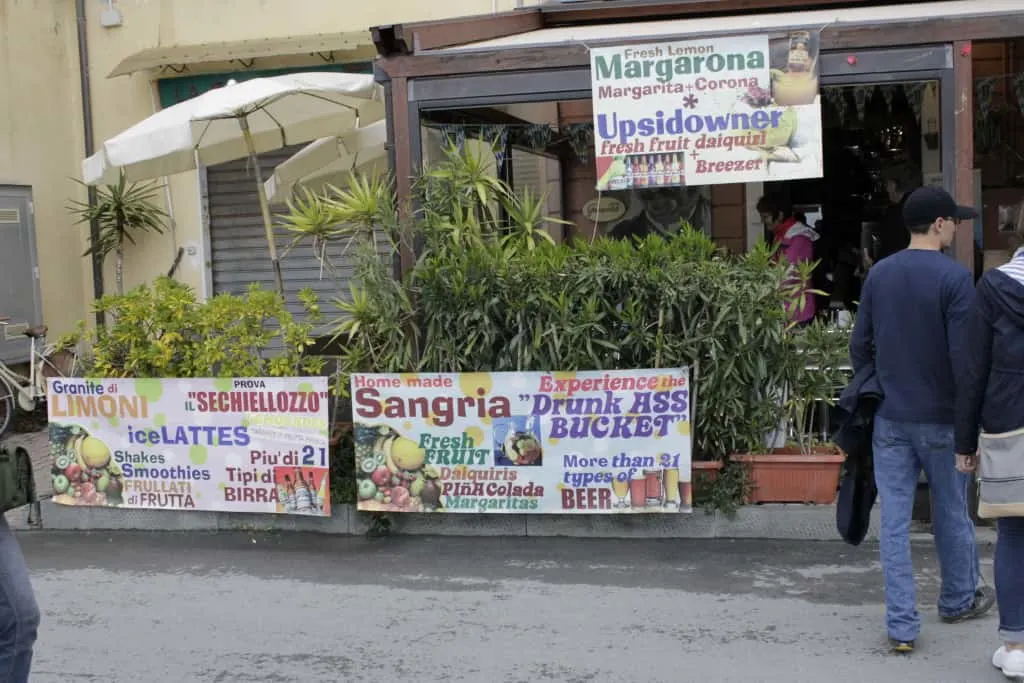 The stretch of the Lover's Trail that was open was the stretch between Monterrosso and the town next to it, Vernazza. We began hiking up the trail and then saw a National Park Service stand on the trail a couple hundred yards in charging 7.50 Euro per person to do the hike. This was one of the activities that we had been looking forward to a lot, but it was annoying that they charged you to hike the trail when 3/4 of it were closed. Oh well, we can only hope that they put that money toward fixing up the trail, but we heard that they've basically done nothing to fix it since the land slides.
The hike started out going uphill again, but we kept looking back at the beautiful views of Monterrosso. The hike was very scenic with all the coastal views. There were also TONS of lemon tree farms on this trail, but all the fresh lemons were out of reach.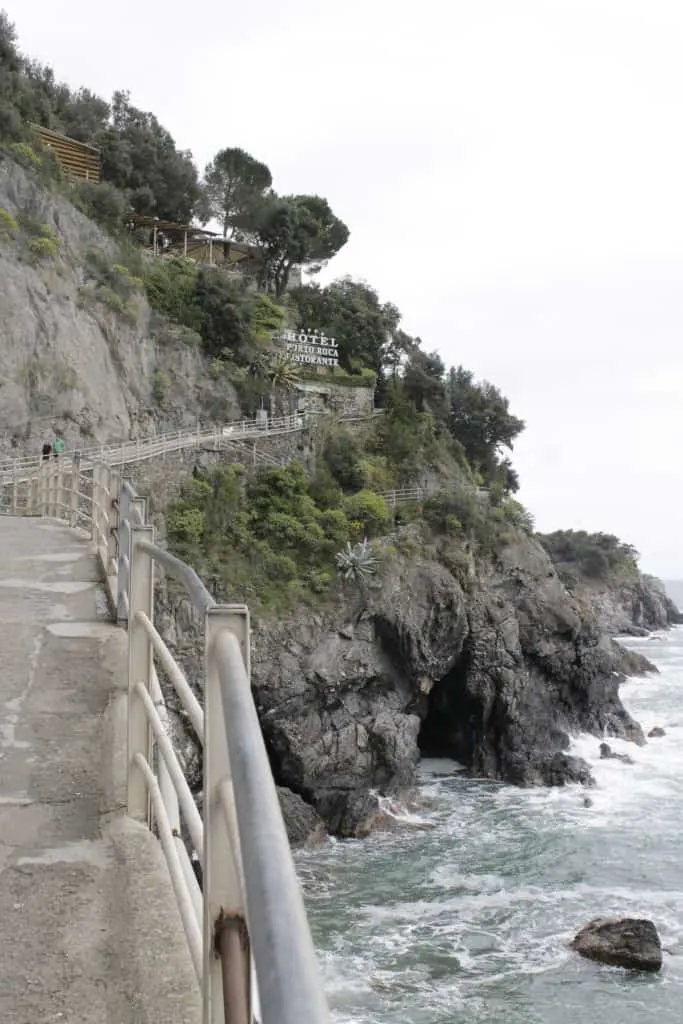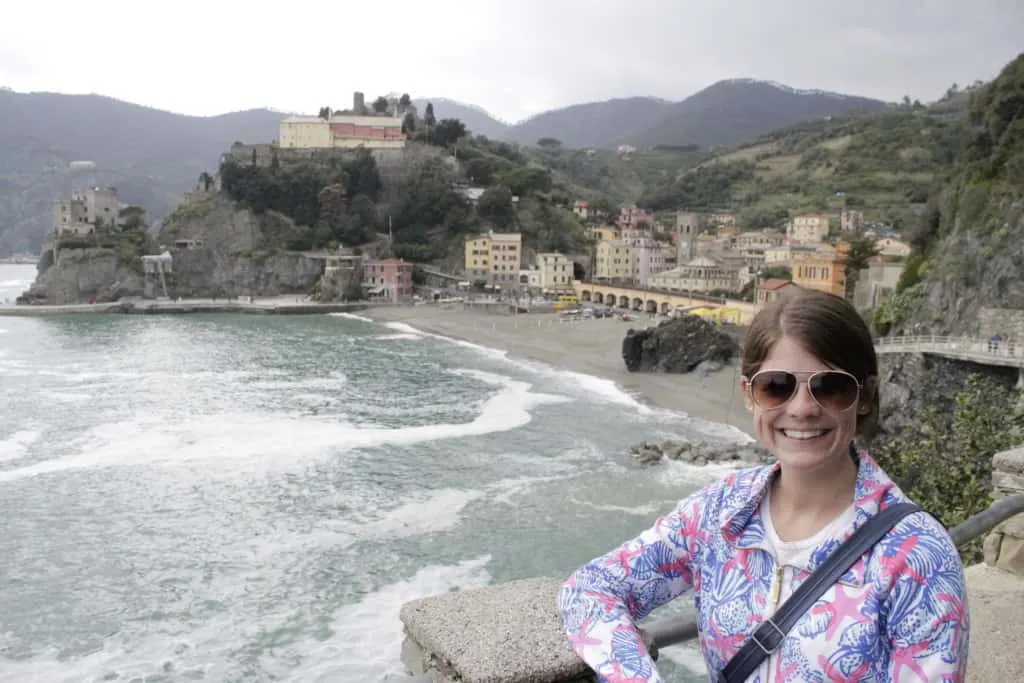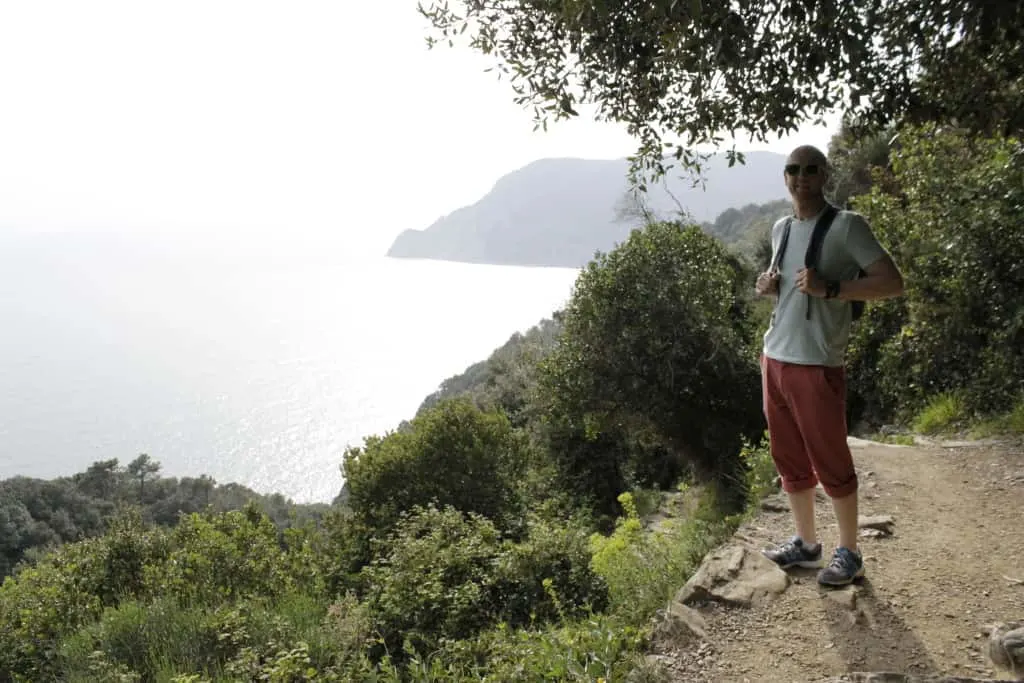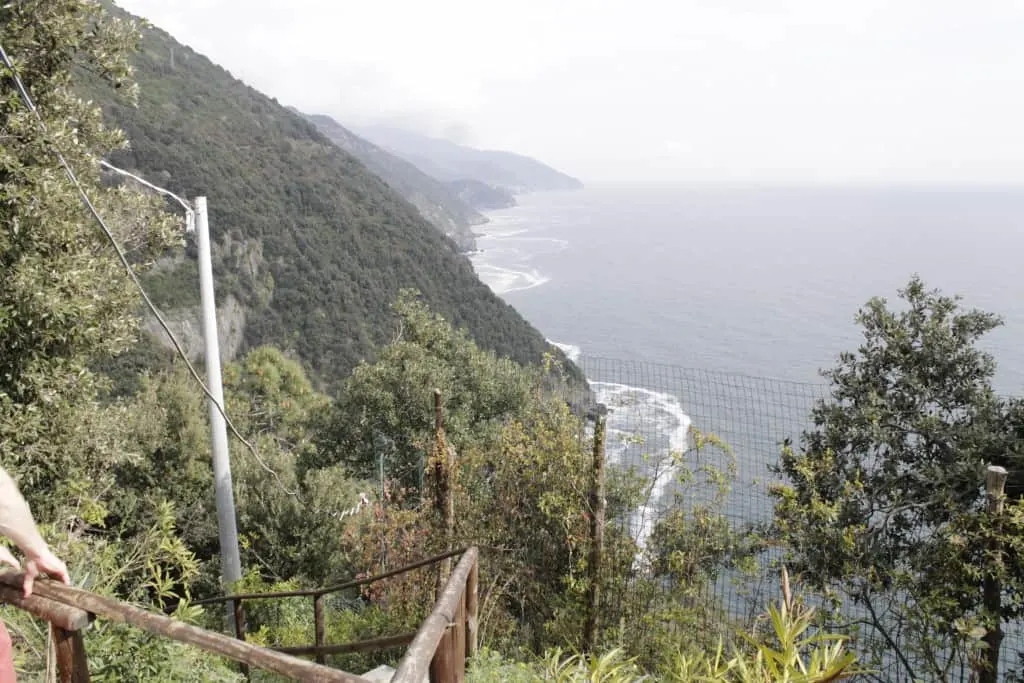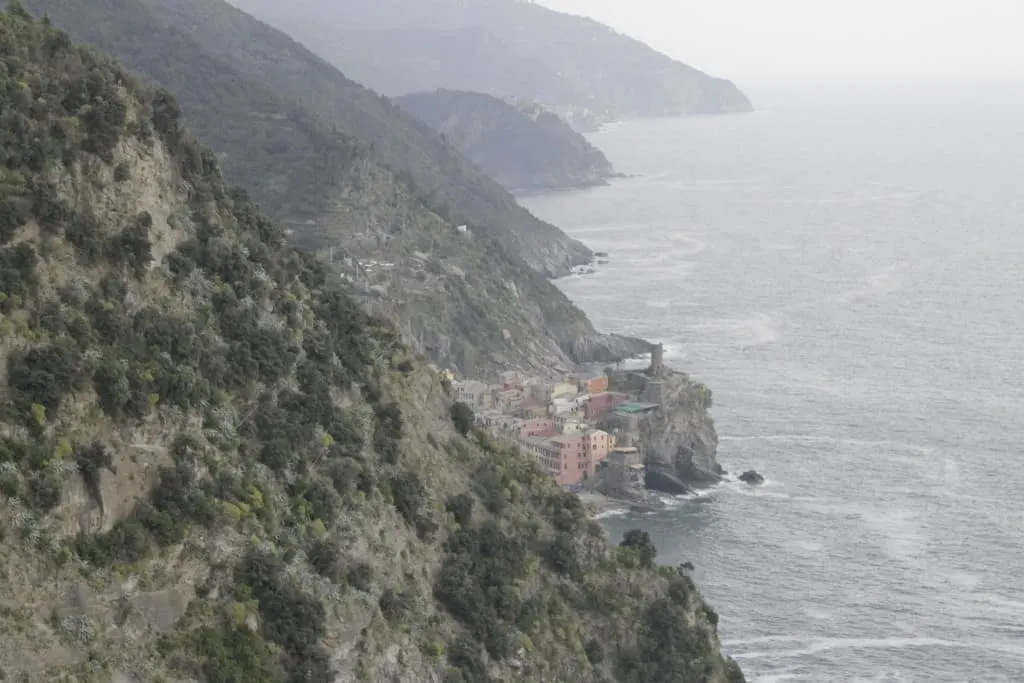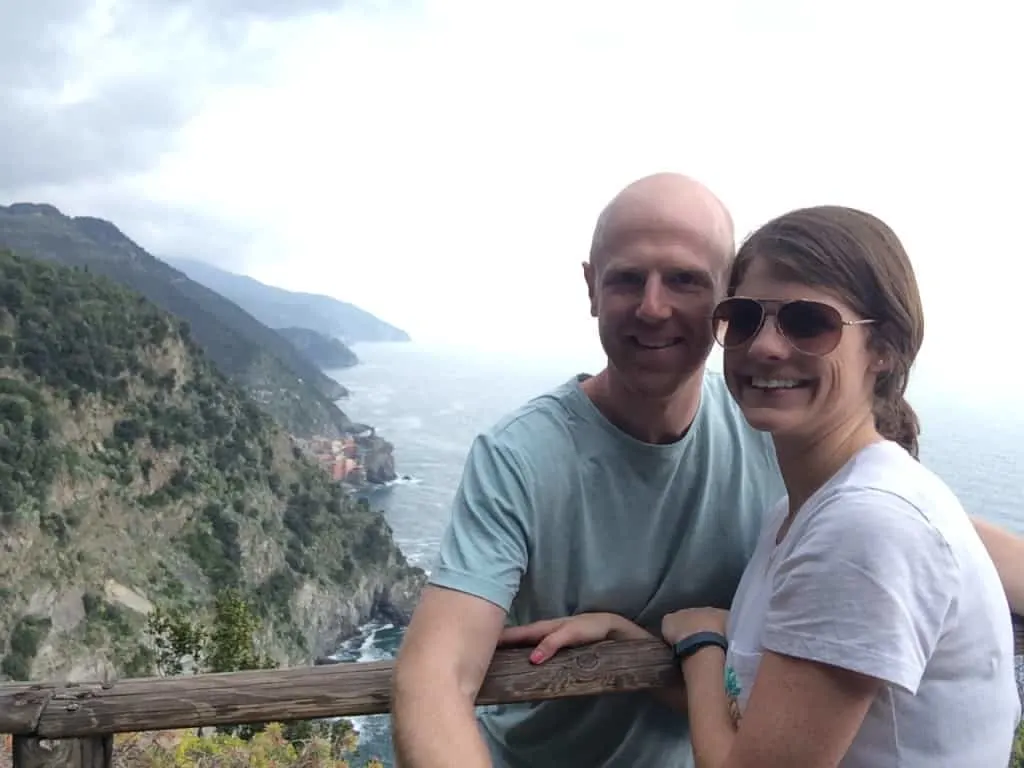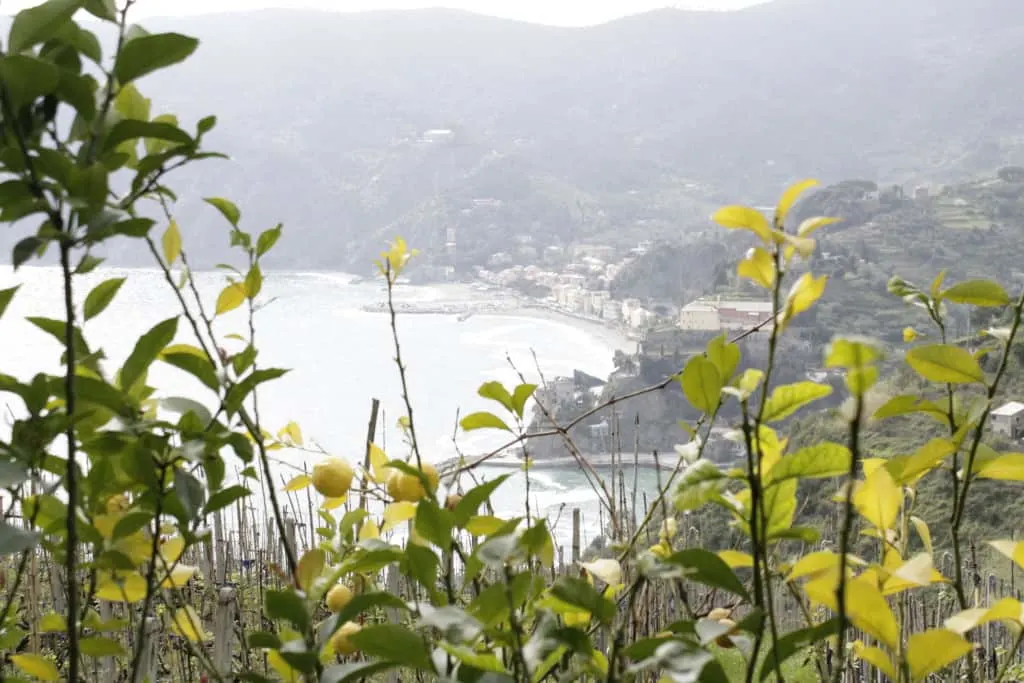 We passed a lot of Americans on this trail, probably vacationing in Monterrosso, but the most interesting part of this trail was near the end. It was, and this is no joke, a homeless and unloved mountain cat village. Say what? Someone had put up fences and cat houses with food buckets and pictures for the unloved mountain cats. It was kind of sad to look into the houses and see kitty cats asleep, but they obviously are loved if someone set up the village.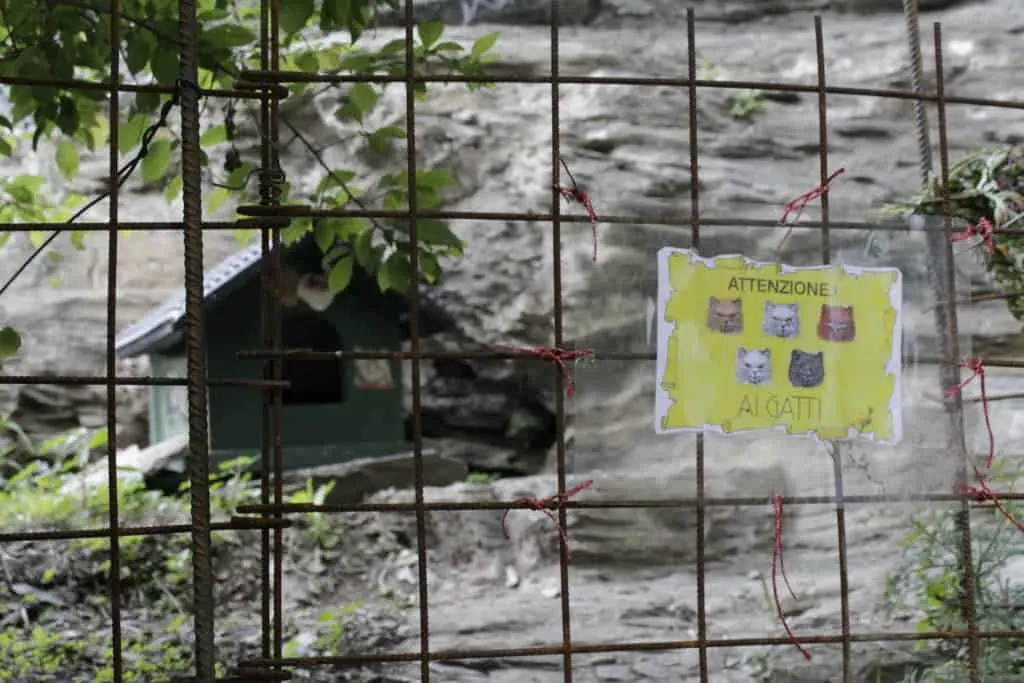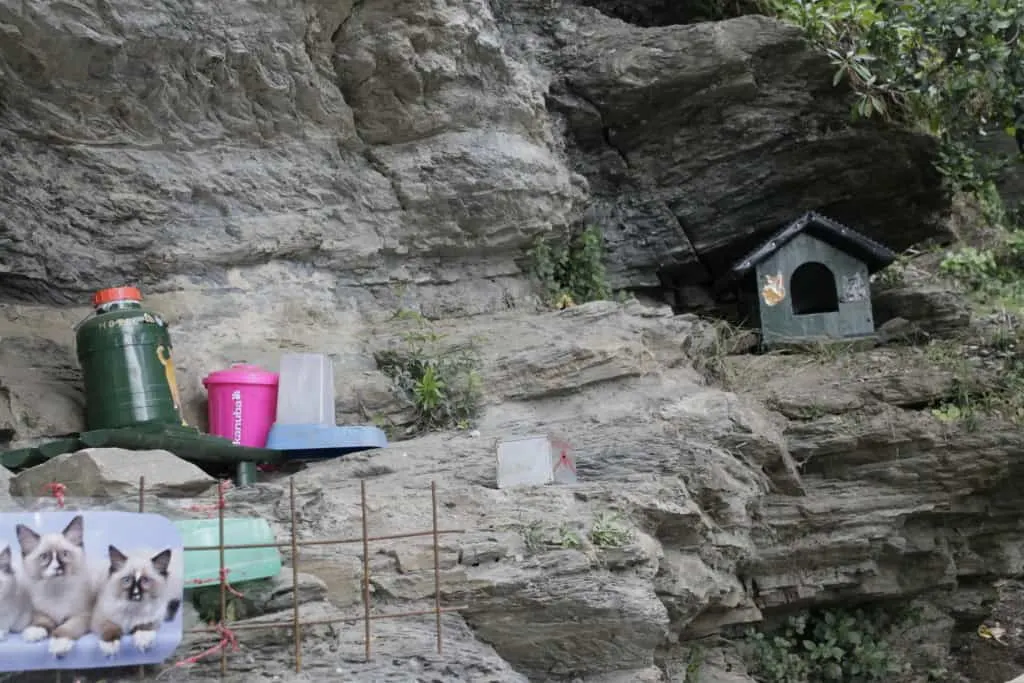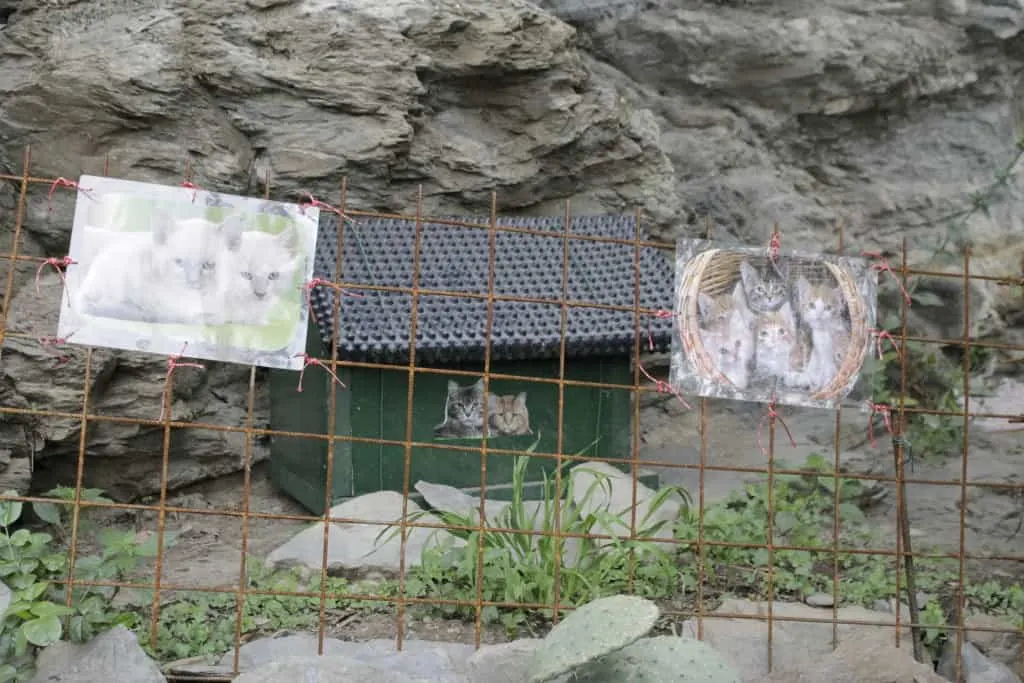 We put 50 Euro cents in the collection box to help them out and headed down the hill to Vernazza.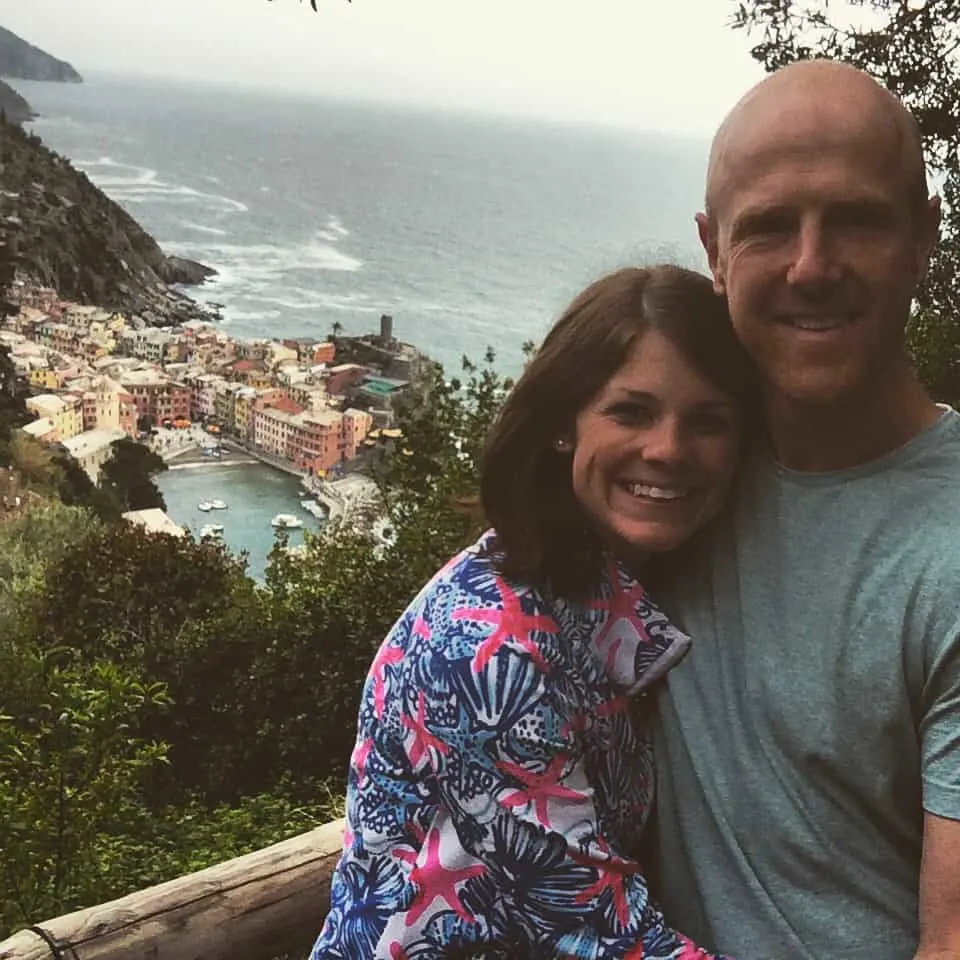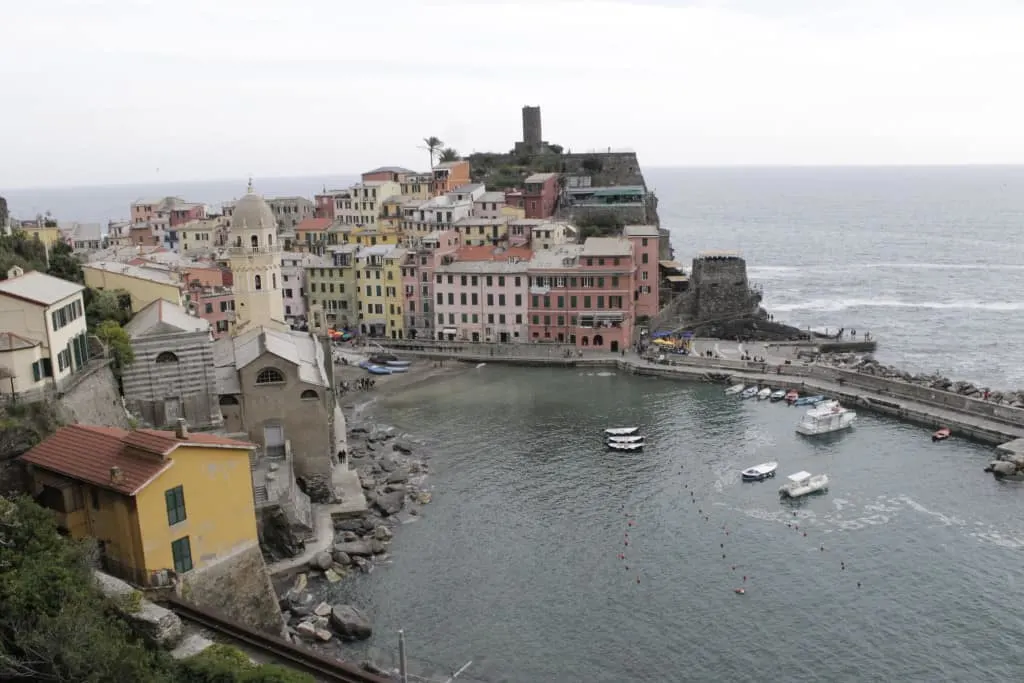 We had originally debated staying in Vernazza when we were booking our stays because it's very beautiful and has lots to do. It's pretty touristy, but has some gorgeous views at the marina. There's also a beach that you access by going through a hole in the rocks. Yep.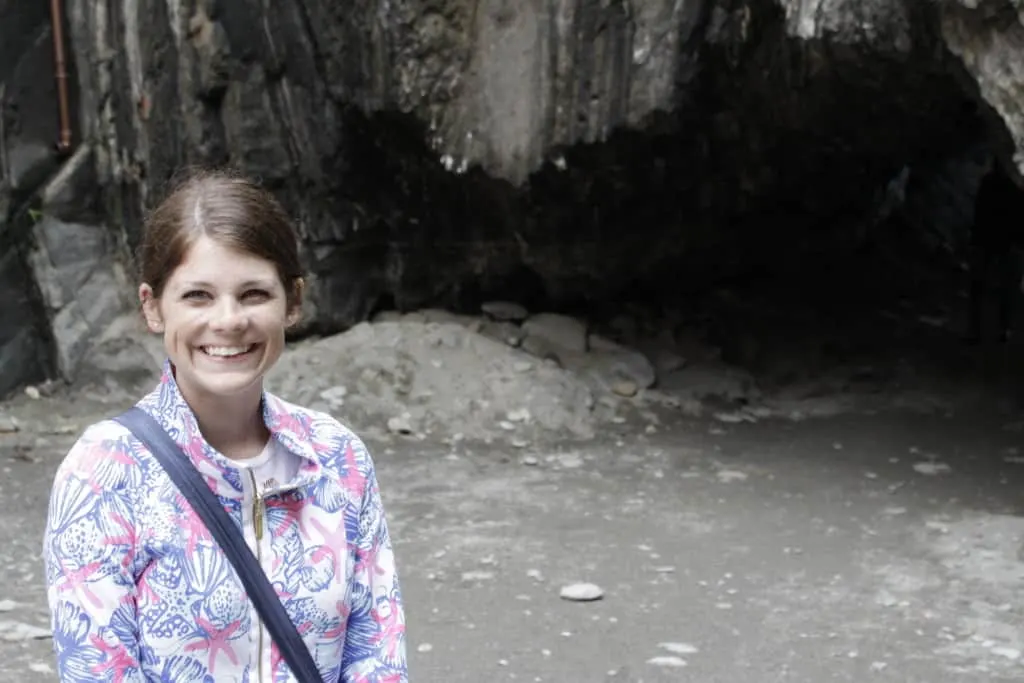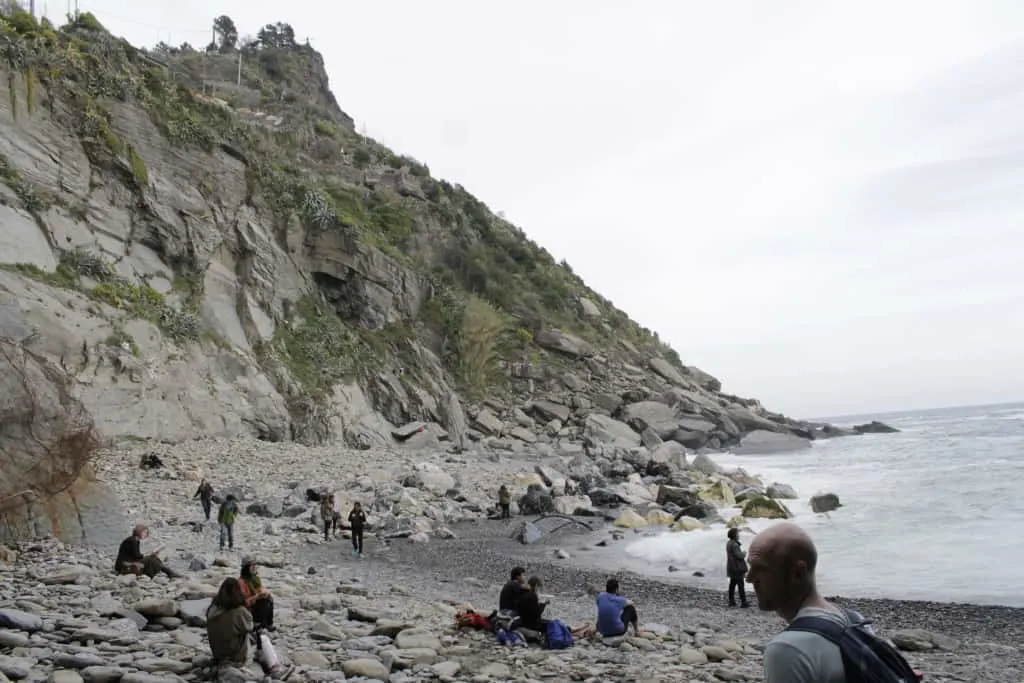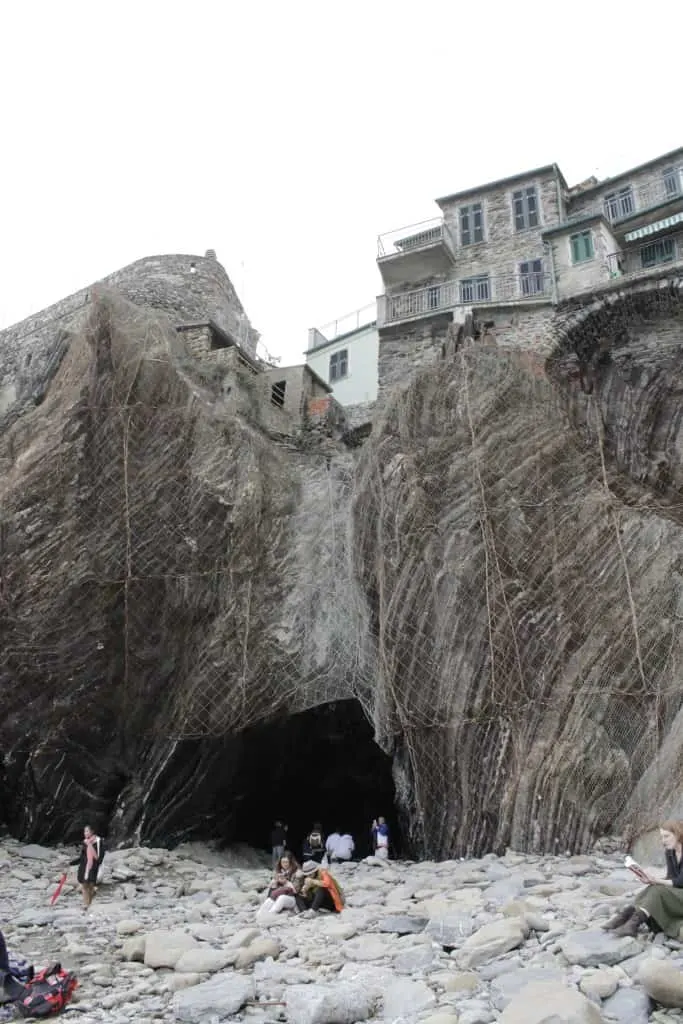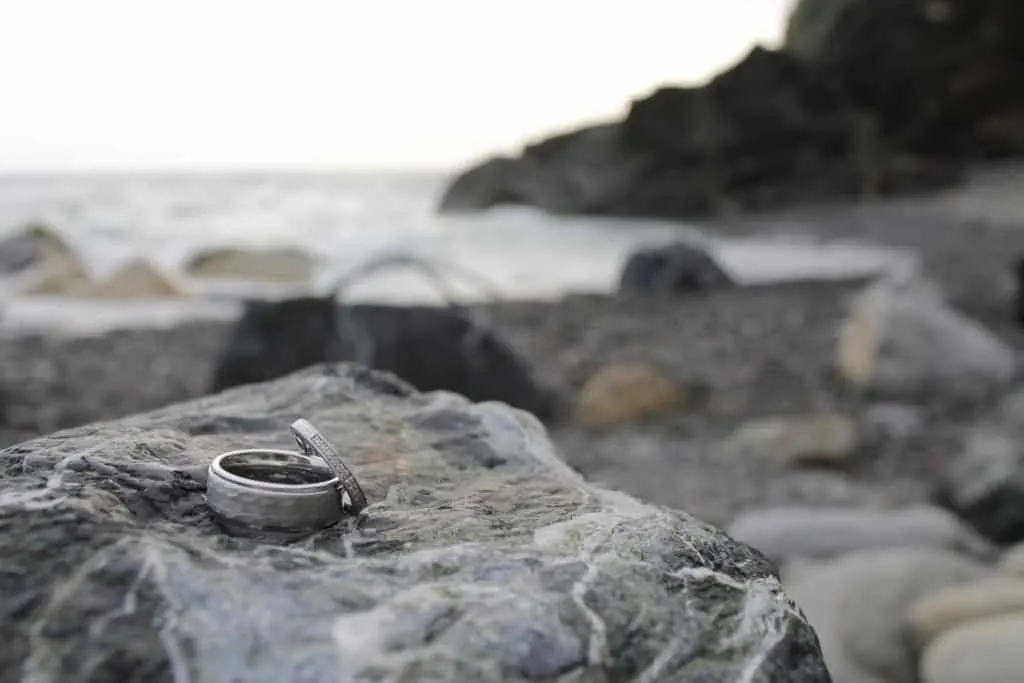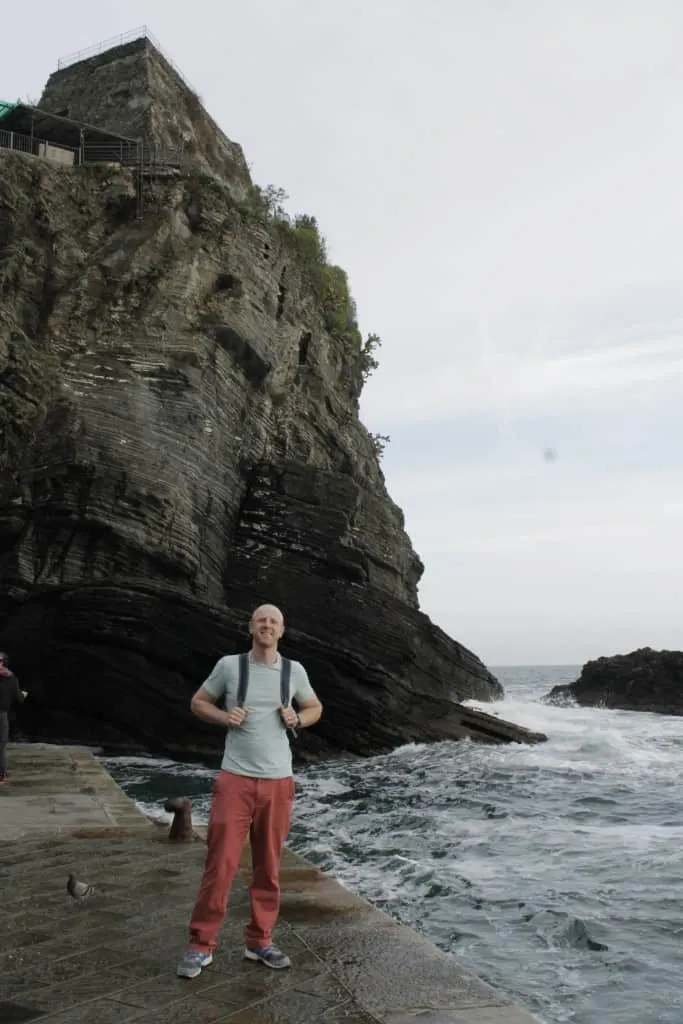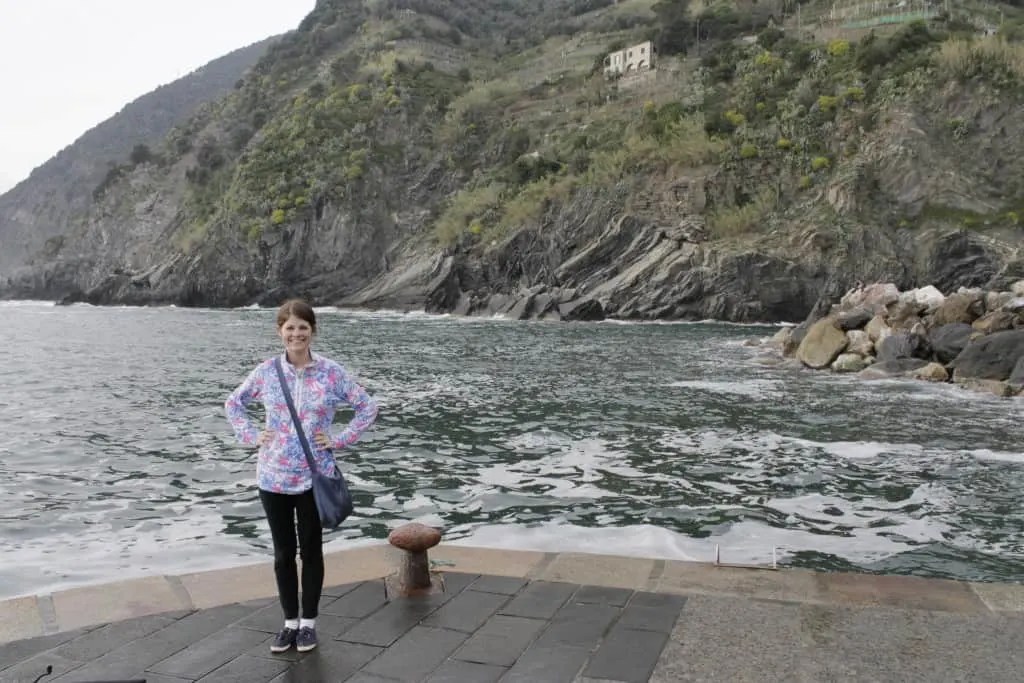 We ate dinner at Baia Seracena on the water. Waves crashed around us and we wanted a sunset pretty comparable to the one we saw over the mountains in Lake Como. We ordered another liter of wine, plus pesto lasagna and a salami/mozzarella/tomato panini.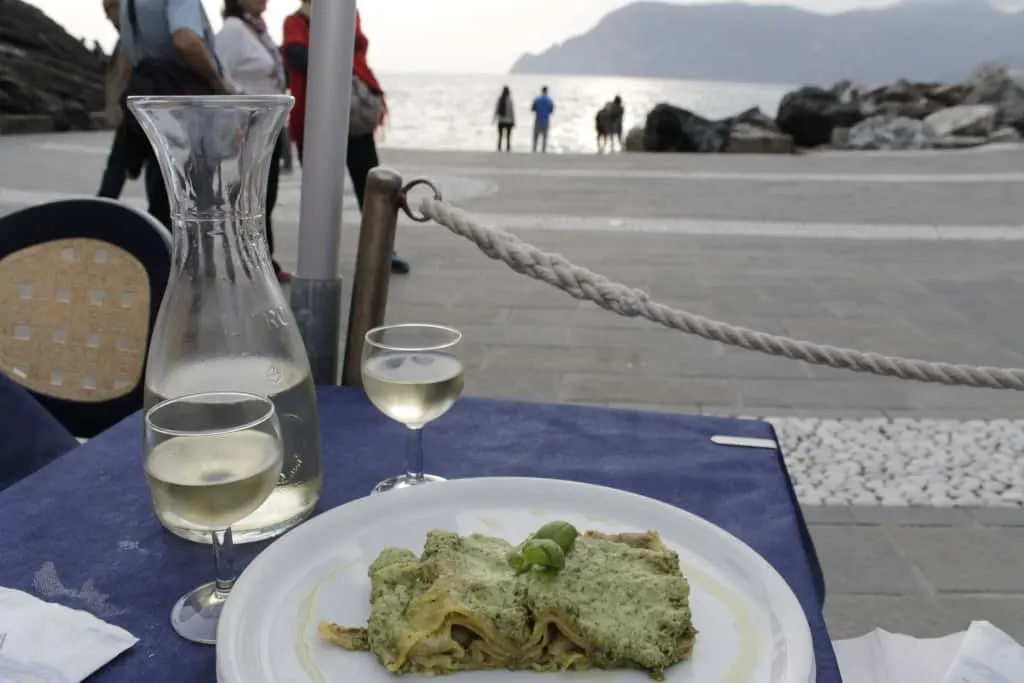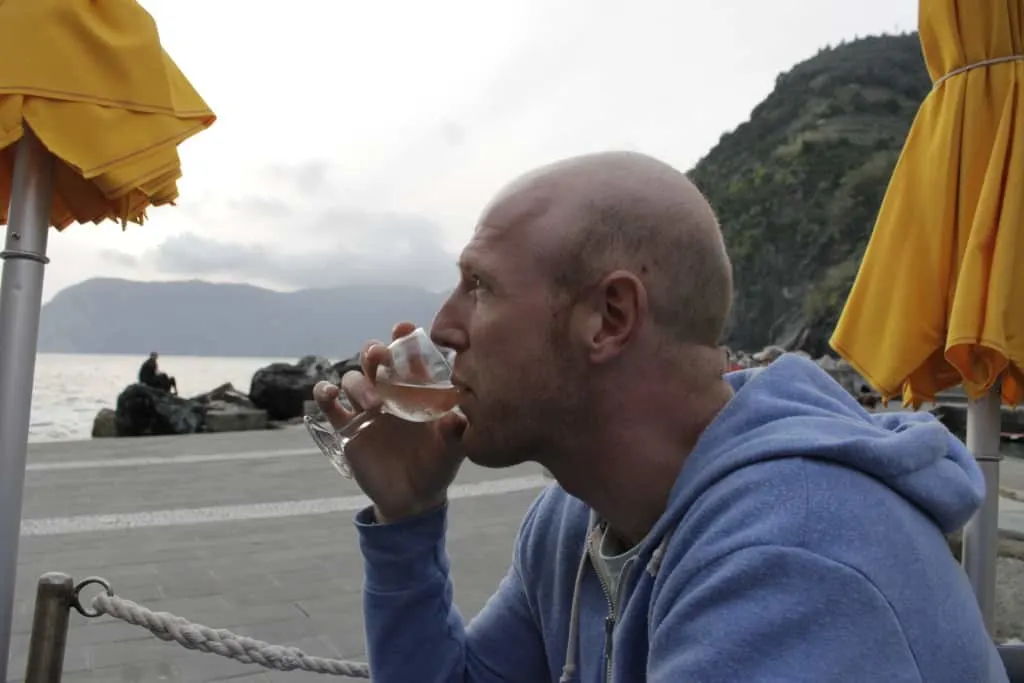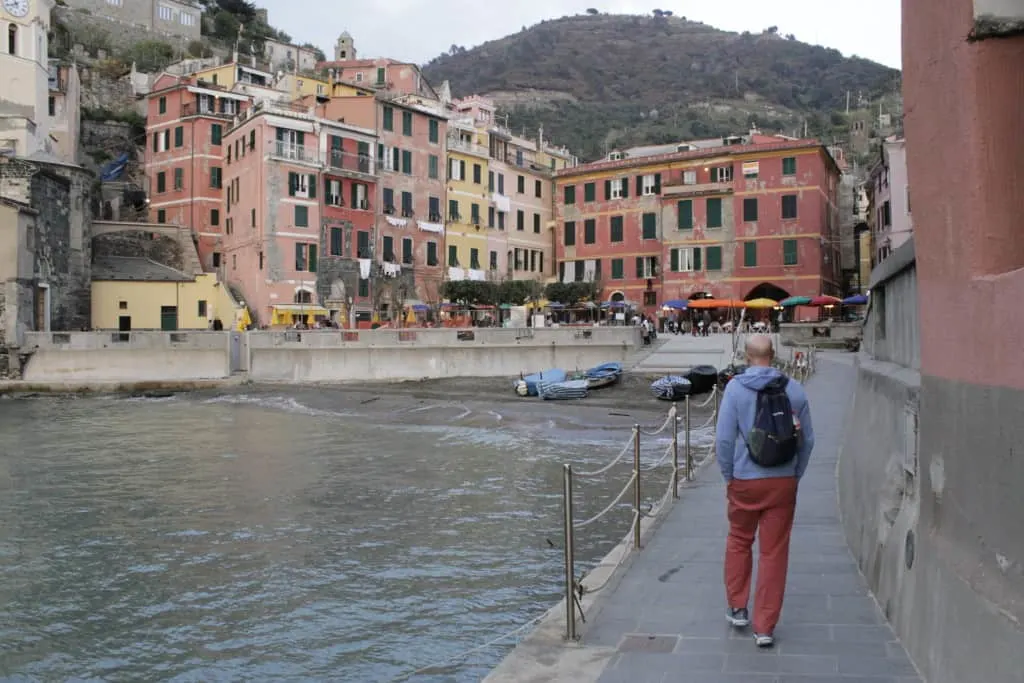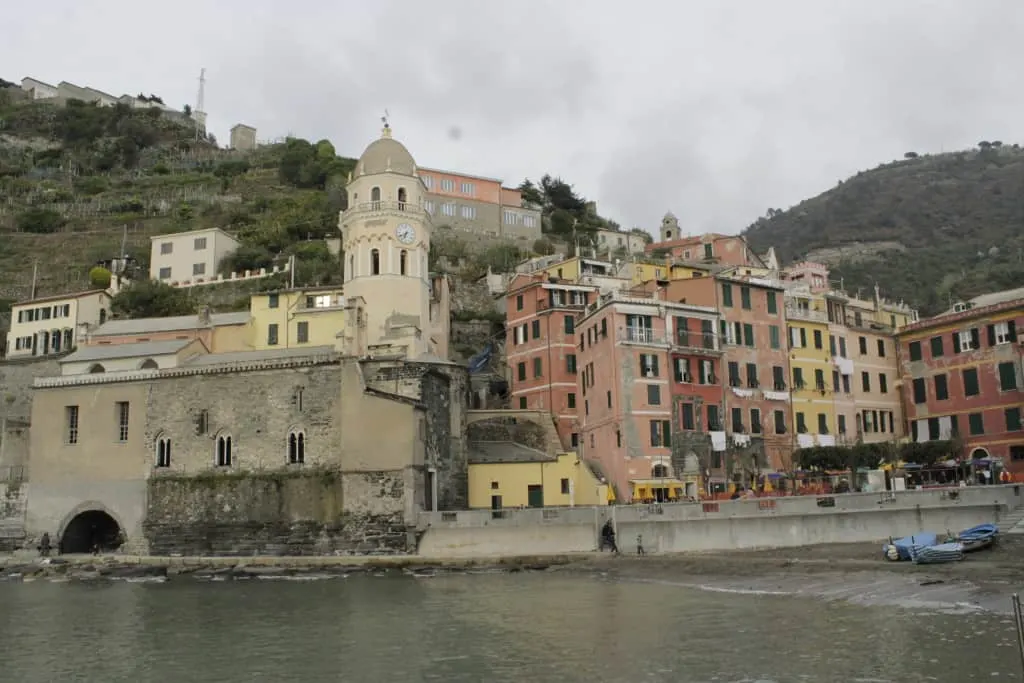 After dinner, we caught the train to go about 10 minutes back to Riomaggiore. After showering and cleaning up, we went down to Bar Centrale to get wifi to book our trains for the next day. It was an extremely long and tiring day of hiking, but we saw every one of the towns in Cinque Terre and wouldn't have had it any other way.
We got up early on this Sunday morning for breakfast once again downstairs at Bar Centrale. We went down to the Coop (the grocery store) to buy souvenirs. We were still worried about having to carry anything we buy on our backs, but there were certain things here that we wanted to buy from this region. We bought some fancy pastas, pesto (because Cinque Terre is where pesto was invented), lemoncello, and some jelly. Then we caught an easy direct train to Pisa, where we would have to change trains to go to Florence. When we were in Pisa, we decided to go check off seeing the Leaning Tower of Pisa while we were there. Let's just say this- if you have luggage and are trying to go see the tower quickly, check your bag at the train station and walk with ease. We carried our bags thinking it wasn't that far, but it was about a 30 minute walk.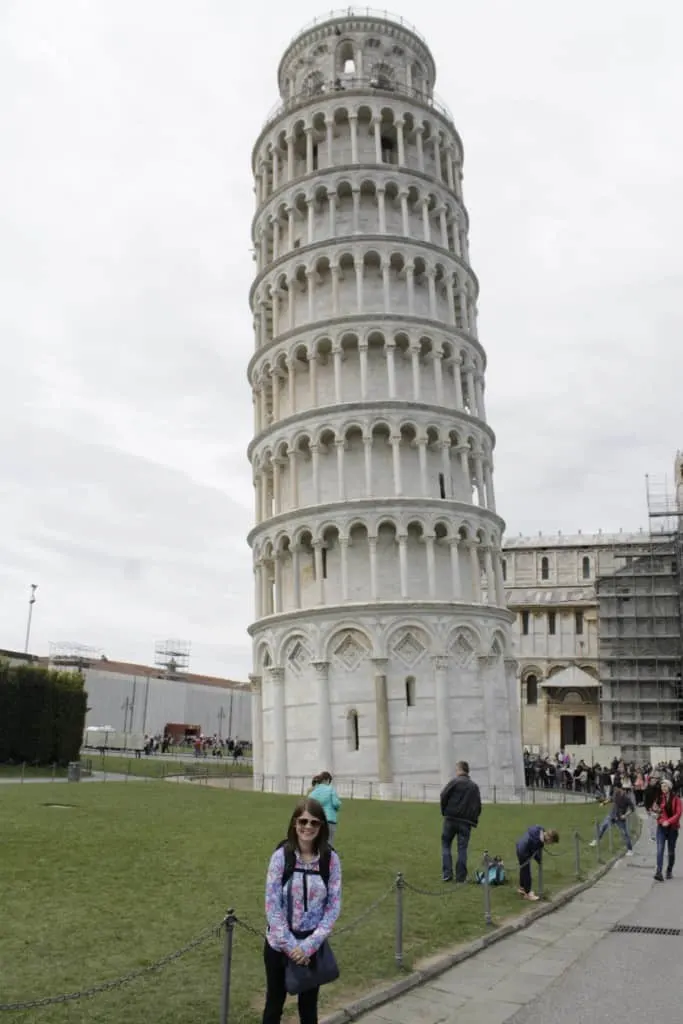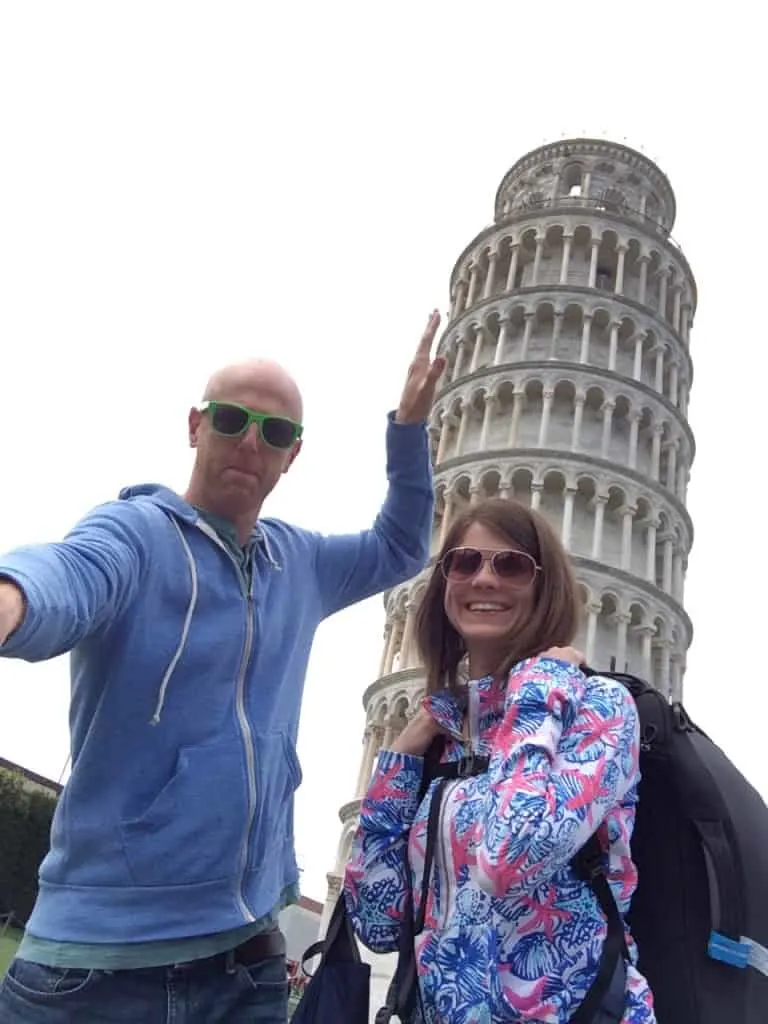 The entrance to the tower was completely blocked by people trying to peddle you their crap, like more selfie sticks, African art, water bottles, etc. The tower is inside of a fence with a big church and everyone inside was trying to take photos acting like they were holding it up. It was actually very beautiful with lots of intricate columns all the way up, but was a lot shorter than I would have thought.
We walked back through the touristy shops (aka the whole town since there isn't much to do there besides see the tower) and caught the train to Florence that left every hour. When we got to Florence, we actually had a pretty easy time finding our AirBnB. Our directions were very clear. In Florence we stayed at our first actual bed and breakfast we stayed at on the trip. It was called the Strange Uncle B&B and it sure lived up to its name. It was right next to the leather market, which is huge, so it was good for getting our bearings. We were greeted by the owner's mother who showed us around the place and spoke in rapid Italian the entire time, even though we obviously didn't speak Italian. After this, we walked back to the McDonald's near the train station because we wanted to try it and see if it was any different than the McDonald's in the USA. The burgers did come out much hotter, but the fries were cold. Also, they charged 50 Euro cents for ketchup!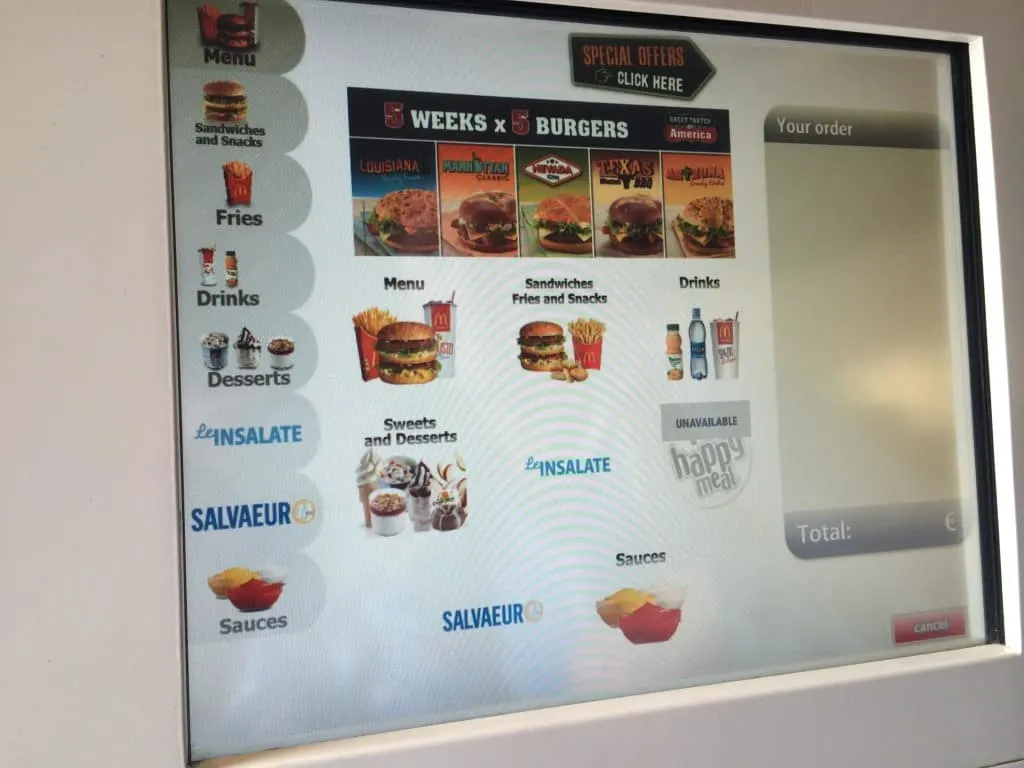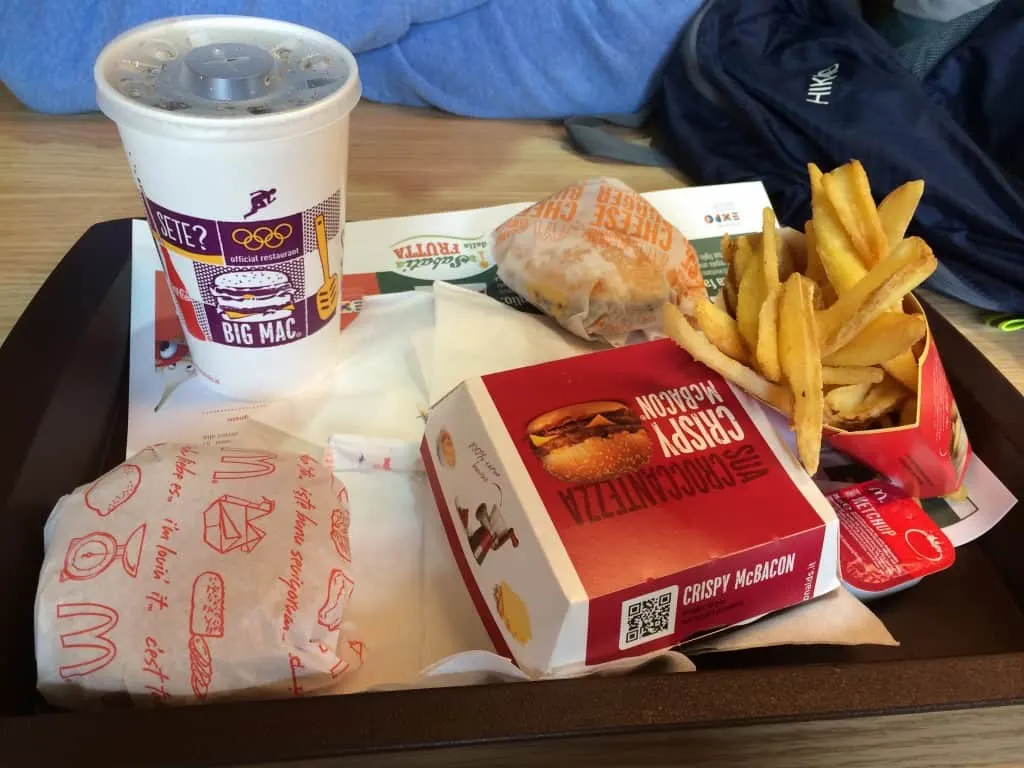 From there, we went to see the Duomo. It is a massive church that overpowered everything around it. It was so big and colorful. Sadly, there is just no way to describe how intimidating it felt being near that thing. It wasn't like a skyscraper, but it was just so massive. Thinking back to when this was built, I'm sure the church was trying to exert its power over everything and show dominance, and I can't imagine what the villagers thought of it back then.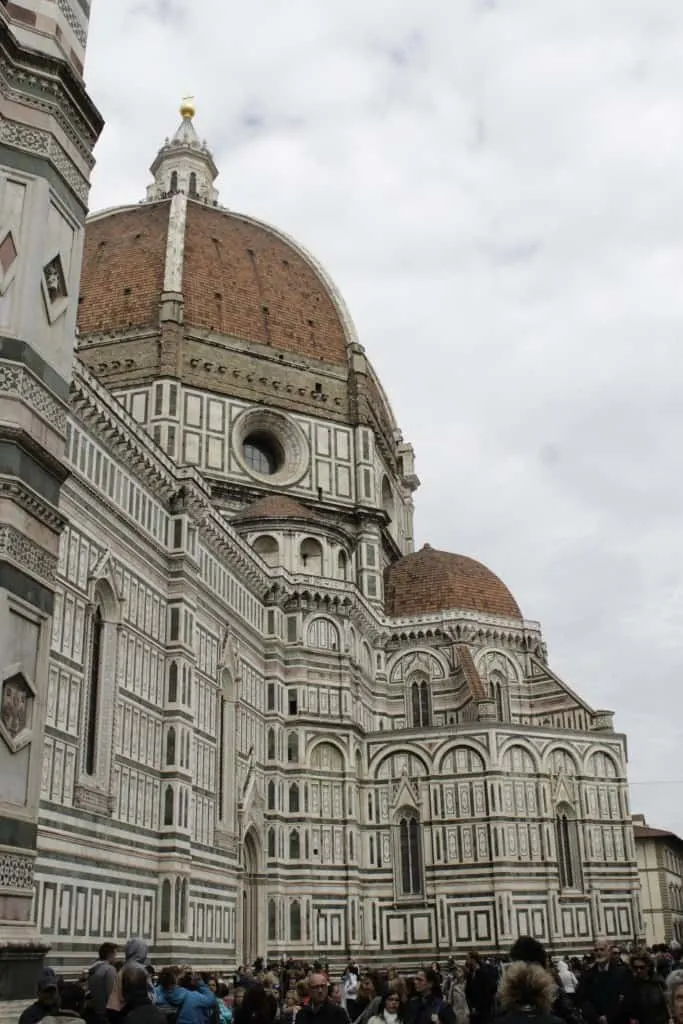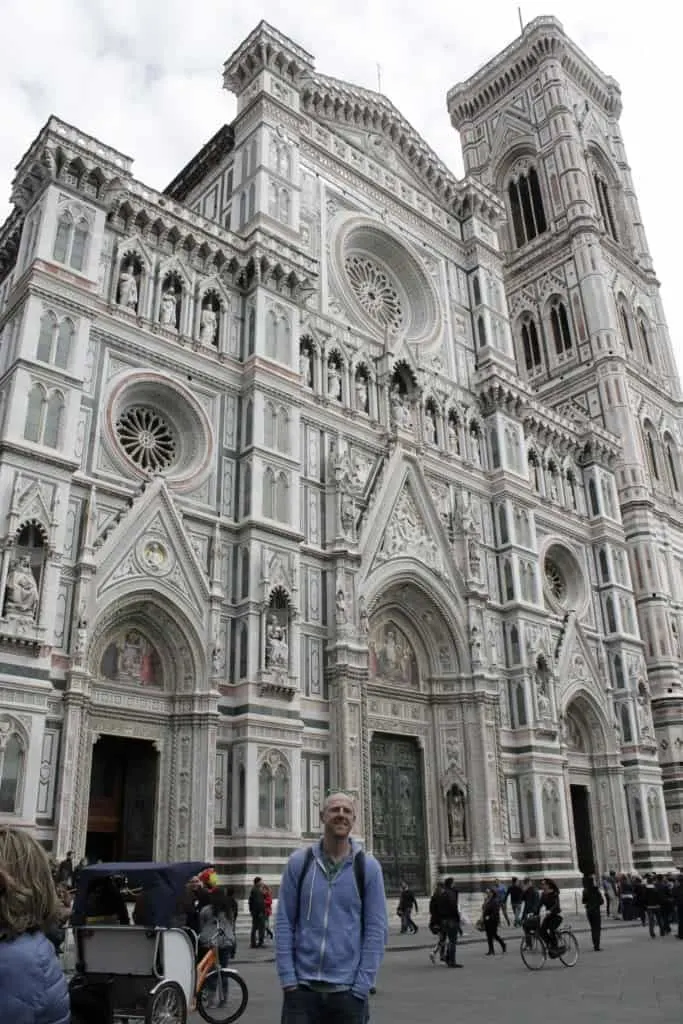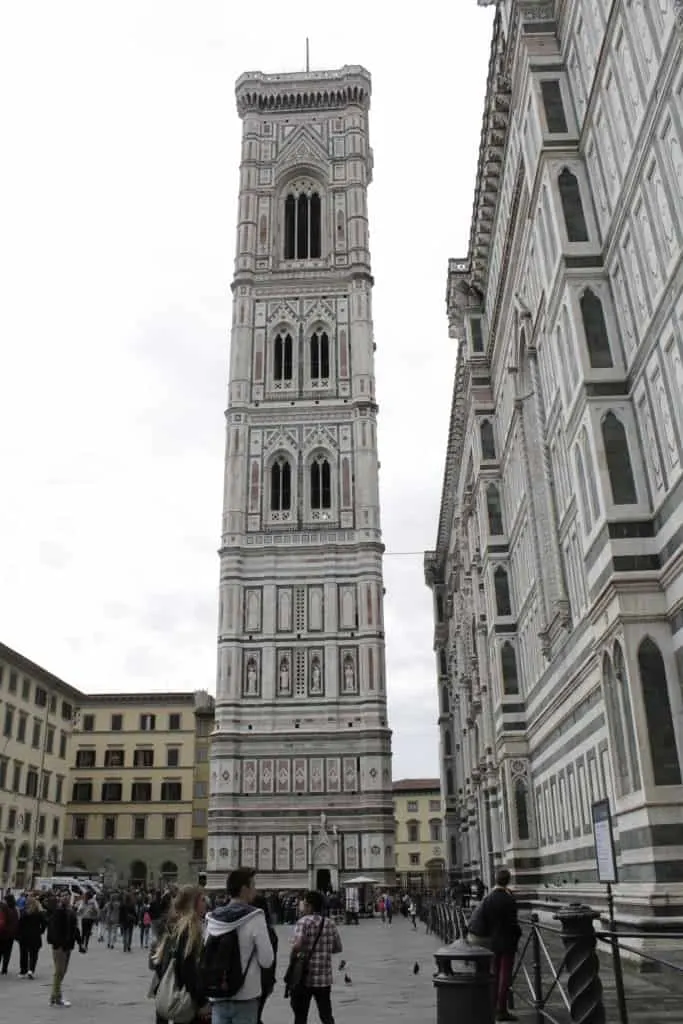 From there, we decided to walk randomly and then found the Uffizi Gallery where the David statue is kept. We didn't feel like going inside because it was another hour-plus wait for a bunch of money, and there were tons of cool statues outside, so we just looked at those.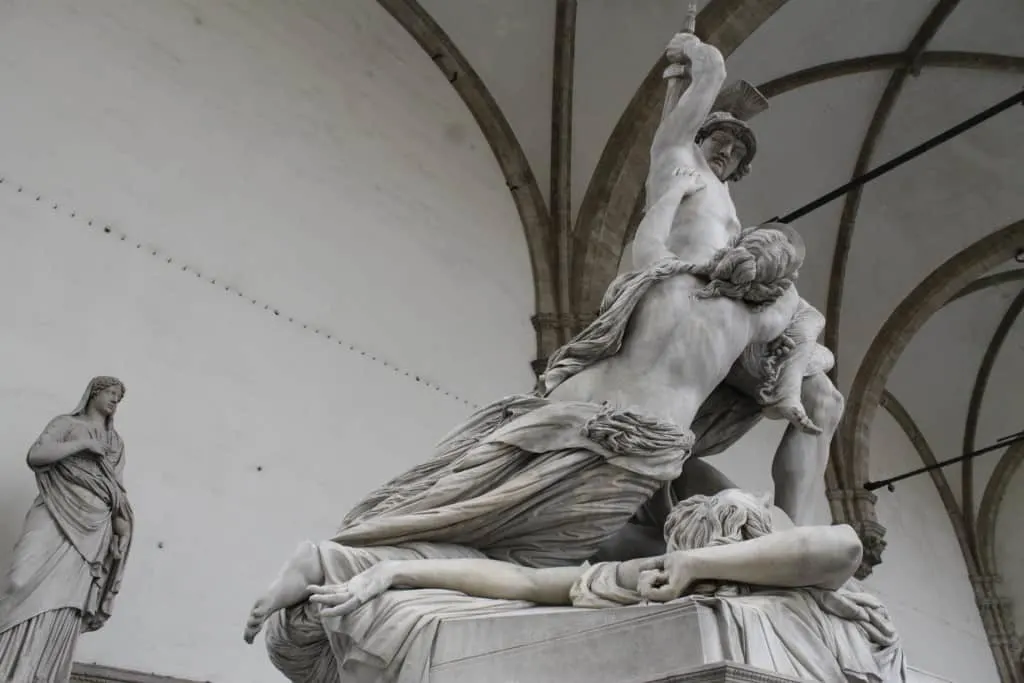 We also walked over to the Ponte Veccia bridge, which was just like the Rialto Bridge we saw in Venice, where there were lots of shops selling gold.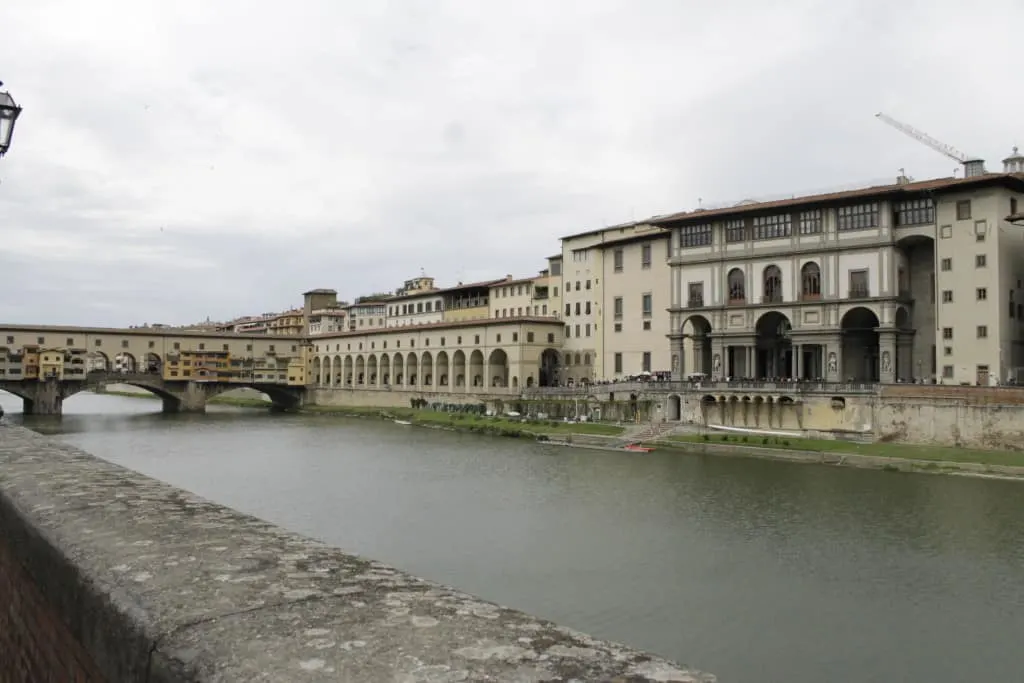 Then we climbed up to the Piazzale Michelangelo for a beautiful above-view of the entire city and it was gorgeous.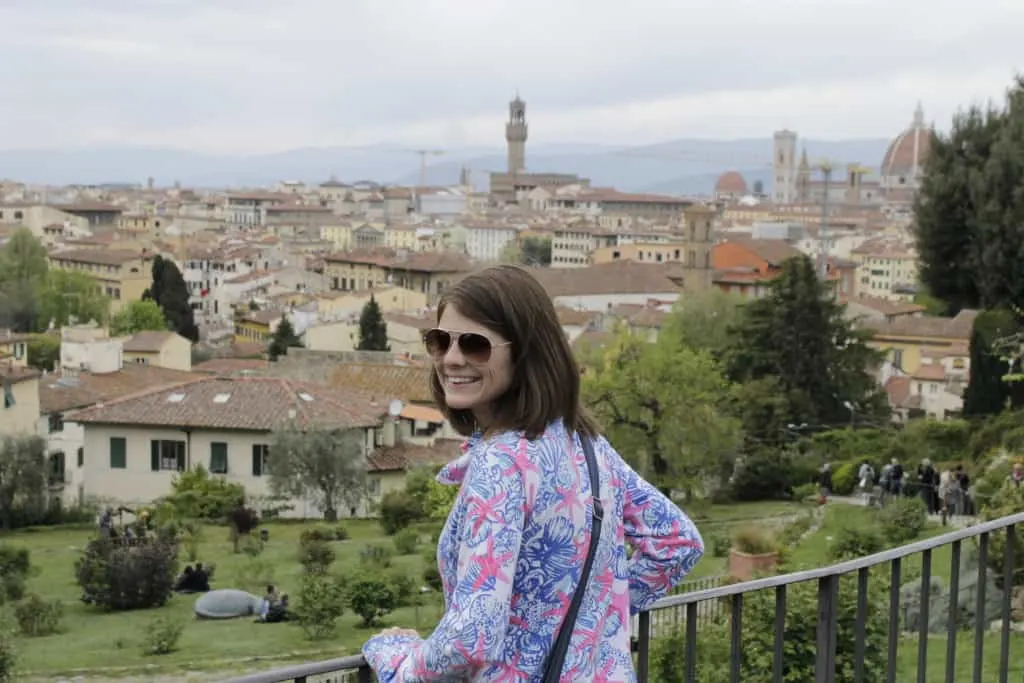 Our last stop was the San Marco Basilica, another huge and beautiful church. We went inside and it was all paintings and sculptures. Then we went back to the leather market where Morgan bought a really cute coral leather purse. For dinner, we went to the "food market" that we saw next to the leather market. It was in a huge building with tons of bars and food to eat or take home. Lots of tables and chairs and tons of people. It was a really cool vibe and we talked to a group of American students who were studying abroad.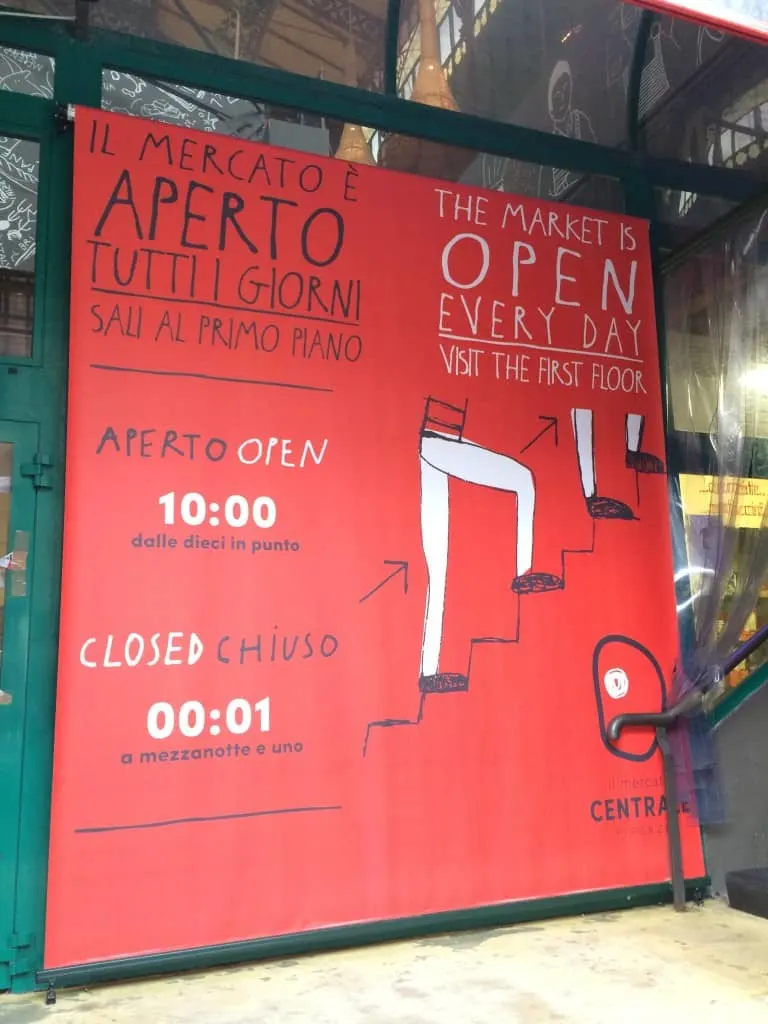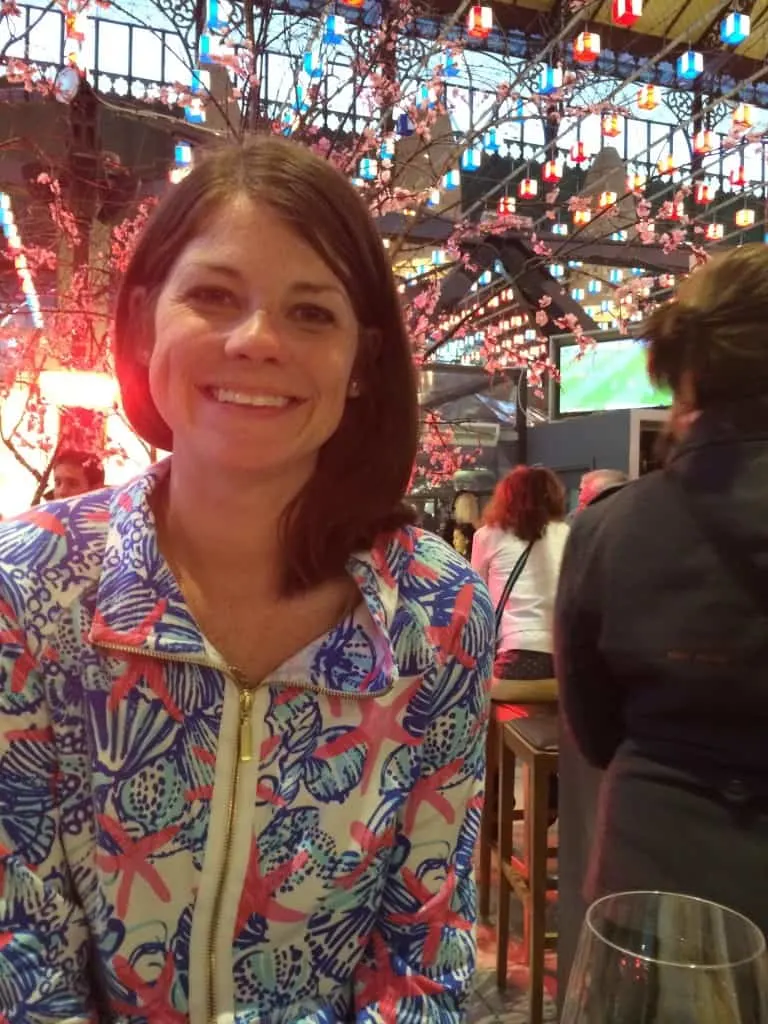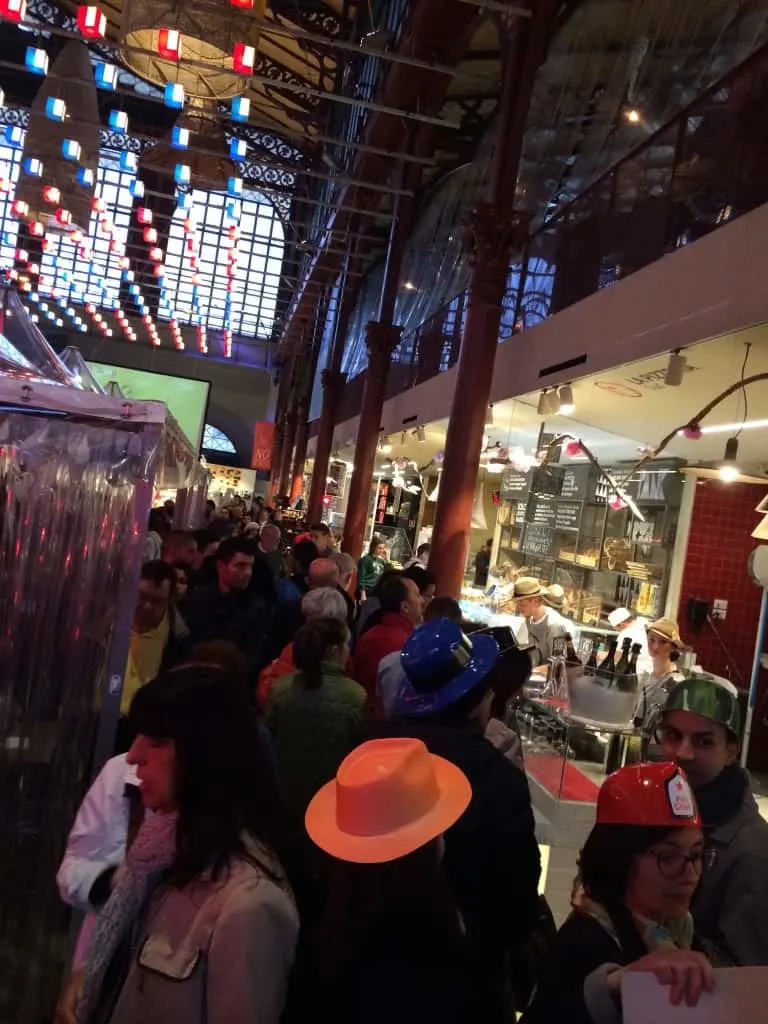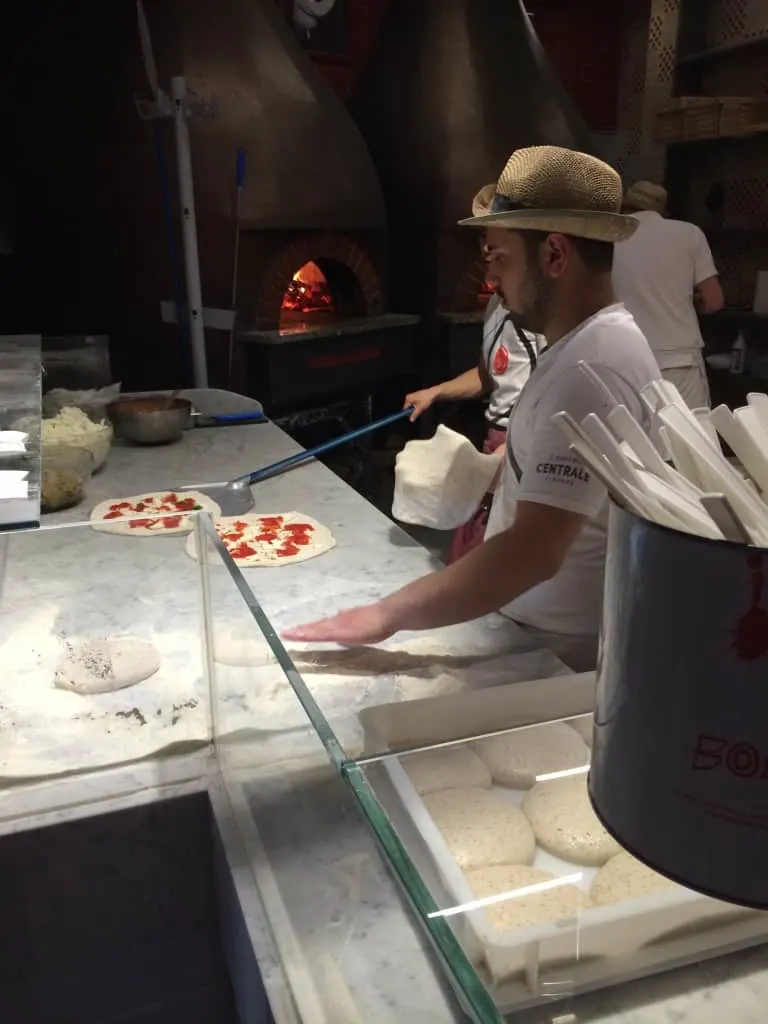 We had wine, pizza, ravioli, and truffle appetizers. Everything was fresh and we watched everything get made. It was a super fun spontaneous night for dinner.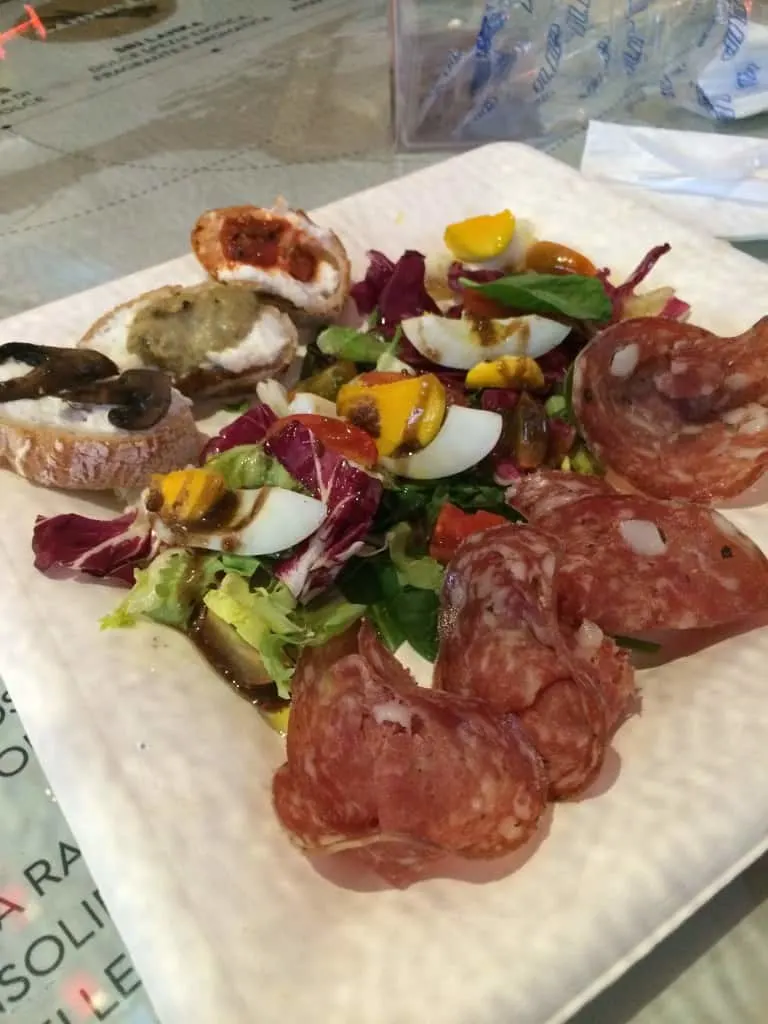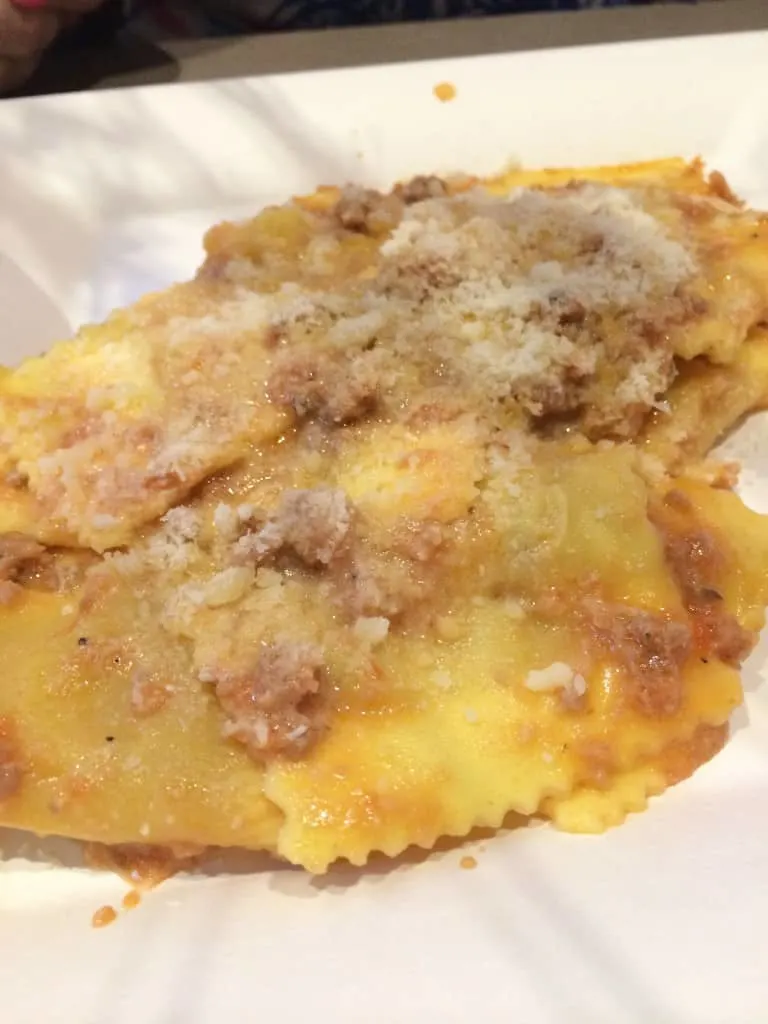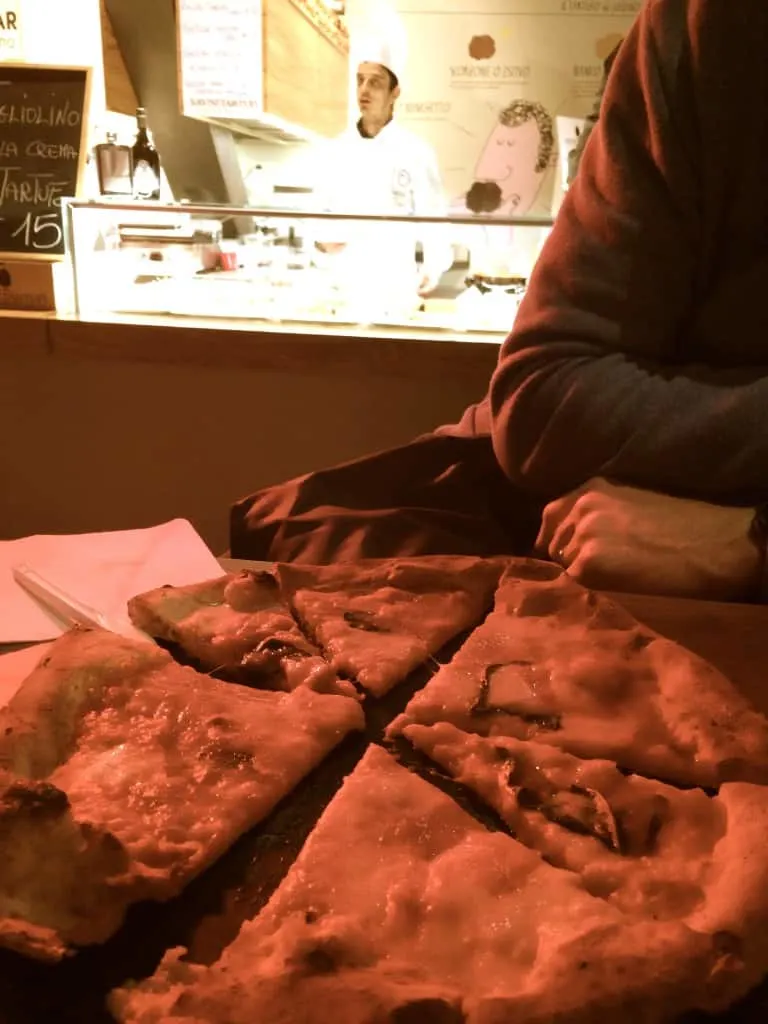 I also bought a scarf for the Fiorentina soccer team at their official store that was inside. Going to the match tomorrow night, so had to be legit. One of our biggest days of the trip is tomorrow, so we slept hard.
Today was a HUGE day. I can't express that enough. When we were planning our trip to Italy, we only booked two things to do. We had our plane tickets and our places to stay through AirBnB, but we only had two activities booked… and they were both on the same day. That day was our full day in Florence, although we spent much of the day outside of Florence with our tour, called Tasty Tuscany through Tuscan Wine Tours. In the morning, we had breakfast at the Strange Uncle and then packed a bag for the day with essentials, then walked 20-25 minutes to the meeting point they had given us. Our tour guide, Rebecca, picked us, and the other three couples in our group, up in a van.
Remember when we took a tour of Italy wine class to prep for this trip?!
Rebecca was from Denmark and English was her primary language. Two of the three other couples in our group were from the USA and the other was from Australia, so we were all able to converse easily, which made us feel like we could experience the day a little easier. Along the way, Rebecca gave us history of the wine in the area as well as history of the region itself. She talked to us about official wine designations for the types of wine from each area.
Rebecca drove us approximately 45 minutes away from Florence for our first stop in Castellina in Chianti at a gelateria called Antica Delizia where they make their own fresh gelato. I thought we were going to be in the sticks, but the small town was actually very cute. The shop was cute and we went into the back for a demonstration on how they make fresh gelato every day.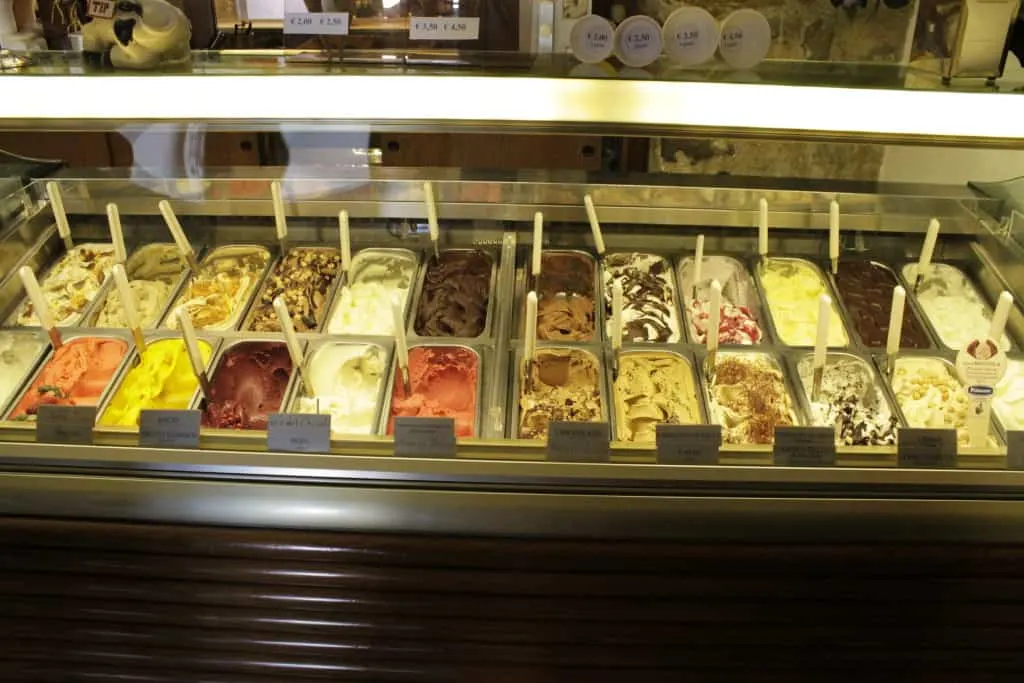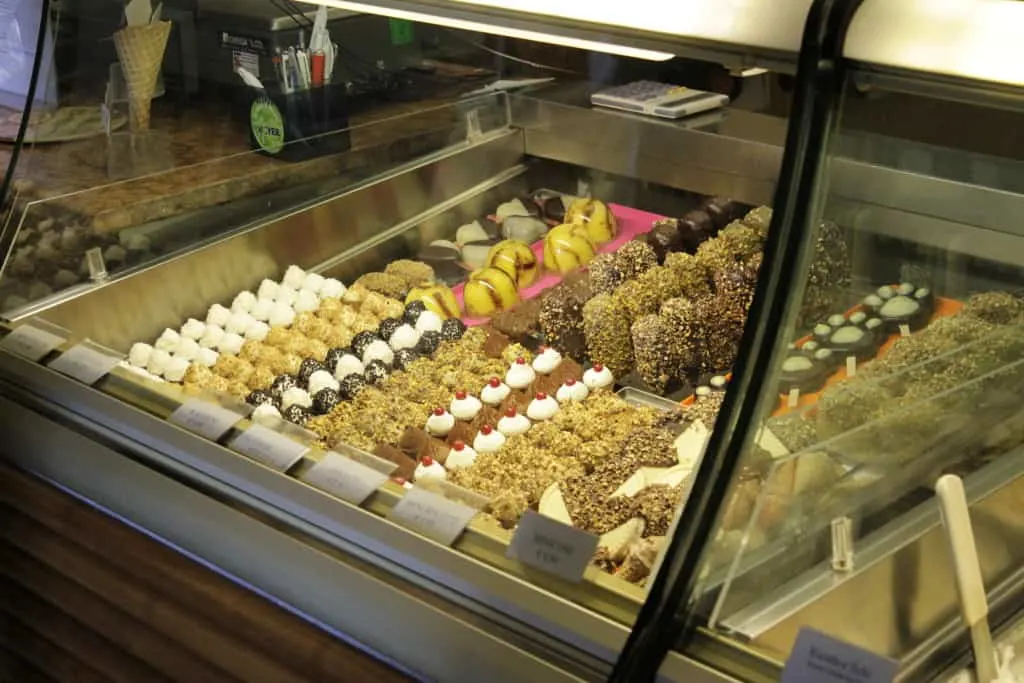 The gelatier spoke no English, so he had a translator girl that worked with him. He showed us the whole process from start to finish of how to make gelato. First was making the liquid mix. Different types of gelato get different bases, like the fruit ones, chocolate ones, and plain ones.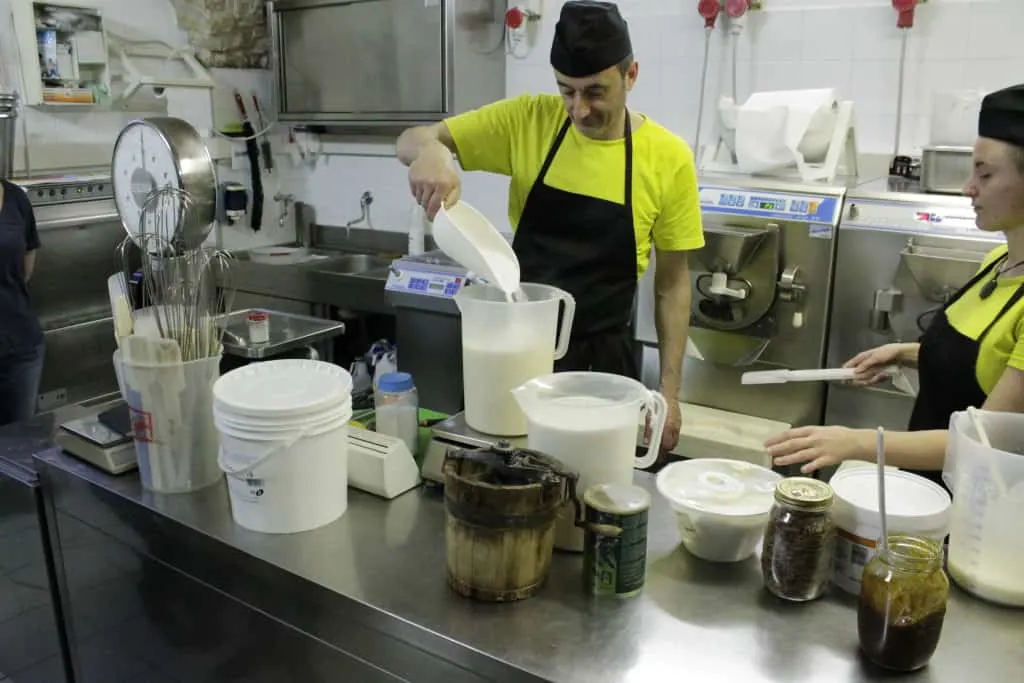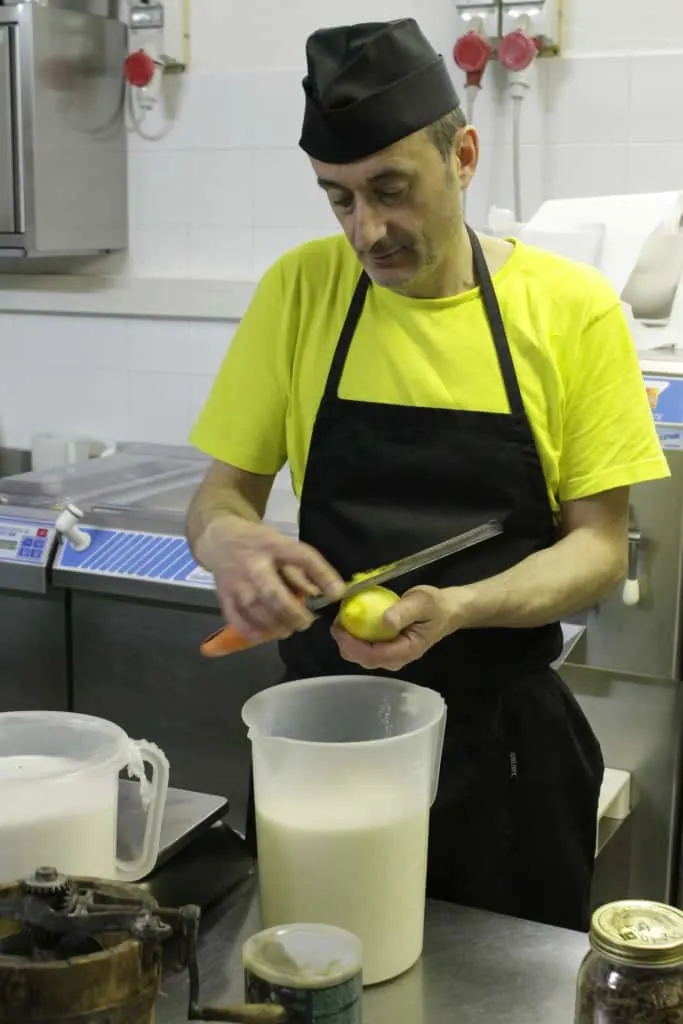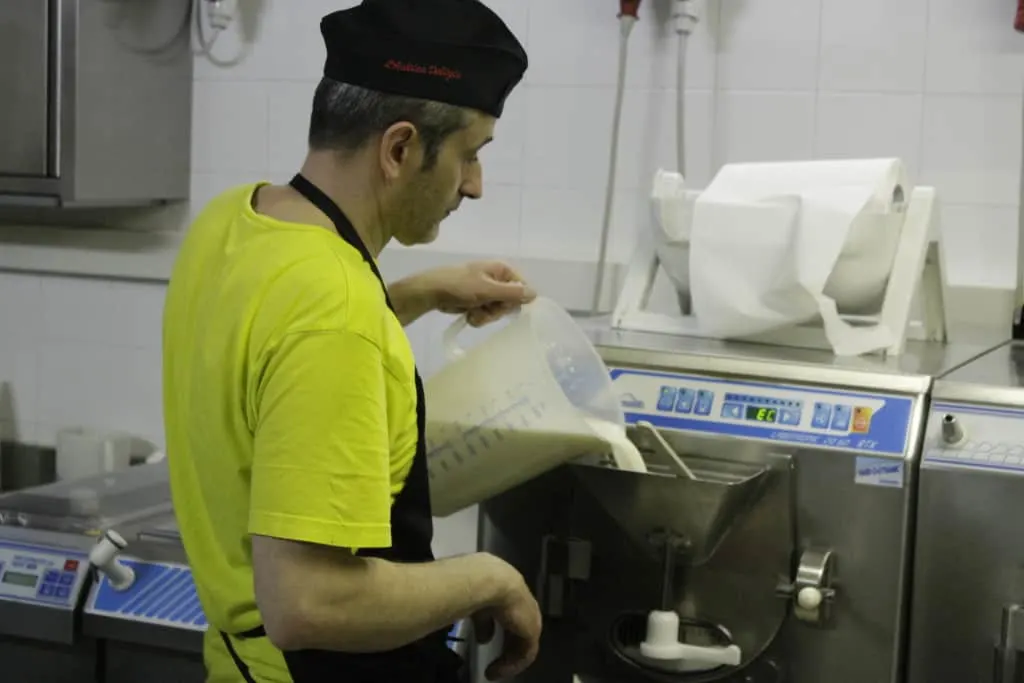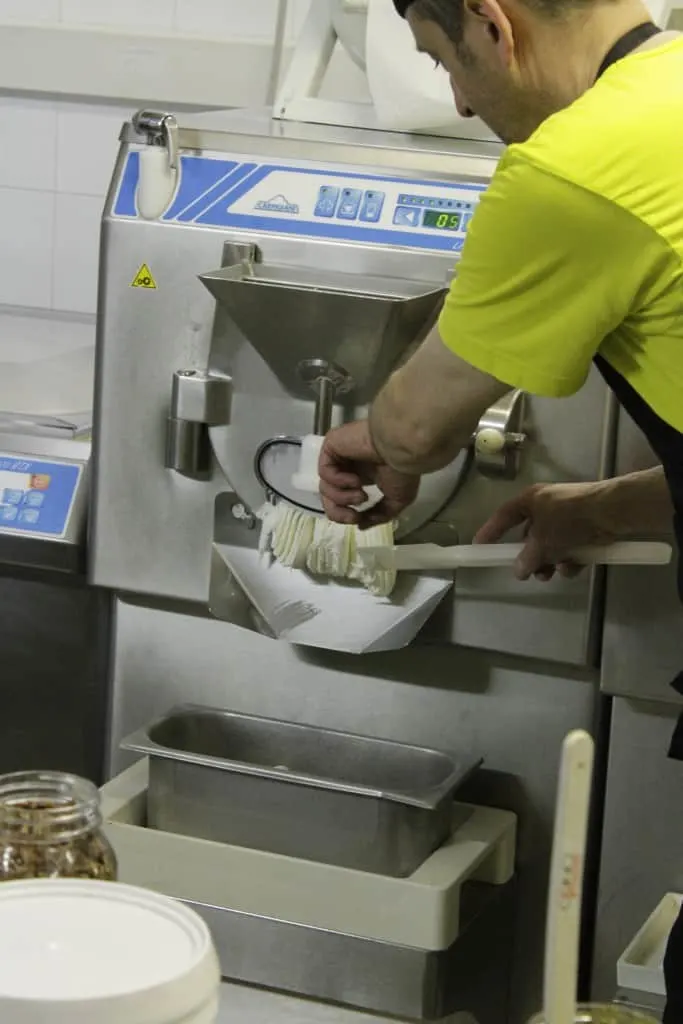 He made a plain ricotta cheese base and put it in the blast freezer for 10 minutes and then mixed in homemade fig paste that he had made from an over-abundance of fresh figs he had.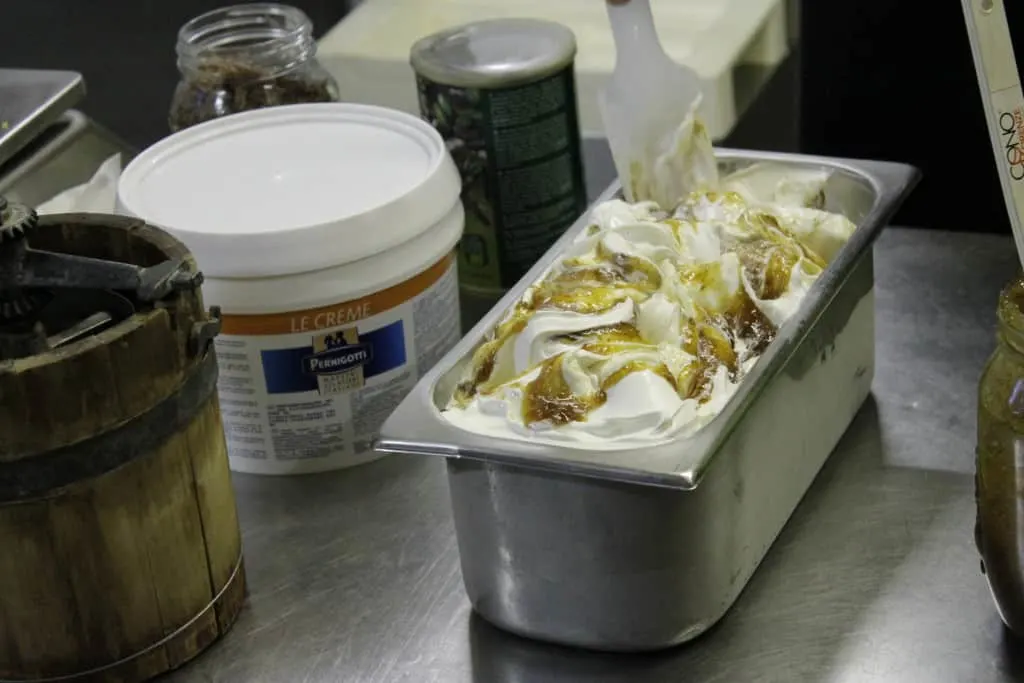 When it was done, we got to taste it fresh. It will probably be the best gelato we will ever eat. Nothing will ever have that perfect consistency and freshness. It was soft, creamy, and perfect. Then he played a game with us where we each tried several flavors that he was testing and experimenting with and we had to guess the flavor. Some of the flavors were pear and cheese, raspberry and rosemary, chocolate and chili powder, chocolate and ananas, and chocolate and ginger. They were delicious and it was very cool to try unique flavors.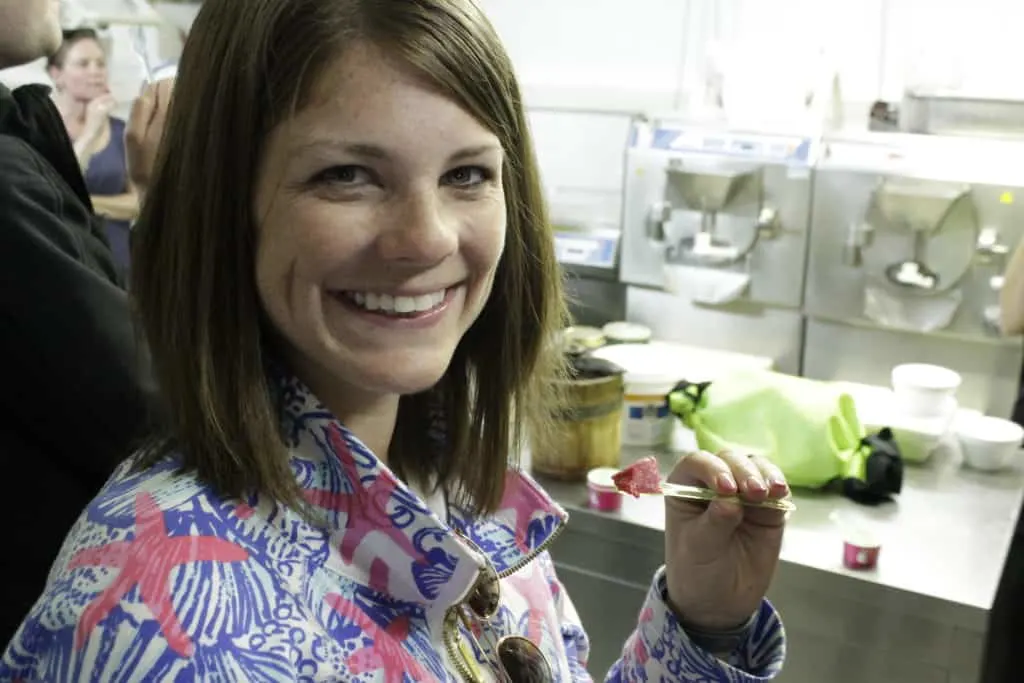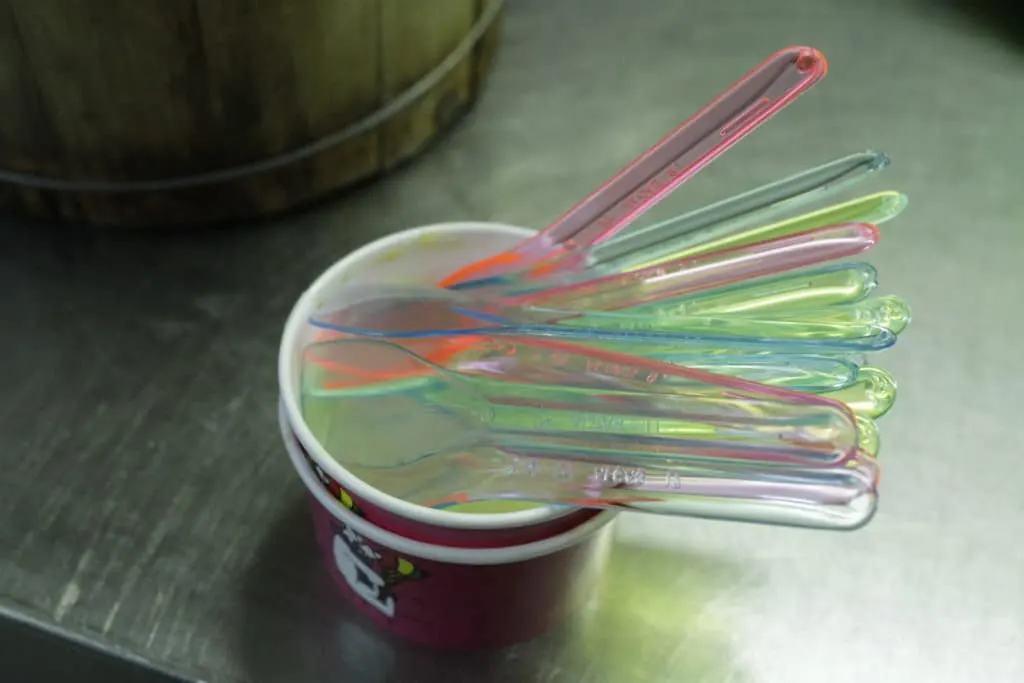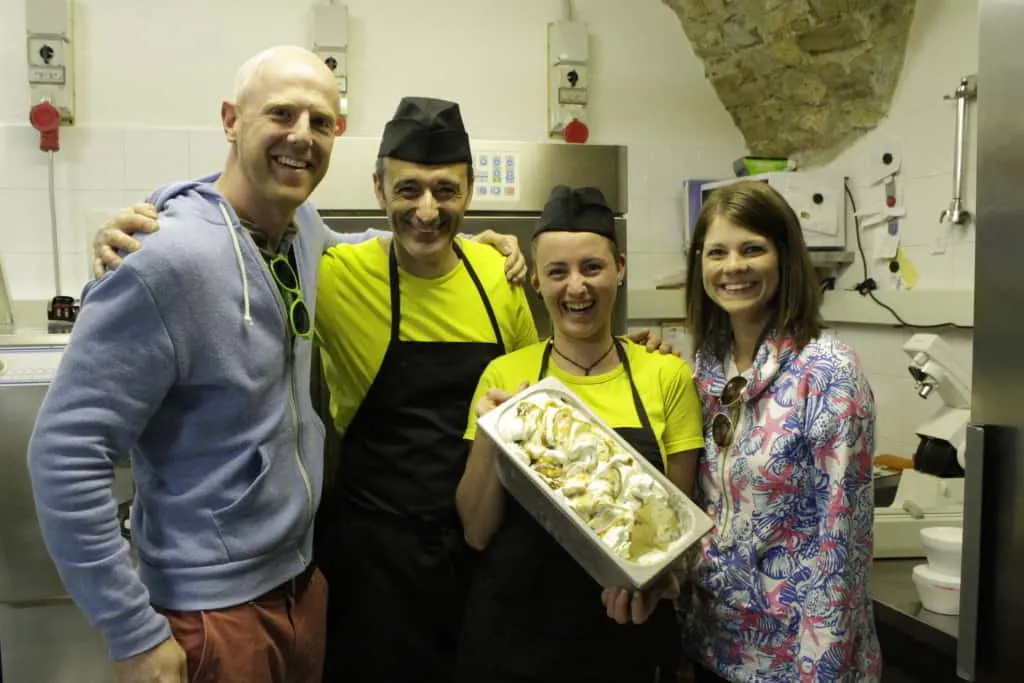 When the demonstration was done, we got free gelato to take with us for a walk through town. Morgan got a hazelnut chocolate dipped ice cream sandwich. I got a waffle cone with hazelnut, pistachio, cookies and cream, and something resembling Butterfinger. It was the best.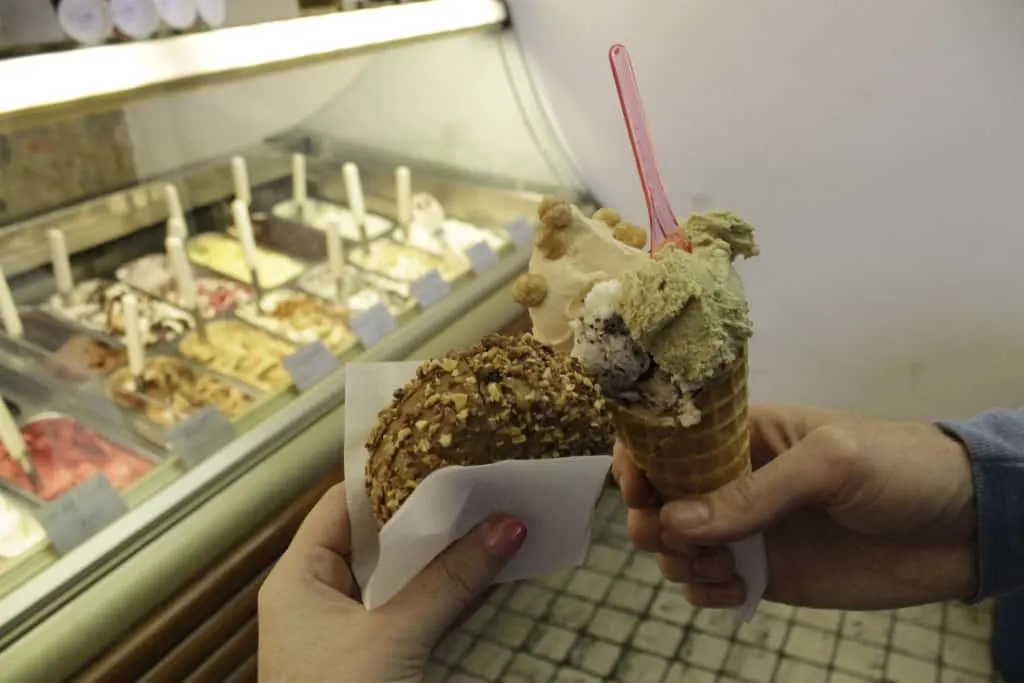 We walked around the town for a few minutes and saw a few shops. Then we got back on the van and headed to the Cinciano Vineyard at the top of a hill in Tuscany. We walked and saw the olive trees and vines.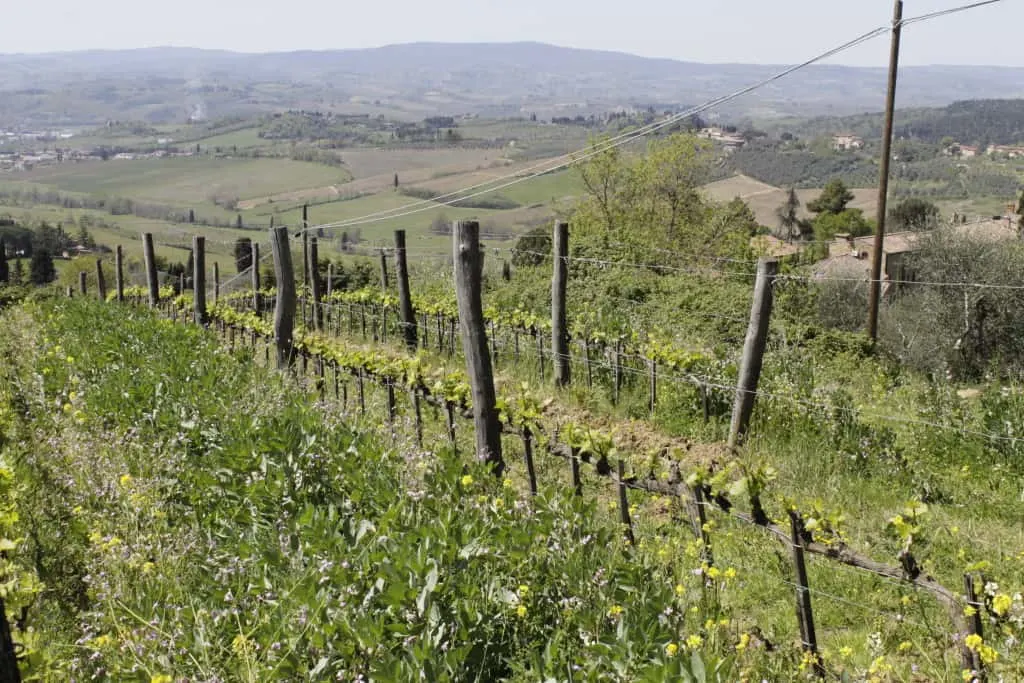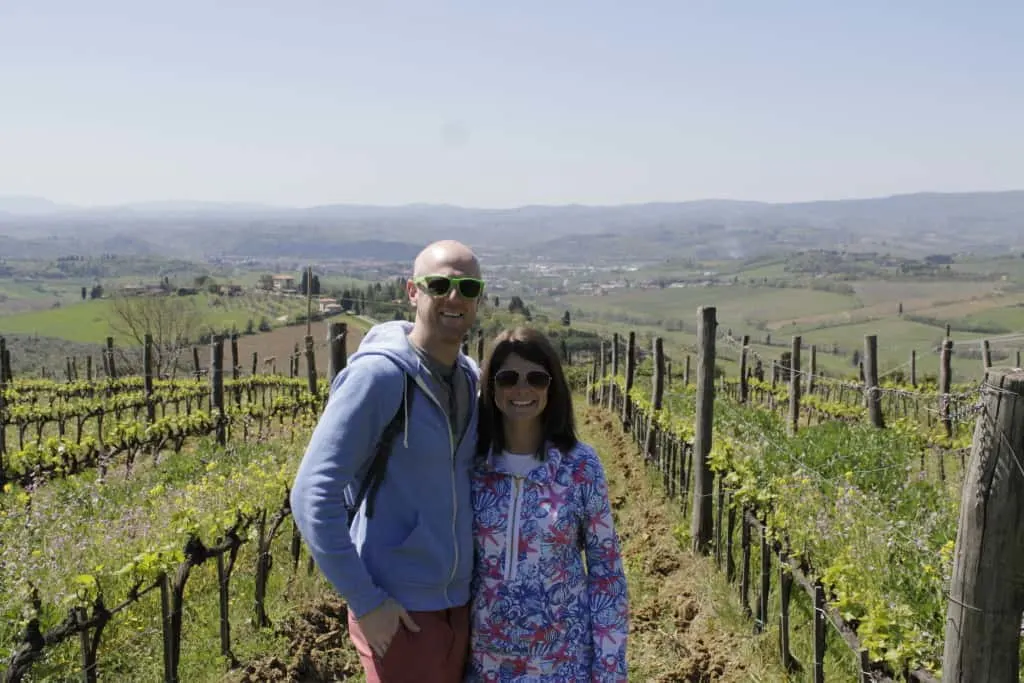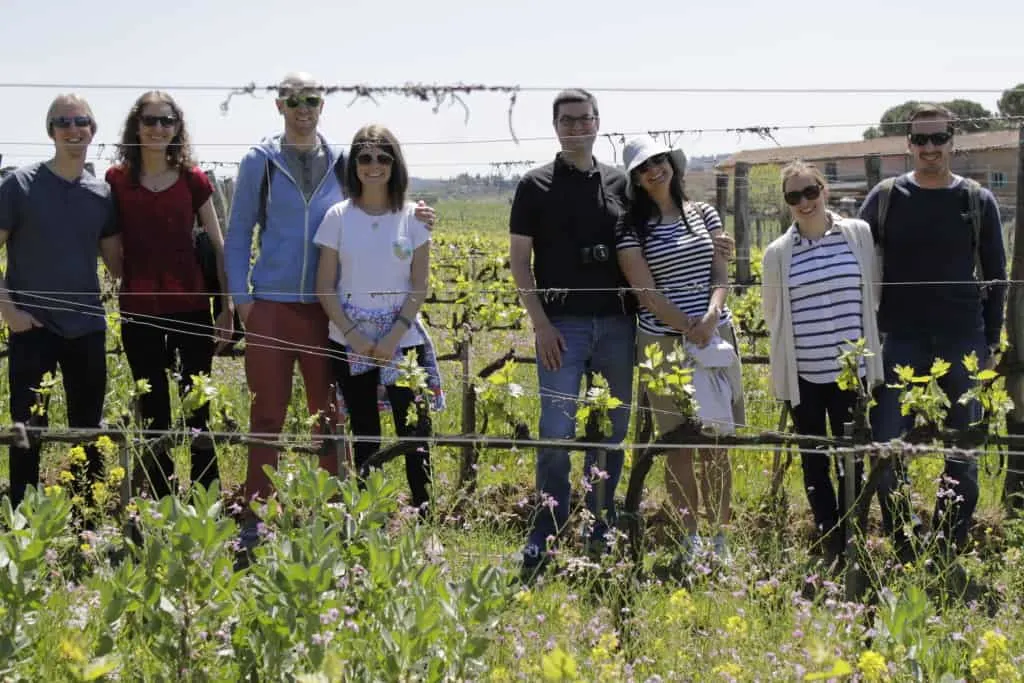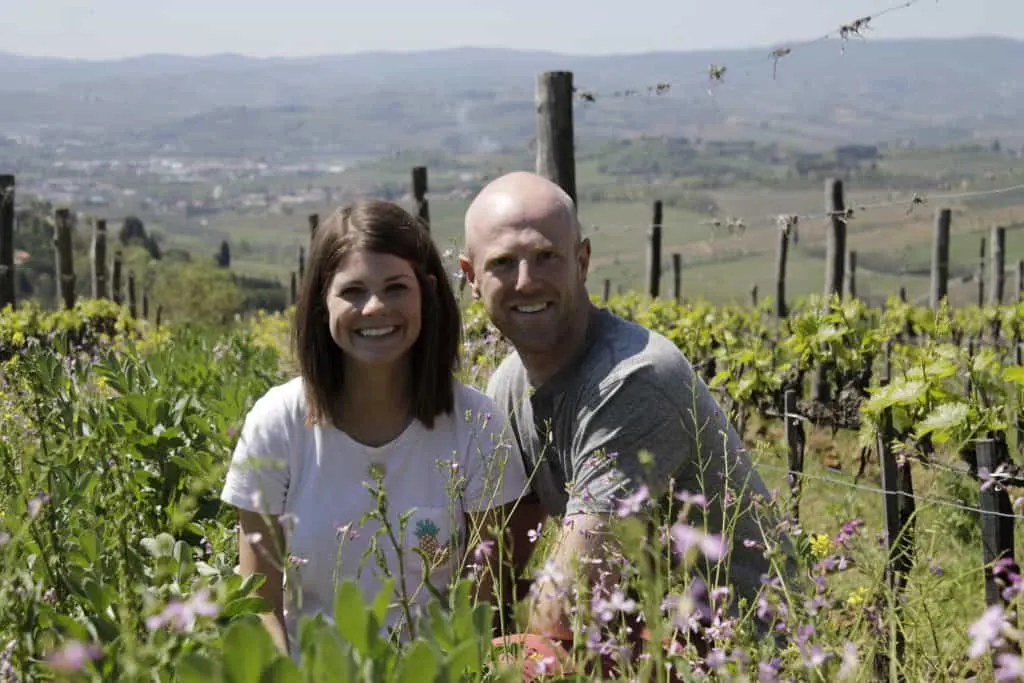 They won't be in bloom until the summer. We saw the huge barrels and small barrels in the basement.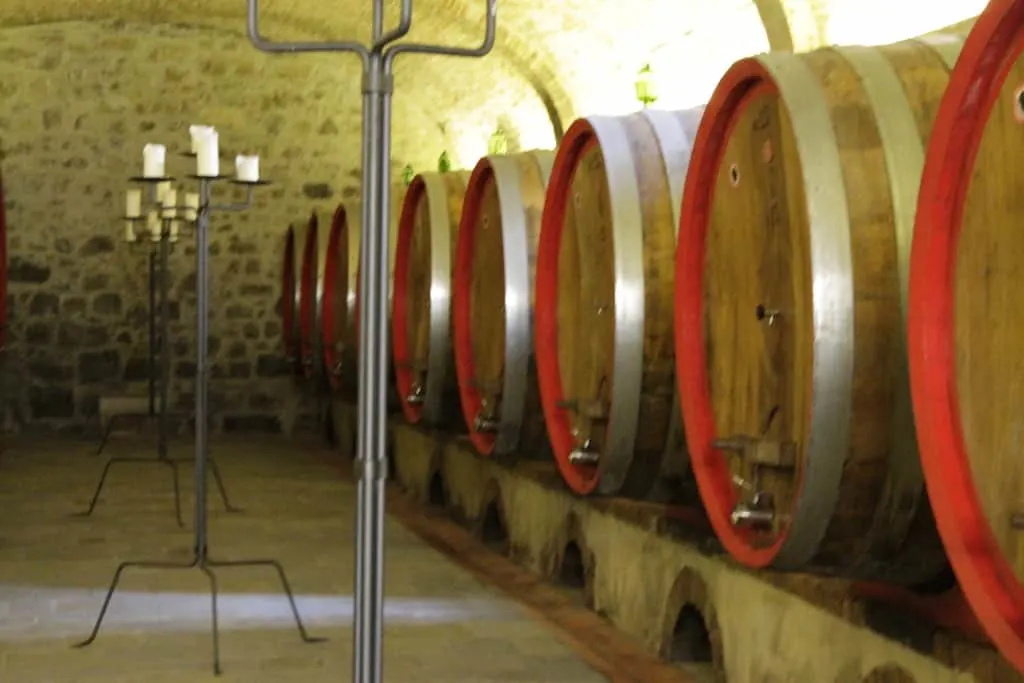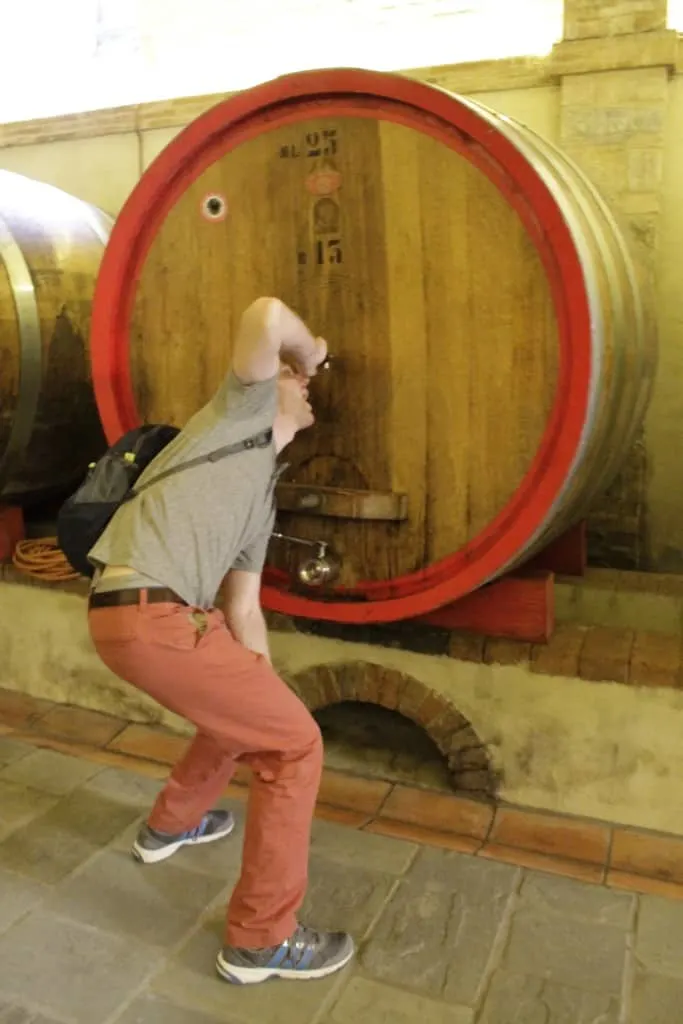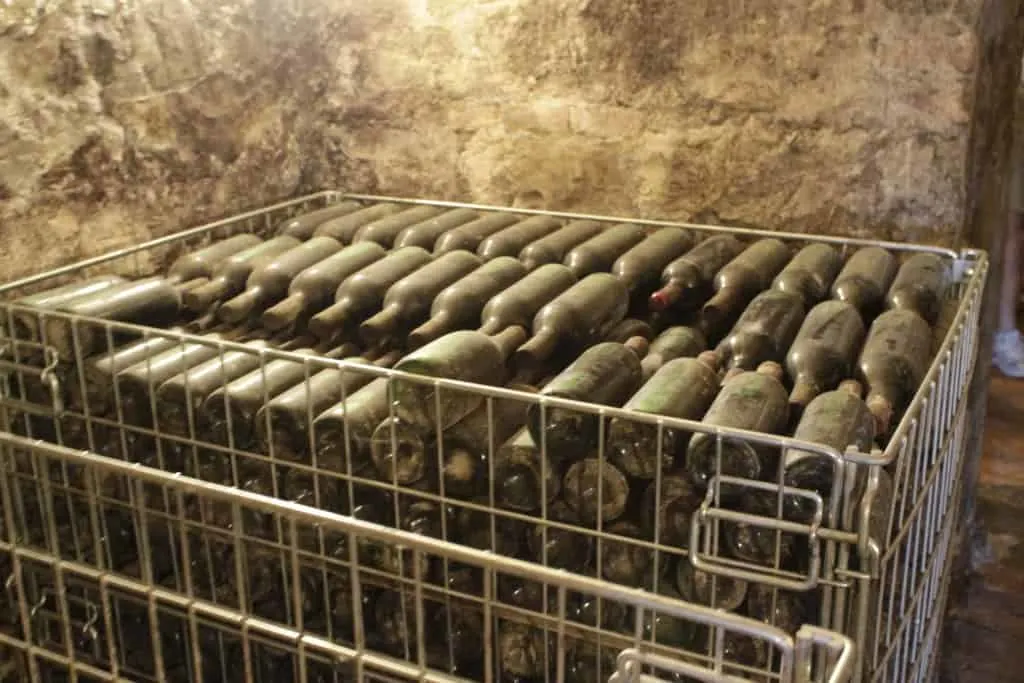 We had lunch at a big table in the restaurant on site and had bread, olive oil, chicken liver toast, soft cheese, prosciutto, and bean and lentil mix for appetizers.
Then we had spaghetti swirled into a nest for our entree and a tiramisu with gelato for dessert.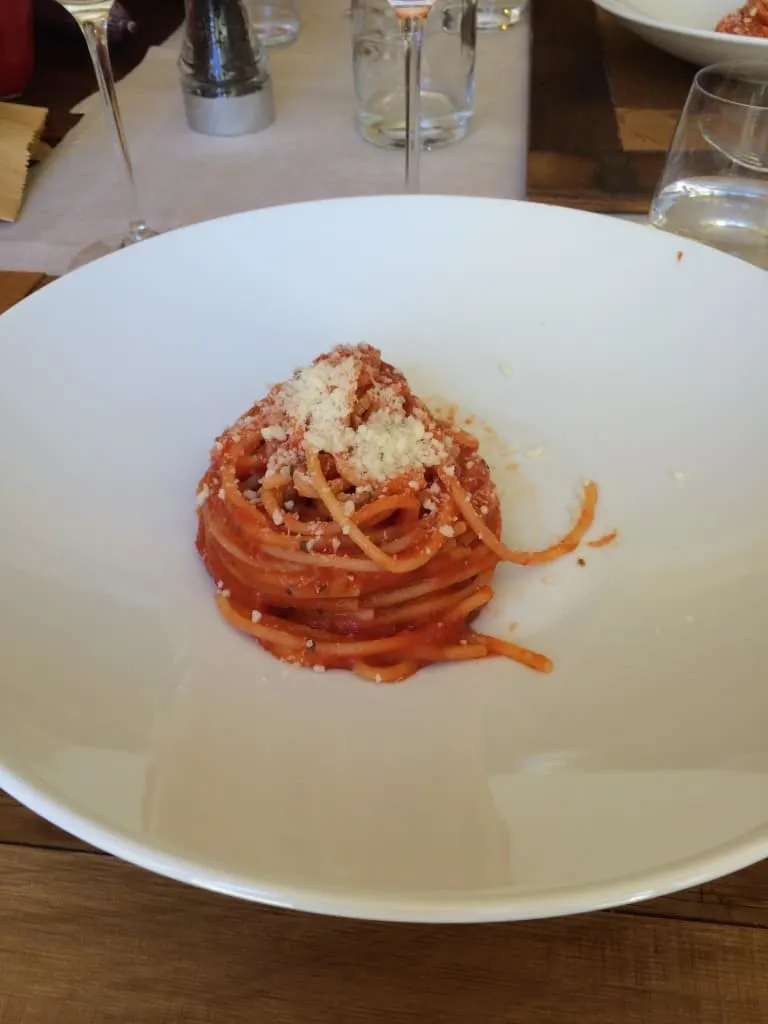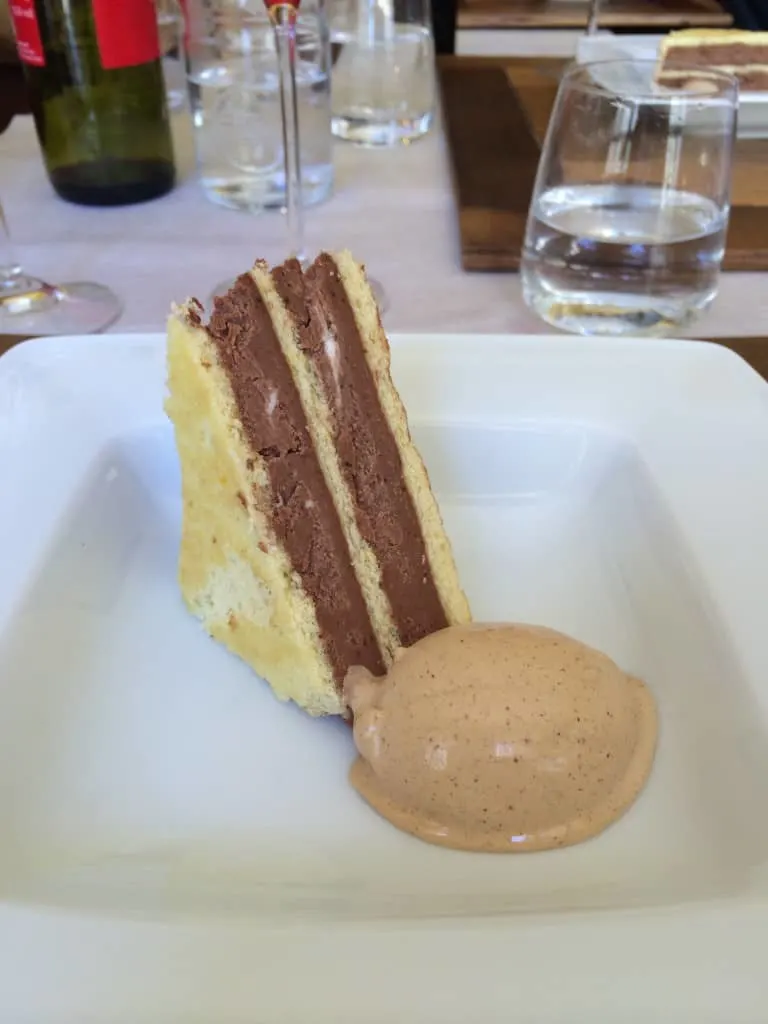 We had a great time getting to know the other members of our group while drinking unlimited wine. In the end, we were very full and bought a bottle of wine and a bottle of olive oil. It was very cheap and we wanted to buy a ton of it, but it was going to cost roughly $150 just to ship back a case of wine.
After lunch, we drove to the town of San Giamignano; a medieval town on the top of a hill. We were free to walk around for 45 minutes and explore the leather shops, gelaterias and beautiful panoramic views. We bought a small wooden spoon made from olive wood that we are now using in our salt crock!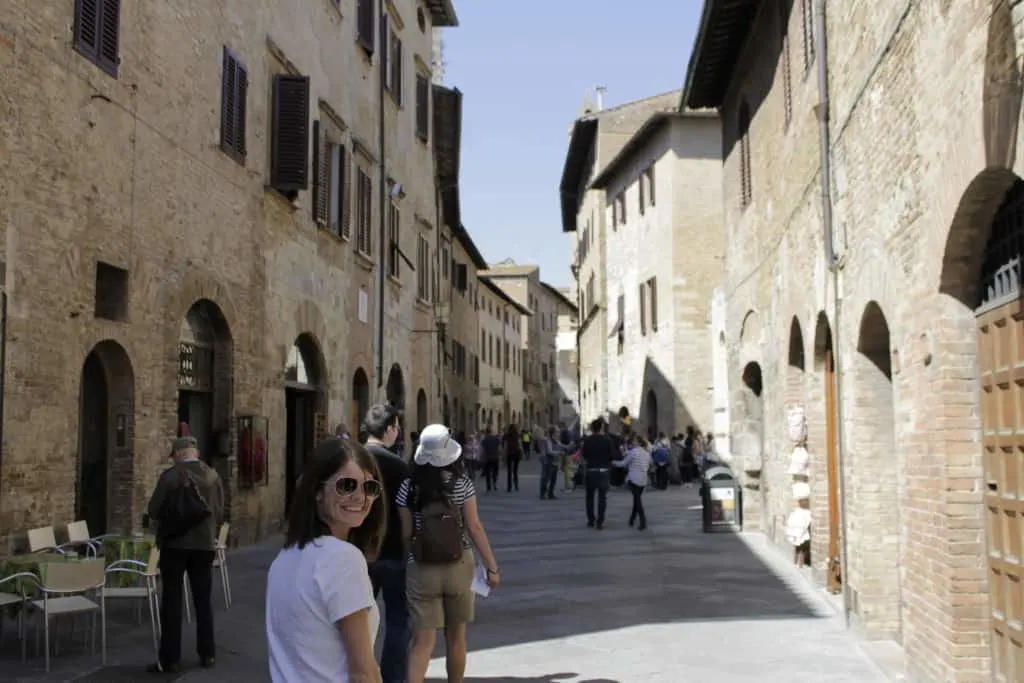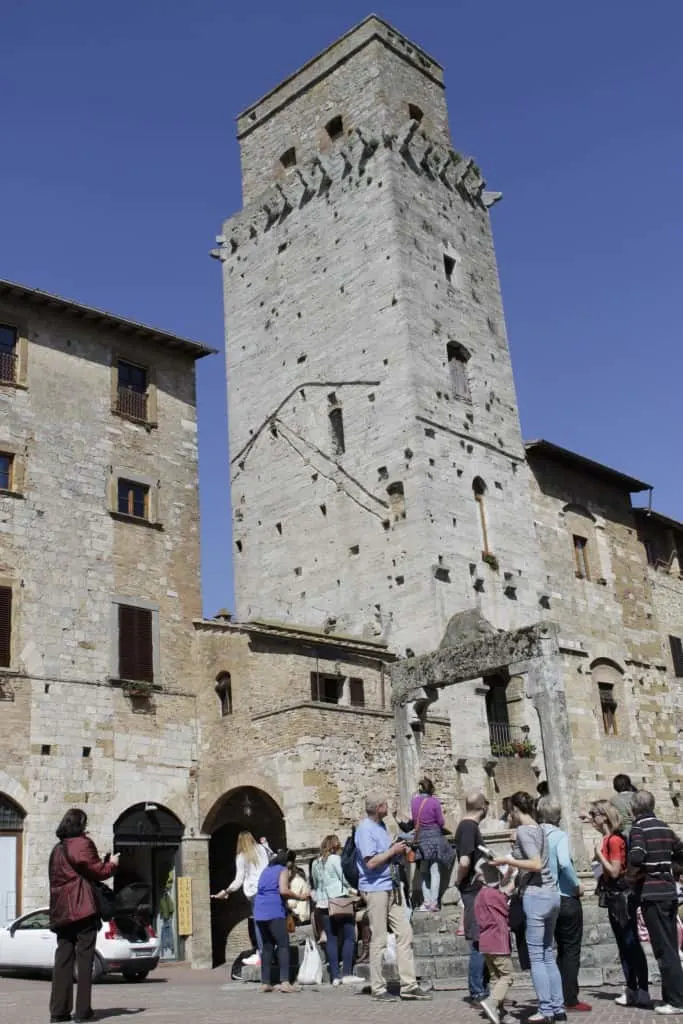 We got back into the van and drove deep into the woods and met Alberto, the truffle hunter. Yep, a truffle hunter. He had three dogs that he used to find truffles in the ground. They had some regular names, but we renamed them Fromaggio, Funghi, and Limoncello. They were a type of Italian poodle and were crazy.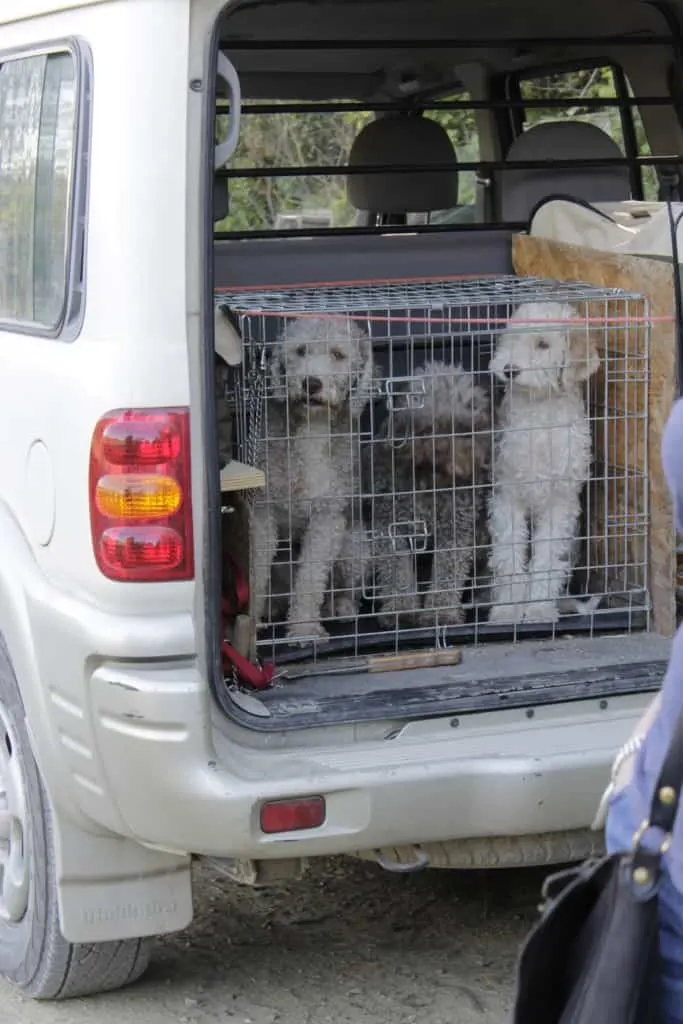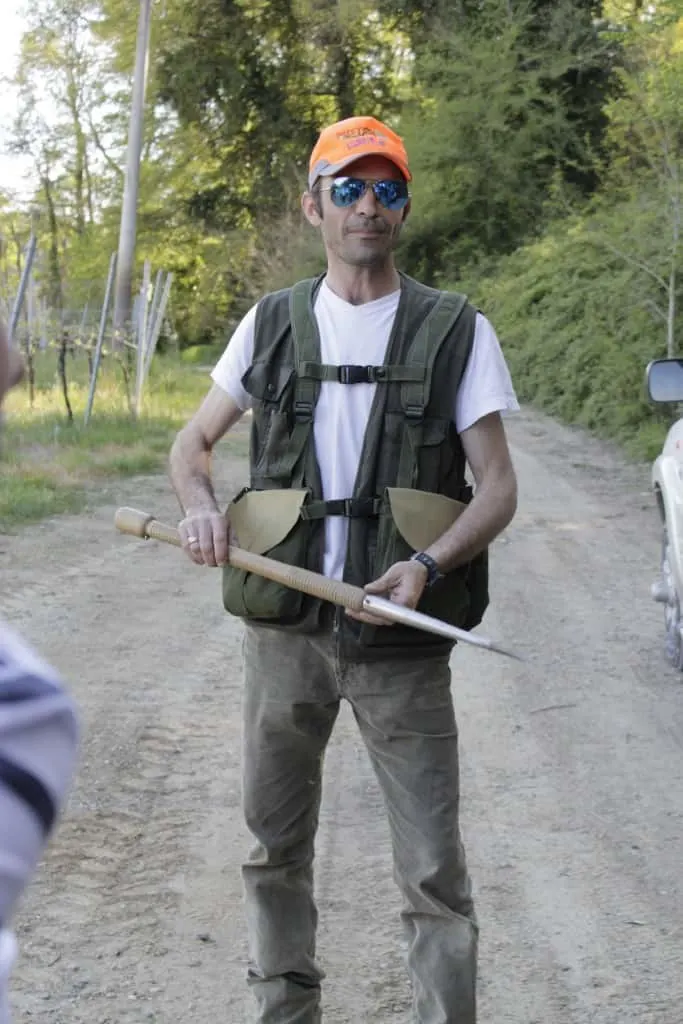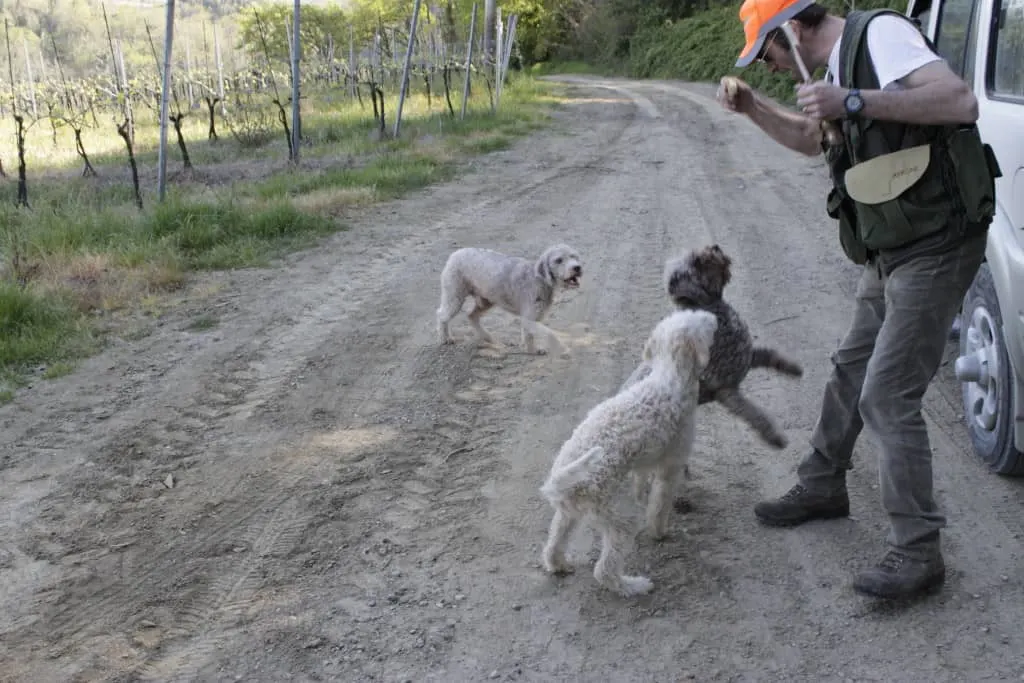 The ran all over the woods and dug in the dirt and found a ton of truffles! But just know this- if you ever eat truffles, they were in a dog's mouth and then pulled out by someone. Kinda weird, but awesome.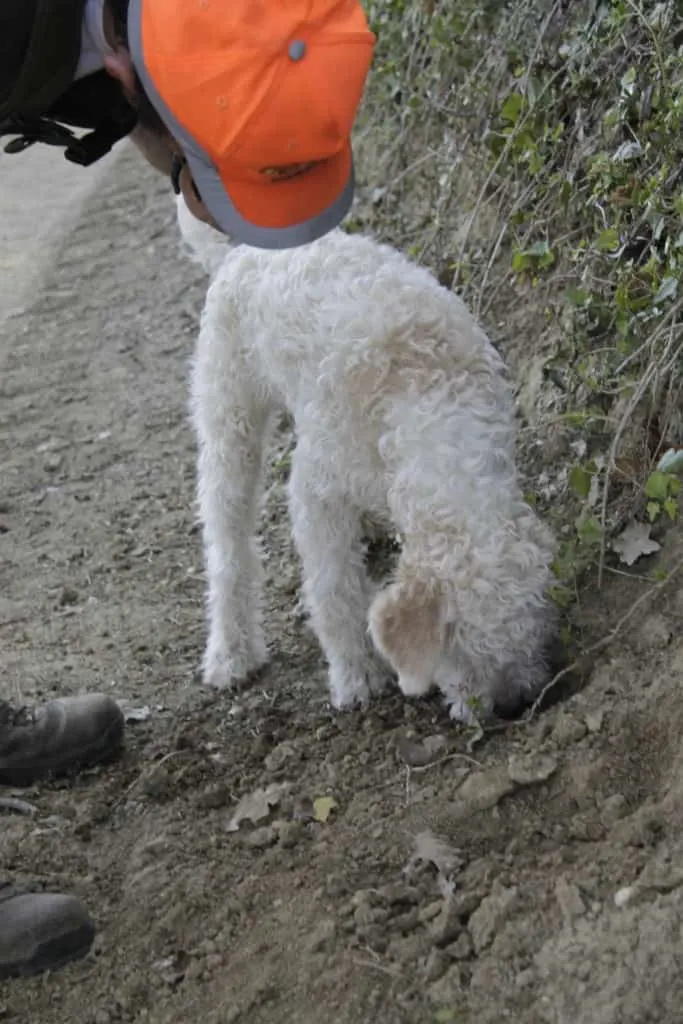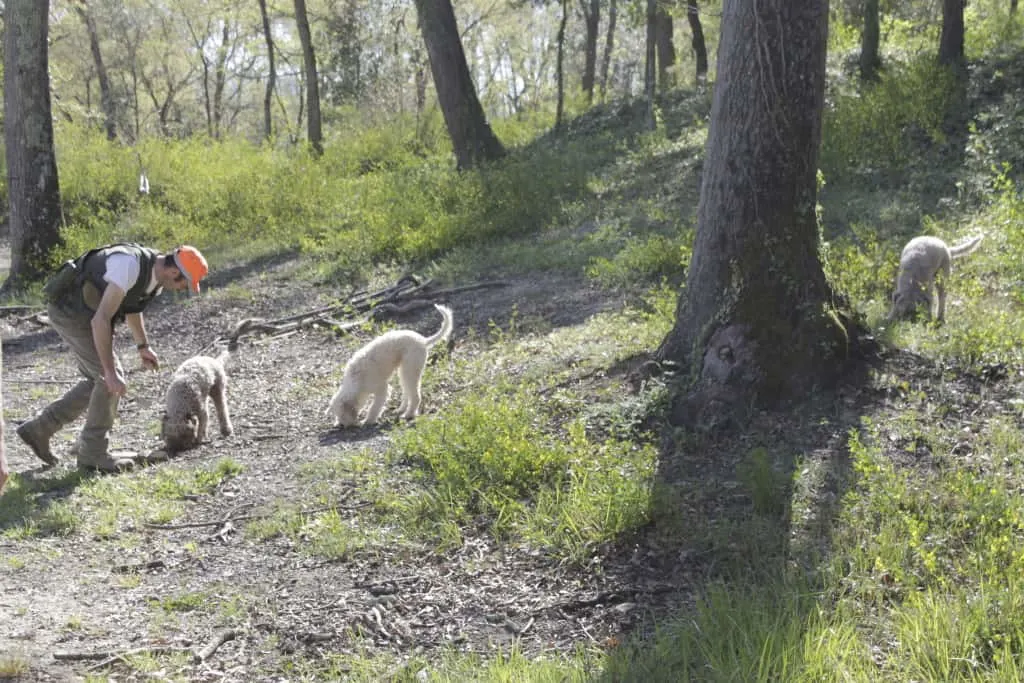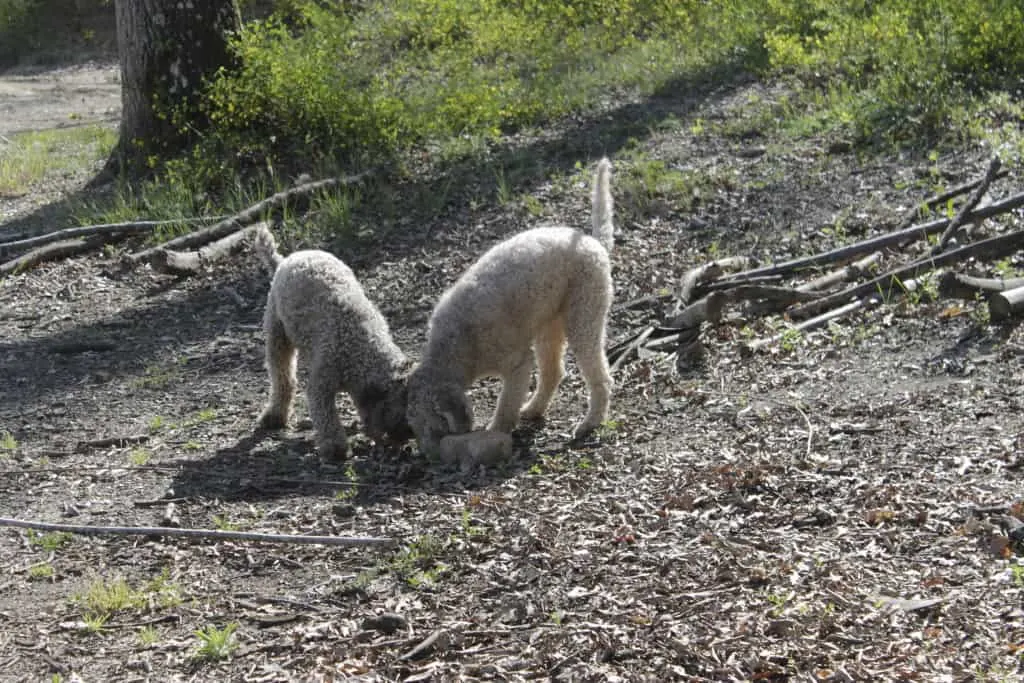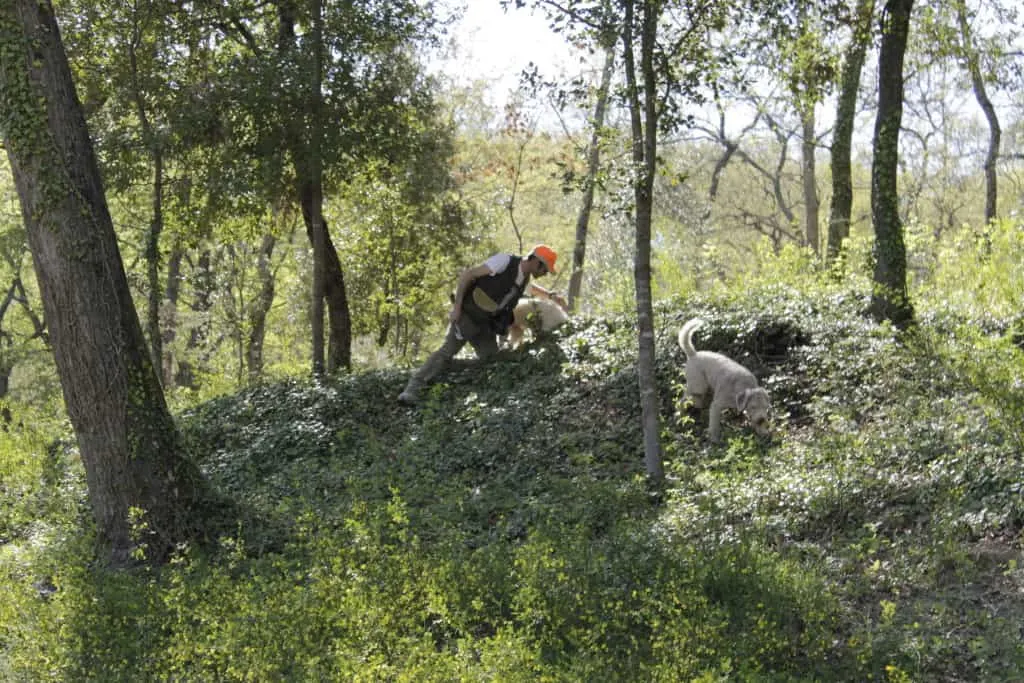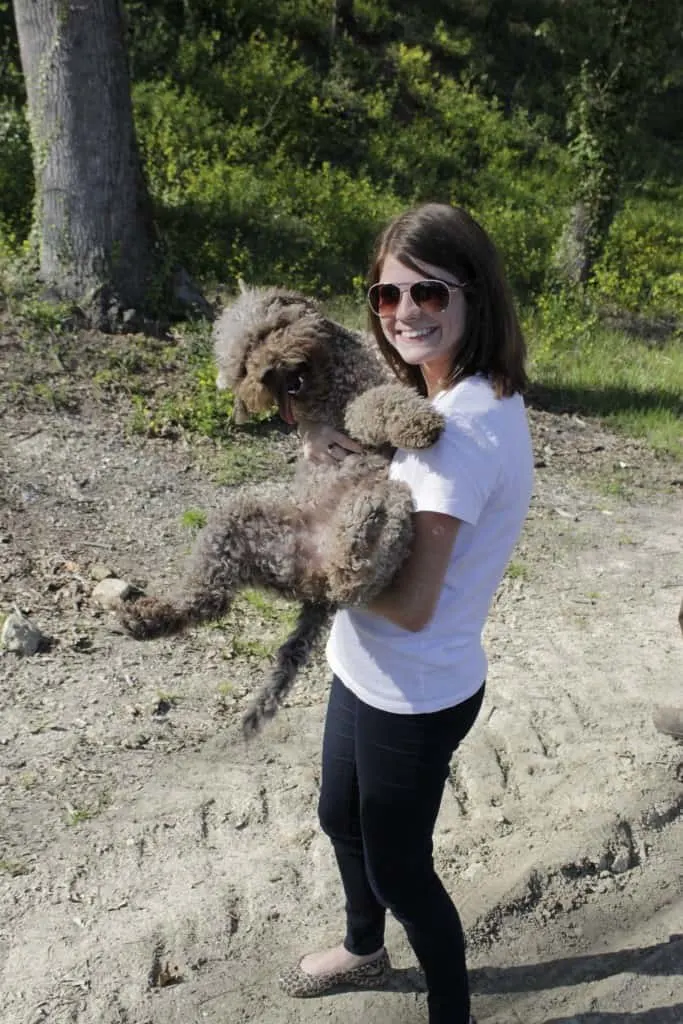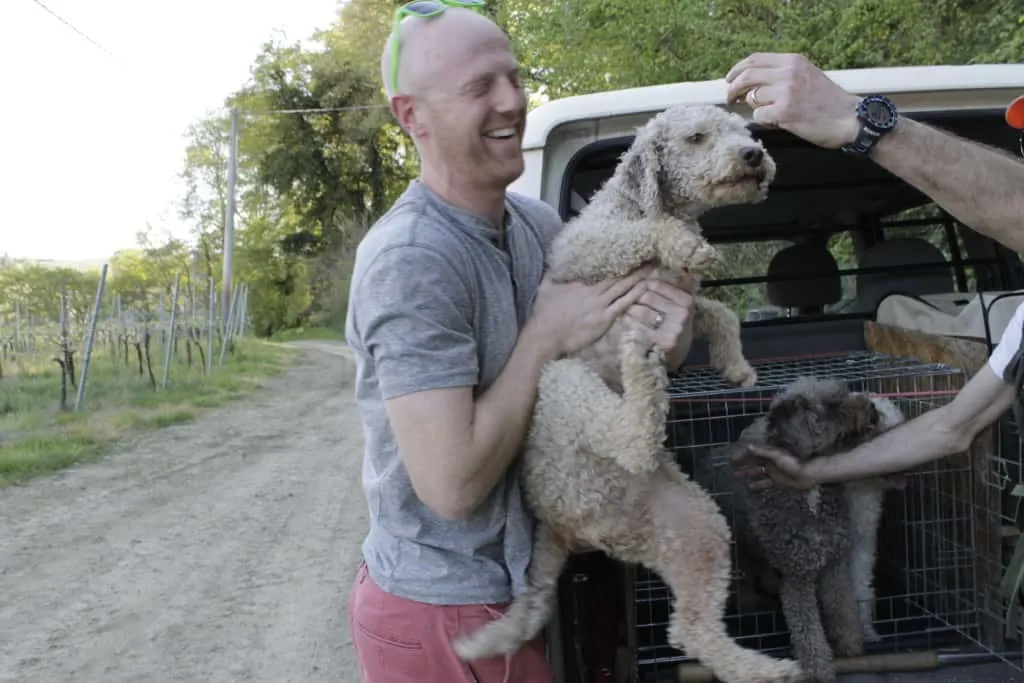 Then Alberto gave us toast with truffle butter and truffle cheese that he had made. Topped off with a glass of prosecco, it was an awesome afternoon. There were rolling hills and vineyards everywhere and we totally could have spent a lot more time in Tuscany.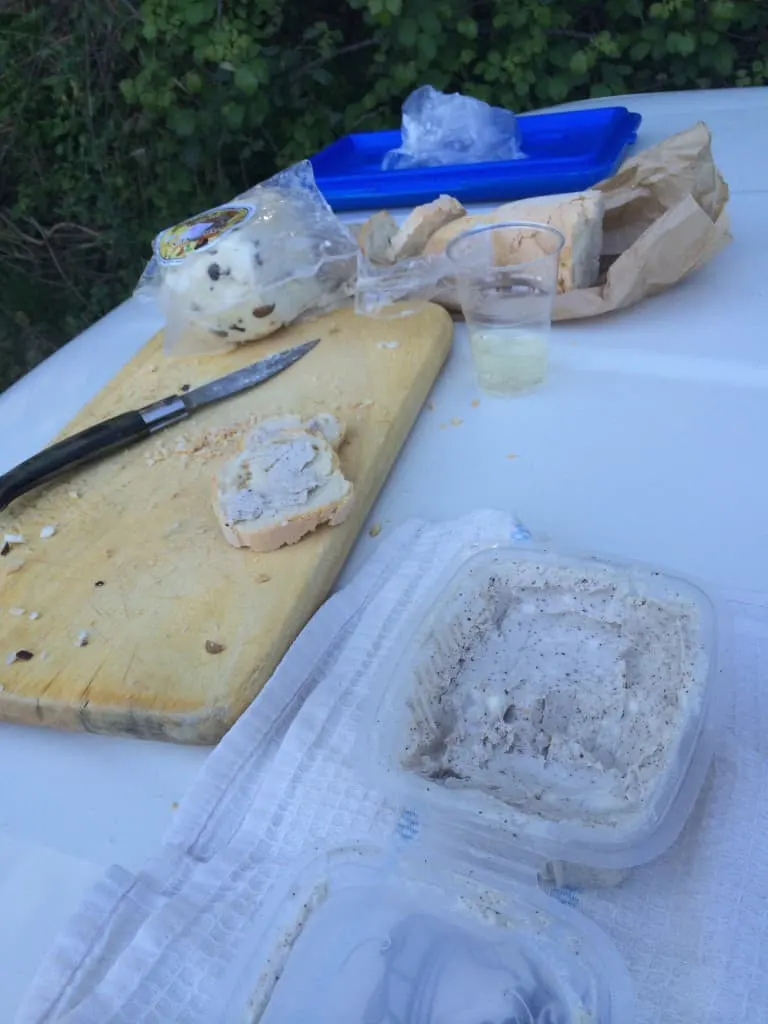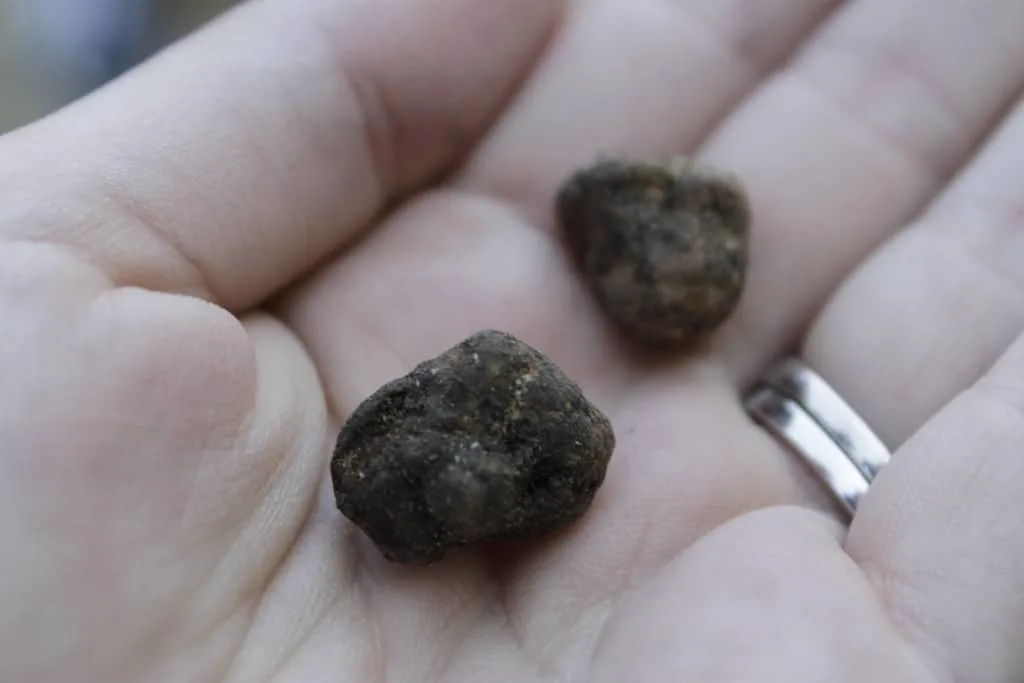 Traffic was bad on the way back into Florence, but we got dropped off and walked back to the Strange Uncle to drop off our stuff and get our bearings before going to the soccer game at Stadio Franchi. We took the bus for the Fiorentina vs. Hellas Veronas match. We arrived early thinking that we could walk around a bit and get some food like you usually do at sporting events in the USA, except you can't do that there and there is basically no food. Each section is blocked off from the other sections because they are trying to prevent rioting.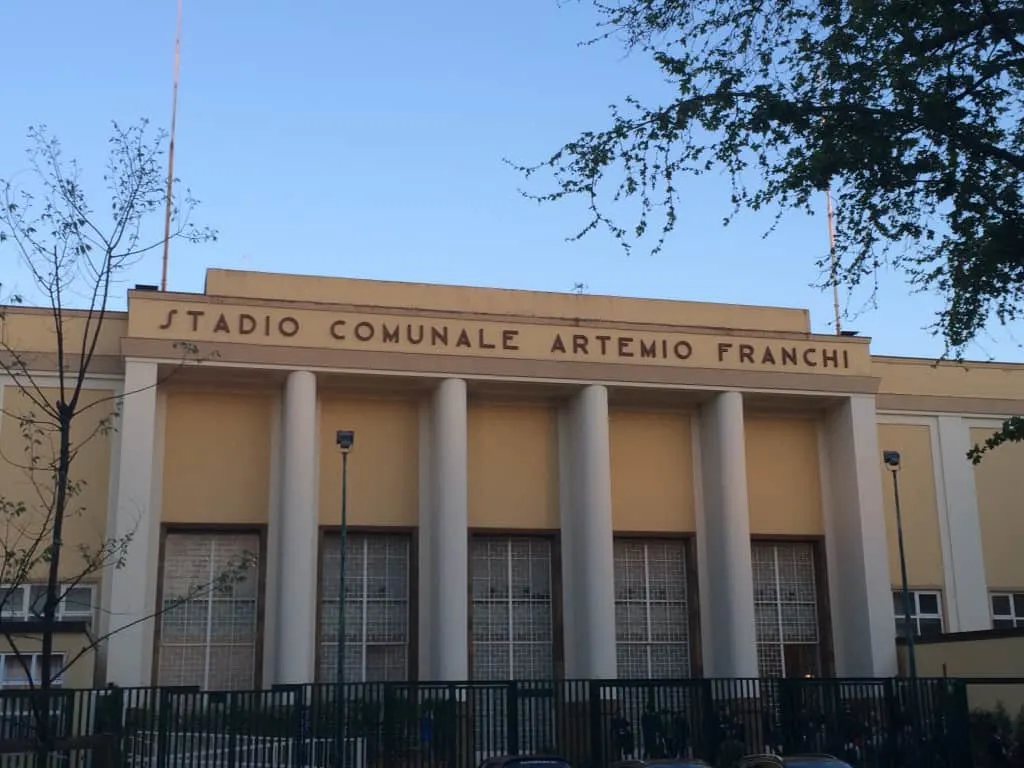 We had to therefore wait a while, but the game finally started. We really got into the chants and started to learn some of them. The atmosphere was really cool. Fiorentina dominated the whole game but couldn't score. They had the ball the whole time and took tons of shots. But in the 90th minute, Hellas Veronas got the ball in a scrum right in front of the goal and scored. Everyone got silent and walked out. Earlier, Fiorentina missed a direct kick, so it really was their own fault, and they lost 0-1.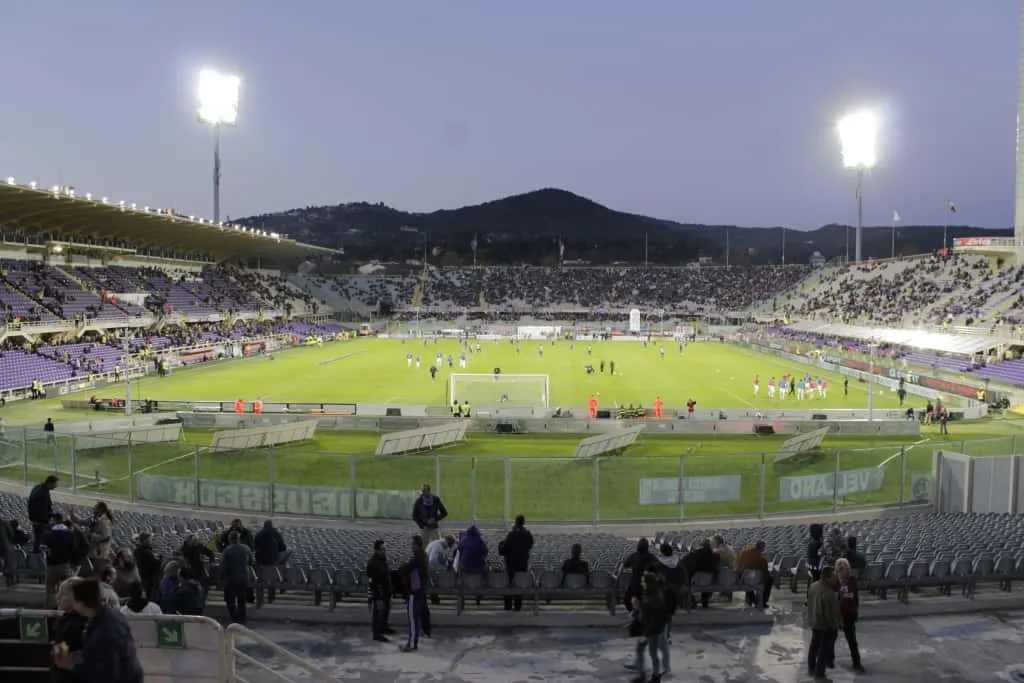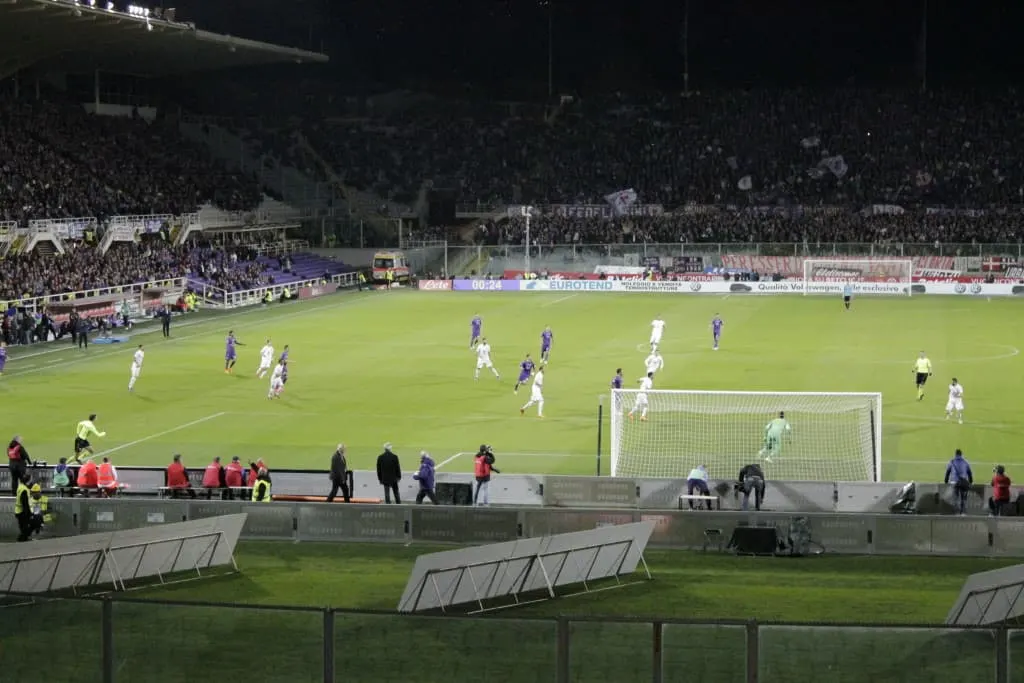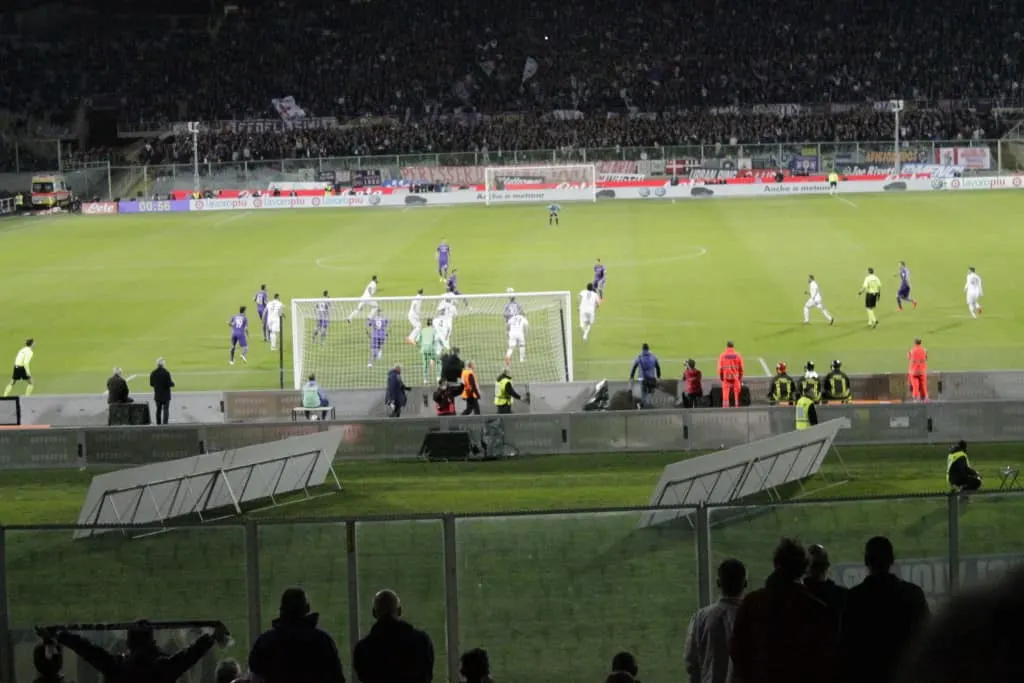 We figured out the bus back and got home around 11:30. It was a very long but exciting and fun-filled day.
One quick note, Italians need to stop smoking in public. People were power-smoking all around us at the game and it got ridiculous. I don't understand why it's still ok over there, but oh well.
After a really long day doing Tasty Tuscany and the Fiorentina soccer game, we slept in until about 9 a.m. We ate breakfast at the Strange Uncle. We finally met the owner and talked to him for a few minutes. Interesting fellow named Breditz. We packed up all our stuff and walked to the train station, grabbing paninis to take on the train with us. We had learned a few times already to always have food in case we get in a situation where we can't get food and we're hungry. The train ride from Florence to Naples took about three hours.
When we got to Naples, we had three hours to kill before my friend Meghan picked us up. She's a friend from back when I was taking classes in Maryland for three months. Her and her husband, Josh, moved out to Naples a couple years ago when she found a job transfer that would let them live in Italy for 3-5 years. They were gracious enough to offer us a place to stay for a couple nights and help us explore southern Italy.
So like I said, we had three hours to kill before Meghan got off work and could pick us up. We checked our bags at the train station and decided to explore downtown Naples. BIG MISTAKE! If I could give someone advice that was going to Italy, I would tell them not to go anywhere near downtown Naples. It was probably the sketchiest place we have ever been (and this is coming from someone who thought they were getting abducted on a boat in Belize – multiply that by five). It was extremely ghetto in every direction. We tried walking in several directions to get to something old, historic and nice, but that never happened in any direction we went. There were so many people trying to sell stolen goods on blankets on the street, garbage was absolutely everywhere, and it was very nerve-wracking. We walked for about 45 minutes and after stumbling upon a man in a dress outside a sex shop, we turned around and went back to the train station.
Because of the situation we were in, we literally did not take a single picture in downtown Naples. We didn't feel comfortable taking out our camera. So we sat in the train station cafe for a couple hours and had pizza and a bottle of wine and uploaded pictures onto our computer. Then we caught a harrowing cab ride 20 minutes to the airport where Meghan was going to pick us up. Seriously, people driving in Italy are crazy. They just cram their cars into every space possible. I can't believe there aren't more wrecks, but the police sure don't seem to care how people drive.
Meghan met us at the airport and drove us about 45 minutes to their house in the suburbs. Turns out, the suburbs of Naples are actually peaceful and cute. Their house was incredible, but the view from their rooftop terrace was breathtaking. From up there, you can see the Mediterranean Sea, Mt. Vesuvius, Capri and much more. It was incredible.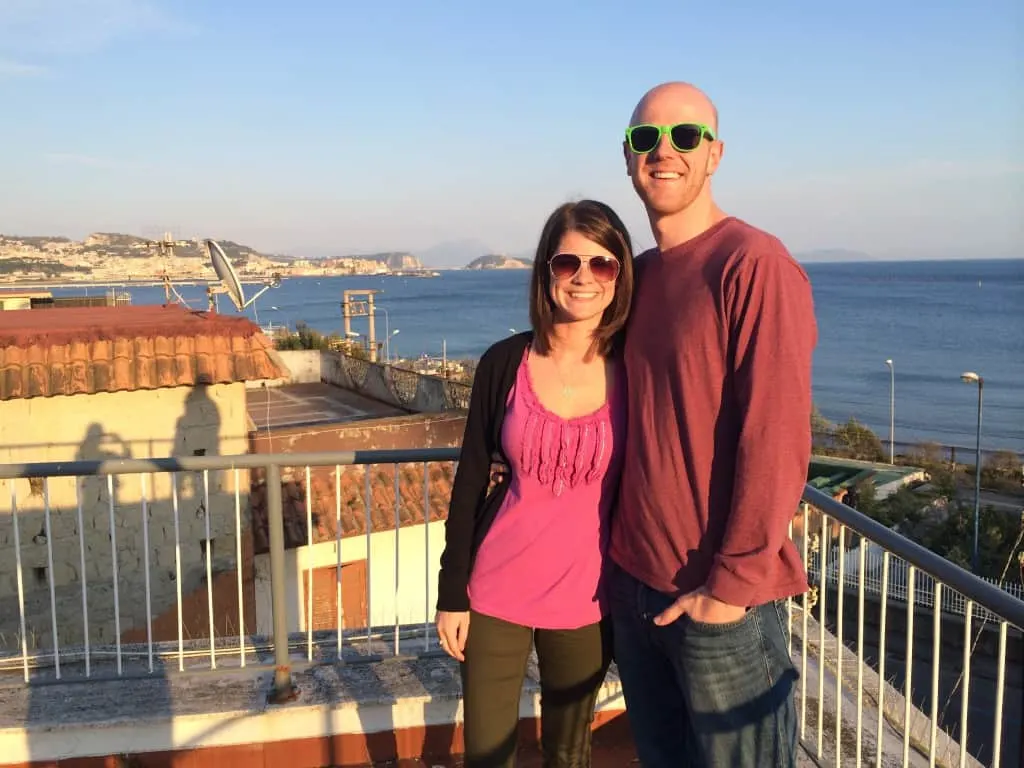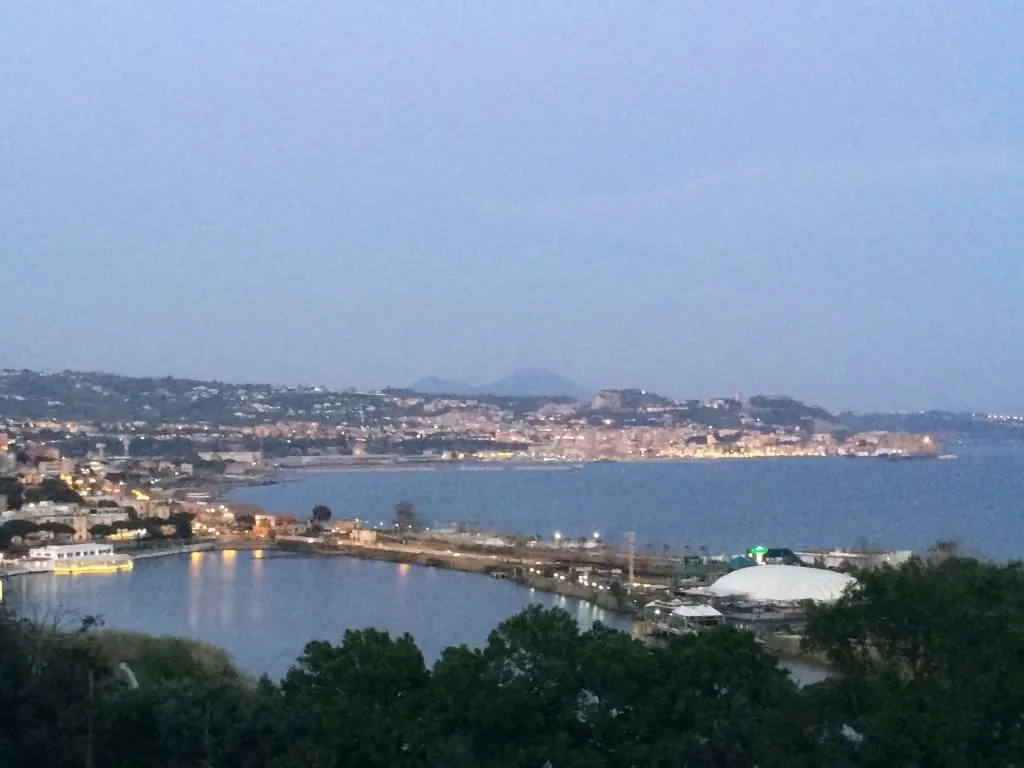 We had a couple bottles of wine and talked and caught up. They greeted us with a cool bottle of champagne that was local and very yummy… once we finally got it open.
Afterwards, Meghan and Josh took us to dinner at a secret, hole-in-the-wall place call Lo Sfizio. It looks very small from the front, with only a few tables. But if you know about it, you know that you have to walk through the kitchen to more tables. There is no menu at this place, but luckily Josh has become pretty good at speaking Italian in the time that they were there. He took charge and ordered some appetizers of mozzarella, breadsticks wrapped in prosciutto, and stromboli. It was all super fresh and delicious.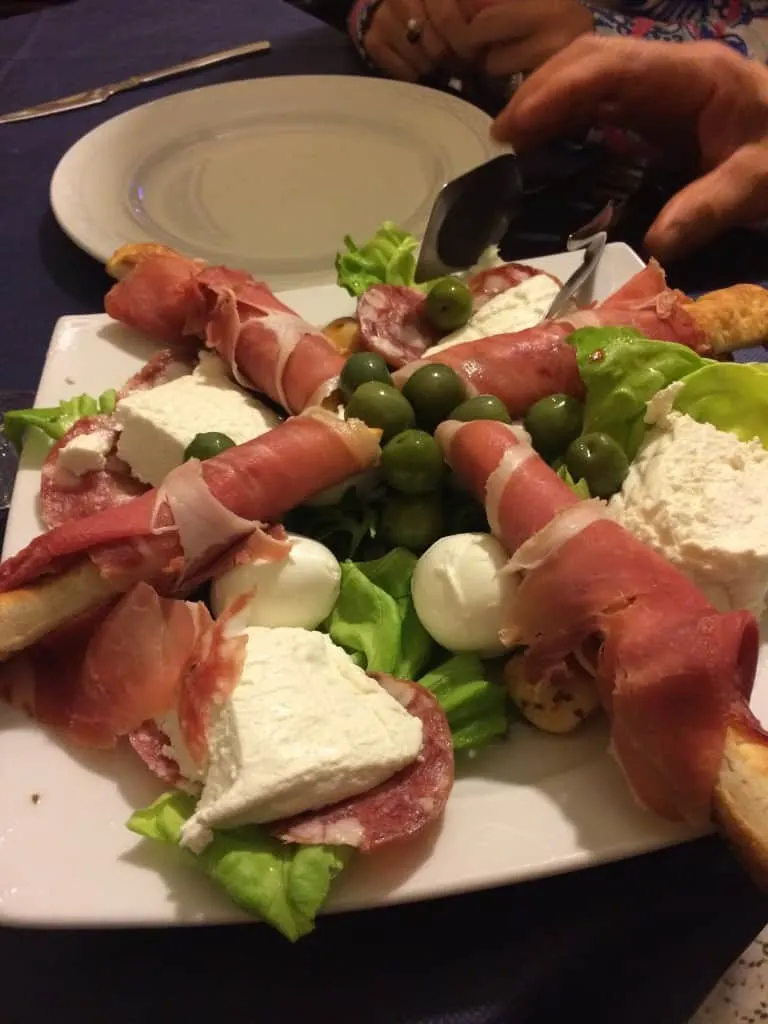 Then we had penne bolognese for diner. The sauce was very flavorful and warm. It was really cool to have someone show us a hidden gem, because those places always have the best food.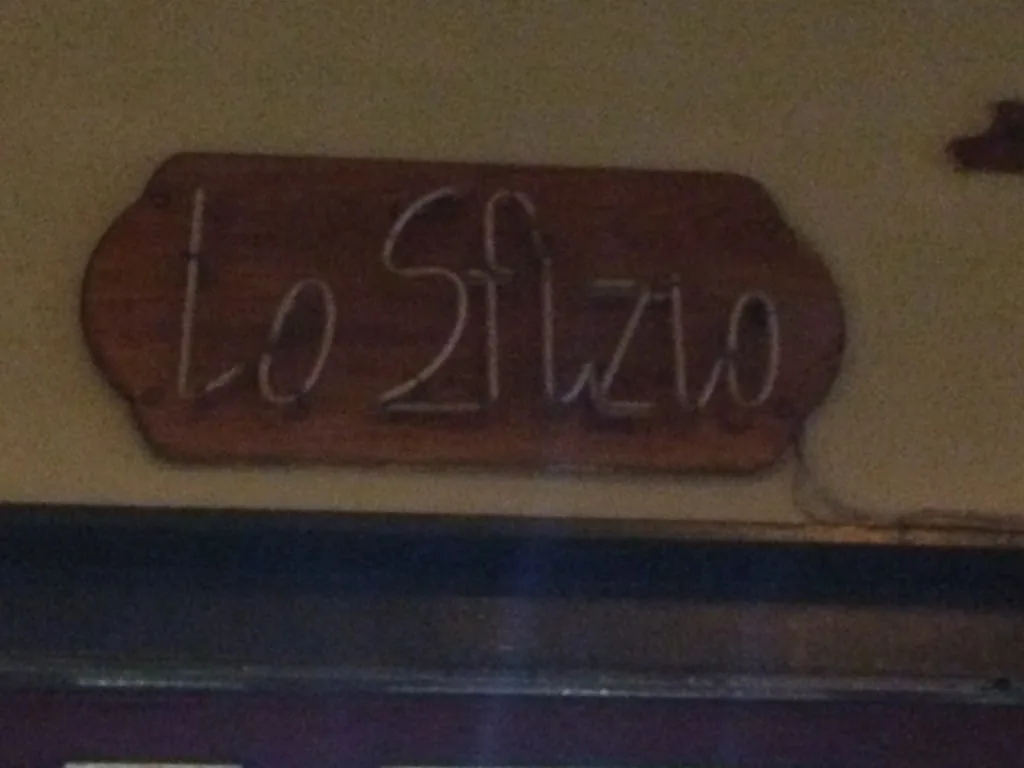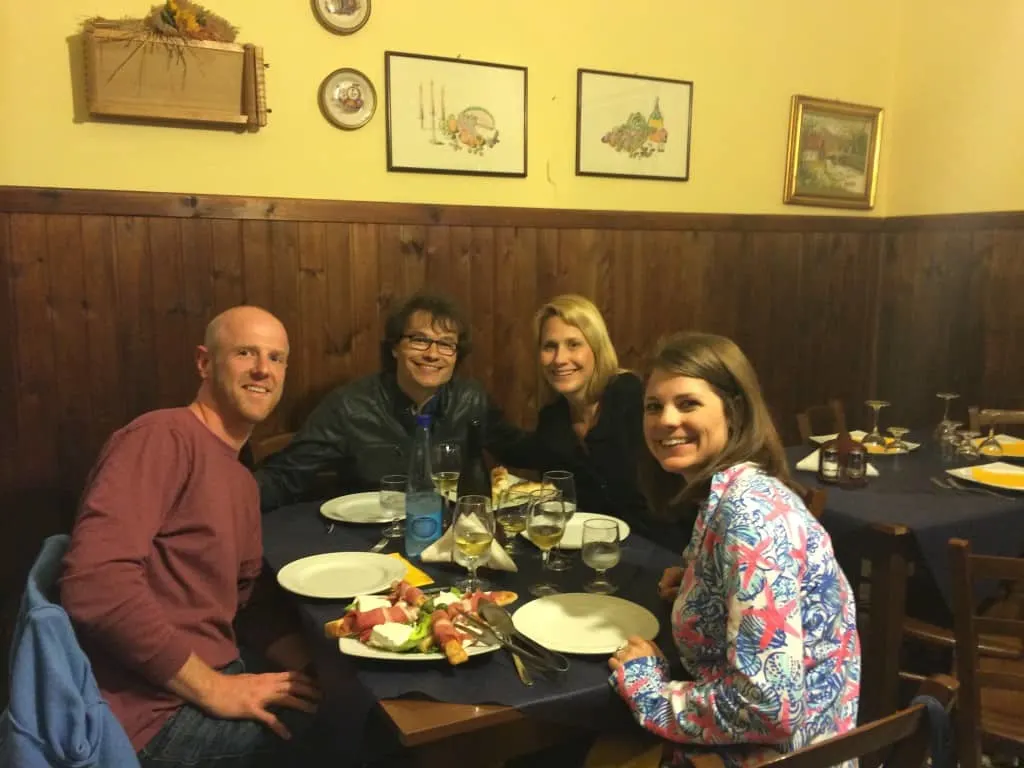 We drove back to their house, talked for a bit, and went to bed, planning and extremely long day tomorrow to Pompeii and the Amalfi Coast!
We woke up bright and early this morning and Josh made us eggs- a nice change of pace after all of those pastries we've been having! Meghan drove us about 45 minutes to Pompeii where we parked in a camping parking lot and bout tickets for a self-guided tour of the ruins. The weather was sunny and warm and, while we thought it was crowded, apparently there was basically no one there.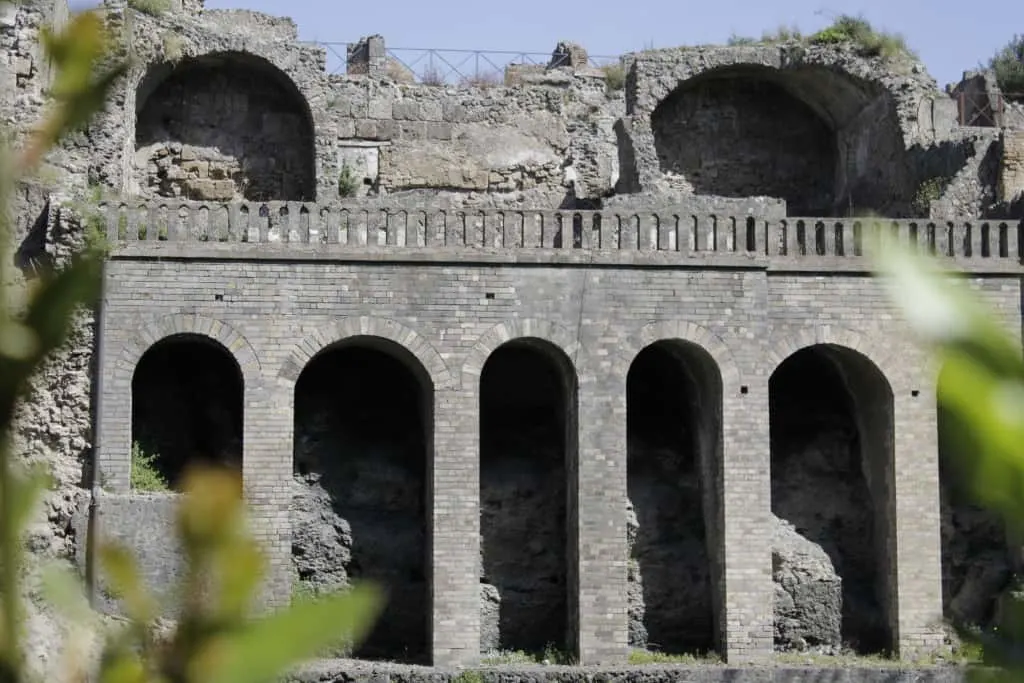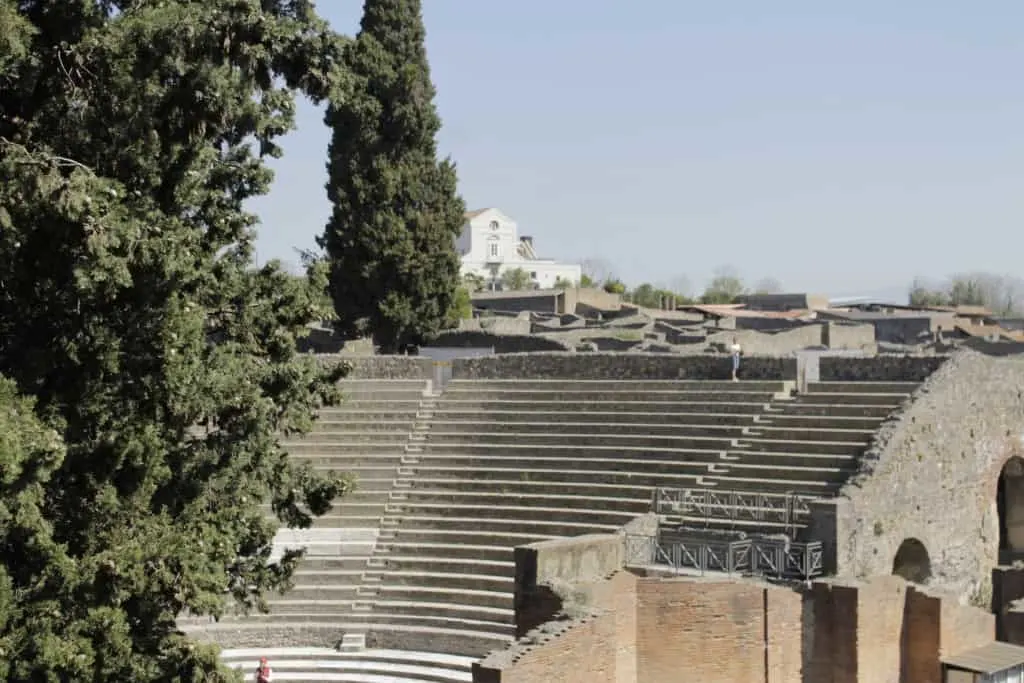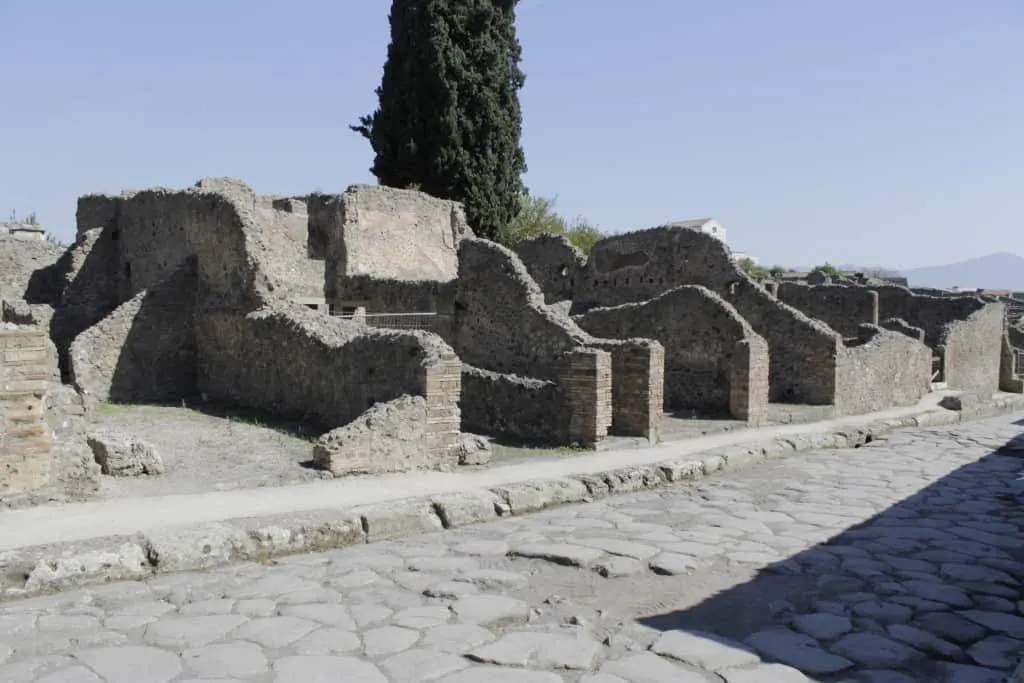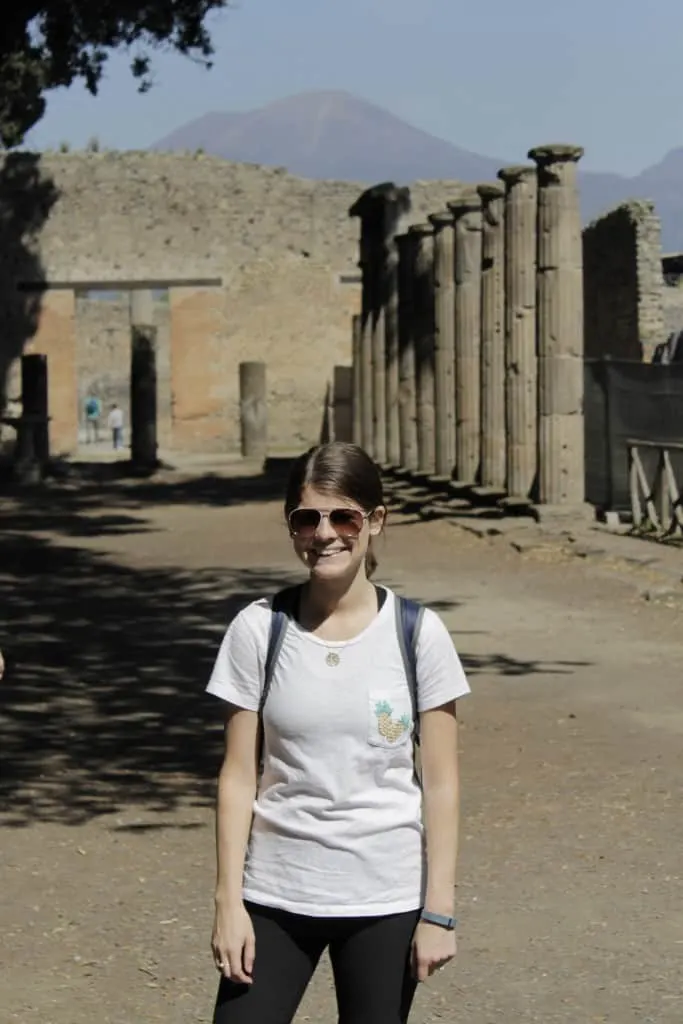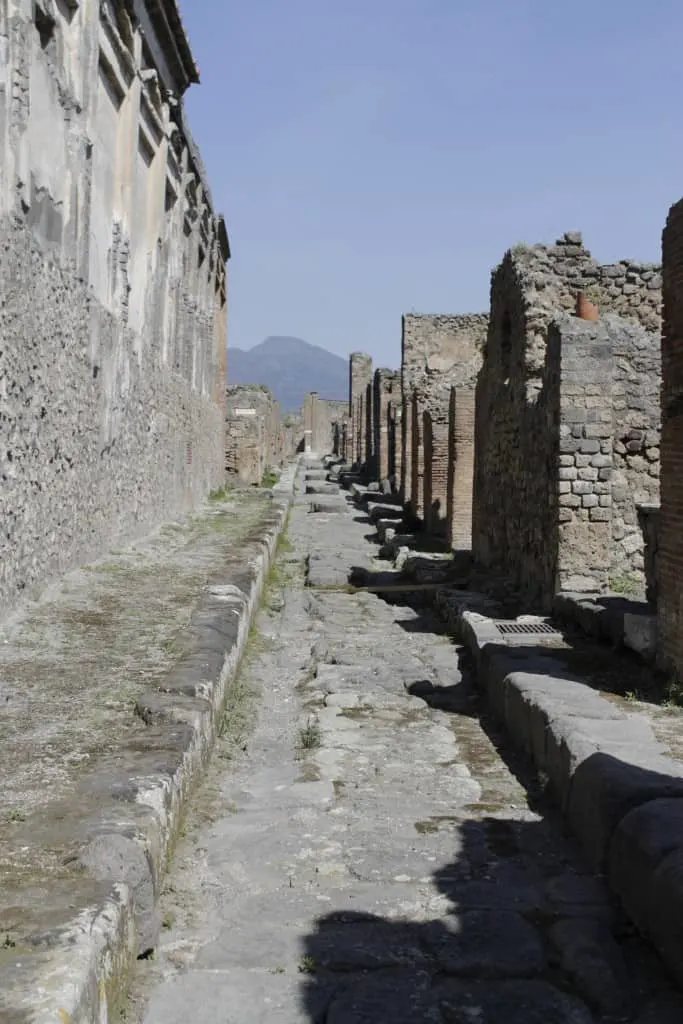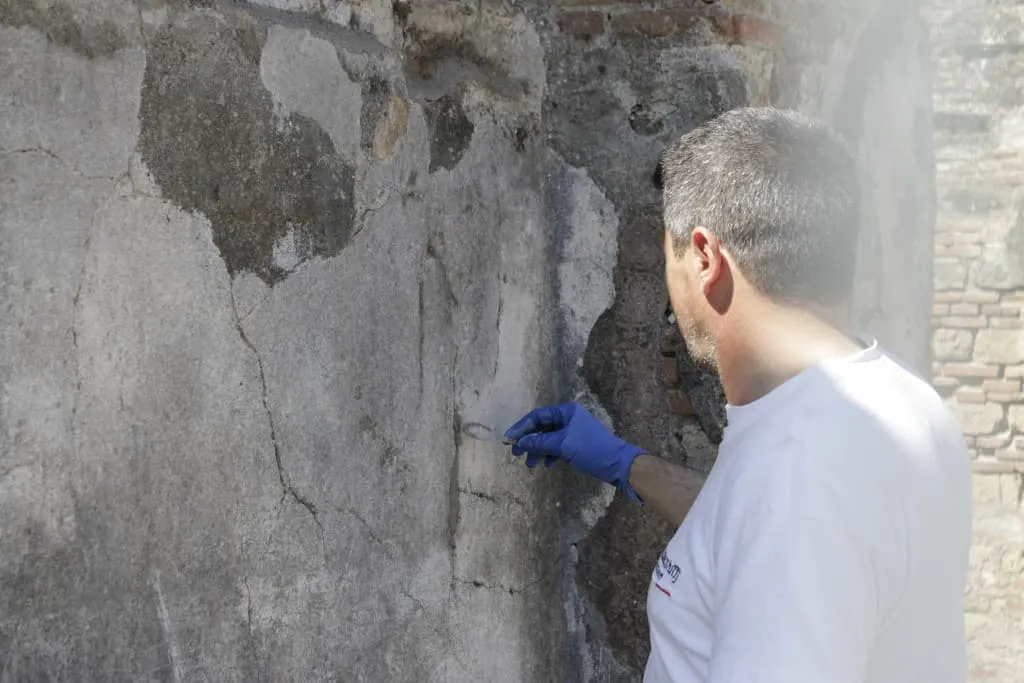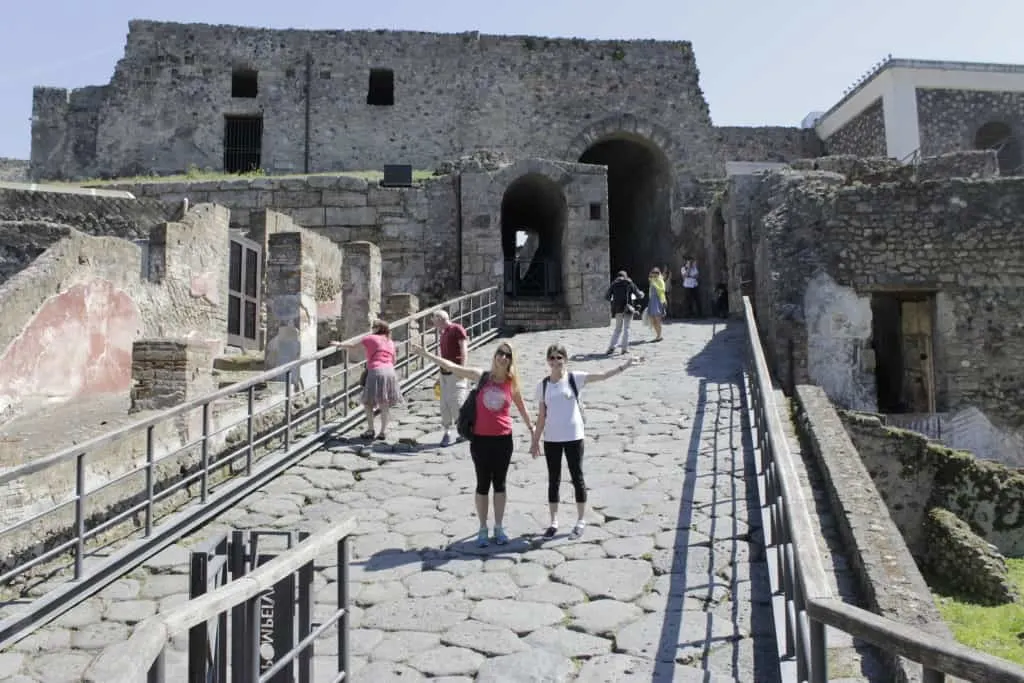 We saw where all the old homes used to be and areas of the town before the volcano covered it in lava. Pompeii was a sort of Las Vegas for ancient Romans. Rulers and royalty would come to Pompeii for gambling and prostitution. We saw a brothel with beds made out of rock and sex positions drawn above each room. Apparently you would show up at the brothel and point to which position you wanted, and then you went with the corresponding prostitute. It was weird.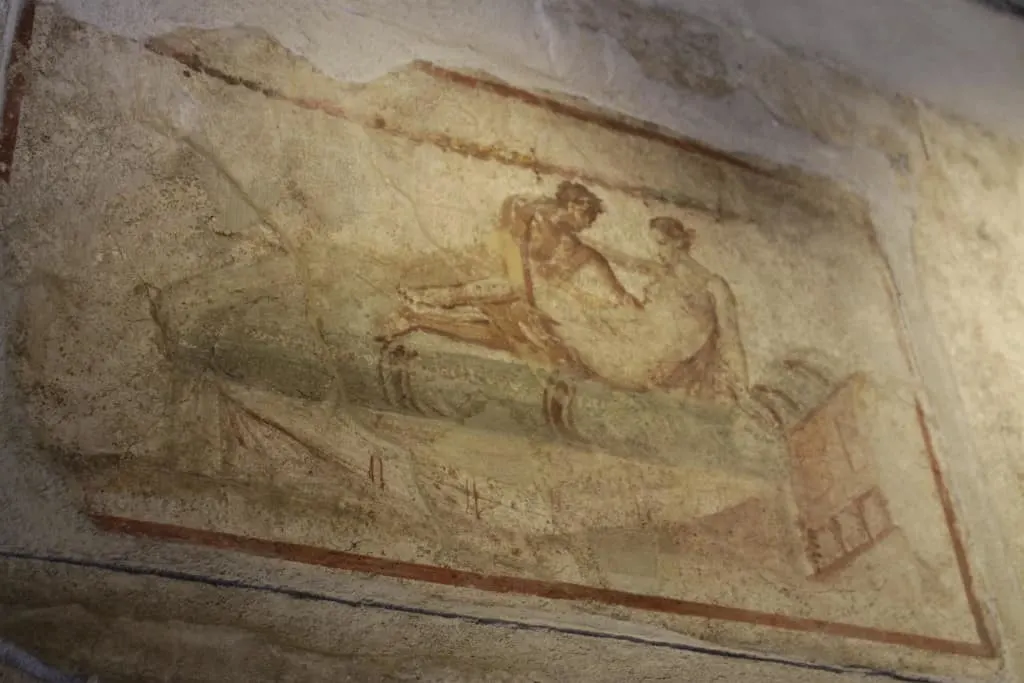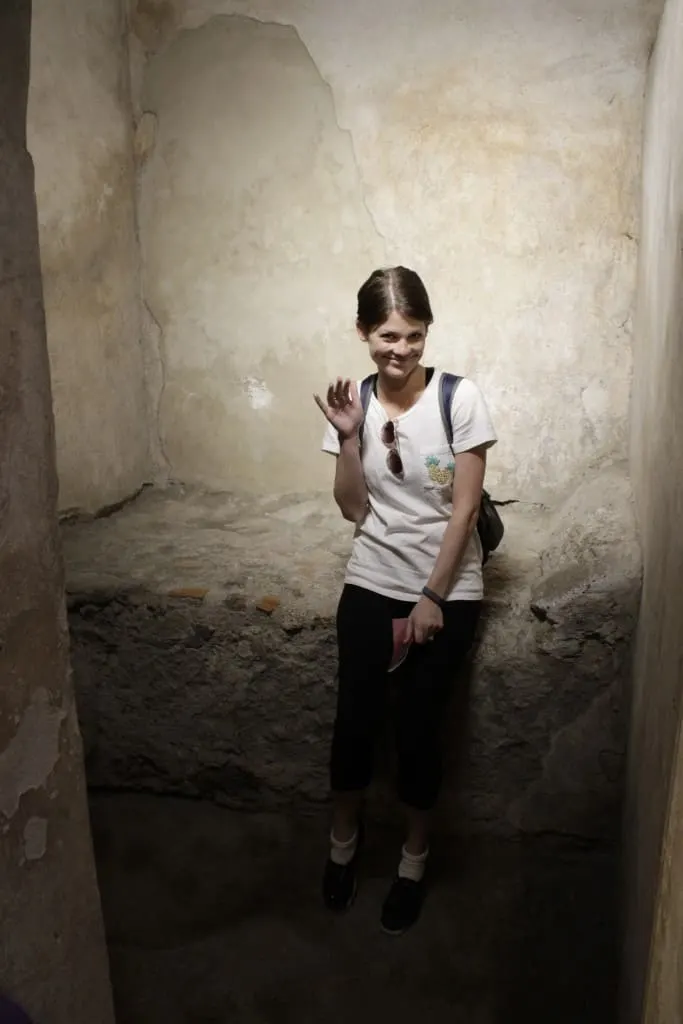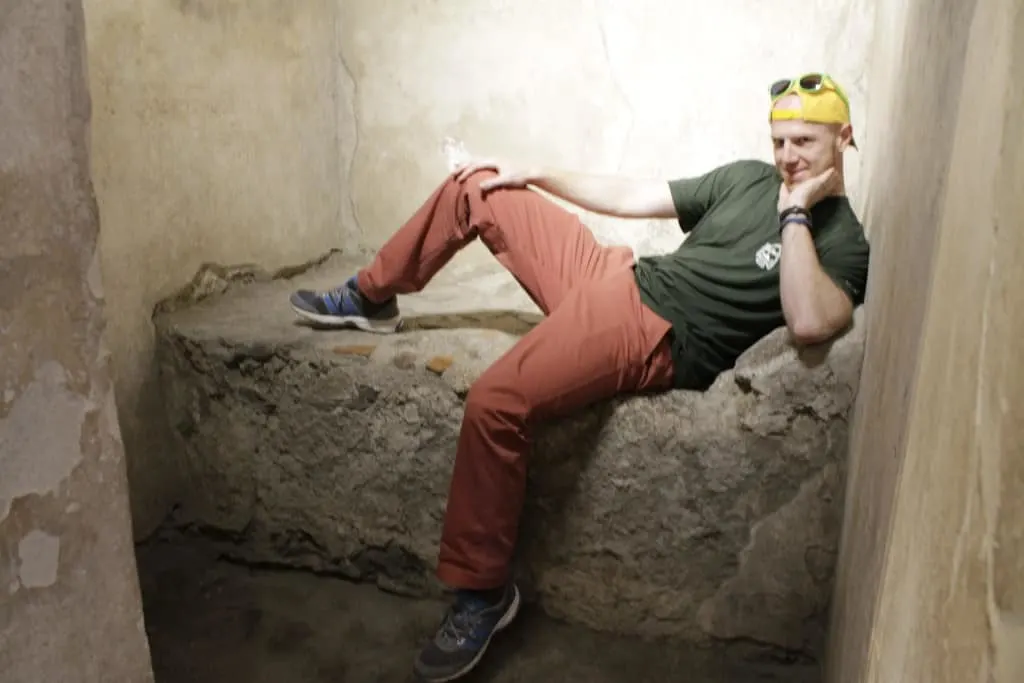 There was a place on the main town square where the archeologists store everything that they have uncovered over the years. It's filled with bowls, vases, plates, and even a couple of people and a dog.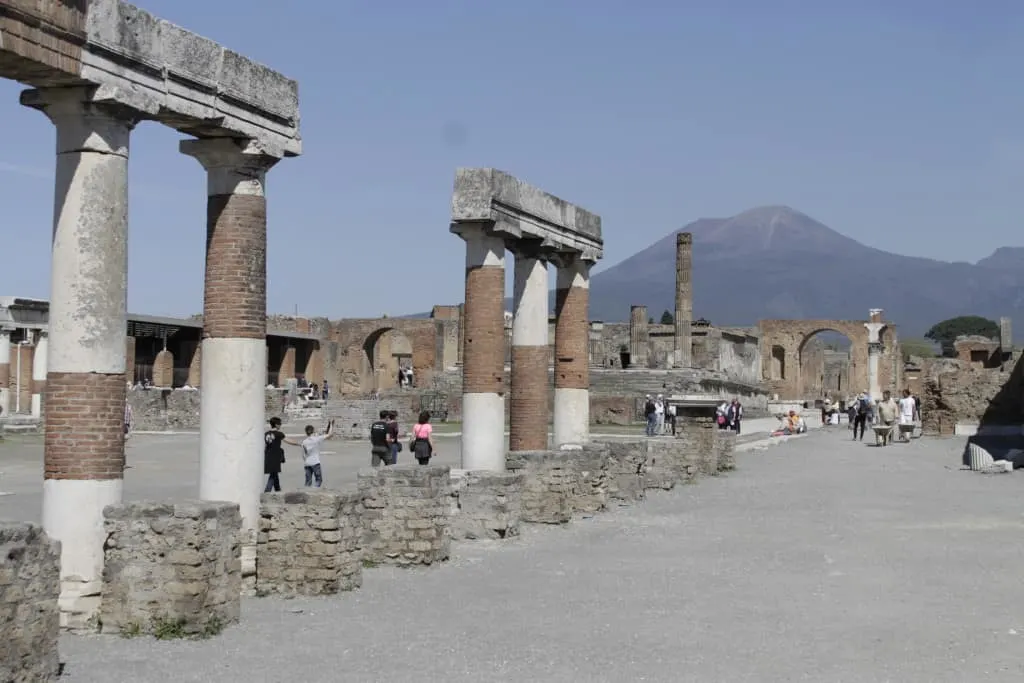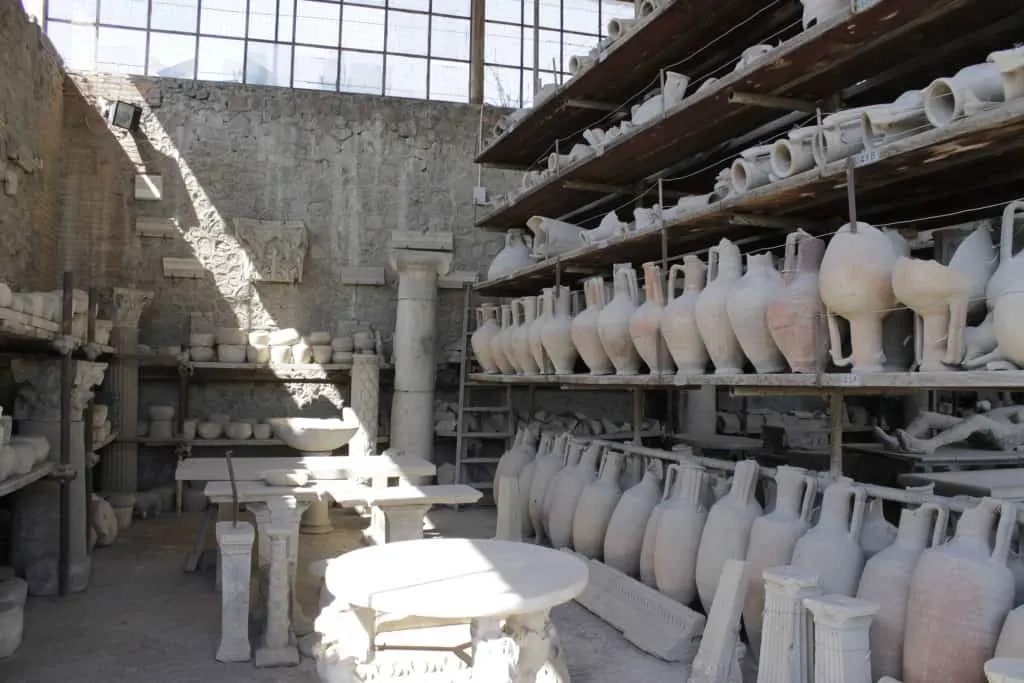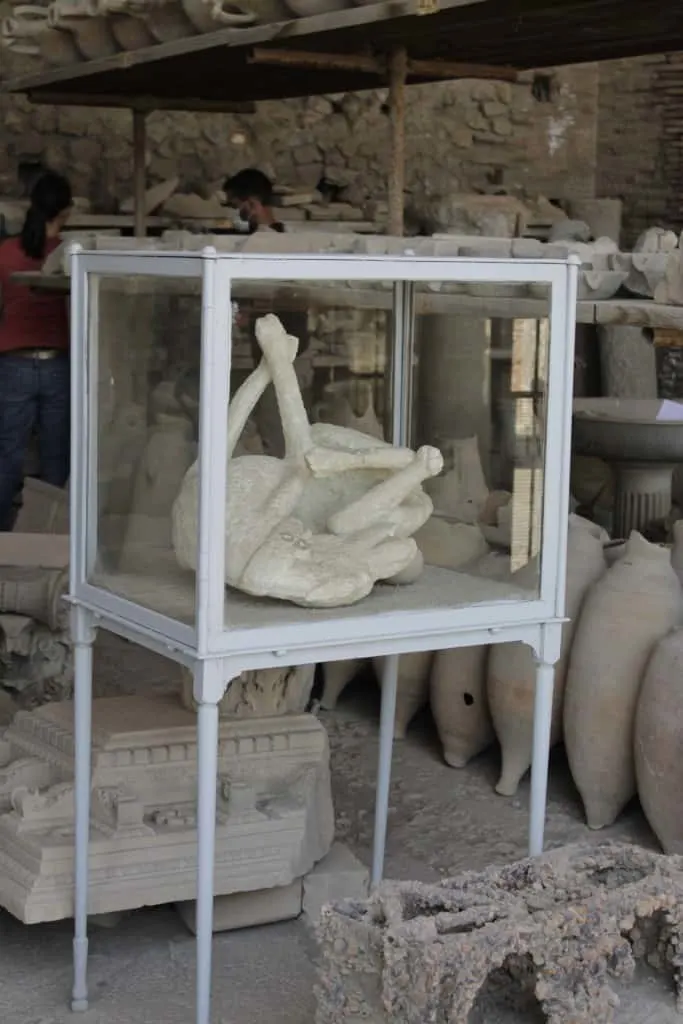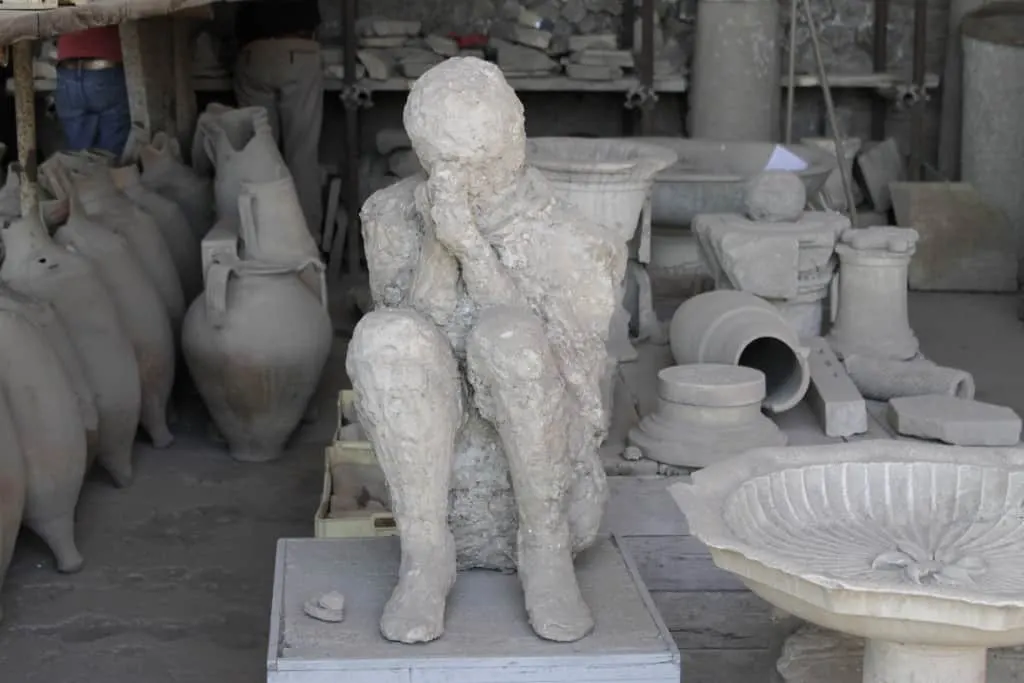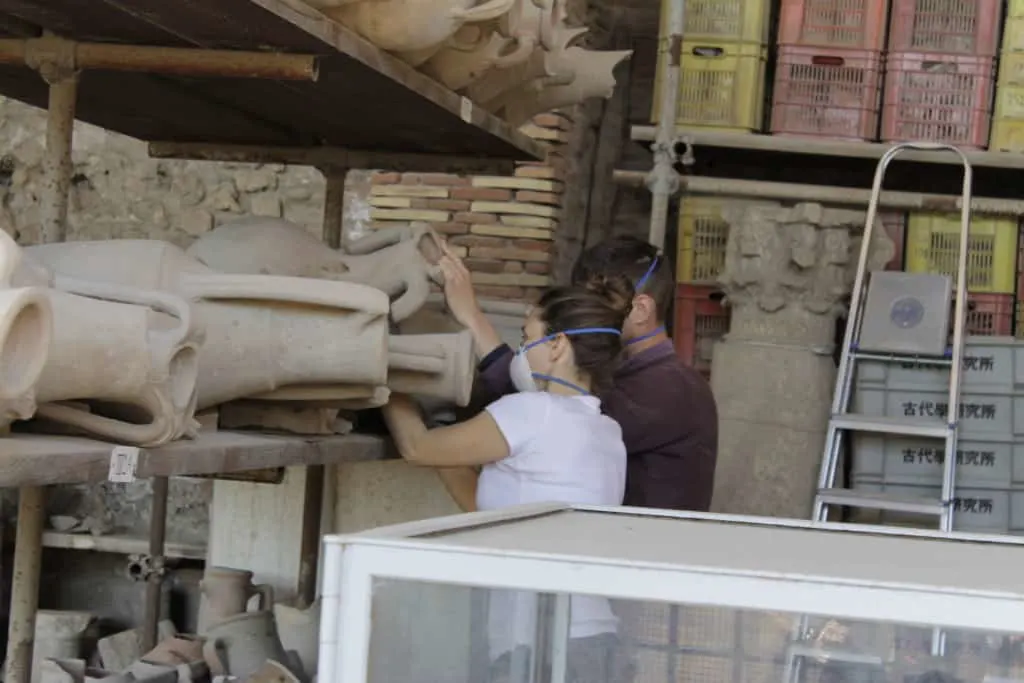 We walked to the top of a hill in the back of the town and could look down over everything. I was interested to see that Pompeii, while relatively close to Mt. Vesuvius, really isn't that close. There are quite a few towns closer to it that also got destroyed, but we never learn about those.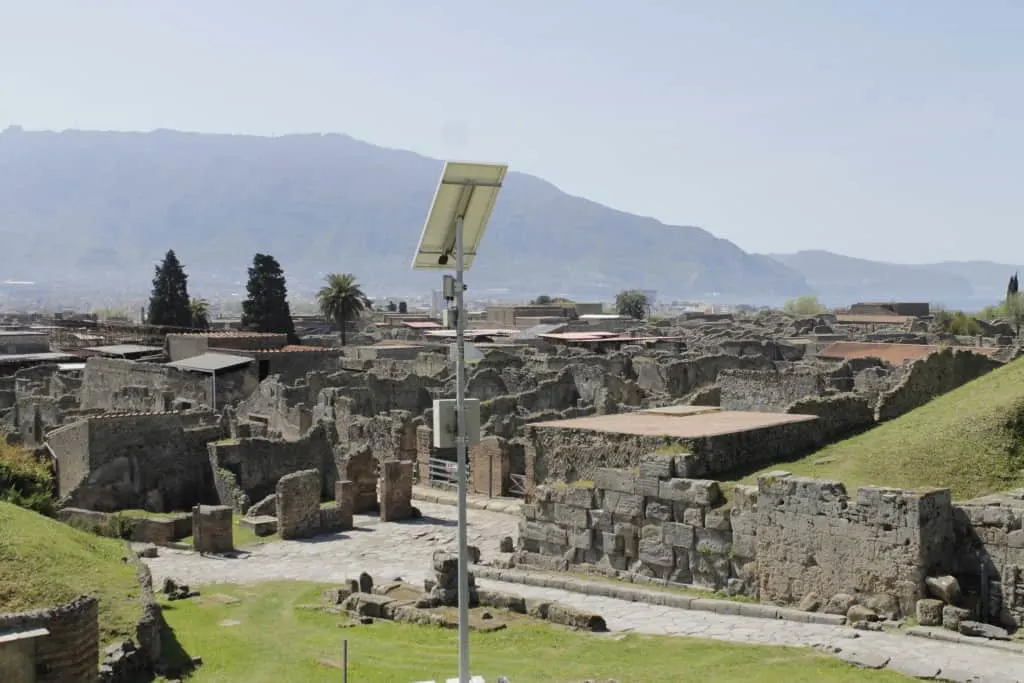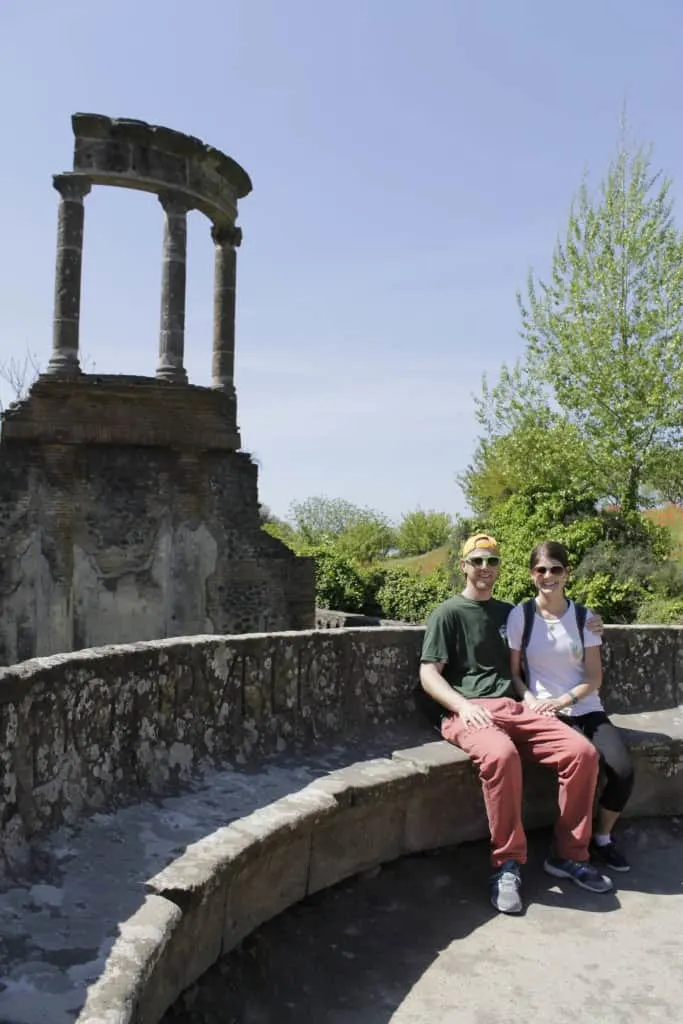 The city was much larger than we thought. Vesuvius itself was quite ominous. I can't imagine what it would have been like for those poor people to see that thing exploding and rushing toward them.
We ate in a shaded restaurant that Meghan knew about and ordered some caprese pizza. We were the only ones there and it was delicious. We saw yet another sketchy toilet situation, though, where their were no lids, seats or toilet paper rolls.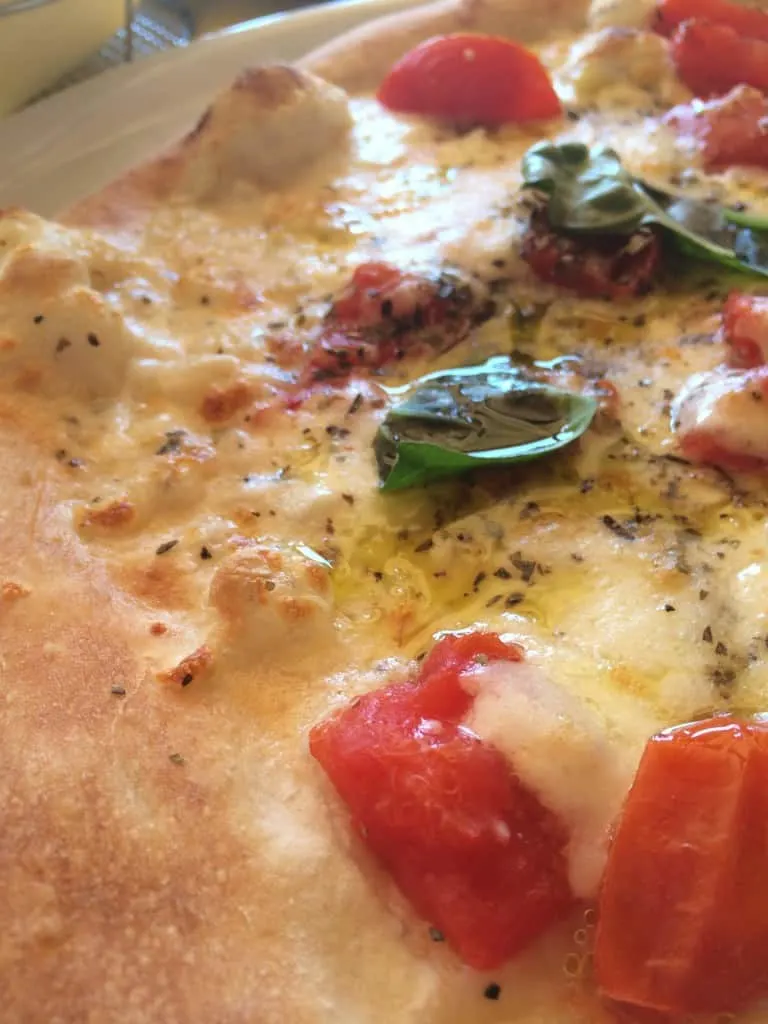 Next we drove another 45 minutes up up up a hill to the Amalfi Coast. Meghan took us to the Path of the Gods, where she has been a few times before. The two and a half hour hike was absolutely breathtaking with panoramic views all around. We looked down on towns and back up toward sheer rock cliffs. Everything was a straight drop down.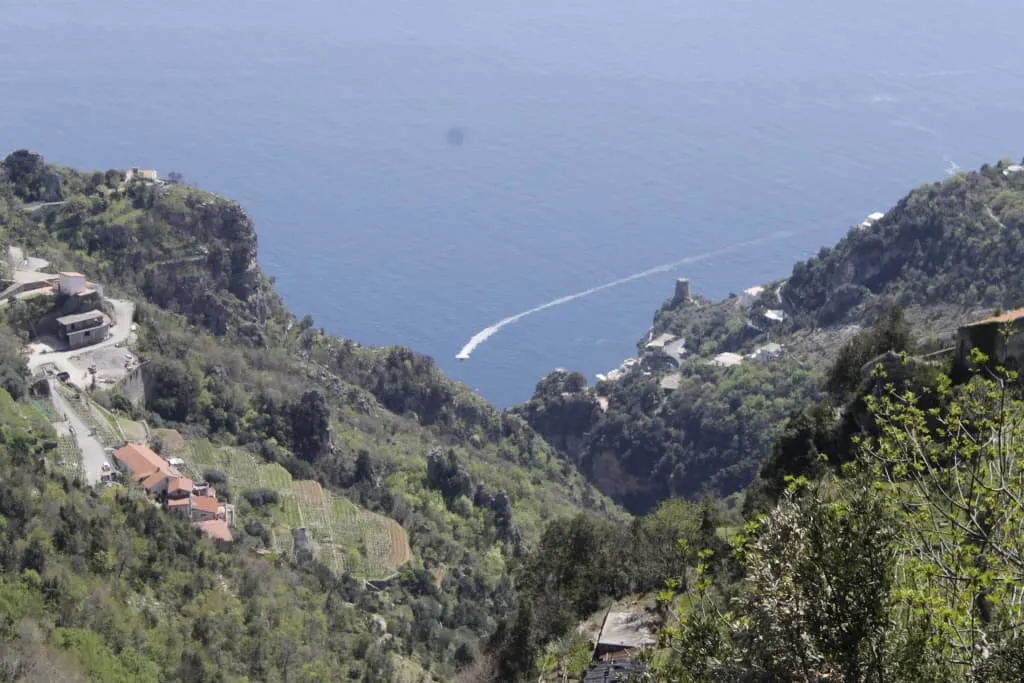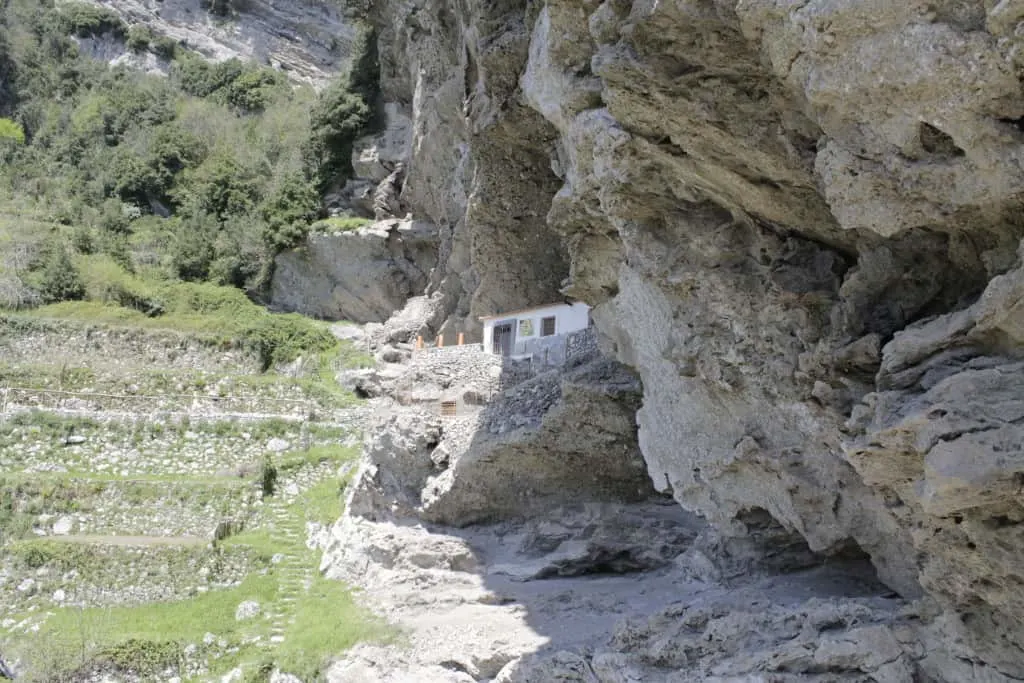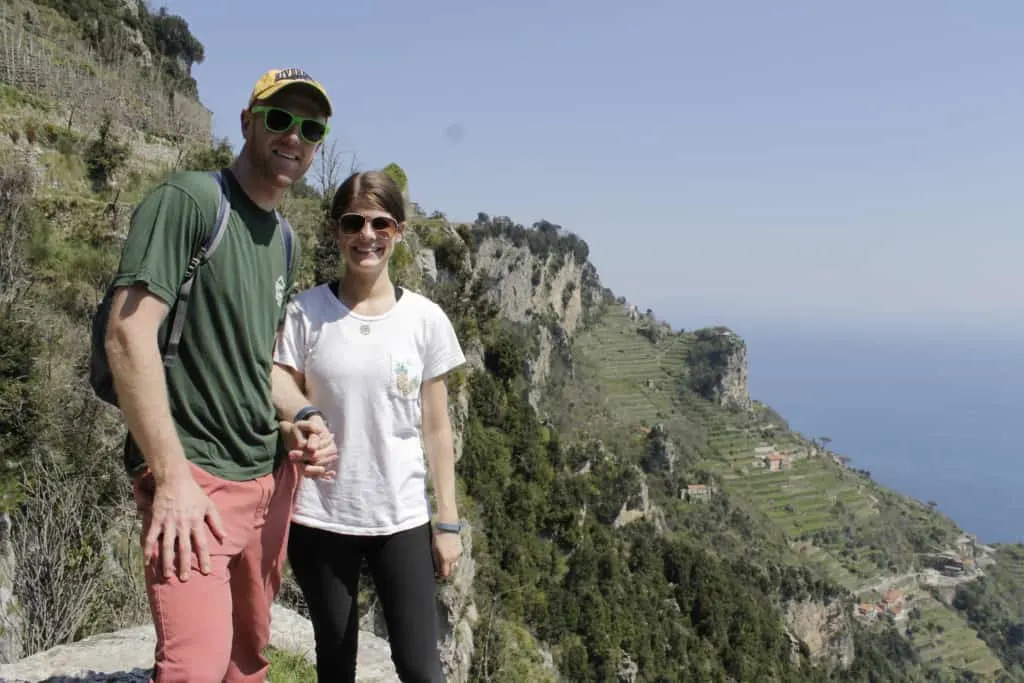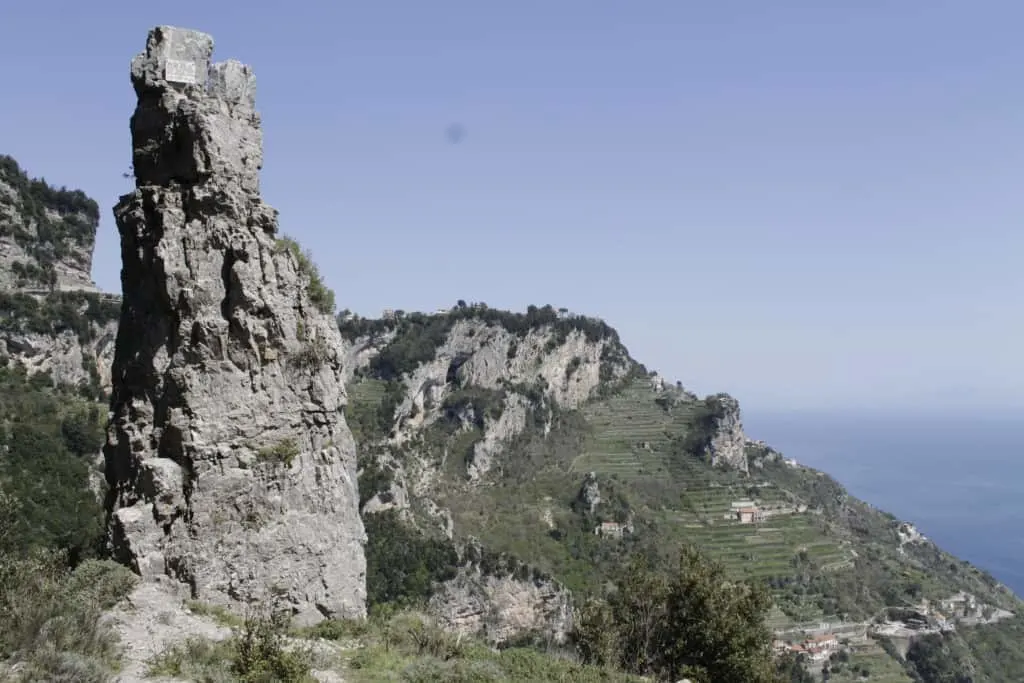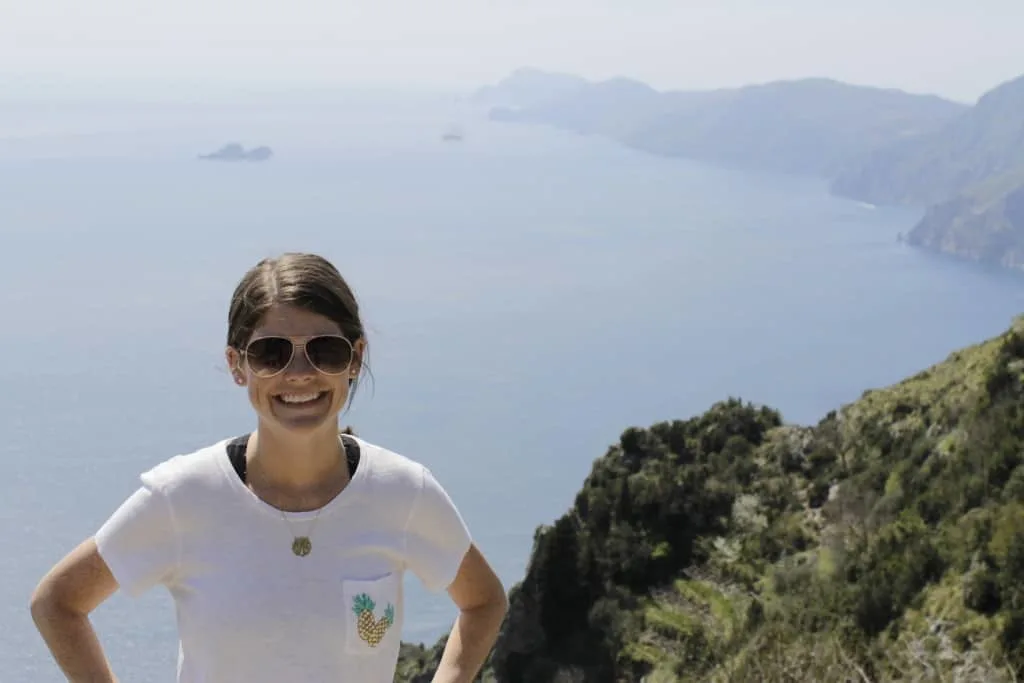 The day was sunny, so we could see out to sea a long way. The water was so blue and clear, you could see right through it to the sand and rocks.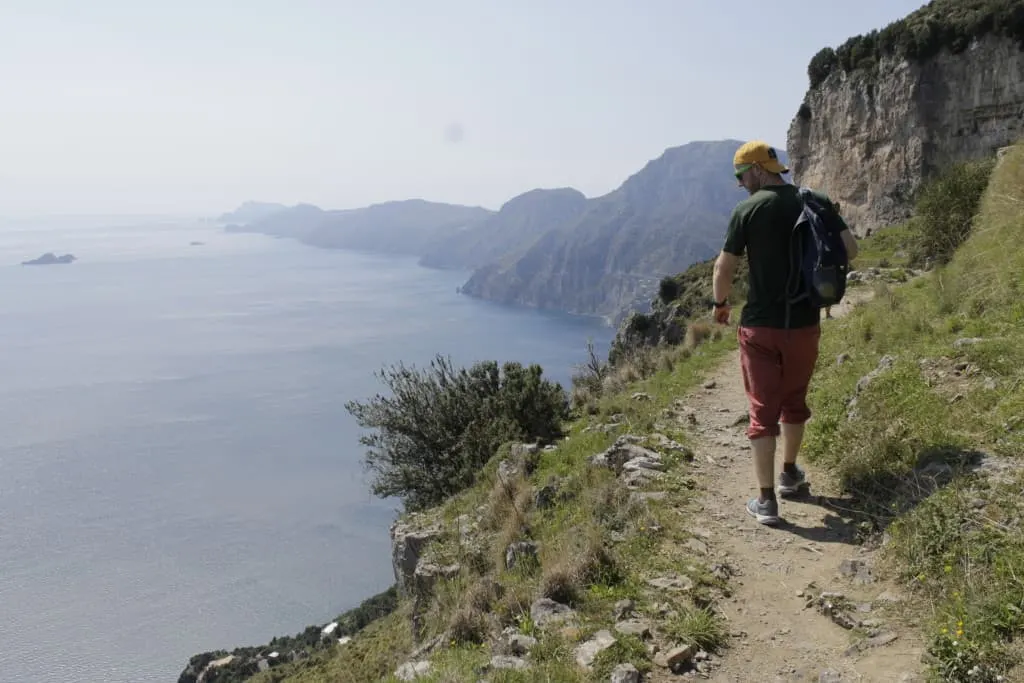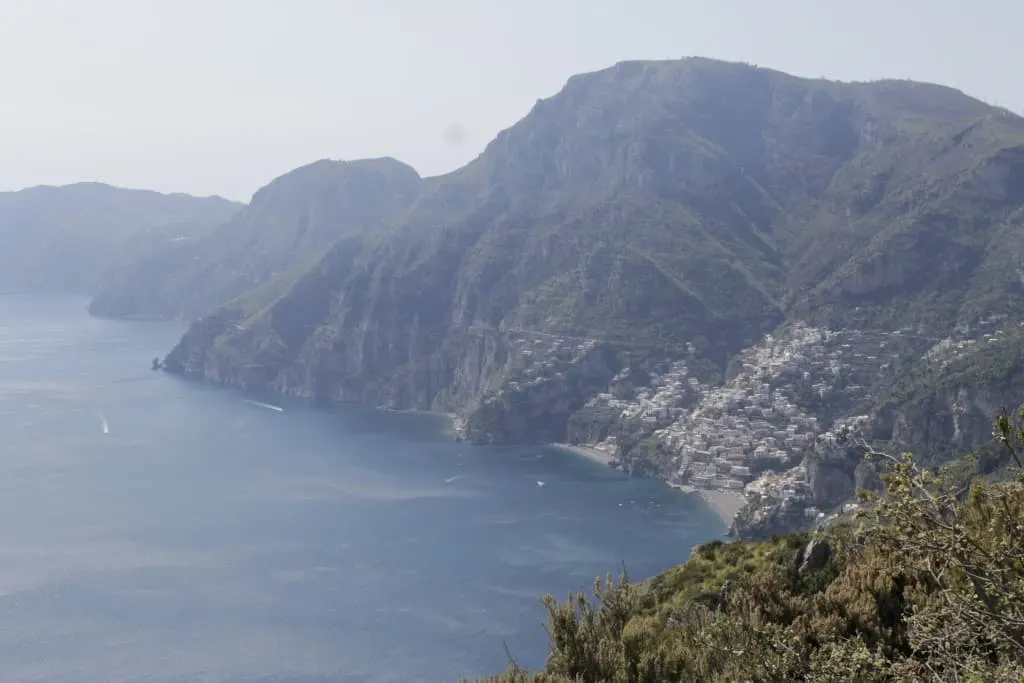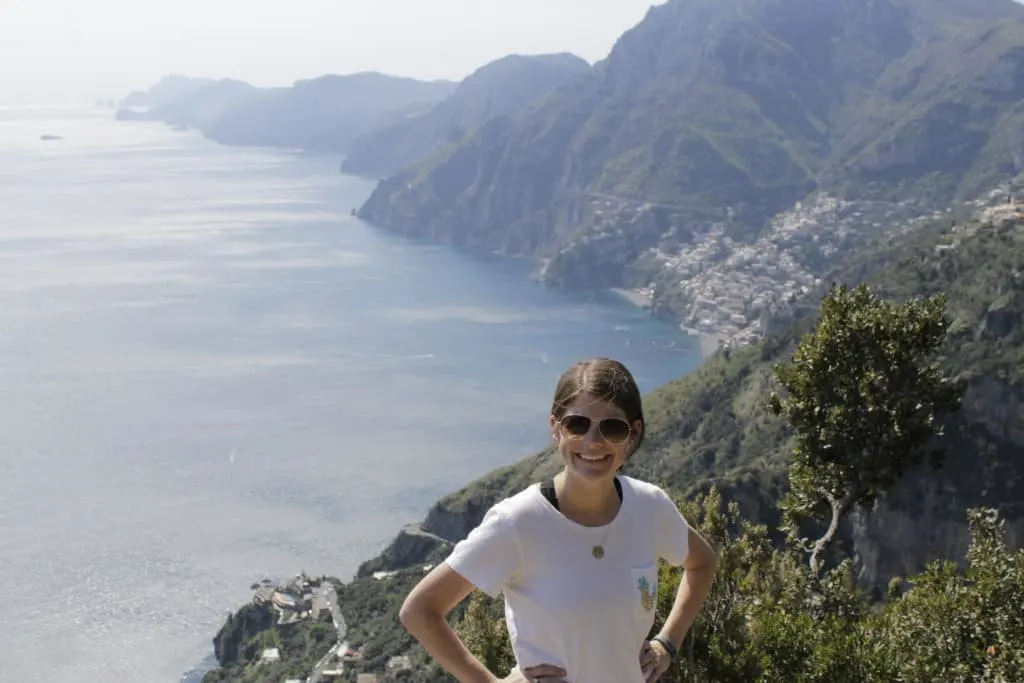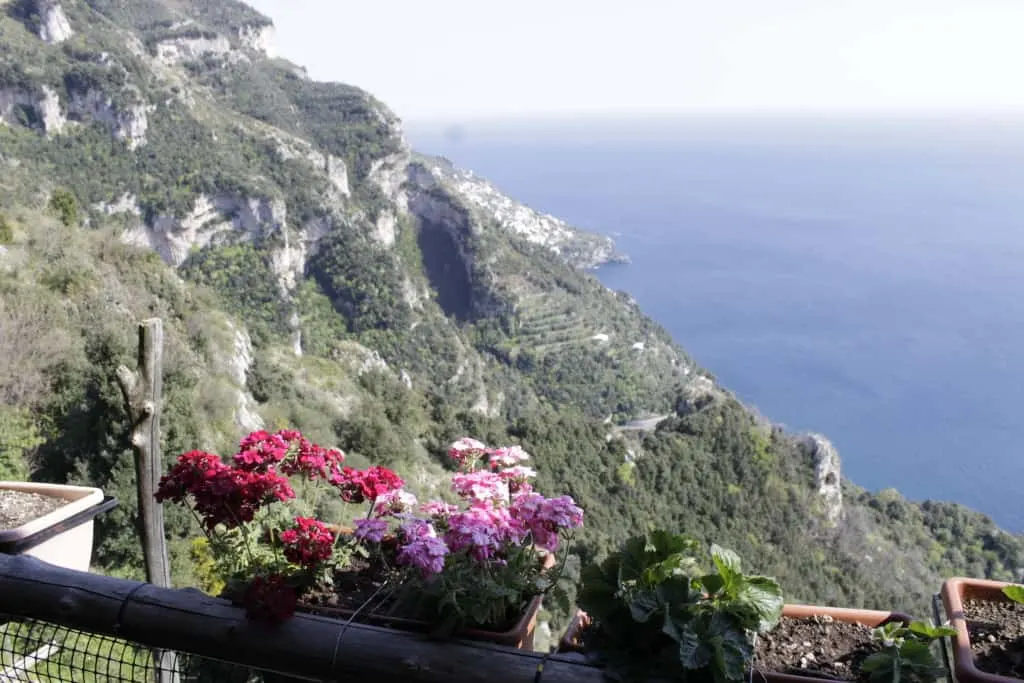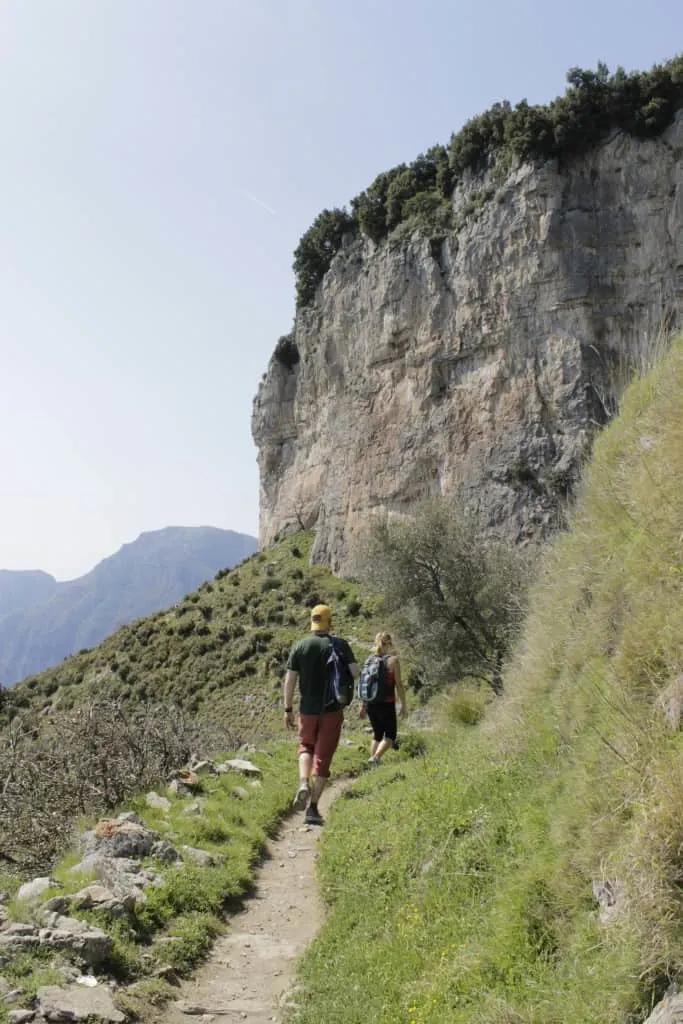 At the end of the trail was a food hut. A jolly old Italian man was selling fresh food. We ordered cheese, olives and caprese. When the caprese came out, Morgan's eyes lit up like a cartoon character in love. He cut up the mozzarella, tomatoes and basil and arranged it perfectly on the plate. Then, when get got to our table, he drizzled fresh olive oil, pepper and salt on it. It was crazy fresh (we literally saw him pluck the basil off a bush) and a ton of food.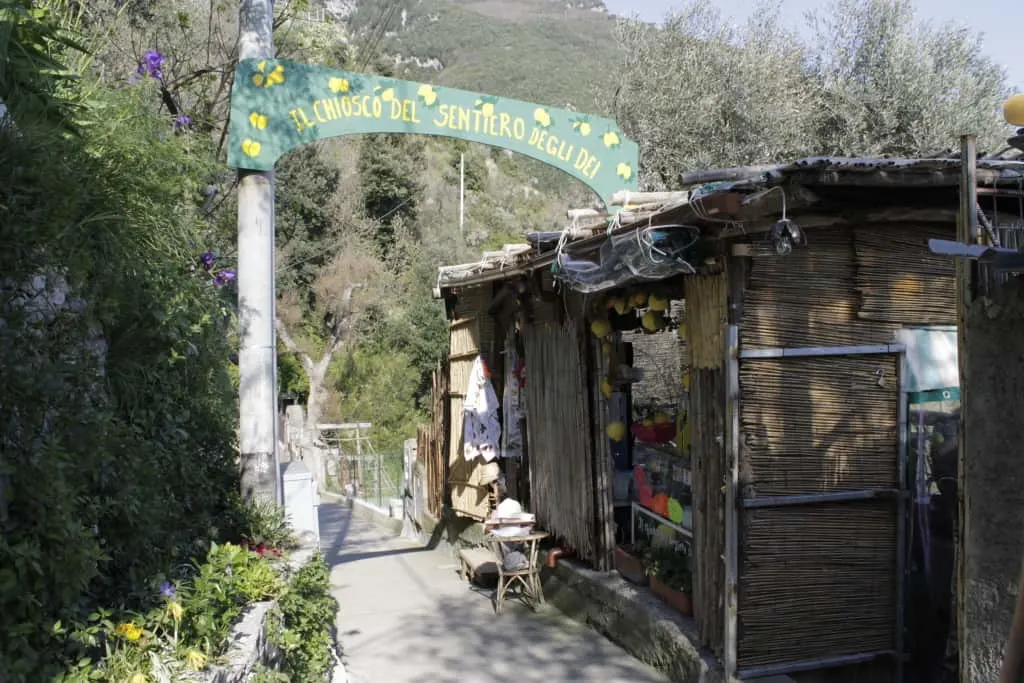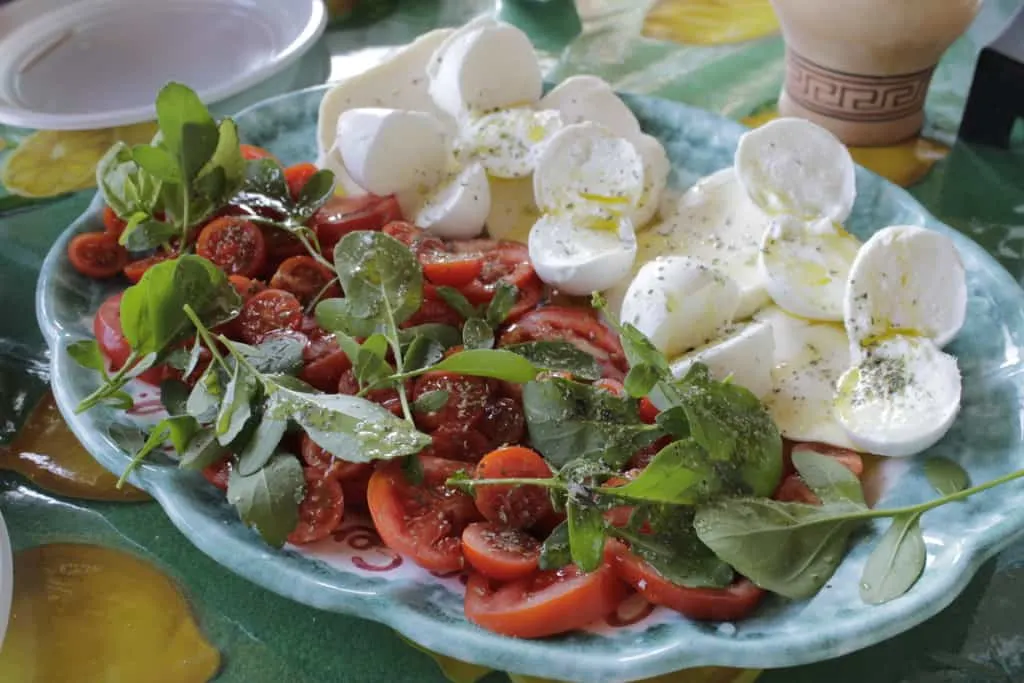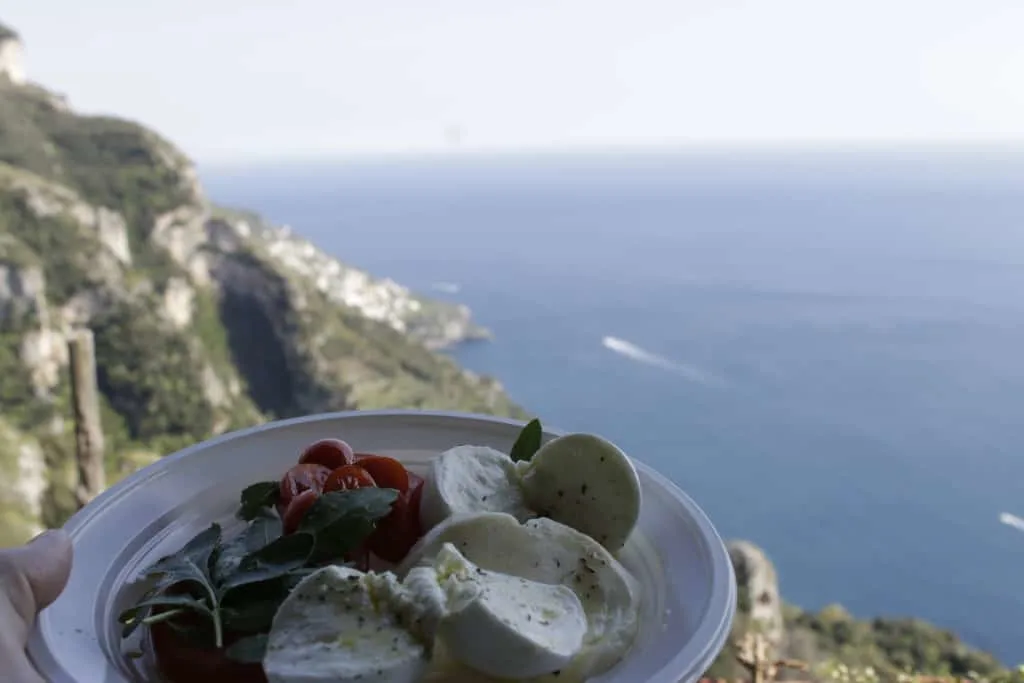 The final part of the hike was 11,000 stairs down. It was hard on the legs.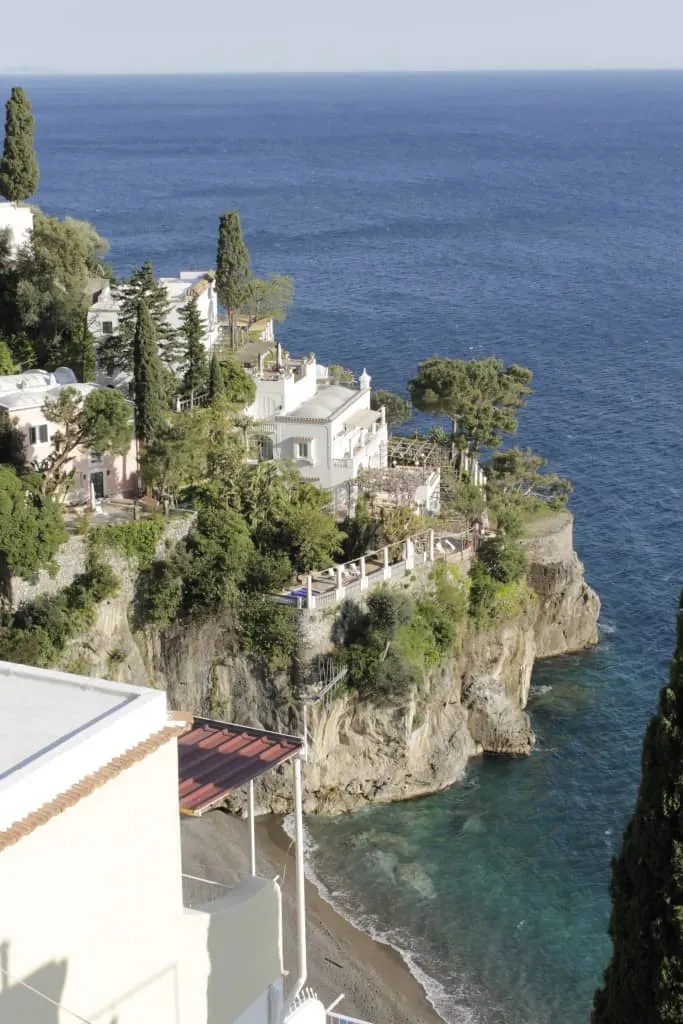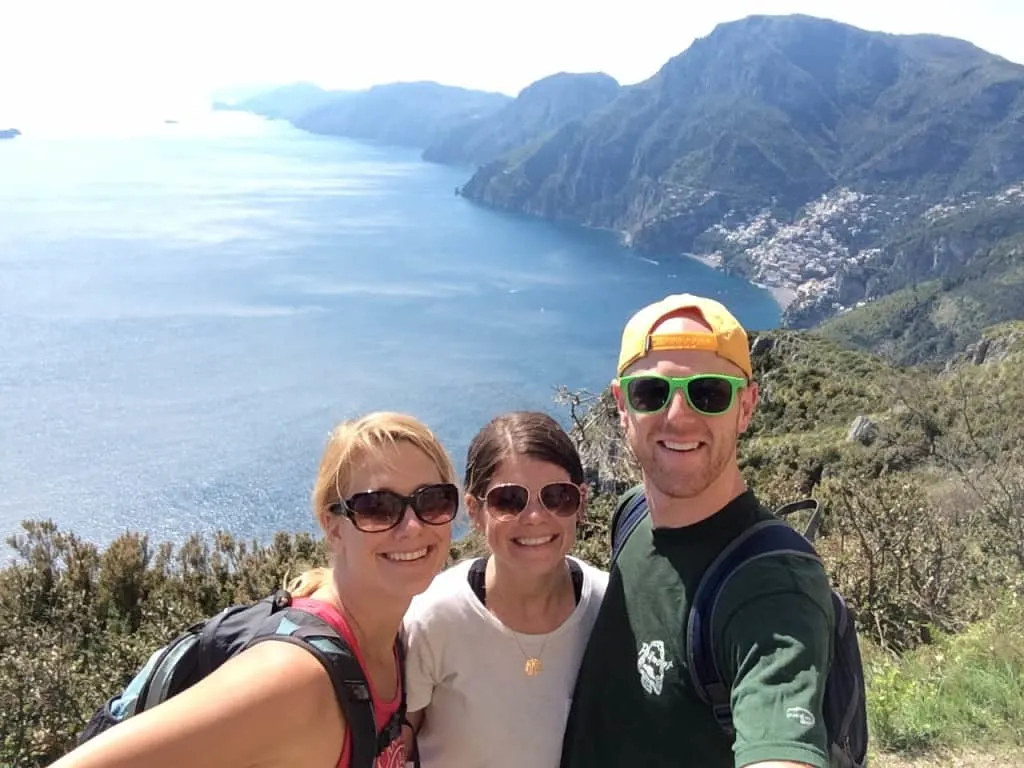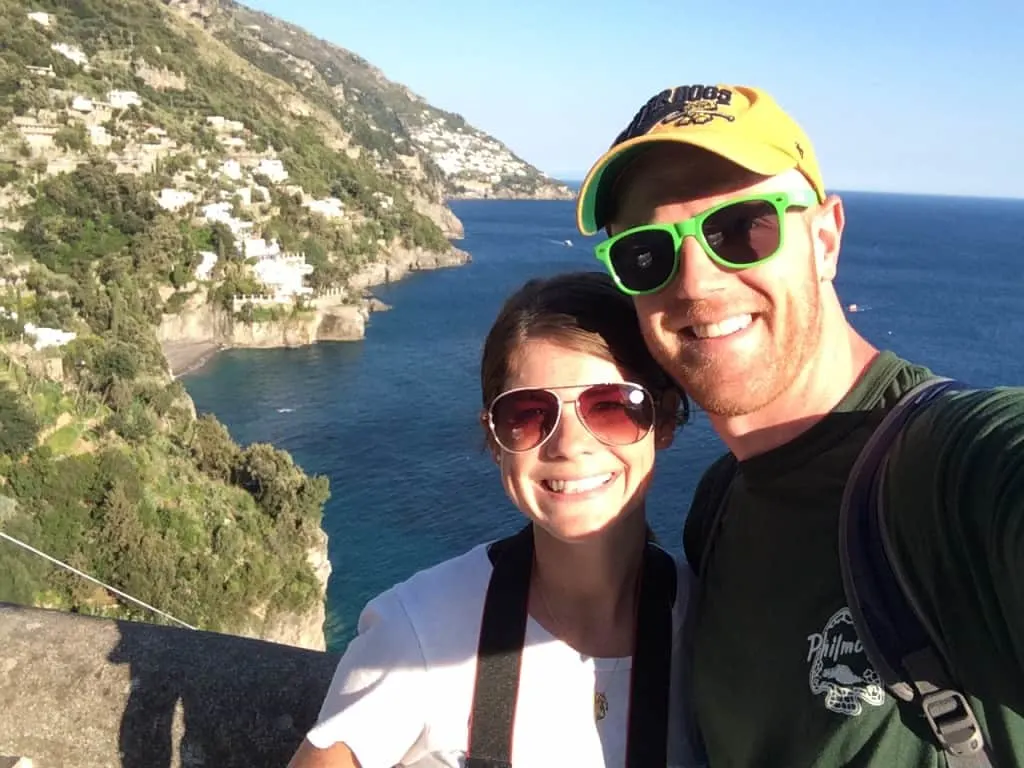 At the bottom, we caught two buses back to Meghan's car with some crazy bus drivers. I can't express enough how crazy these dudes are. He was whipping the bus around winding roads and honking and sliding past other cars with mere inches to spare. Once we arrived home, we did a 'cello tasting with limoncello, meloncello, cremecello, strawberrycello and coffecello. After a few fresh-baked muffins by Josh, we passed out hard. We had to wake up SUPER early in the morning to head to Capri and Rome!
This morning when we woke up, we overwhelmingly did not want to head to Rome. We really preferred the smaller stops on our trip to the big cities and did not want two full days in Rome. I'm sure that some people will think that is crazy, but it's the truth. Meghan had to leave for work very early in the morning, so we decided to ride with her to the airport and catch the shuttle to the port, where we could catch a ferry to Capri! It was a last-minute decision to head to the island, but we wanted to do it because we really weren't thrilled with the idea of heading to Rome.
The ferry from Naples to Capri is approximately 45 Euros per person each way. It takes roughly an hour to get between them, but they run almost every hour. On this day, it was cold and windy; we started out sitting on the open roof but quickly moved inside. It was less scenic, but crucial to our survival.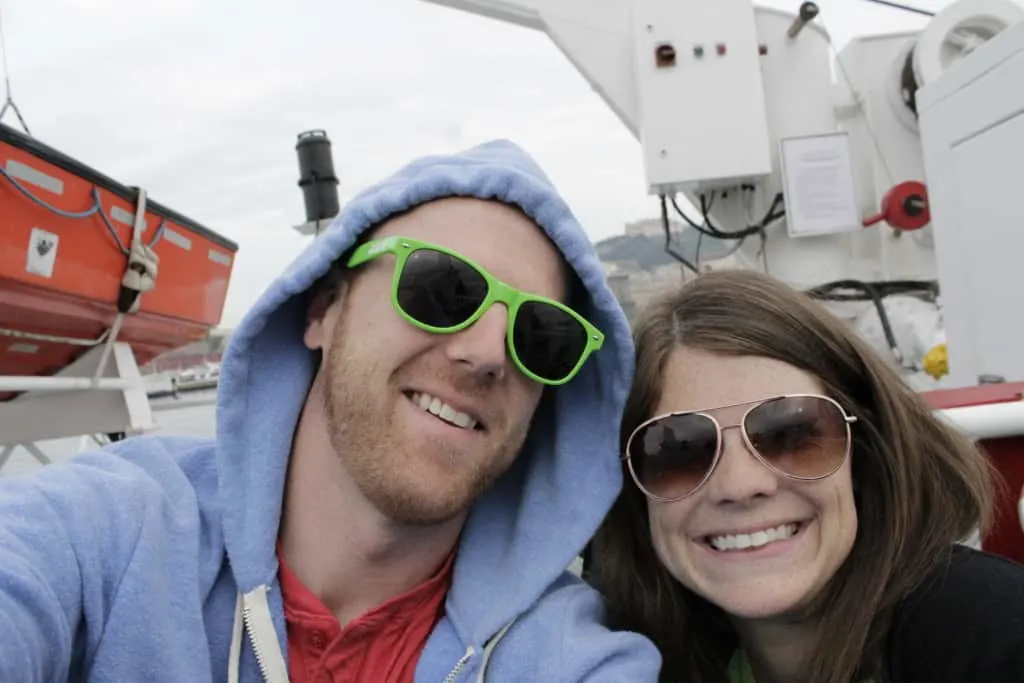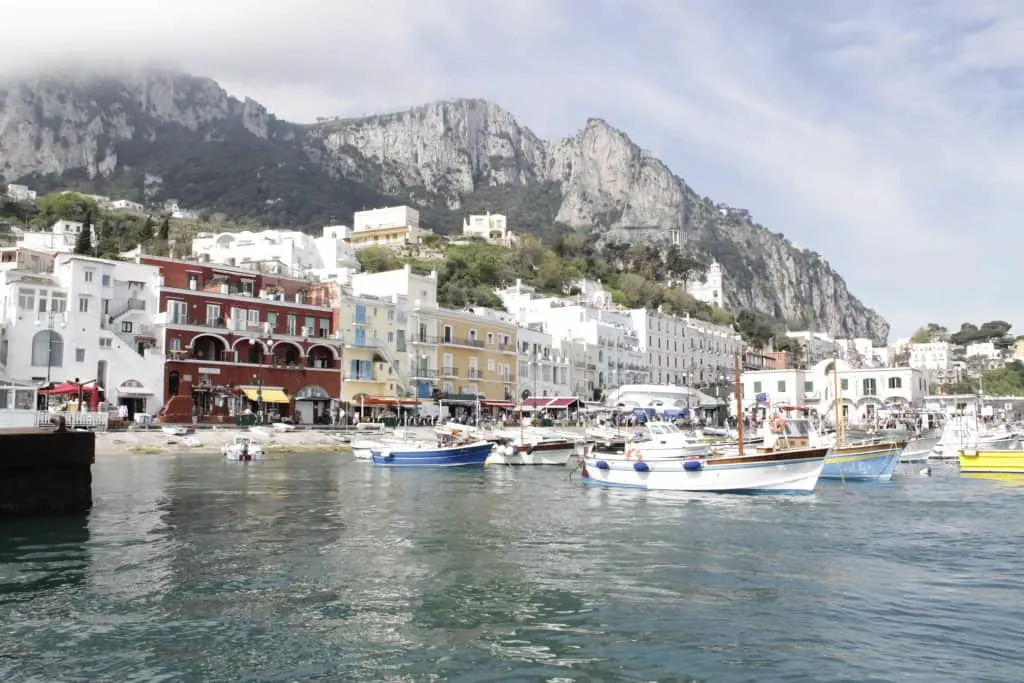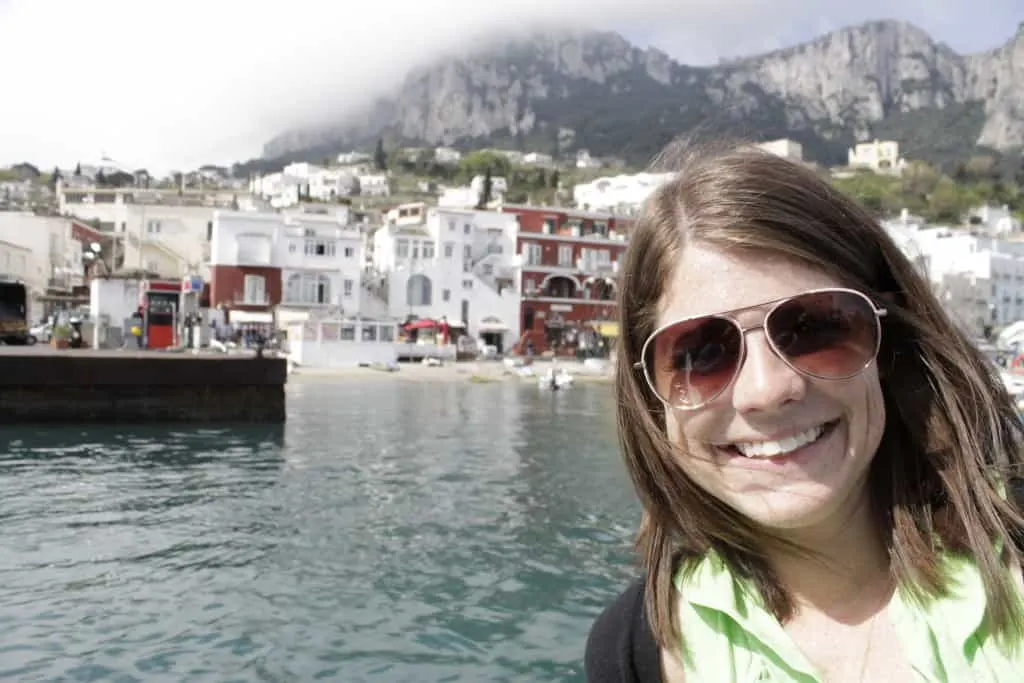 When we arrived, we checked our bags with the porters for two Euros per bag. The porter situation was a little sketchy and hard to figure out, but it turned out fine. The porter stand was to the right from where the ferry drops you off. If you make it to the building where you buy more ferry tickets, you've gone too far. The porters were basically a few dudes standing around a couple carts under an umbrella. We gave them our bags and they just set them on the carts. There was no real way to keep anyone else from claiming them, I guess, but in the end, it was fine and a very cheap way to store our bags.
We got some pastries for "brunch" because it had already been three hours since we ate breakfast at 6 a.m. The first thing we did was buy tickets to go see the Grotto Azure, aka the Blue Grotto. There are two ways to play seeing the biggest attraction on Capri. The first is the way we did it. That was to buy a ticket with a ferry company for a tour of the entire island for roughly 17 Euros each and they will take you to the Blue Grotto before taking you around the island. The second option would be to catch a taxi or bus to the Blue Grotto and walk down the stairs to it. With either option, you also have to pay 13 Euro for a "national park fee" and to get on a rowboat into the Blue Grotto.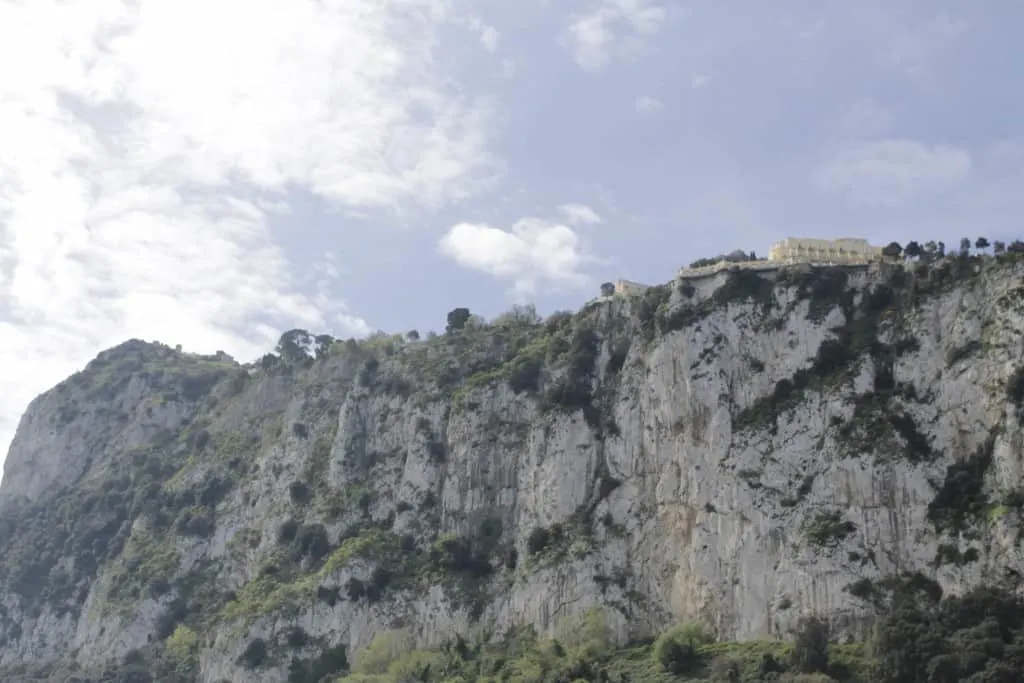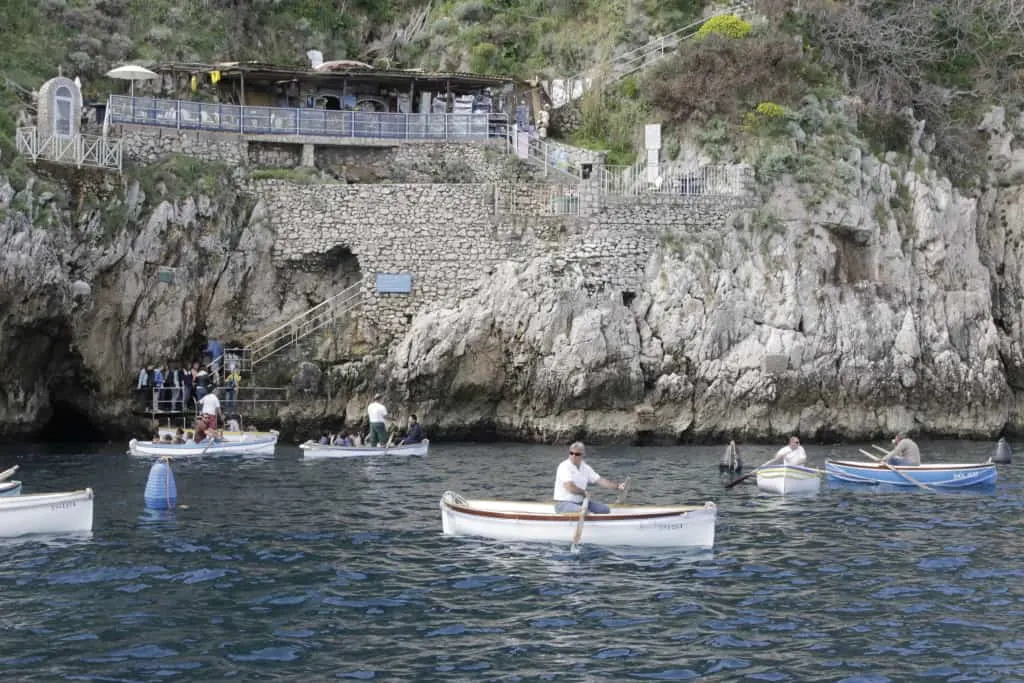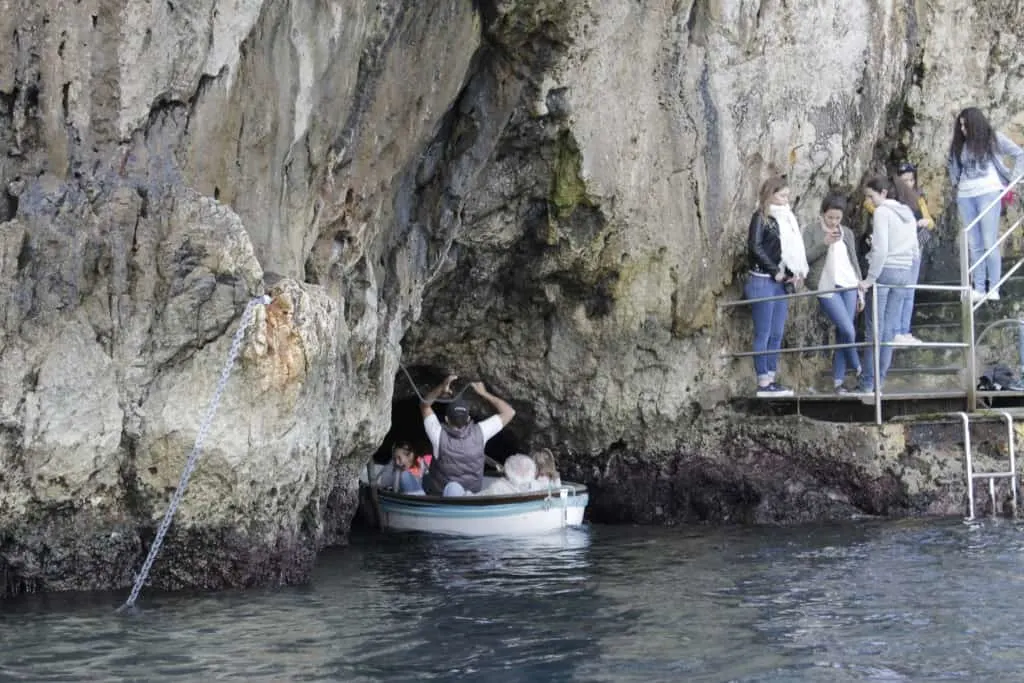 The Blue Grotto is one of many caves under the island of Capri with an EXTREMELY small opening. You have to duck into the rowboat to get in. Literally drop to the bottom of the boat or you will hit your head.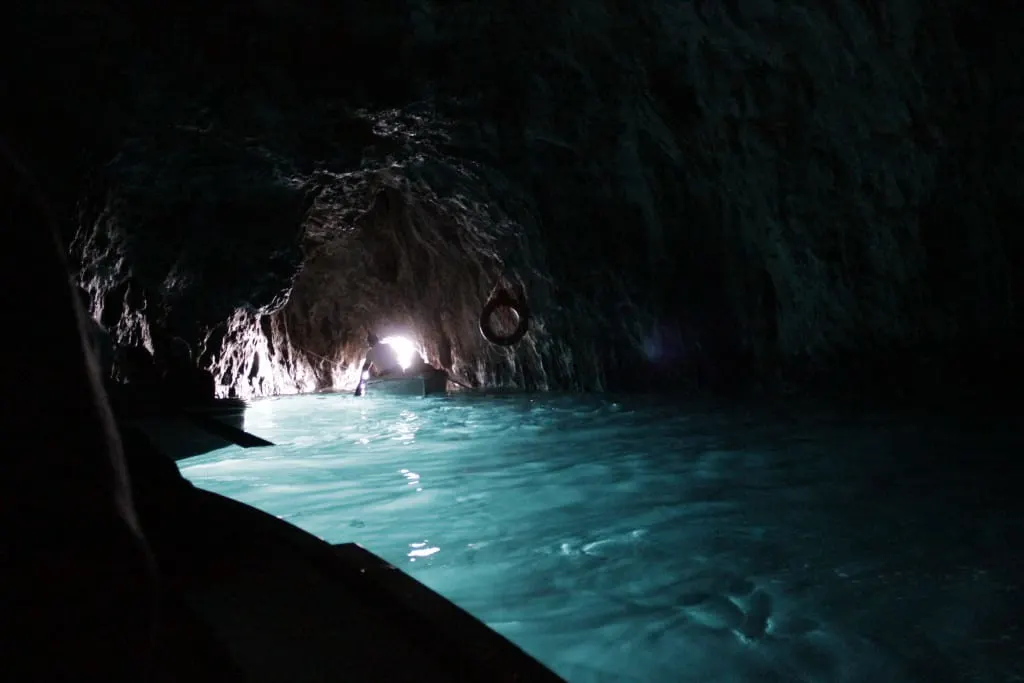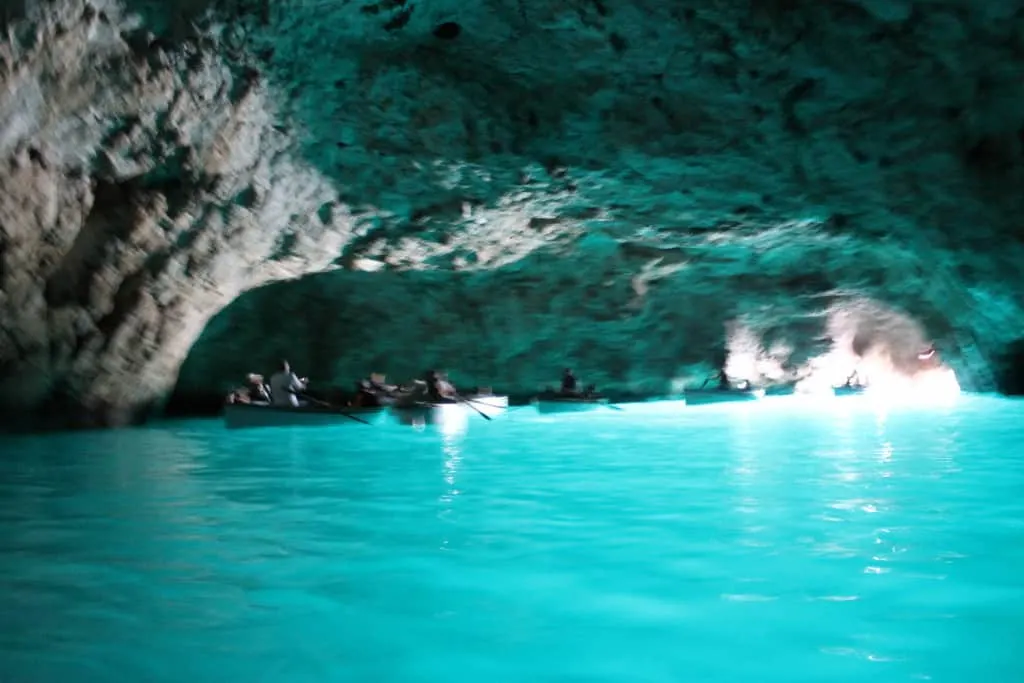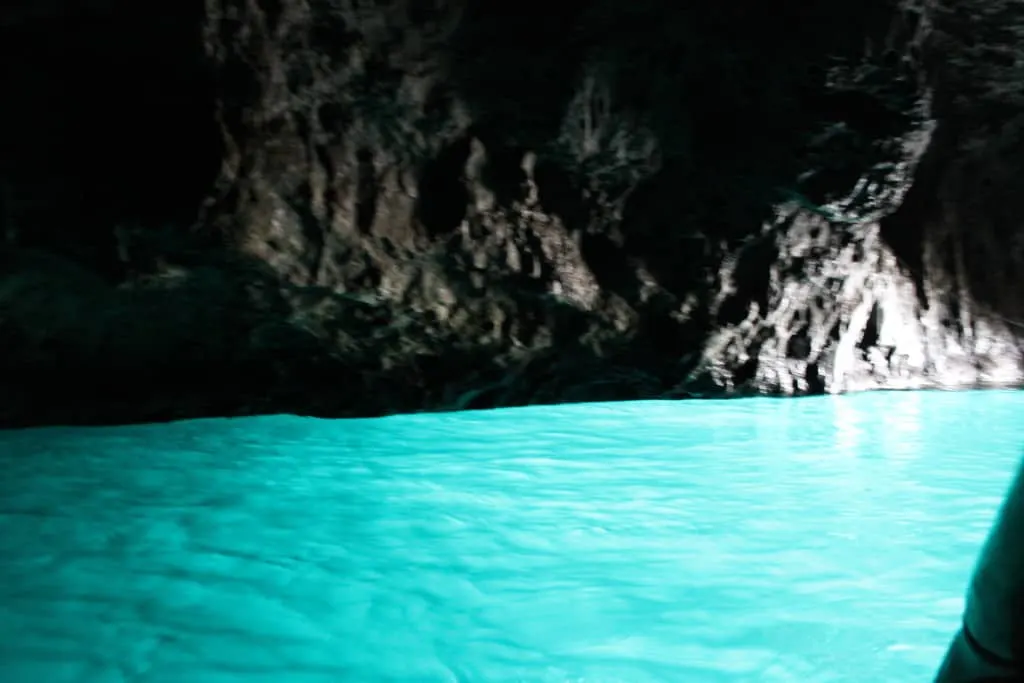 Inside the Blue Grotto, it was very eerie and cool. It was a huge dark cave with beautiful blue water being lit from the sun outside. We went inside at around 10 a.m. so the sun was on the other side of the island, therefore not shining directly at the cave. The blue was beautiful, but around 2 or 3 o'clock, the water would have been even more magnificent, but you also have to watch the tide.
The crystal clear blue waters looked so cool lit up. This was apparently where Caesar Augustus would come swim when he visited the islands on vacation.
After we were done, we got back on the ferry and it took us around the island. The cliffs and caves were unlike anything we had seen yet. Super-high steep cliffs and huge mouths of caves.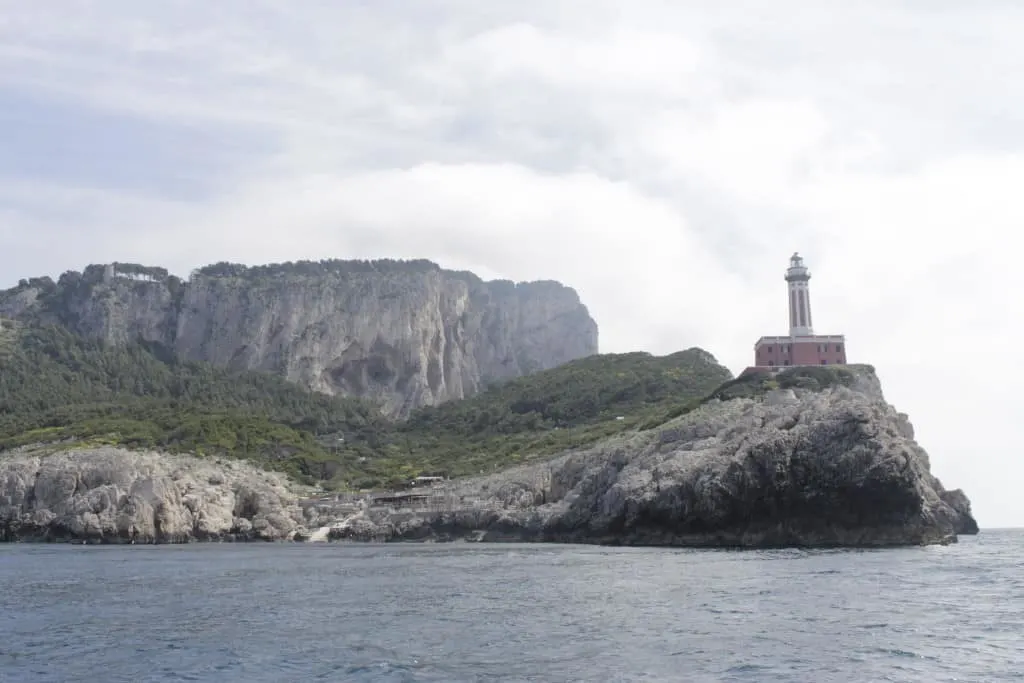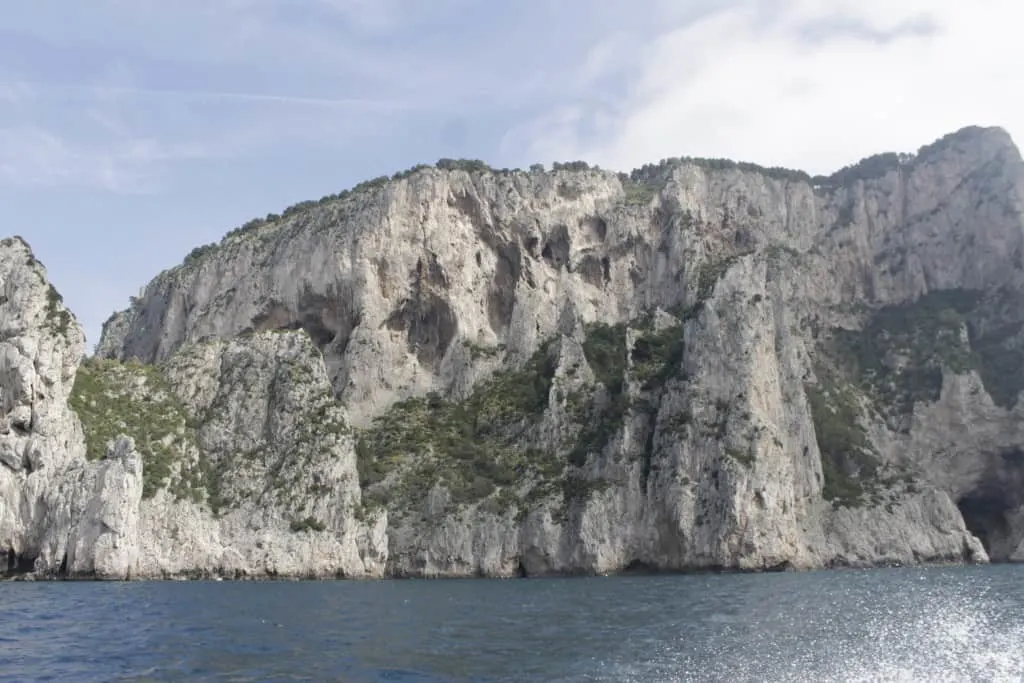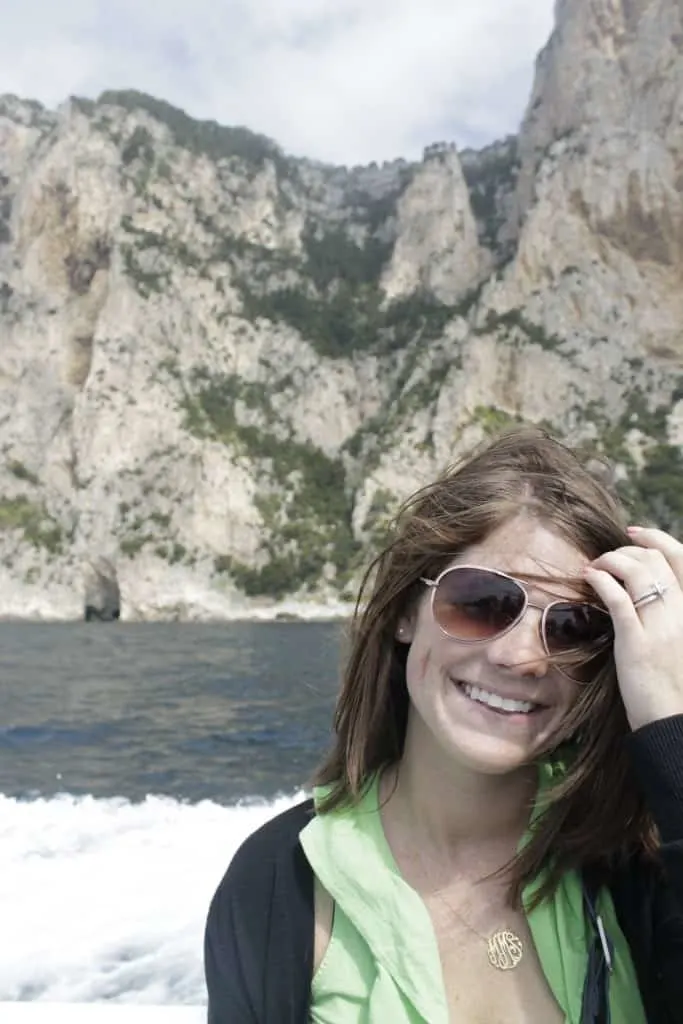 There was the Green Grotto, where we got to touch an over-hanging rock, and the White Grotto with really cool stalactites and stalagmites.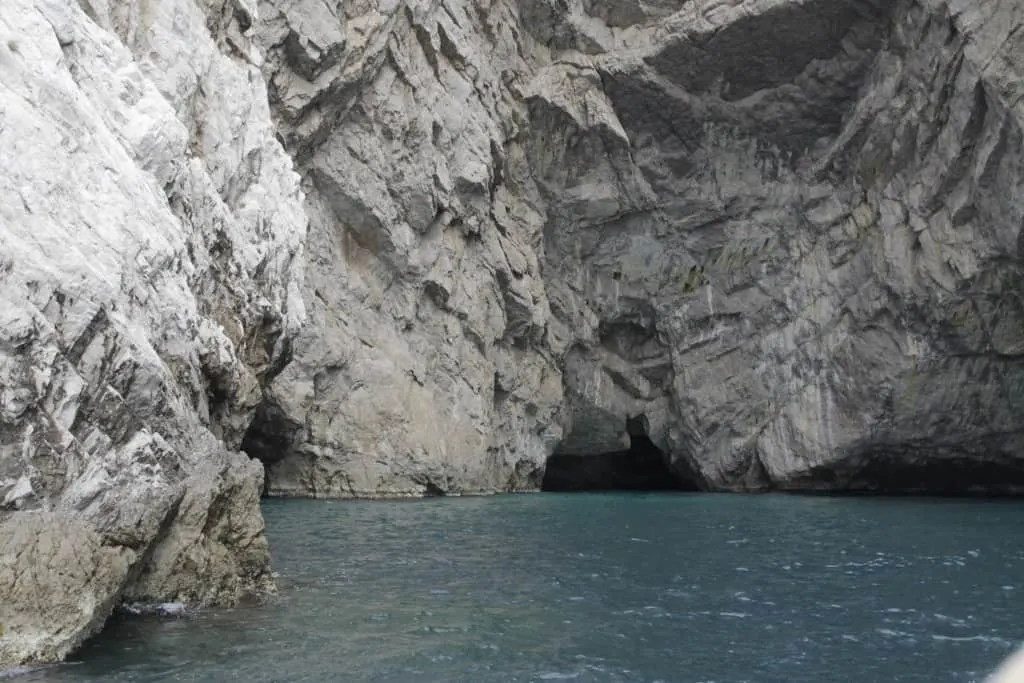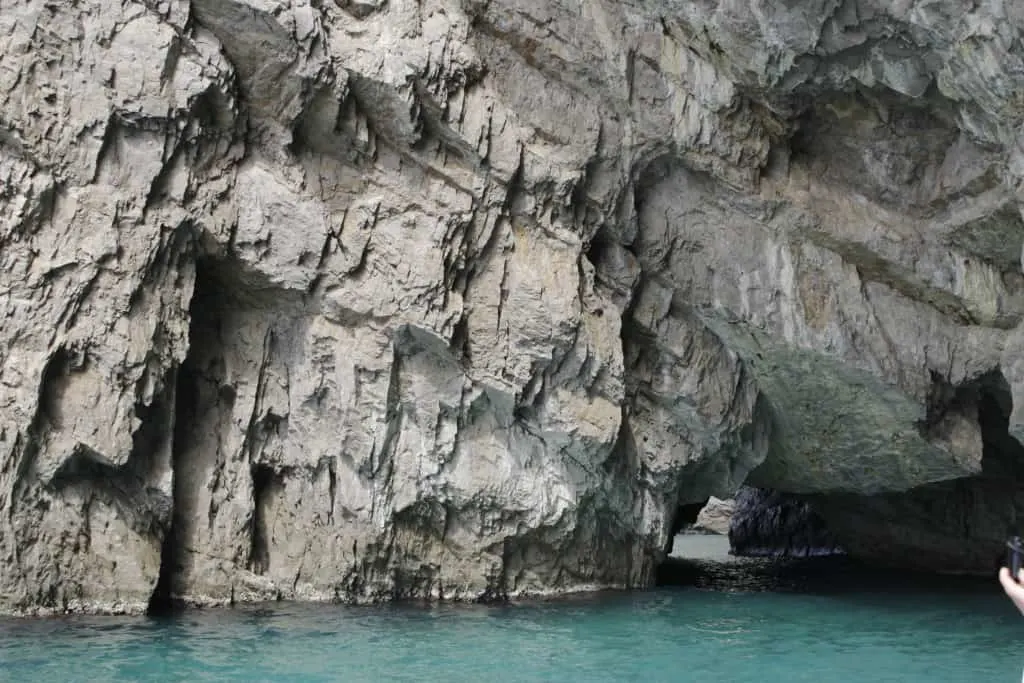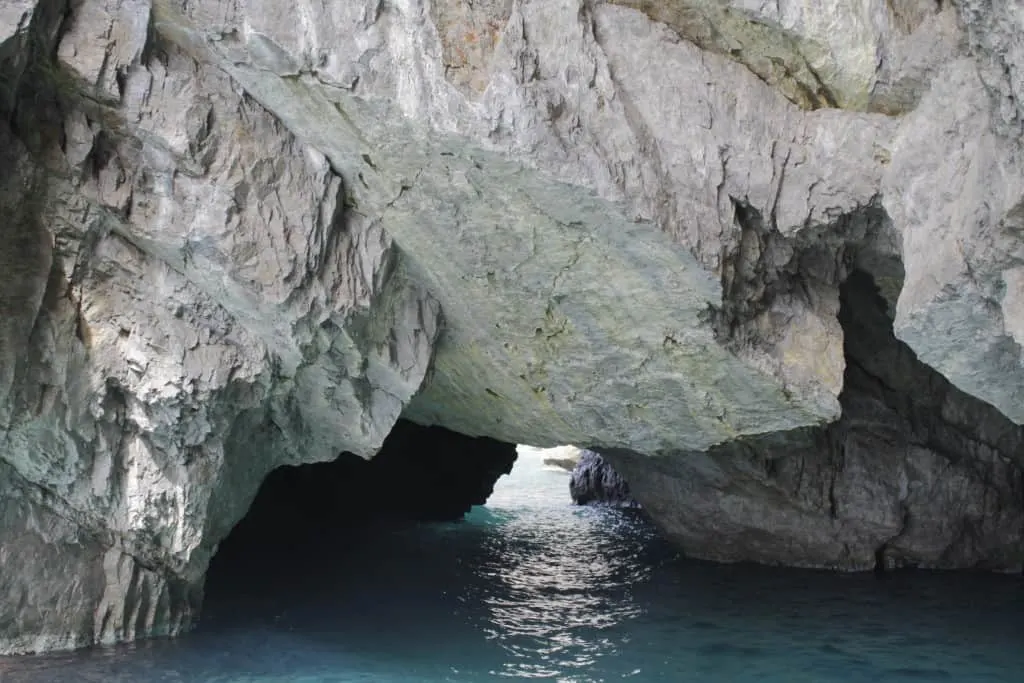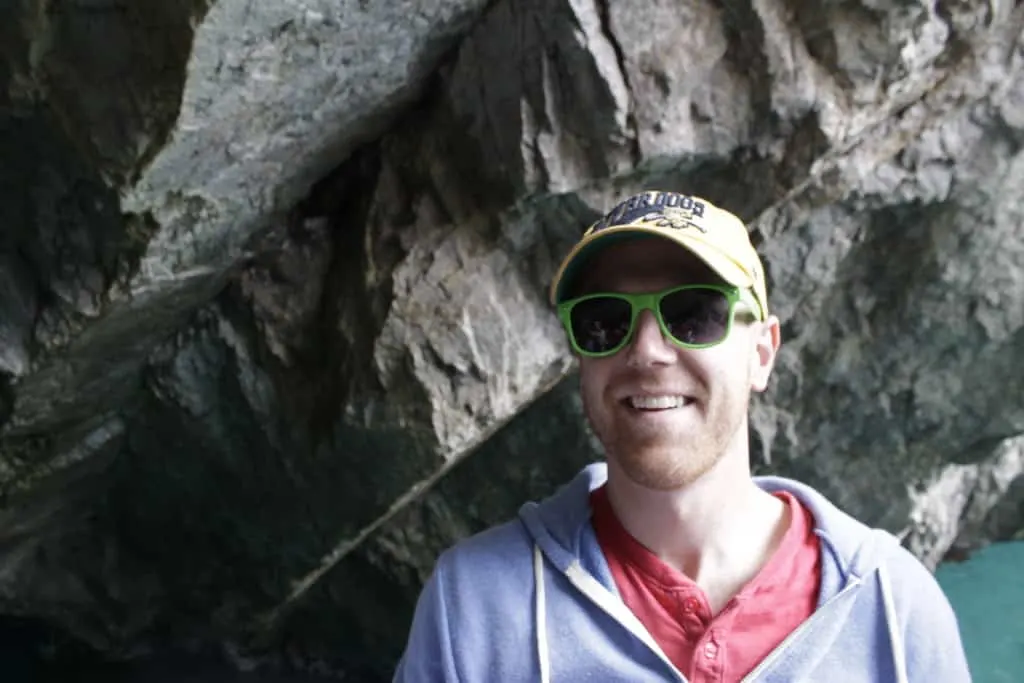 The island also has three vertical rocks of its coast, with a hole through one called the Lover's Arch. The tale is if you kiss someone under it, you will love them forever… so we made out.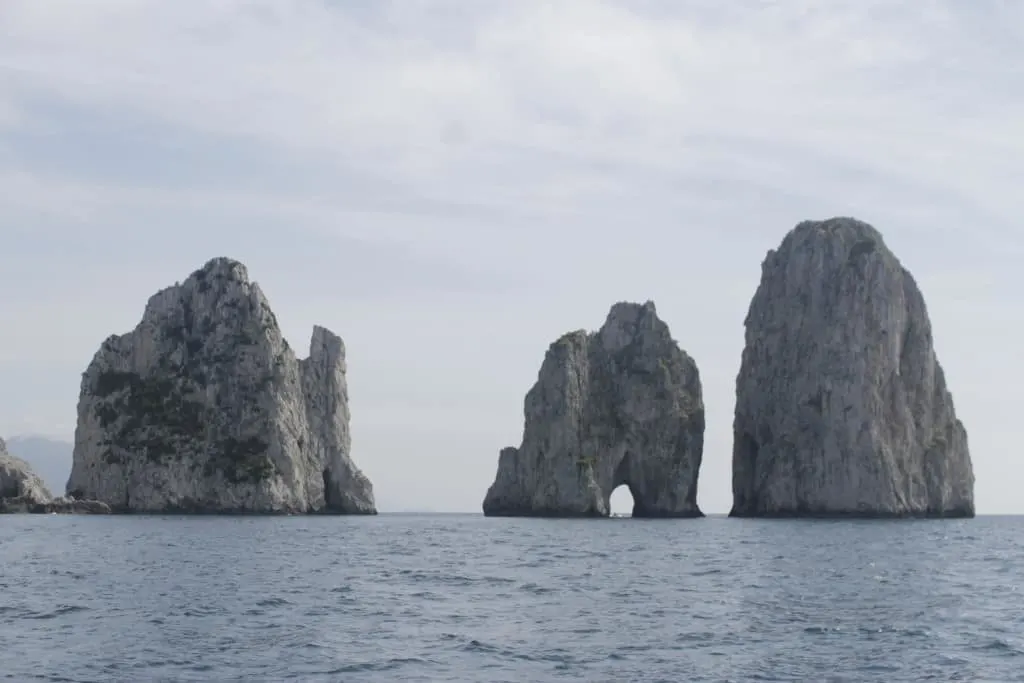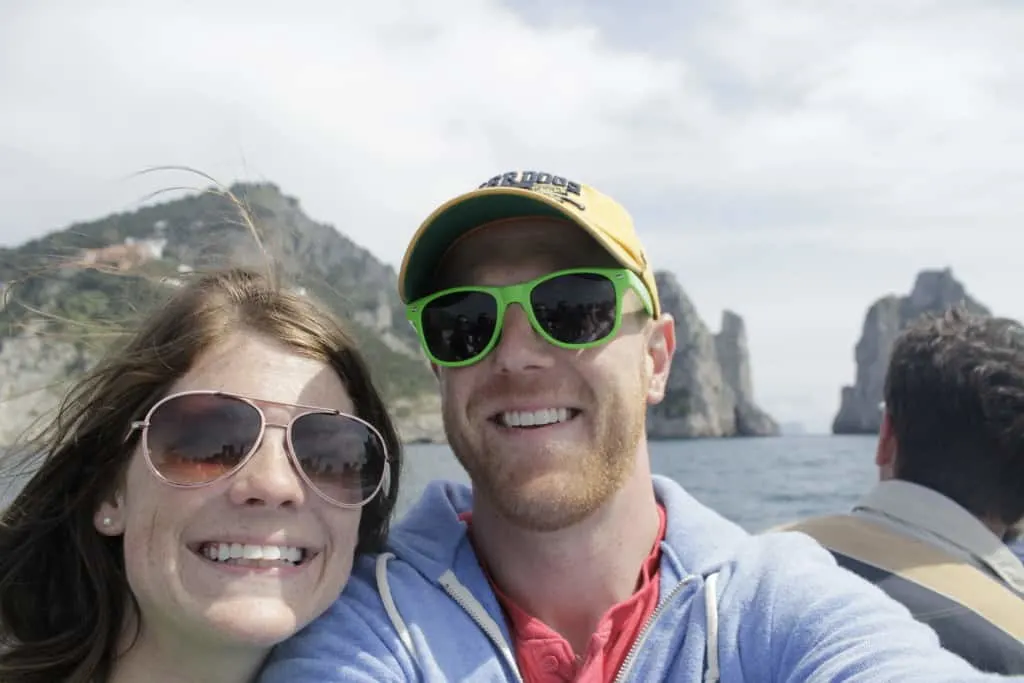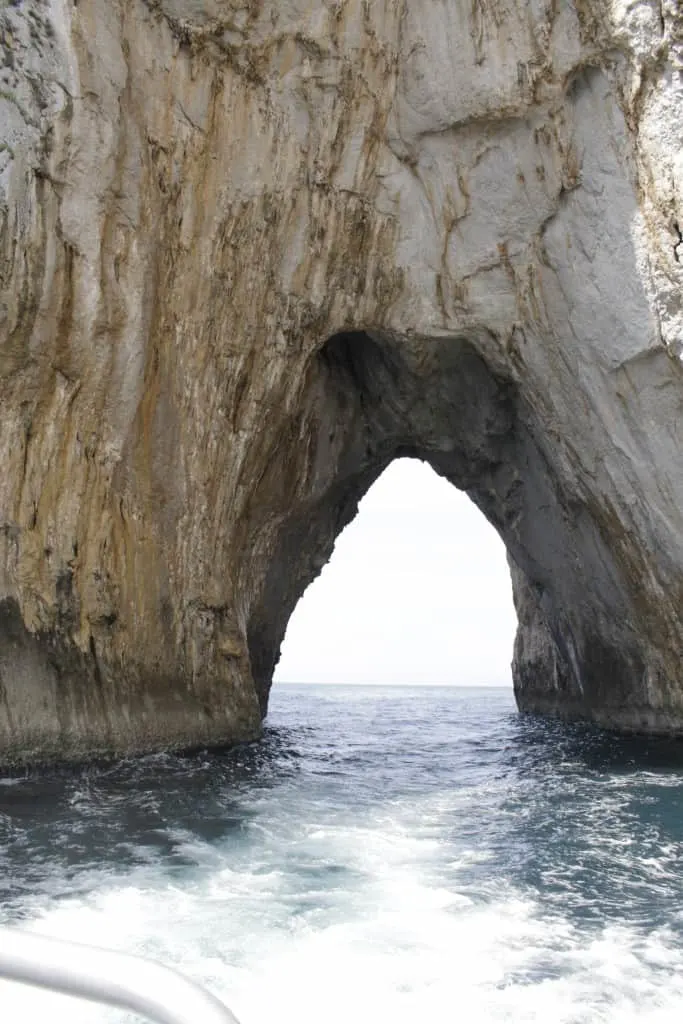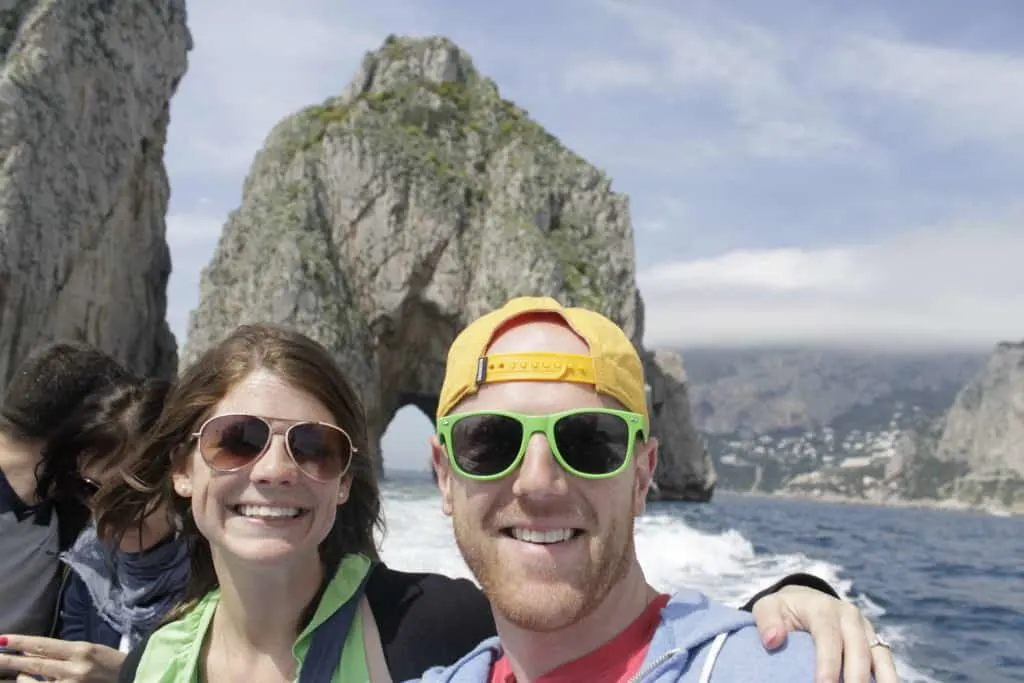 The whole experience was expensive, but it was worth it. Back on land, we walked uphill 20 minutes to the actual town of Capri. It was pretty touristy, but had pretty views too.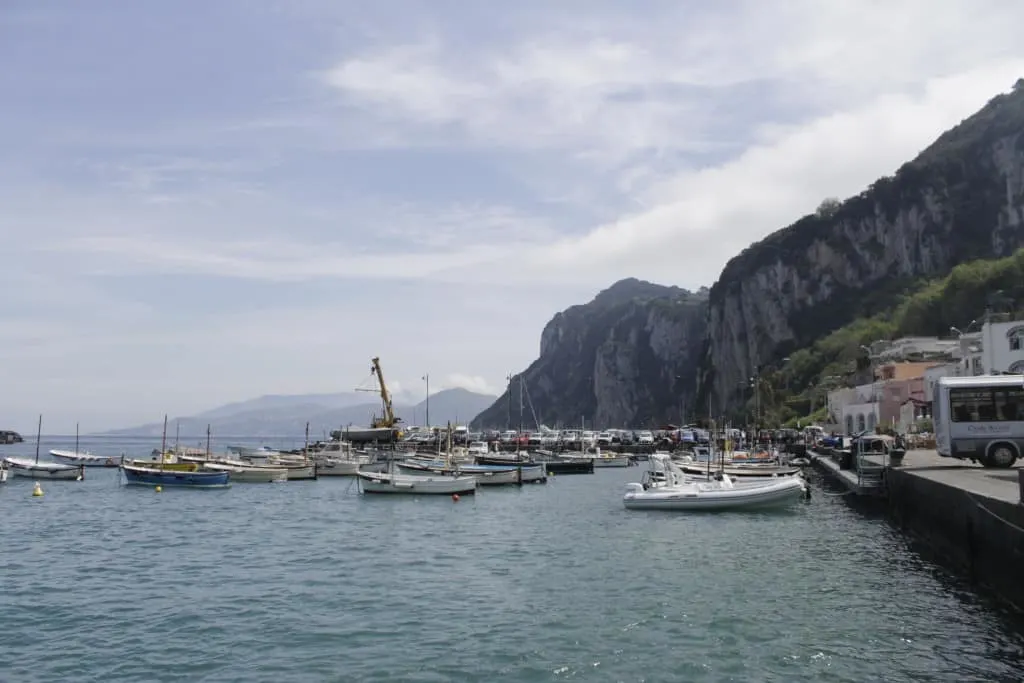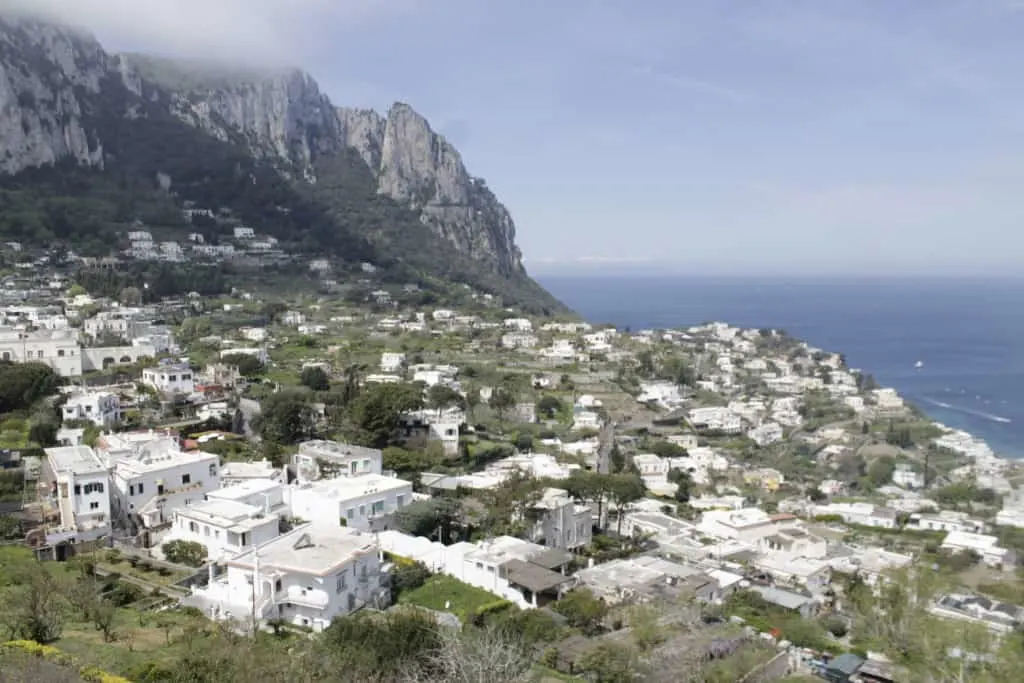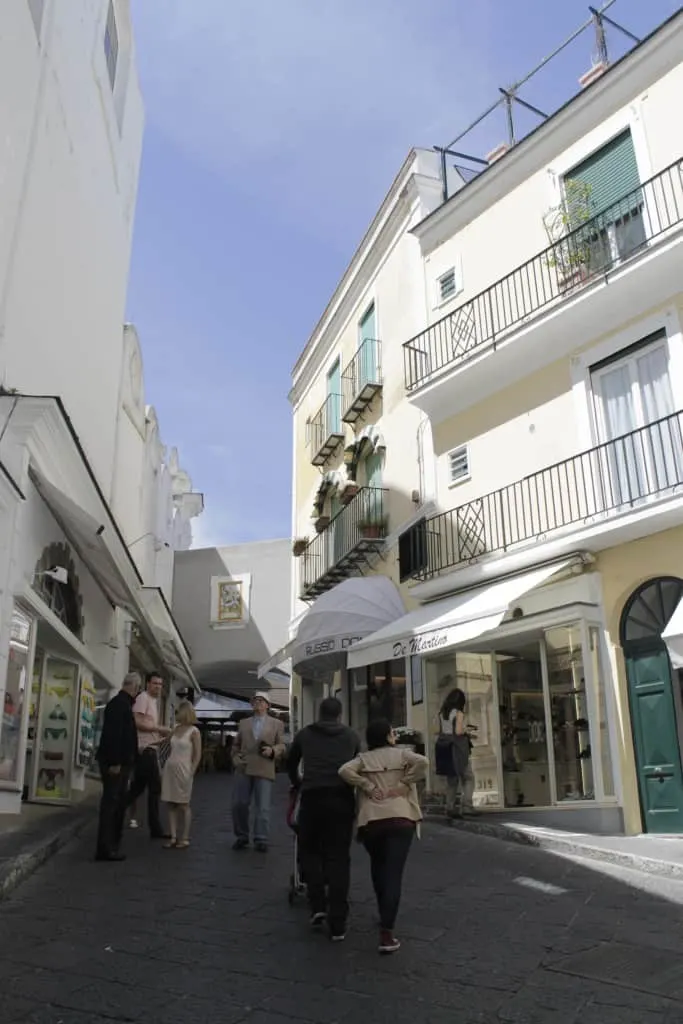 We grabbed a caprese sandwich, a baked salami/egg/cheese roll and an arancino de riso (a fried ball of risotto, peas, cheese and meat). It was one of my favorite foods in Italy!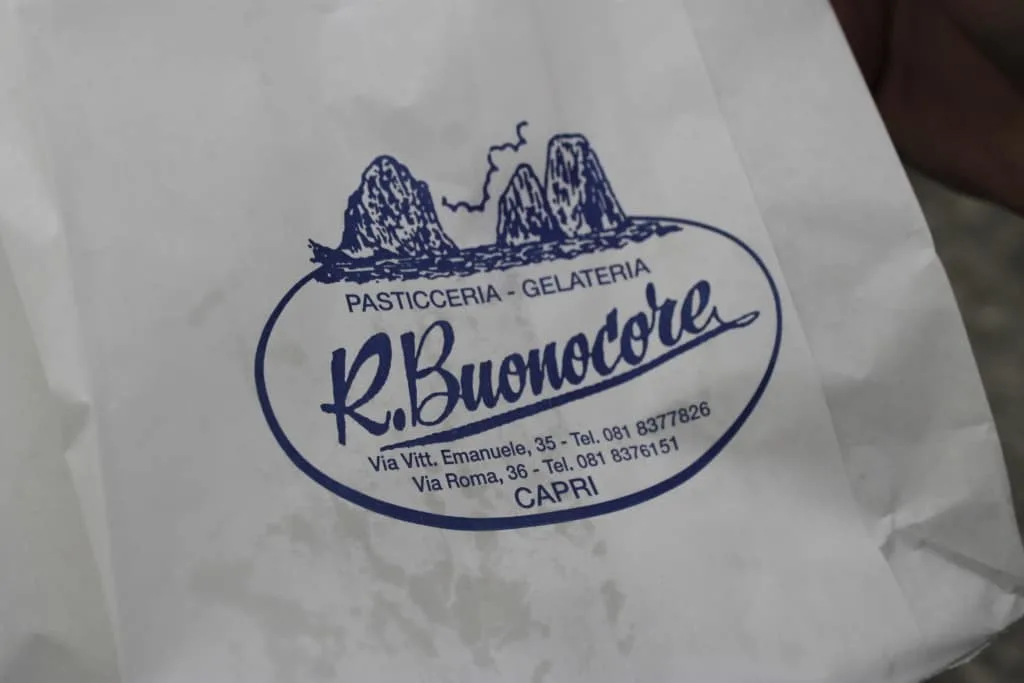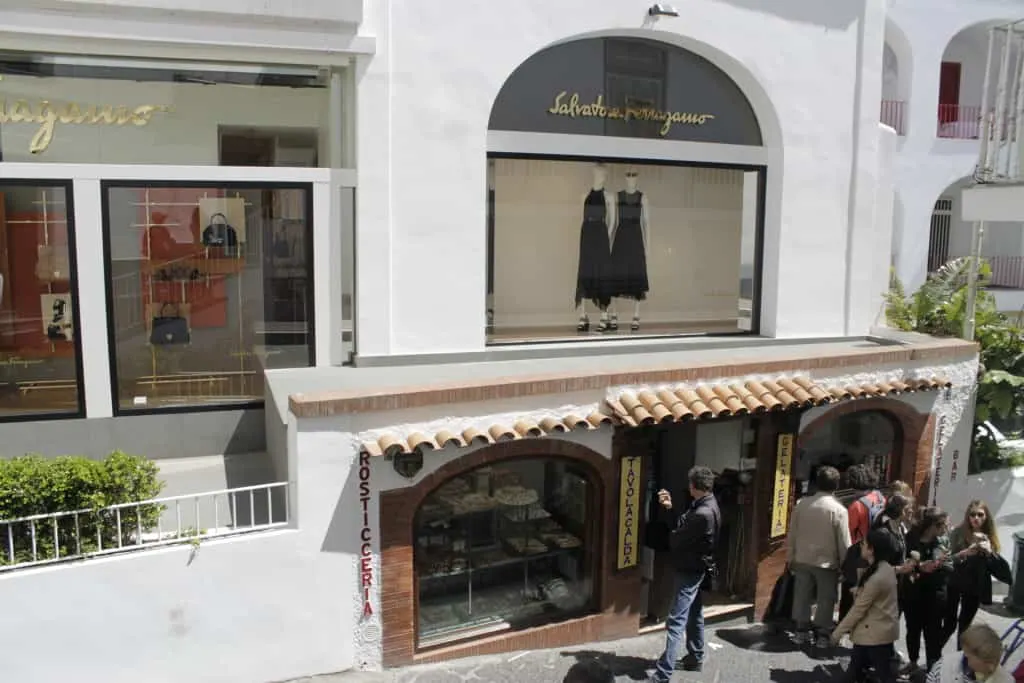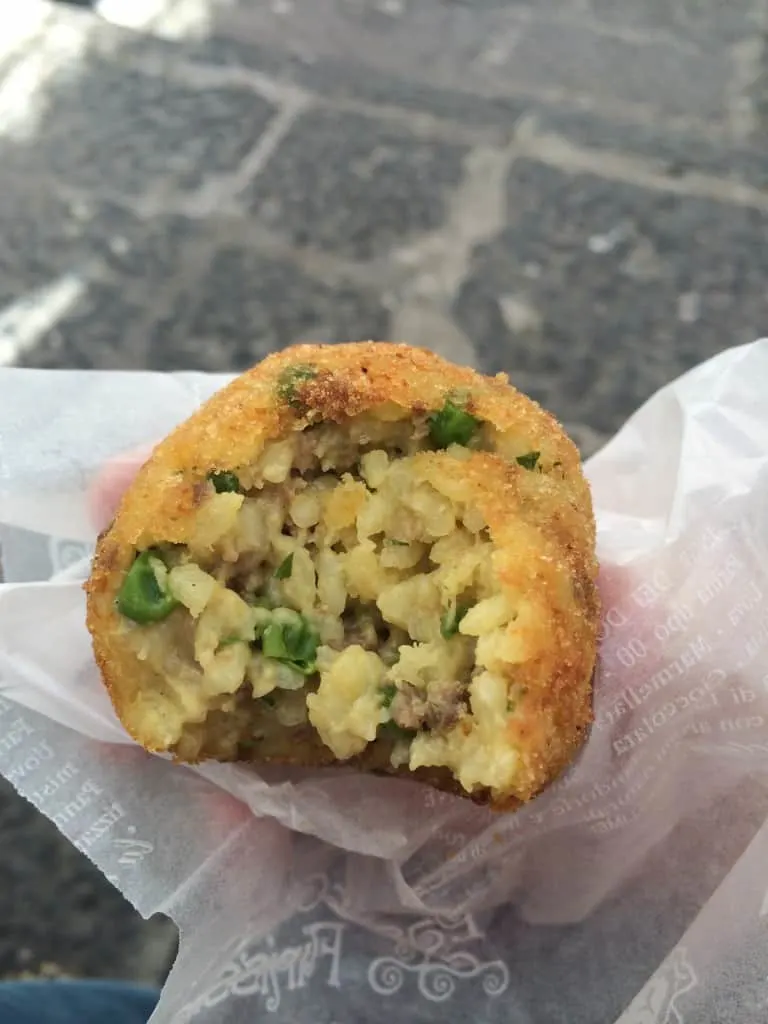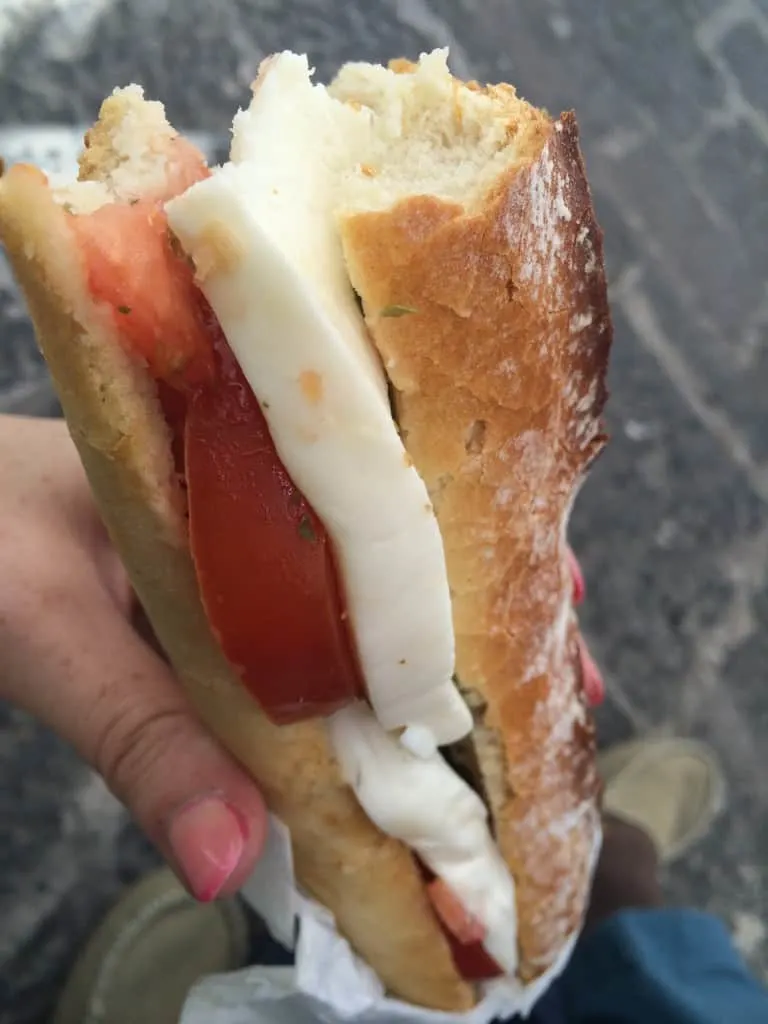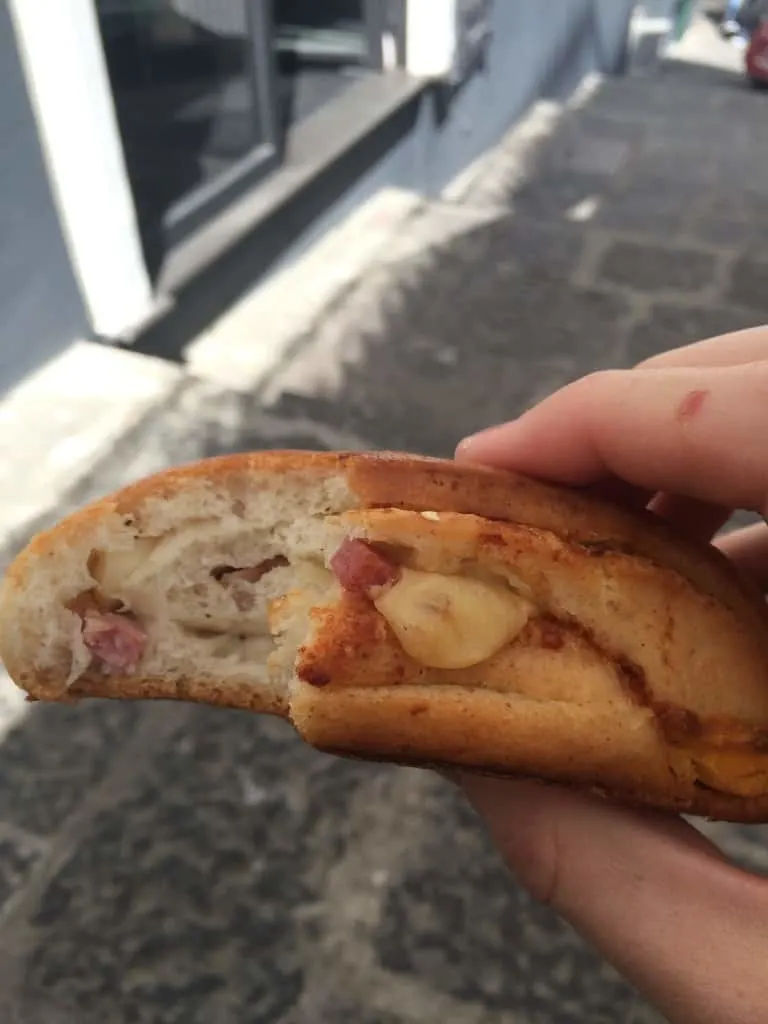 We caught a bus up to the top town on the island, called Anacapri. Basically, it was the same Capri below it, with little shops all around. The big thing in Anacapri is that there is a chairlift that will take you from the town to the very tip pinnacle of the island. The views were outstanding down onto the towns and miles out into the Mediterranean Sea.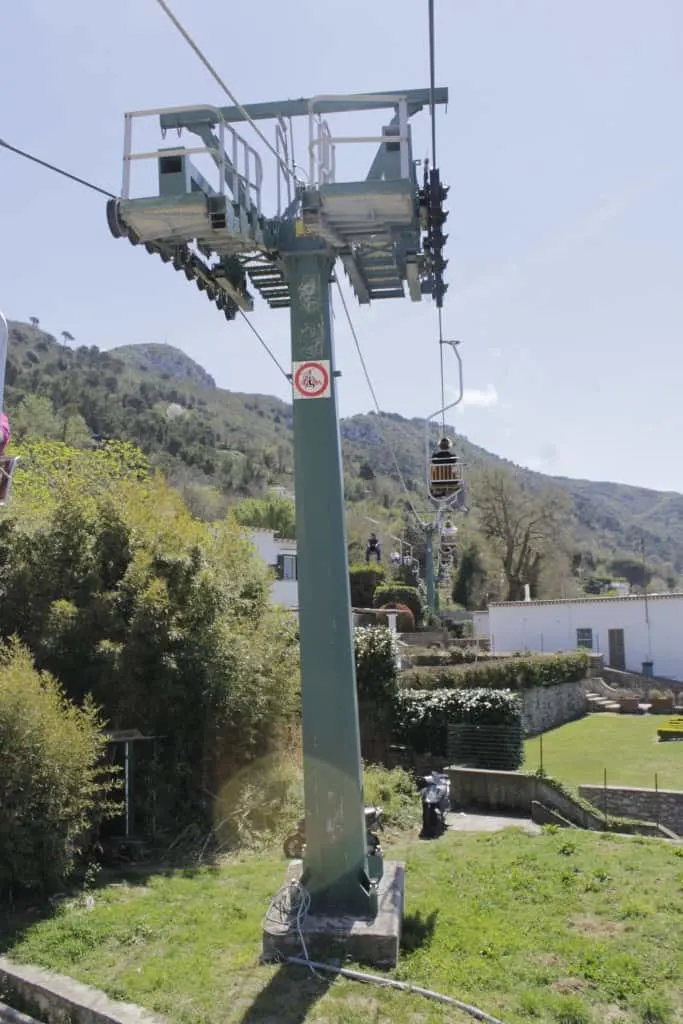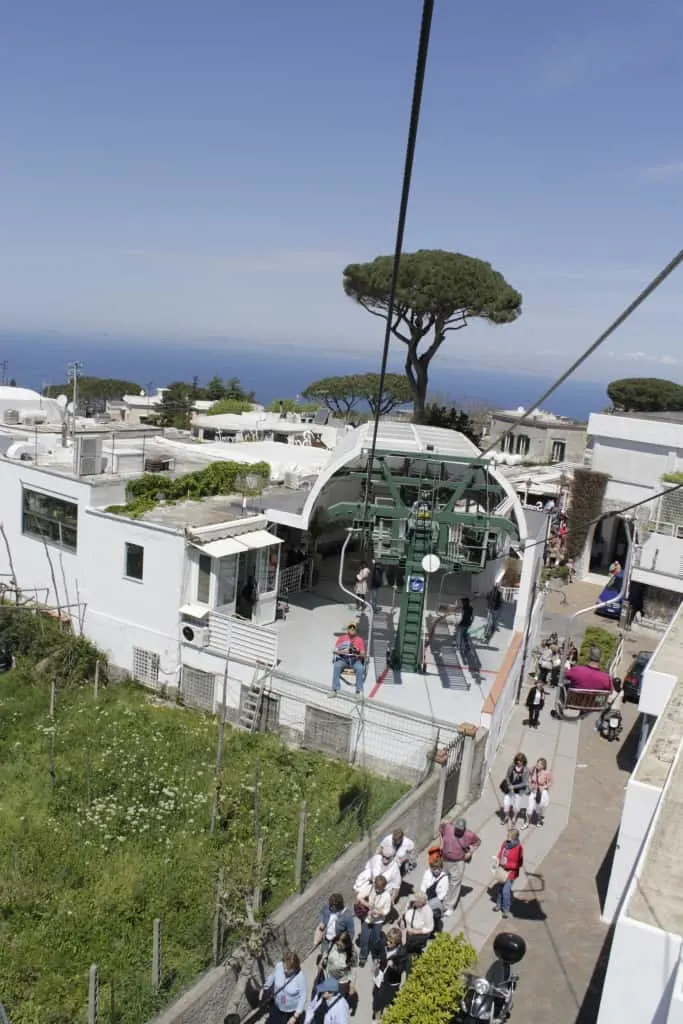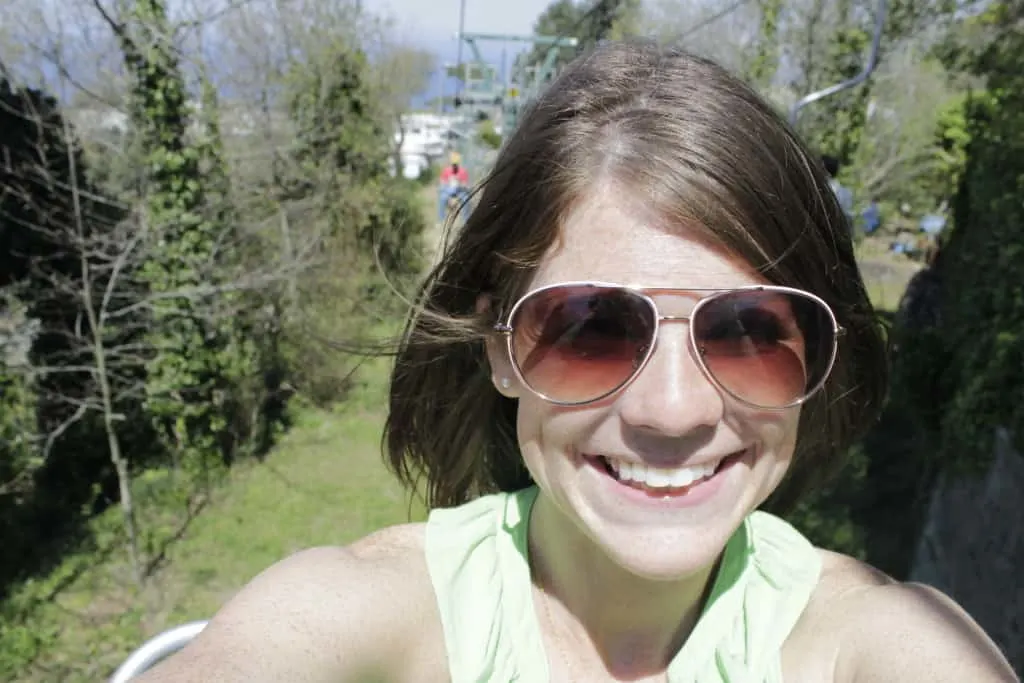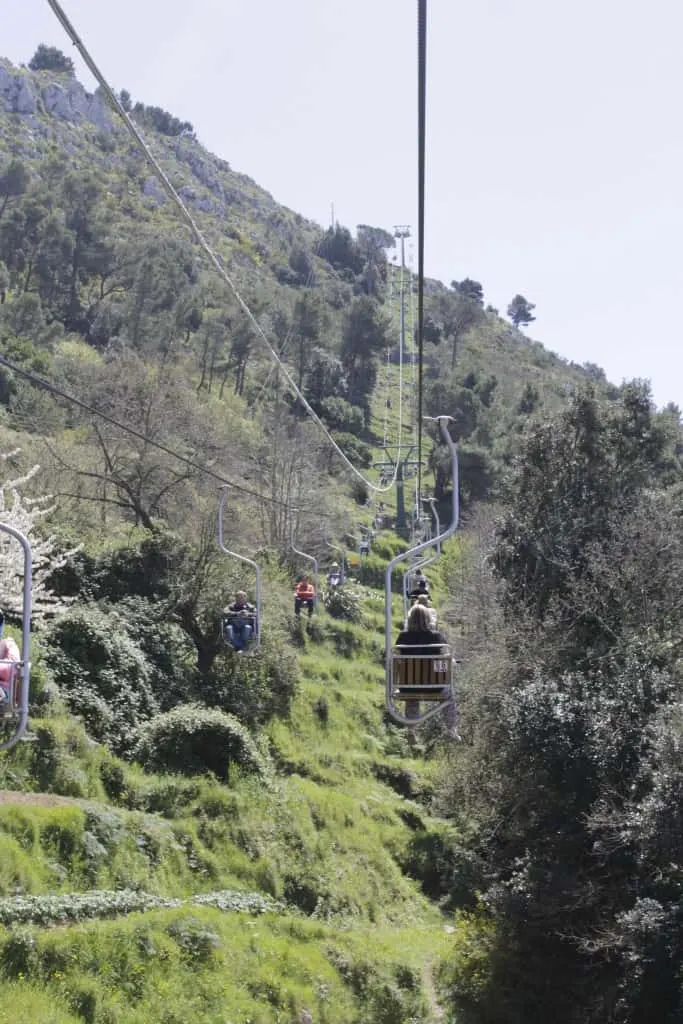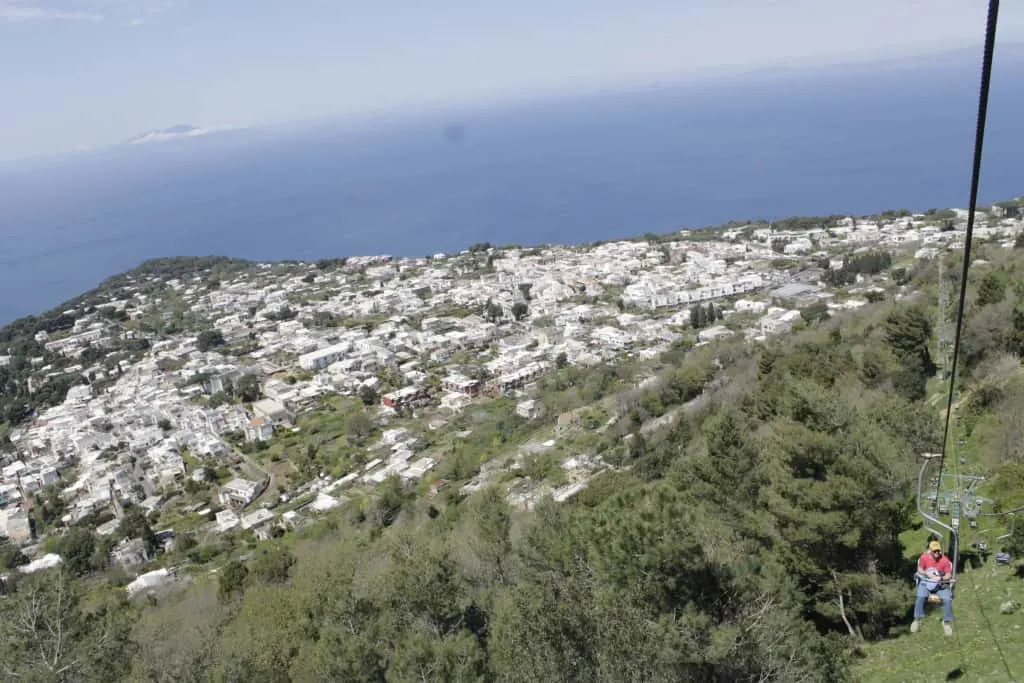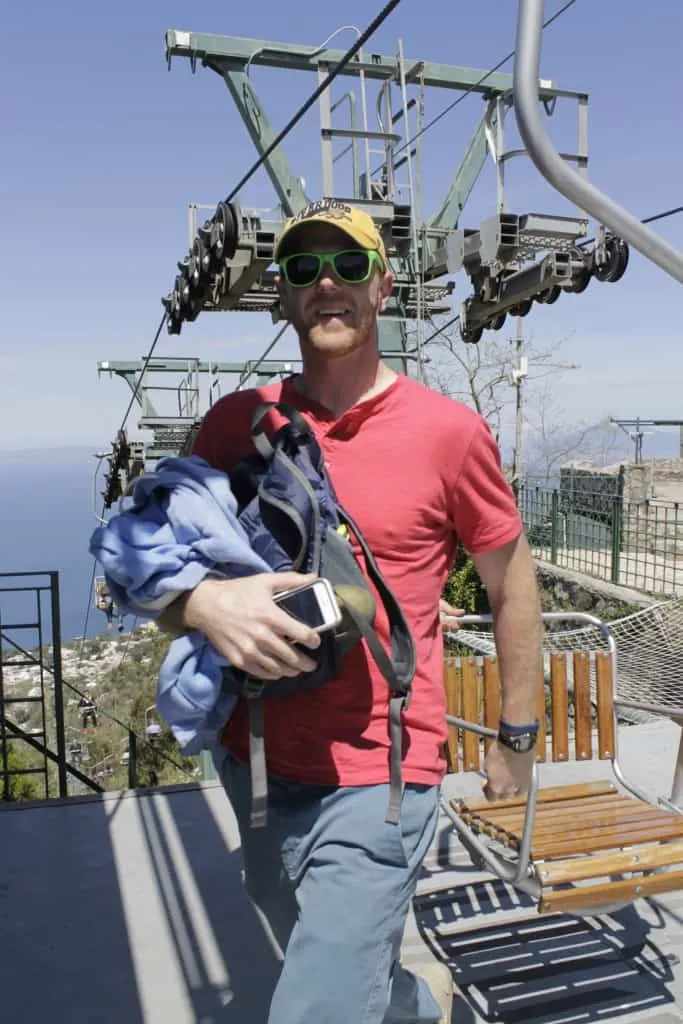 We stayed up top and took some pictures while thinking about our next move. We had planned to hike back down to Anacapri, which we heard would take about 45 minutes. Then we would need to get back down to the marina, so it would take us around two hours with that plan. We needed to be heading back to Naples soon since we still needed to get to Rome, and the day was getting away from us. We took some pictures and decided to catch the chairlift back down.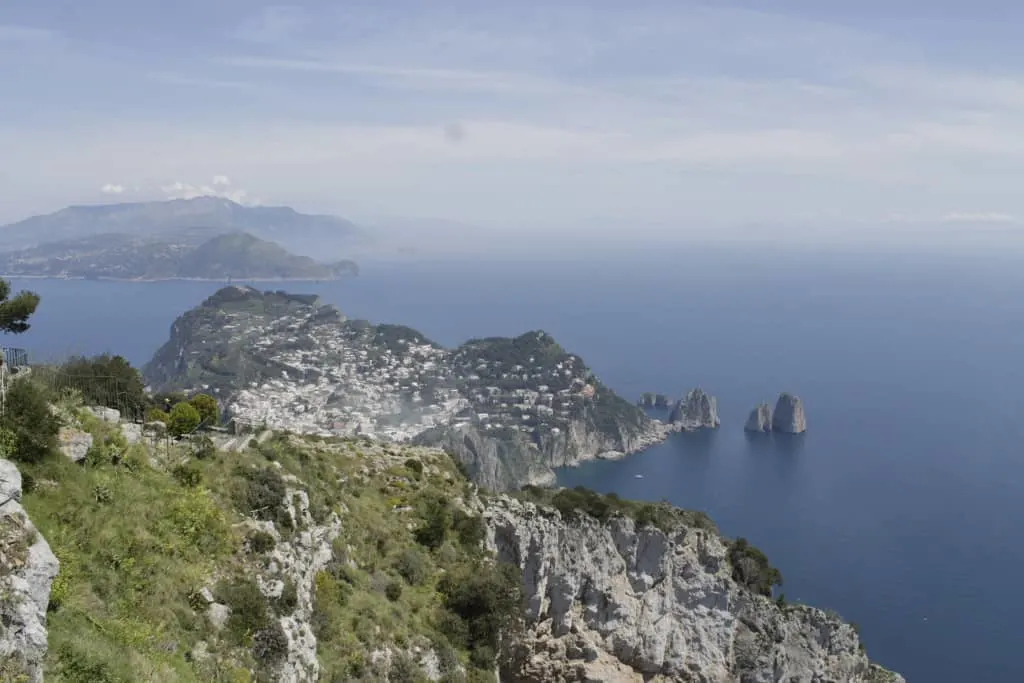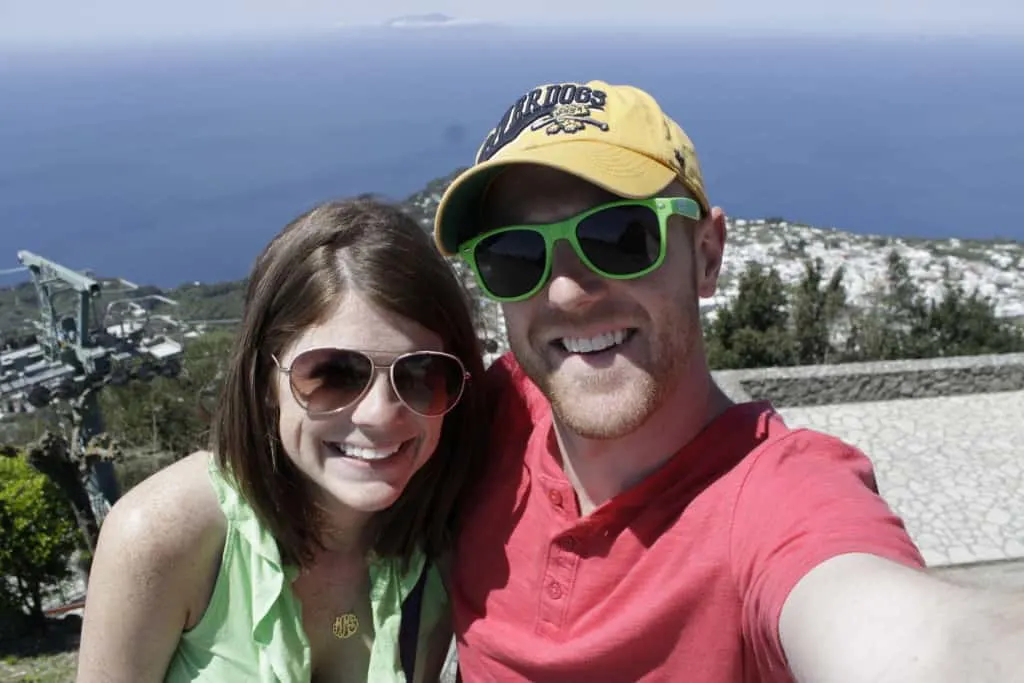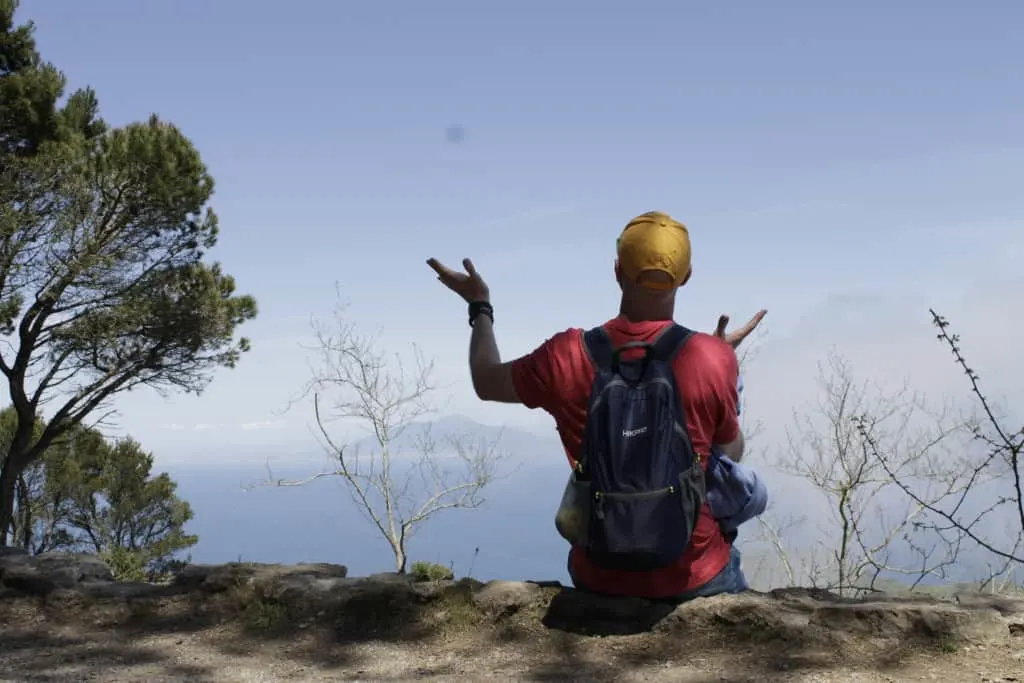 We made it back down to Anacapri and then by bus back to the marina. We bought our ferry tickets to Naples and had a little time, so we did a little shopping and bought some limoncello, candy and earrings made from real coral for Morgan. Then we picked up our bags from the porter and got the ferry back to Naples, where we caught a bus from the port to the train station.
The train from Naples to Rome is only an hour and ten minutes, so it was easy. When we arrived, we had a 20 minute walk to our B&B. We had booked this place through Booking.com instead of AirBnB because we had trouble finding a reasonable place for a good price that way. We stayed at Vesta Domus and it was a lot like the B&B we had in Florence- no office, no desk, just rooms in a hallway with food at the end. It wasn't the best. The man who showed us the place was very sweaty and wasn't the owner. We didn't like that. He also took all my information from my passport and wrote it down, but then left it on a table when he left. I picked it up so that all my personal information wasn't sitting in the open.
After laying down for a little bit, we researched a place for dinner. We headed that way and discovered that our B&B was approximately 200 yards from the Colosseum. It was very ominous at night.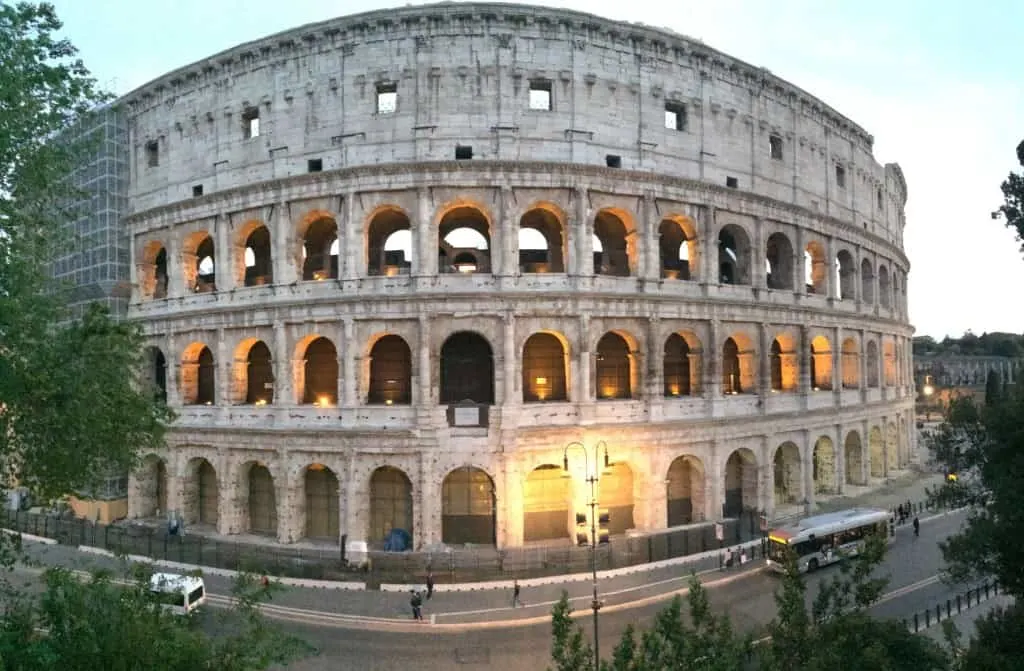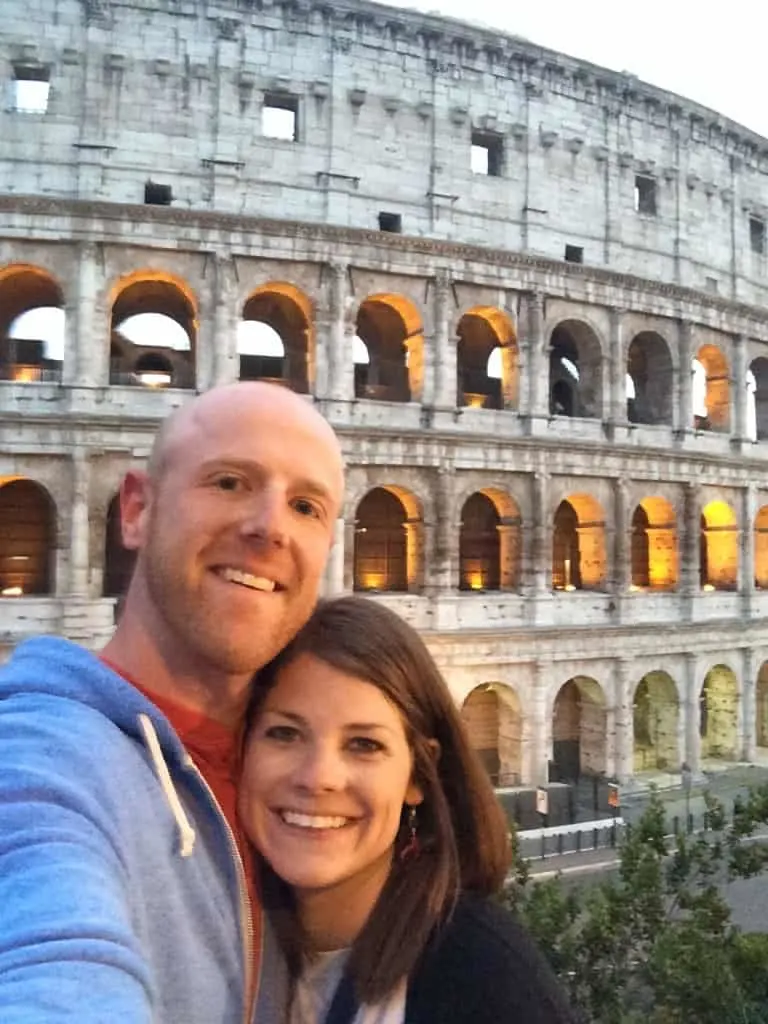 We ate at Trattoria Luzzi, which was highly rated on TripAdvisor. We started wit ha cheese plate and a liter of wine in the outside dining area. The place was very busy, so service was slow, but we weren't in a hurry. After the cheese, we split a plate of risotto in a prawn sauce that was very creamy and good. For dessert, we had tiramisu and lemon ice cream that was served inside a frozen lemon! It was one of the more unique things we saw in terms of food the entire time we were there.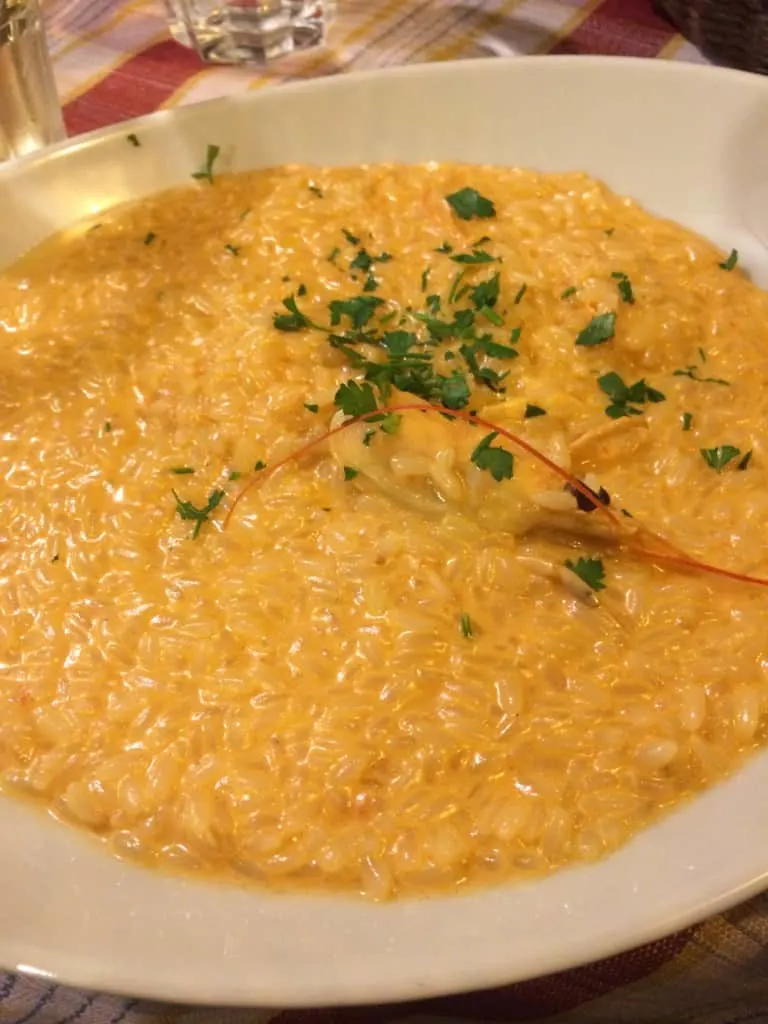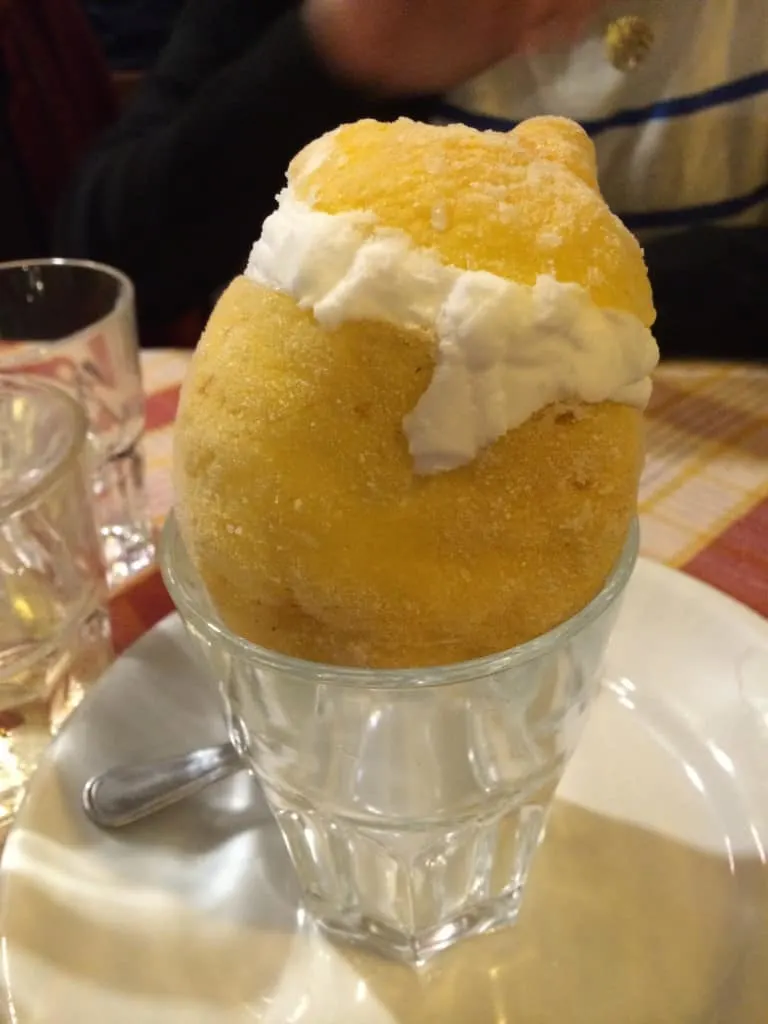 It all totaled 33 Euro, which is outstanding. Food and wine are very cheap in Italy. We hit the sack after one of our longest days of the trip, knowing that tomorrow is our final full day in Italy.
Rome wasn't built in a day… but you can definitely explore it in a day. Neither of us really care much about museums or going into places, especially two weeks into our trip and on our last day. Sad face. We just wanted to walk around Rome and take it easy. We slept in this morning to recover from the last two days. We got up around 9:30 for breakfast and to pay they guy who ran the B&B who had finally shown up. It was sketchy to say the least. He was not prepared and didn't have his act together. Vesta Domus does not get a good review from us.
Anyways, when our fight with the cleaning lady was over, we went down to the Colosseum. We walked around the outside of it, but didn't want to wait in the two hour line to go inside. It's very big and the fact that it was built so long ago makes its arches and height very incredible.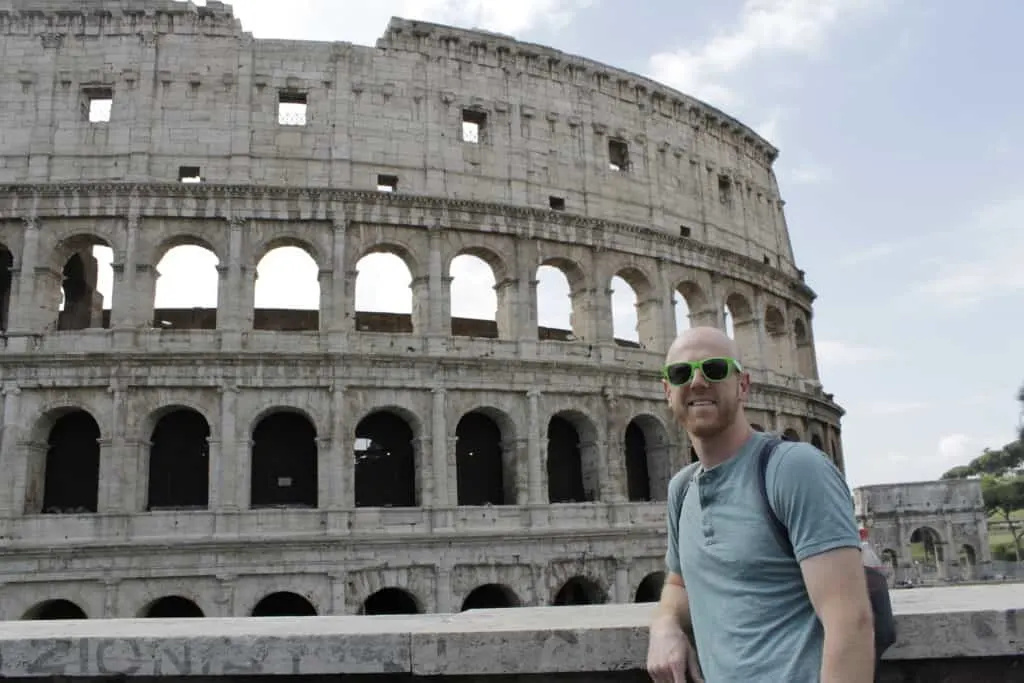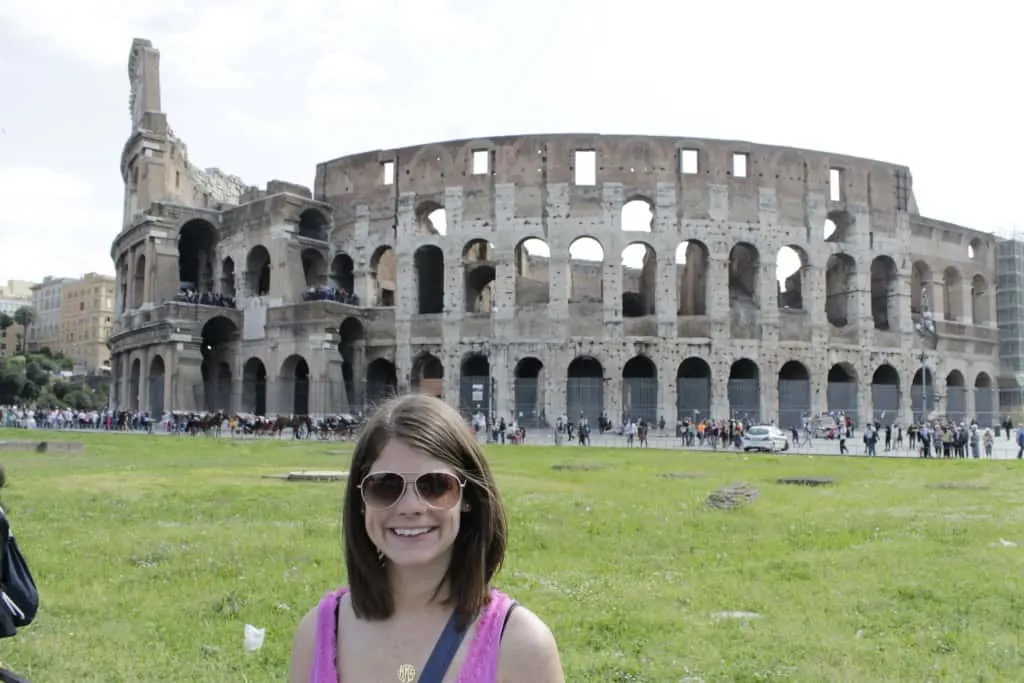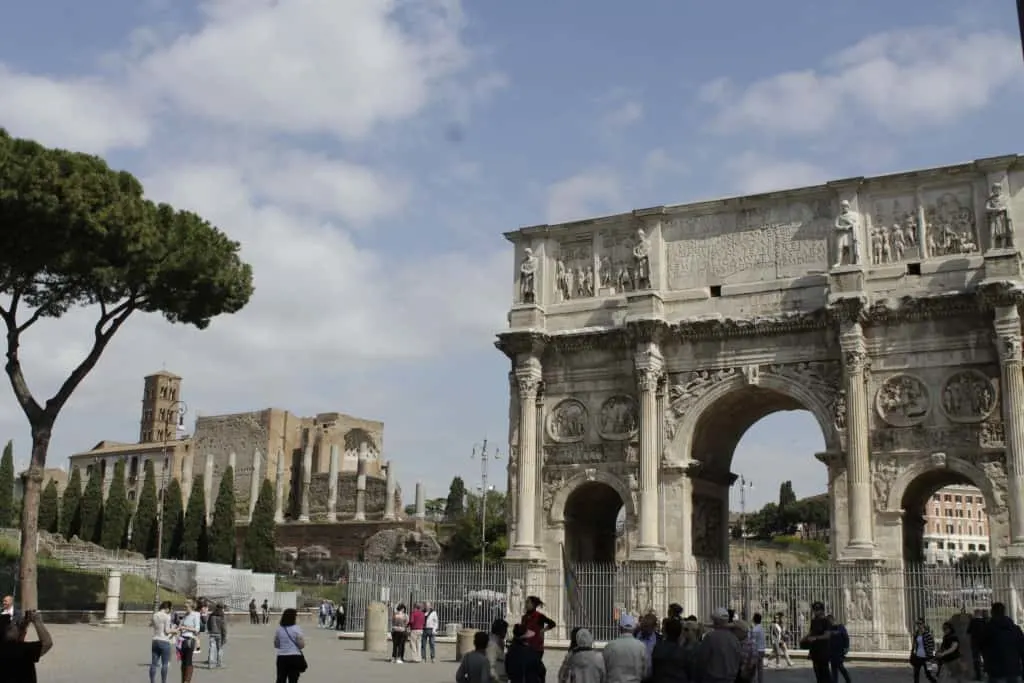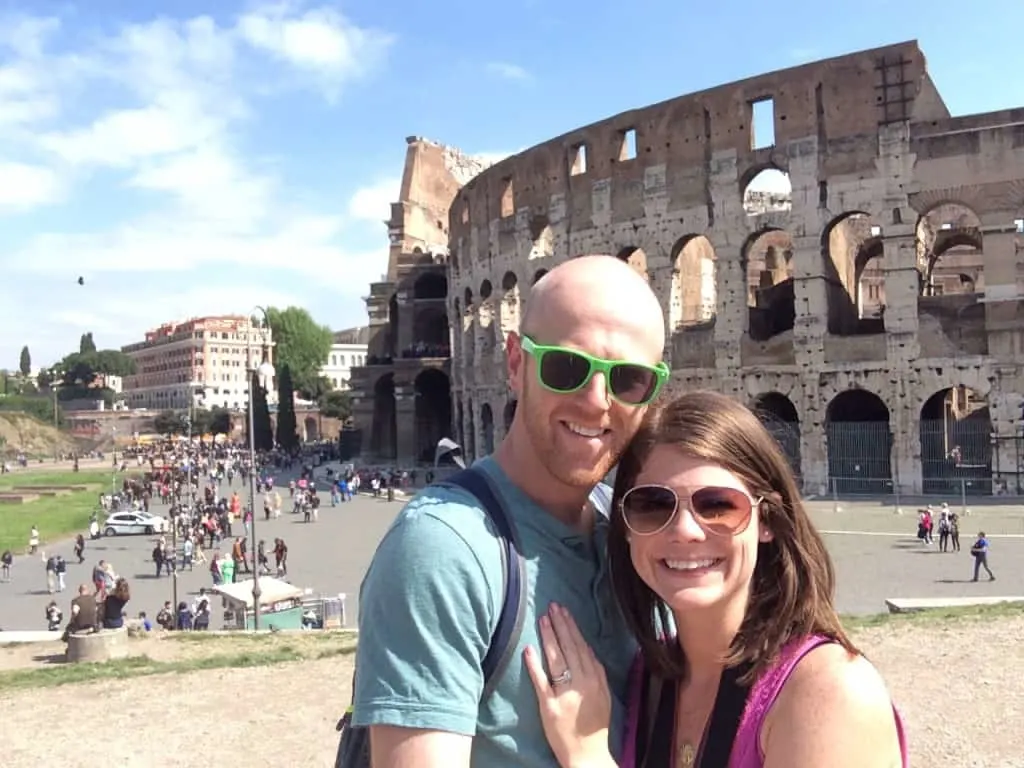 After that, we walked to the Trevi Fountains. Problem was that this too was under renovation. There wasn't any water! It was so disappointing. Basically everything in Rome was under renovation as we would come to find out. It really takes away from the appeal and makes us glad we didn't spend much time in Rome.
We left the dry fountains and walked to the Spanish Steps. The tall set of steps were pretty with flowers all up the middle, but hundreds of people sitting on them. And, spoiler alert, the two bell towers at the top were covered with scaffolding and an advertisement.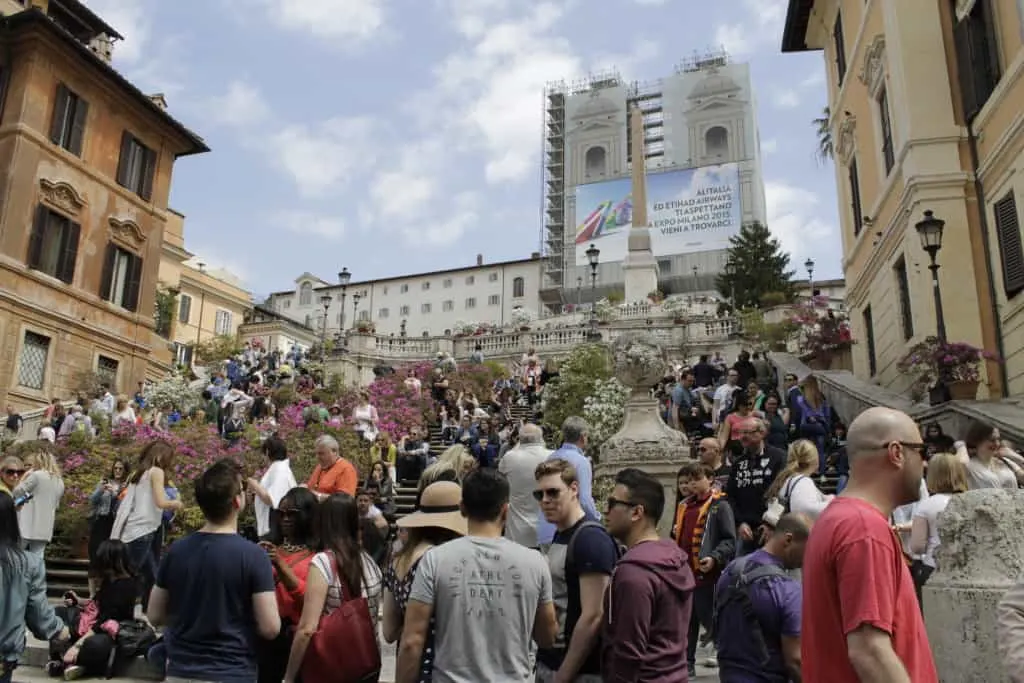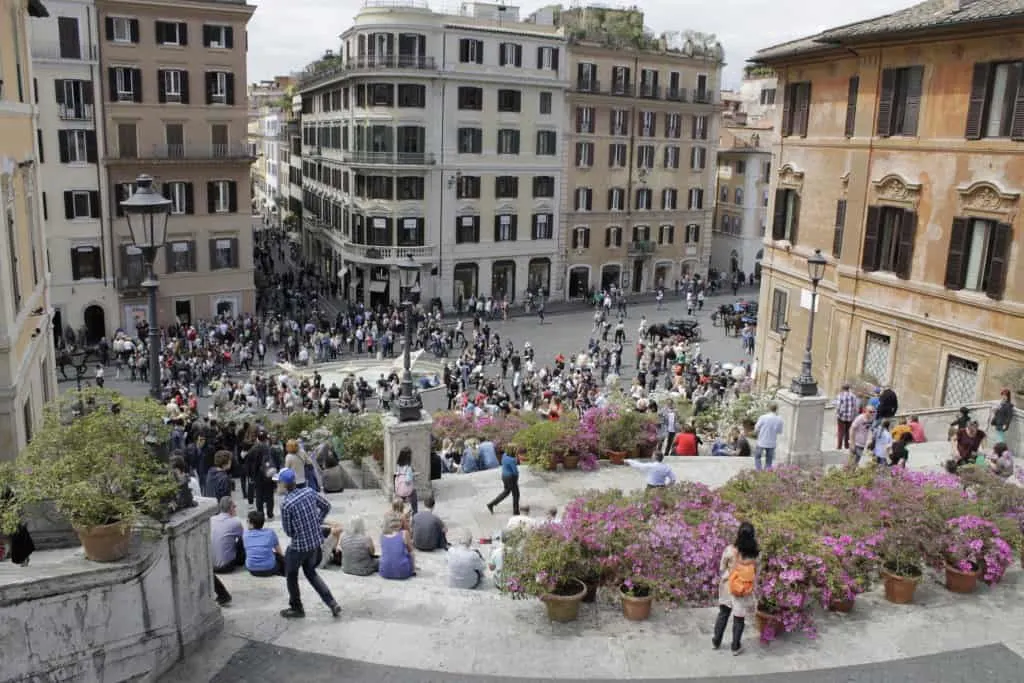 At the base of the stairs was a fountain (that actually worked!) of a boat that was overflowing- it was my favorite part of Rome.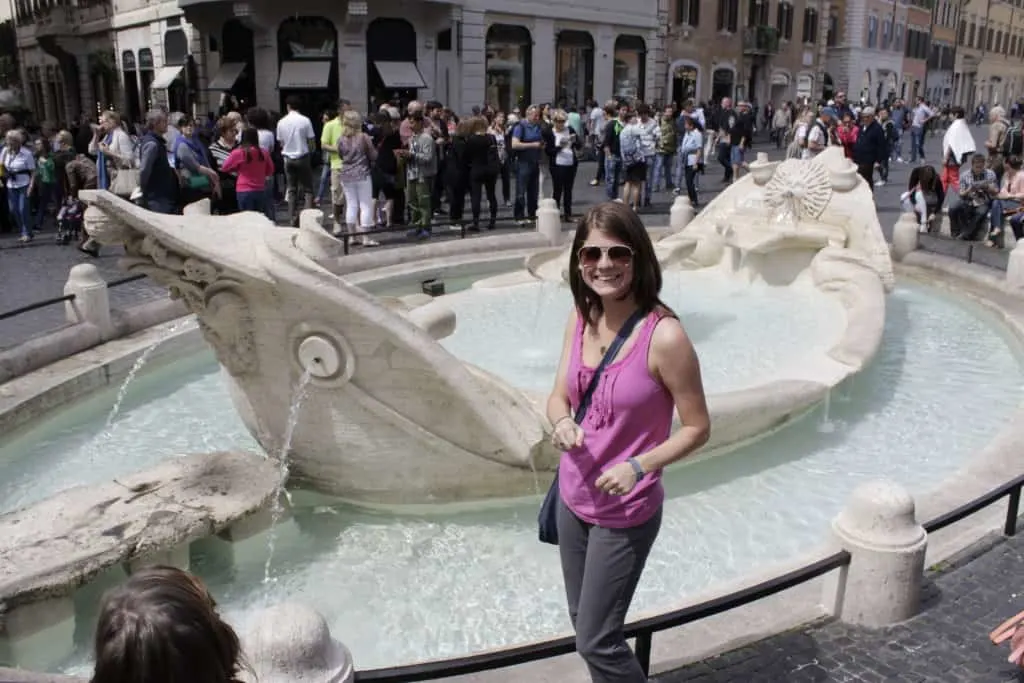 From here, we decided to walk toward the river and get lunch away from the tourists. We got pizza and another arancita di riso. I love those things. We walked along the river and saw a castle and sat in the park behind it for awhile.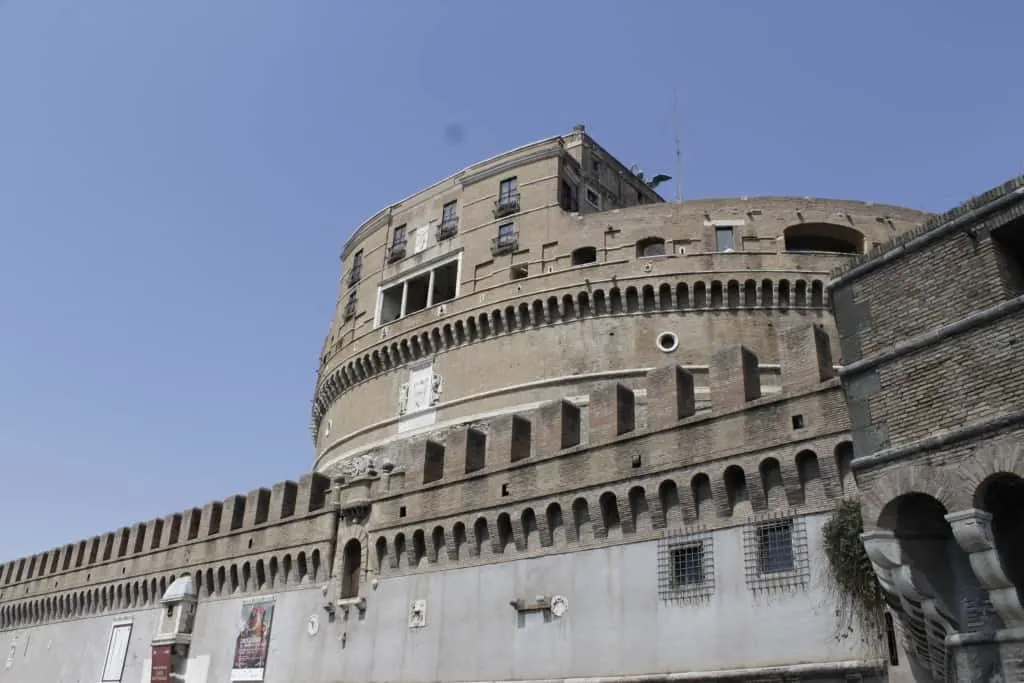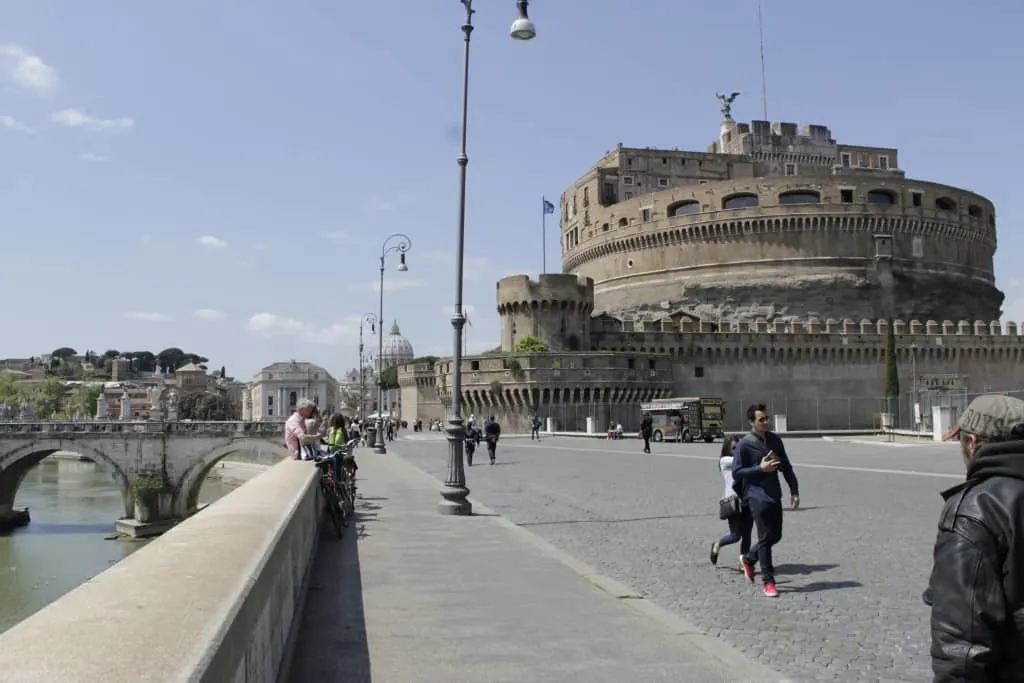 The Vatican turned out to be right down the street. We hadn't planned to go, but we walked down and took pictures. People were waiting hours to go inside, and there were dozens of "tour guides" claiming they could get you past the line. Whatever…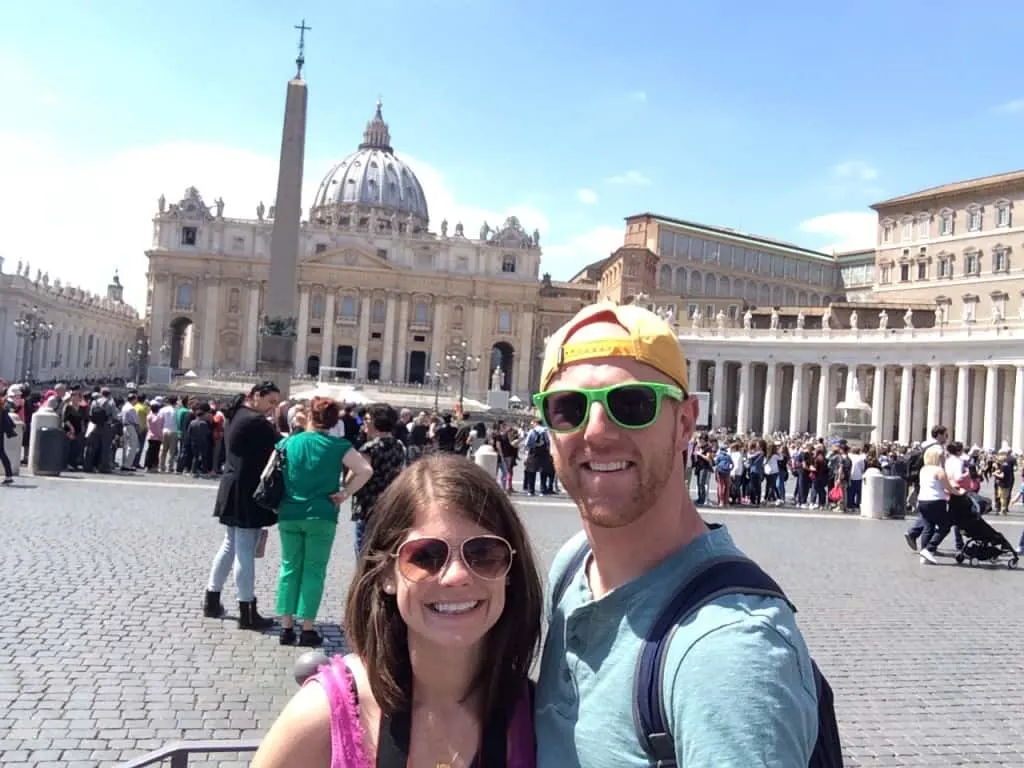 We then walked back toward our B&B by walking down in the basin of the river where there was a path and bike lane. It was very a very nice and peaceful walk finally away from the crowds. It took about an hour to walk back. We got a good view of the Pantheon from on top of a hill (glad we didn't pay to go in earlier).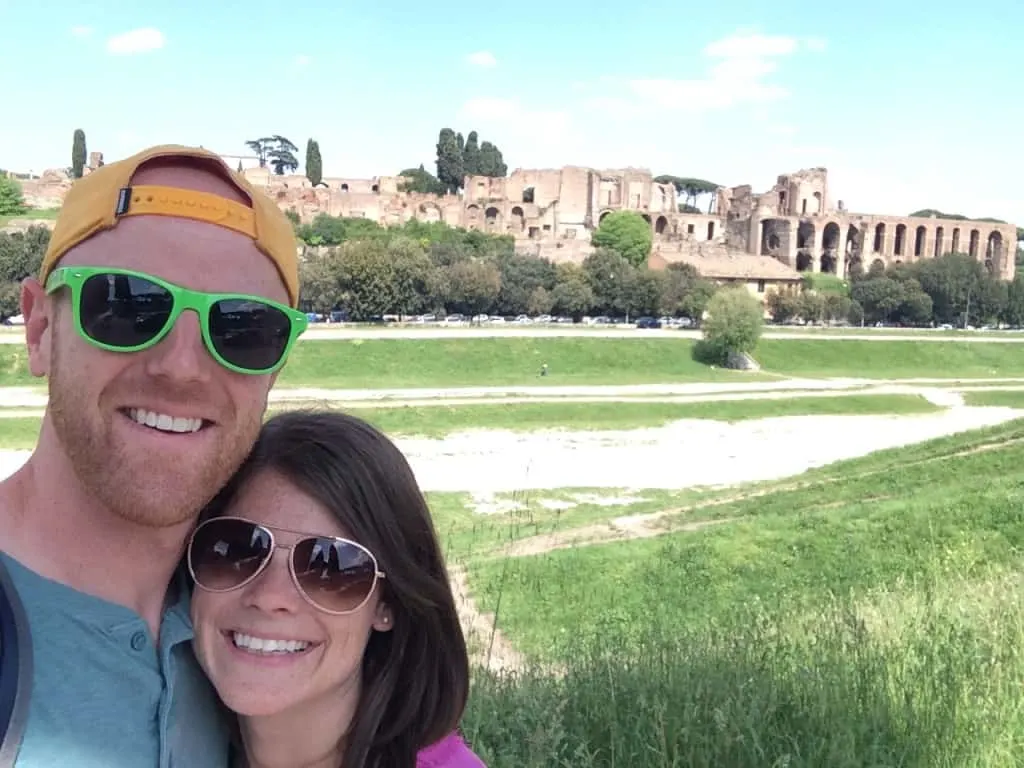 We relaxed at the B&B for a bit and then went to the grocery store to buy tasty souvenirs for ourselves and our loved ones. We bought some pasta, wine, limoncello, and Kinder Buenos.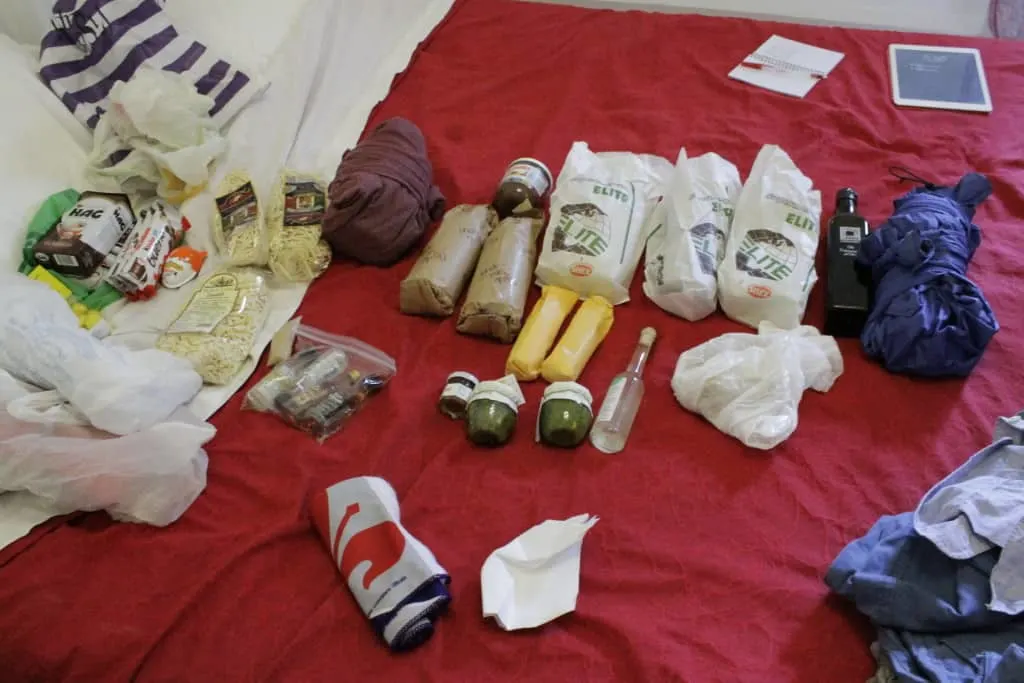 We went home and showered and figured out our final dining spot for the trip- La Carbonara. It was a 10 minute walk through the Monti Neighborhood, which is hip with the younger crowd. We didn't have a reservation, but we were given a table under the pretense that we had to be out in an hour and a half- ummmm, us Americanos won't have a problem with that. We ordered a bottle of prosecco and cheese to start. The cheese came with a fruit jelly that was fantastic pairing with the cheese!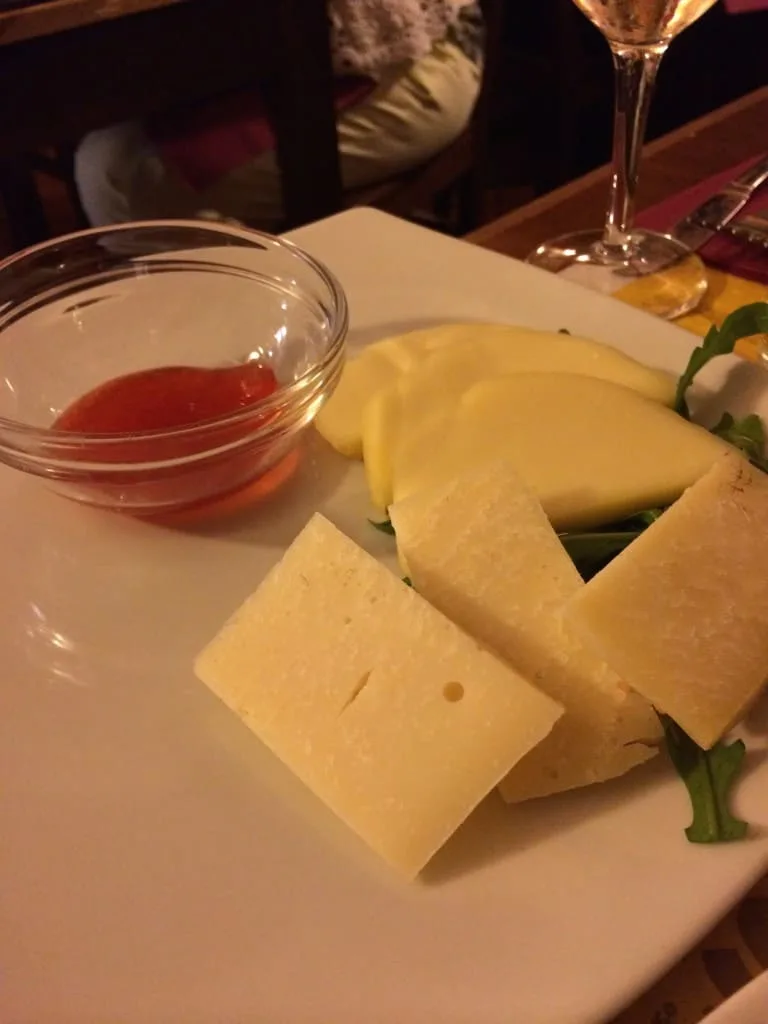 For meals, I got the Cacio e Pepe, which is fresh pasta with only olive oil, pepper and cheese. It didn't need anything else. It was so light and fresh and a tasty combo to take back to the states.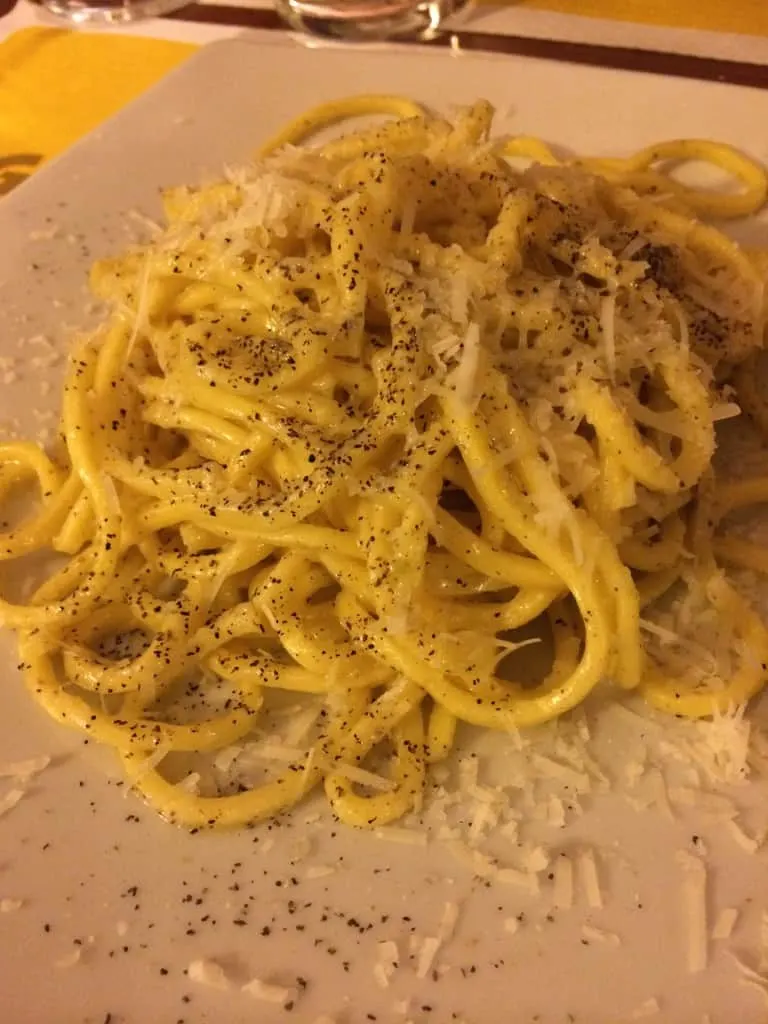 Morgan tried to order gnocchi, but they only serve it on Thursdays. So she asked what the server recommended. He suggested spaghetti with pistachios and cherry tomatoes. We didn't realize that it was a pistachio SAUCE! Oh my goodness, it was fantastic! Such a cool and unique flavor to end our trip. We sat and reflected on the trip for a while and wrote on the the restaurant's wall.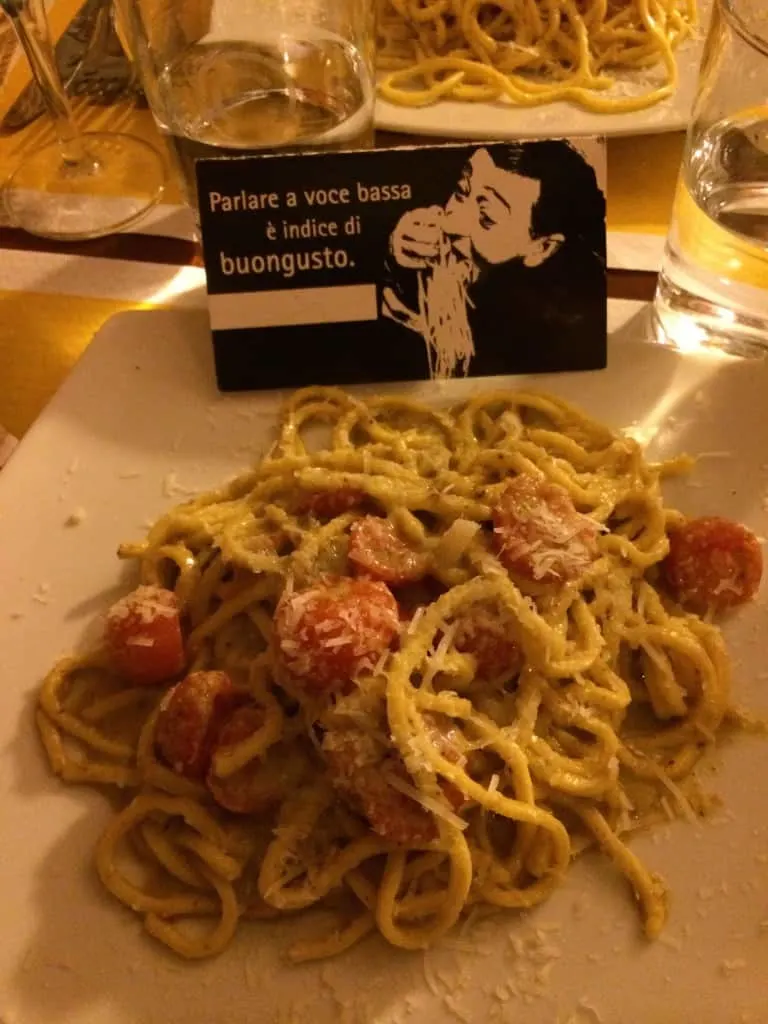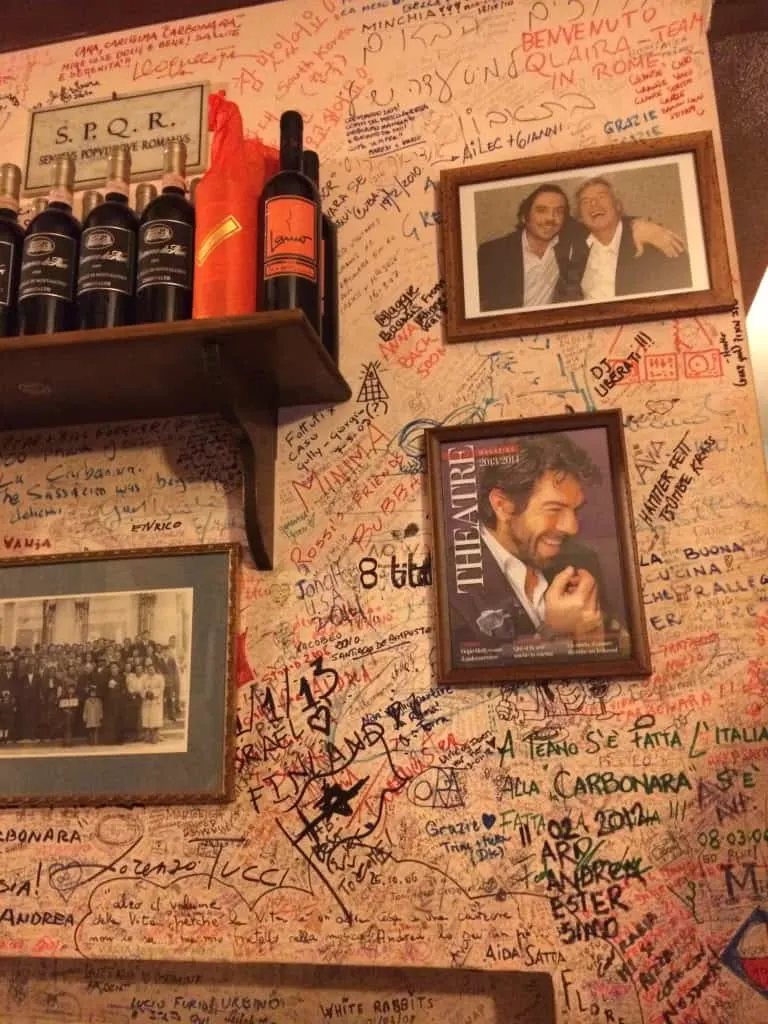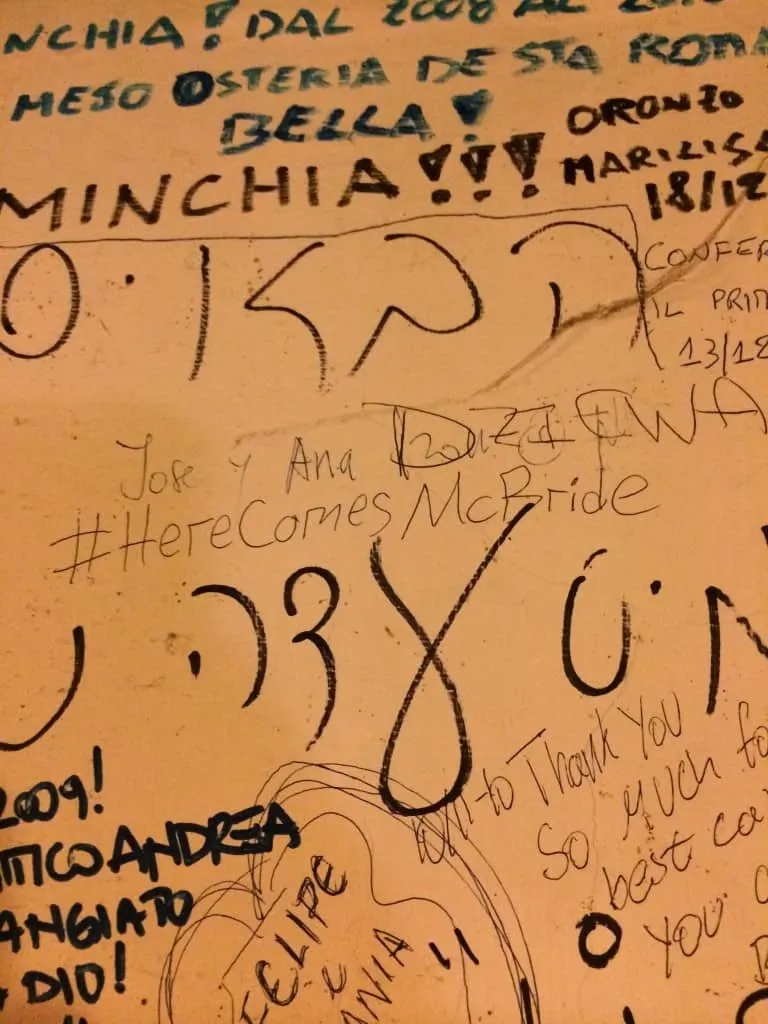 We settled up and walked down the street for our last gelato. We walked the lit streets to the Colosseum and our B&B.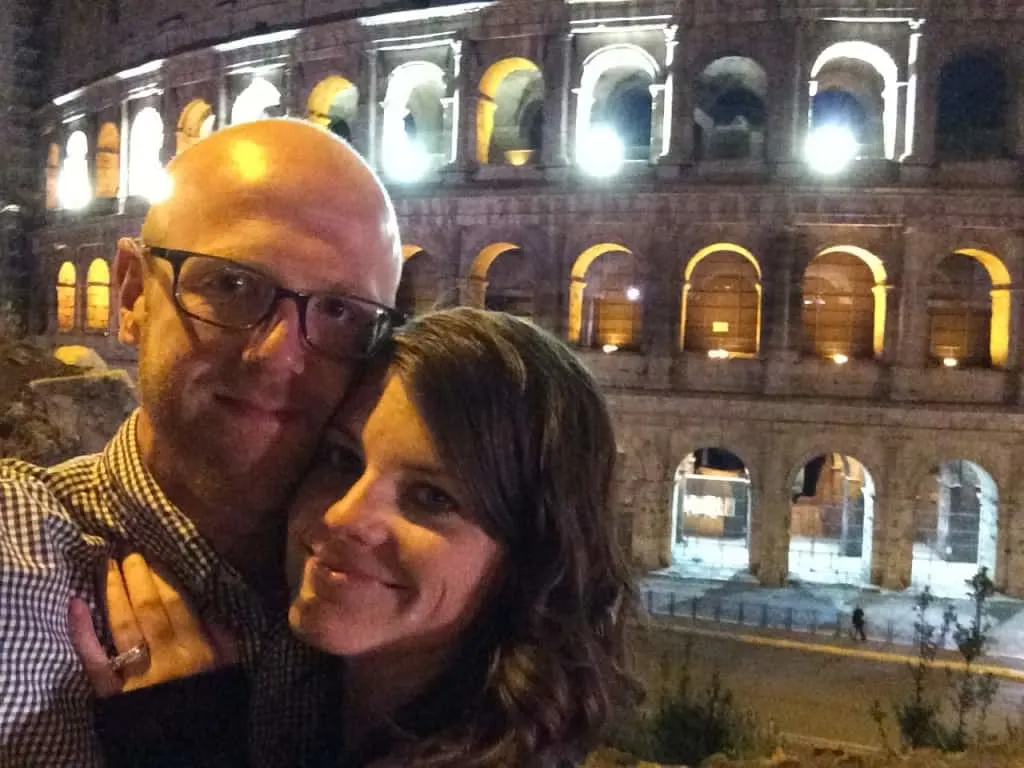 It was the absolute perfect way to spend our last night on our honeymoon…
We had to wake up at 6:00 a.m. today to get everything done. We packed last night, so no problem besides our last few things. We washed up and ate croissants for breakfast. Then we started our trek 20 minutes to Roma Termini train station for a 30 minute express train to the airport. We had spent several hours in Roma Termini on our first day in Italy, so we were pretty familiar with the layout and timings. We got to the airport at 8:05 a.m. and it took about 45 minutes to get through the entire customs and check-in process. At Leonardo da Vinci Fiumincino Airport, international flights are all out of the same terminal that is separate from the main airport. You have to get on a bus and go to what is essentially a warehouse to check your bags and go through customs. Then you get back on the bus and come back to the airport to go through security. It's a long ordeal.
We sat around waiting for our 11:20 a.m. departure and explored some shops and ate pizza at 10:15 a.m. since we were already hungry from being awake for four hours and not knowing when we would get lunch on the plane.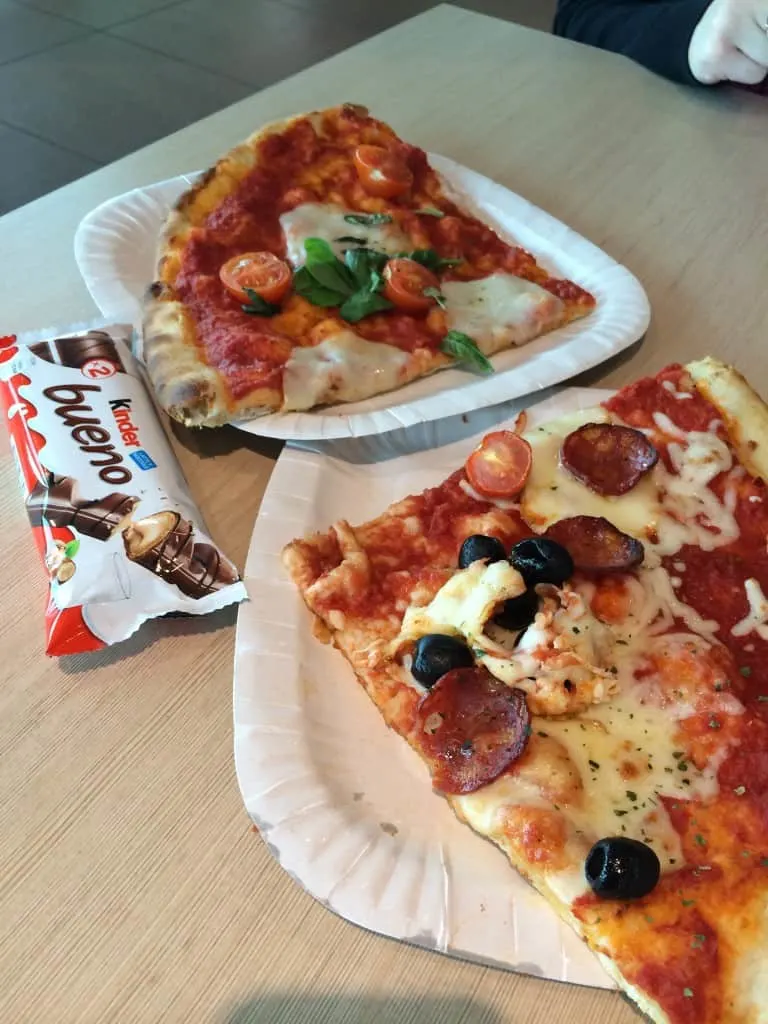 The flight left on time and we spent the flight reading, watching movies and eating pretty good airline food. We were unsuccessful in our attempts to take naps, so after 10 hours on the plane, we arrived back in the USA extremely exhausted.
My dad picked us up and took us back home. We had dinner with my mom and my brother and gave them all the quick overview of our trip and zipped through our 3,000 photos from the trip.
We've now wrapped up our Italian Honeymoon in just 13 short blog posts. We have given you as good of an overview as we can express in writing, but obviously the true experiences live in our minds and our hearts. My favorite place on the trip was Lake Como and Morgan's was Cinque Terre. Our second favorites were each others' favorites. This was seriously a once-in-a-lifetime trip. We will never be able to recreate everything we experienced and did on this trip, even if we went back and did it again. There was something about it being our first time in Italy and it being our honeymoon that will make it different than anything we will ever be able to do again. We learned a lot (and will share some of that with you tomorrow) and definitely know where we will go back to whenever we are able to go back to Italy in the future. For now, just know that it was the most incredible trip and we couldn't have done it any better…