We've mentioned our trip to the Haven Conference a lot since we went in July, but we met a ton of amazing people there, both bloggers and sponsors. We met a lot of bloggers who are doing some amazing stuff and we wanted to take time to profile a couple of our new friends. Our first one is Scott, from Saws on Skates. We got to know Scott over beers and pizza, and then more pizza by the pool. He's a cool guy doing some cool projects. Take a look!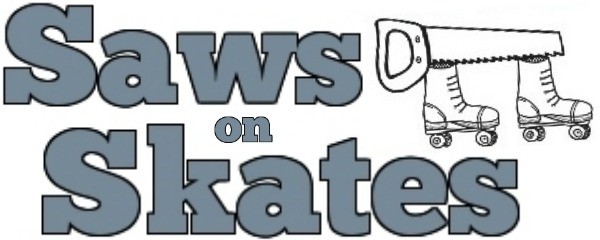 1. Tell our readers a little about your blog.
At Saws on Skates, my first goal is to show my readers you don't need a giant workshop to build quality DIY furniture. All of the free furniture plans I share were built in my tiny 10×13 workshop where all of my tools are mounted on wheels. The name "Saws on Skates" is a wink and a nod to my small, mobile workshop.
My second goal is to encourage confidence in my readers who may be DIYing for the first time and provide useful DIY tips for DIYers of any experience level. Finishing pieces is one of my least favorite activities, so I often share easy paint, stain and finish ideas. From time to time you might even find me chatting about my rescued pup, Coco. BTW, she prefers a run to Home Depot over a visit to PetSmart!
2. How did you get started blogging?
I started blogging after I discovered the Kreg Jig at a woodworking show. I had just finished up three semesters of furniture making classes learning how to hand-cut dovetail joints, make mortise and tenon joints, etc. When I saw how quickly I could build furniture with the Kreg Jig vs. hand cutting joints, I bought one on the spot!
When I got home I googled "kreg jig furniture plans" and found anawhite.com. I built a few of the projects from her site. Then I took a SketchUp class. From there I started designing and building my own furniture pieces. I shared several of those pieces on anawhite.com then I thought "why don't I create my own site where I can share these plans?!" In March of 2015 Saws on Skates was born!
3. What is your favorite, or most popular, project you've done?
What's my favorite project? That's a tough question… I have several favorites! I like projects that multitask, so I'm going to share my top three multitasking projects. First is the kitty litter cabinet. It looks like an ordinary cabinet from the front, but the side features an entrance complete with curtains (yes, I can do a little sewing- I like to think of the sewing machine as a power tool!) which leads to a hidden litter box.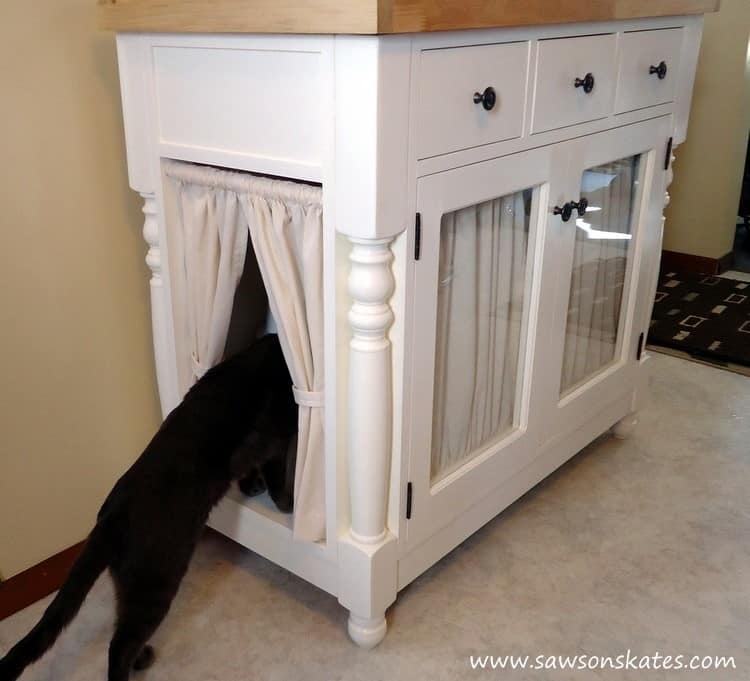 My second favorite project is the patio garden cabinet. Not only is it an attractive way to display plants on a patio or deck, but it keeps critters from nibbling your blooms.
My third favorite is the project I just finished, an outdoor coffee table. It looks like an ordinary coffee table, but reach under the table, pull out the four hidden side tables and you have quadrupled the space for beverages and burgers!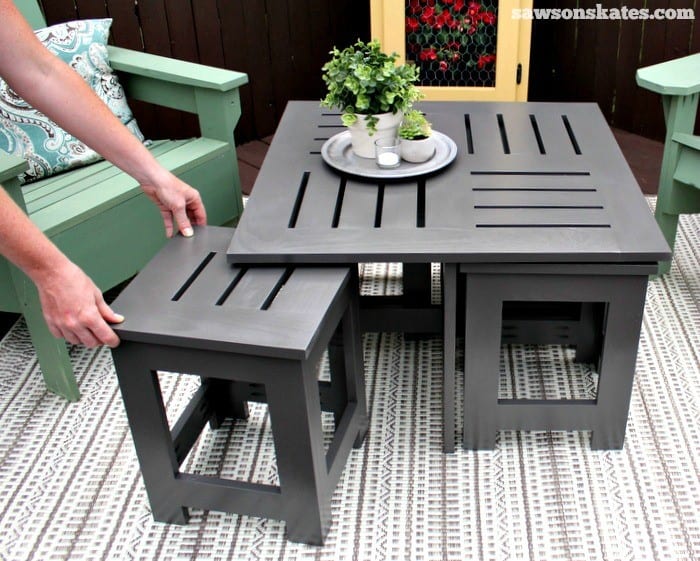 4. What is your style and where do you get your inspiration?
I like classic, timeless designs. I'm not into trendy, here today, gone tomorrow looks. So is it bad for me to say I'm not a fan of sliding barn doors?! (Obviously Scott hasn't seen our barn door 🙂 )Trust me, I don't judge. I just feel like sliding barn doors might be the avocado appliances from years ago!
I would describe my style as "grandma's house modern" lol. I like to mix styles and colors of furniture. My favorite style is the classic Shaker style frame and panel construction. But instead of a traditional finish, I might use a dark modern finish to give it an updated look.
I find inspiration everywhere. Most people's phones are loaded with pics of their kids and family. My phone is loaded with pics of my dog and furniture! I take pics of friend's furniture pieces, pics of furniture at Home Goods, basically everywhere I go I'm snapping pics of furniture.
5. What are some upcoming projects you have going on that our readers could expect to see?
Up next I'll be sharing plans for a chunky, Mid-Century Modern nightstand. I'm also working on some easy DIY tips to help my readers build, and build better. It's been a long time in the works, but I hope to soon share a comprehensive "how to stain" post. (Charleston Crafted note- if you want a "how to stain" post, you can check out ours right now)
6. Tell us something unique about yourself.
I'm a Volkswagen fanatic! I've owned several vintage VW's including a 1964 Beetle that I restored. I even tore the motor apart and rebuilt it myself. I've attended vintage car shows and even won a few awards. And did I mention I'm branded for life? Yup, I have a VW logo tattoo on my arm!
7. If you were stranded on an island, what is the one tool you would want with you?
Originally I was thinking the tool I would want with me was a Dremel. I could use it for cutting and drilling and maybe I could even fashion some kind of toothbrush lol. But seriously, I think the tool I would want is the Kreg Jig. I use it for everything. I could build a shelter and some beachy DIY furniture. Plus, with a little time, I bet I could build a boat, so I could float back to civilization.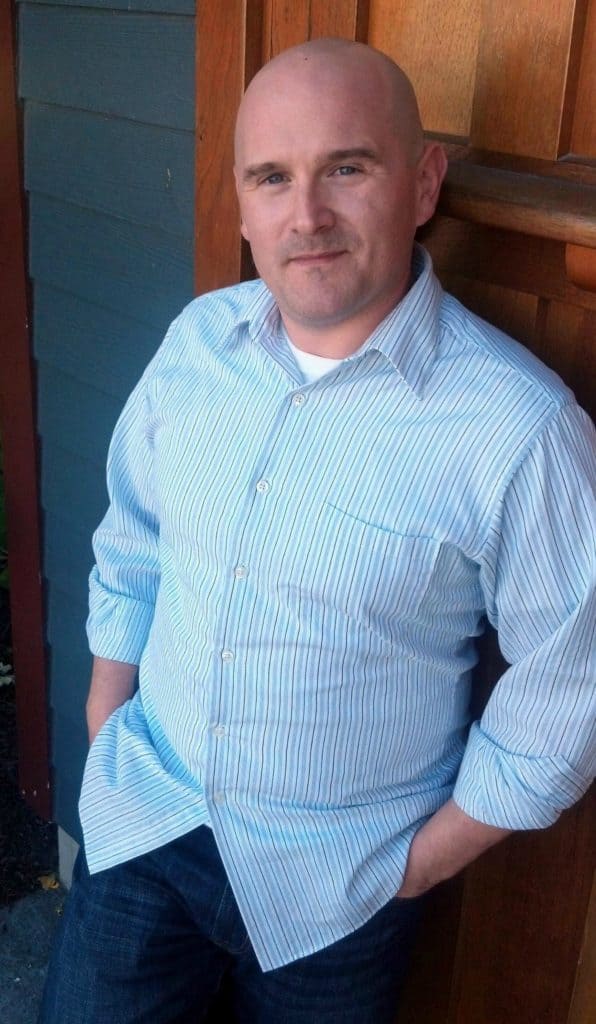 Technically he failed the island question, because you can't do anything with a Kreg Jig if you don't have a drill, and that would make two tools… Thanks to Scott at Saws on Skates for talking with us! Check out his blog… but don't abandon us! 😉