We've been interested in adding a smart water heater to our home ever since we bought the house. When we had our home inspection before buying the house, the water heater came up. It was original from 1993 and knew that it could go at any point. Unfortunately we had to choose between replacing the water heater or the air conditioning in our agreement with the sellers and we chose the AC. Two years later, we finally got around to adding a smart water heater.
Thank you to The Home Depot for sponsoring this post by sending us this amazing smart water heater. All opinions are our own. Thank you for supporting the brands that make Charleston Crafted possible!
Adding a Smart Water Heater
We shopped around for a smart water heater for awhile. Our old water heater was working, so we weren't panicked to get one right away. Research is critical when thinking of adding a smart water heater. We've tried adding smart appliances and smart functionality to our home as we have upgraded different things. Adding a smart water heater was the next step. For reference, here's our old water heater.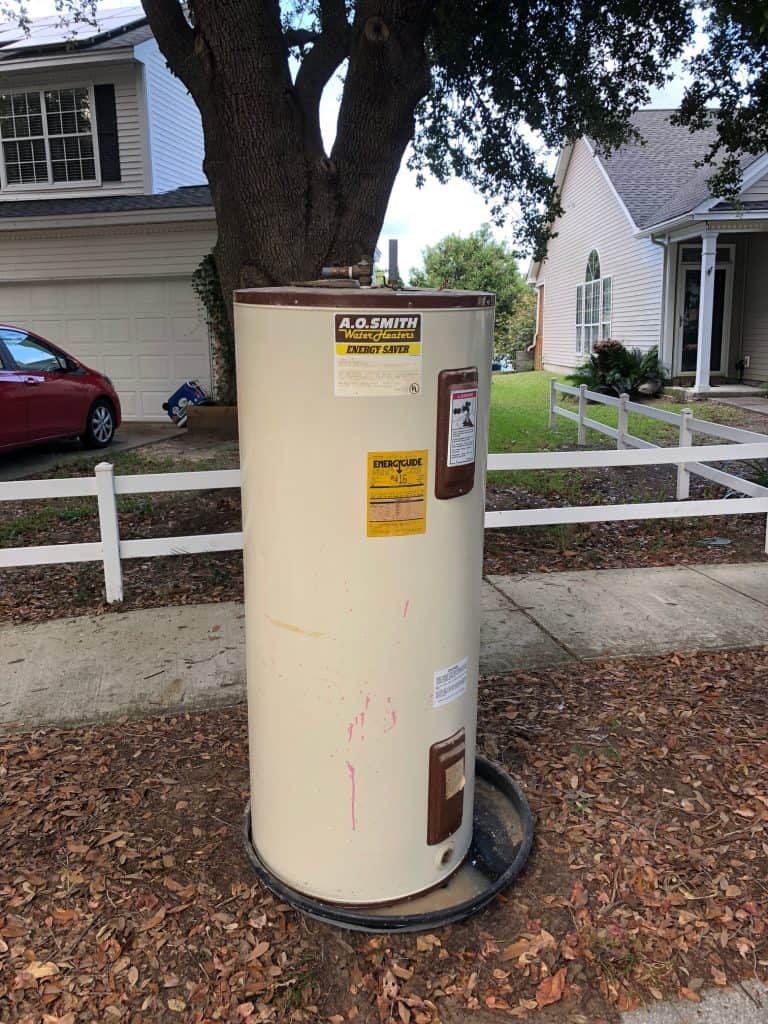 We opted for the Rheem Performance Platinum 80 gal. 10 Year Hybrid High Efficiency Smart Tank Electric Water Heater from The Home Depot. This water heater features a hybrid heat pump design making it 4x more efficient than standard electric water heaters with an estimated energy cost savings of $4,500 over 10-years.
Smart Rheem Performance Platinum 80 Gal. Hybrid Electric Water Heaters feature integrated Wi-Fi connectivity for important mobile alerts, like Water Leak Detection for potential added savings. Plus, it's a great value with a 10-year warranty and 1-year in-home labor warranty.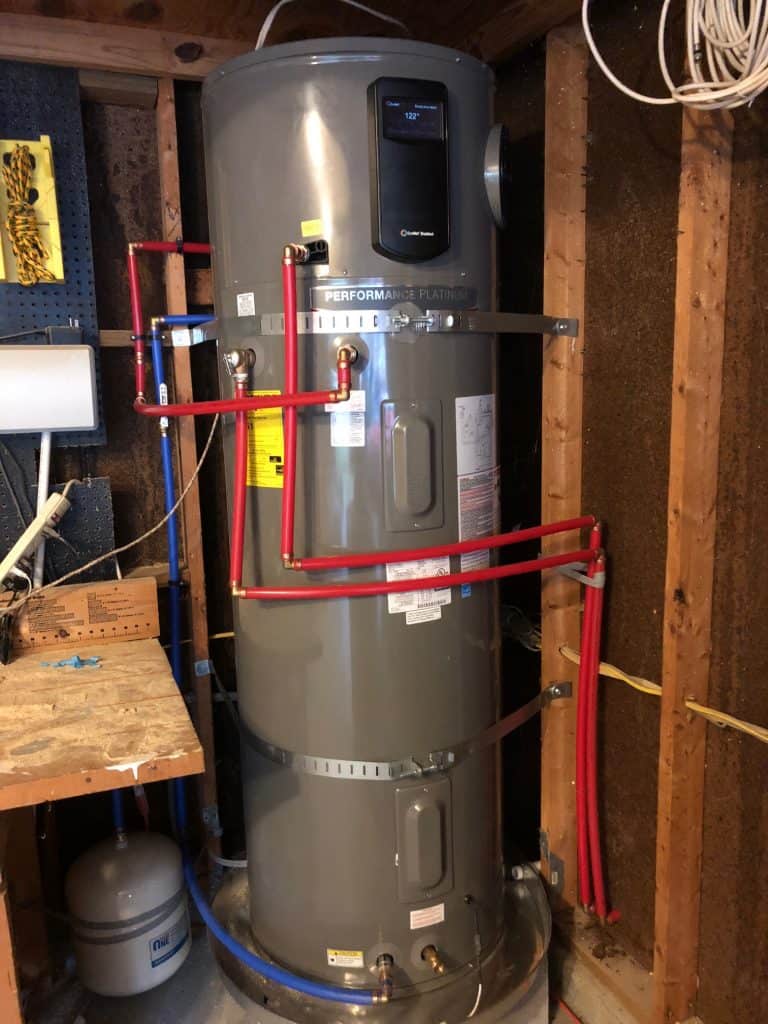 We don't have natural gas in our neighborhood, so we had to go electric to work with our home. We had an 80 gallon tank so we opted to go with another 80 gallon tank to replace it. However, that was one thing we wish we hadn't done. Turns out that that was unnecessarily large for our size home. A 50 gallon tank would have been sufficient for us, but we didn't know that until we talked to the installer.
Now, you know we are DIY fiends here, but disconnecting and reattaching a water heater was not something we were interested in trying to do ourselves. Shoot, the thing is taller than us! We hired a local plumbing company to come do the work and they came out the next day. Adding a smart water heater is definitely a job for the professionals.
The two person crew came out and removed our old water heater and installed the new one in just over three hours. They had to work to upgrade some coding issues for a new water heater that definitely weren't around in 1993. One thing we learned that you will need to know if you're adding a smart water heater is height code.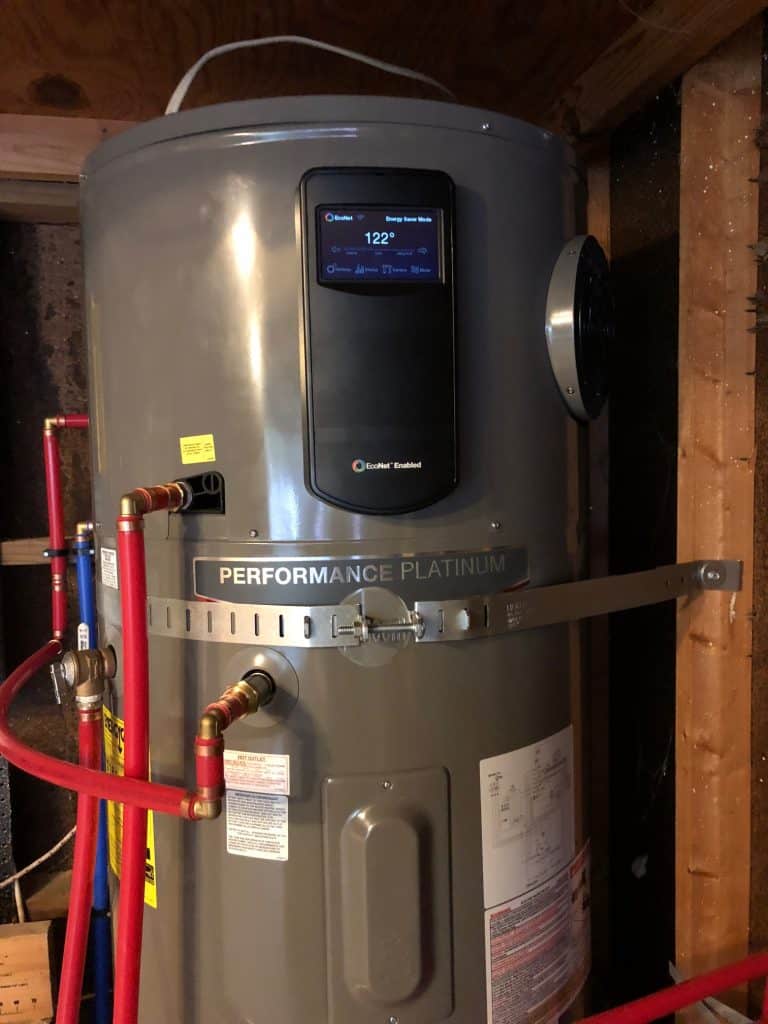 If you are putting a water heater into your garage, even in the same spot as the old one, it's going to require an 18 inch elevation in case of flooding. That became an issue for us because our new water heater was quite tall. They made it work though and got it installed.
So far, we don't have too much to say about our Rheem Performance Platinum 80 gal. 10 Year Hybrid High Efficiency Smart Tank Electric Water Heater. Honestly, I think that's a good thing. I wouldn't want to be saying too much about my water heater because that means something went wrong. With a water heater, I think you want it to work quietly and efficiently and never really need to do anything with it. That's been the case for us so far.
Our Rheem Performance Platinum 80 gal. 10 Year Hybrid High Efficiency Smart Tank Electric Water Heater heats up our water quickly and efficiently. We love that it has an energy saver mode. The smart touch screen is nice because it allows us to monitor the water temperature, change settings for vacations, and troubleshoot any issues that do come up.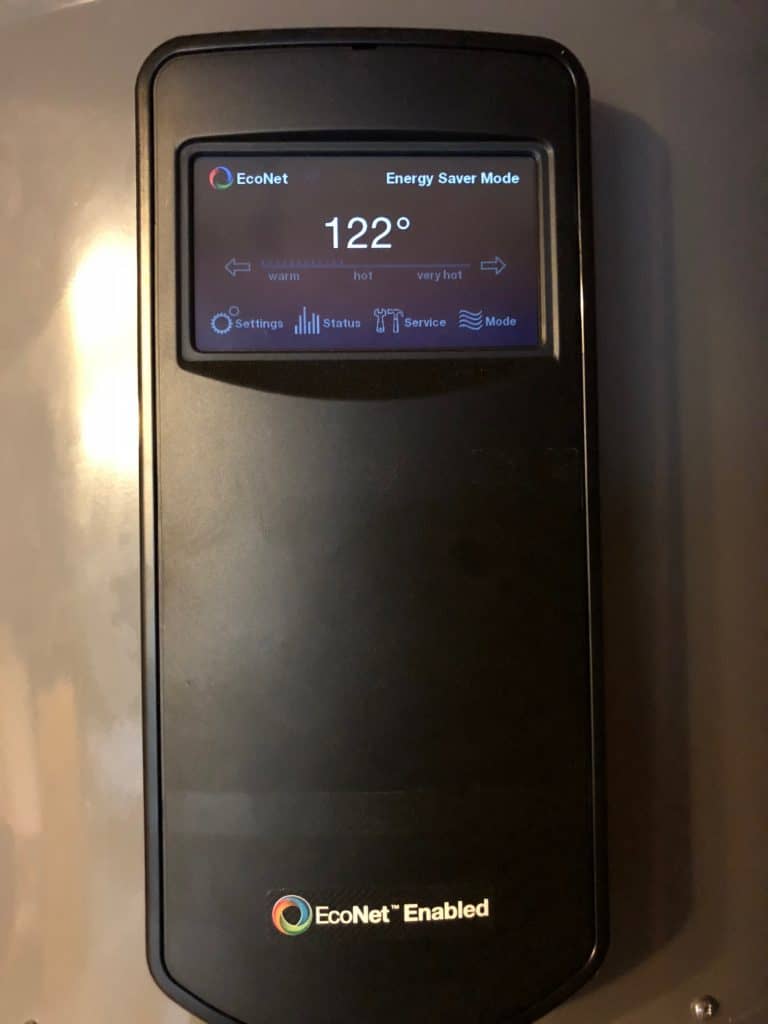 We love that functionality and that our water heater isn't a complete guessing game. Our old one was just a metal tank and we wouldn't have known how it was doing unless it exploded. This water heater allows us to monitor our situation and we really like that.
We're very happy about adding a smart water heater to our home and we're glad we don't have to worry about a hot water explosion!