Our condo didn't have a coat closet, so we had to create hidden coat storage in an entryway cabinet! I hope you enjoy this storage idea!
Our awesome condo has tons of storage space including an awesome craft closet and big bedroom closets. However, it seriously is lacking an entryway coat closet!
Since we live in South Carolina & rarely need coats, I didn't really think it would be a problem. However, it has lead to a lot of coat piling on the kitchen table. So, I decided to tackle it head on.
The most natural place that there should be a coat closet is right next to the front door, where there is currently a built in desk.
I would love to rip that desk right out & build an entryway mudroom nook. I have decided not to because I don't think that it would provide a good return on investment for my condo- these desks seem to be a surprisingly big selling point for my style of unit. So, it must stay.
Click here to pin this project idea to your Pinterest boards!
However, after living here for almost 6 months, 90 percent of the cabinet is still empty. It was easy for me to shift the few things on the left side to the right.
Let's turn this into a coat storage cabinet!
I would have loved to have a left-to-right rod running to hang lots of coats like a normal closet, but the cabinet is not deep enough to hold a hanger.
I needed something to go front to back, but hold itself up from either the ceiling or just the back wall (as there is no front wall once you open the door.) So, I went to Lowes without a plan.
After talking to 3 employes who all stared at me like I was crazy (I'm sure they were thinking – oh no, this girl saw something on pinterest again…) the store manager actually had a brilliant idea. We went to the plumbing section and gathered a few supplies and made an actual plan.
Of course, I had to wait for Sean to get home to do any hanging, since I was slightly afraid to be the one to break the drill.
We started by removing the shelves in the left cabinet. They snap out pretty easy with the help of a flathead screwdriver or a butter knife.
Then, Sean used the round metal base to mark where he needed to drill holes. He made pencil marks and then drilled in anchors.
Next, he used the drill to screw the base into place. He ended up using 3 screws because the bottom hole would not go thru. It seems pretty strong as it is, though I'm not about to hang myself off of it.
This wall mounted pipe creates the perfect spot to store your winter coats! You could also hang garment bags or dry cleaning bags of formal wear like blazers.
Plus, there is room underneath for a small basket of hats, gloves, and scarves!
Then, we just screwed in the pipes. We used a 2 inch, a 3 inch, and a connector to get it just over 5 inches, the length we needed. Our cabinet was 6″ deep so you would have to adjust for your depth, leaving room for the base and end cap, to be sure you could still close the door.
That was it! Now we can hang coats right by the door! It's not ideal- you have to kind of dig to get back to a certain coat & I'd love to upgrade to slim hangers in the future, but for now, it is SO much better than leaving them in a pile or taking up valuable closet space.
It's not a bad storage solution hack for not having an entryway closet!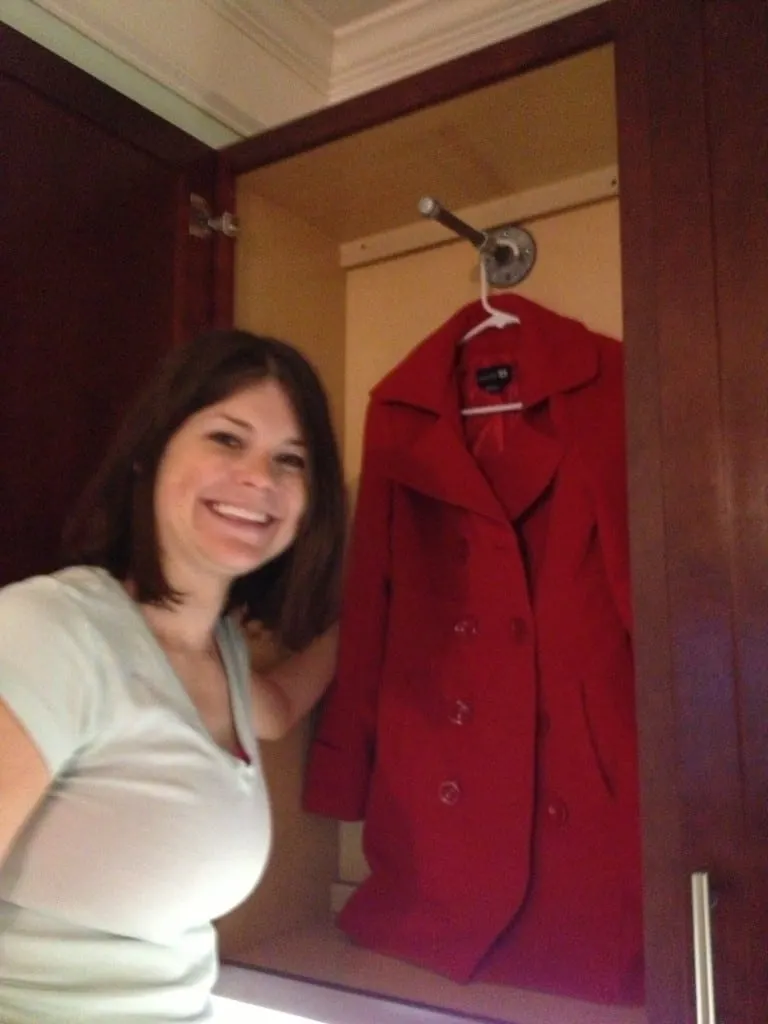 Like I said, this works for us because we live in South Carolina and don't need a lot of coats very often. But I am super happy with it so far! Having hidden coat storage has made our entryway a lot neater and opened up a lot of space in my master closet!
Love this project? Here is how we built a storage system for our entryway closet in our new home!
Here are some other ideas for where to store coats when you have no coat closet in your house:
Hall tree or free standing coat rack
Coat hooks on the wall
Inside a storage bench
In a basket under a console table
Vacuum sealed bags under a bed (in the off season)
Do you have any creative storage in your home?