Guys are really hard to buy for. Trust me, as a guy, I know. I don't ever ask for anything. I'm at a point in my life where if I need or want something, I usually just go get it. I don't like the idea of waiting for months just to ask for it for Christmas. However, I do know that people like to buy me presents and I need to give them an idea of things I like, so I do my best to come up with some ideas. If you're having a hard time thinking of a gift for the guy in your life, whether it be your husband, boyfriend, brother, son or father, here are seven ideas that might spark something in your mind!
Day Pack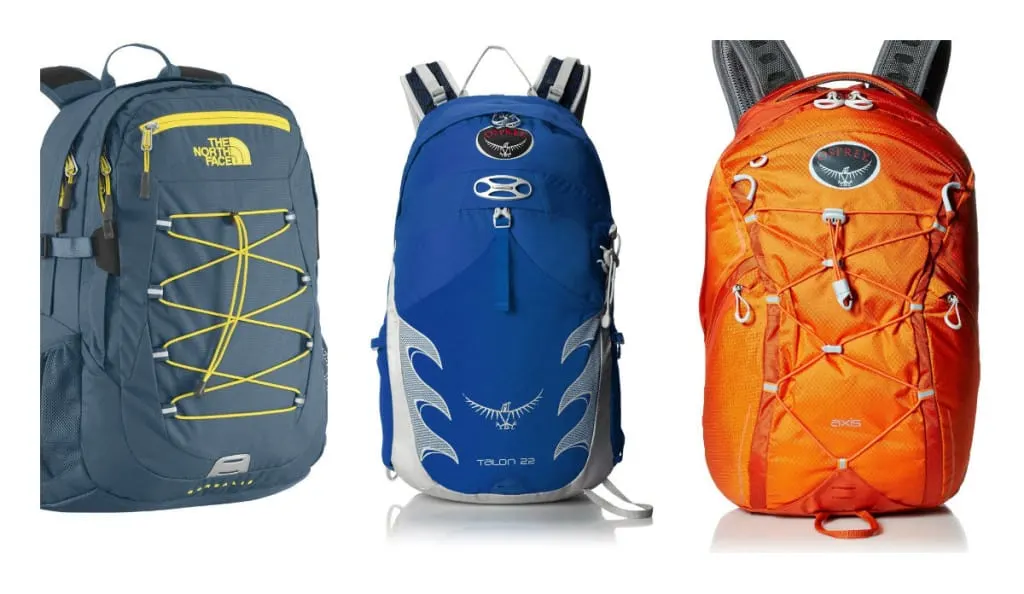 Lots of guys like to be on the move, whether it be heading to the gym, packing for a weekend trip, hiking through the woods, or toting things around for their kids' weekend activities. No matter what it is your guy does, he's going to need a place to carry his things around. Instead of letting him use that disintegrating backpack he's been using since middle school, get him a cool new day pack from Osprey or North Face so that he has lots of options and ways to use it.
Power Socks
Star Wars / Sports / English Laundry
Power socks are the new power tie. I love a fresh pair of colorful, fun socks that stand out from the boring blues, blacks, browns and khakis of most guys' footwear. Grab him a couple pairs of socks with funky designs, or ones with characters from his favorite show or movie and give him something to brag about at the office.
Skinny Ties

Sticking with the fashion item one more time, skinny ties are what is up. No more fat ties with awkward patterns on them. Grab your man some skinny ties that are solid or have a simple diagonal stripe. This adds to their look when worn alone or with a suit.
Fancy Board Games
monopoly / trivial pursuit / scrabble
Is your guy a fan of board games? Whether it be chess, checkers or even things like Monopoly, did you know that there are fancy, eloquent versions of these board games out there? If they have a real passion for a game, consider getting them a nice board instead of the worn out cardboard one they use now.
Toiletries Travel Bag

For a long time, I always put my toiletries into a gallon-sized Ziploc bag when I traveled. This was just what I did. Then, a few months ago, I bought a really great leather toiletries bag and I will never regret it. This bag is dependable, has several pockets for sorting and I can leave my traveling toiletries in it all the time. It's great.
Drone

Holy Stone / Syma / UDI
This one's a little bit of a wild card, but drones are really popular right now. Yes, there are regulations and laws that have to be followed, but they can be really cool if your brother or hubby like remote controlled helicopters or are big into GoPro footage. Get one of these bad boys and attach a camera to give you unique perspectives on the things you see every day.
Experiences

NFL Game / Blowing Rock / Winery
If all else fails and you really can't think of anything to buy for the man in your life, consider giving them the gift of an experience. Maybe it's tickets to the roller coaster park or an NFL game or even a romantic trip to a town you've always wanted to go to. Experiences are great because you get to enjoy them for an extended period of time, have a blast, get lots of memories and then you're done. You don't have to worry about something taking up room in your house or not being as well-received as you anticipated. Fun, spur-of-the-moment experience gifts are going to be great.
Well, there you have it. Seven gifts for guys in this holiday season. Hope they love them as much as I think they will!
This post contains affiliate links. That means, if you click through & make a purchase, we receive a very small percentage of the sale. Thanks for supporting the brands that make Charleston Crafted possible!