Heat guns are a really unique and really inexpensive tool to add to your DIY arsenal. We got this Wagner Heat Gun last month and have been having a blast with it! I have been fascinated by all of the things that a heat gun can do, and really have been having fun playing with it. So, today I wanted to share with you 5 DIY wood finishes using a heat gun. These are all just pieces of normal pine scrap wood.
Be sure to check out this DIY wood burned stool!
5 DIY Wood Finishes Using a Heat Gun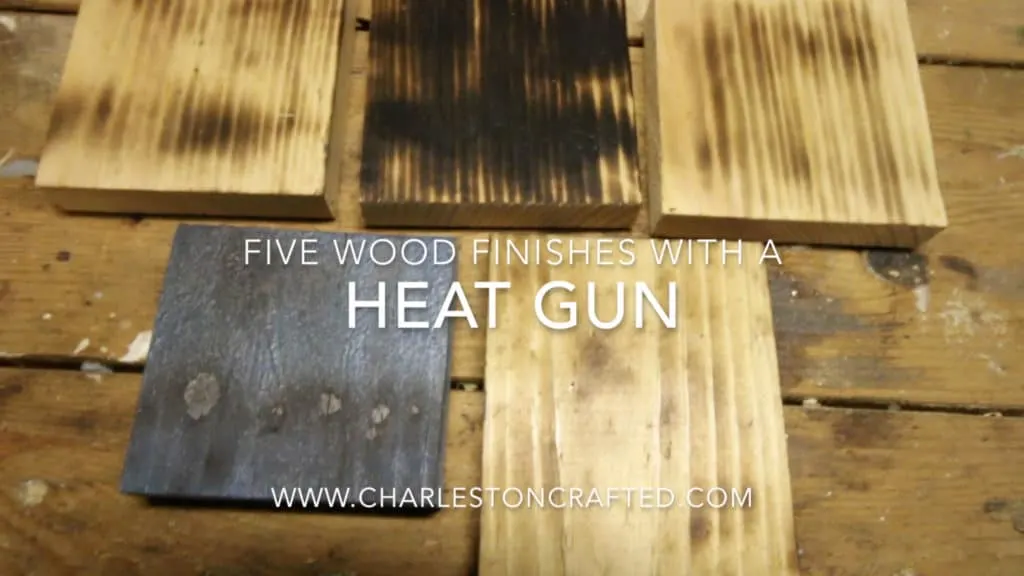 Painted Wood Heat guns are actually really handy in removing paint, so I was interested to see what it would do to a piece of pre-painted (dry) pine. The heat gun caused the paint the slightly brown and bubble, which I think could be a really cool faux aged finish. Warning: be sure to wear a face mask when trying this one, it gets stinky. Stained Wood The stained pine took the burn a lot faster than the unstained wood. It actually added a nice bit of contrast to the stain and helped to bring out the grain a lot. Untreated Wood – Light Burn This was just regular pine that I lightly burned. You have to keep the heat gun moving or it has a tendency to get splotchy. Untreated Wood – Dark Char To get a darker char, I moved the heat gun much slower as I heated the wood. I really love the char finish and think that this could be epic on a large piece. Imagine a whole garden bed done this way. Stunning! Untreated Wood – Wet This was kind of random, but cool. I completely wetted the wood (away from the electric heat gun!) The dark burn color spread a lot more evenly across the wood and got a much smoother finish than the dry wood. I really love this tip! Be really, really careful that you don't mix electricity and water with this one! Here is a video showing each of the finishes:
Have you ever used a heat gun before? What for?